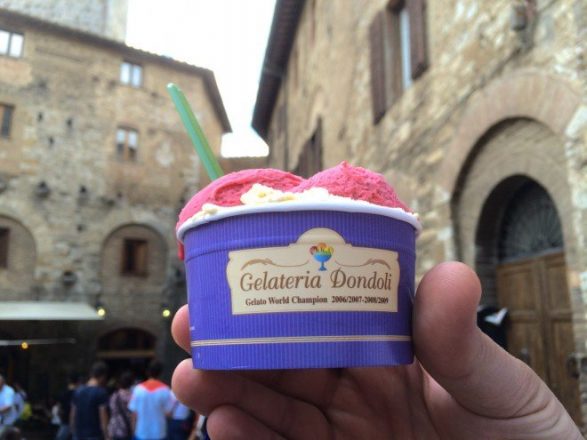 Rosemary Baby Gelato under the Tuscan sun
During my recent trip to Florence, I took a day trip to Chianti to go wine tasting. My tour guide recommended a stop in the quaint medieval town of San Gimignano, near Siena, to try some of "The World's Best Gelato" at Gelateria Dondoli.
Gelateria Dondoli is hard to miss with it's merits and awards on the doors
San Gimignano is sometimes called the "Medieval Manhattan" because of its towering stone skyline. I would have liked to explore the town more, but I was on a mission to find Gelateria Dondoli. It's located on the town's main square of Piazza della Cisterna– just look for the line out the door.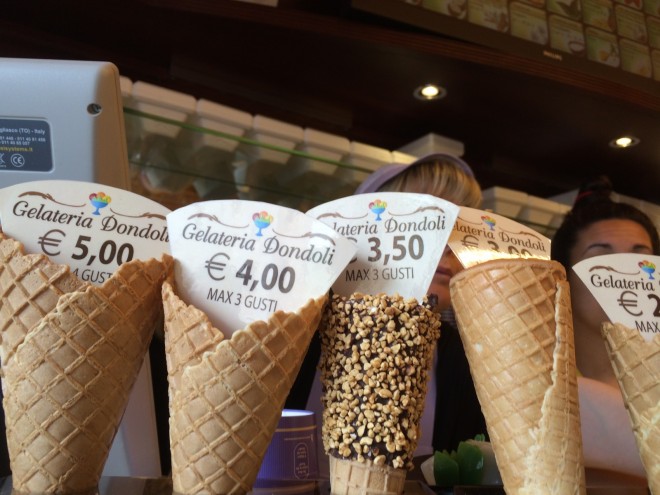 A few scoops of gelato in a cone for a few euros
While waiting in line it became clear that the Gelato Dondoli hasn't won the Gelato World Cup in several years (Hello… there's a World Cup of Gelato?). Gelato Master Sergio Dondoli last took the title in 2009 as part of the Italian team. Rumor has it you have to sit out after back to back wins.
According to Coppa del Mondo della Gelateria website, France won the top prize in 2014. It also appears that ice cream makers win the awards as team (much like the FIFA World Cup), which might explain why a few other other Gelaterias had similar title claims on their doors.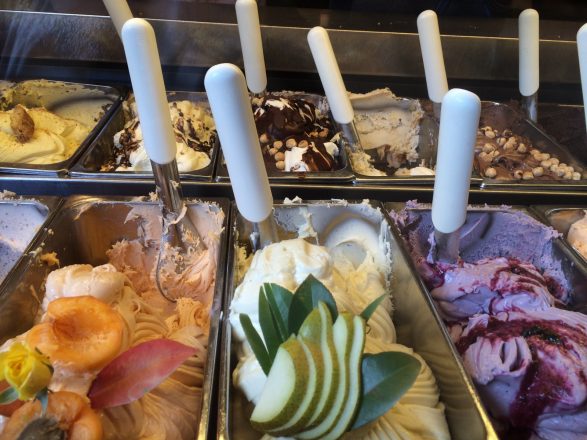 The fruit gelatos are gluten free at Gelateria Dondoli
I wasn't going to back out of line now because of the technicalities of a title win. Selecting a flavor was the toughest part. The fruit gelatos at Gelateria Dondoli come in a variety of flavors including fig and watermelon and are gluten free. Some flavors have fun names– The Rosemary Baby gelato (made with raspberries and rosemary) was my favorite.
Left: Passion fruit gelato Right: Rosemay Baby gelato
The cream gelatos also range from standard to unusual varieties. There is one called "Michelle"– named in honor of FLOTUS. Michelle is made from almonds, orange zest, honey and saffron and was a real crowd pleaser. Other outside the box flavors included gorgonzola and walnuts, and several including Nutella.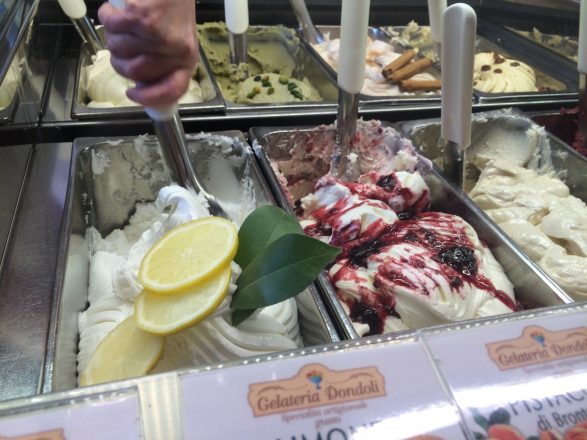 Traveler's Tip: Real gelato isn't aerated, so the geniune stuff doesn't tower over the container in puffy heaps
The chocolate gelati are also anything but basic. The Amedi Chua won an award. Other chocolate varieties include edgy combos and ingredients like pink and sichuan peppers. I ordered  the Cioccolata Bianco because when overwhelmed with choice, I default to ordering my namesake gelato.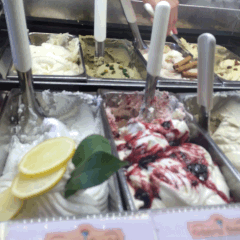 Scooping away at Gelateria Dondoli
The gelato was indeed delicious and hit the spot on a hot summer day in Tuscany. Was it the best in the world… probably not. But the story is good and it's worth a stopping by and dropping a few euros on this delicious local Tuscan treat.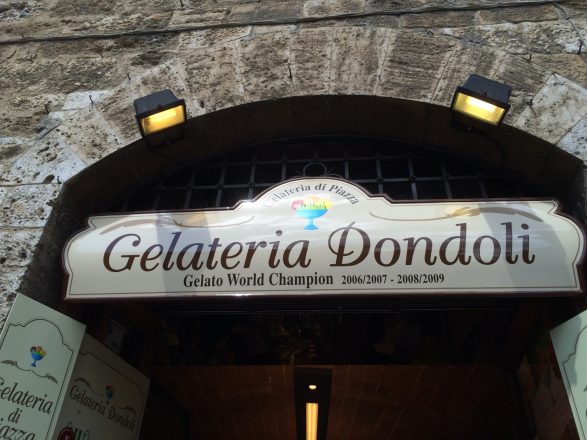 Gelateria Dondoli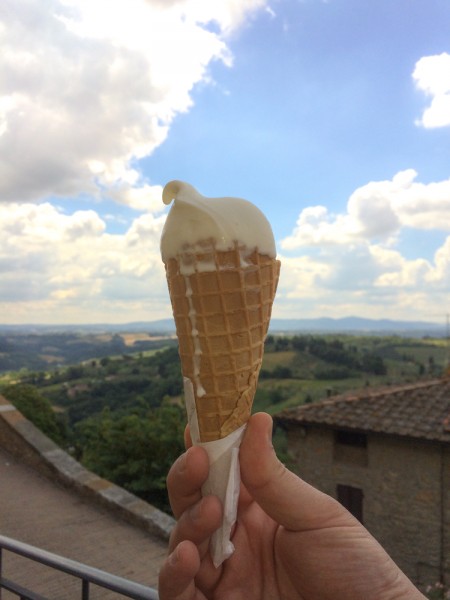 Gelato under the Tuscan sun = Summer
Address: Piazza Cisterna, 4,
53037 San Gimignano Siena, Italy
Phone:+39 0577 942244