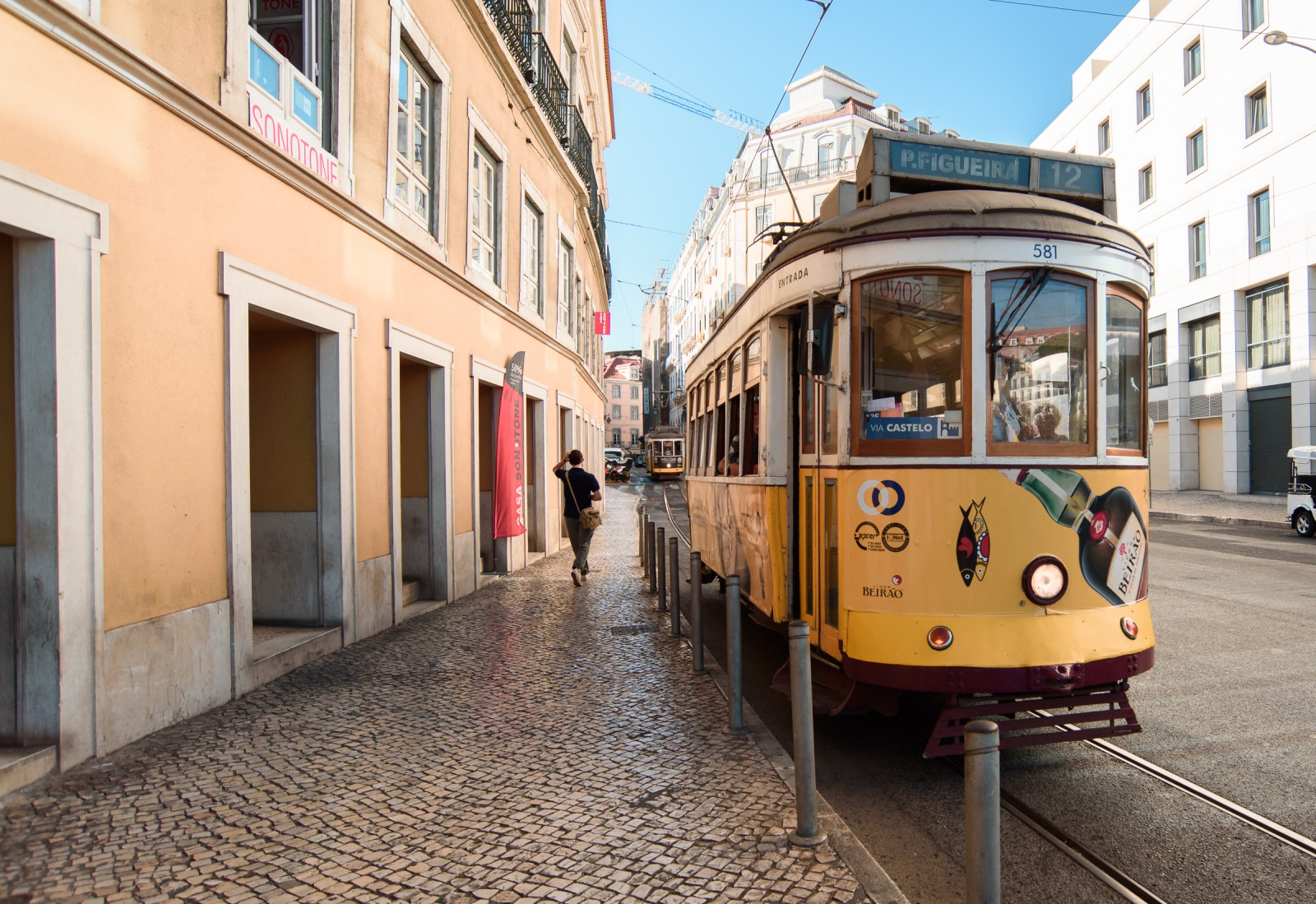 Famous 28th tram in Lisbon
Editor's Note: Anastasia Chernykh (the social media manager for My Life's a Trip) just came back from Lisbon  with rave reviews. I asked her to do this post for the blog. Her images have me craving a trip to Portugal. – Jen Pollack Bianco 
The number of foreign tourists visiting Portugal has exceeded 10 million for the first time in 2016. Portugal has been named the destination of the year (Travel+Leisure), most popular place to visit in 2017 (Huffington Post), and on top of that the city has won Best European Destination World Travel Award. Everyone seems to be going to Portugal now, and I can see why!
I flew to Lisbon after a short trip to Paris, and it was such a great difference. Don't get me wrong, I genuinely love Paris, but Lisbon felt so welcoming, cozy and warm after a big rainy city. Like a visit to an old friend.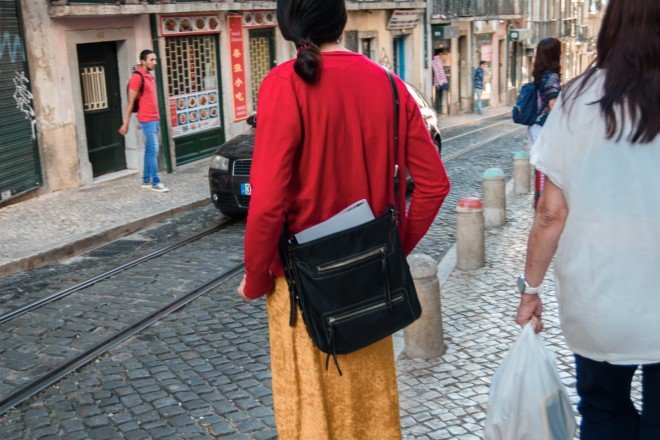 Lisbon fashion tip: blend into city colors!
You know a city is tourist friendly when you don't need to spend  hours to get from an airport to its center. Lisbon airport is just 6 miles away, and has several transportation options including metro, bus, and taxi. The weather is pleasant here all year round. The climate strongly influenced by the Gulf Stream, it is one of the mildest climates in Europe (imagine 6-month long summer!).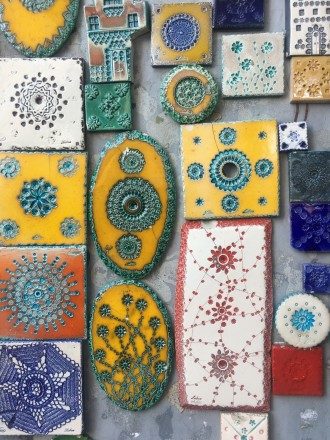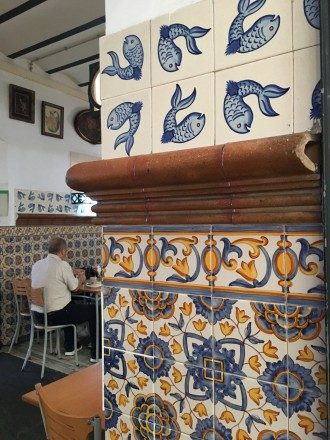 Azulejo tiles on Lisbon buildings are part of the city's bright creative look
We stayed in an old city part called Alfama. I would say it's one of the most interesting and iconic parts of Lisbon, but it's not everything. You may not want to take famous 28 Eléctrico as it's usually notoriously overcrowded, but use it's route as a map for your own tour since it covers almost all main landmarks.
Walking seems to be the best way to explore old center of Lisbon, or the most convenient at least. It's not a good idea to use a car in the city unless you are prepared to spend hours in traffic jams and looking for parking space. Cycling also doesn't seem like a good idea, since Lisbon is located on seven hills, some of its streets have tram lines, potholes and an absence of designated bicycle lanes.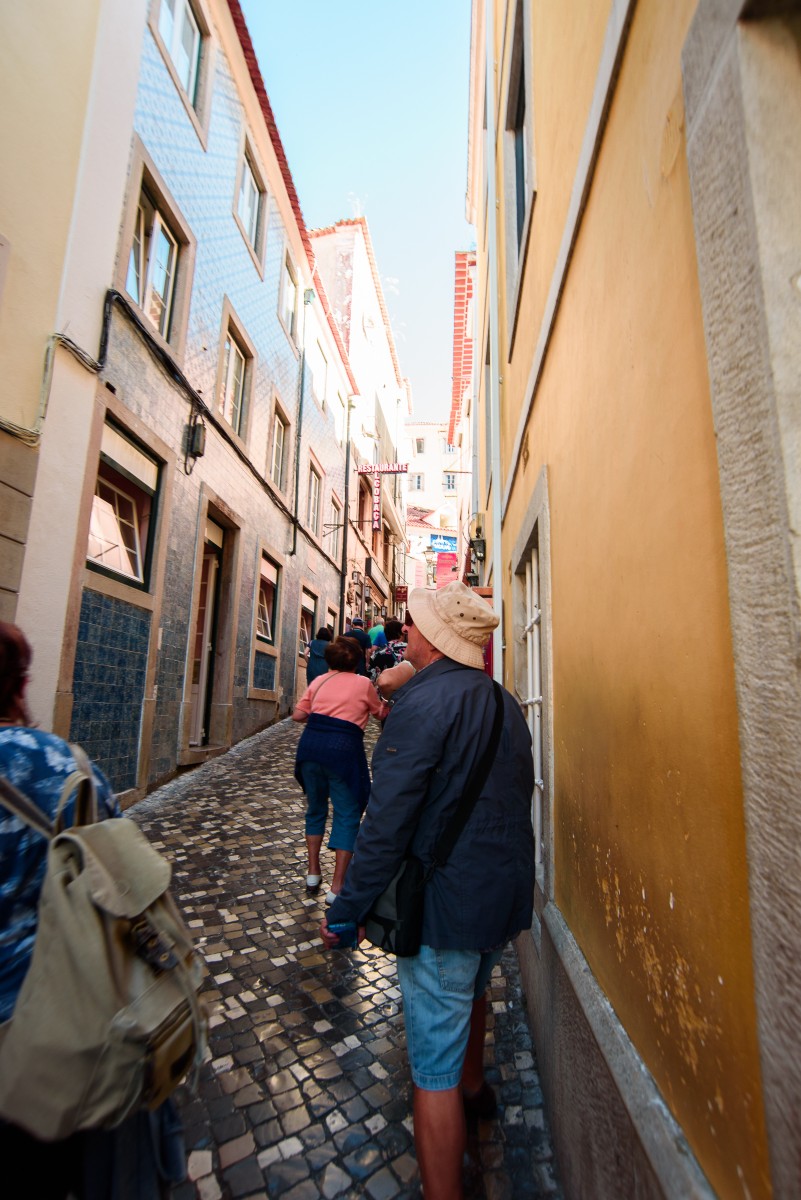 Narrow streets of Lisbon
For me, Lisbon is not that much about sightseeing as about experiences. So try to live like a local in Lisbon instead of visiting:
Start your morning with pastéis de nata (an egg tart), this is the most famous local pastry and it's delicious. Cafe culture is a very important in Portugal (fun fact–Portuguese colonists initiated the first coffee plantings in Brazil). The local coffee lingo is a bit different, for example espresso is often called bica, and for locals it's normal to have at least 3 bicas a day. You won't be able to stroll down a street in Lisbon without passing at least several of cafes.
After that, try to climb up to one of the several main Miradouro (viewpoints). The one near Santa Luzia church, for a breathtaking view of the city with its old terra cotta roofs.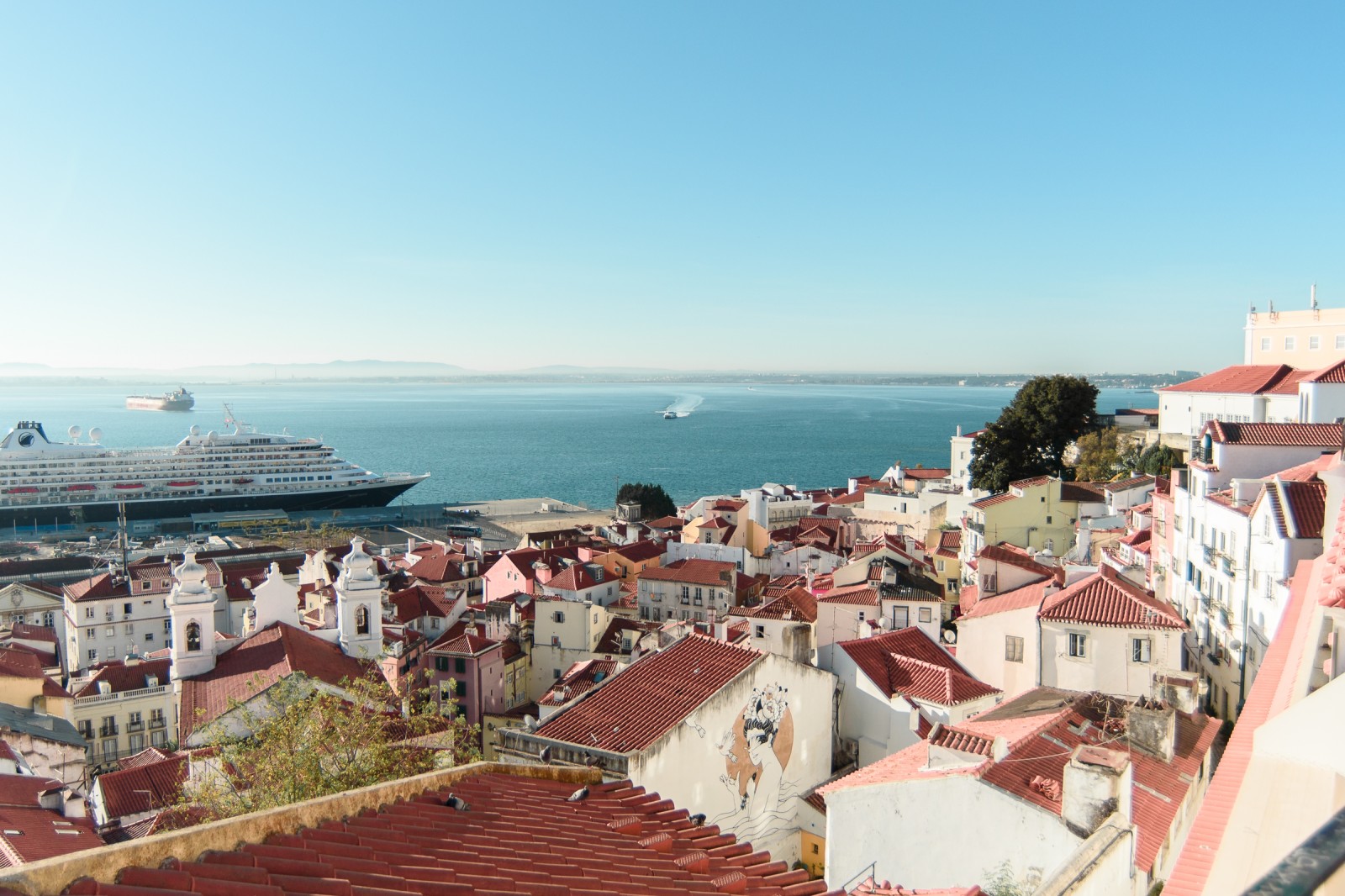 View of Alfama quarter and river Tagus
Lisbon doesn't really have any ocean access or beaches, but it has long avenidas in front of river Tagus – Avenida Infante Dom Henrique and  Avenida Ribeira das Naus. Walk down the first to get to Praça do Comércio, one of the main city's squares that was completely remodeled after the horrible Lisbon 1755 earthquake.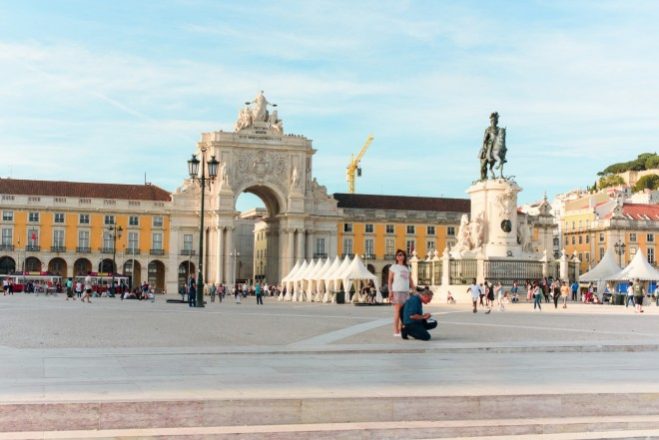 Praça do Comércio with Statue of King José I 
The square is connected with the other traditional square Rossio, paved with typical Portuguese mosaic, this square is filled with cafes and restaurants, with a train station of the same name nearby.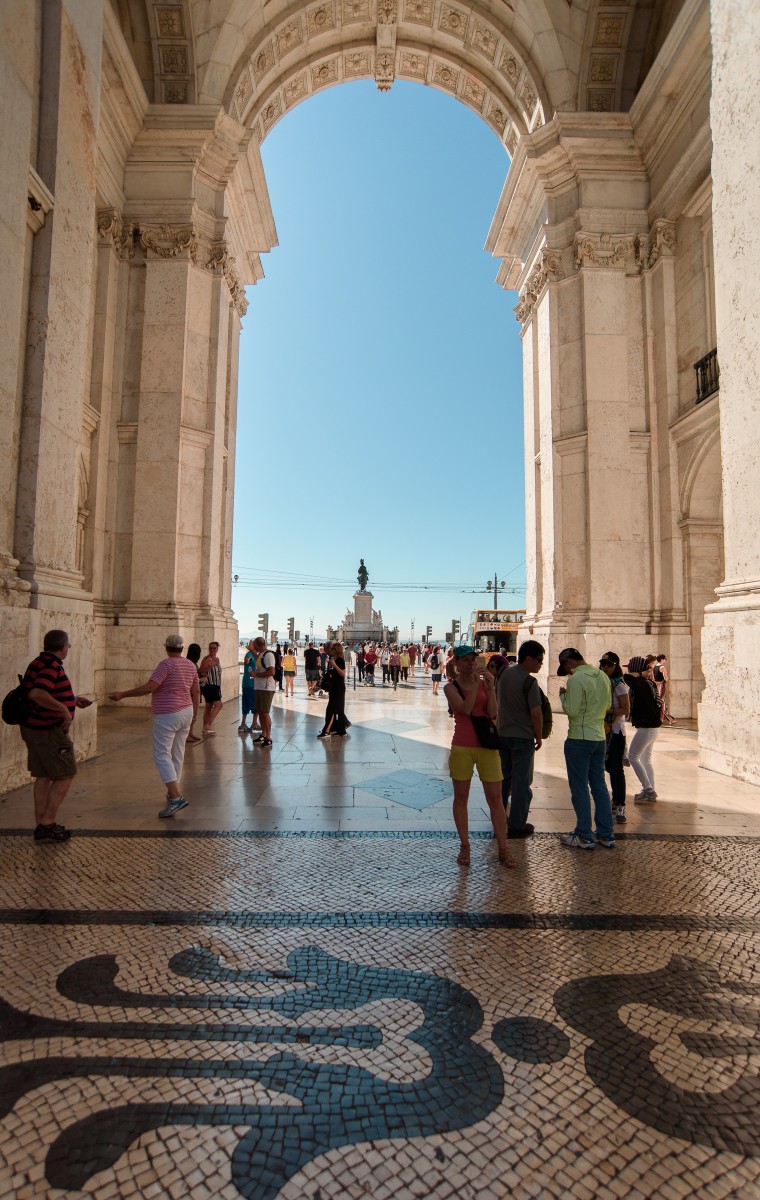 Praça do Comércio as seen through Arco da Rua Augusta
Keep walking along Avenida Ribeira for great sunset views of the 25 de Abril Bridge. There are several spots where people seat along the waterfront and enjoy the beautiful sunset views with another local specialty, porto wine.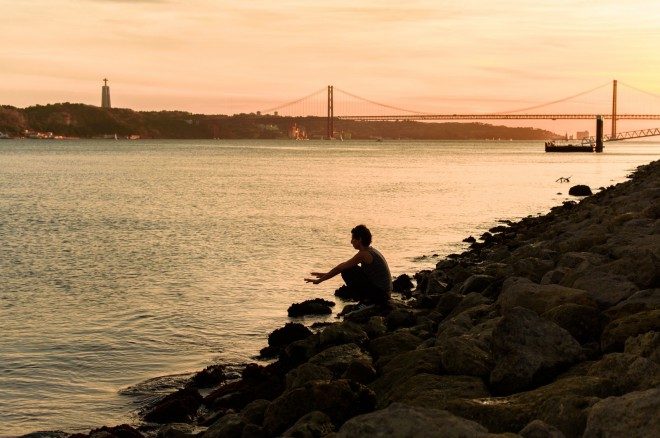 25 de Abril Bridge sometimes is compared to Golden Gate in San Francisco
Port is a world famous fortified wine from Portugal, produced exclusively in the Douro Valley (that's where the city of Porto is located, hence the name of the wine). There are several styles of Port, including red, white, rosé and an aged style called Tawny Port.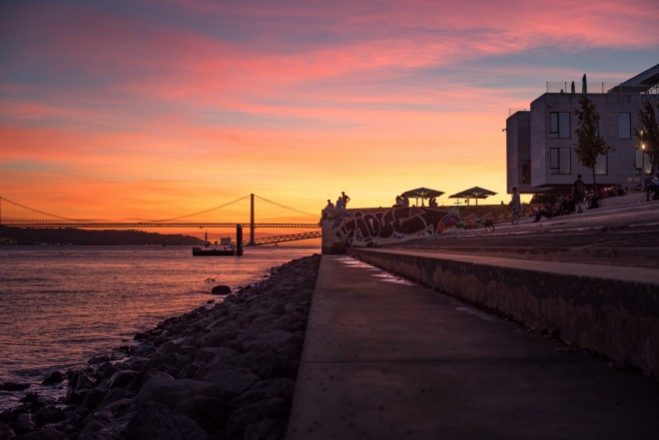 Vibrant sunset colors kept changing every 5 minutes
Looking for day trip options from Lisbon? Try visiting a small town Sintra. It is located only 20 miles away from Lisbon and packed with attractions.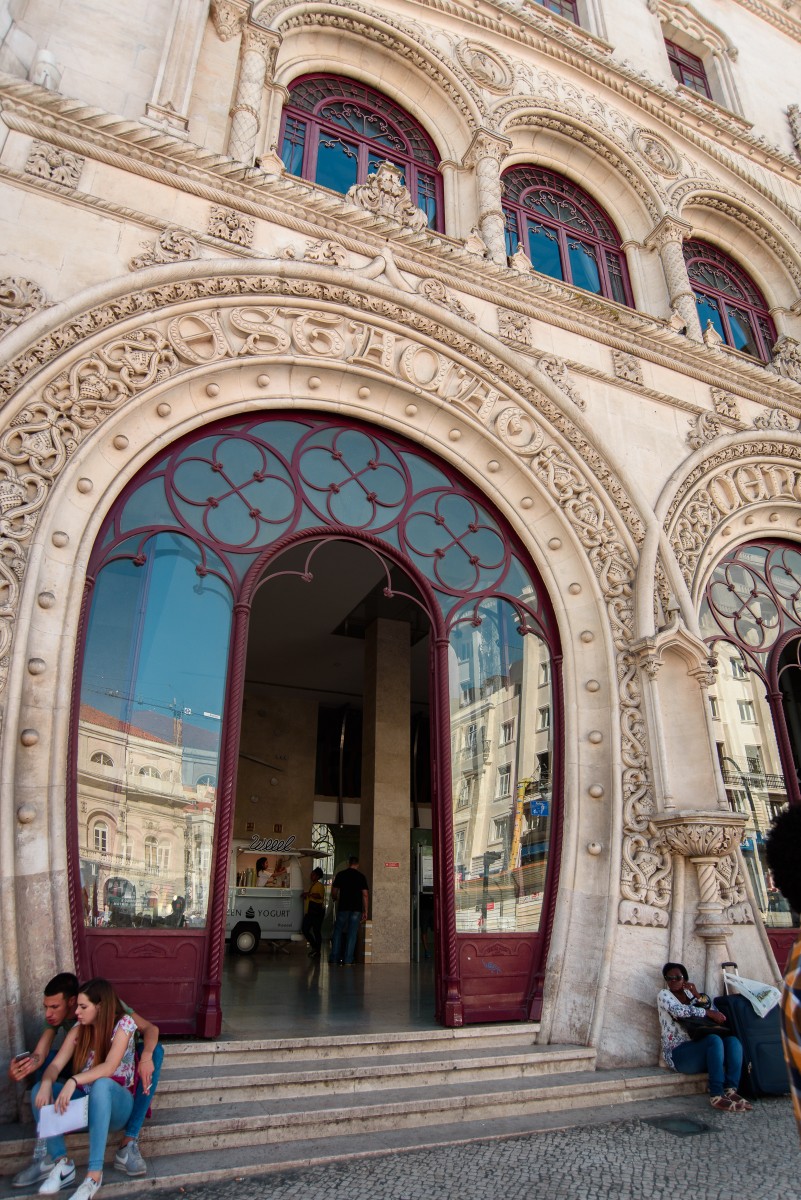 Entrance to Rossio train station, trains to Sintra run every 30 min
With its many 19th-century Romantic architectural monuments, Sintra is now classified as a UNESCO World Heritage Site, and attracts visitors from all over the world. Royal retreats, estates, castles and other buildings, including the mediaeval Castelo dos Mouros, the Pena National Palace and the Sintra National Palace, are giving the town almost fairytale look.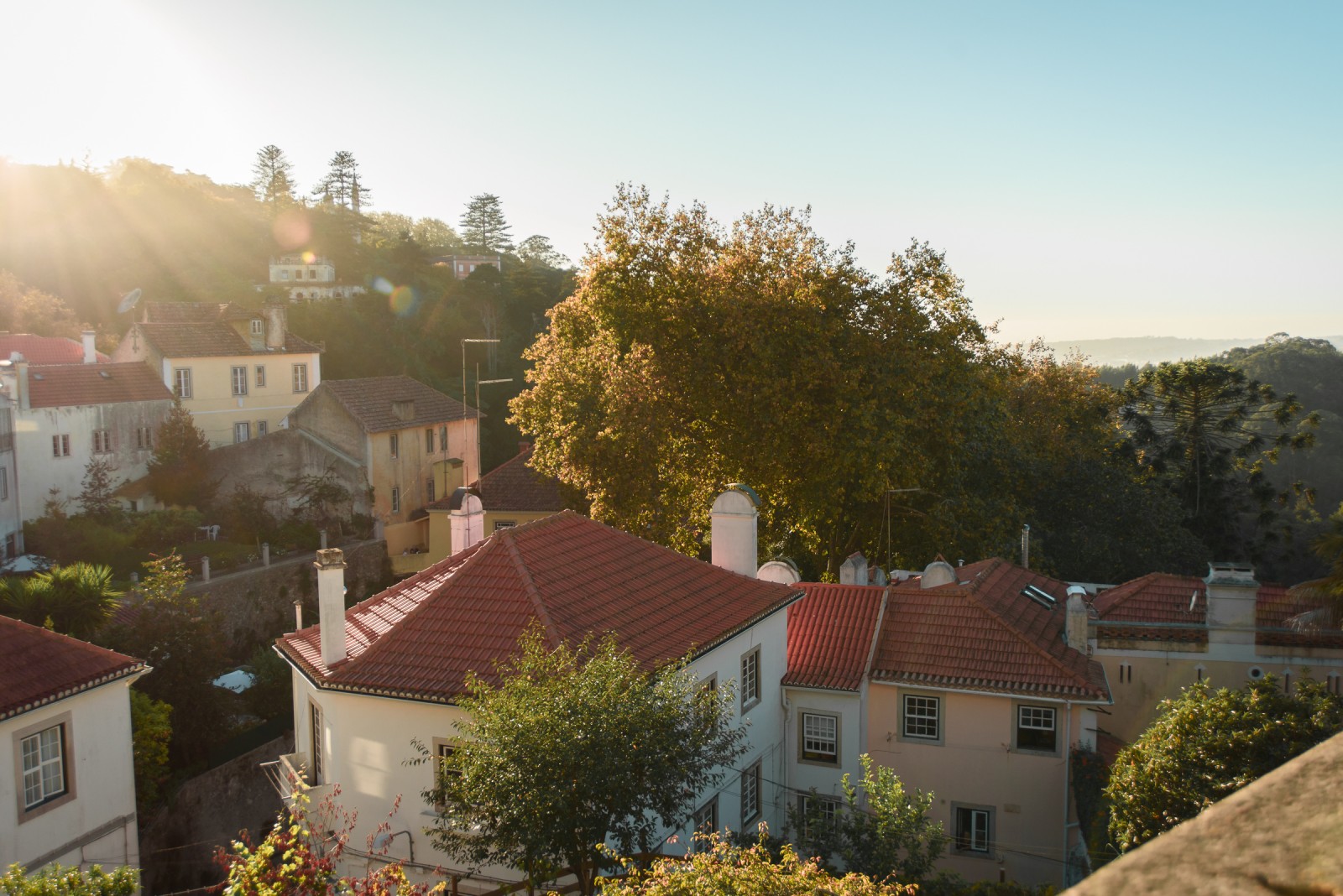 Sunset in Sintra
From Sintra it's easy to go to the Westernmost point of the Europe, Cabo da Roca. The cliffs of Cabo de Roca were believed to be the edge of the world up until the late 14th century. Sunset is the best time to visit this dramatic landscape.