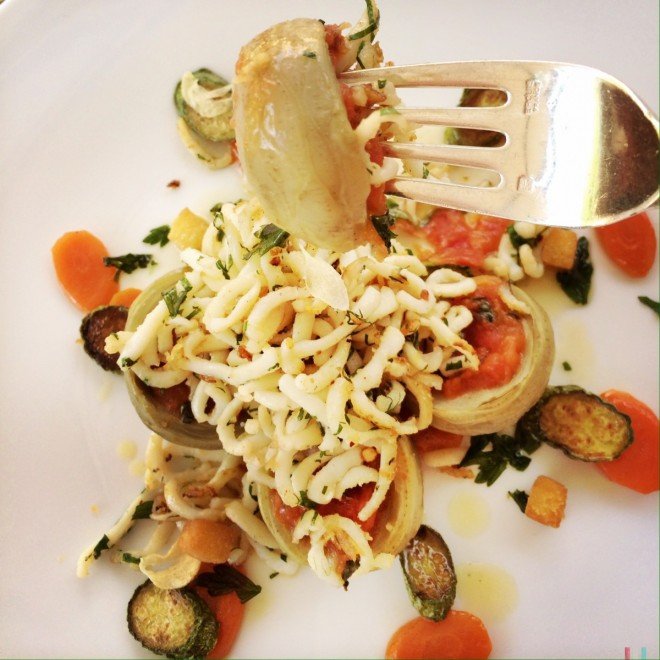 Lunch at La Table at The Royal Mansour
One of Morocco's many charms is it's flavorful cuisine. Between the food stalls on Jemaa El Fna and the white glove service at the Royal Mansour, there is no shortage of great places to eat at every price point. Here is my current list of the top 5 restaurants in Marrakech.
La Table
The three restaurants the Royal Mansour are fit for a king (King Mohammad VI oversaw the construction of this palatial hotel). Like the Royal Mansour's two formal restaurants (La Grande Table Marocaine and La Grande Table Français) the menu is  overseen by chef Yannick Alléno who has earned (and maintained) three Michelin stars at Le Meurice in Paris. La Table has exceptional Mediterranean cuisine and a refined yet relaxed atmosphere, including a lovely al fresco dining area among the olive trees. Unlike the two formal restaurants, it's open for lunch. The lemon tart was unforgettable.
Rue Abou Abbas El Sebti,
Marrakesh, Morocco
Phone: + 212 5 29 80 80 80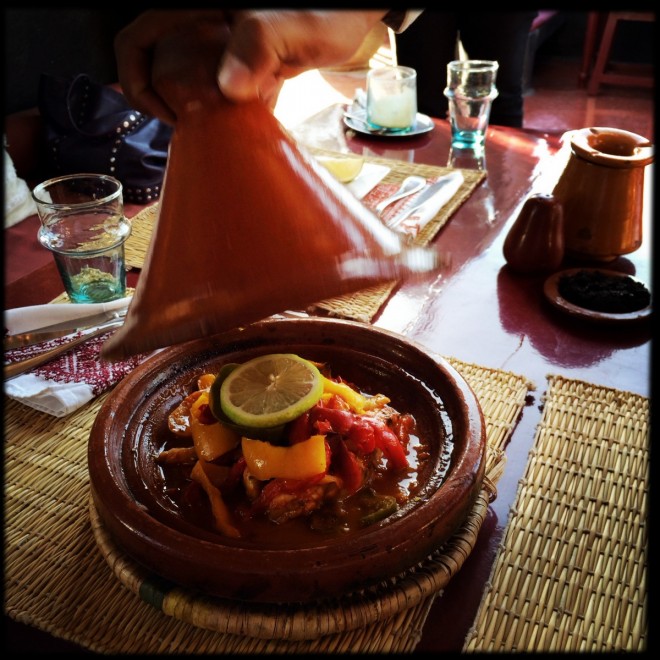 Tangine at Terrasse des Espices
15, souk Cherifia. Sidi Abdelaziz. Médina
Marrakesh, Morocco
Phone: +212 674-923876
Terrasse des Epices is located within the old city's medina, so there is no alcohol served here. But the modern Moroccan vibe feels very "now" and it's a great place to stop for lunch when you're touring the medina. The lemon chicken and monkfish tangines were good, and the vibe is casual and chic. It's located about some great boutiques that feel fresh and non-touristy. Stop in for mint tea if you aren't all that hungry, the rooftop view is pretty as well.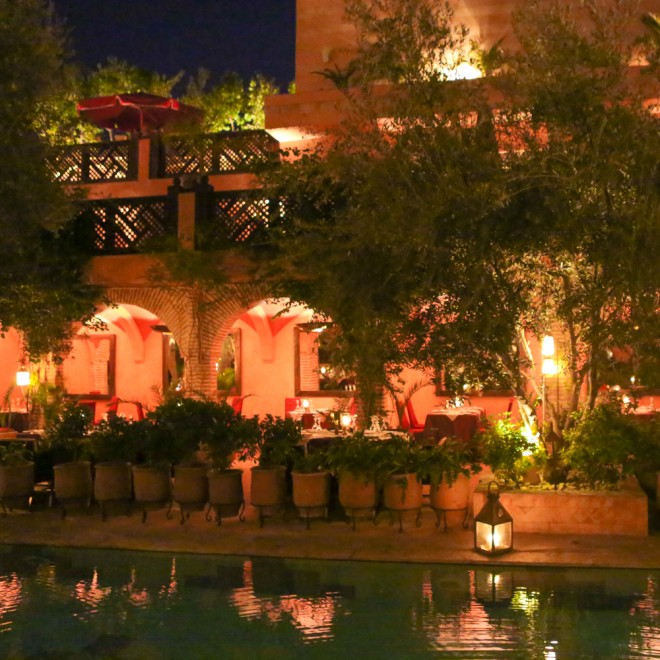 Dine poolside at La Maison Arabe
La Maison Arabe has both a highly rated hotel and restaurant. While I didn't stay in the hotel, I did have a delightful dinner at Les Trois Saveurs, including a bottle of the highly drinkable 2010 Tandem Syrah Du Maroc. The best chicken tangine I had during this trip was served here and their mezze selections are spot on. The poolside atmosphere leans towards romantic.
Les Trois Saveurs restaurant at La Maison Arabe
1, Derb Assehbé
Bab Doukkala
Marrakech Médina
Tel : (+212) 5 24 38 70 10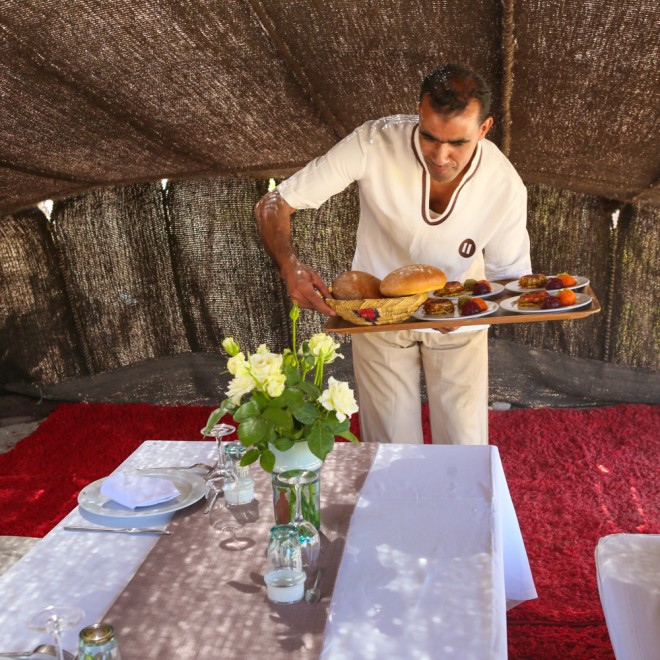 farm-to-tent dining at La Pause Marrakech
La Pause Eco Resort

Locovore farm-to-tent dining! I really enjoyed having lunch including produce from La Pause's own garden and Moroccan wine at this delightful desert oasis 40 Kilometers outside of Marrakech. Perfect for a day trip outside of Marrakech. Next time I intend to stay for dinner.
Douar Lmik Laroussiène
Commune Agafy
Marrakech – Maroc
T. +212 (0)6 61 30 64 94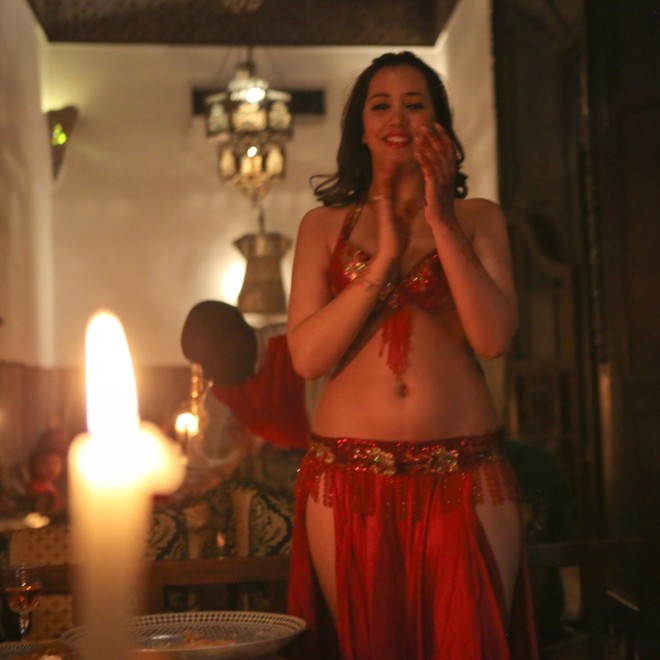 Belly dancing adds to Dar Marjana's Arabian Nights Atmosphere
15 Derb Sidi Ali Tair,
Marrakech, Maroc
Téléphone 1 : + 212 5 24 38 51 10
Dar Marjana is my top pick for food and atmosphere in Marrakech. It's a full on Arabian nights fantasy filled with pigeon pastille, live music, latern-filled courtyards and endless platters of Moroccan food.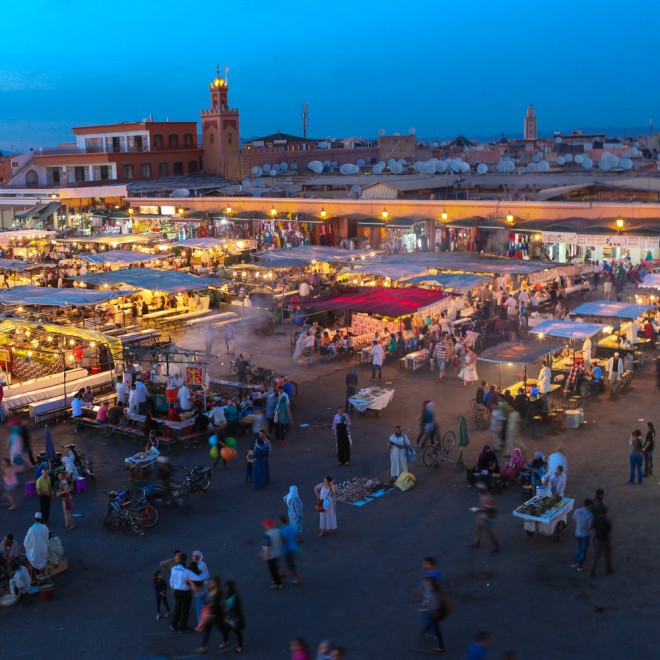 View of Jemaa El Fna from Le Grand Balcon du Cafe Glacier
Le Grand Balcon du Café Glacier
Jemaa El Fnaa,
Marrakesh, Morocco
I'm not advising you to eat at Le Grand Balcon du Café Glacier. But I will say get here early, order a mint tea and grab a table by the balcony to watch the sunset over Koutoubia Mosque and the night pick up on Jemaa El Fnaa. Cash only.