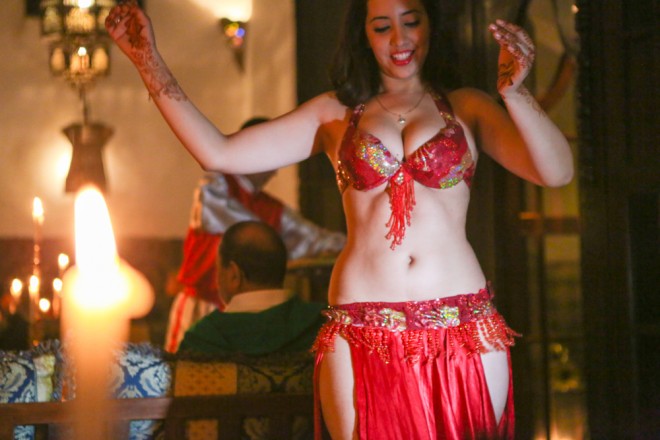 The lovely bellydancer at Dar Marjana is just one of the restaurant's many charms
On my recent trip to Marrakech I returned to Dar Marjana, which is one of the most atmospheric restaurants I've ever experienced. Located in a renovated riad that once belonged to a Pasha, it's a great choice for a night out on the town.
Dar Marjana is one of Morocco's Palace-style restaurants. This is the place to go for the full-on traditional Moroccan feast (and they cater to vegetarians, too) and entertainment. It's always a win always a win for both the food and experience. Every night feels like a party, and this visit was even more so, since I had friends who happened to be in Marrakech at the same time who joined me.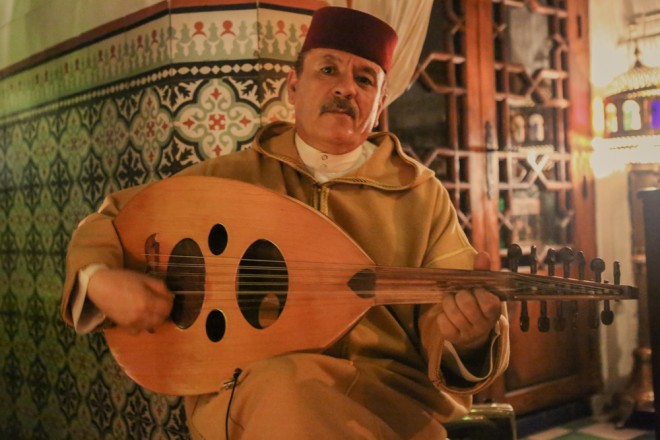 Musician at Dar Marjana
The evening begins lounging on low slung couches in the romantic courtyard sipping Moroccan wine and being entertained by local muscians. It's all kinds of Arabian nights awesome. And who knew wine from a Muslim country would be so drinkable?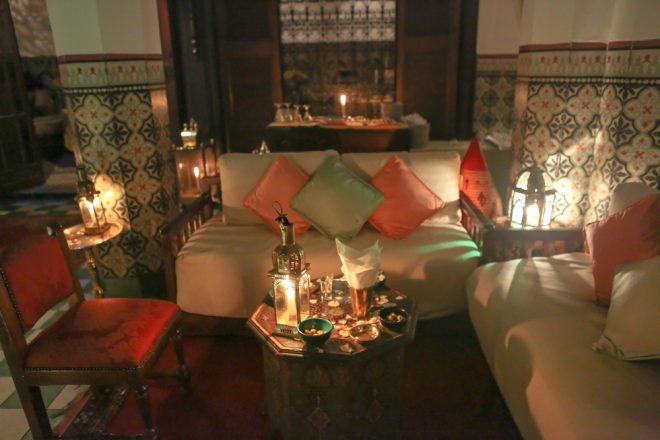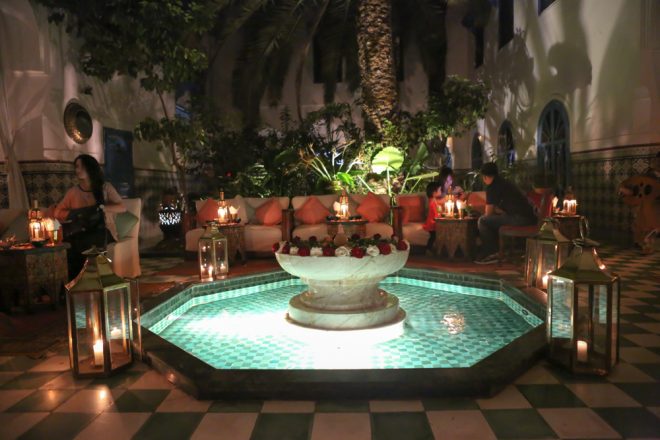 Left: Dar Marjana Courtyard Right: The fountain
After your pre-dinner drinks and snacks, you head into one of the exquisitely tiled salons to begin your feast.  The names of the ladies in our group decorated our table in sequins. Servers arrive to wash your hands at the table.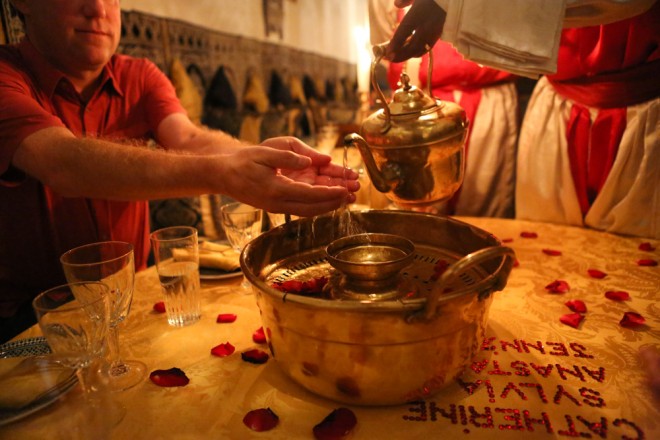 Hand washing at Dar Marjana.
Huge slatters of food including variety of Moroccan salads are served. followed by traditional dishes like chicken tangine and pigeon pastille (pigeon pie). Wine flows endlessly. Lamb dishes can be ordered ahead of time.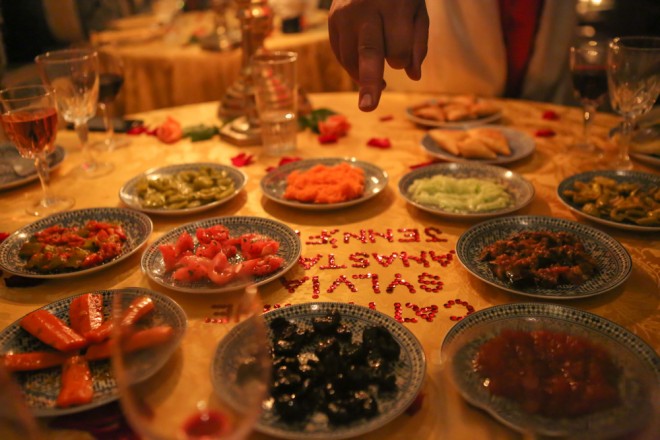 Endless varieties of Moroccan salads at Dar Majana
Left: dessert was delicious Right: tea pouring ceremony
You'll eat a ton, but it's all very tasty and delicious. Dessert and tea are served and then the music gets turned to 11 and the party really starts.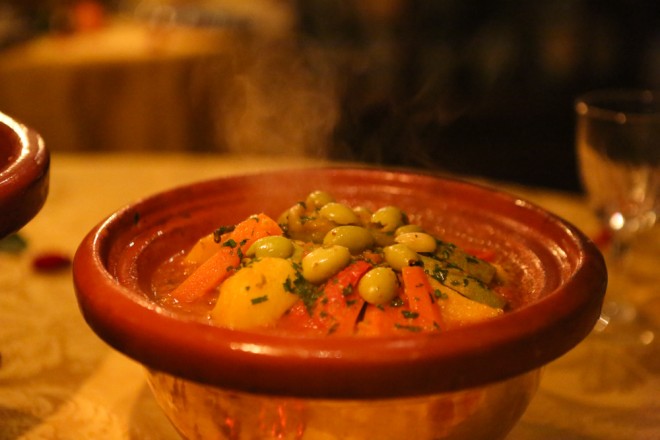 Yummy vegetables at Dar Marjana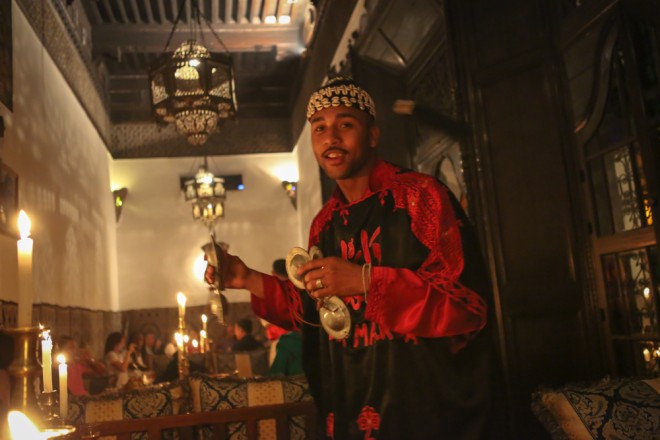 A local Gnawa musician getting the party started at Dar Marjana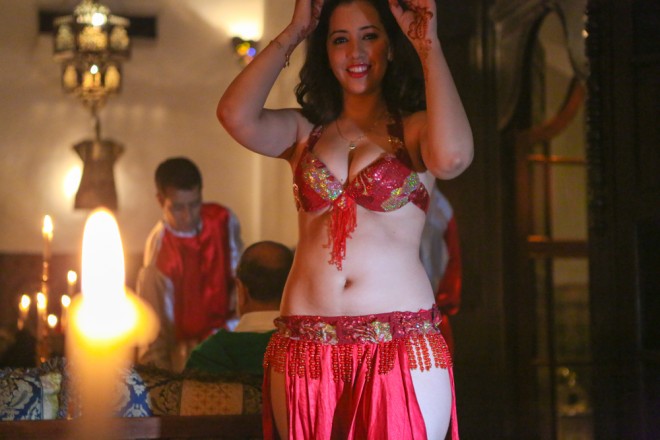 Hips shaking at Dar Marjana
Then the bellydancer swivels into the salon to entertain and work the crowd. Many diners wind up on their feet and a good time is had by all.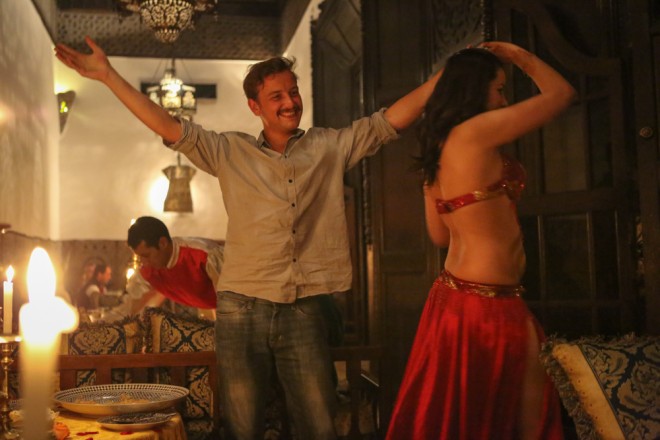 Severin and the Bellydancer
Set menus (including drinks) at Dar Marjana run about 650 dh (or $80 USD) per person. Reservations are suggested. You can check out some video of Dar Marjana I shot on my last visit here.
15 Derb Sidi Ali Tair, Marrakech, Maroc
Téléphone 1 : 00 212 5 24 38 51 10
Téléphone 2 : 00 212 5 24 38 57 73
E-mail: info@darmarjana.com