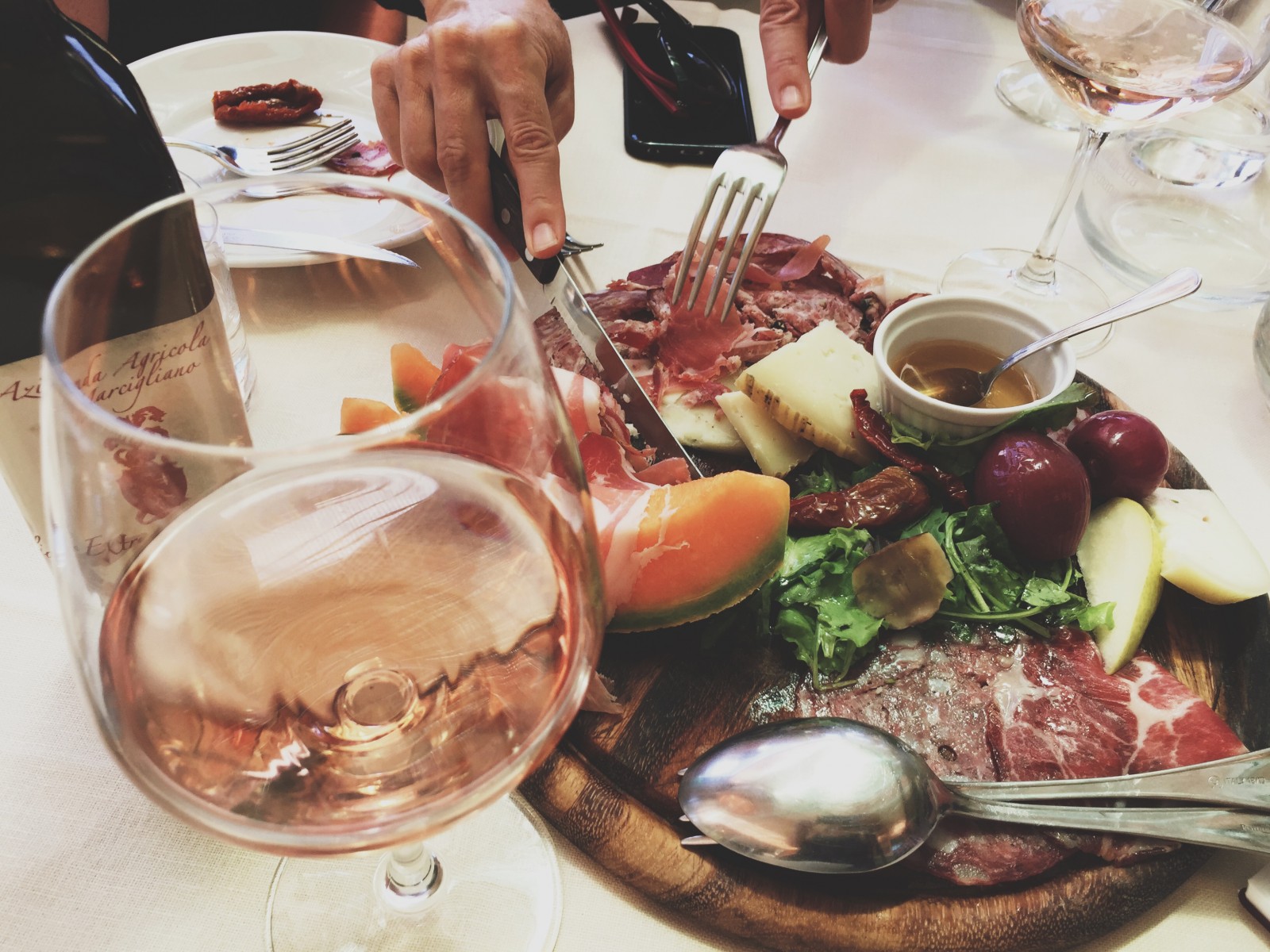 The antipasto and Italian Rosé at La Catinetta di Rignana
Located about an hour's drive outside of Florence, La Cantinetta di Rignana is the sort of place that inspires "I want to move to Tuscany" dreams. Arriving at this hard-to-find restaurant in the rolling hills of the Chianti region feels like being transported to the set of a Bertolucci movie.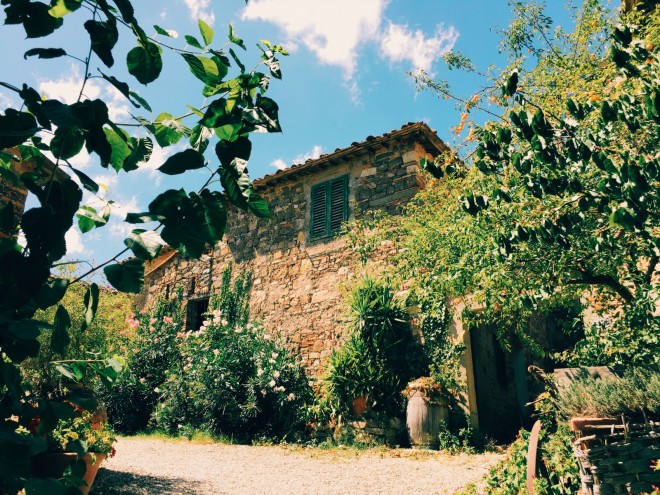 The Tuscan villa that houses La Cantinetta di Rignana Ristorante
Our driver had to call the restaurant twice for directions since the signage in Greve is a bit misleading. But the logistical stress dissolved the second I set eyes on the rustic chic villa that housed La Cantinetta. It's just plain dreamy. But La Cantinetta di Rignana's curb appeal is only one of it's charms.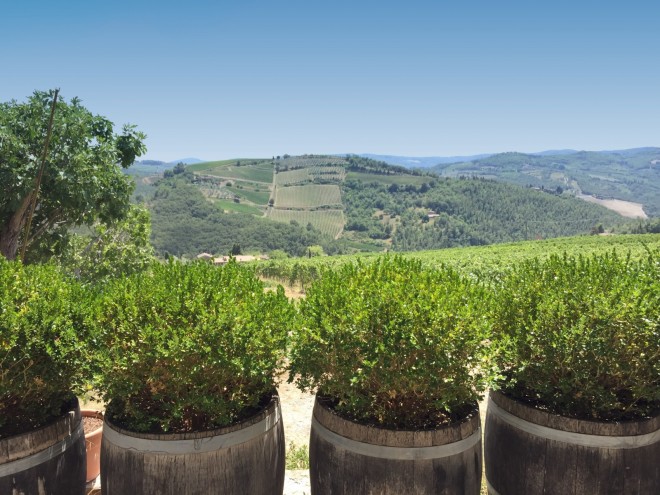 Views of Chianti country at La Cantinetta di Rignana
The Tuscan fare is fit for foodies. For good reason, this  restaurant is popular with Italians and tourists alike. It's got fantastic Tuscan farmhouse atmosphere, incredible views of the rolling hillside, and delicious food. Props to my foodie friend, Charlie, who arranged for our group to have lunch here. We were all seated at long rustic farm table when we started sipping the Italian Rose.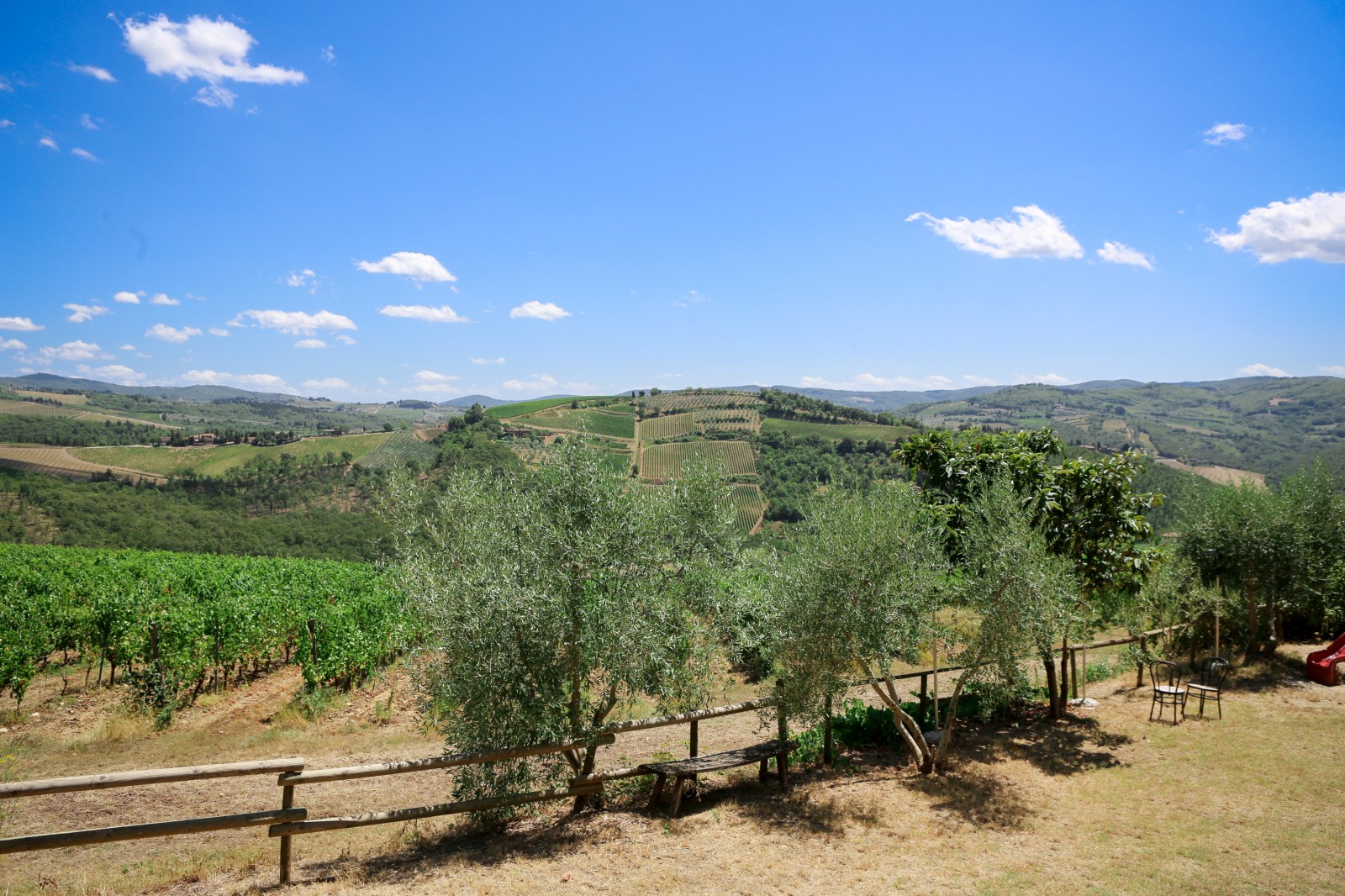 Views of Tuscany from La Cantinetta 
Charlie ordered for the table, and due to my position as a latecomer seated farthest from the kitchen I missed bruschetta course entirely. My fellow diners raved about it. But I never sweat skipping the bread in Italy. If I'm going for carbs, my preferred form is pasta.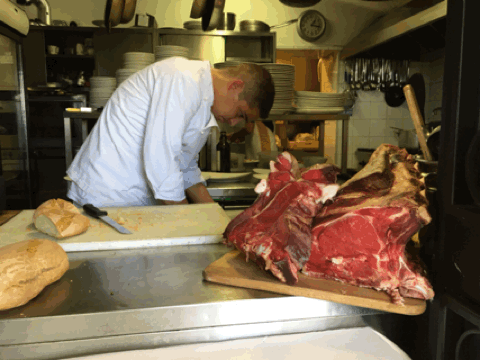 In the kitchen at La Cantinetta di Rignana GIF
Next up was antipasto. While usually this course is not the most exciting, the perfectly ripe melon at La Cantinetta made the prosciutto & melon combo seriously next level. Paired with pink wine, I felt seriously relaxed for the first time on this trip.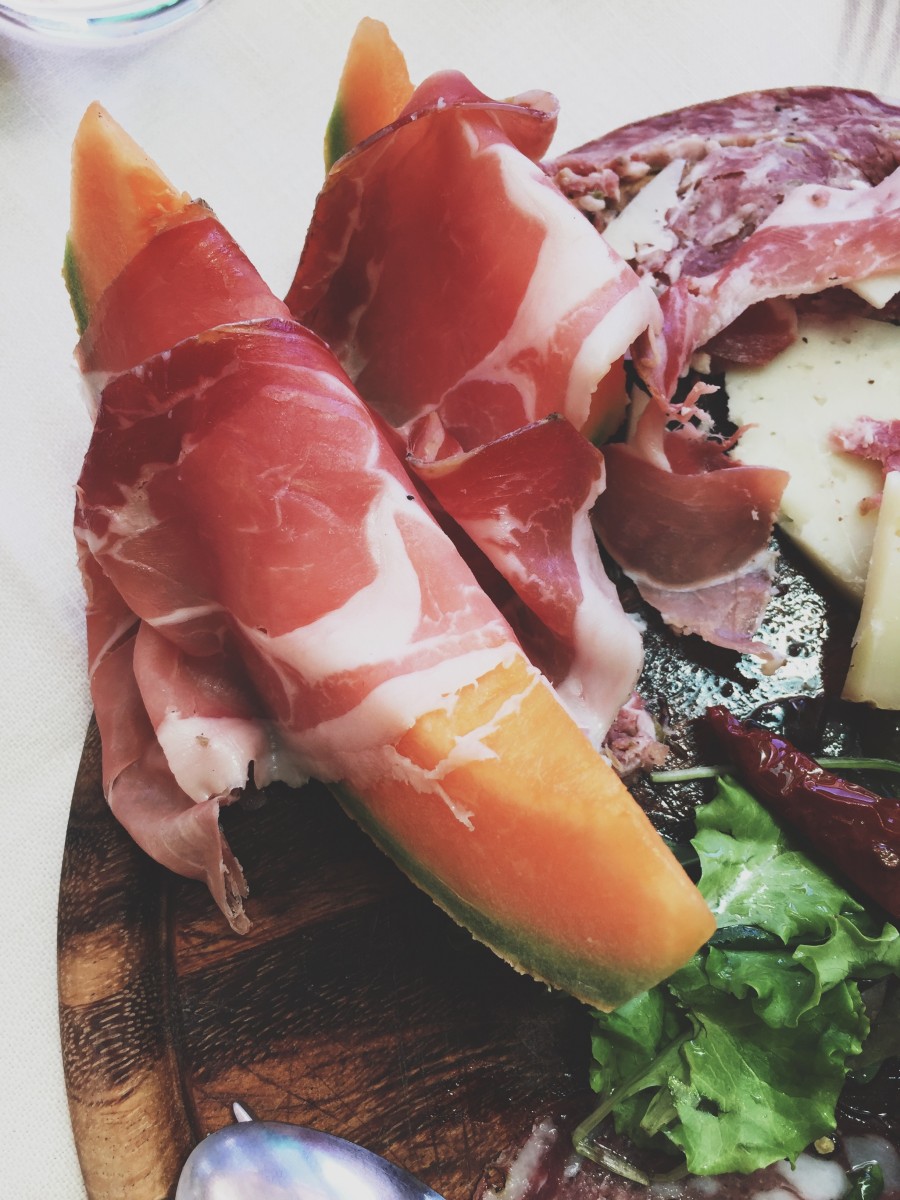 Perfectly ripe melon and prosciutto
Next came the pasta, which was sublime. Everything was served family style, and the fettuccine was served with a generous amount of truffles and sausage.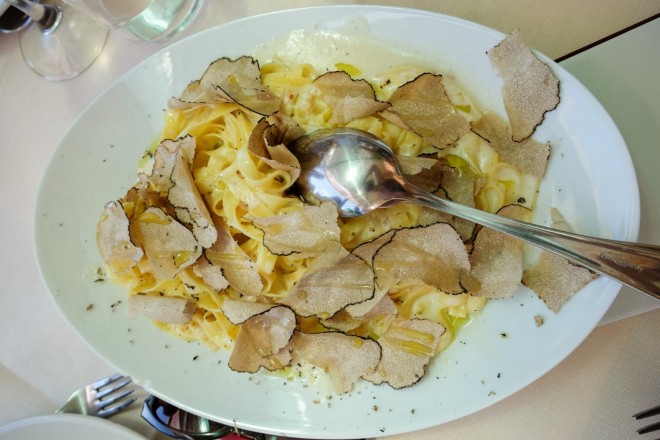 They do not skimp on the truffles at La Catinetta di Rignana
I was completely full after this course and had no idea that the the house speciality at La Cantinetta is the secondi: platters of grilled meat including chicken and pork ribs.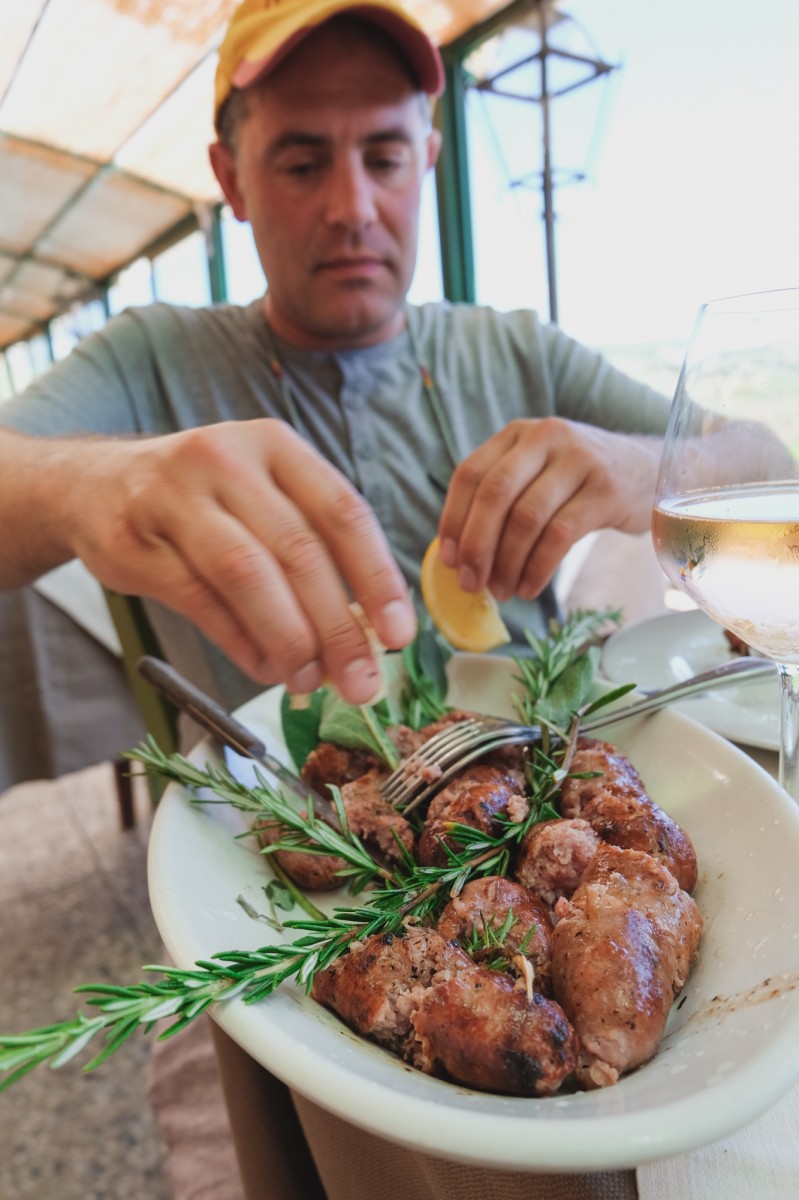 The cinghiale (wild boar sausage) was the standout dish
The platter of grilled Tuscan meats looked and smelled fantastic, and I made room for one delicious pork rib.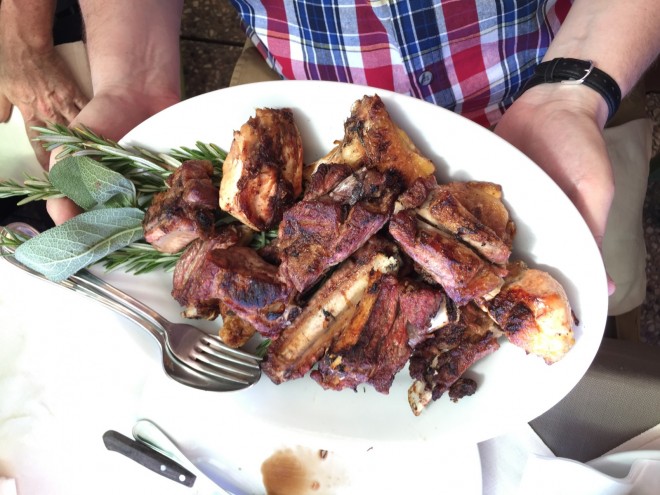 Roast Tuscan meats were the secondo (second course)
The last course was the standout–cinghiale, wild boar sausage served grilled simply with herbs and lemon. I had one bite, and then found room for a few more. It was exceptional.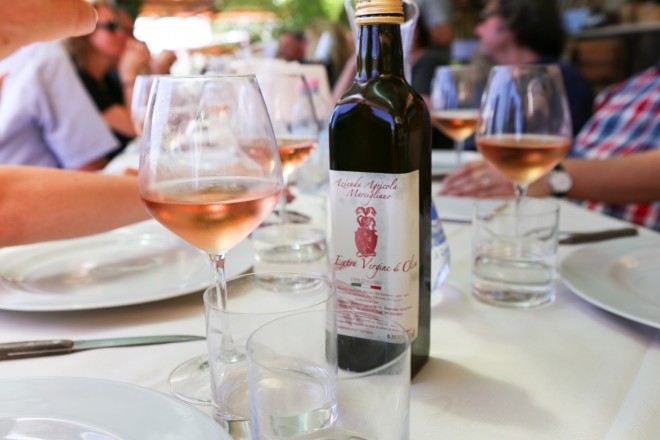 We washed it all down with a lot of Rosato (Rosé wine)
Rumor has it La Cantinetta di Rignana has fabulous desserts but we skipped the course entirely. I still feel I got the complete Tuscan Feast experience.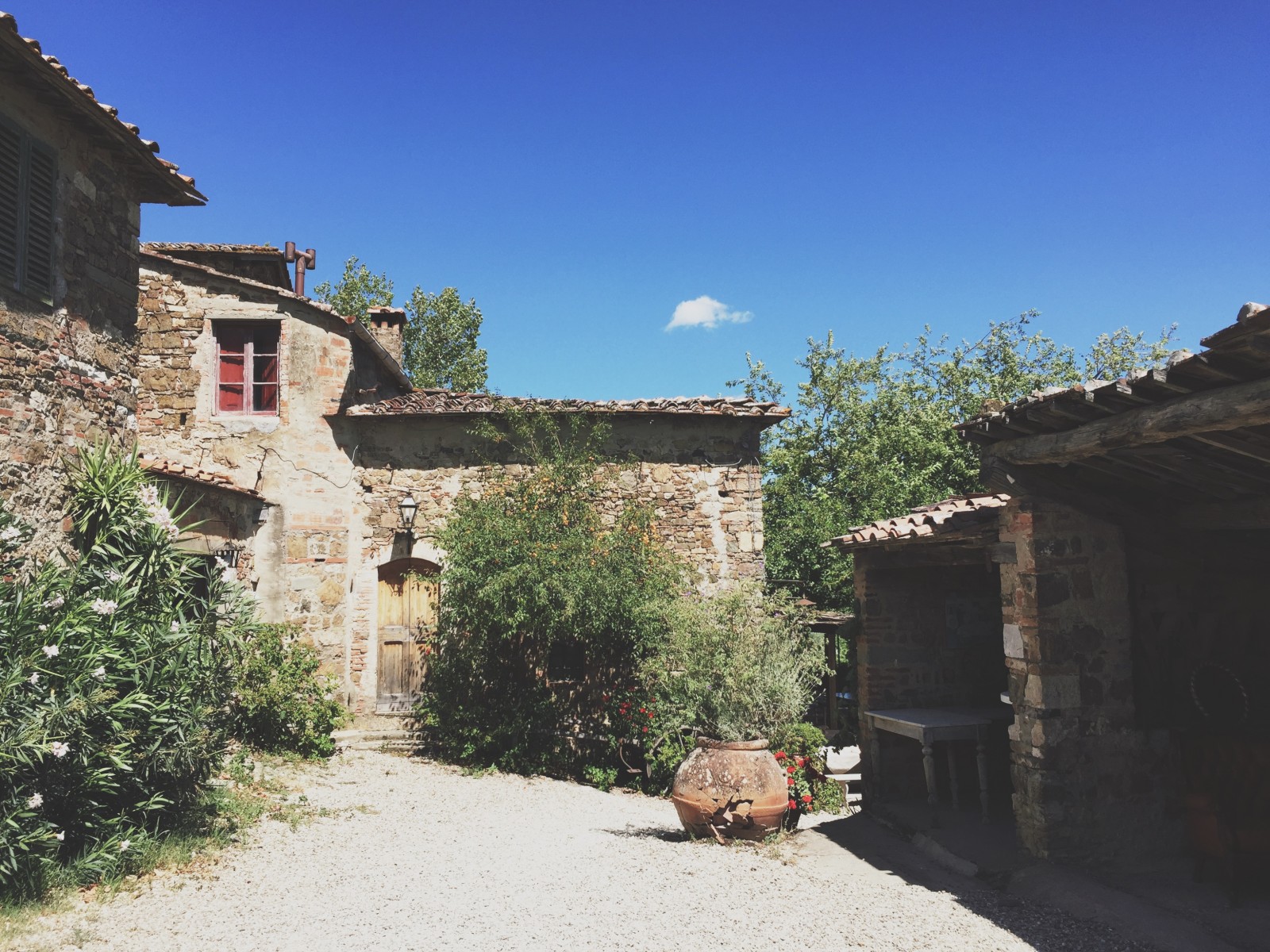 The atmosphere at La Cantinetta di Rignana is stuff of Tuscan fantasies
La Cantinetta di Rignana is considered one of the best restaurants in Tuscany, so reservations are essential. Also allow extra time for getting lost in an attempt to find the restaurant. It's all part of the experience.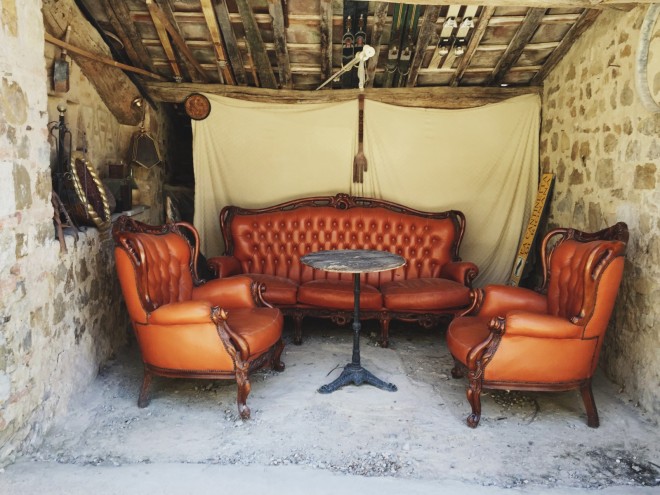 A cozy seating nook at La Cantinetta di Rignana
La Cantinetta di Rignana made for a memorable meal that was well worth the effort to get here. It's a great choice for a special occasions.
La Cantinetta di Rignana Ristorante
Loc. Rignana
50022 Greve in Chianti (Fi)
Tel. +39 055 852601 | +39 055 8560200 | +39 347 4534884