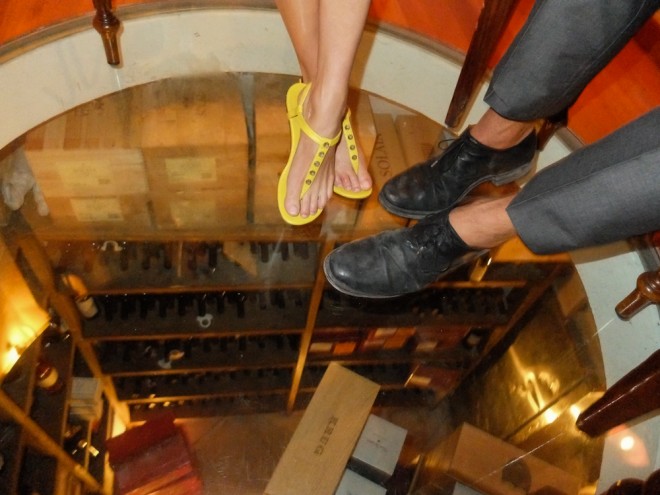 Ristorante Max is all about the wine cellar, but the food's pretty good too.

Located in an art gallery in Positano, the decor at Ristorante Max is full of funky furnishings and 18th century paintings hanging on the walls of the adjoining dining rooms and nooks.  We sat in a private room with a lucite floor above the wine cellar– my sandals almost touching the crates of Krug.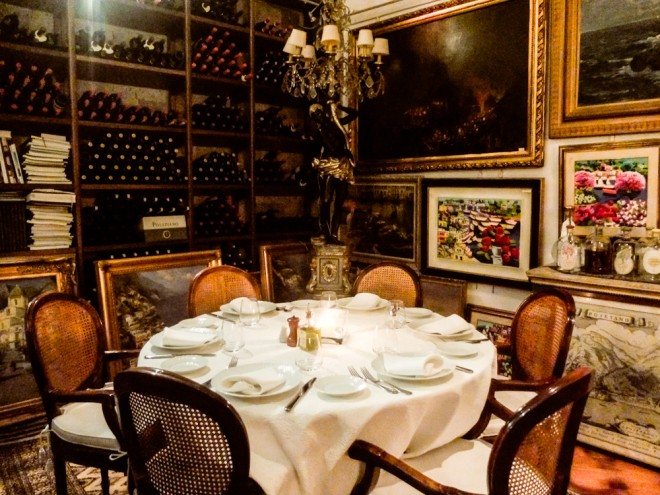 A table surrounded by 18th century paintings at Ristorante Max
There isn't an ocean view, but the unique charms of this wine bistro provide plenty of visuals. During the summer you can dine on candle lit patio as well which adds to Max's considerable charms.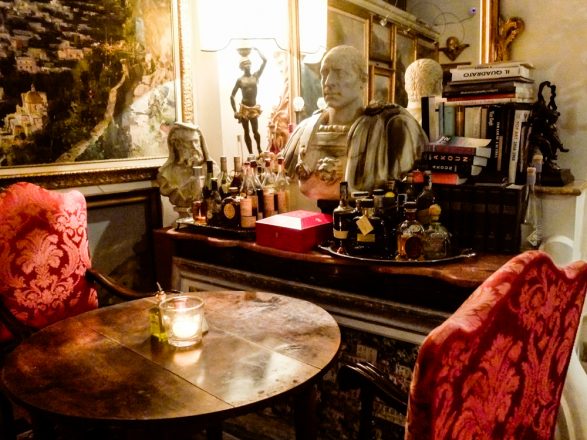 A funky nook at Ristorante Max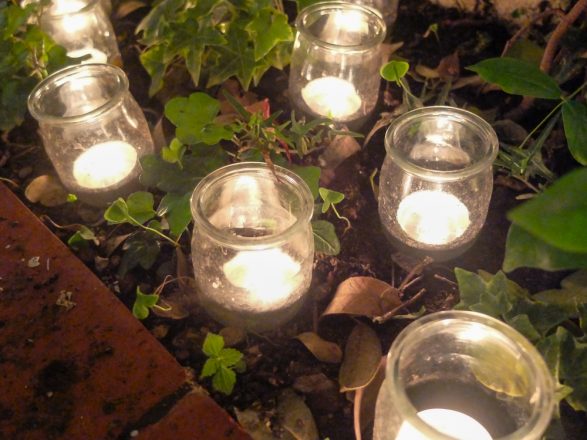 Candles on the patio
What really stands out Ristorante Max is the extensive Italian wine list. Max's has a cellar filled with over 600 bottle of Italian wine, many of them reasonably priced.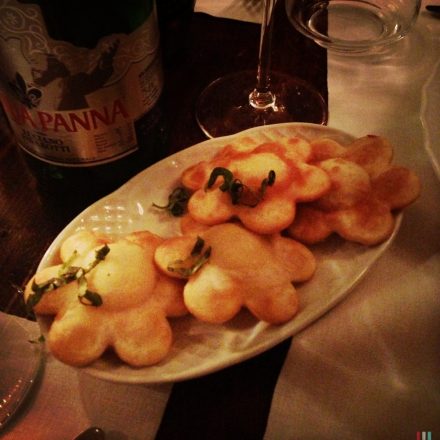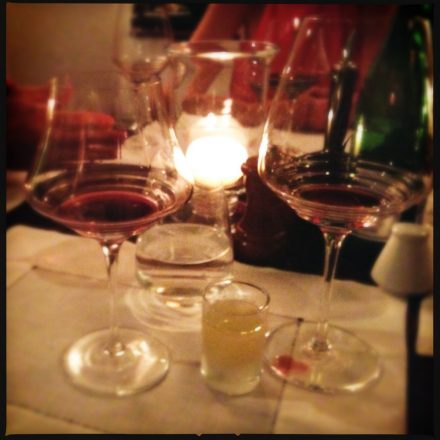 The squash blossoms and Tuscan Syrah  were standouts
We ordered our first bottle based on a Foursquare recommendation [I'm a big user of Foursquare for recommendations and unlocking specials and deals. It's one of my favorite apps for travel].
At €40 a bottle, the 1990 Il Bosco Syrah from Tuscany held it's own against the meat and fresh fish we had for dinner. When we took the waiters advice and ordered a second (and different) bottle of Italian Syrah, and we liked that one even more.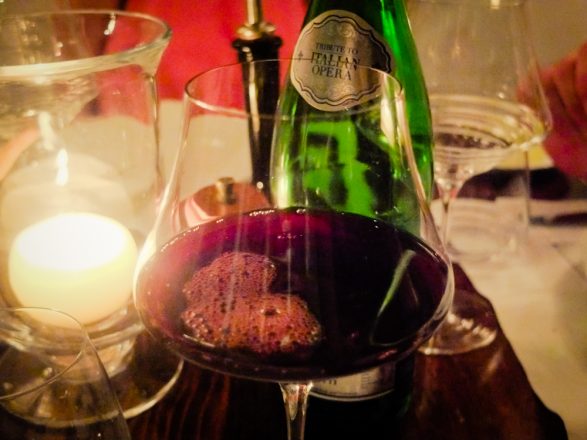 A glass of the  1990 Il Bosco Tuscan Syrah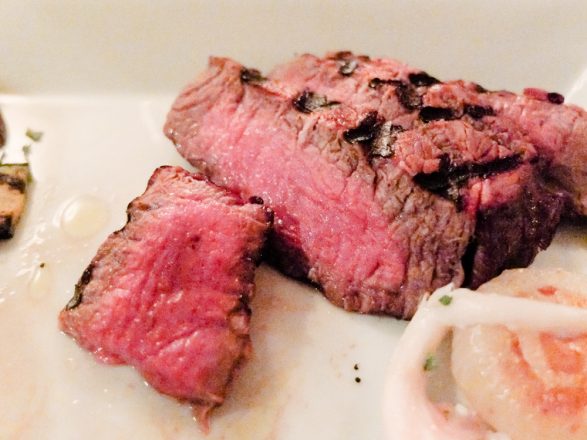 A European interpretation of steak cooked "medium"
Our fresh fish and meat was simply prepared and satisfying, and the breeze from the patio made for a lovely evening.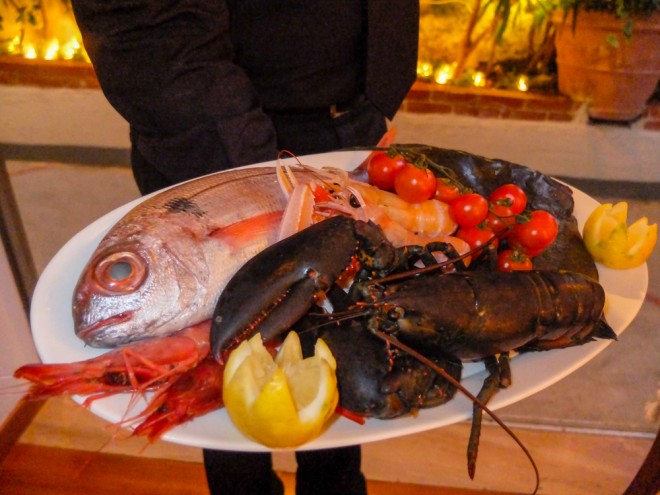 The catch of the day was fresh and specials tend to sell out during the high tourist season
Ristorante Max also offers a 2 hour cooking classes if you'd like to learn how to cook Positano style cuisine.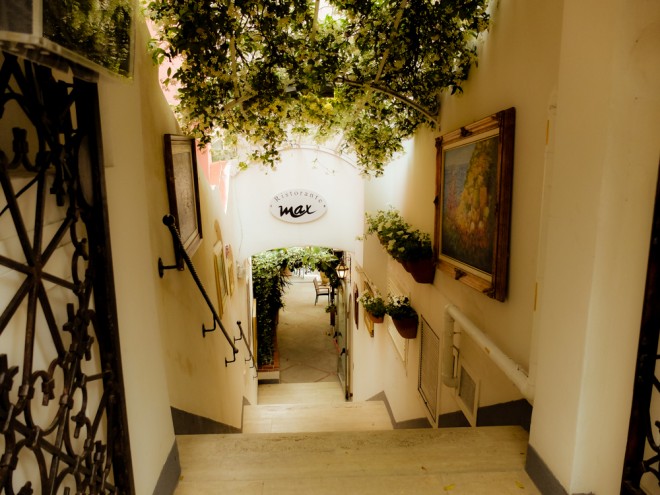 Down the steps to the entrance to Ristorante Max
Ristorante Max
Piazza dei Mulini 22
Positano 84017 Italy
(39) 089 875056