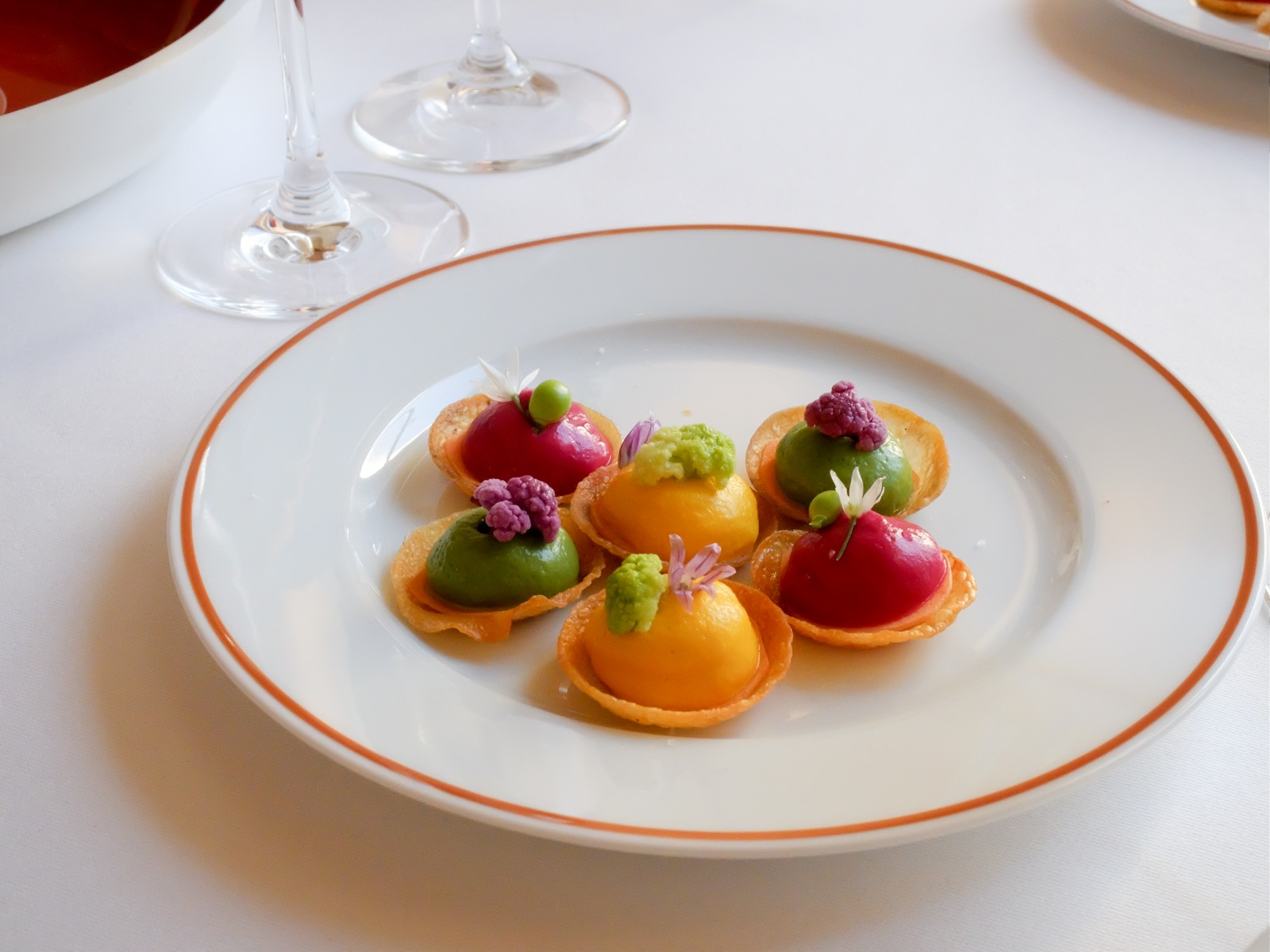 The colorful amuse bouche
After seeing chef Alain Passard's Arpège, a three Michelin star restaurant in Paris, featured on the PBS show I'll Have What Phil is Having, I was curious. Is it possible to make a truly spectacular vegetarian meal that justifies the 320 € set price for a tasting menu that only uses seasonal produce?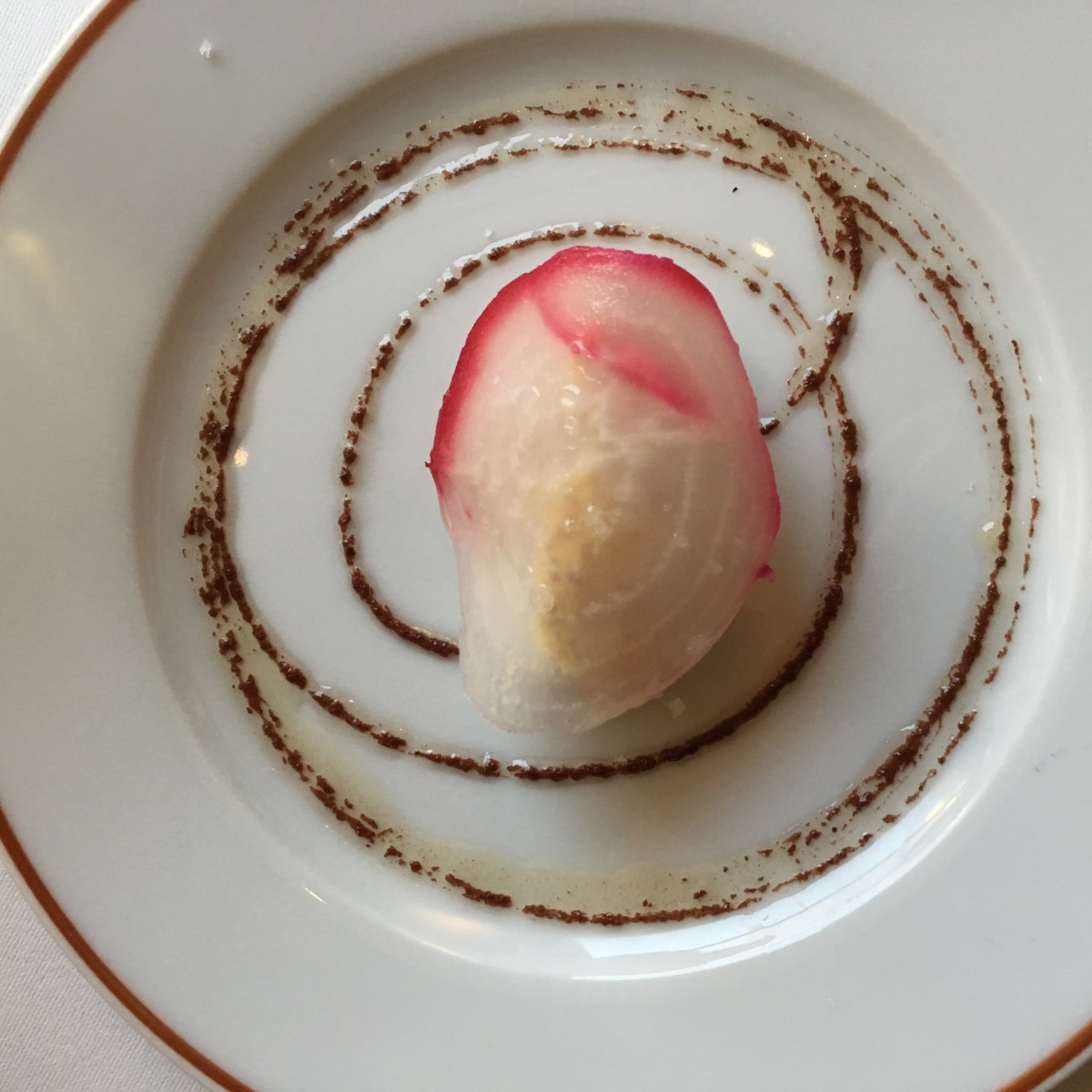 Beetroot sushi flowered with geranium and Kalamata black olive
Fortunately my husband and a few of my foodie friends were alway interested in finding out. We booked a reservation and went to Paris to check it out for ourselves.
One thing I despise is how at some fine dining restaurants in Europe the woman is handed a menu devoid of prices. I was disappointed that Arpège, which is so groundbreaking on so many levels, went the "women don't get to read the prices" route. Not only is this sexist, but it left me out of the conversation about some of the other items on the menu (such as the Aiguillettes of Chausey Lobster lobster for 165 €) which was a bummer, and misguided since I was only blogger at the table.
But I quickly got over the menu slight as soon as the amuse bouche arrived to brighten up the monochromatic table at the restaurant. They were vibrant, delicious and highly refined. I was convinced Chef Alain Passard was onto something with this Spring in the Garden menu. The staff which was so friendly I think they would have happily handed me the menu with the prices if I had asked.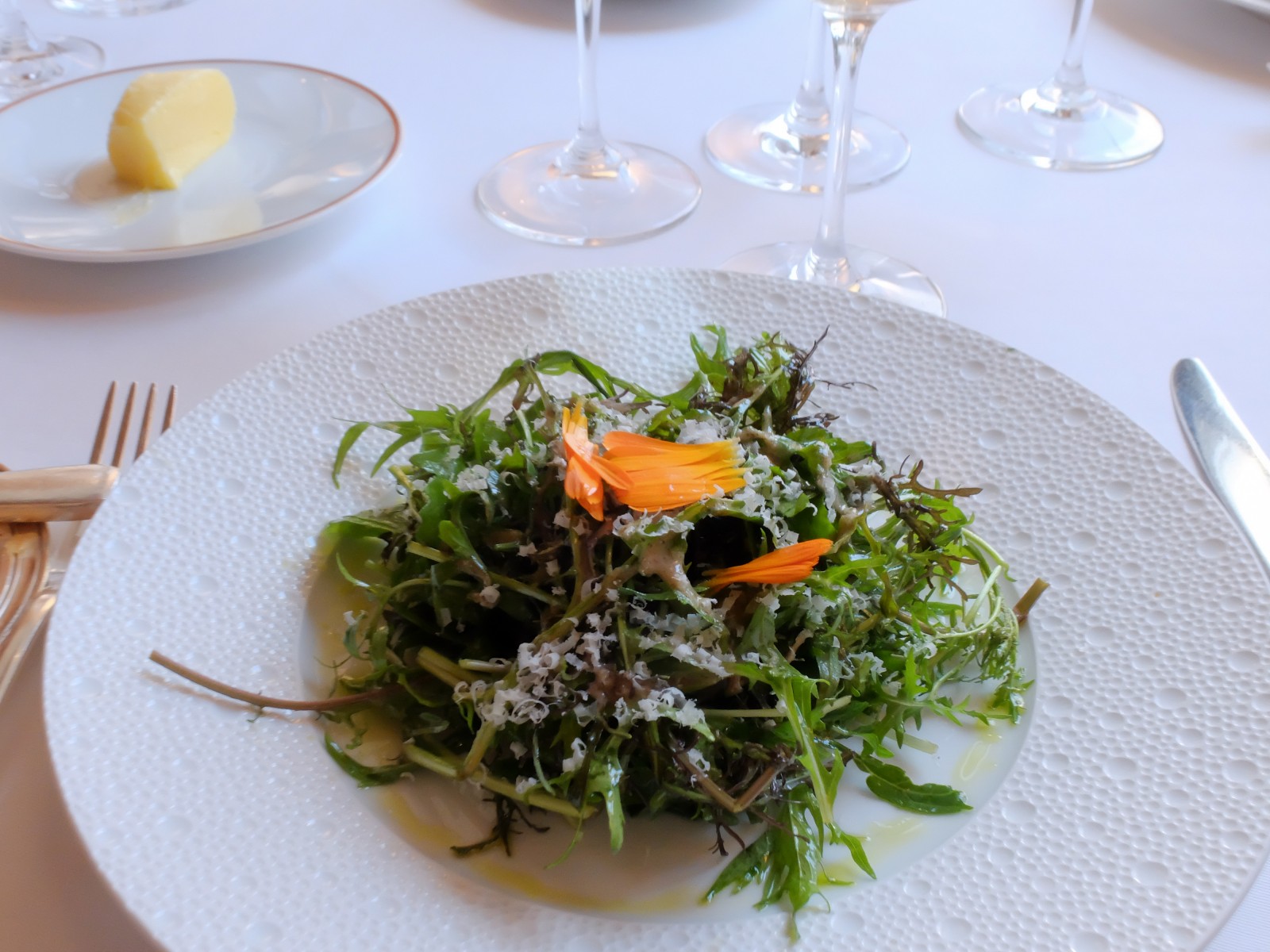 Mesclun with hazelnut praline Mibuna, mizuna, choho…
The first course, beetroot sushi flowered with geranium and Kalamata black olive, was perhaps the most memorable of the evening. It was creative yet sublime and highly flavorful. The beet was as silky as sashimi and the velvety olives were a nice contrast to the rice.
Next up was course was a mesclun salad with hazelnut praline Mibuna. While this was one of the more basic looking dishes, it was definitely next level because of how flavorful it was and it's lovely combination of textures.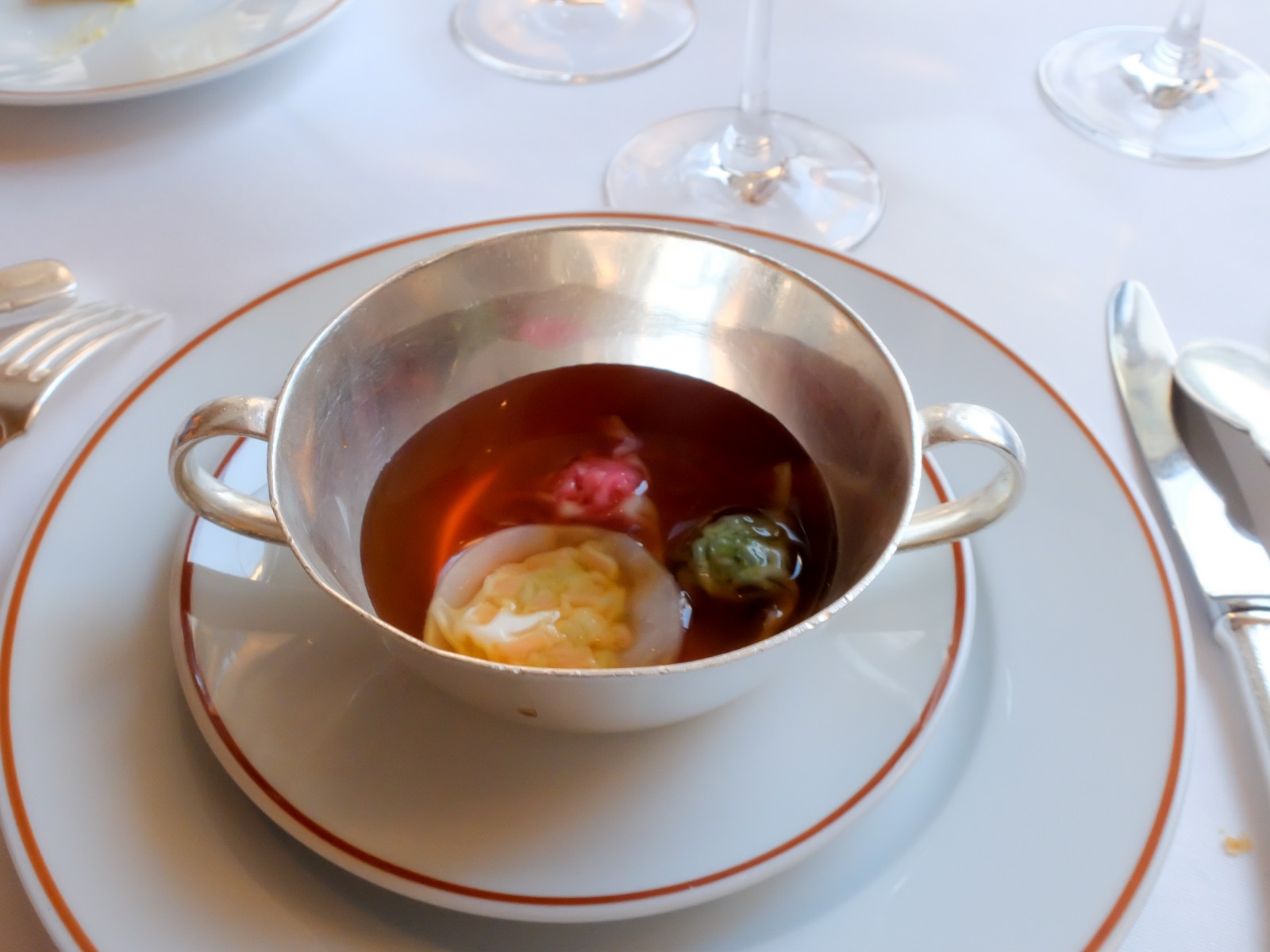 Fine multicolored vegetable ravioli vegetable consommé
I'm not much of a cook, but my friend, Felix, is. He tried to place the flavors in the third course, the fine multicolored vegetable ravioli in vegetable consommé. The broth had some umami earthiness that he attributed to mushrooms. The ravioli had a nice bite as well.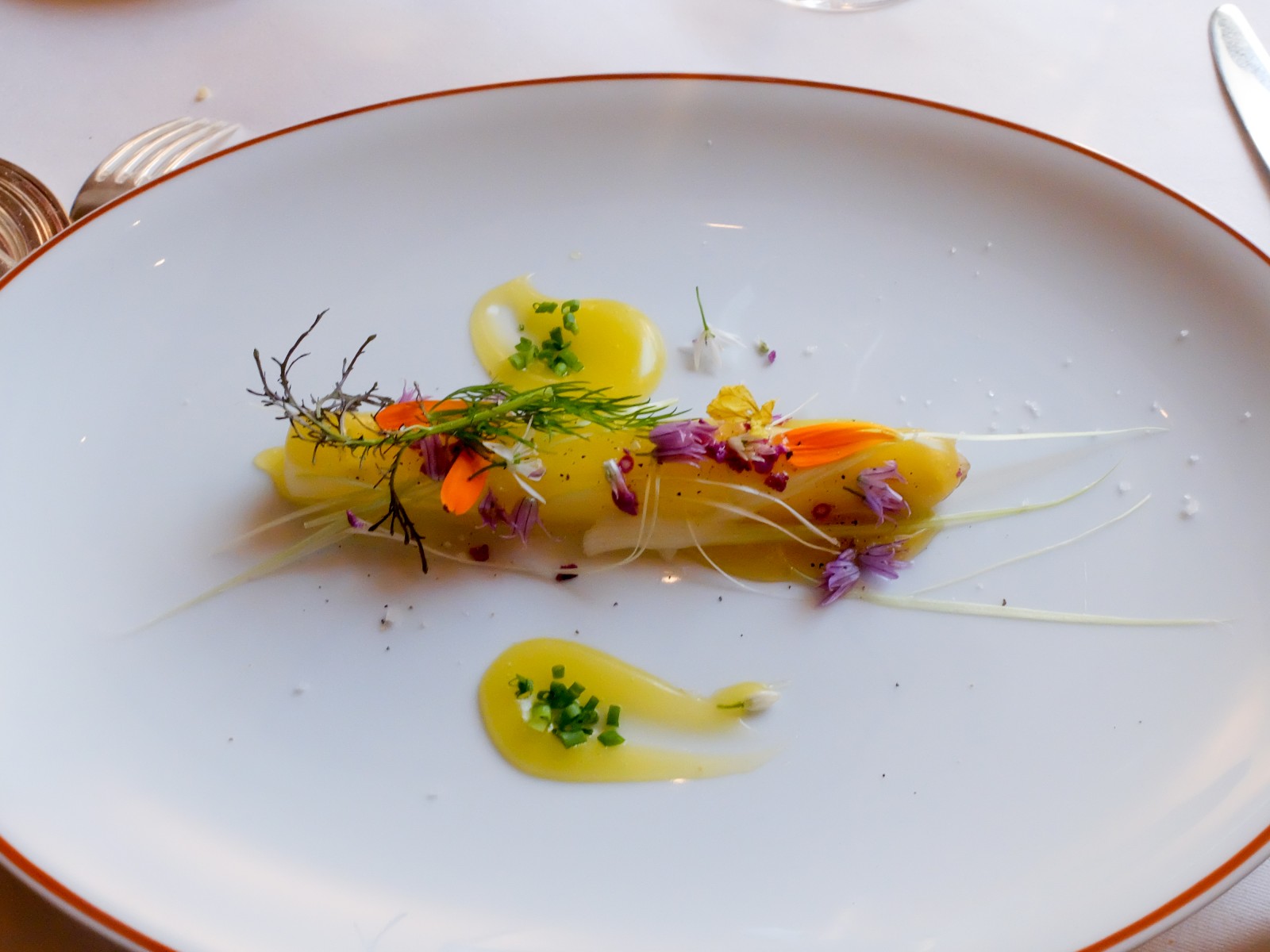 White asparagus from the Sarthe region with olive oil and Timut pepper
The fourth course in the tasting menu was white asparagus from the Sarthe region served with olive oil and Timut pepper from Nepal. This was perhaps the most straightforward of the courses served yet still delicious. I like perfectly prepared asparagus, and this course worked in a traditionally refined fashion.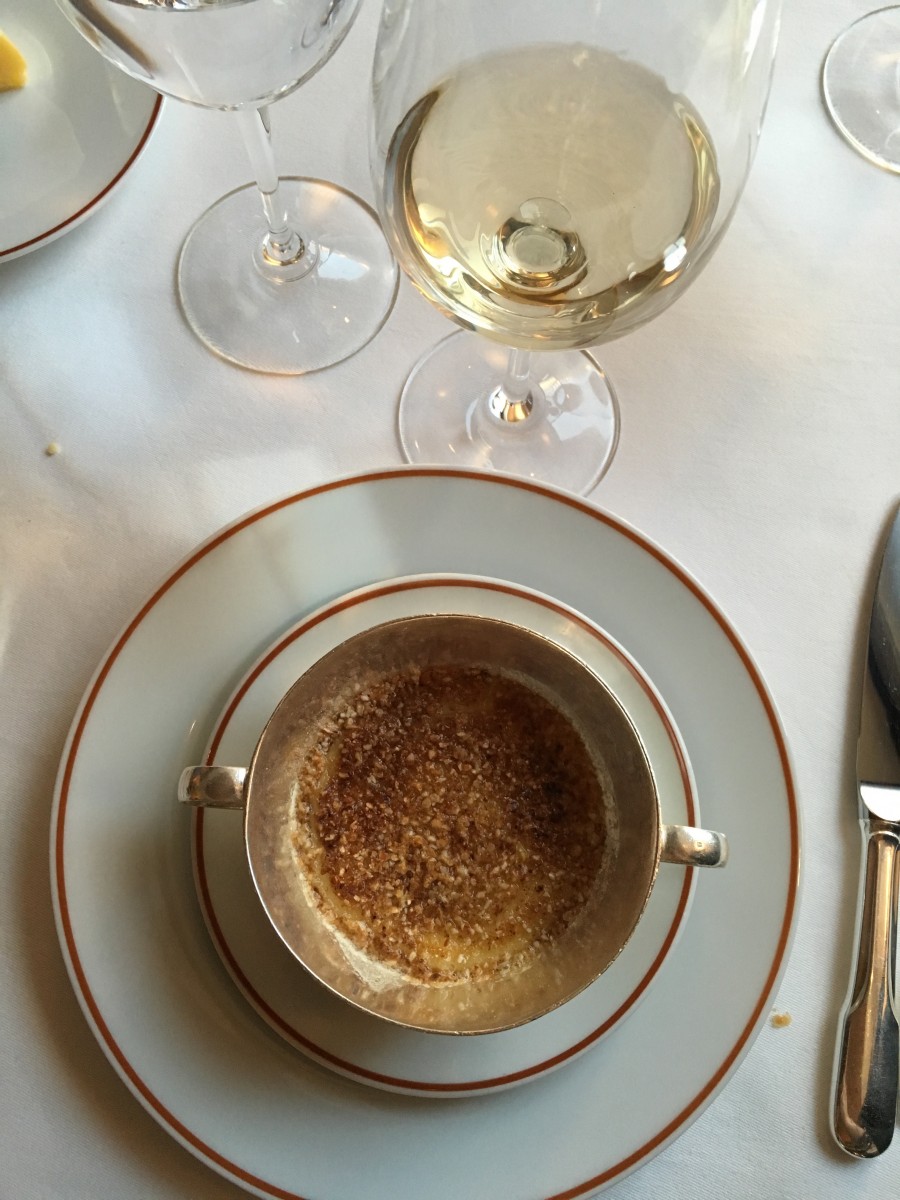 Louise Passard's "Parmentier" with kasha grains
On to the next course, which as described as "Louise Passard's 'Parmentier' made with kasha grain." I found this to be the least memorable course. While it was good- everything was good- I think the wine pairings were starting to catch up with me at this point and I was getting a bit full.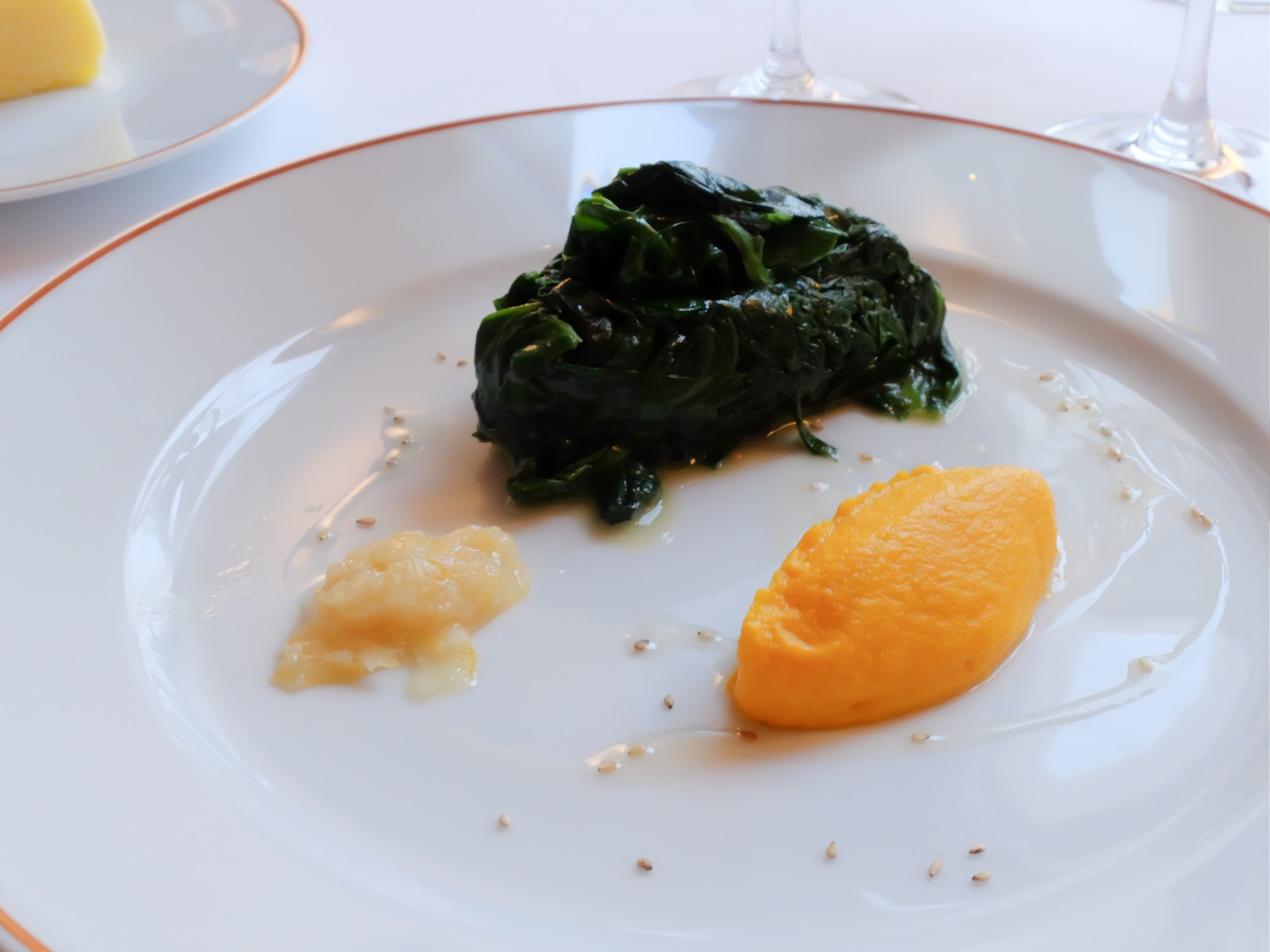 Palco spinach with hazelnut butter and laurel butter
Next up was Palco spinach with hazelnut and laurel butter. This course looked a bit like baby food but boasted bold and sophisticated flavors.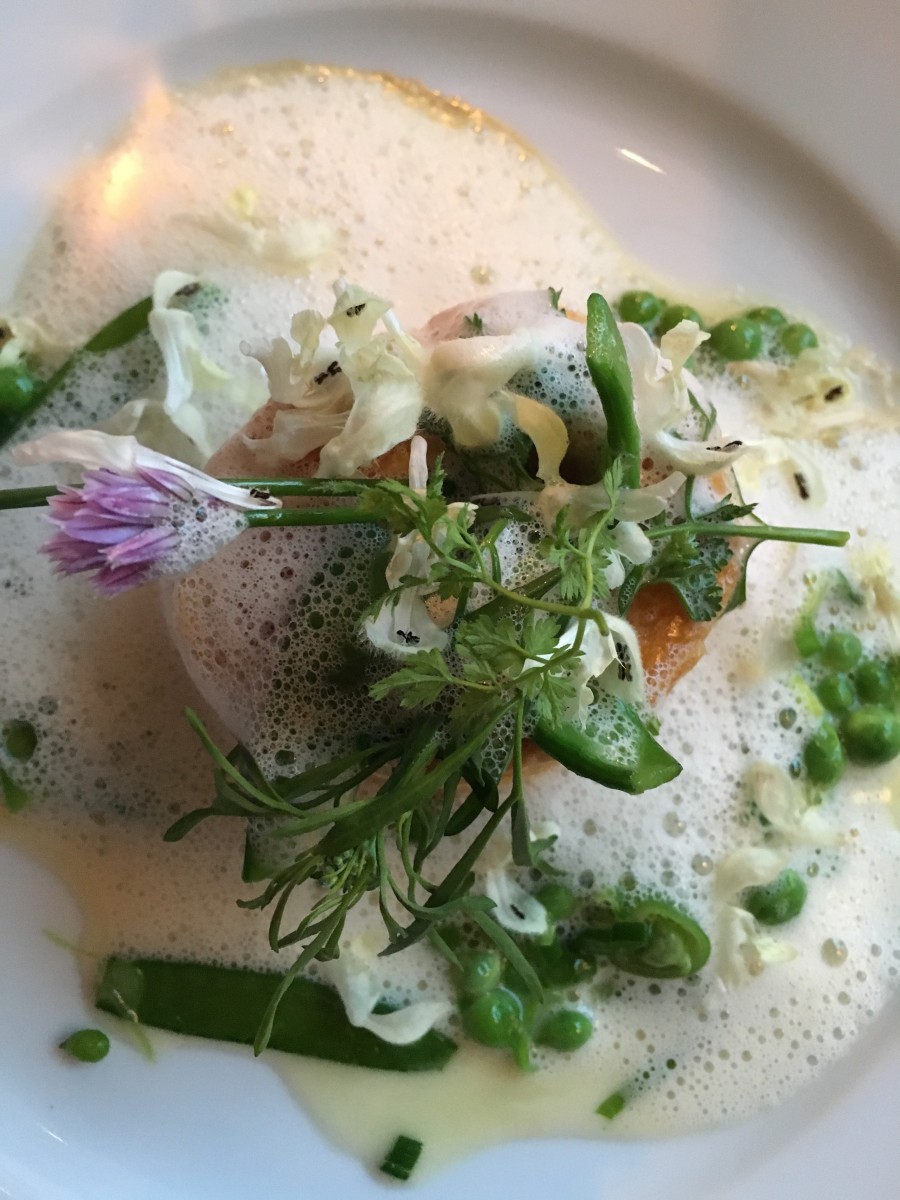 Vol-au-vent with Côtes du Jura wine, peas, turnip, and mangetout peas
The next course, a puff pastry vol-au-vent with Côtes du Jura wine, peas, turnip, and mangetout peas was perhaps the most beautiful of the evening. The perfectly froth and vibrant greens stood out and the puff pastry was both delicate and satisfying. This course left clean plates all around.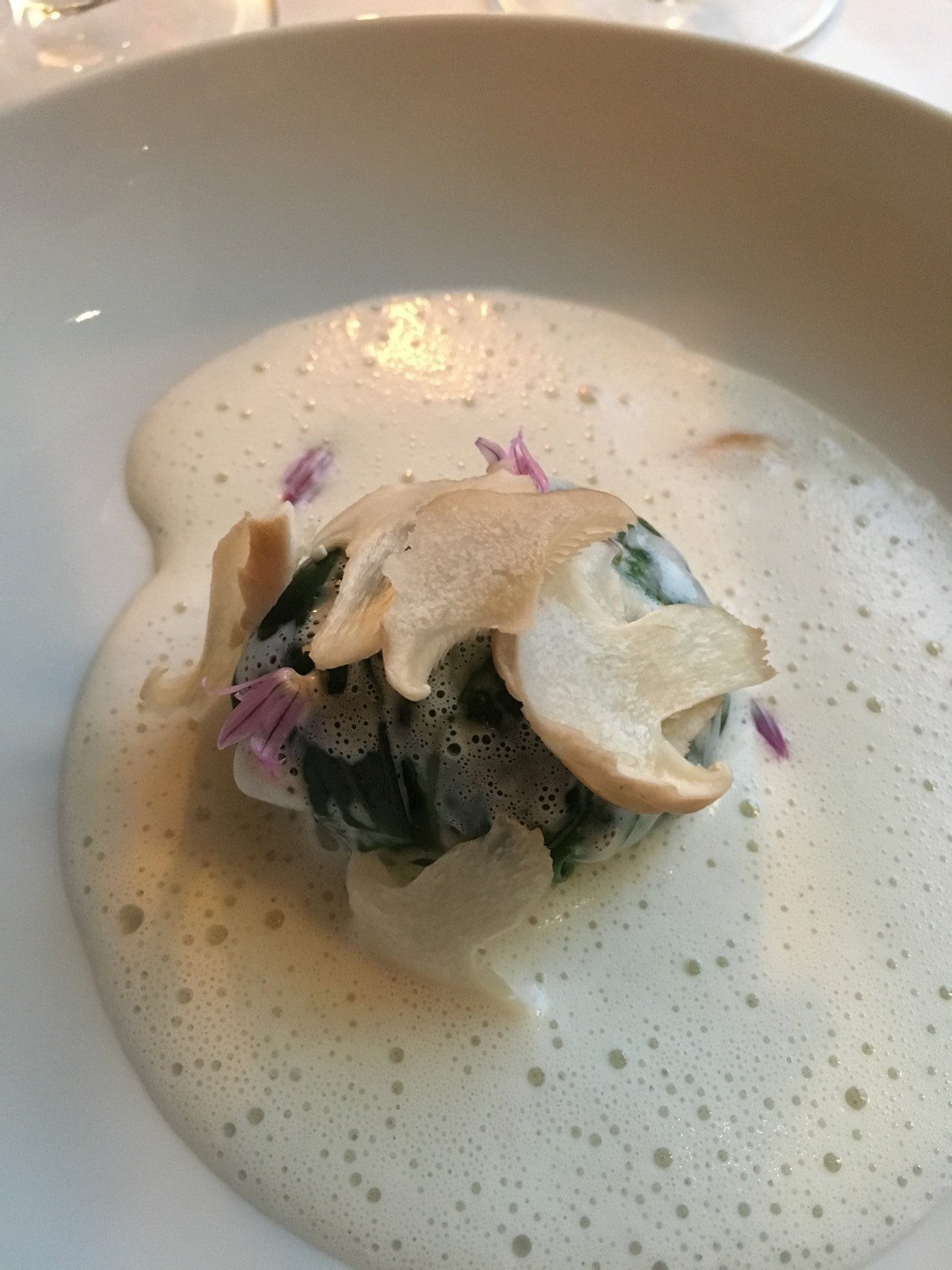 Spring cabbage stuffed with nettle leaves and fresh thermidrome garlic
The eighth course was spring cabbage stuffed with nettle leaves and fresh thermidrome garlic. This visually resembled the beautiful previous course and was perfectly seasoned, yet not as memorable as the previous course. I think the puff pastry added that magical French carb factor.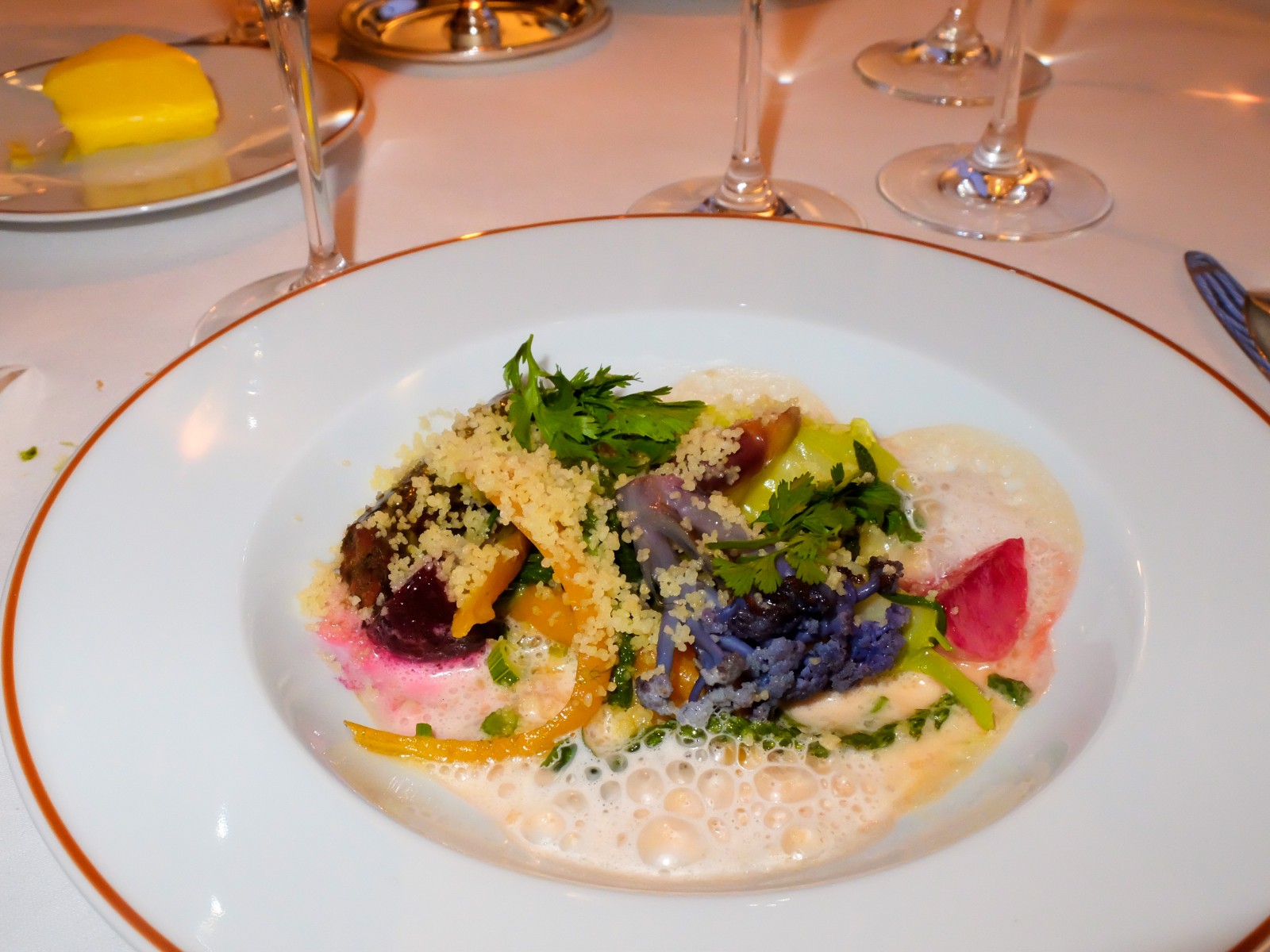 Arlequin Jardinière with Argan oil, young carrot, kohlrabi, Selma fennel
I was getting uncomfortably full by the time the ninth course arrived. It was artful, colorful and delightfully complicated Arlequin Jardinière with Argan oil, young carrot, kohlrabi, and Selma fennel. This was satisfying to my eyes as well as my taste buds.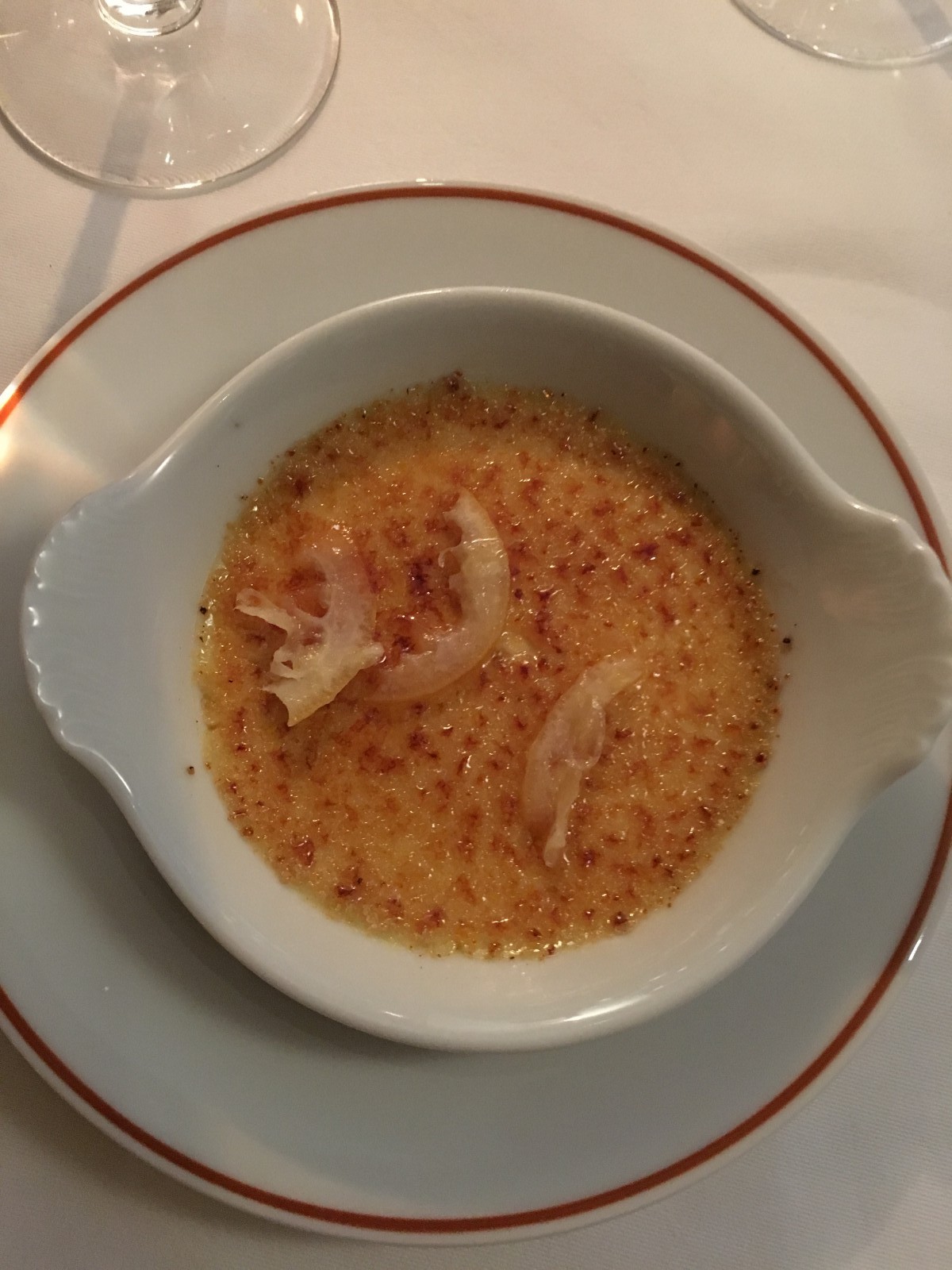 Garlic crème brûlée with candied lemon
Portions were appropriately sized for a tasting menu, but I decided to bow out of the first dessert course, a garlic crème brûlée with candied lemon. I'm never a fan of the texture of crème brûlée and was losing steam. My friend, Thomas, said this was "the best crème brûlée I've ever had." This is saying a lot as Thomas is seriously well-traveled foodie. Maybe I'll save room next time.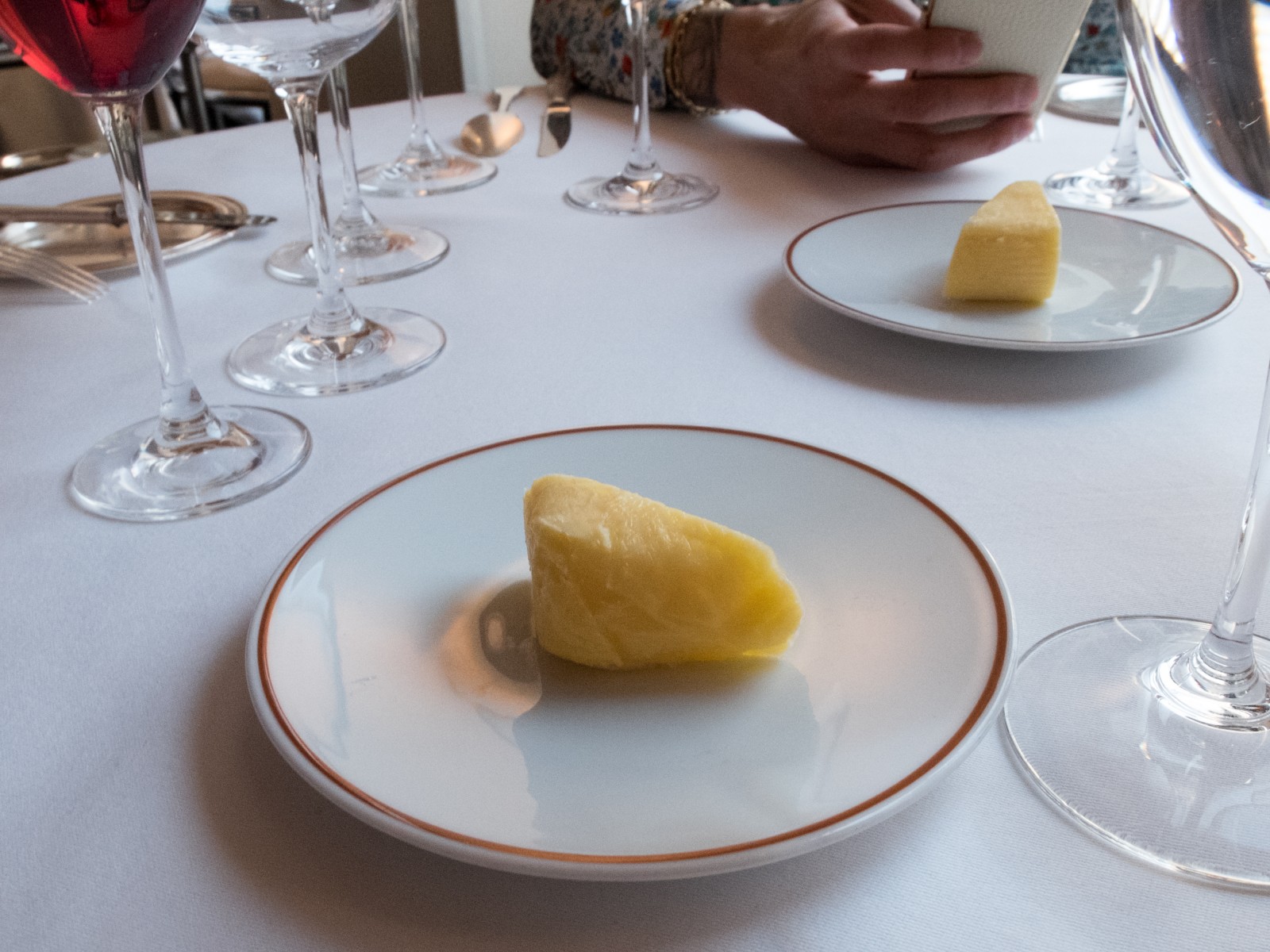 Crispy millefeuille with candied rhubarb garden angelica
The next course was also sweet, a delicate and crispy millefeuille with candied rhubarb garden angelica. It was delicate but not as memorable or as visually appealing as the savory and umami courses.
I was fully tasted out so the final course, a post-dessert of sweets including macarons, biscuits and caramel. This is the point in the meal where I always seem to forget these epic meals come with multi-course desserts. To me it seemed like overkill but I lack a sweet tooth and never require multiple desserts. I forgot to photograph it.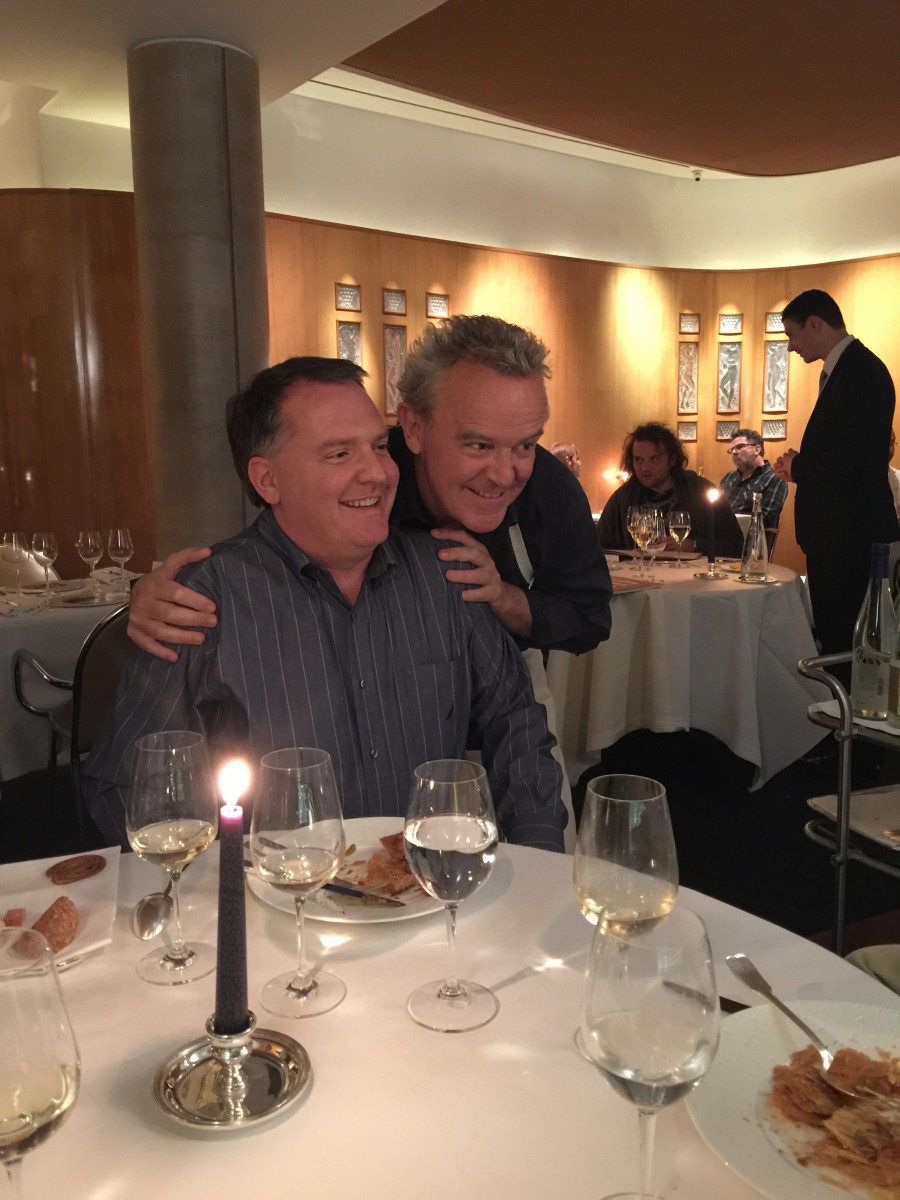 Chef Alain Passard came to greet us after our meal (photo credit: Felix Kam-Chung)
After our meal Chef Alain Passard came out to greet us and he is charming and truly an artist. So was the 320 € Spring in the Garden vegetable tasting menu worth it? For me it was a firm "yes", as much for the experience for the food. It was definitely eye opening to see how creative and refined a vegetarian meal can be. I would order the beetroot sushi and vol-au-vent again if they were available a la carte. When the bill arrived we all agreed we were glad we came.
2016 is the 30th anniversary of the restaurant and there is much to celebrate at Arpege. But you don't need to bring a jacket to celebrate. Arpege breaks almost all the rules and there is no dress code, not that anyone showed up in jeans and a t-shirt. It's lovely and upscale but not in the least bit stuffy. The service was friendly and vegetarian tasting menu justified the 360 Euro price of entry. I can't eat epic meals like this often and I'd like to return to Arpege in another season to see how chef Alain Passard masterfully handles winter vegetables or perhaps check out the 165 € lobster from the a la carte menu. Now if I can only get a menu with the prices on it….
84, Rue de Varenne
75007 Paris
+ 33 (0)1 47 05 09 06
The Restaurant is open
from Monday to Friday for lunch and dinner
No valet parking.
Reservations : arpege.passard@wanadoo.fr or online via web-site booking form.