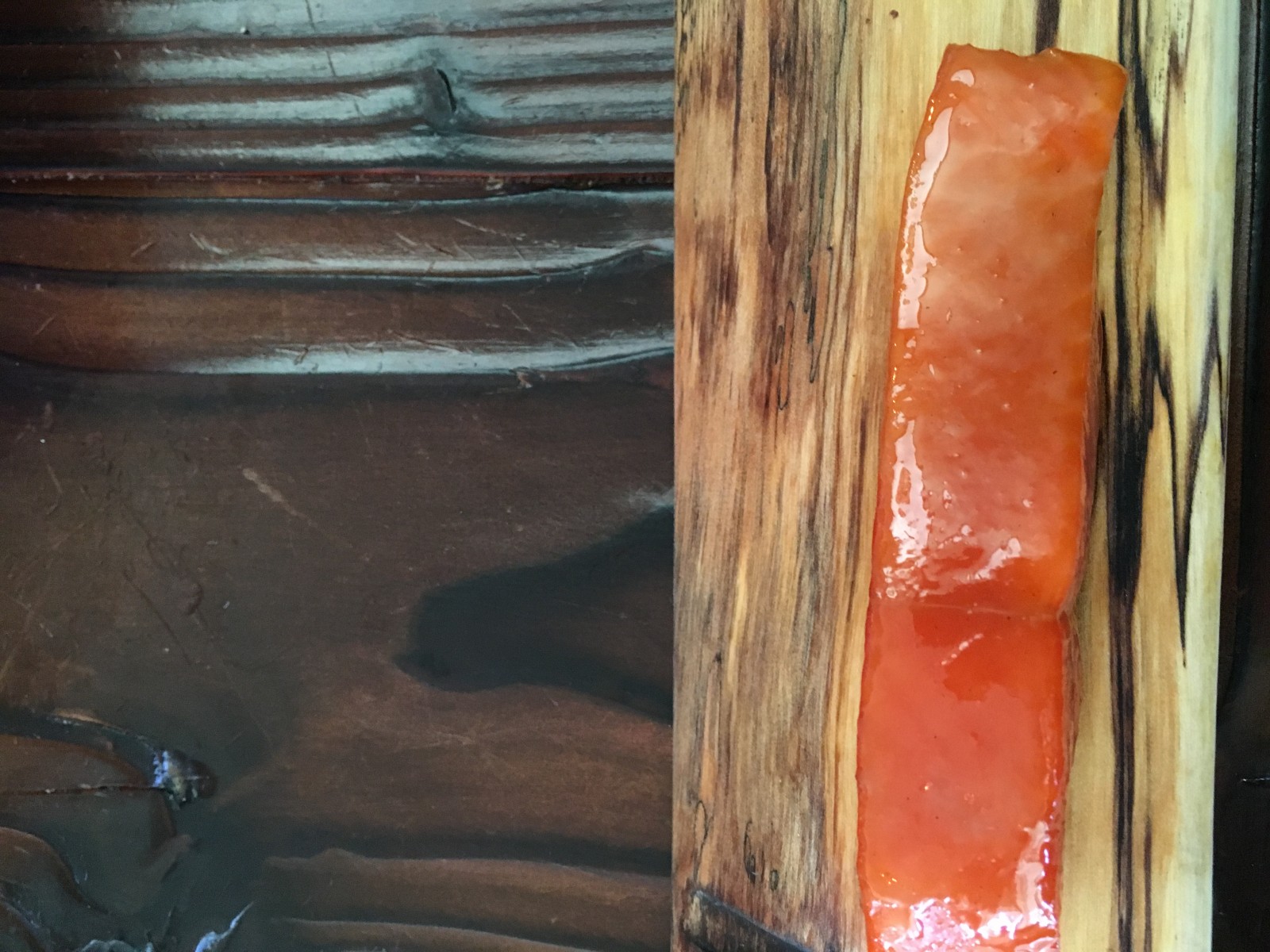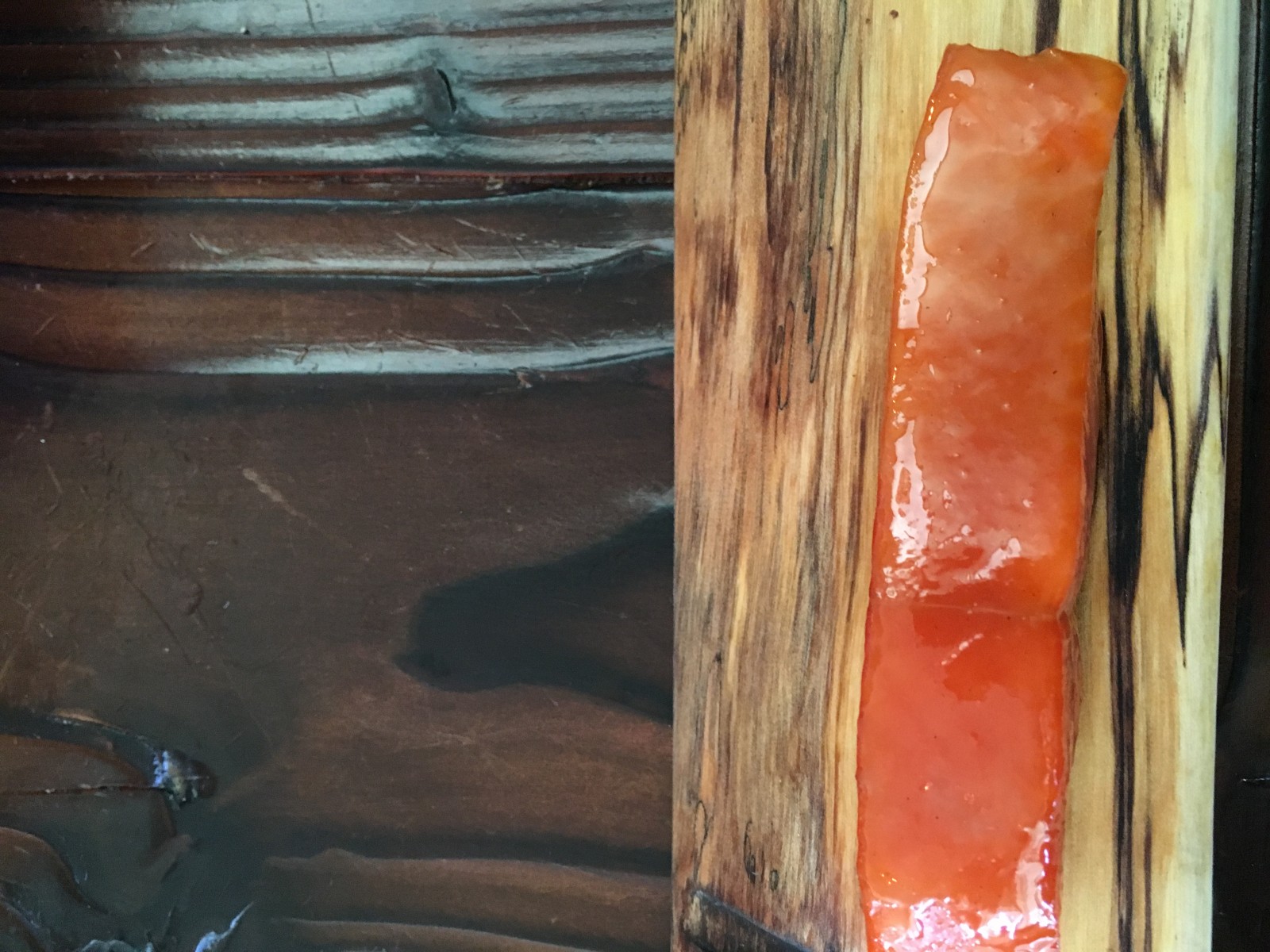 Smoked sockeye salmon
Chef Blaine Wetzel has put The Willows Inn on Lummi Island on the Pacific Northwest's culinary map. Wetzel, a native of Washington state, has an impressive number of awards to his name considering he's barely 30. He was named Food & Wine's Best New Chef in 2012, and won the James Beard award for Best Rising Chef in 2014 and Best Chef Northwest in 2015.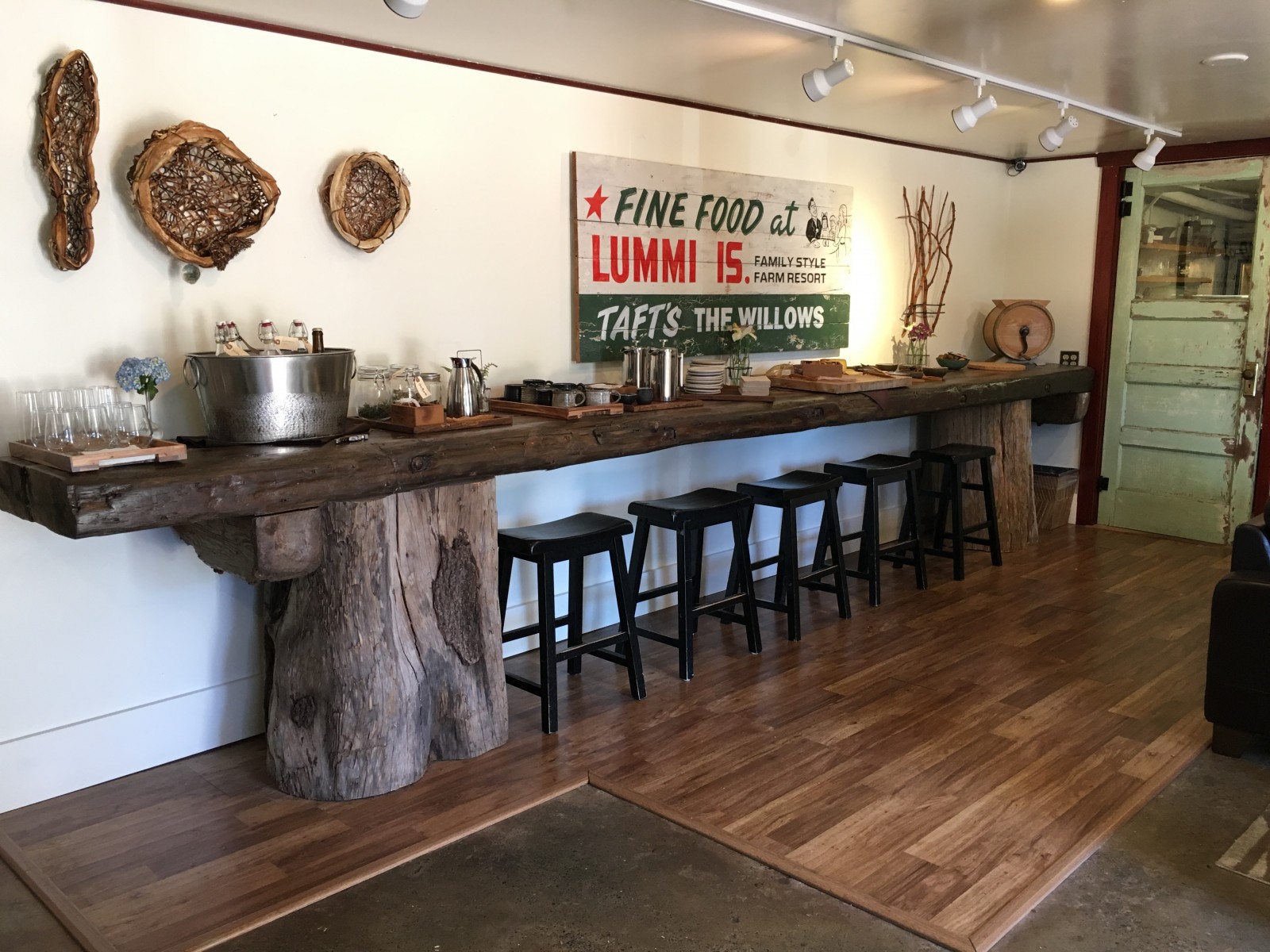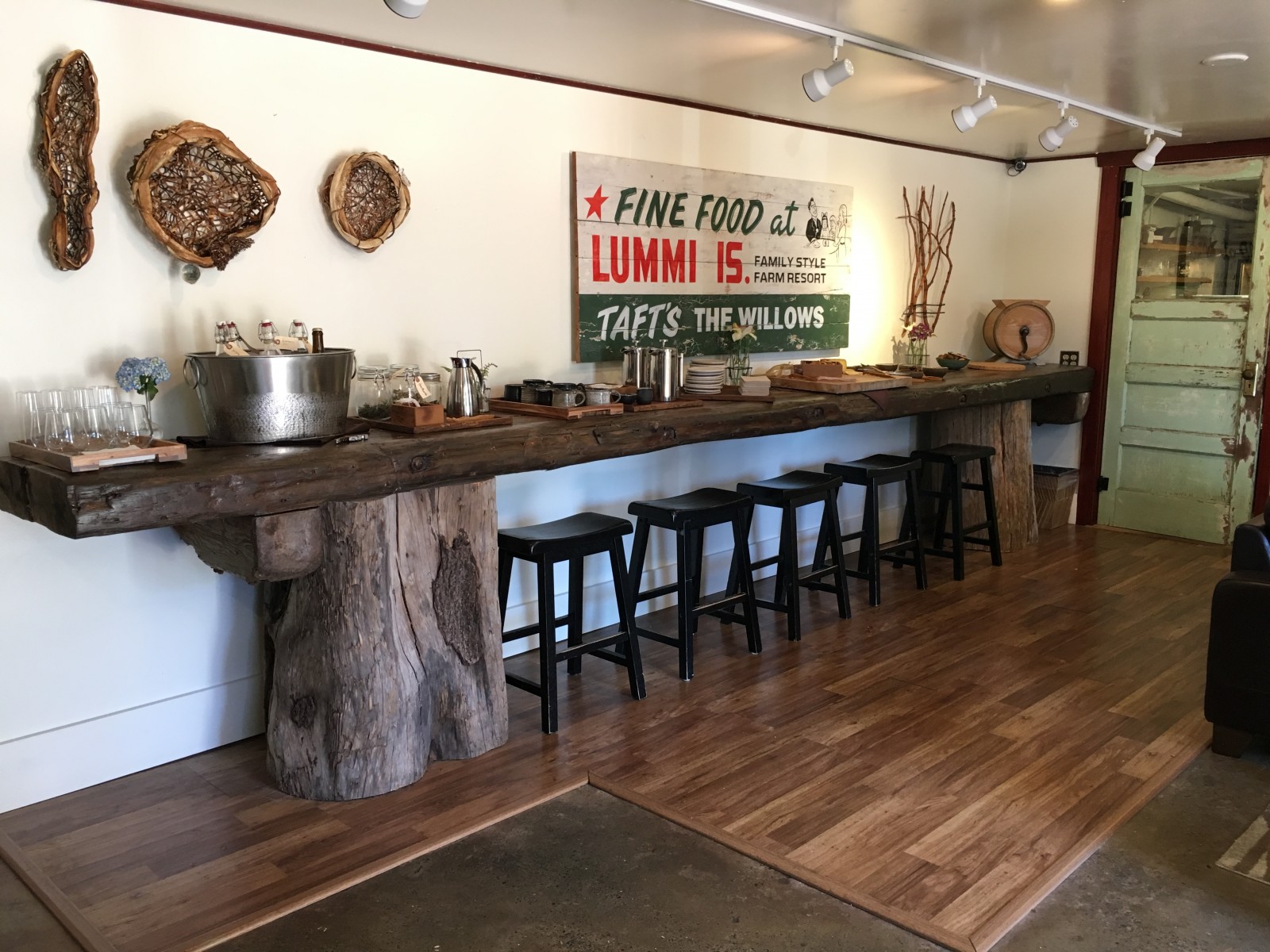 The lobby at the Willows Inn
Chef Wetzel's tasting menu, Lummi Island in 21 Bites, is known for being almost entirely local. It's also one of the toughest reservations to get in the Pacific Northwest. The Willows Inn seats only 26 and does one sitting per at 6:30 pm. The hotel is closed for a few months in the winter, so getting a reservation during the prime summer season can be challenging. I couldn't make it happen last summer but got a reservation for June 2016.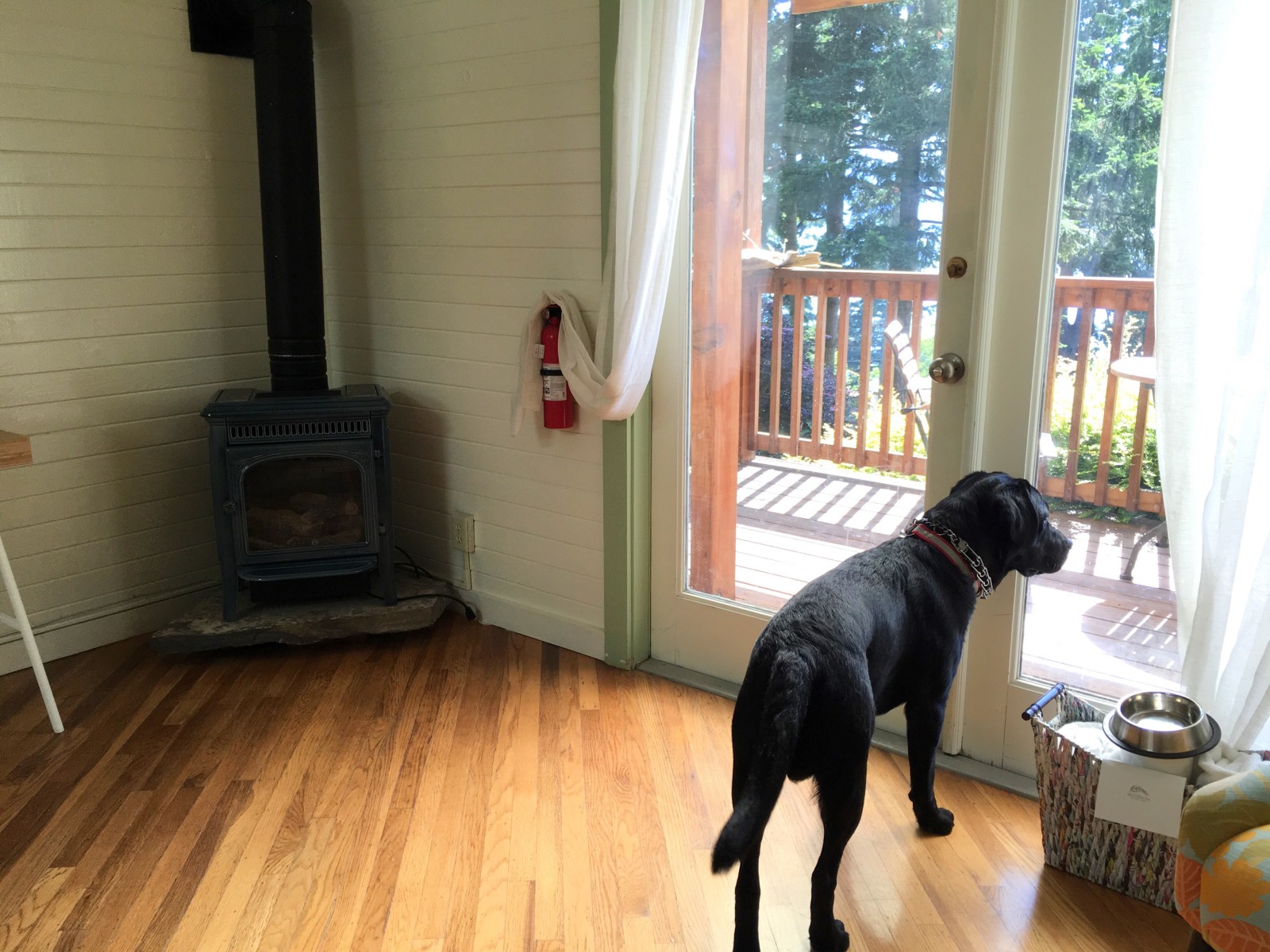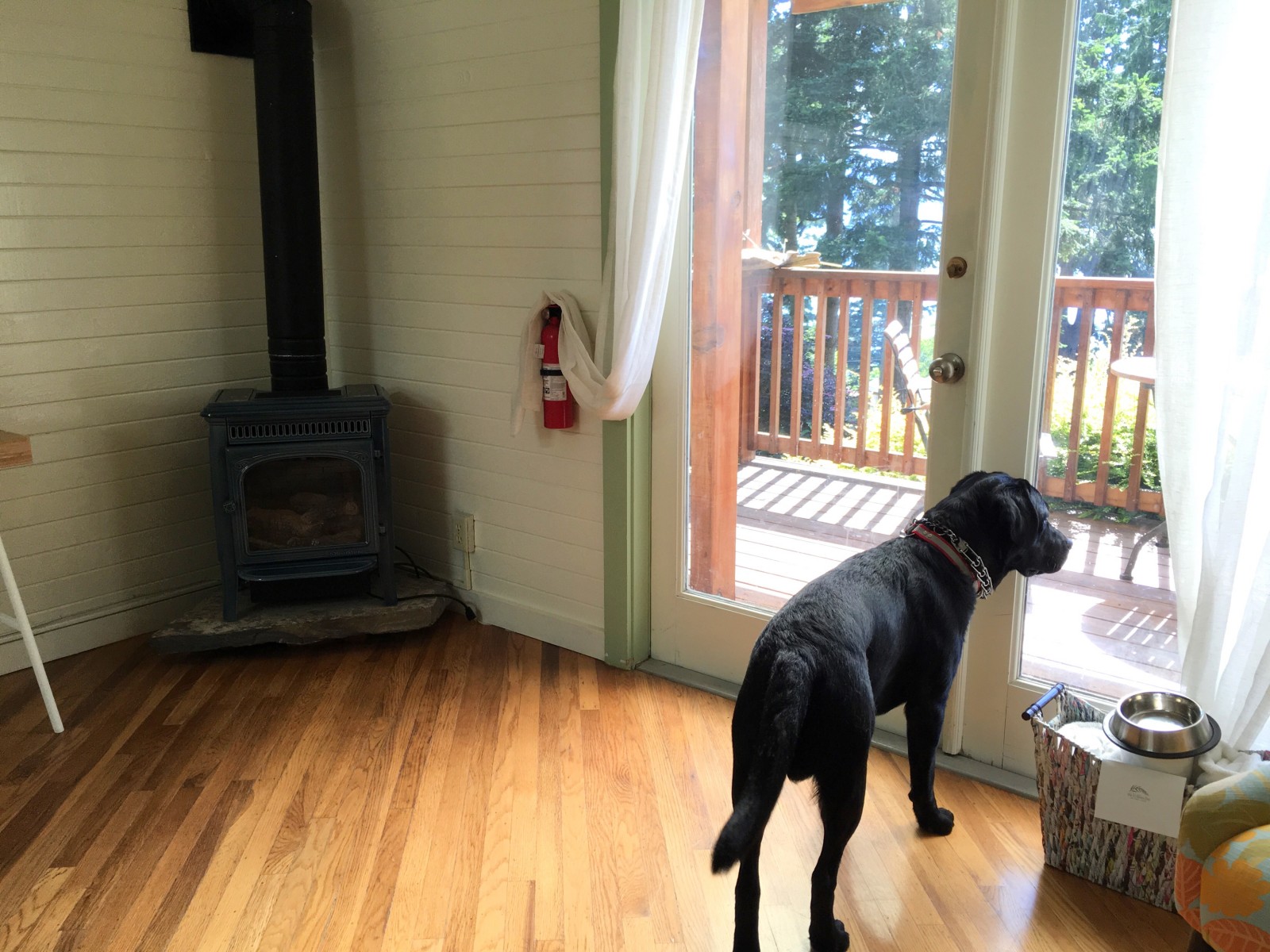 The  cottage at the Willows Inn
Known for it's super locavore focus, almost everything on the menu is farmed, foraged or raised on or near tiny Lummi Island's nine square miles.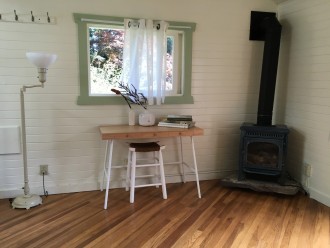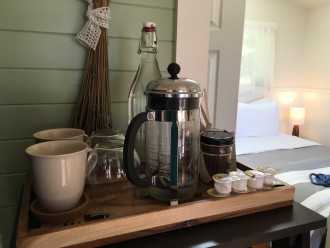 Charming details at the 100 year old Willows Inn
The Willows Inn even offers guests tours of the local farm where most of their produce is grown, making it an intriguing foodie destination in the San Juan Islands.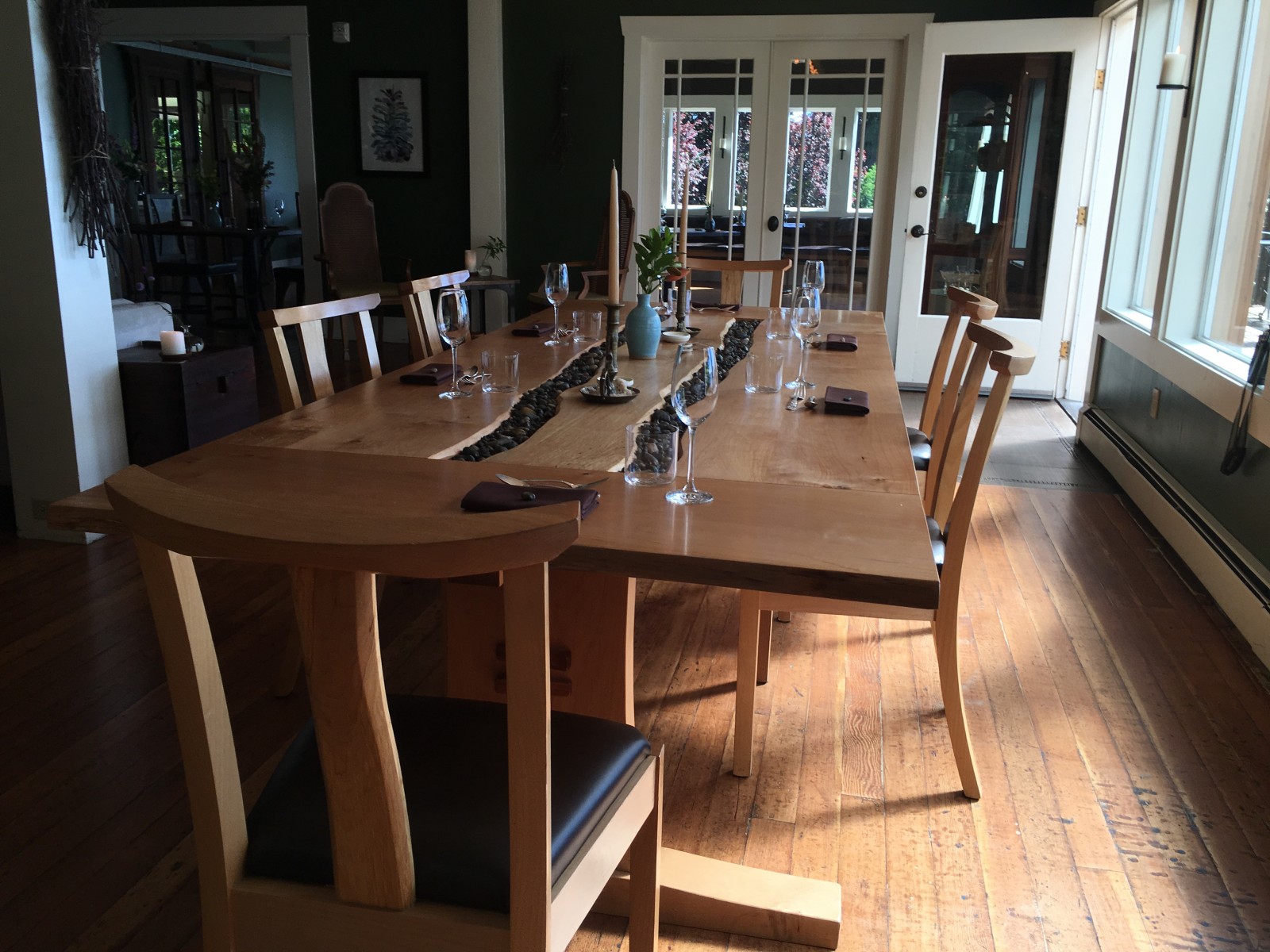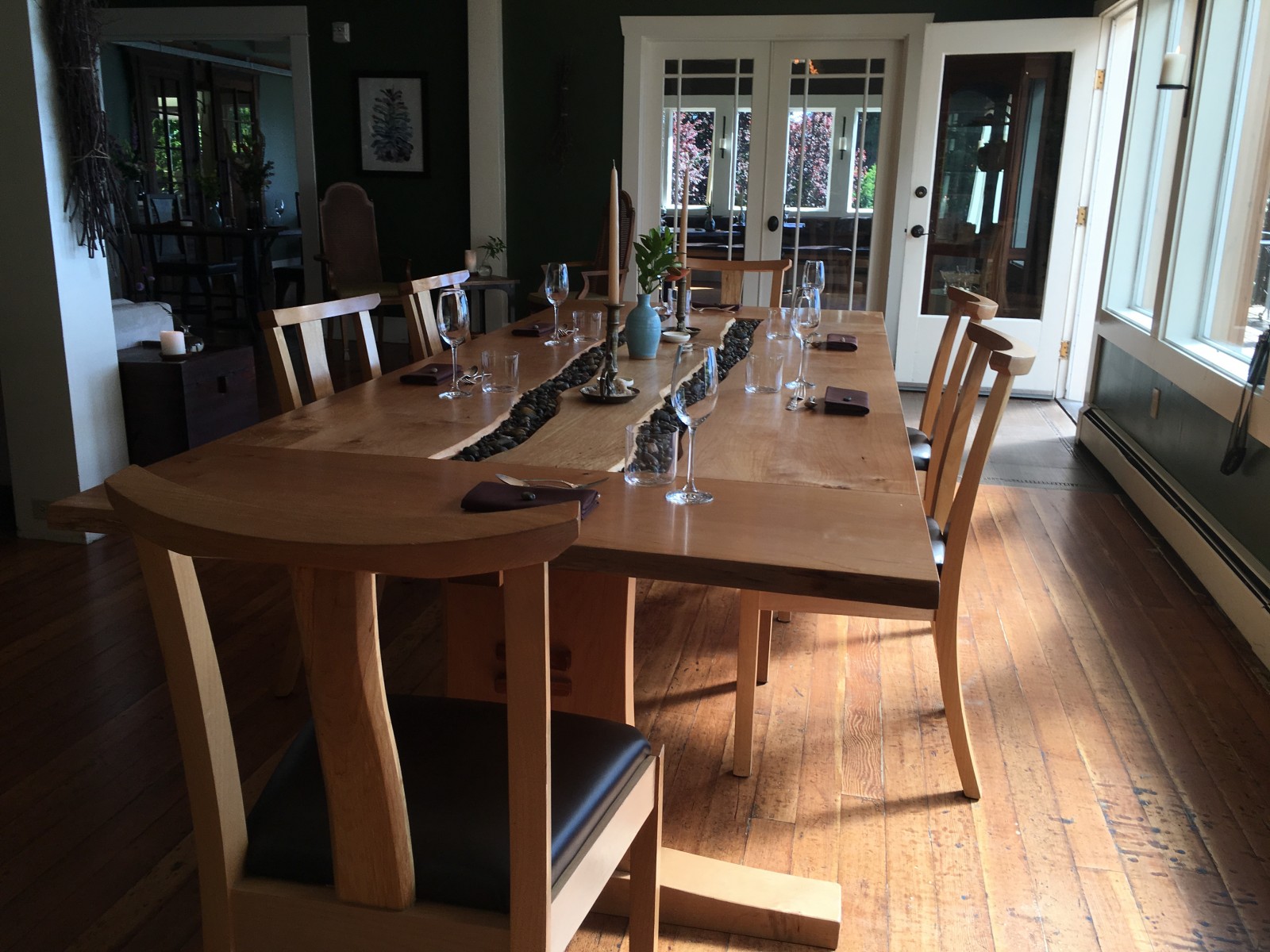 Craftsman charm at the Willows Inn
Lummi Island is reached by a 10 minute ferry ride from Bremerton. With a population of less than 1,000 residents, little Lummi Island is punching way above it's weight class in fine dining.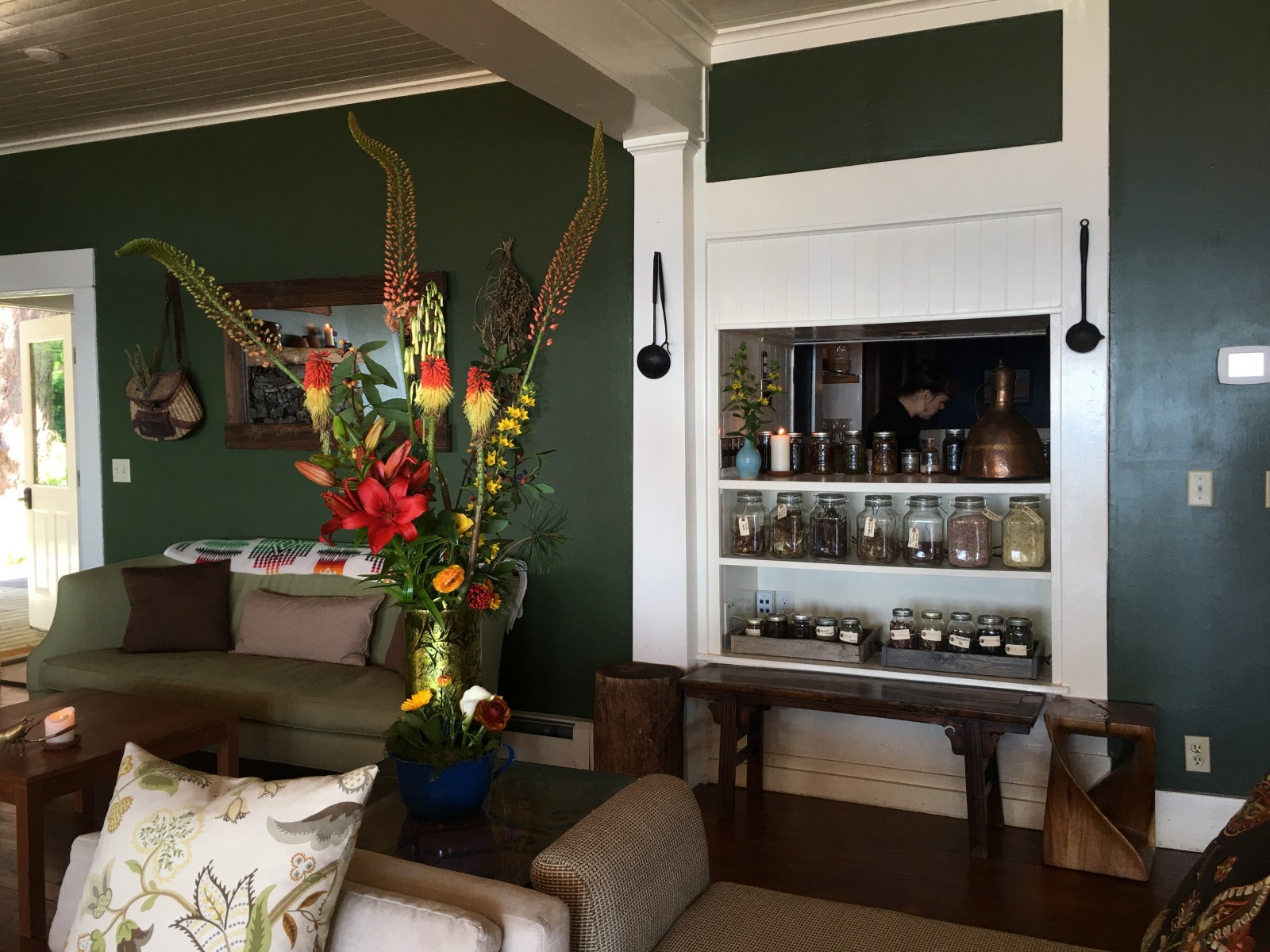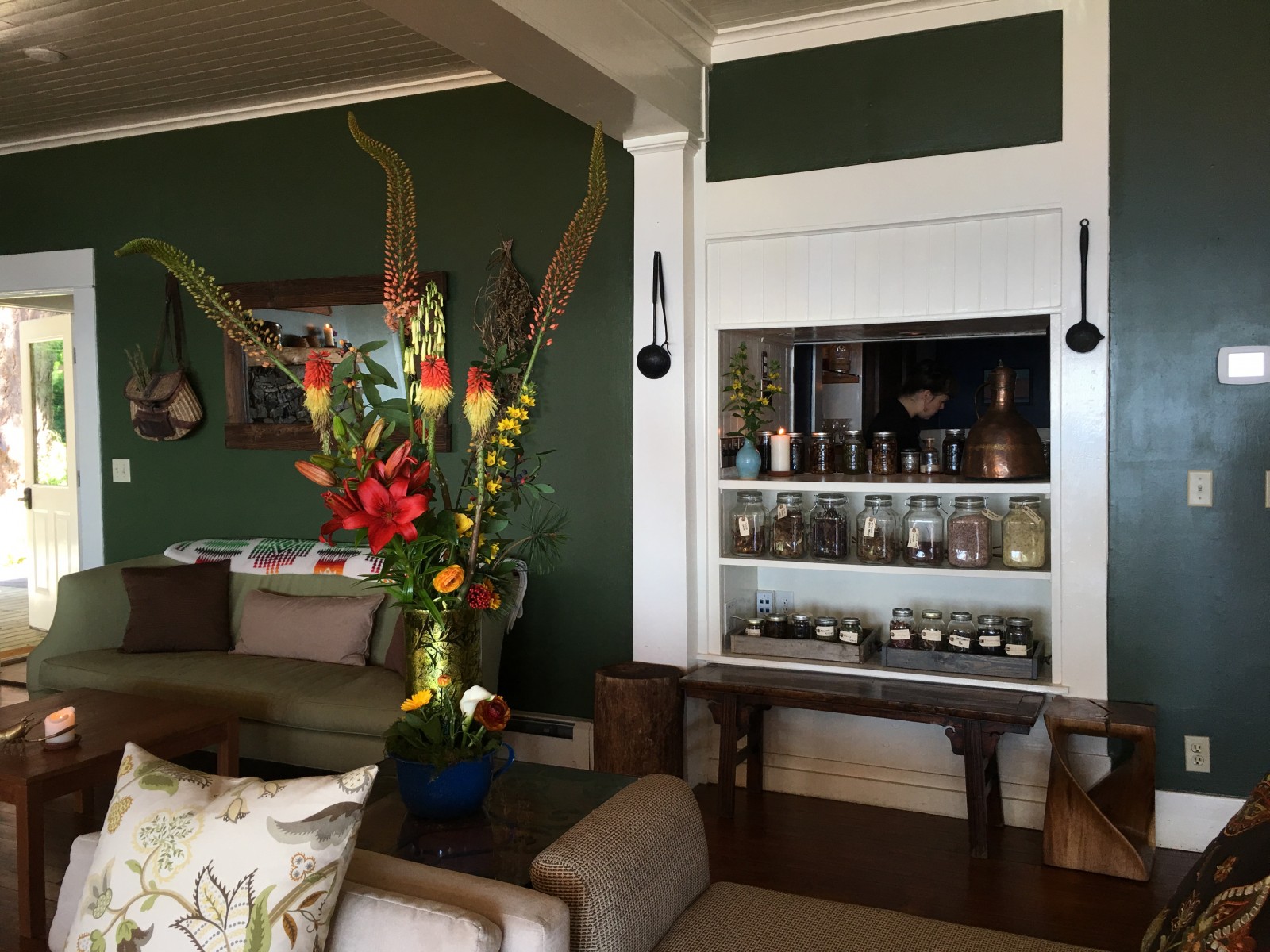 Pacific Northwest charm at the bar
The evening started with cocktails around 5:30. I had the Pineapple Weed Fizz ($14), made with with pineapple weed gin, egg white and chamomile bitters, which was refreshing in the hot weather and inspired. I liked the lack of formality in the service. It was top notch, but relaxed.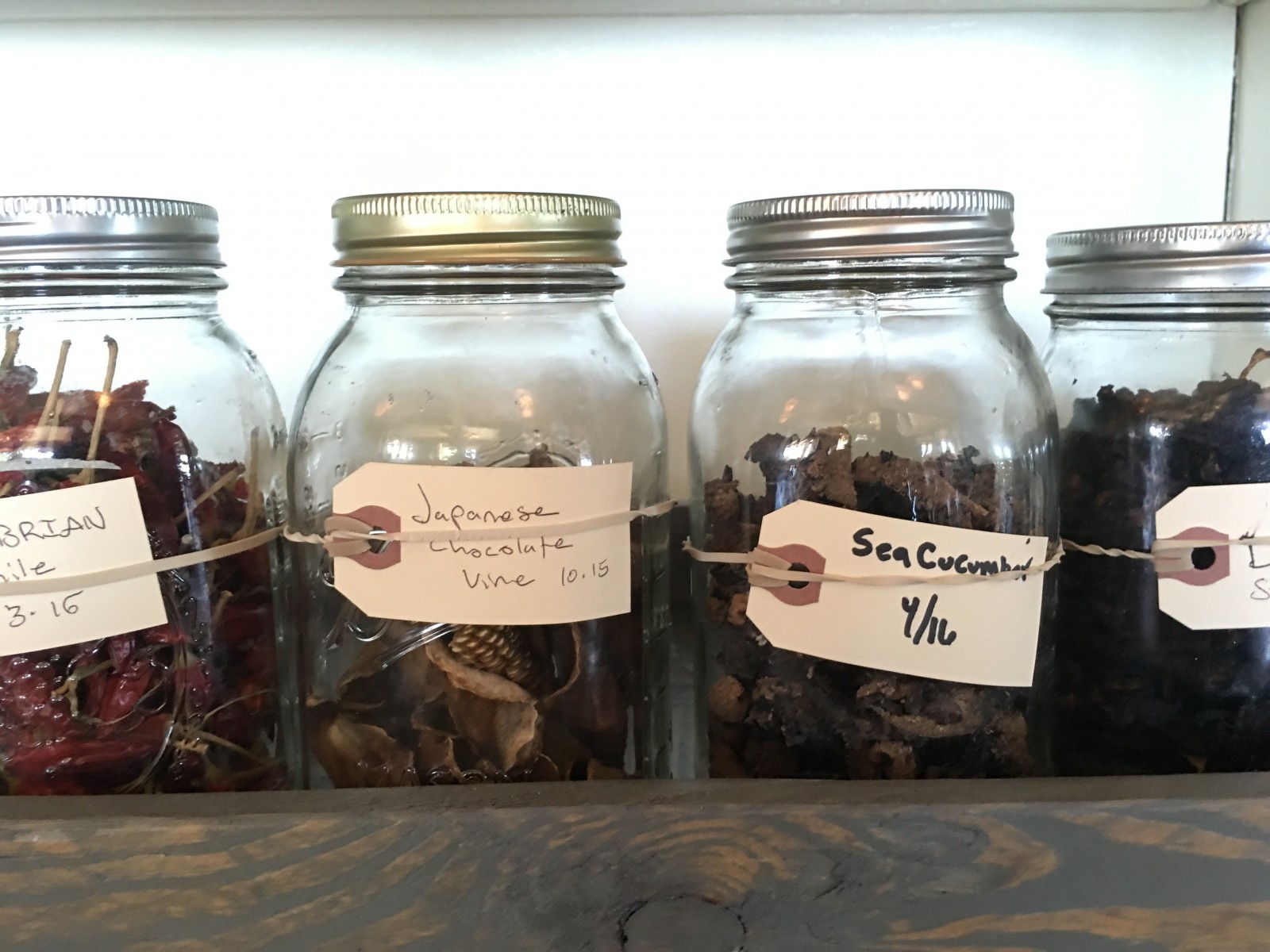 Mason jars on display in the bar
The meal started with small bites in the bar. First up was a crispy crepe with golden char roe. It was beautiful.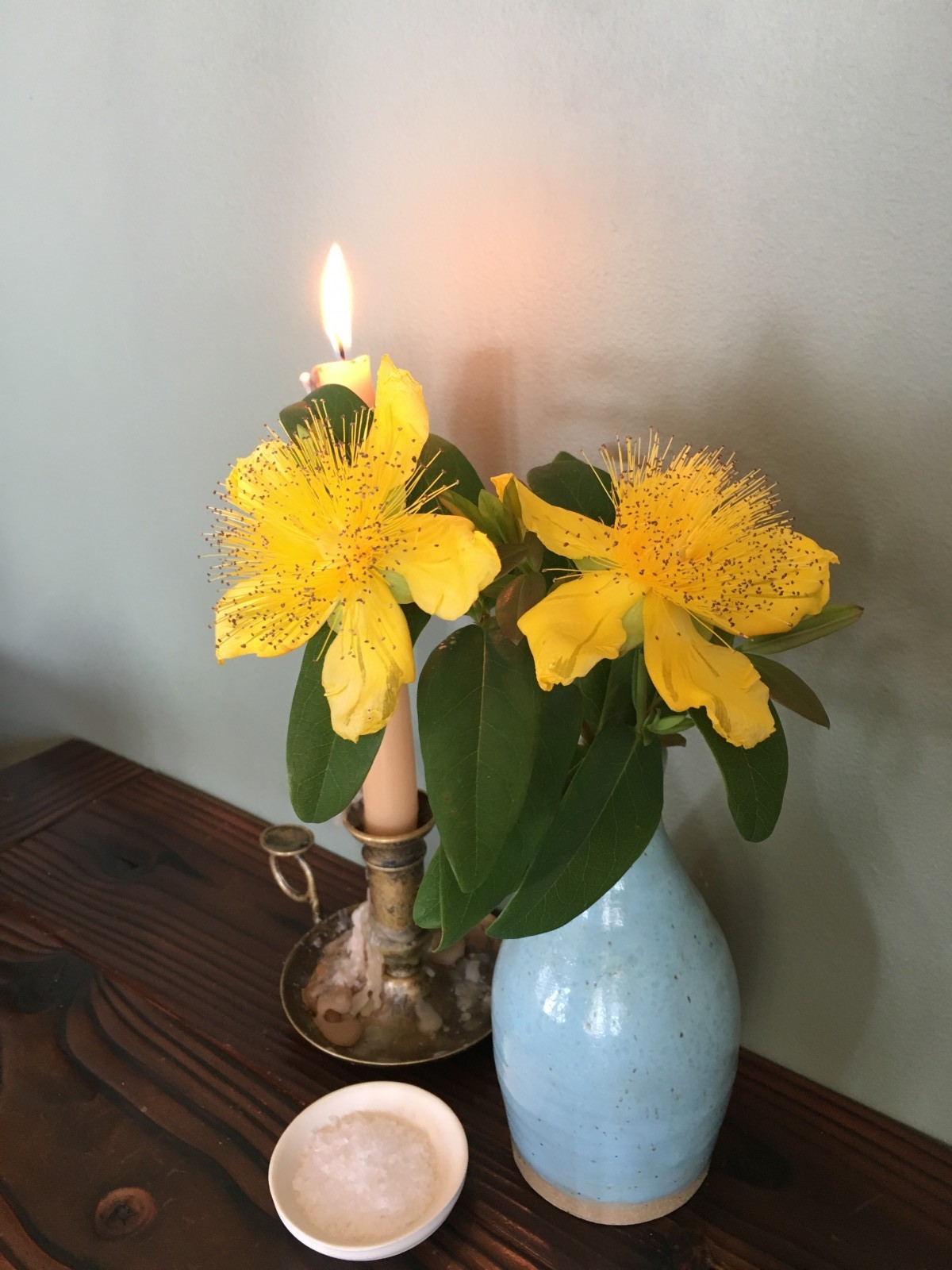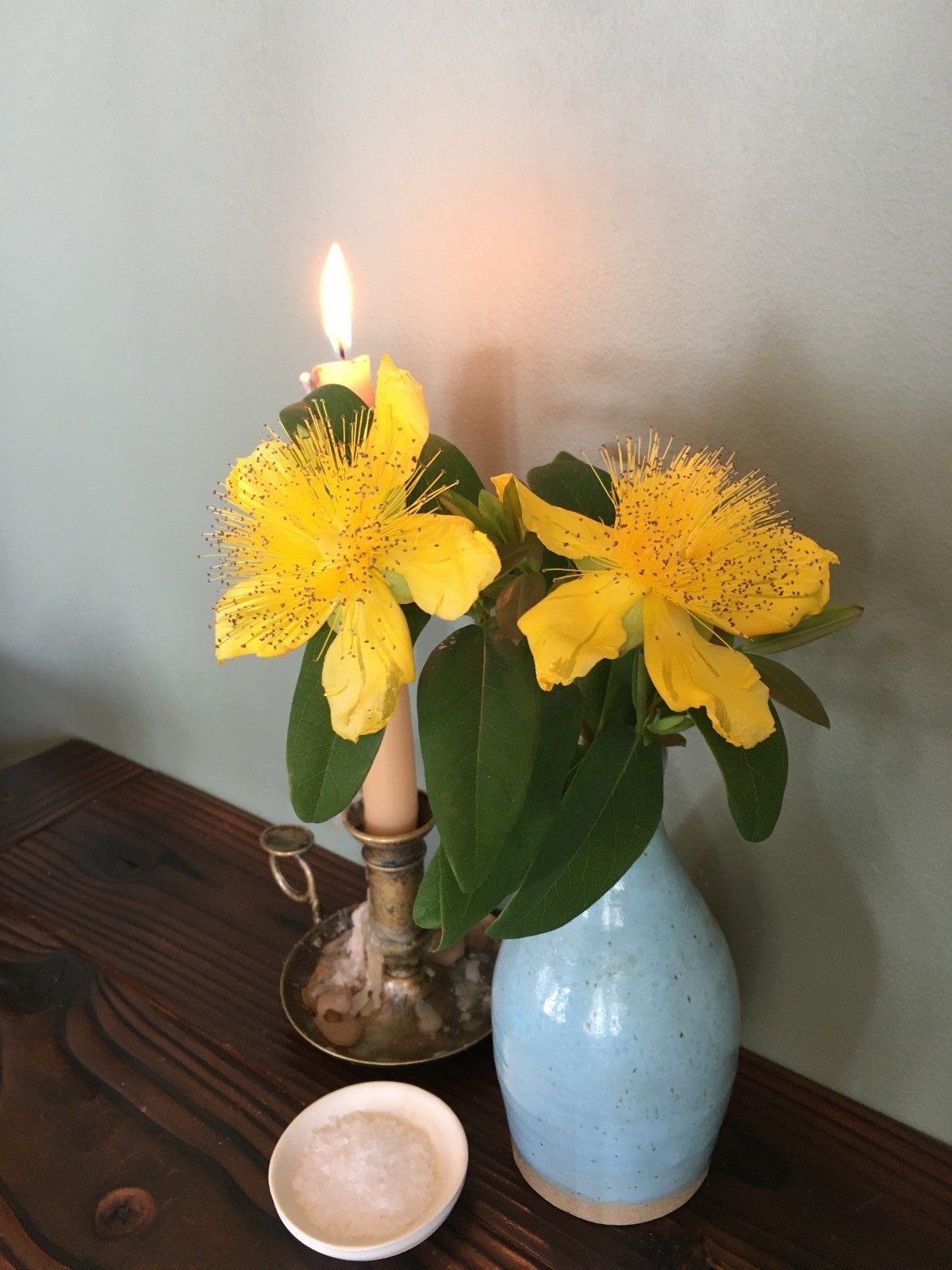 Flowers and candlelight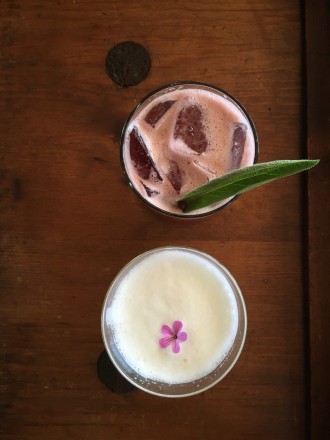 Cocktails with fresh garnishes
In honor of National Donut Day, intriguing smoked cod doughnuts were served next. The third course was a standout for me– Kale leaves with black truffles. Next were small bites of roasted sunflower root and green rhubarb.
Willows Inn smokehouse action video
At this point we left the bar and sat at our table, where we were served native oysters in a juice of watercress followed by lightly cured rockfish in a broth of bones.
Roasted sunflower root
The vivid hues of the turnip stems with caramelized razor clams were followed by a Lummi Island "tostada" made with wild herbs served on crispy mustard greens. It was colorful crunchy goodness.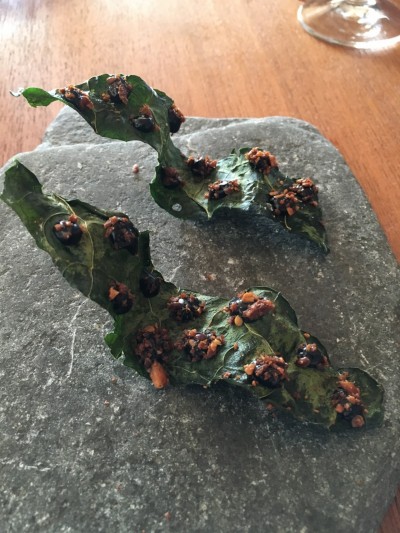 Kale leaves with black truffles
Stewed porcini mushrooms were served next and, for me, they were the standout course of the evening with their delicate texture and savory umami goodness.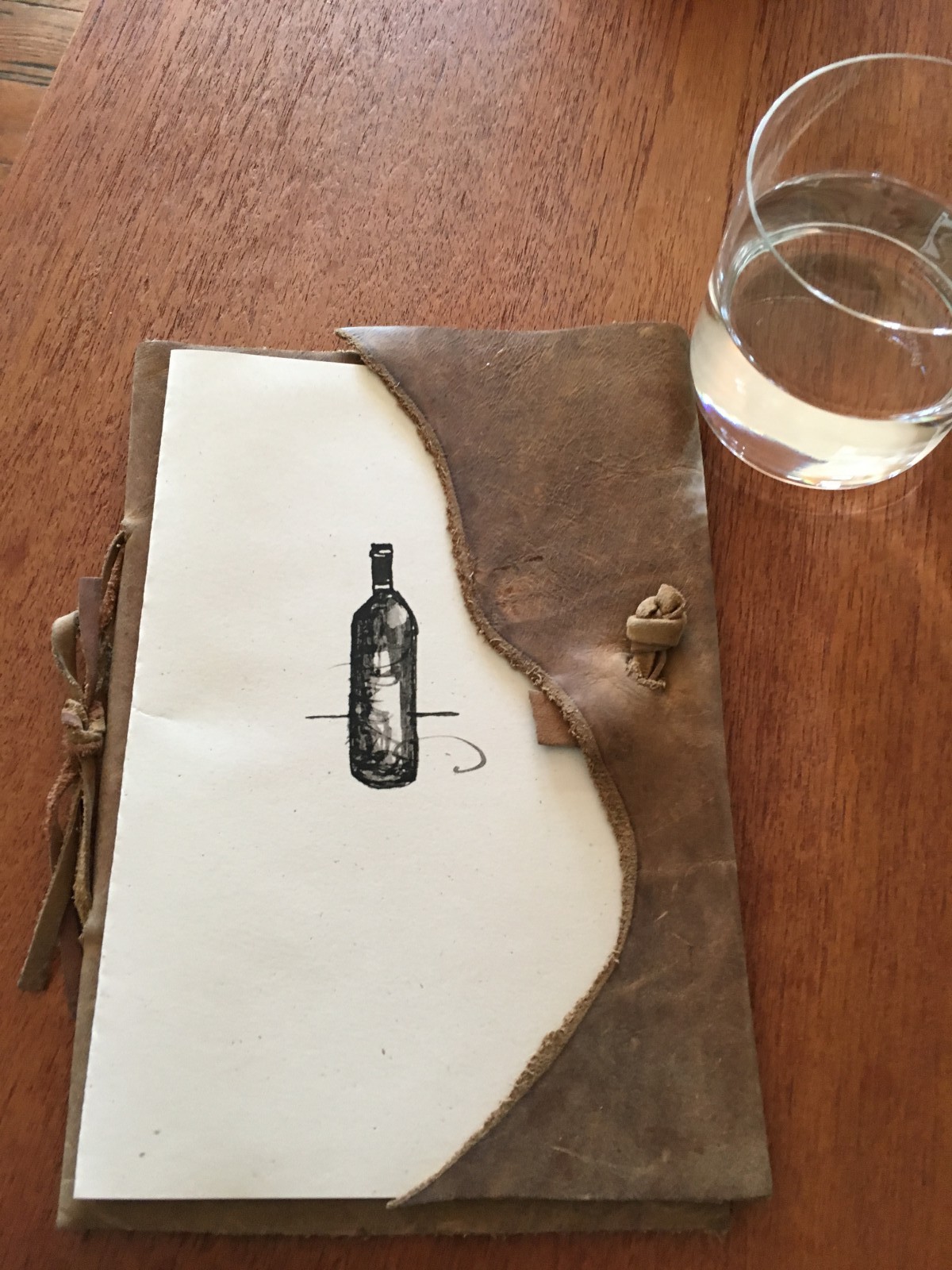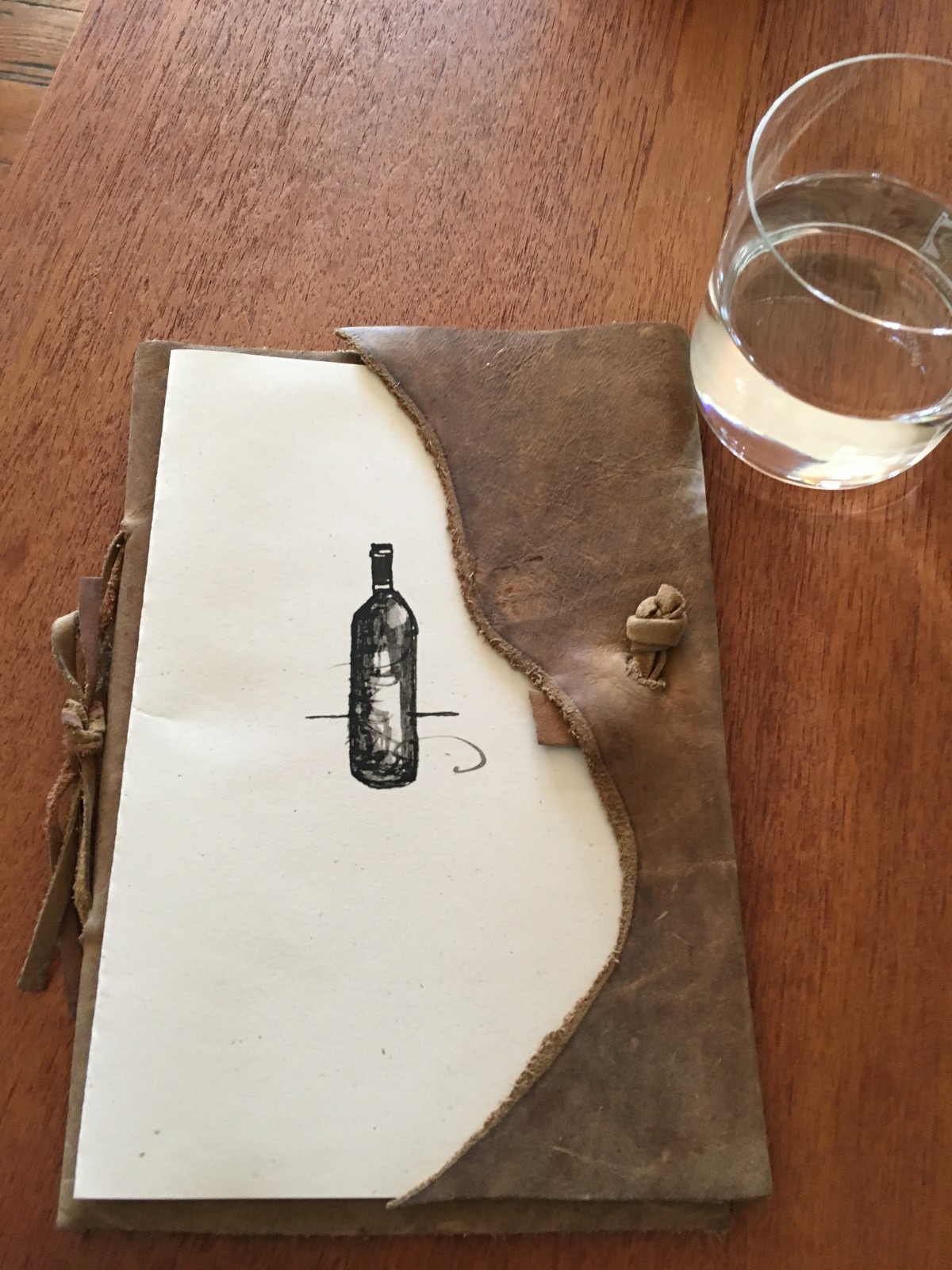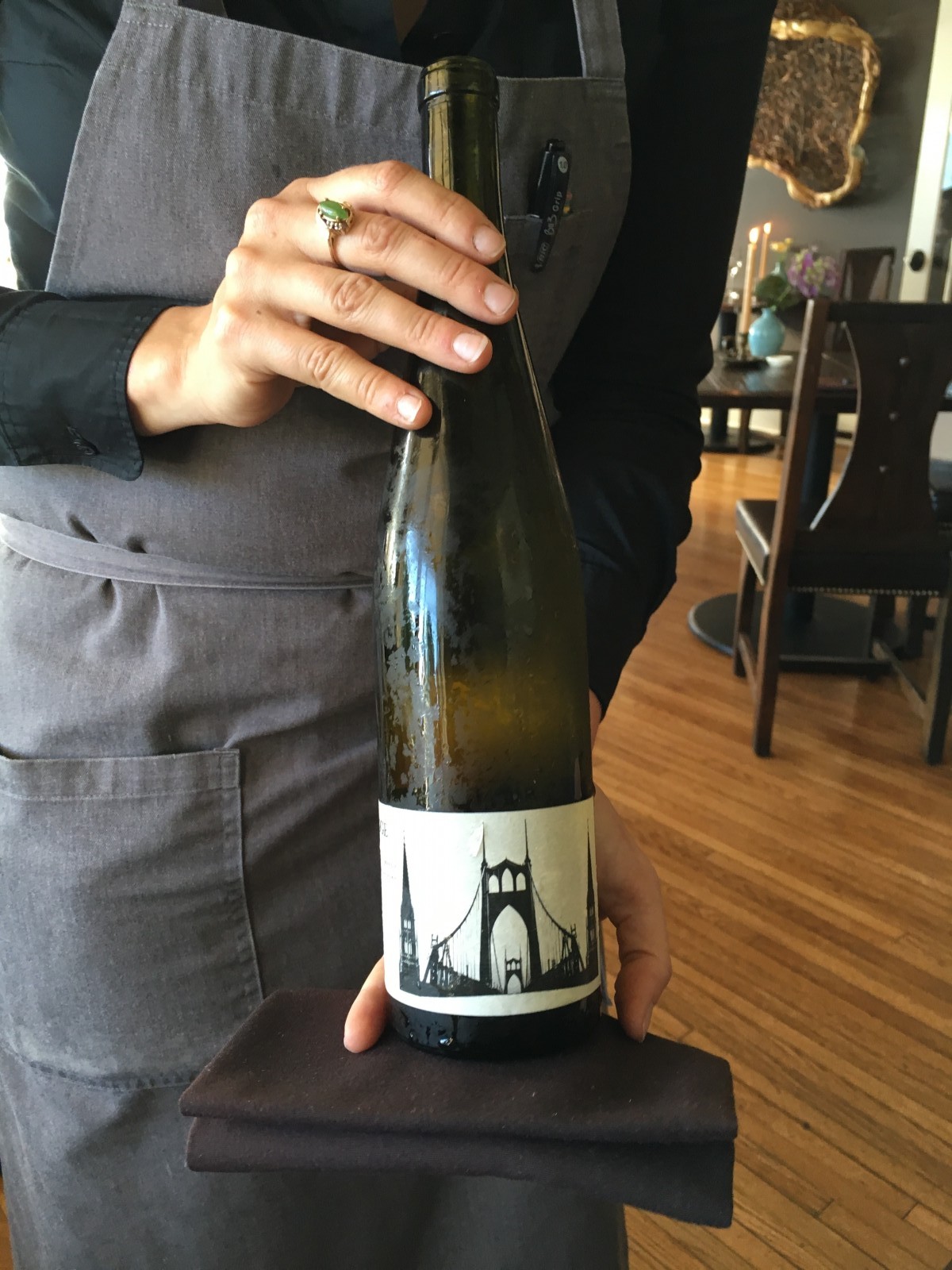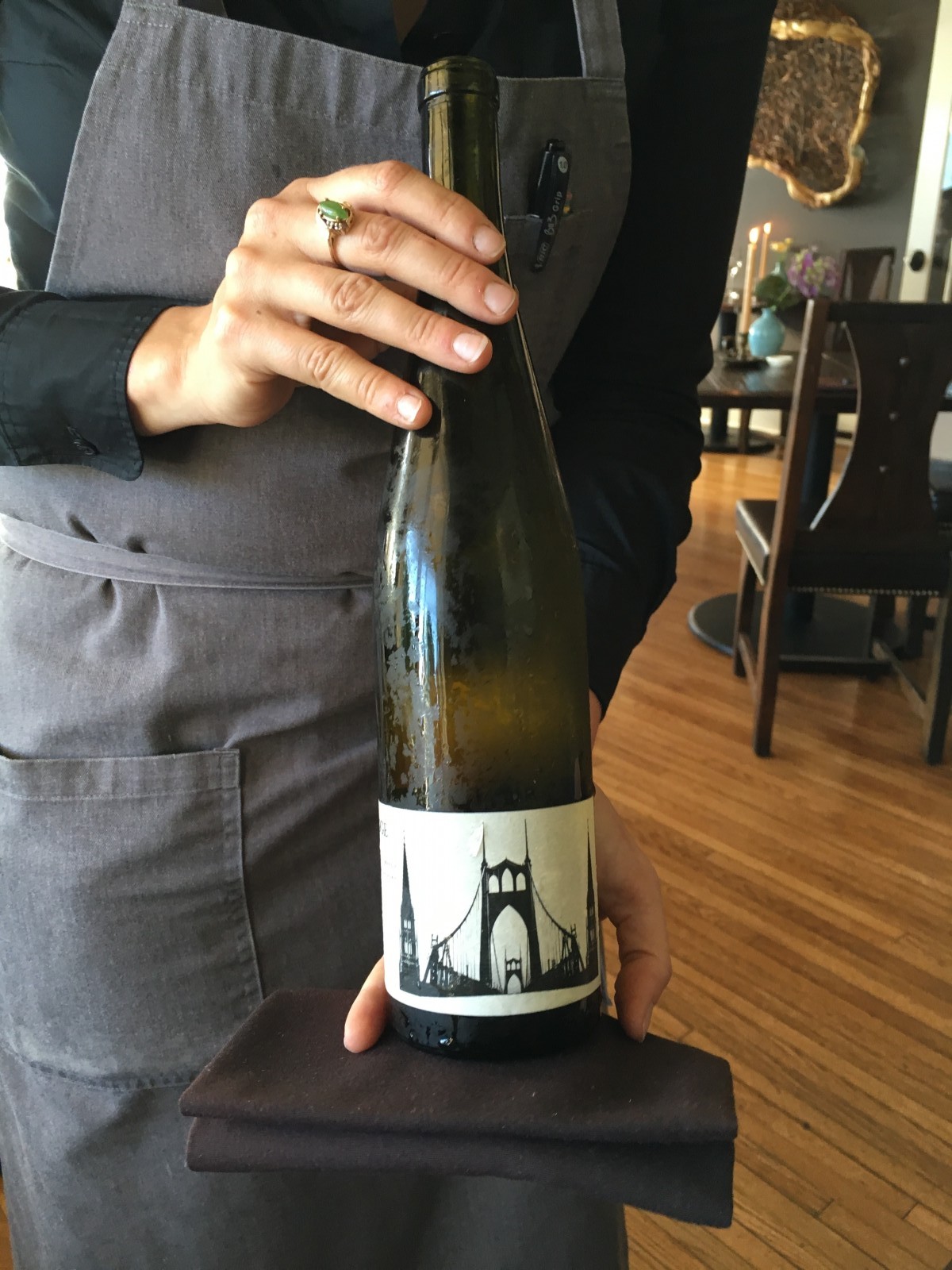 Scenes from a tasting menu
Dungeness crab served in a puree of pine nuts came next. This delicate yet satisfying dish was followed by a rare seasonal treat of local salmonberries served with petals of Nootka roses. Not overly sweet, the berries were very flavorful and bursting with color. It is a memorable dish.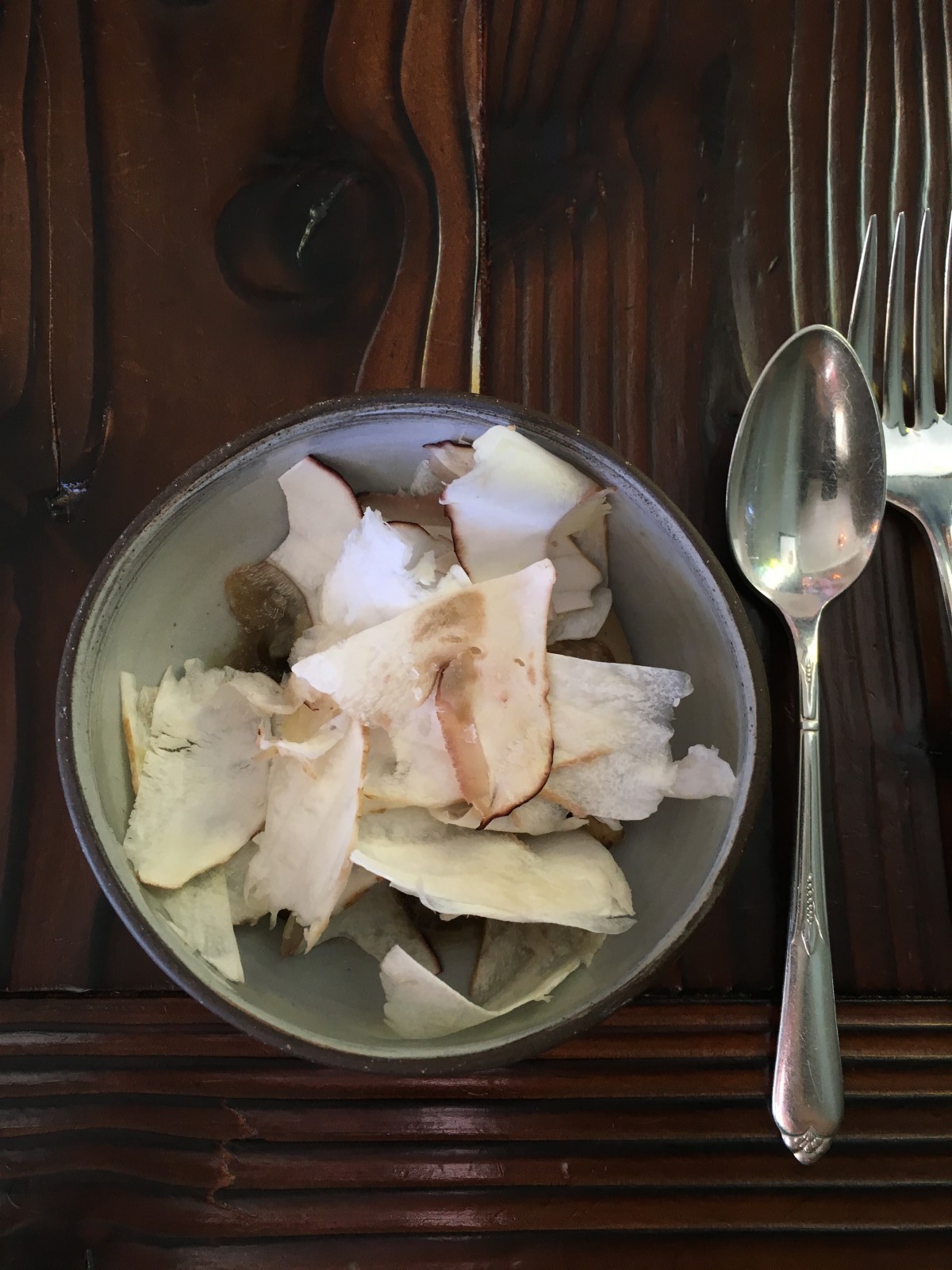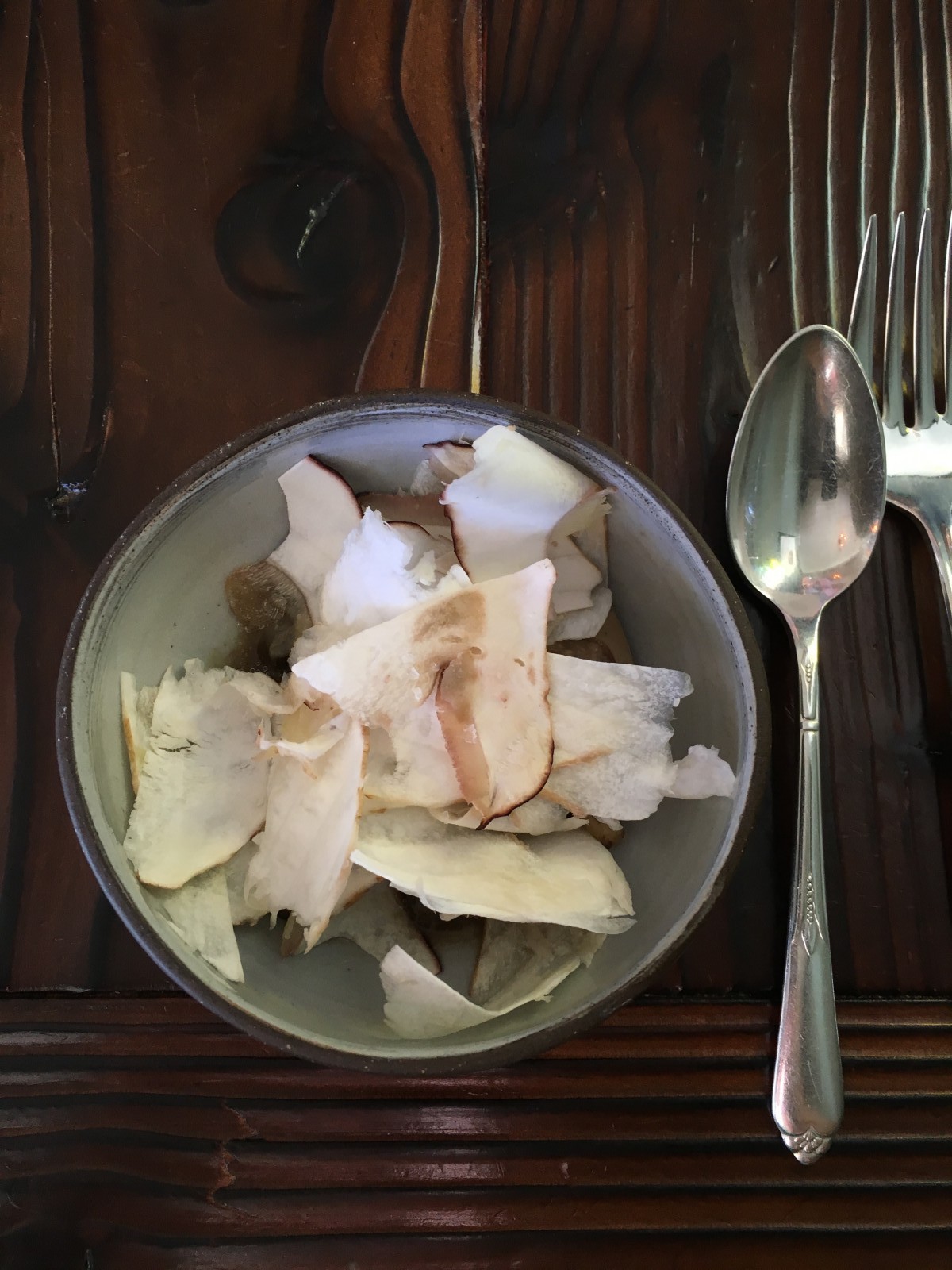 Stewed porcini mushroooms
Pacific Northwest staples of smoked sockeye salmon and a seared skirt of razor clam came next. I was starting to lose steam by the time the halibut and lovage arrived.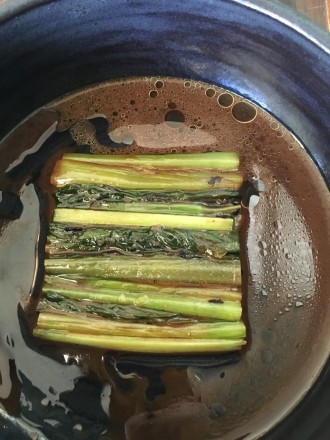 Turnip stems with caramelized razor clams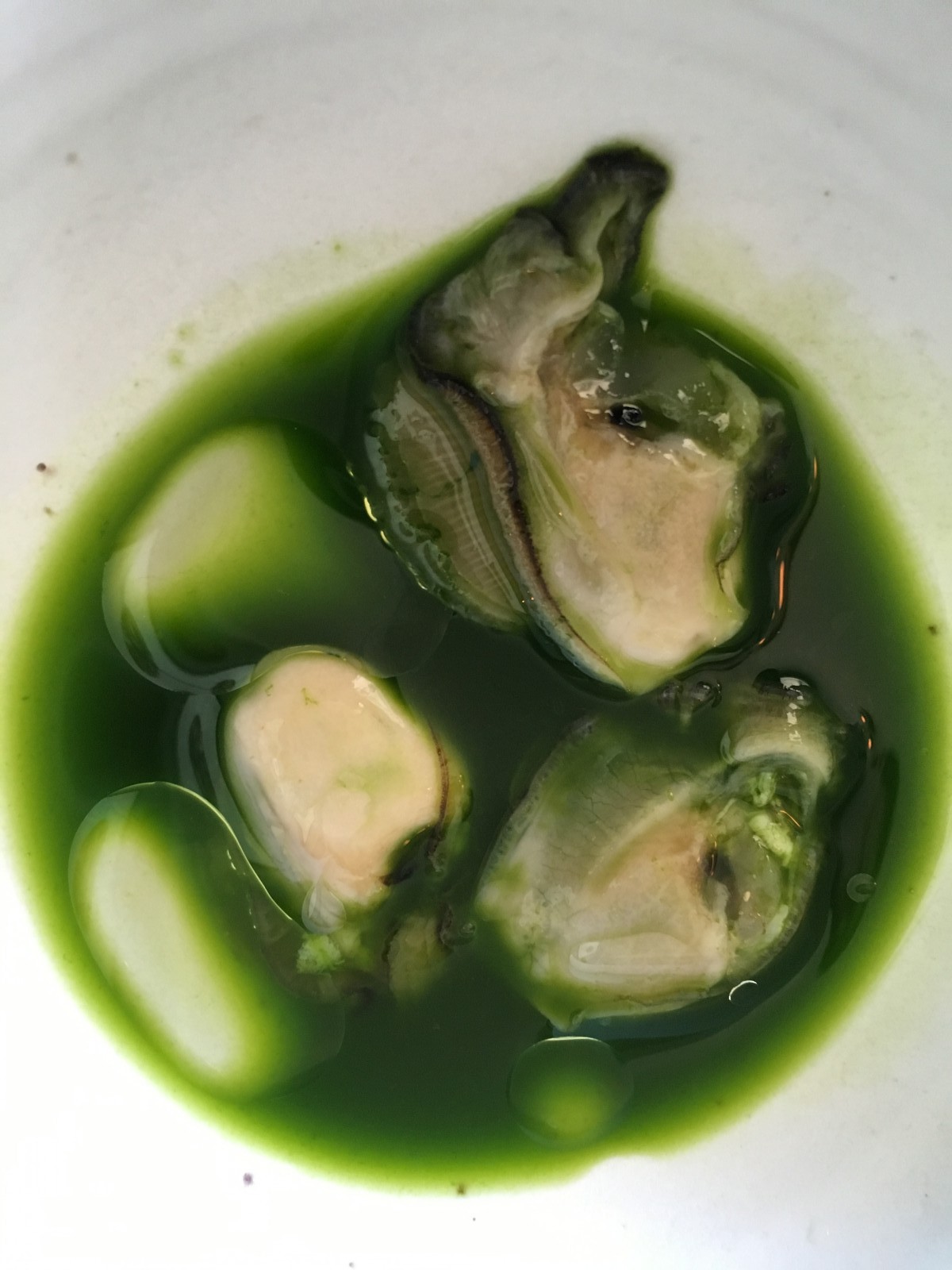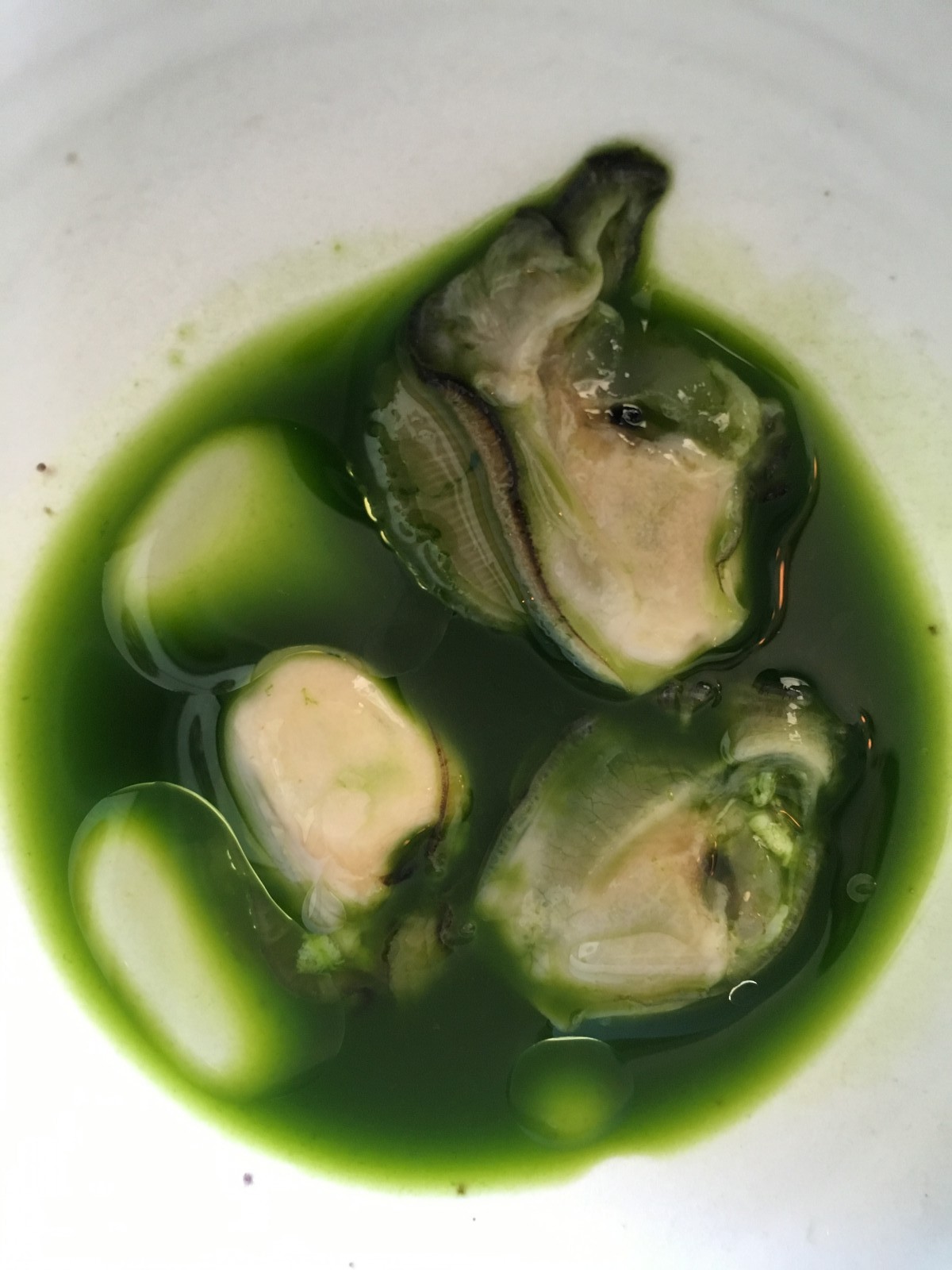 Native oysters in a juice of watercress
I found some more room for the wheat bread with pan drippings, but couldn't muster the strength for the aged leg of venison, which was the last of the savory courses. Epic meals can be too much for me.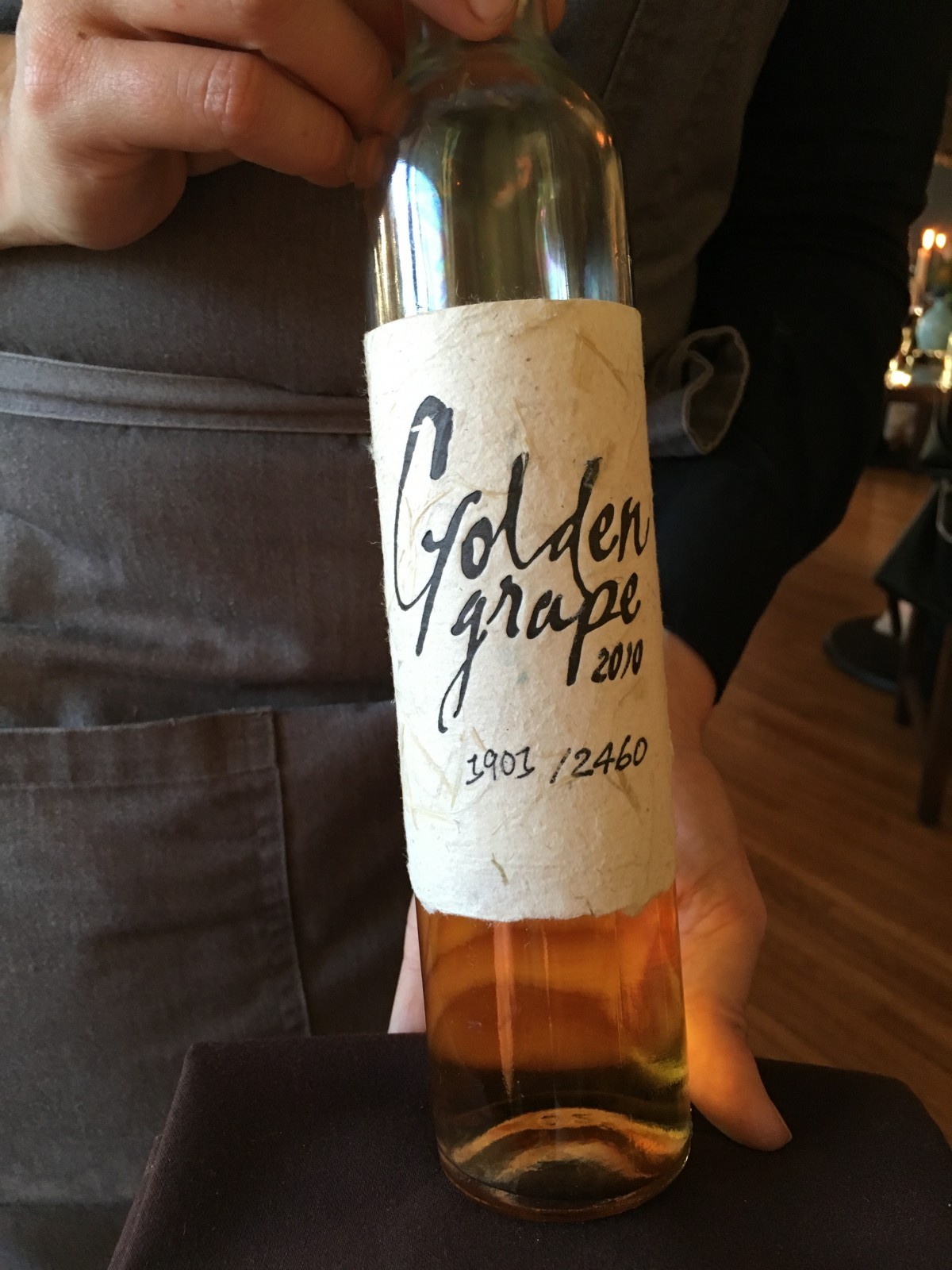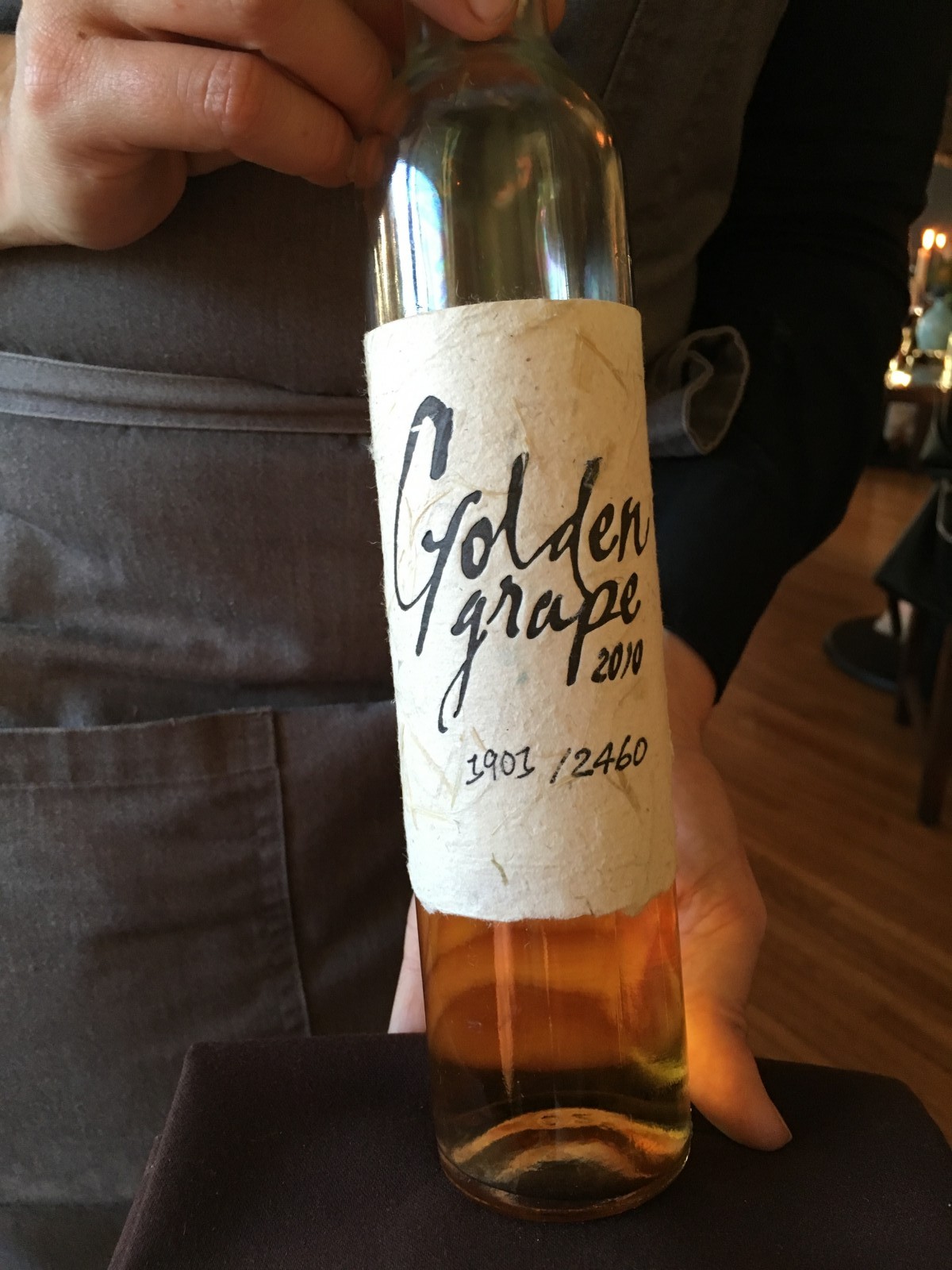 2010 Golden Grape Semillon was part of the wine pairing
The toasted birch branches (served as a tea) were much appreciated with it's earthy heat acting as a bit of digestive before the dessert courses.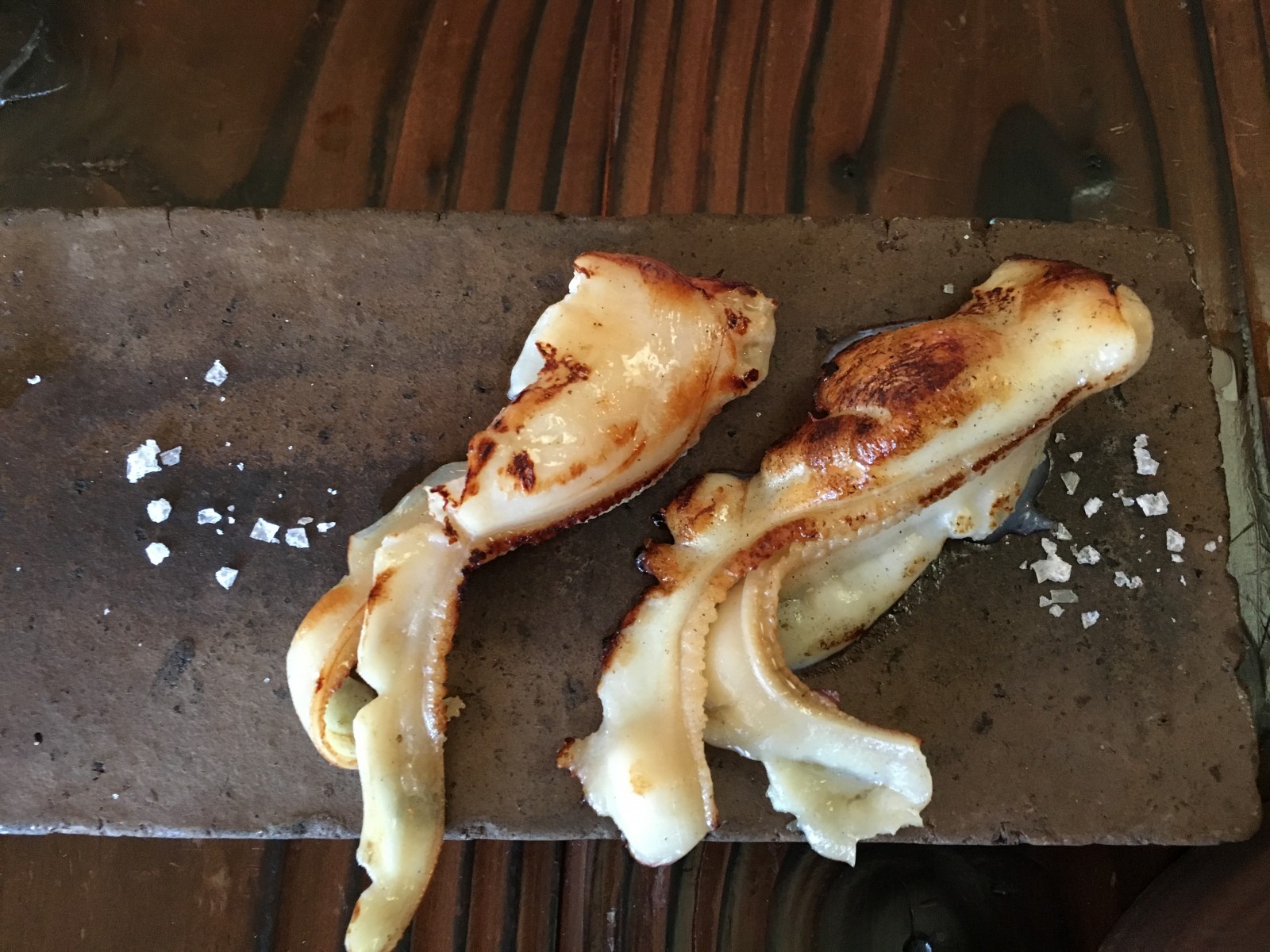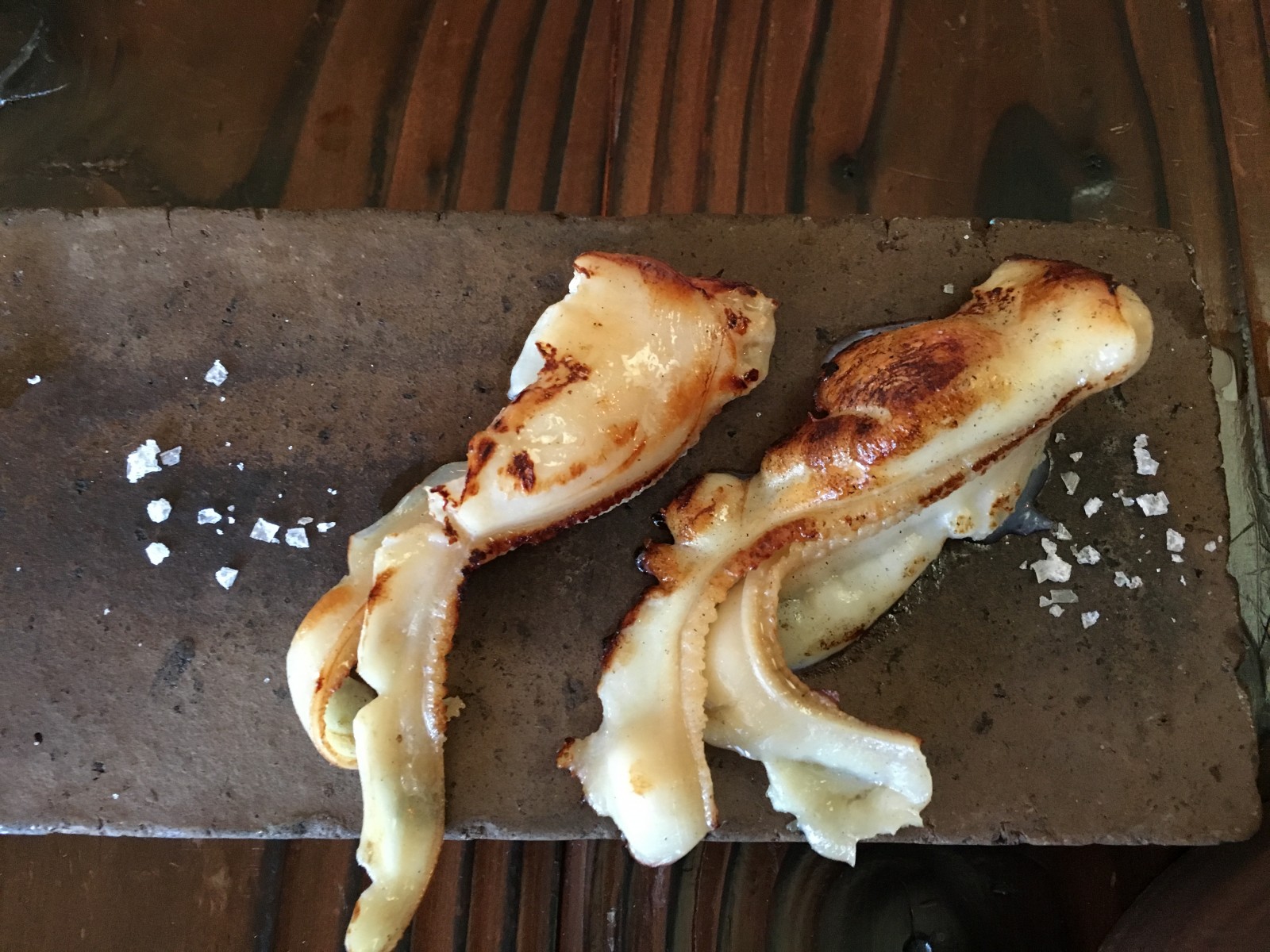 Seared skirt of razor clam
While I tend to favor savory over sweet, the desserts at the Willows Inn were exceptional and light. Grilled strawberries were served with fresh chamomile in a pleasing combination.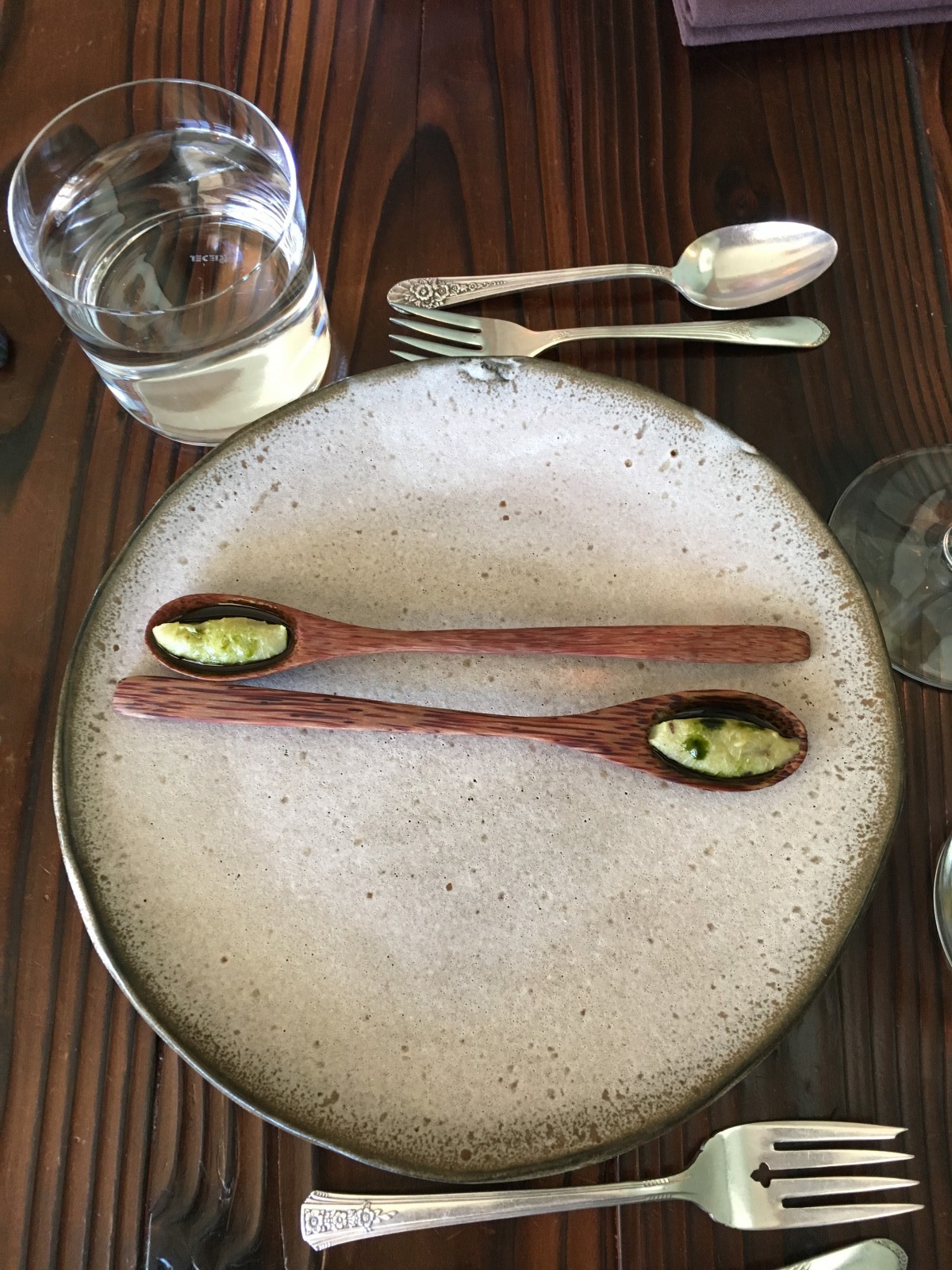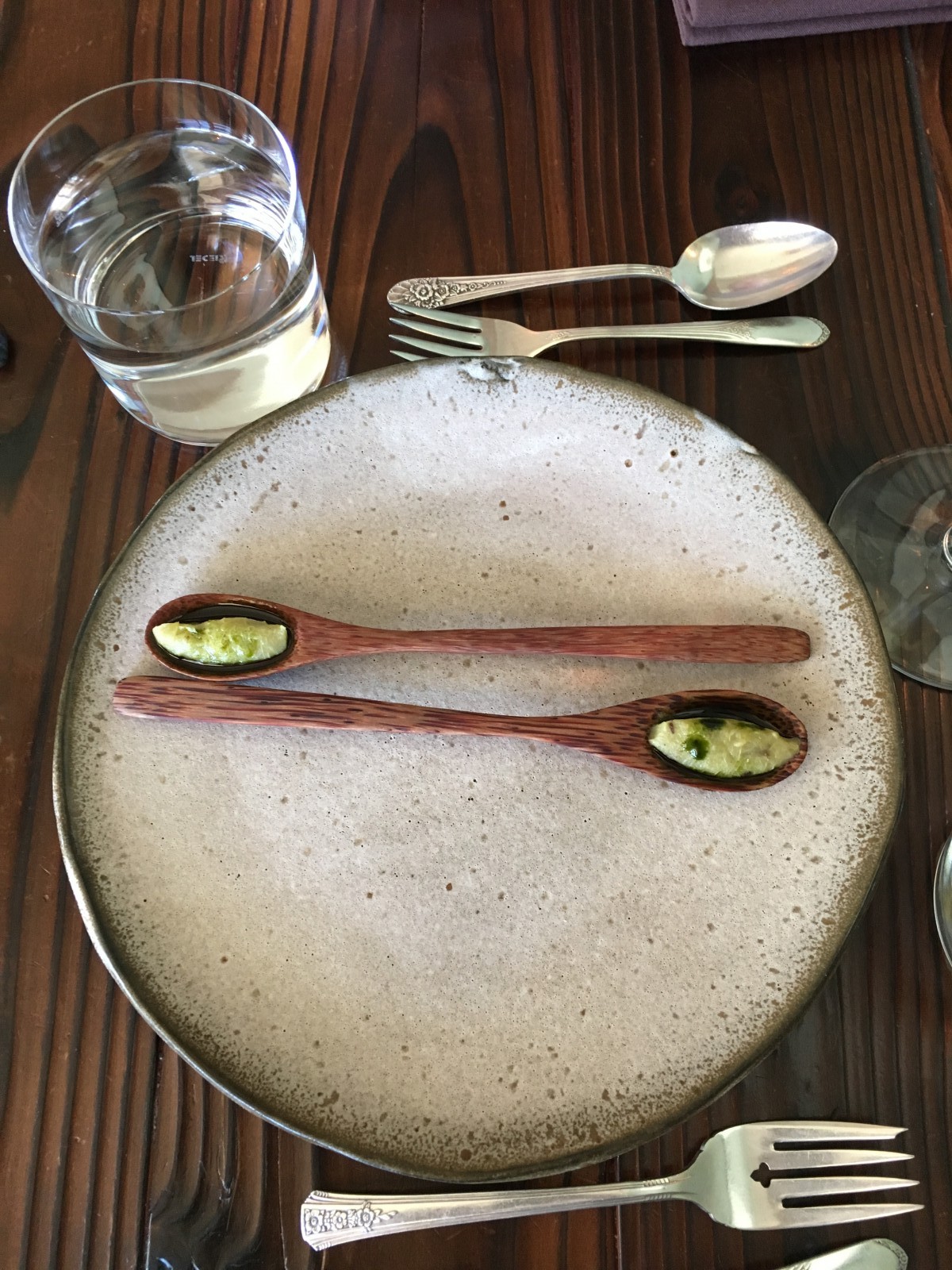 Green rhubarb
Candied green pine came next, followed by pumpkin seed fudge which was shockingly light and flavorful. I almost asked for seconds.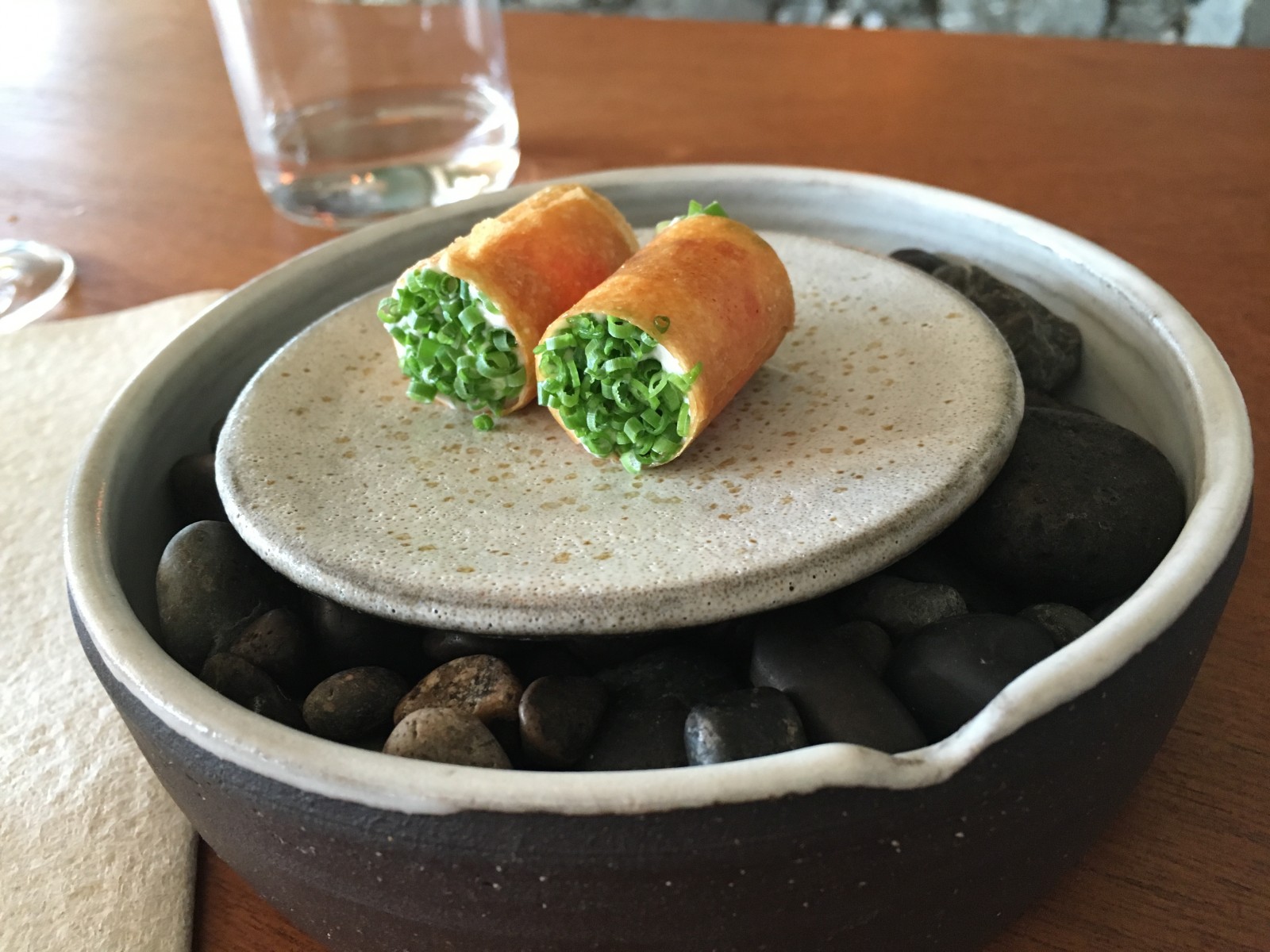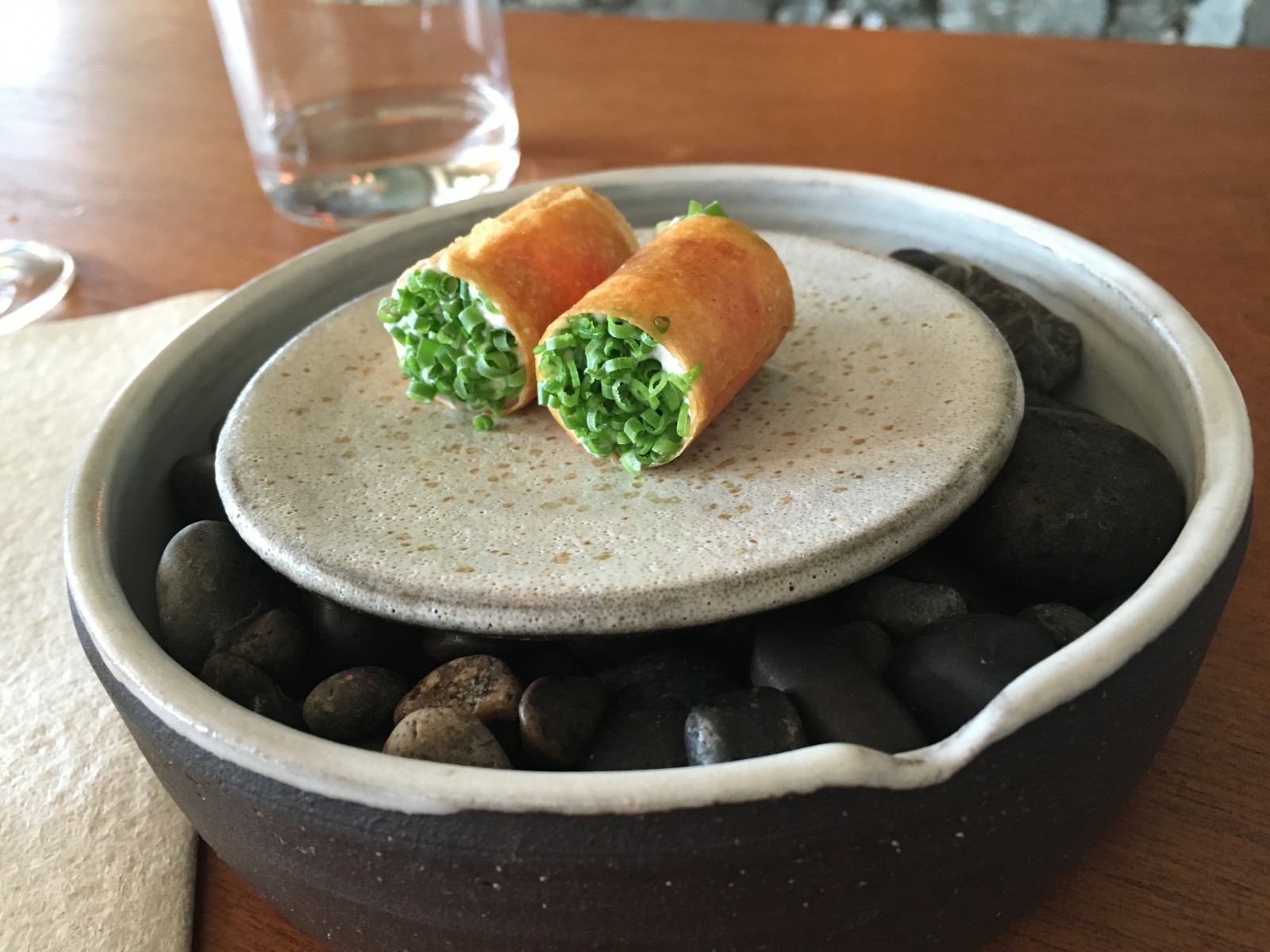 Crispy crepe and golden char roe
Wine pairings can be ordered with dinner for $90, or a juice pairing for $40.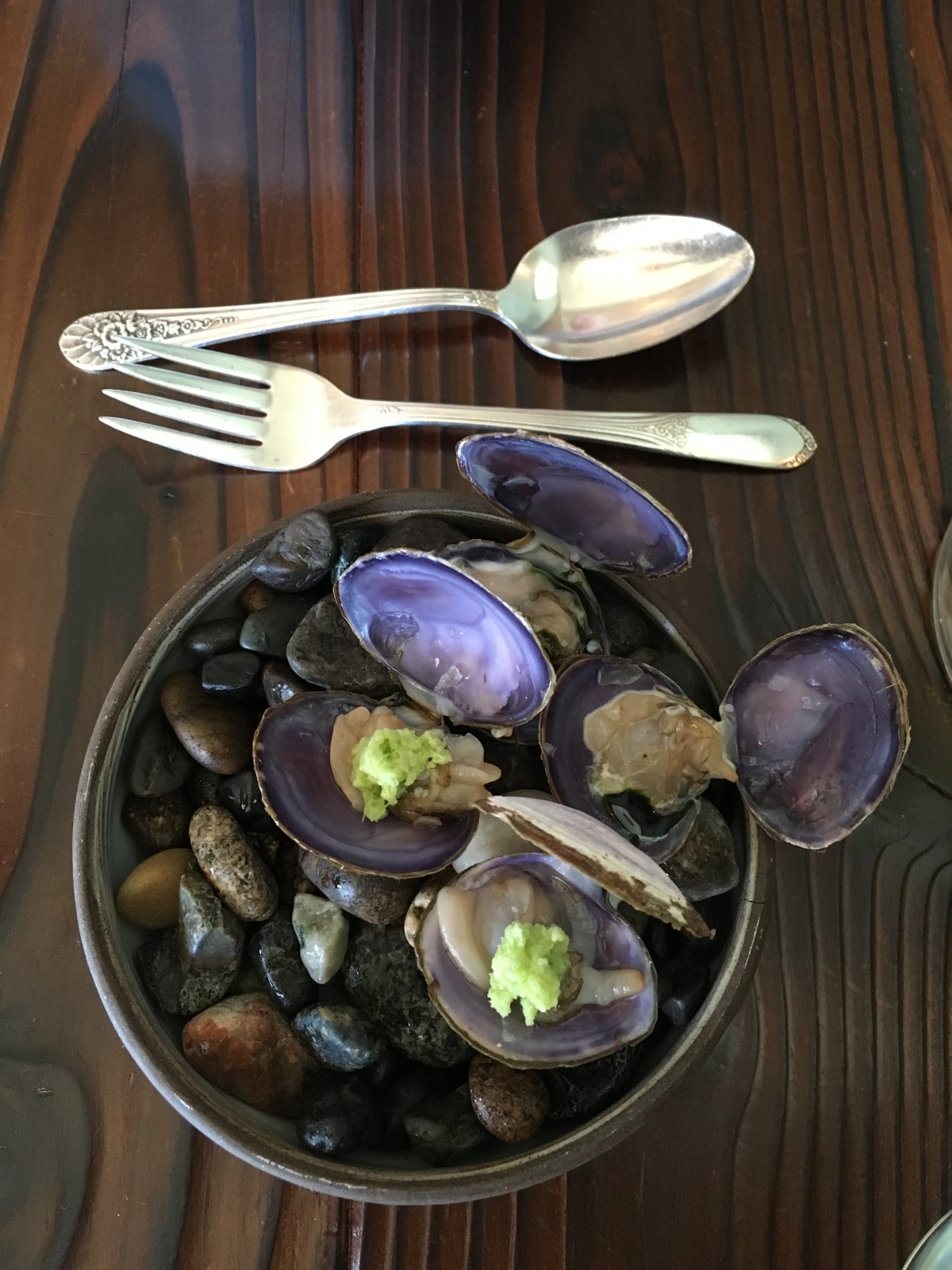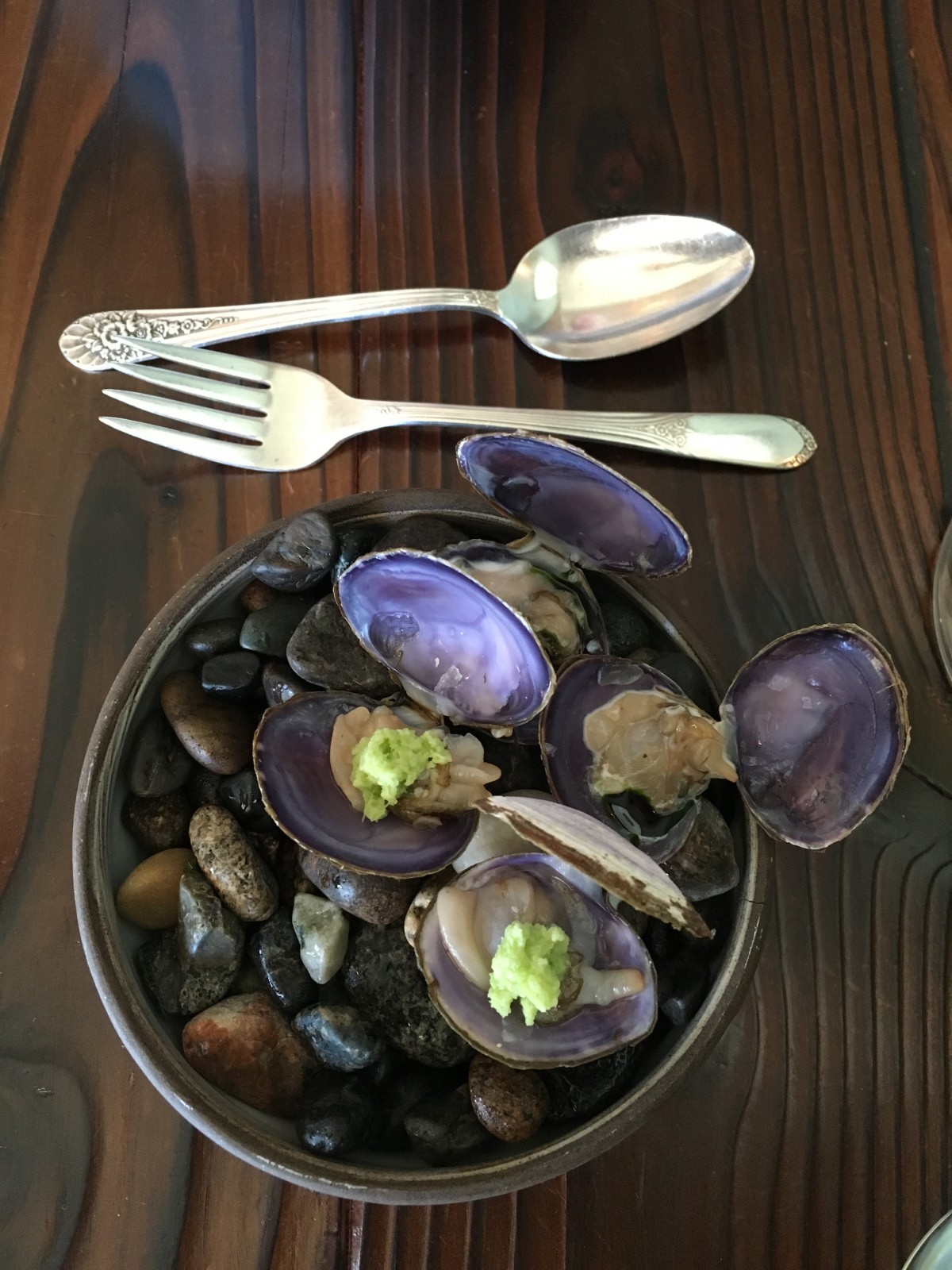 Native oysters in a juice of watercress
The wine pairing focused on the Pacific Northwest and skewed towards the whites, which was appropriate for the seafood-centric menu. I must confess I am not a white wine lover. While I normally adore wines from Oregon and Washington, I thought the wine pairing was the meal's one misstep. It was also a bit surprising since the cocktails were so good.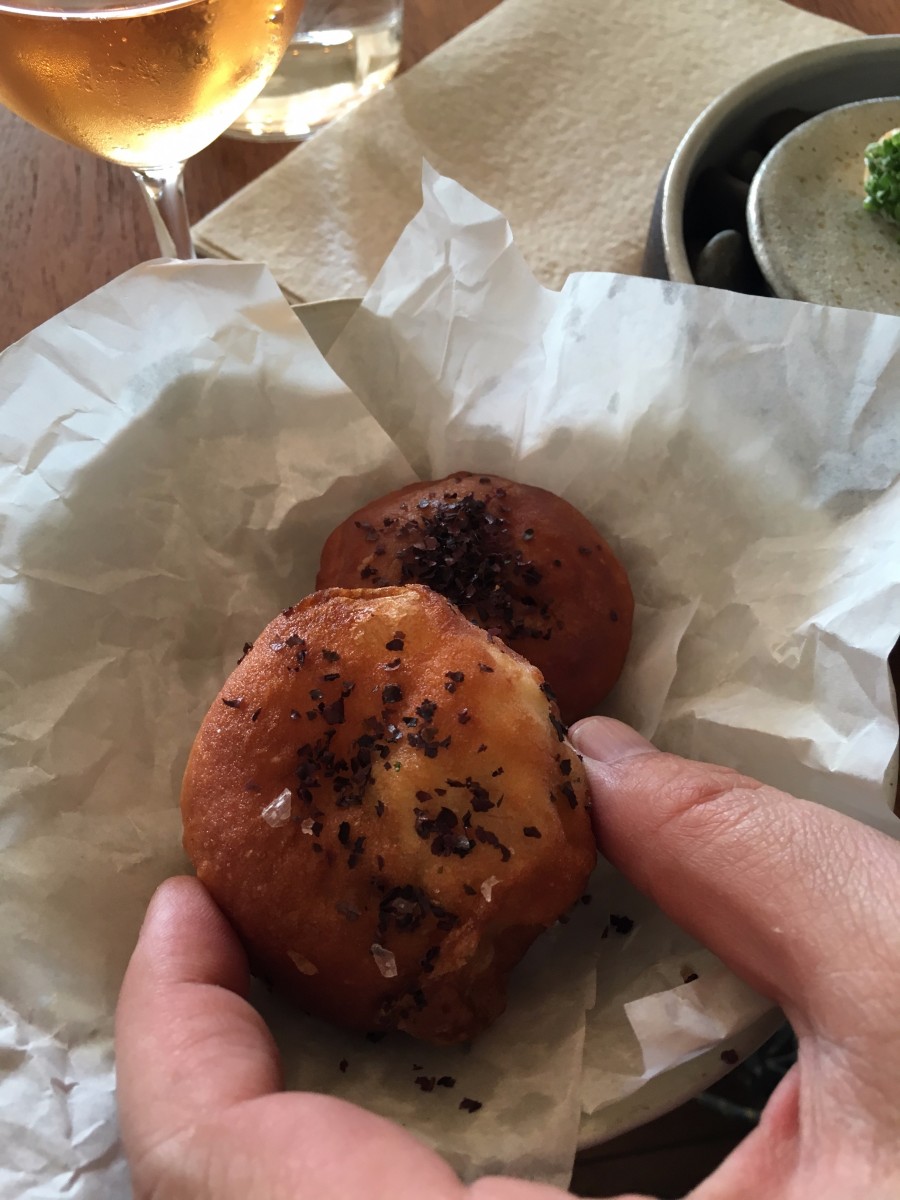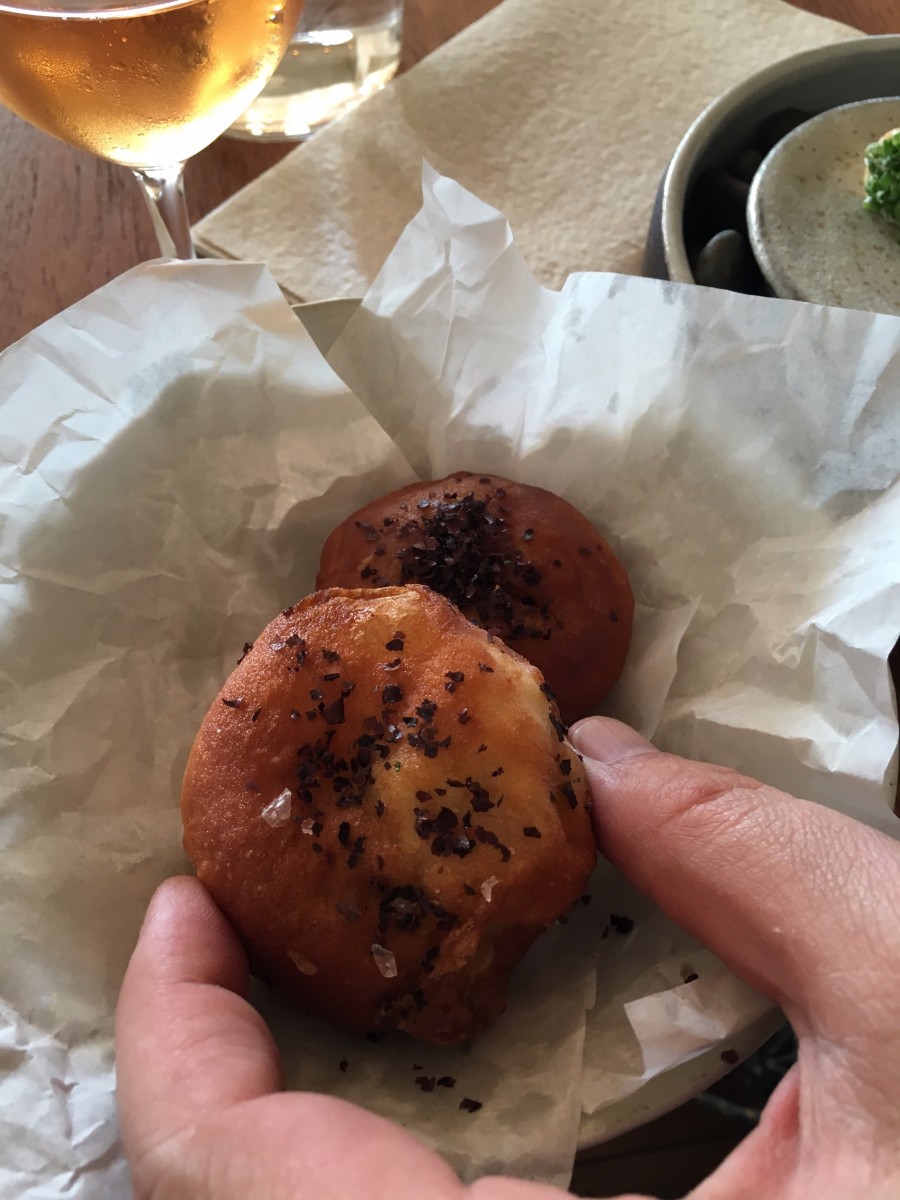 Smoked cod donuts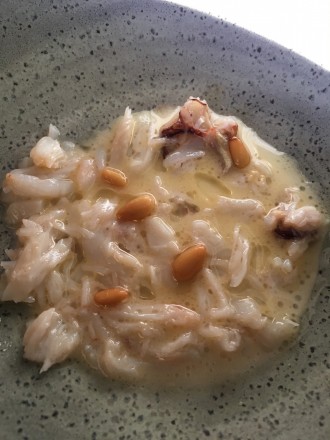 Dungeness crab in a puree of pine nuts
If you can't get a reservation at the Willows Inn you can try checking out Blaine Wetzel's cookbook, Sea and Smoke: Flavors from the Untamed Pacific Northwest.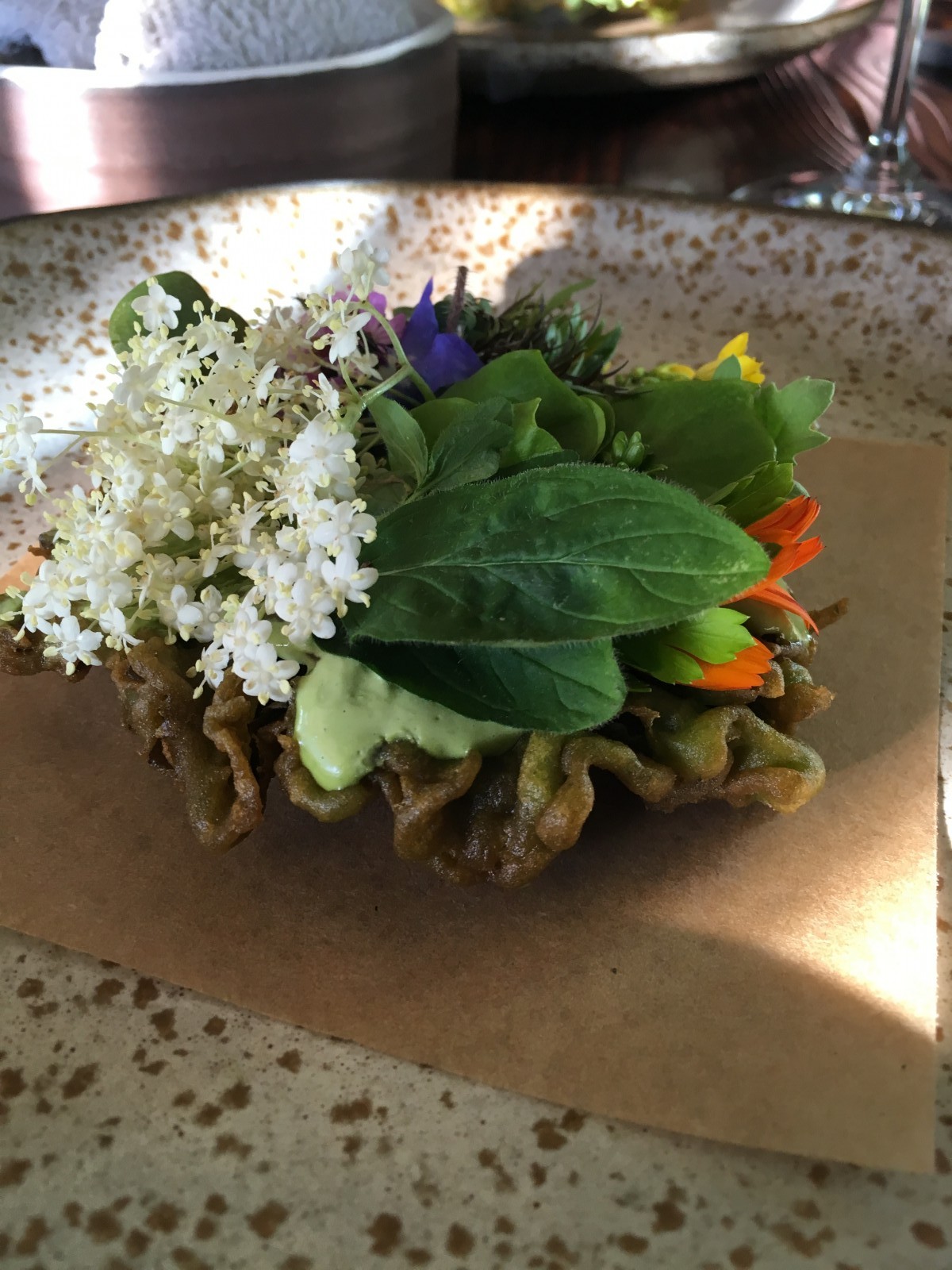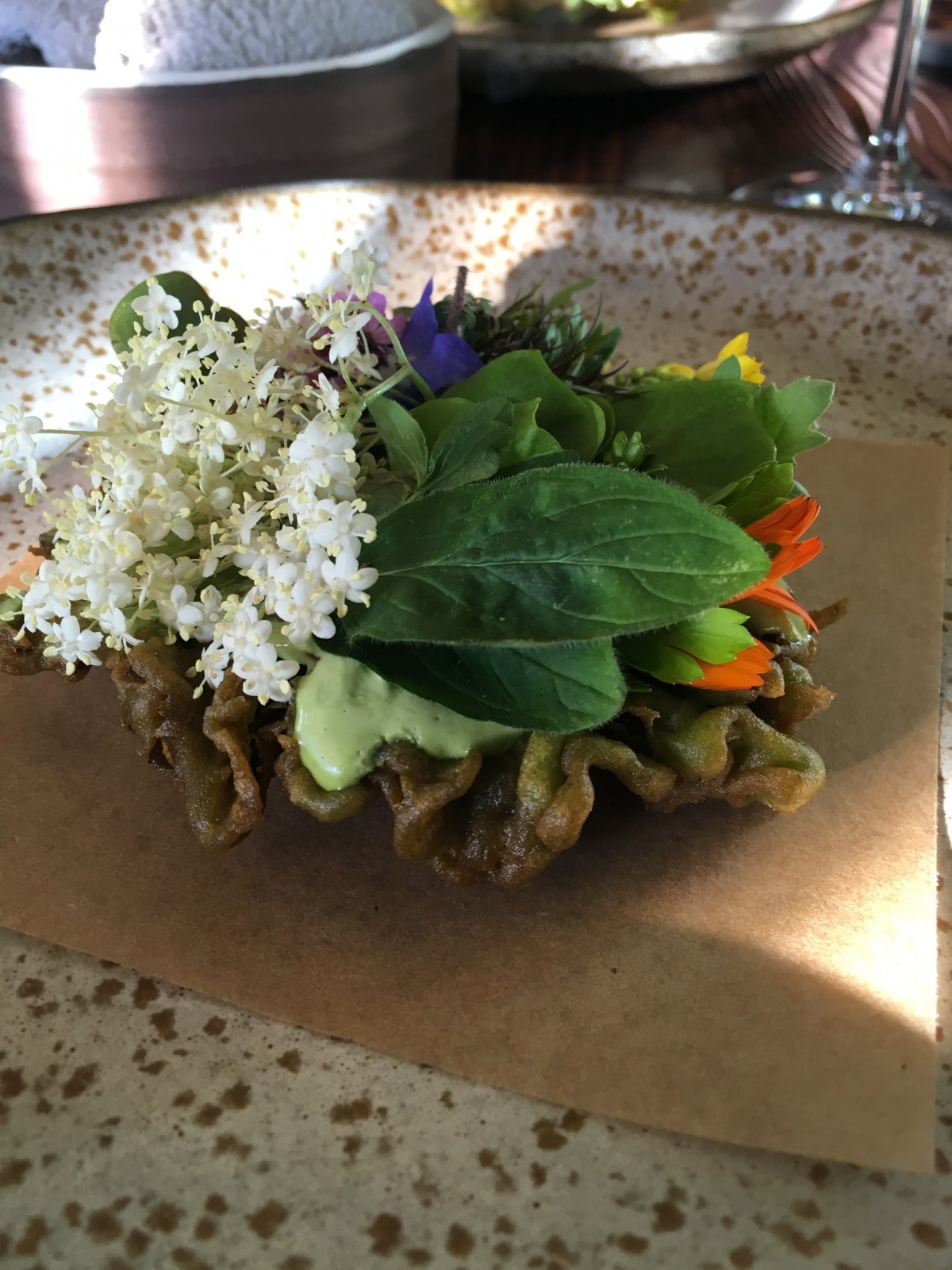 Lummi island "tostada" (wild herbs and crispy mustard 
The Willows Inn also serves breakfast and lunch.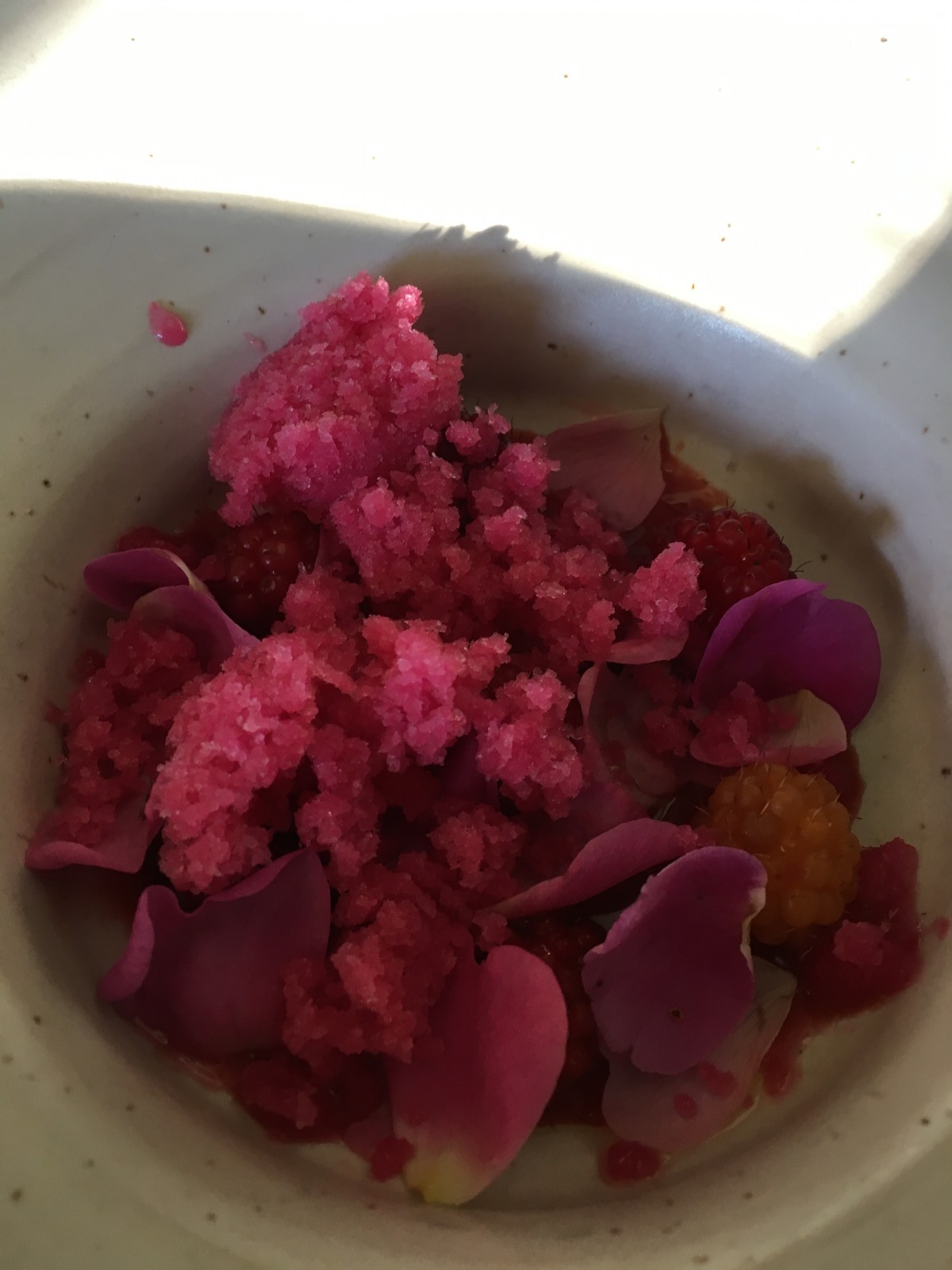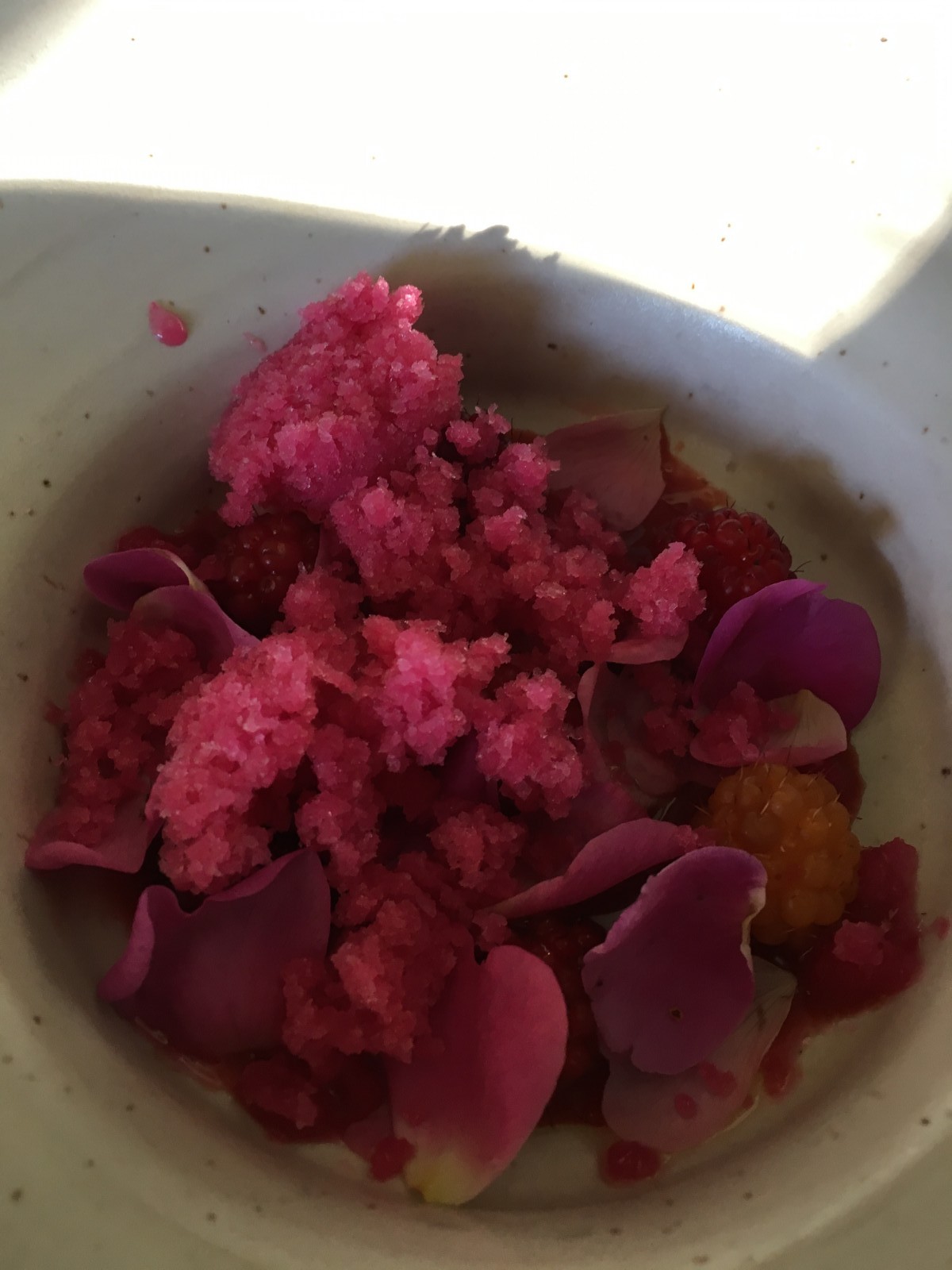 Salmonberries with nooka roses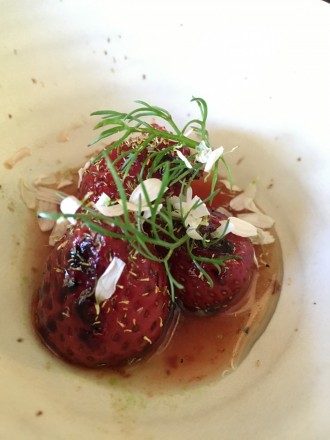 Grilled strawberries and fresh chamomile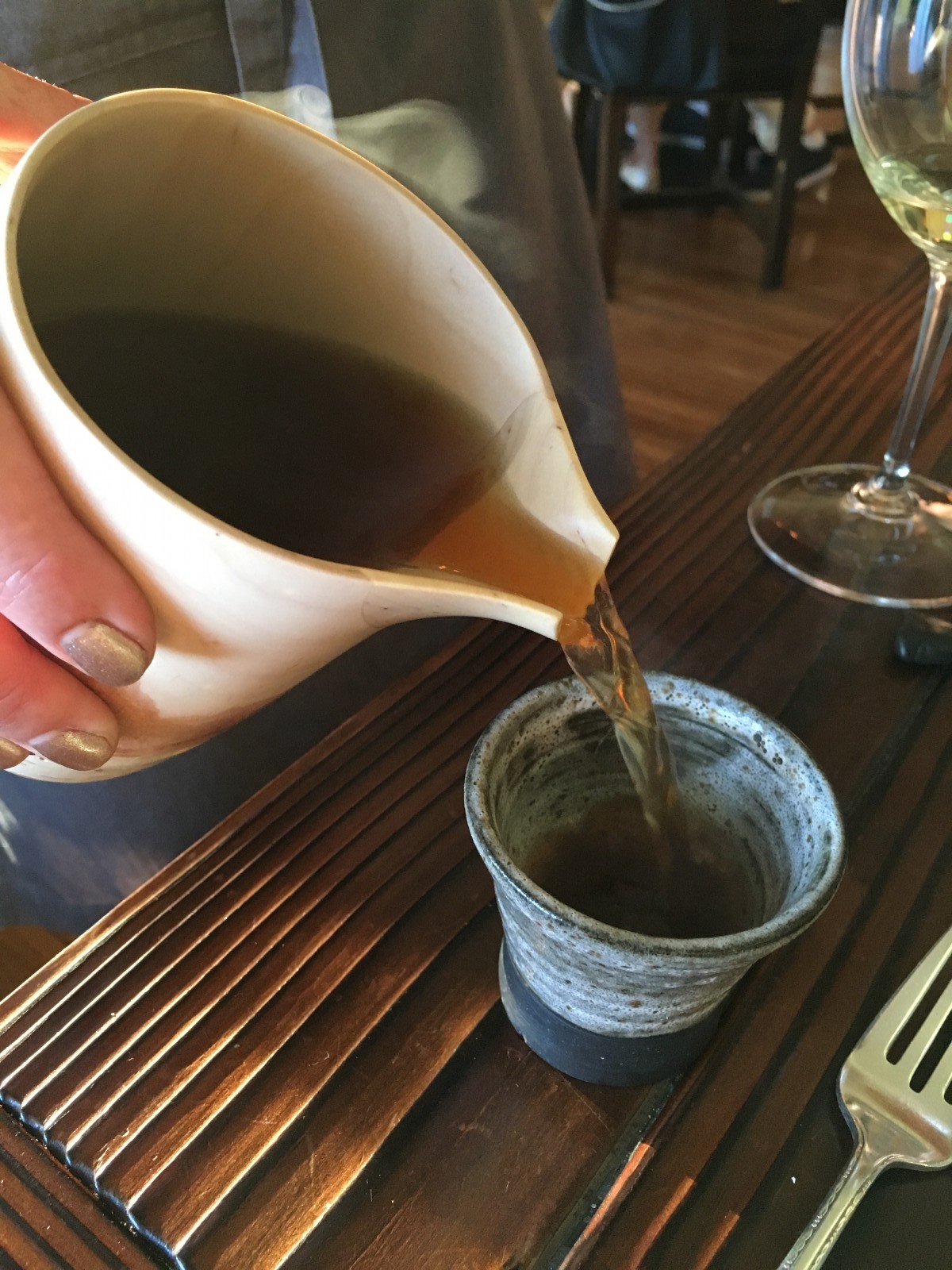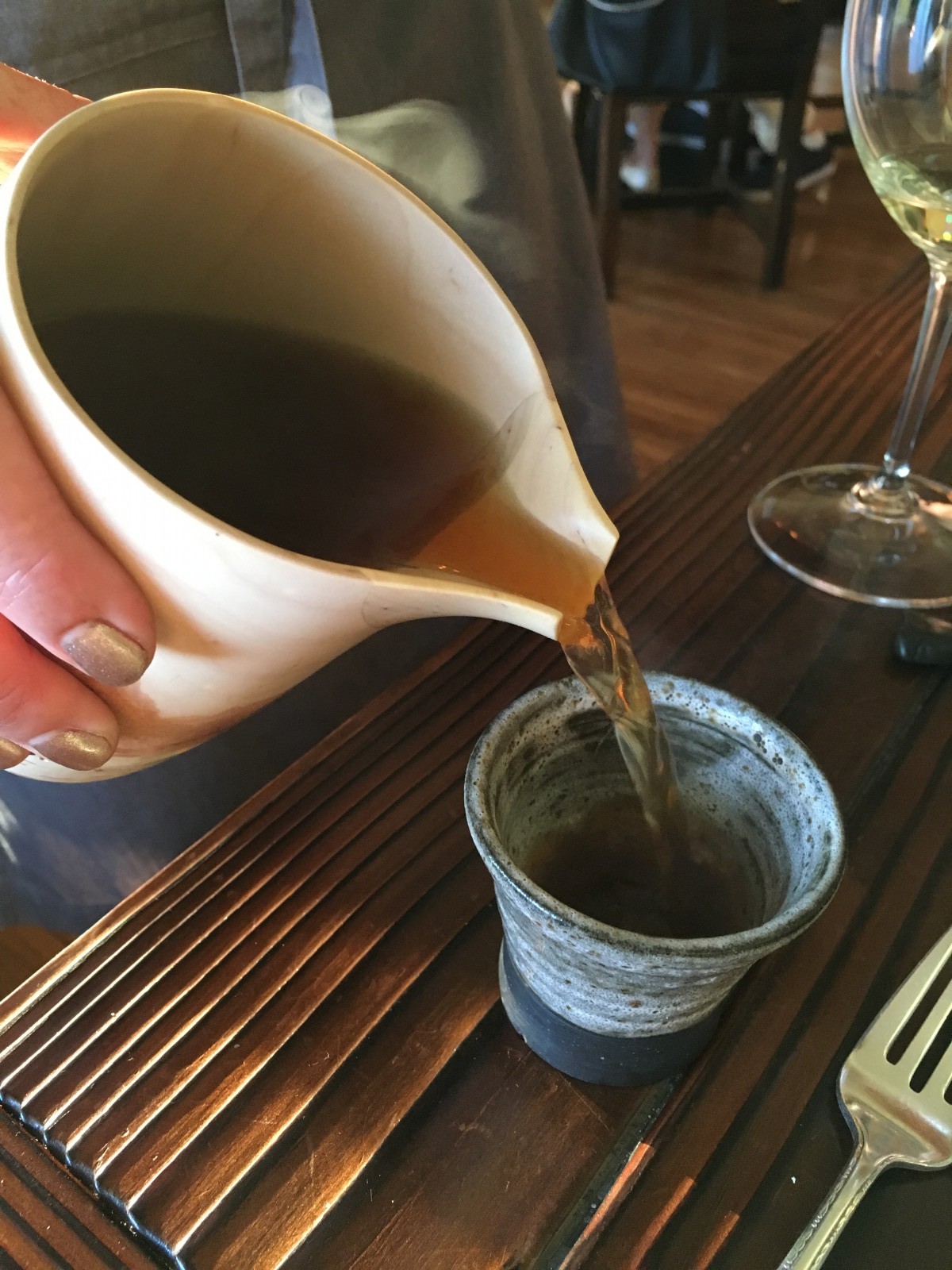 Toasted birch branches tea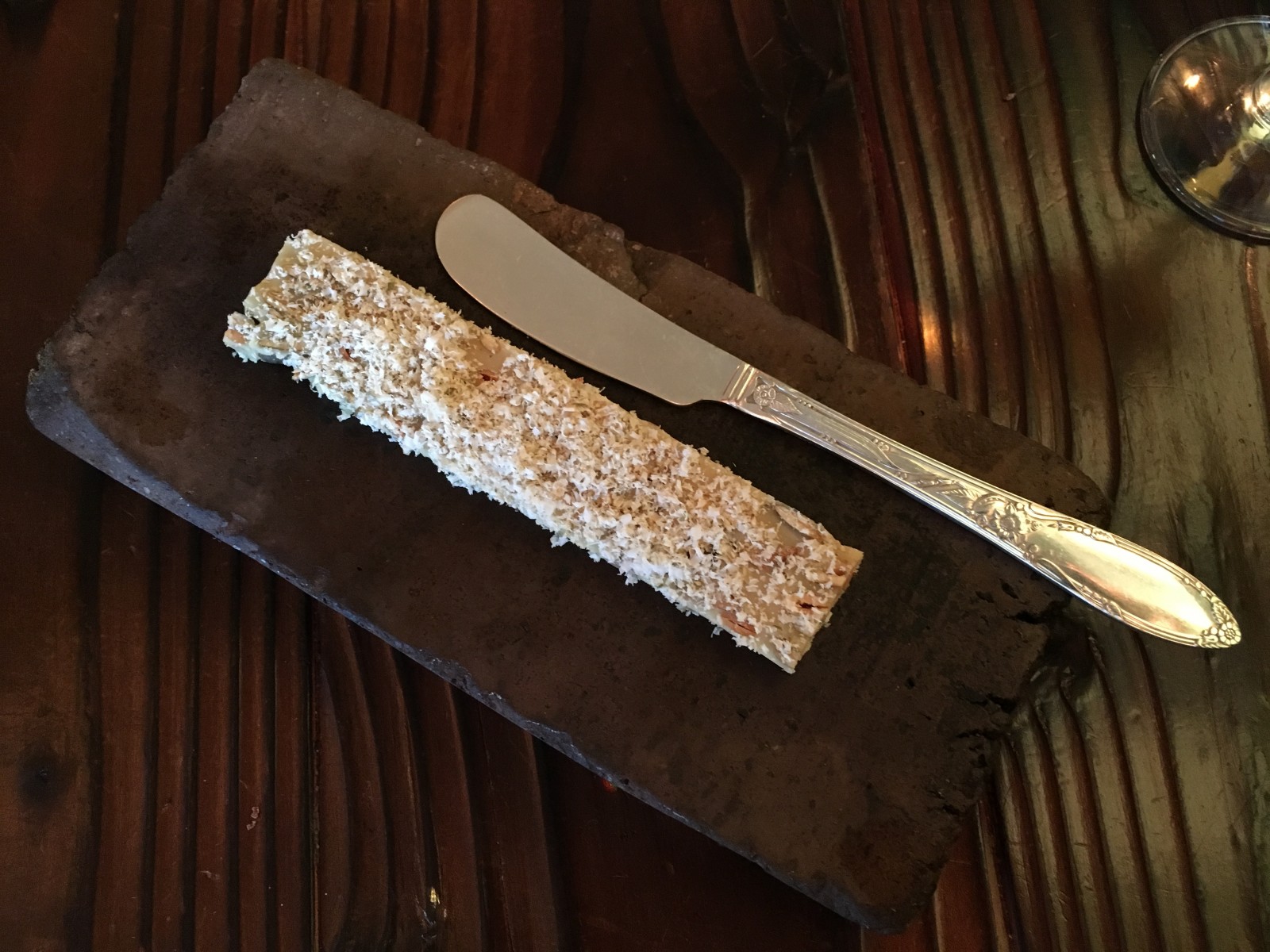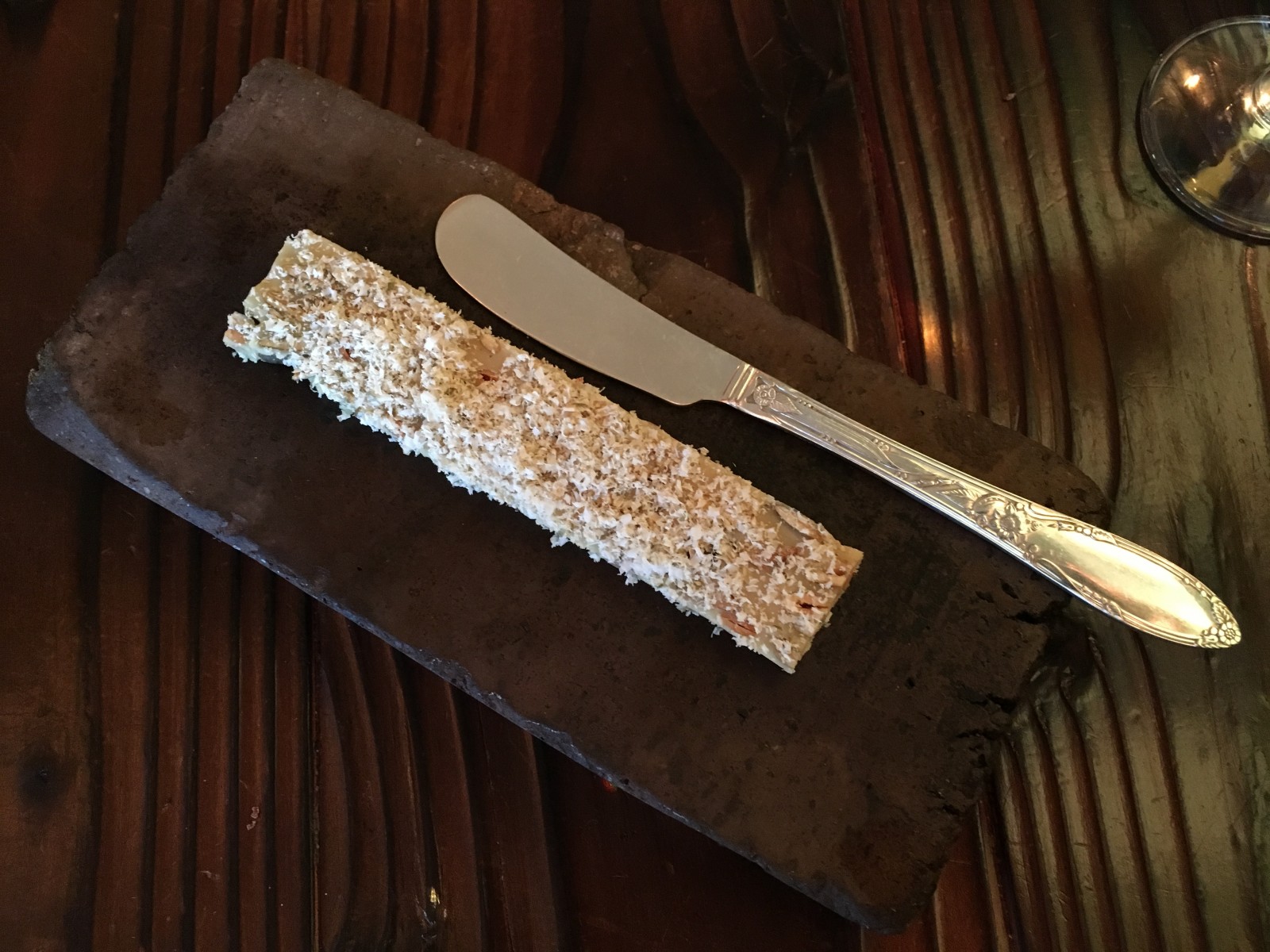 Pumpkin seed fudge
Menu $175
Wine pairing $90
Juice menu $ 40
Address: 2579 W Shore Drive
Lummi Island, WA 98262
Phone: (360) 758-2620
Toll Free: (888) 294-2620
Email: reservations@willows-inn.com