Editor's Note: My friend, Brian, is an interior designer and serious foodie. He recently celebrated his anniversary with a trip to Turks & Caicos. It's an island I've been been curious about and I found myself drooling over the photos in his Instagram feed, so I asked Brian to write a guest post for my blog. Below is the first of two parts of his trip report. – Jen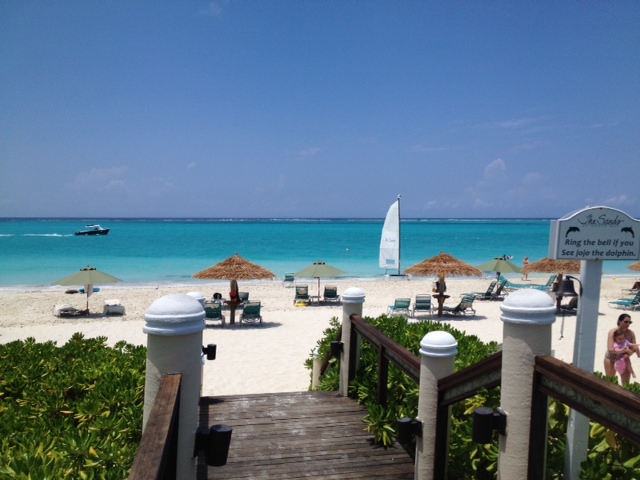 We booked this trip on Jetsetter, and with great rates in comparison to other Hotels. Naturally wanting an ocean view, we made sure to book "ocean view suite". The resort we stayed at was The Sands at Grace Bay, in the north eastern part of the island called Grace Bay, one of the "worlds top beach areas." We'd never been before, but we read about the best lobster and conch and seafood you could imagine, all while soaking in the best weather with the most unrealistic blue water.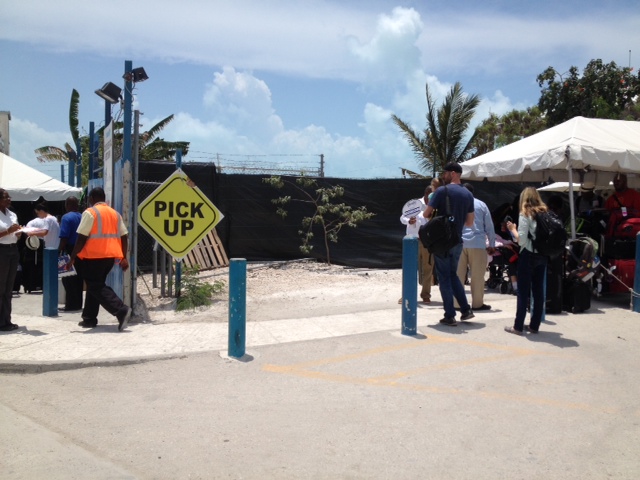 Coming from the mainland US, it is only 80 miles from Miami. Coming from LA, we  had a longer flight. We chose to take a Saturday night redeye, in plans to sleep and arrive fresh on a new day in T&C. I wouldn't recommend a redeye. Leaving LA at 11pm, we arrived in Charlotte NC at 6:30am, with a 3 hour layover.
First- you can't easily sleep on a plane. then with the time difference, and 3 hours waiting in the airport- you are extremely tired. Good thing is, the airport is completely empty- not a soul except for the breakfast places. Once we boarded, we were off to paradise. Upon landing and looking out the window, it was more astonishing than the pictures online. The water was the most obscene mix of blue and green I had ever seen. The fun part about the smaller island getaway, is deplaning on stairs on the tarmac- its very "vintage flying".
However, make sure you check your bags, or travel light- because going down those stairs with suitcases and duffles is not fun! Upon entering the tiny airport, you must wait through customs, and once thru, pick up your luggage, and go through another line past inspection. Finally, when arriving at Taxi area, you are in for an awakening. Taxi zone is literally rows of shuttle vans, and a makeshift tent; and its in the middle of what looks like a quarry. Rocks and dust galore, without the ocean breeze, you'd forget you were on a tropical island. Once we got in our van, we were on our way- about 15 min to the resort.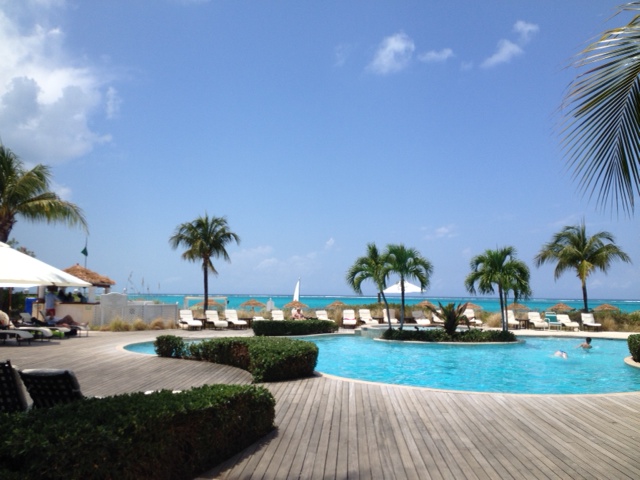 The Sands at Grace Bay is charming, in the truth is that its not brand new, and is slightly dated (mid 90s?). The small lobby is met with the most friendly staff offering a rum welcome drink- making up for any jet lag you may be experiencing. We had arrived early, and our room wasn't ready. We changed in the lobby bathroom (literally a single person toilet, sink, and pocket door.) so we could enjoy the beach for a while.  You have to remember- we are in the British West Indies, where local economy is not the best, and solely driven by tourism. (we were told 45 min for room, we arrived at an hour later, then waited an additional 30 min- the jet lag wasn't helping). Other than that, The concierge and front desk girls were extremely helpful with all aspects of our trip, from offering reservations to restaurants, to providing drivers; they were extremely helpful.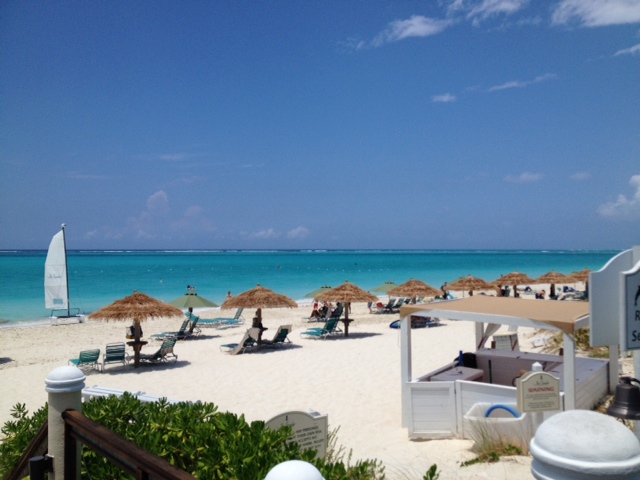 We enjoyed the beach front property- just a row of thatched umbrella stands as far as the eye could see, on pristine white sand. The water was heaven. What we also noticed, was that there were not very many people. Which is great- I'd rather have a slightly empty resort all to ourselves, than a busy one with no available lounges, crowded pool area, screaming children, etc. What we realized was the beginning of their off-season. Spring break had just ended, so most people had already come and gone. The few groups we met and talked with were there for a small destination wedding, or honeymoons. We only saw 2 other families with children the entire time.
When getting to our room, we saw that it was towards the back of the property- not promising when we had asked for ocean view. Once inside, we found that our bed and screened in large balcony had a straight on view of the grounds and ocean beyond. No complaints. Our suite had a kitchen area with sink, fridge, glassware, stemware, a living area, and the best part- a washer dryer in a closet in the bathroom. For that, we could forgive the laid back 90s design (it would prove handy later when packing to leave, and having clean clothes).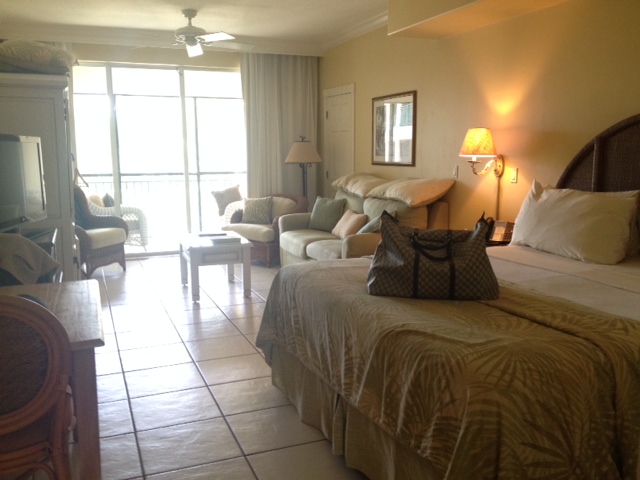 Staff was always charming, full of help and acknowledgments. Everyone said Good morning, and hello, down to the maintenance. Its definitely appreciated when you're a guest and feel good about it. We used the concierge several times; for dinner recommendations and reservations, as well as booking activities or scheduling taxi service.
One god thing to do is pick up a few of the local magazines, provided in your rooms. The dining and activities list is key in planning your days and nights. We mapped out or dinners, (as that was the most important)! We were there for 5 days, so we wanted to try a variety of things the island had to offer.
Almost everything is fish, conch and lobster. HOWEVER- we had gone when lobster season was over. YES, that is correct! No lobster for us, and every brochure spoke of lobster. Apparently, lobster is only from Dec- April 1, and we were at the end of April. So as much as I was disappointed, there was a joy in knowing that none was serving "flown-in" or "frozen lobster"- that all the restaurants prided themselves on providing only the freshest seafood, caught locally.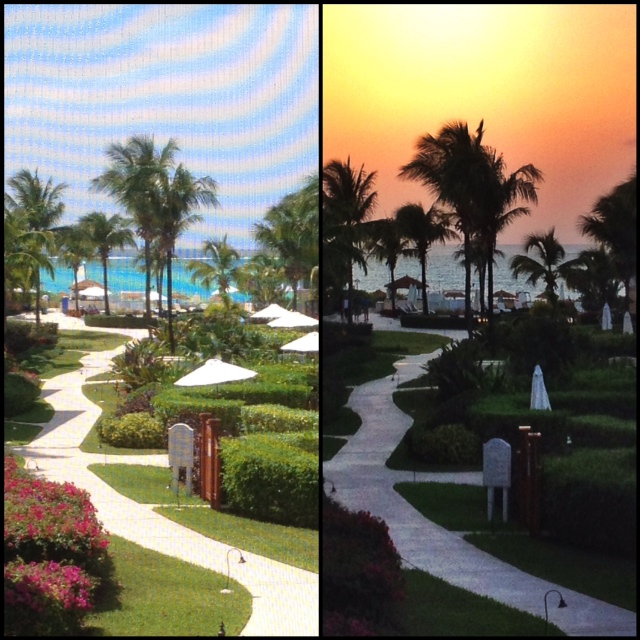 The first night we wanted to try a "locals" spot, Mr Grouper's, known for some of the best food. The place was a 10 min walk outside the hotel grounds. When leaving the grounds on foot, you must realize that there are no signs. There are two ways to go- into town, or the opposite direction, to the locals side. That's were we went. There are barely any street lights. The cars drive on the opposite side of the road, and you realize that you are not in the safety of an American sidewalk. Nothing but open fields, weeds, dirt, and dilapidated buildings, like an abandoned town. We got lost and asked a nearby motel for directions. We had gone down the wrong street, but finally found it. We would have google- mapped it, however- you must remember there is no service on the island once you leave a wifi hotel room.
Mr Grouper's is basically a shack in the middle of nowhere, with plastic chairs and little tables outside the perimeter. It reminded me of something you'd find in backwater Florida- candles, neon rope lights, Caribbean music. We ended up sitting next to wedding group we had met earlier, and also a family with 2 kids. The family was leaving and said it was the best meal they had on their trip, at half the price anywhere else. The wedding group had been there before, and said they were returning because they loved it. The service is on "island time", meaning everyone moves at a much slower pace. Because of this, the owner/manager noticed, and brought us conch cevice as an apology. It was delicious. We ordered the grouper, and the seafood pasta. Both were fantastic, probably the best fish I have ever had. The pasta was by far such an amazing flavor, that we joked we might need to order another one to go on our last day, to bring on the plane with us. Yes, it was that good. The dessert you can pass on, not their specialty. But this is one place you must try. Forget that you're not in some upscale eatery- this is for foodie lovers! If you want true authentic island for, made by the locals- this is the place to go. And remember one thing abut eating outdoors at night- mosquitos. That evening I ended up with 12 bites on my legs. (I then discovered that all restaurants provide mosquito spray at the front desk, or if sitting outside, will bring it to you at the table).
Next morning we asked the front desk for a coffee or smooth place, and was recommended a place in town. This was a easy walk, about 7 minutes. The town is literally one road with shops on both sides, and restaurants sprinkled throughout. Very cute, and very quaint, it makes you realize how much of an island getaway trip you really are on.
The place we went to was called Lemon2go, and its both a small florist shop and coffee/smoothie shop. The have scones, and cookies, sandwiches and salads, wine and juices to pick up if you want to have something for the day. We got both a mocha and a "green smoothie"- which we ended up going back for EVERY single morning the rest of our trip. I highly recommend the green smoothie- a mix of greens, avocado, ginger, cucumber, kale (very US)- it was perfect as a substantial way to start the day, plus a way to recover from daily rum punch drinking. They even offer to add protein powder, for all the guys wanting to stay in shape or health conscious. The same guy helped us every morning, and was really friendly, and a pleasure to see.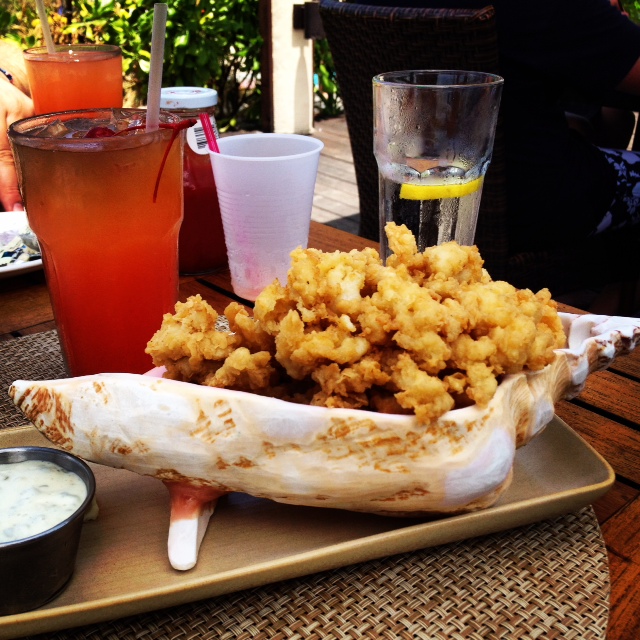 Lunch was spent everyday at the same place: Hemingway's Beach Restaurant, at our hotel. We tried it the first day, and were hooked. Not only is it conveniently at the edge of the beach and hotel, but it is open to anyone looking for a lunch escape while on the water. The convenience of leaving out tiki hut umbrella, walking 10 yards through the sand, and ending up at a friendly place was all we needed. There is both outdoor and shaded areas to sit, and the staff is extremely friendly. I had to try the fried conch ( very similar to calamari), and although very good, was also a huge portion served in a conch shell. It literally put me to sleep after.
Every other day we got the same thing- Grouper tacos. Grilled, mango salsa, and large portions. They were so good, we didn't want to order anything else. You can choose a salad or their special fries- go for the fries a couple times. They are so good- they had added some sort of spice seasoning to them that made them addicting. To keep it consistent, we ordered the same thing that we did at the beach – "rum punch".  By then end of our trip, the server girls and us were practically friends, and they playfully fought over who'd get to wait on us. The last 2 days, they gave us an extra free rum punch each- just as their way of thanking us for being loyal, and because we enjoyed their hospitality. A couple things to know about tipping- tax and 12% gratuity are already included with every bill- so we'd always add a bit more to let them know we appreciated them. Also, Hemingway's has its own wifi- perfect for being able to upload your beach photos to make all your friends back home jealous (and to see how the rest of the world is coping).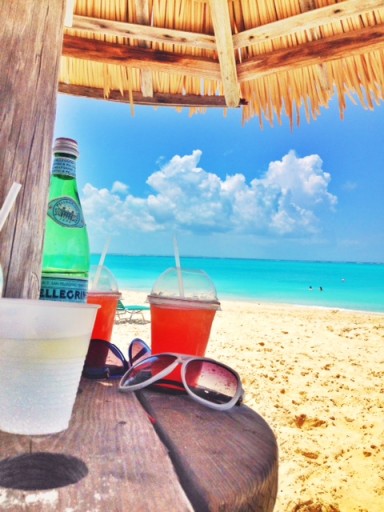 Second nights dinner was at Coco Bistro, pretty much centrally located in town. It was recommended that we get reservations, and to take a taxi. The taxi ride was $12, and we went just a few walking minutes past our daily coffee spot. Hence, no need for taxi if you're doing anything in town of Grace Bay. This place was a nice indoor/outdoor feel, lights in the trees; but to be honest, I don't remember what I had. Maybe swordfish? It was just "Meh". No complaints about the place, but nothing worth remembering, clearly. I definitely know that it wasn't worth the price of the food. Limited wine list. We were able to walk home, and it's a nice 10 min walk through town.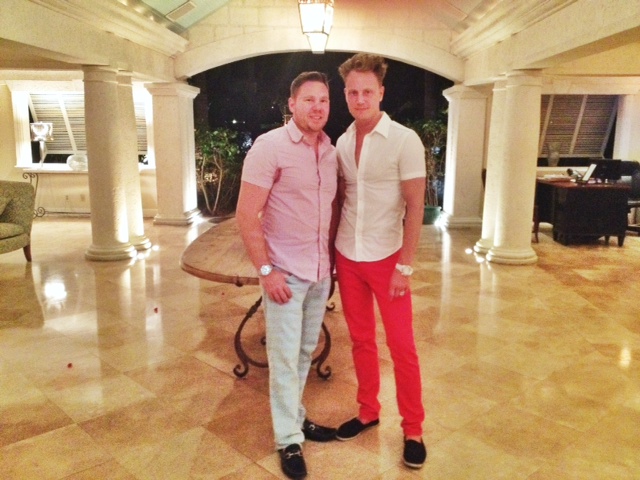 Third night was Caicos Cafe. This was the best overall experience, and the reason you go out to dinner in Turks & Caicos- also a reason to dress a little more "resort". By far the best- best service, best trained staff, best presentation. The wine and drink list was extensive, carrying not only familiar wines, but local exotic rums and spirits. We were told this was the most popular place to eat, and the hardest to get in. Also, that there were no reservations available, but if we went early, there was a chance to be in. We took a taxi, as recommended,; and even though it was just a little farther out of town, it is still walkable.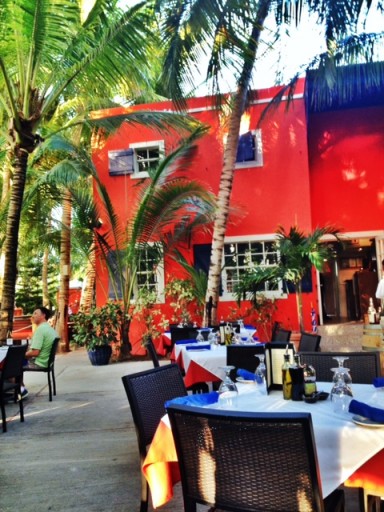 We arrived just after they opened for dinner, asking if there was a chance of getting a table. They obliged, and we walked around the beautifully tropical orange building, through a garden patio oasis- and it was completely open! It was explained that early walk ins can get a table, but not later dinner times. (we were there 6:30… by 8 pm it was packed.) All seating was outside, amongst beautiful trees and lights- you literally want to make a place like this at your home. Servers were all extremely well trained, table side serving was impeccable, as well as etiquette. There was always someone nearby, and always attentive.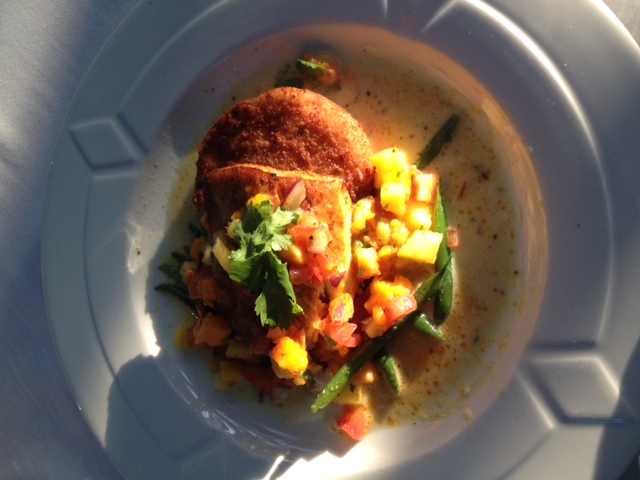 I had the curry spiced Mahi with potato cake- it was wonderful. Great wine list with plenty to choose from. Just before ordering dessert, the Manager came to or table, asked how we enjoyed our meal, and took the time to ask about us, without being overly invasive of our dinner. We ordered dessert-you have to get the coconut cake with 3 sauces- they're known for it. (We even asked for an additional side of the caramel sauce- so good).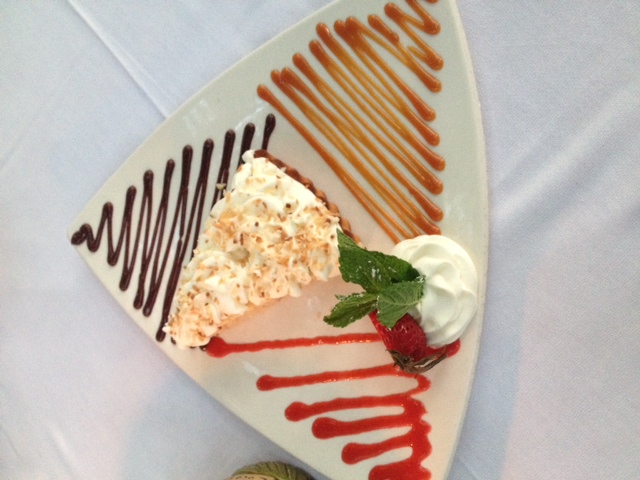 Noticing an expansive display of Scotches and Rum near our table, along with ice buckets and fellow tables' wine cooling, I asked our server to see the dessert drink list. It was expansive, and not overpriced at all. I wanted to try a rum that was a local type, and nothing I can get anywhere else. He recommended one that was not on the menu, was a 30yr old rum from the Dominican Republic. While he went to pour it, the manager came back to check on us, and told me of my choice in rum- it is not distributed anywhere, and difficult to find; the bottle they had, was actually brought back by one of their servers on a recent trip. It was delicious. one of the best rums, almost like a heavy brandy, smooth, and all for $18.  This meal was the priciest of all meals, coming in at just over $212 for two, but worth every buck.
…Stayed tuned for part 2 of Brian's Turks & Caicos Trip Report