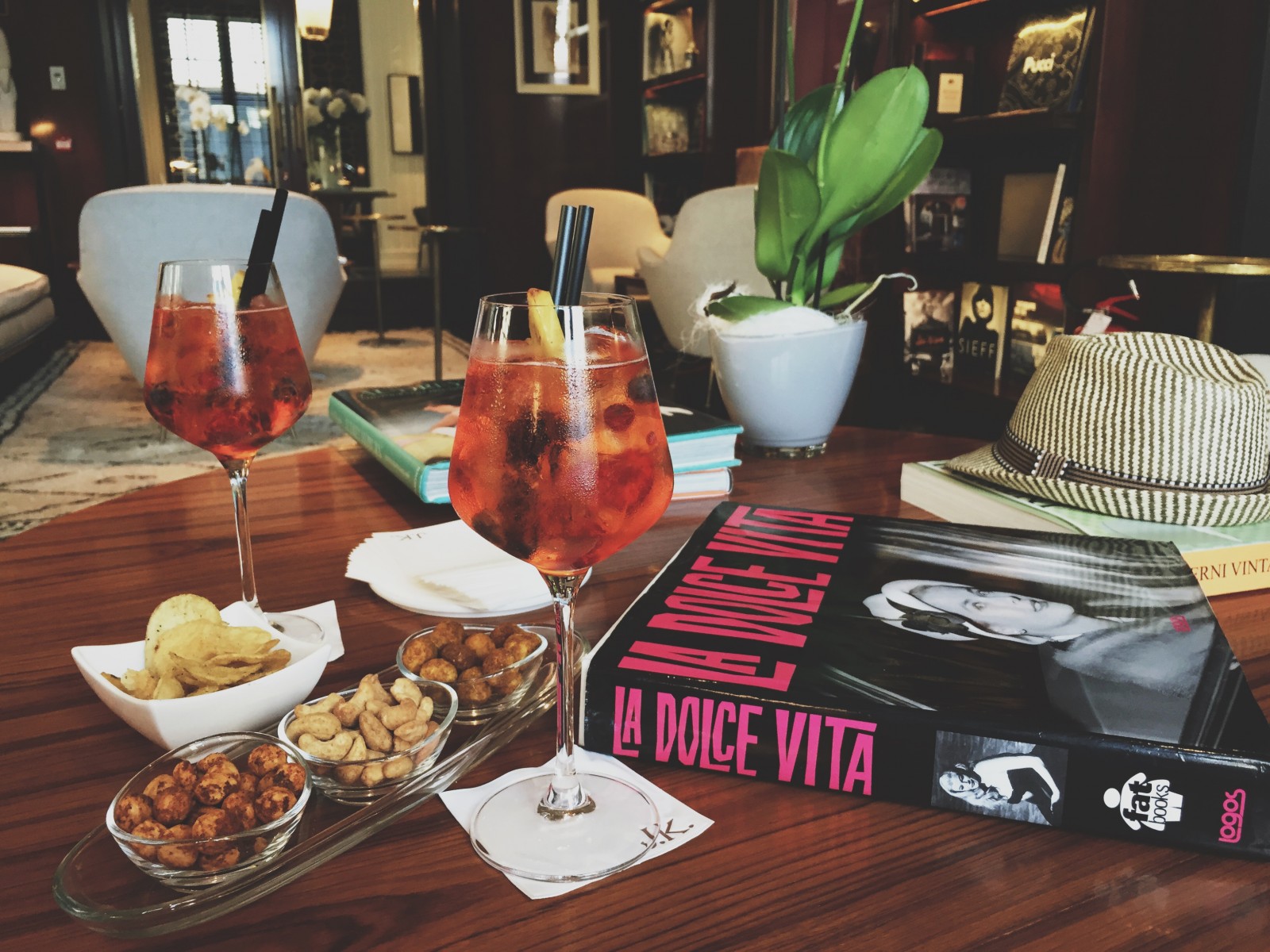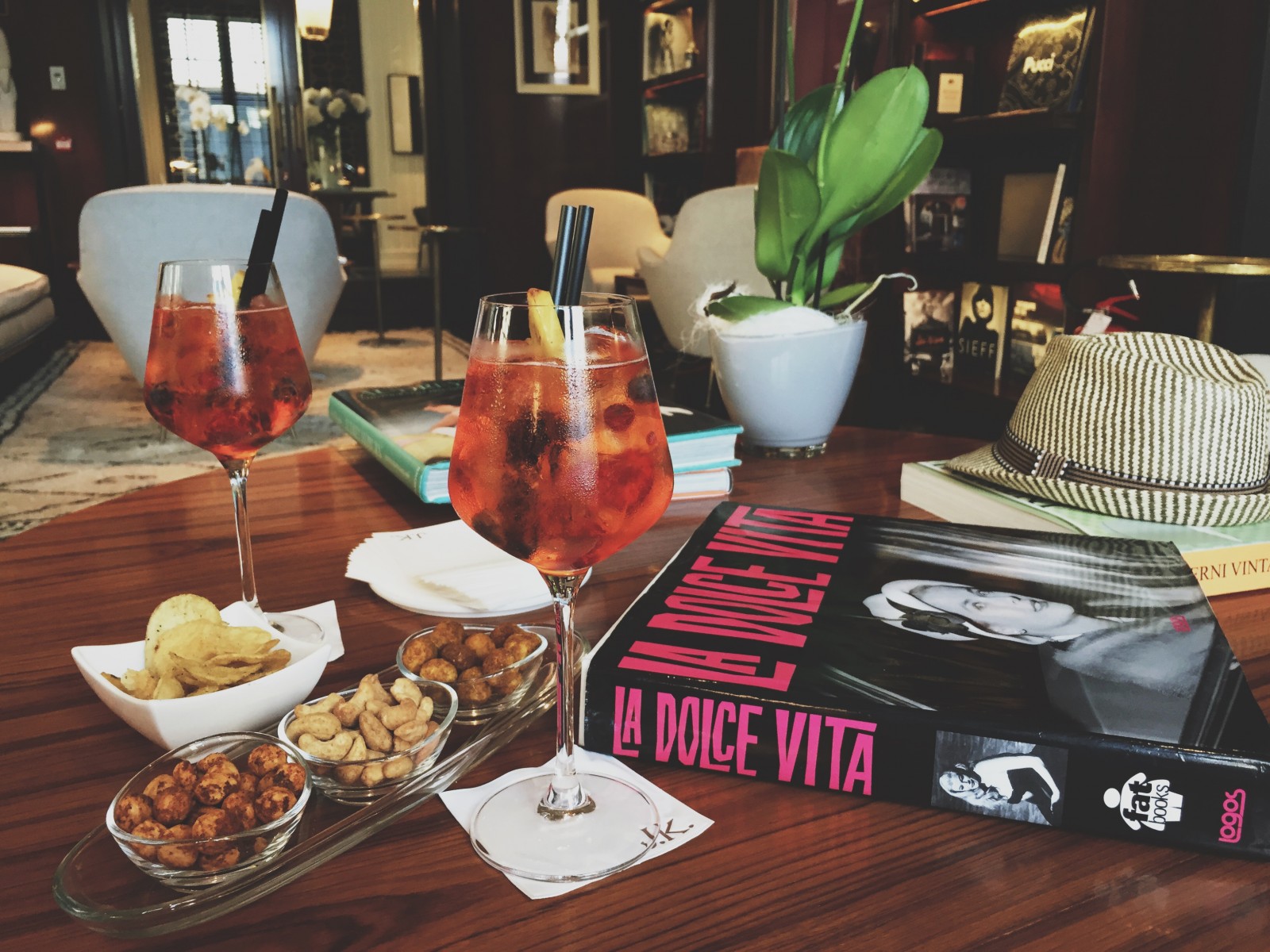 Living La Dolce Vita in the library at JK Place Roma
The focus of my most recent trip to Italy was exploring the Tuscan wine country, but I wrapped up the trip with a couple of days in Rome. I spent one night at my new favorite hotel in Italy, the JK Place Roma.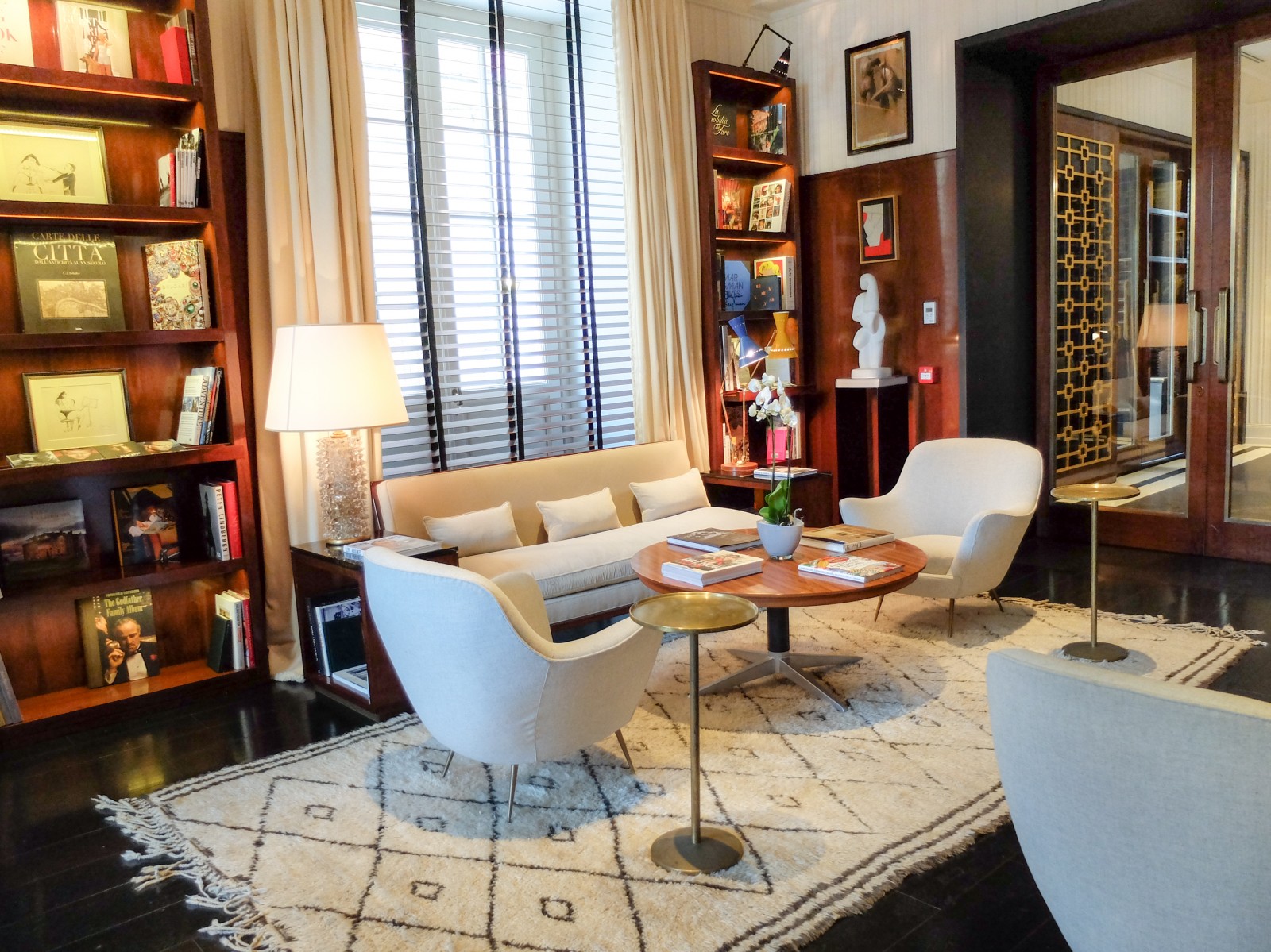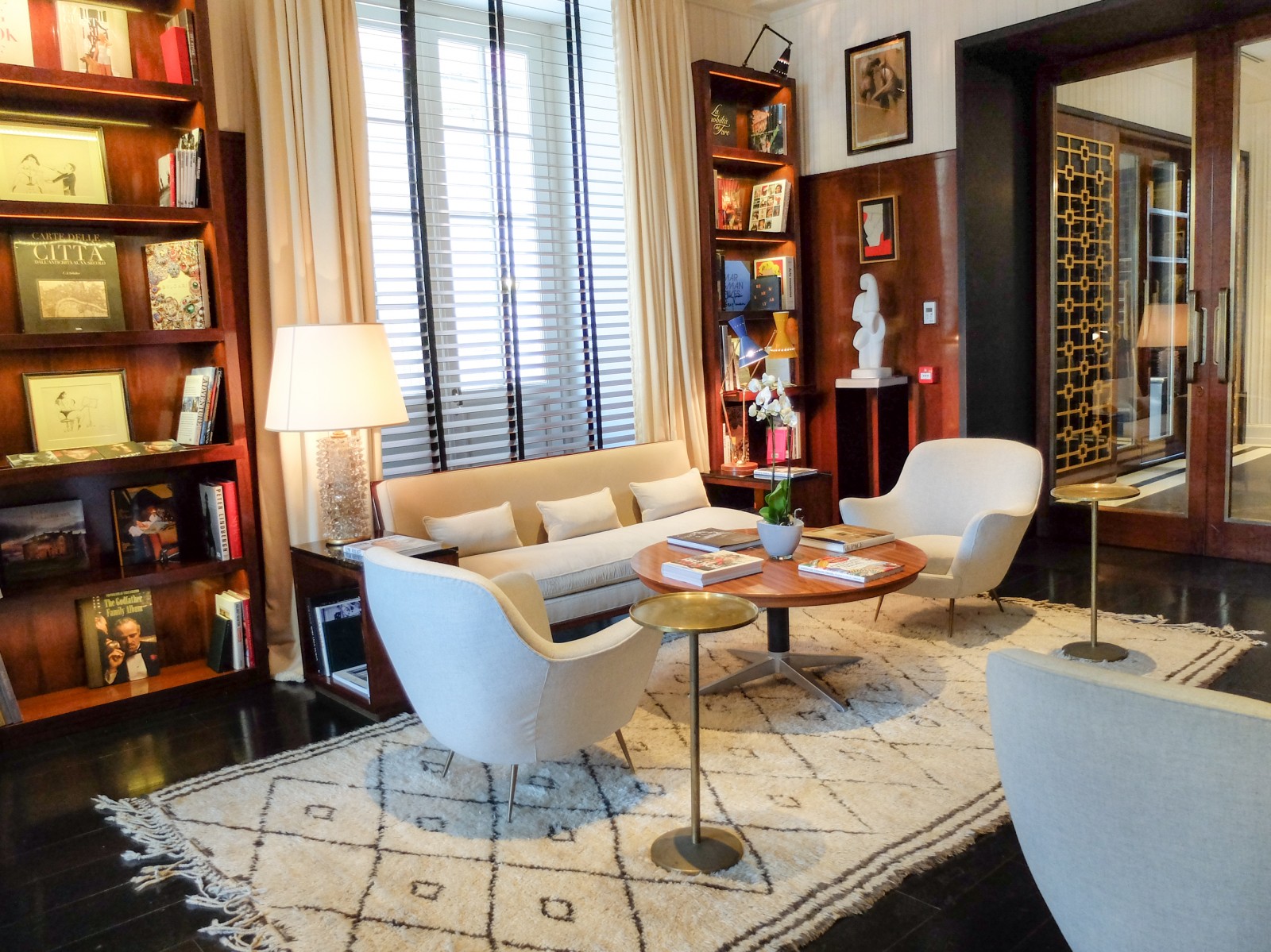 The vibe at JK Place Roma is very Mad Men-chic
My stay at the JK Place Roma was brief, but it didn't take long for this small, chic urban hotel tucked away on a side street near the Piazza Borghese and within walking distance to the Spanish Steps to win me over. We arrived before our room was ready, and the gracious concierge escorted us to the library and poured us a round of Aperol Spritz while we waited for our room.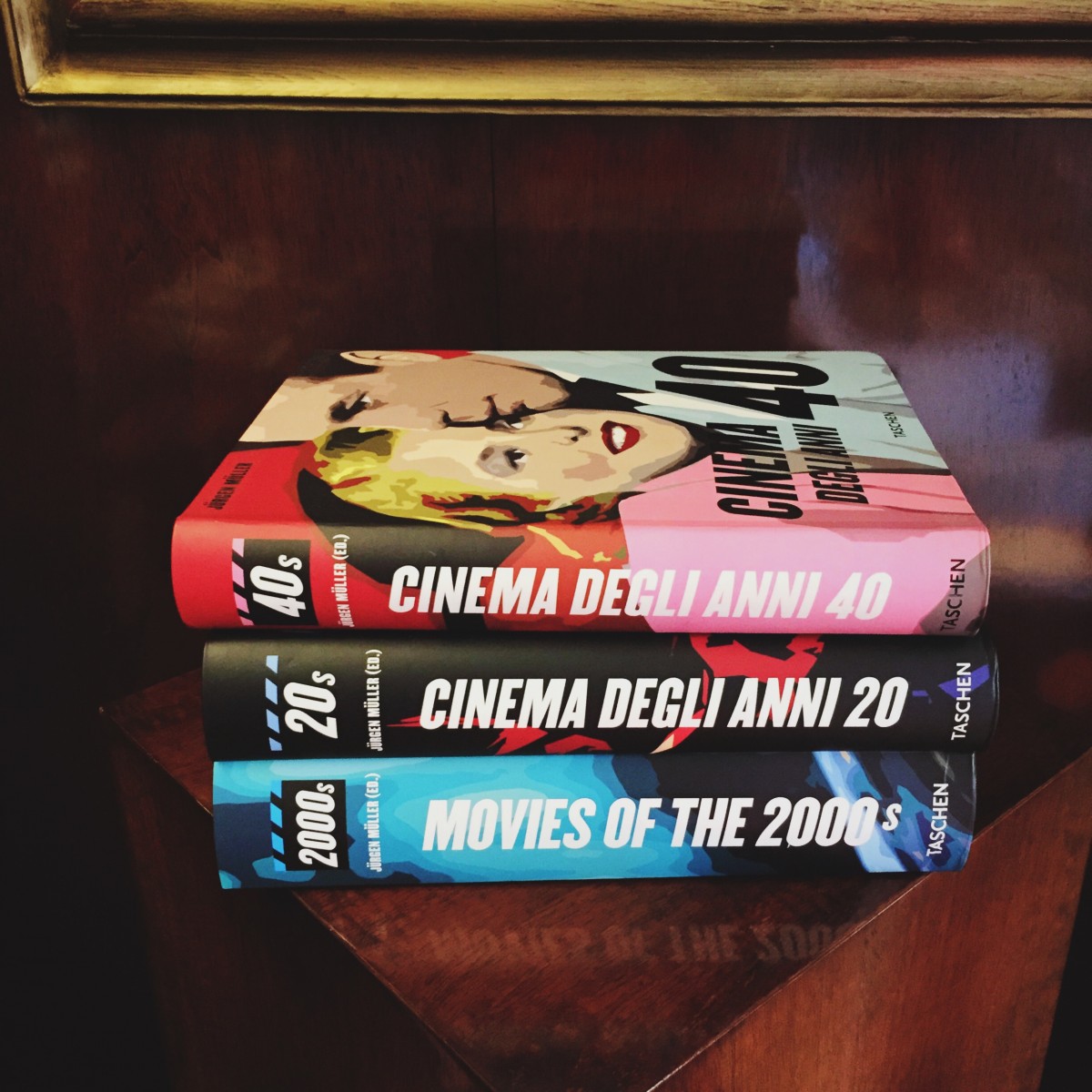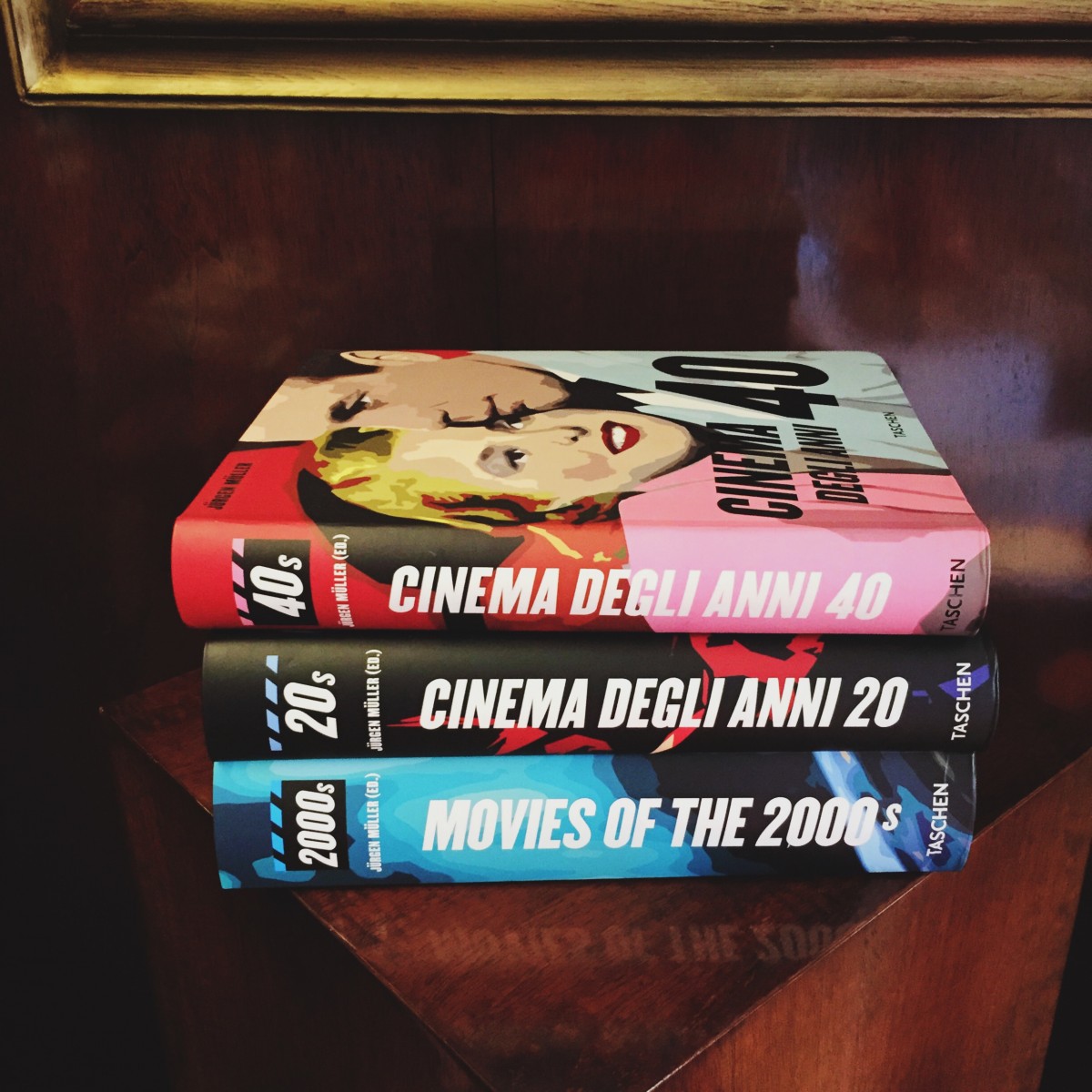 Cinema books at the JK Place Roma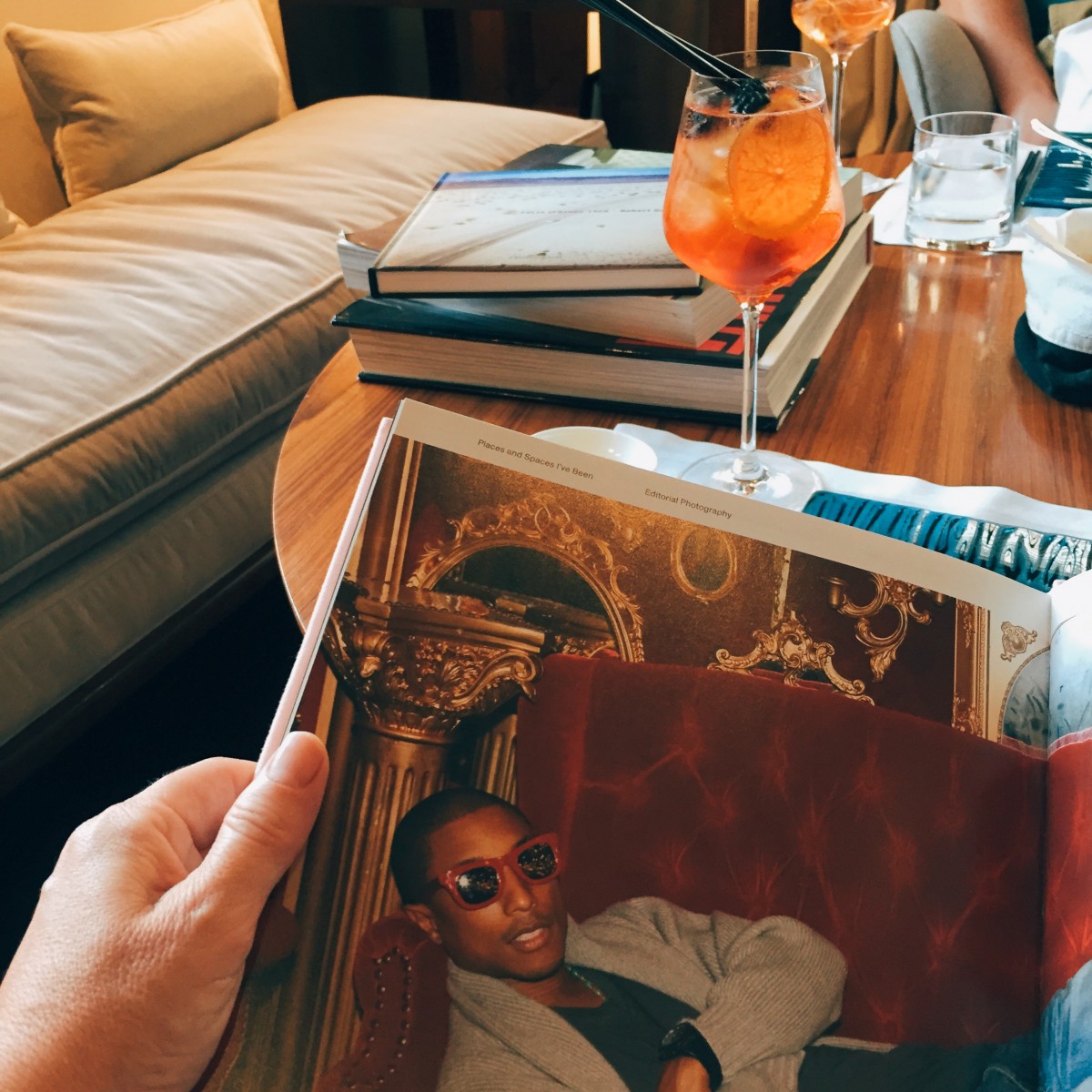 I was very Happy flipping through Pharrell's coffee table book 
We had no problem kicking back for a spritz (or three), enjoying the speedy wifi, and flipping through the fab collections of art books in the library. The Library at JK Place properties can put a Taschen book store to shame. They are like a thing.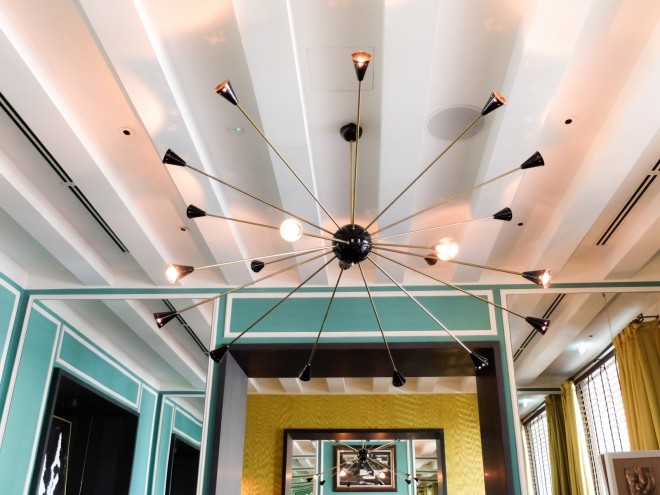 Love this mid-century light fixture in the JK Place Cafe
The vibe is  very mid-century glamorous at JK Place properties and you feel like someone's pampered house guest with impossibly chic friends. Just looking at the interior design was inspiring (and a welcome respite from the August heat).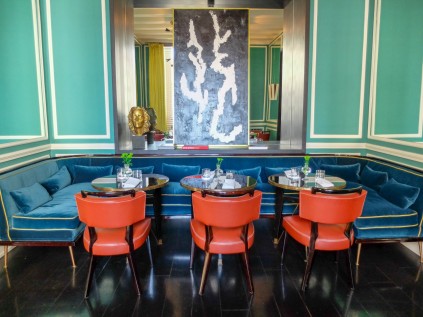 The glam cafe at JK Place Roma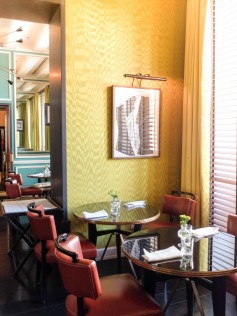 Sunlight pours into the JK Place Cafe
Breakfast is included in the room rate and while my flight departed too early for me to check out the spread for myself, I have a close friend who also stayed at the hotel a month before me and asked her for her review.
She said, "They had many choices laid out for a buffet (all the usual stuff: baked goods, fruits, juices, yogurts, granolas, cheeses, charcuterie, smoked fish, etc.), plus they were eager to make you anything you wished for in the kitchen. We had a variety of eggs cooked to order. The service was very friendly and attentive."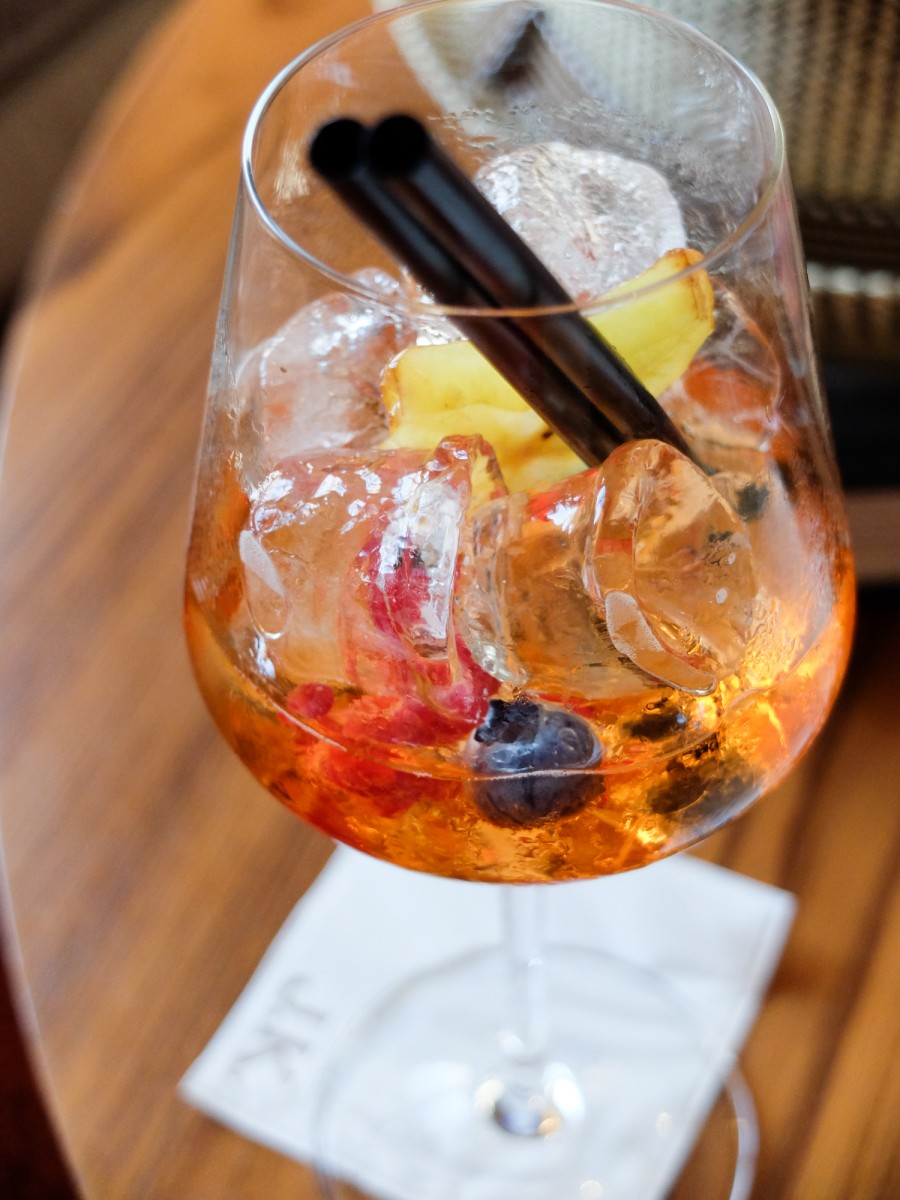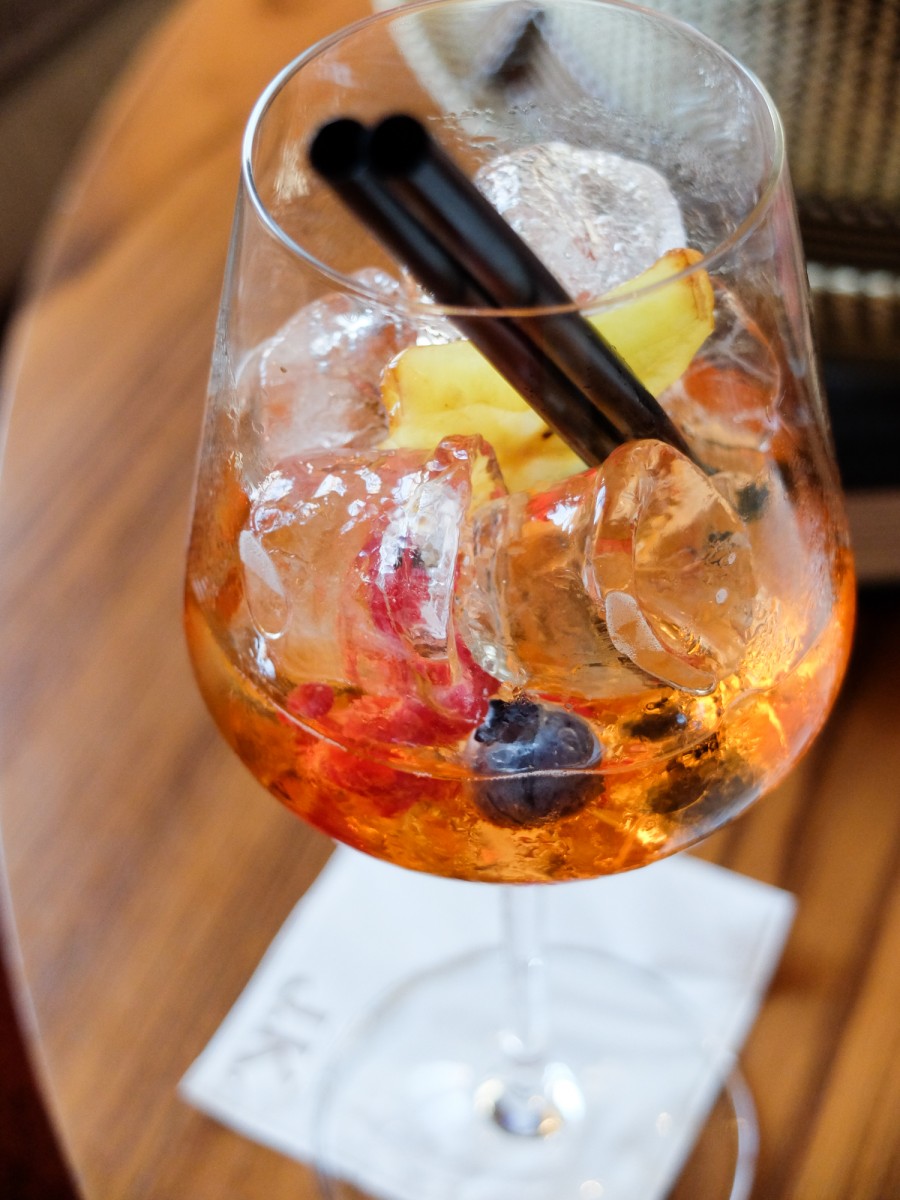 Fruit in my spritz
This is consistent with the JK brand (I'm still blown away when I remember the breakfast spread at the sister property, JK Place Capri).
This time, my stay was courtesy of a free night earned in the LHW Leaders Club Unlimited (my husband is a Leader's Club Unlimited member, which seems especially useful in Italy).
When our room was ready, the concierge led us there. Even the elevator, which had velvet banquettes built right in, was fabulous. Our room, a JK Classic, was not huge, but it was big enough by Roman standards.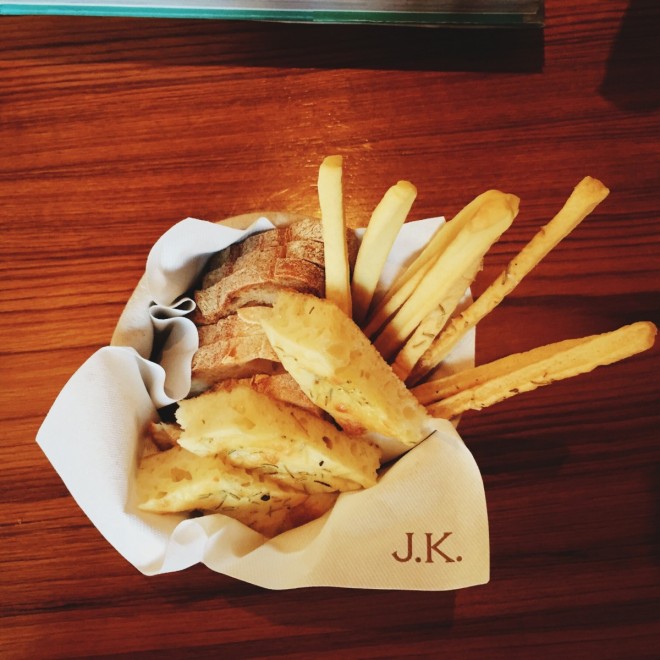 Rule #1 of visiting Italy: skip the bread. I broke this rule and this bread was delicious.
More notable was the unusually large bathroom which was almost as big as the bedroom, with a huge shower stall, impressive vanity and dressing area.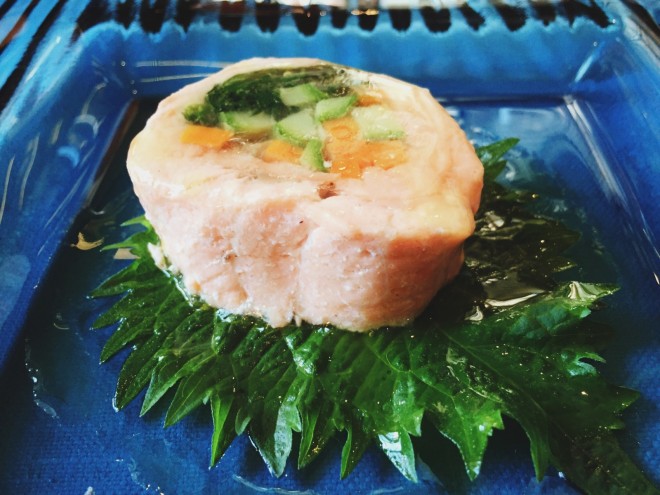 Salmon rilette served in the the J.K.  Cafe
A few notes about how they roll at JK Place: bar snacks are generous and tasty. You can make a meal out of the olives alone. There is also one choice that I'm sure was meant to be "quirky" that I find irksome: the music.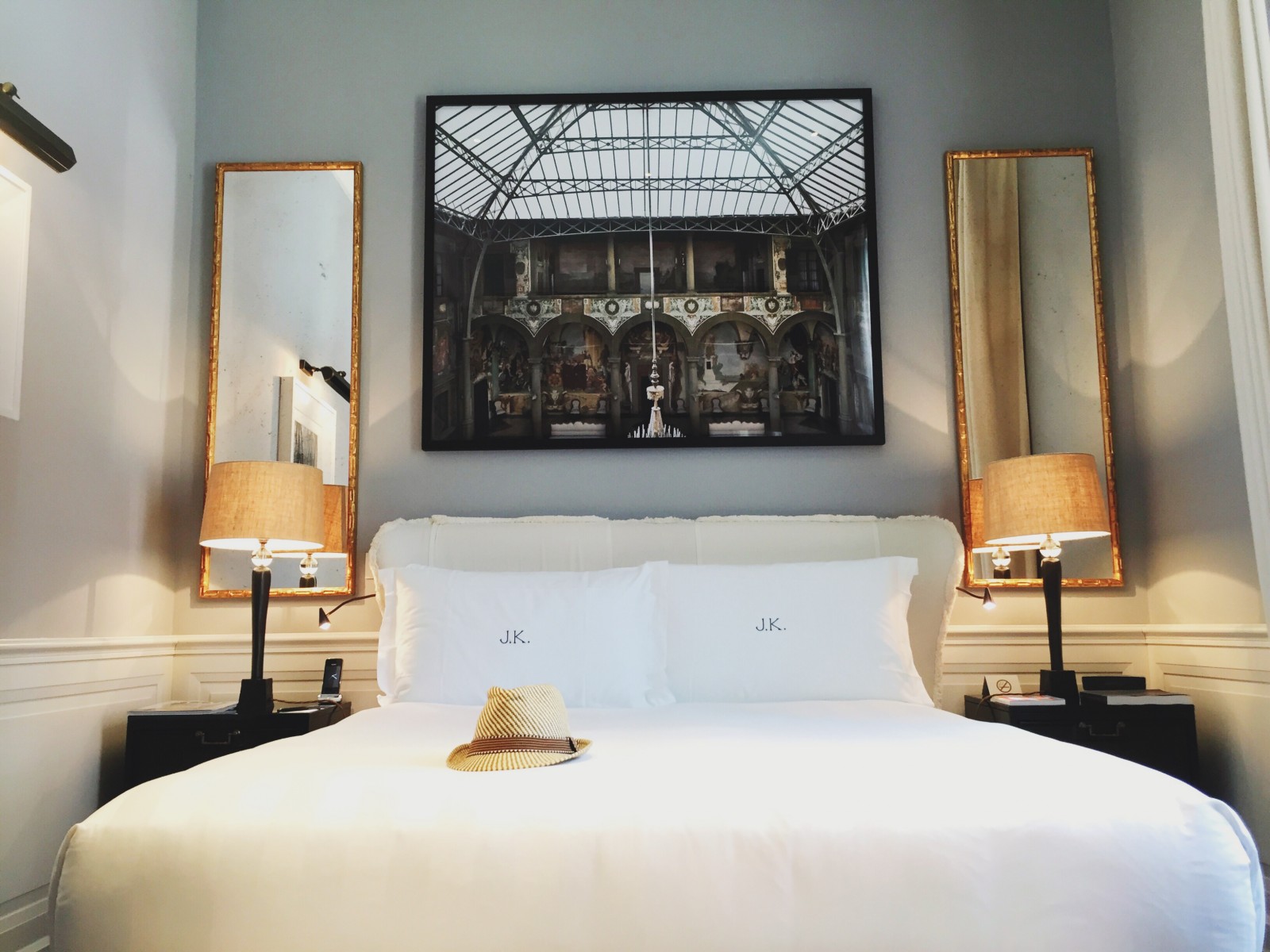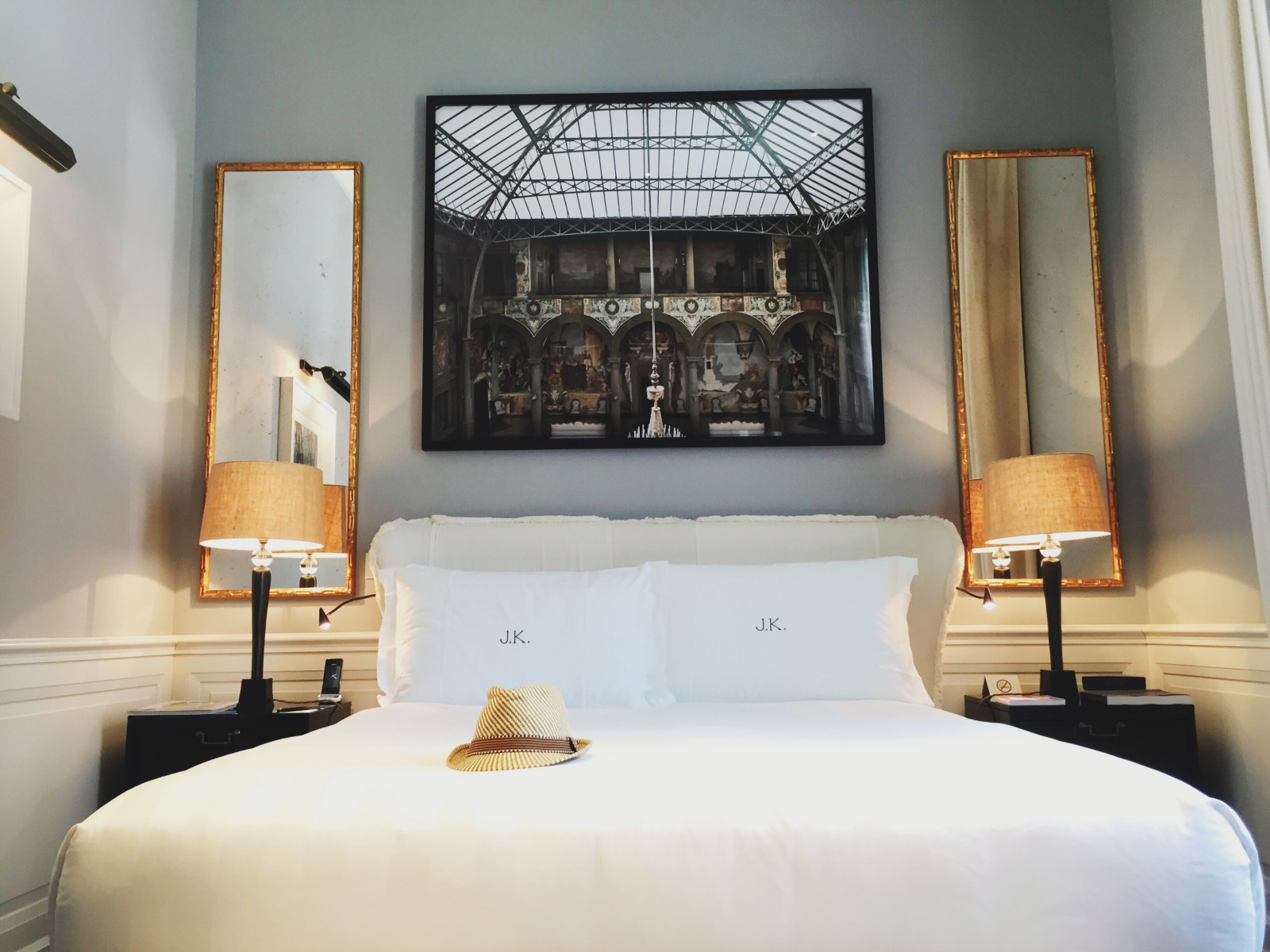 The cozy but chic bedroom had some fabulous photography
While I am a bit of a music snob, I usually enjoy music. I also think it's fun discovering interesting cover versions of songs (think Kawehi's Heart Shaped Box).  Not so the soundtrack at J.K. Place. The hotel's atmosphere music was straight up offensive to my ears.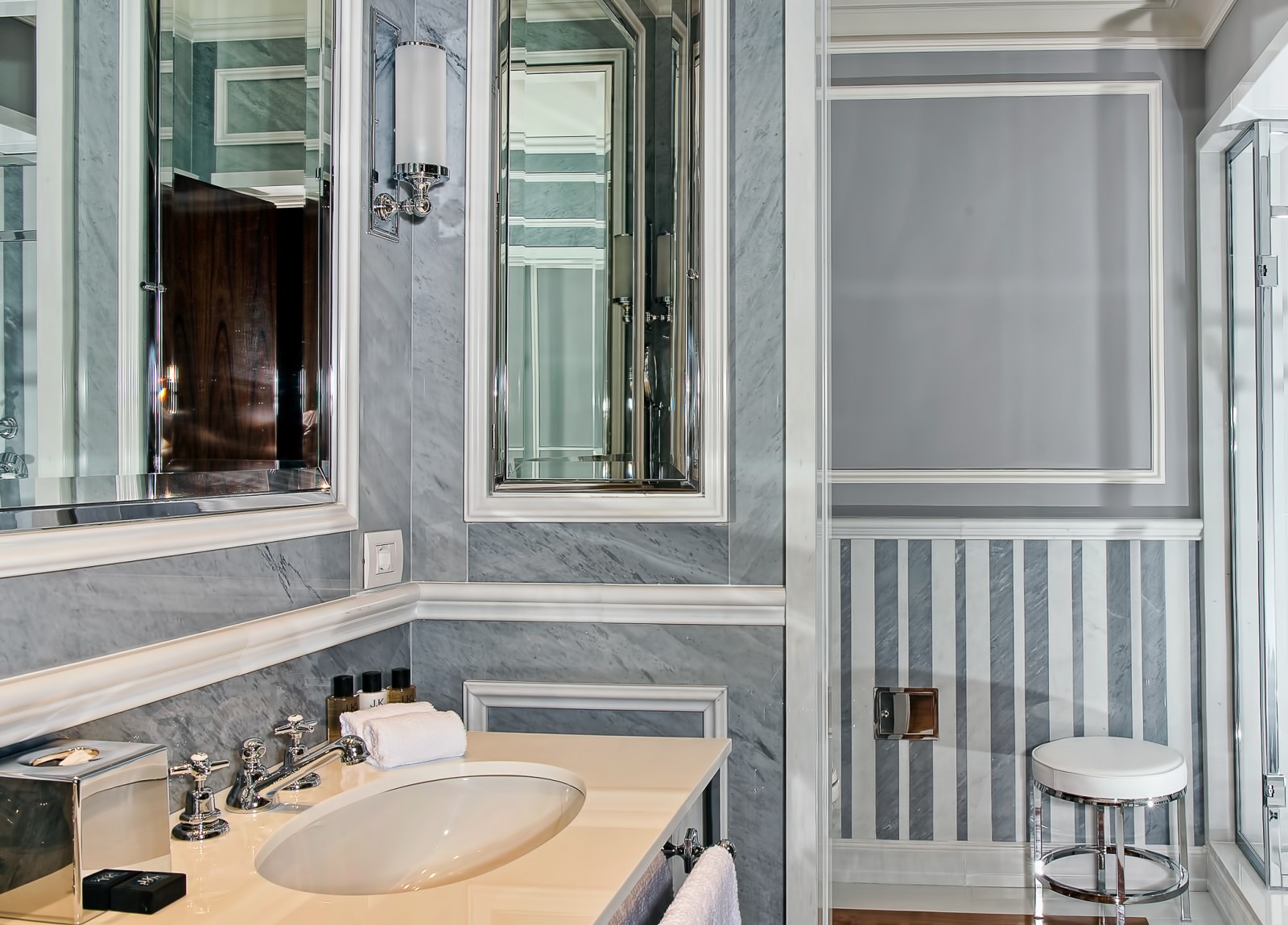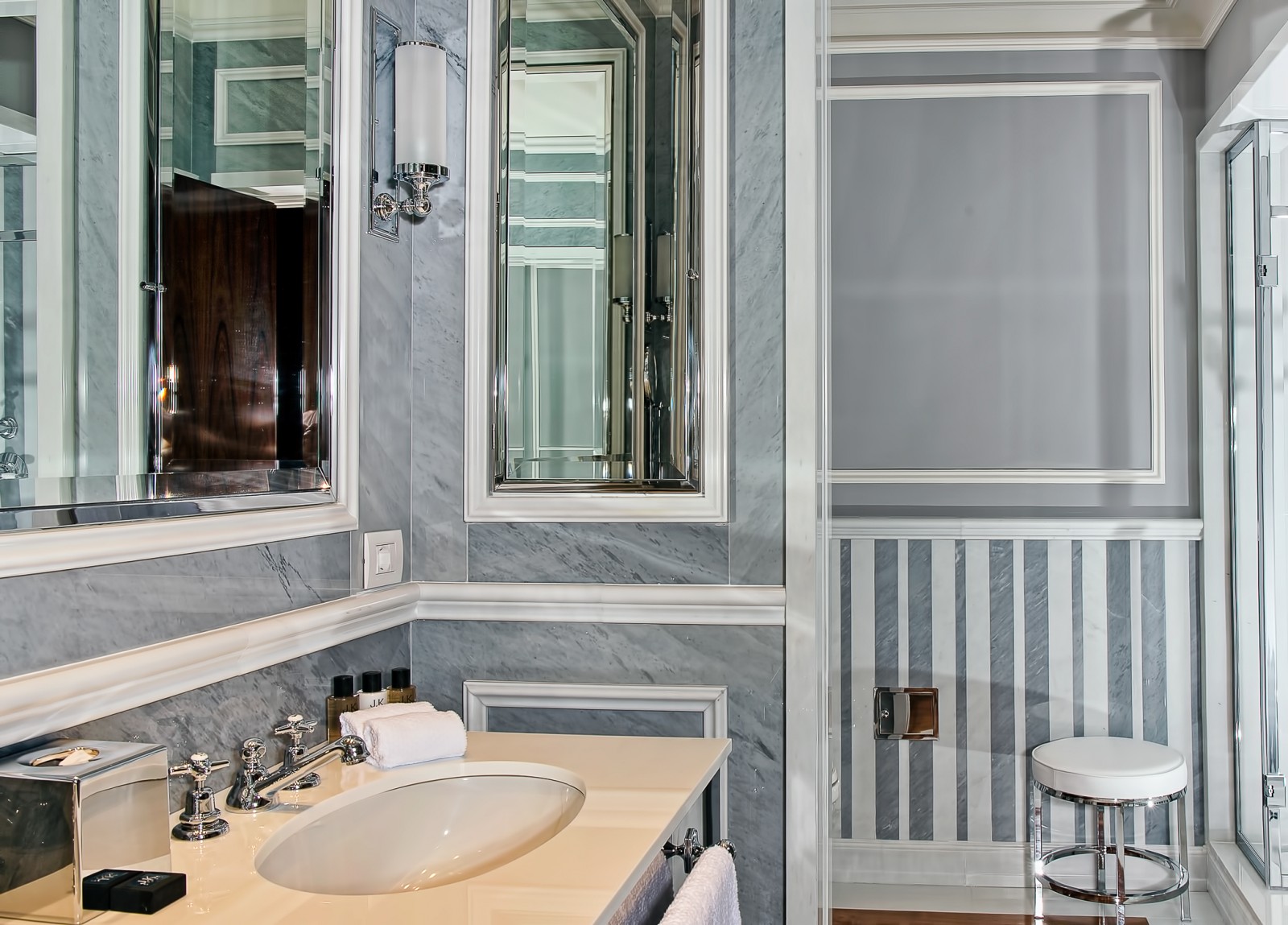 The bathroom at JK Place Roma
The playlist that featured almost entirely all female cover songs, like Eliza Lacreda's version of King of Pain or this awful version of Dani California. My friend who stayed there a month before me is also an audiophile, and she found the music choices amusing. So it's a personal taste thing. Fortunately, I found Aperol spritz took the edge off my dislike for the soundtrack.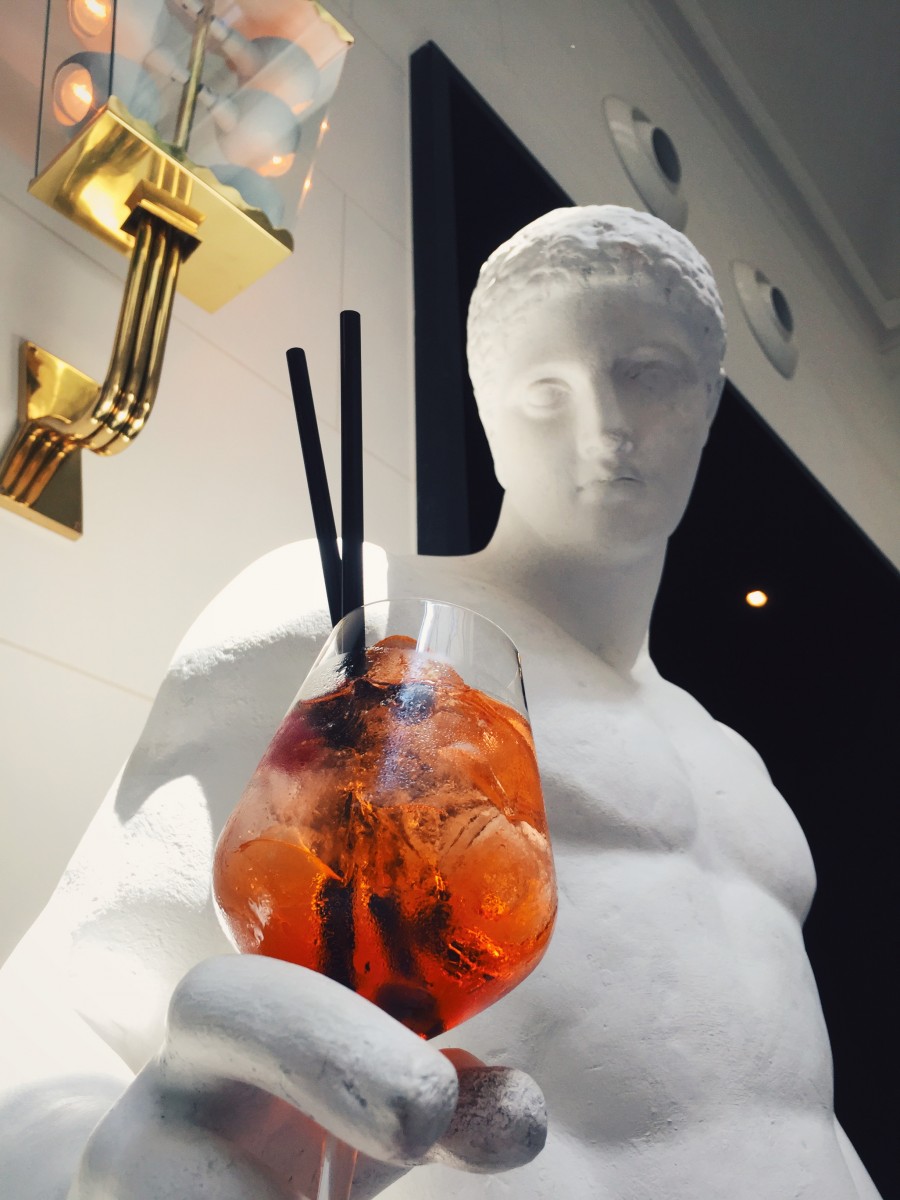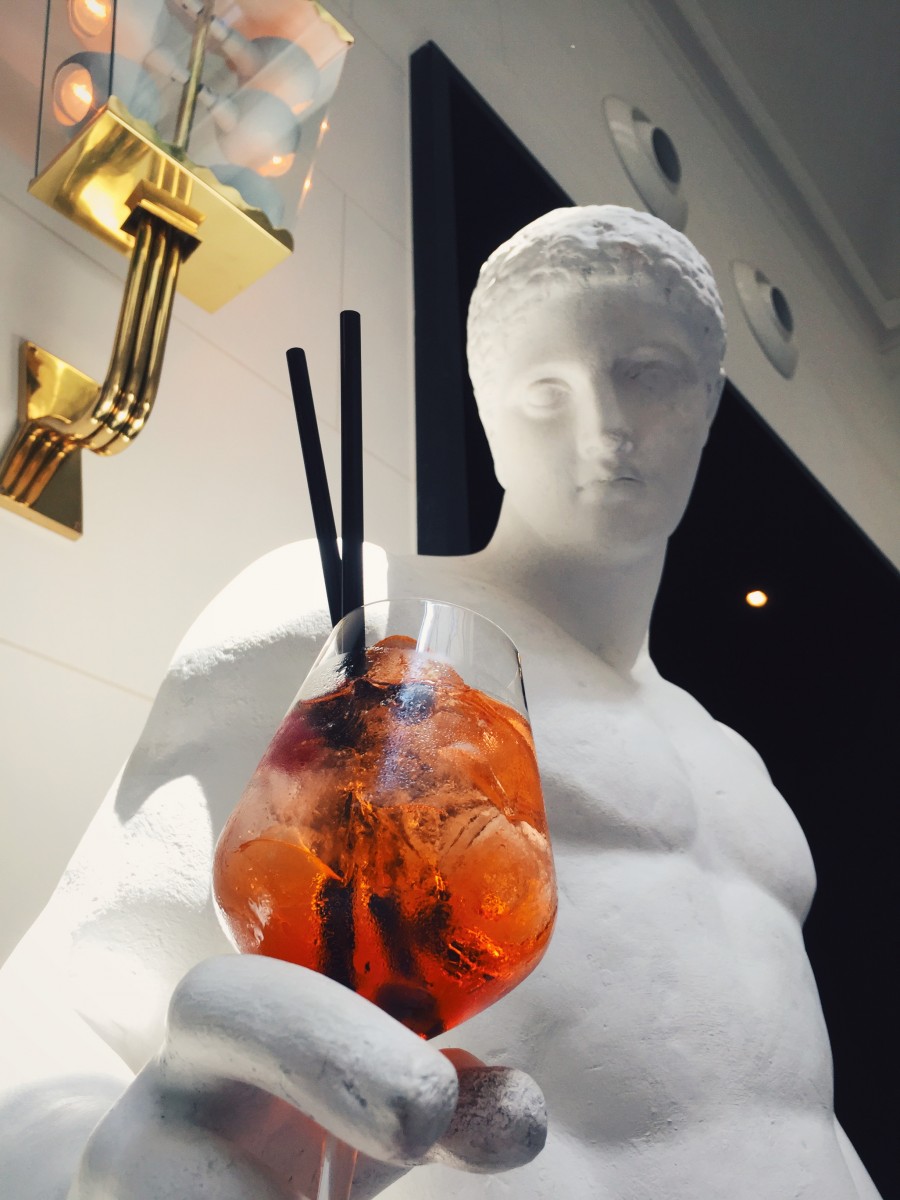 Aperol spritz with a statue at the JK Place Roma
My biggest problem with JK Place Roma is that I didn't stay nearly long enough to enjoy it fully. There is so much to see and do in Rome that I didn't get to sleep in late in the crisp, cool sheets or sample the breakfast buffet for myself. Clearly I need to book another stay at J.K. Place Roma so I can check out the hotel in more detail.
Via di Monte D'Oro, 30,
00186 Roma, Italy
+39 06 982634
Rates from $609.00 USD