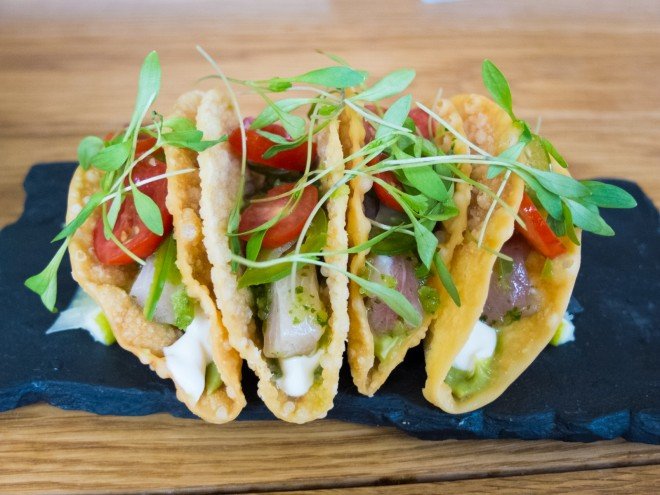 Hamachi tacos at Morimoto Maui
If you're looking for a great restaurant in Wailea, I highly recommend checking out Morimoto Maui located at the Andaz Maui Resort. This Hawaiian outpost of Iron Chef Masaharu Morimoto's eponymous restaurant is great for advanced foodies and sushi novices alike.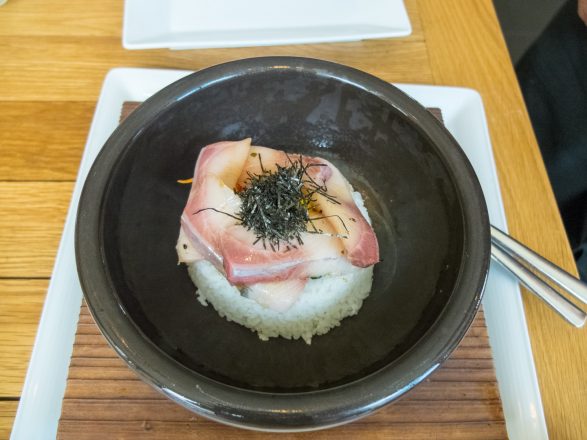 Ishi Yaka Buri Bop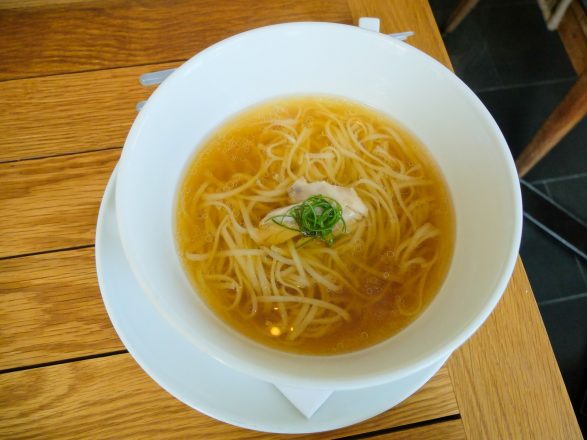 Ramen soup (Morimoto chicken soup)
Morimoto Maui's menu had so many dishes that I wanted to try, that I ate at this restaurant four times during my recent trip. I also craved it as soon as I left.
Sushi and pickled ginger at Morimoto Maui
The menu focuses on a mix of Western and Japanese dishes, using the freshest local Hawaiian ingredients. The whole vibe is upscale yet casual, and the setting is modern, laid back and Aloha chic.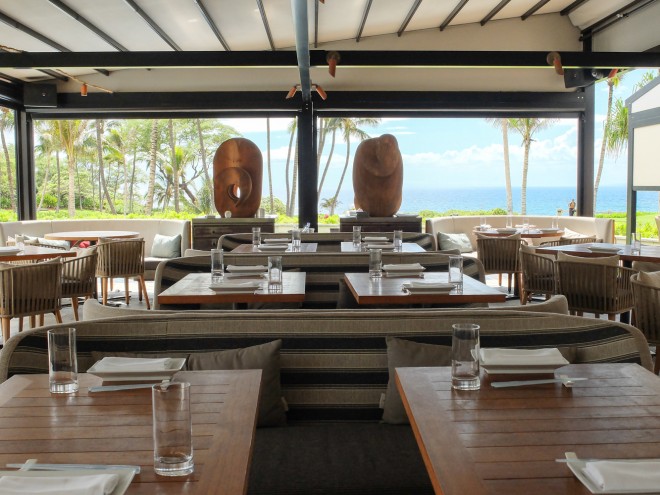 Patio at Morimoto Maui
The restaurant is has a small outdoor bar, a covered outdoor patio, sushi bar, and indoor seating options.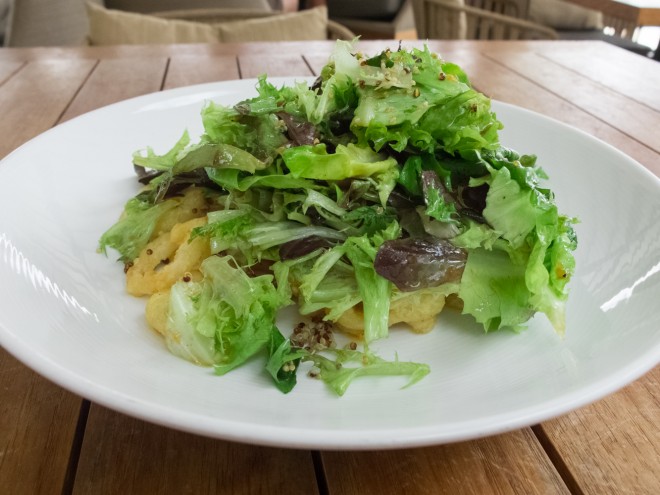 Tempura calamari salad served with quinoa and white miso dressing ($19)
Morimoto Maui is a great choice for foodies and beach bums alike– the vibe is mellow and you can totally cruise in for lunch in your cover-up and flip flops.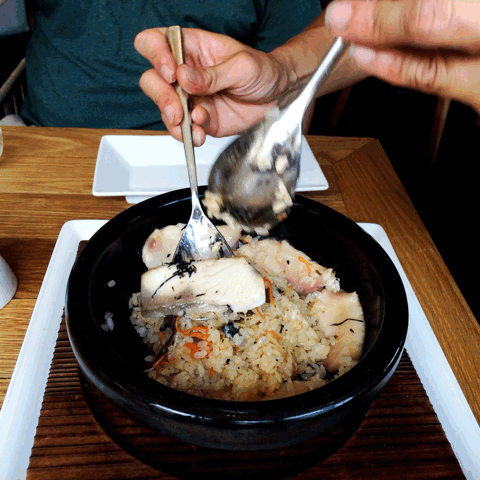 Ishi yaki buri bop: yellowtail on rice bowl prepared table side in a hot stone bowl ($30)
Open for both lunch and dinner, Morimoto Maui has innovative and classic dishes. I loved the hamachi tacos made with yellowtail, avocado, and creamy nuoc cham ($16) so much I ordered them every visit. Despite the hot and humid tropical environment, the ramen soup with chicken ($16) is also a standout and big enough to share. I noticed it on a lot of tables.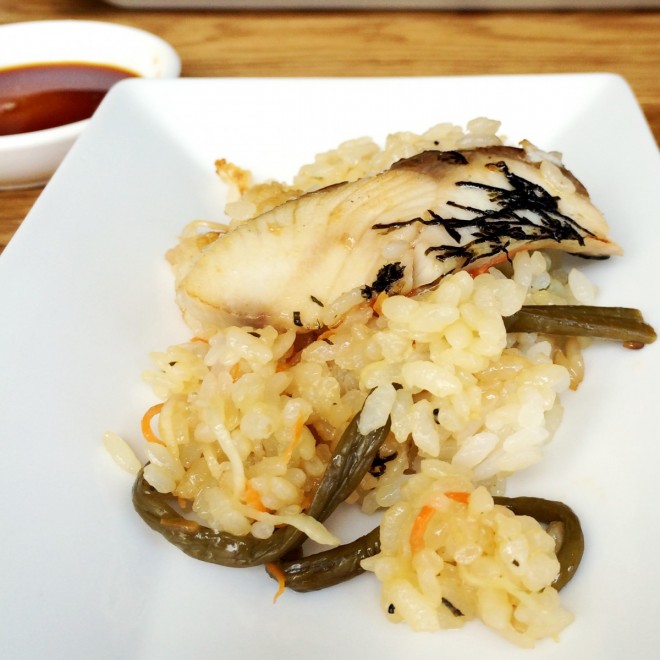 The yellowtail on rice after being prepared tableside
Sushi and sashimi is top notch. The Ishi Yaki Buri Bop ($39)– a rice bowl made with yellowtail cooked at your table in a hot stone bowl was inspired, delicious and satisfying. It's also fun to order.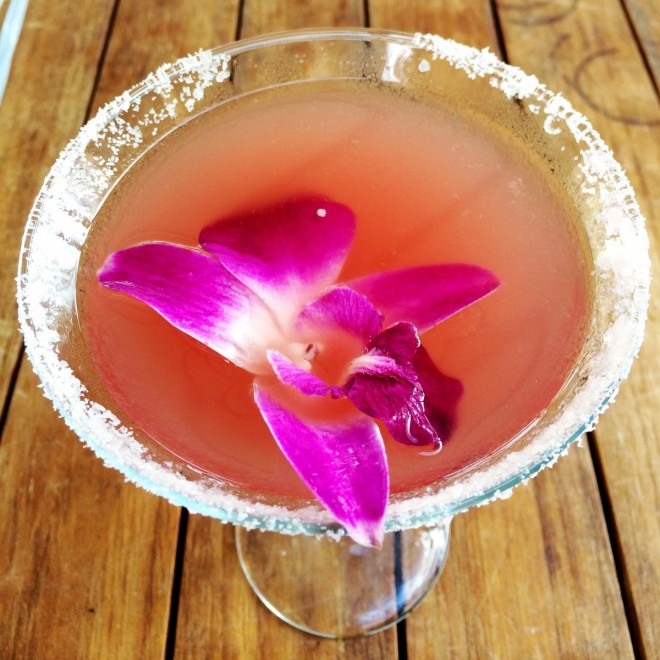 Sunset Yuzu Drop ($15) cocktail at Morimoto Maui
The restaurant has an inspired and witty cocktail list (Mai Chai or Sibiscus Hazerac, anyone?) as well as an extensive list of sakes and wines.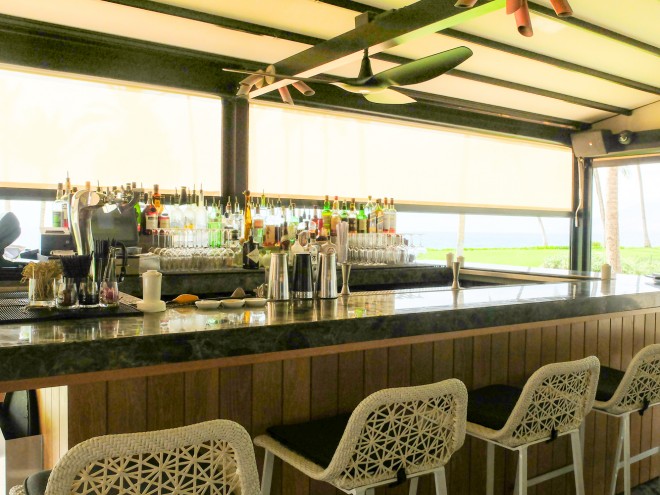 Morimoto Maui's Aloha Chic Bar

The service is as impressive as the food. I'd suggest making a reservation if you're planning on coming for dinner, particularly if you have a seating preference. Reservations can be booked through the restaurant or via Opentable.
3550 Wailea Alanui Drive
Wailea, Hawaii 96753
808 573 1234
Hours:
Lunch: 11:30 AM – 2:00 PM, daily
Dinner: 5:30 PM – 9:30 PM