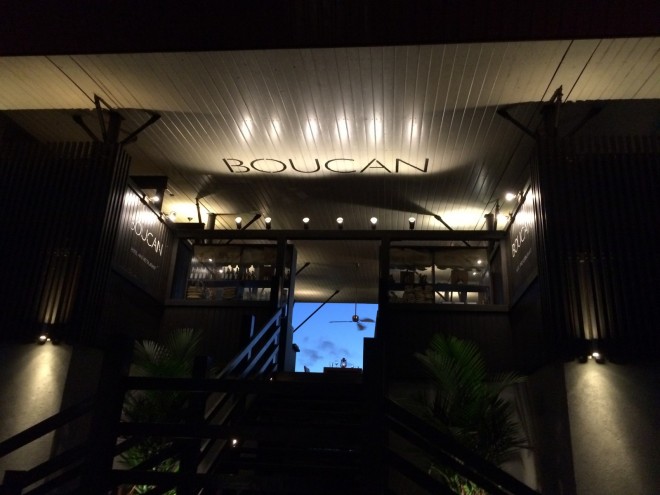 Night exterior at Boucan by Hotel Chocolate
St. Lucia is a big producer of cacao, so much so that they export it to American chocolate companies like Hersey's. So it's not really much of a shocker that cacao cuisine is a thing on the island. I decided to check it out for myself by getting dinner at the restaurant at Boucan by Hotel Chocolat.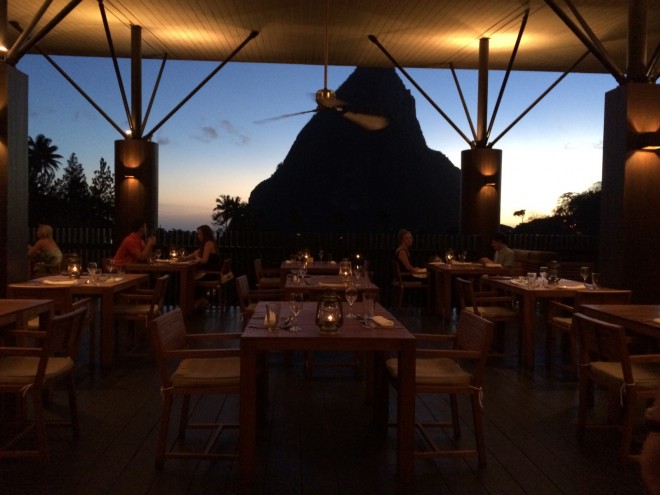 View of the Pitons from Boucan
The restaurant has a lovely bar area and a smashing view of the Pitons, and is located very close to Sugar Beach, where I was staying. I'd highly recommend getting to the bar for a cacao cocktail even if a chocolate-themed dinner doesn't sound good to you.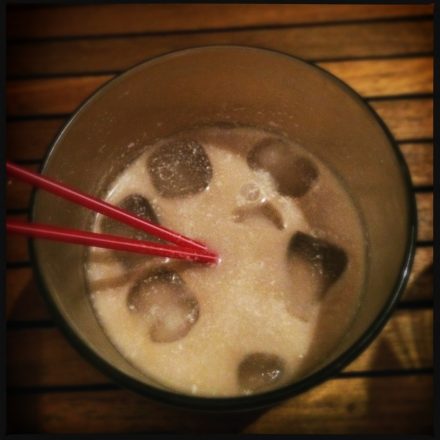 My Chocolate Daiquiri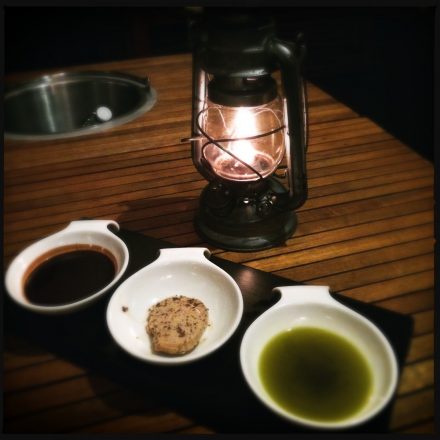 Cacao infused trio of dips for bread
I don't have much of a sweet tooth but I enjoyed my chocolate daiquri ($14). Made with rum, cocoa, and cream, it wasn't overly sweet and reminded me of chocolate beverages like Yoo-Hoo and Choc-ola which I have fond memories of from my youth.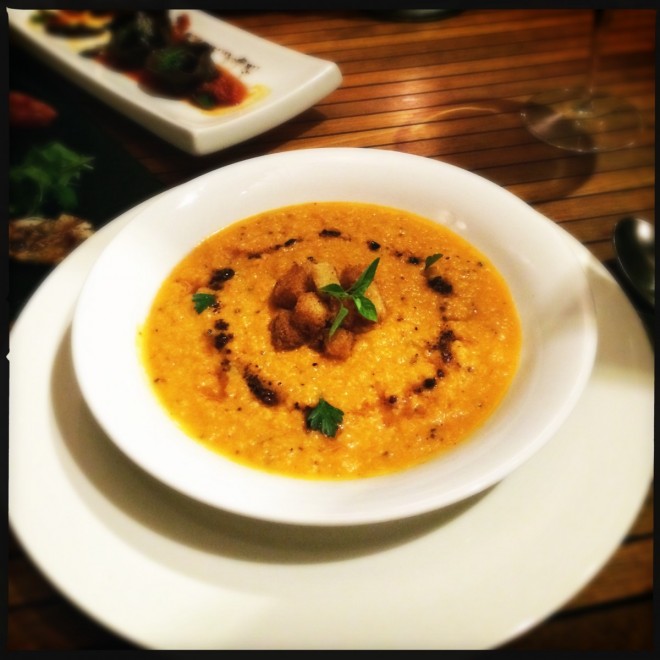 Cacao gazpacho
Before dinner was served, our waiter brought us an amuse bouche of a cacao infused onion soup which was not a big winner for me. The dips served with the bread– including one with a cacao-infused balsamic vinegar were not at all bad and kind of intriguing and gave me hopes that this wasn't going to be an entirely novelty dinner. First up– Cacao gazpacho. The soup was fairly traditional save for the finely ground cacao nibs which weren't a strong flavor note.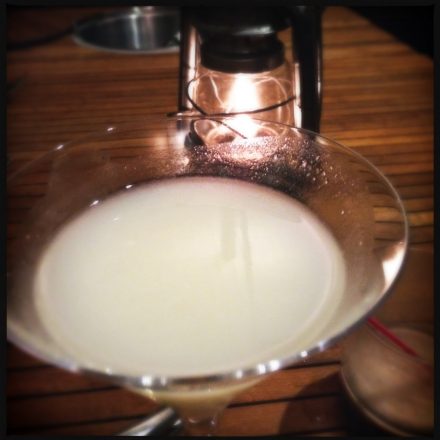 Cacao Martini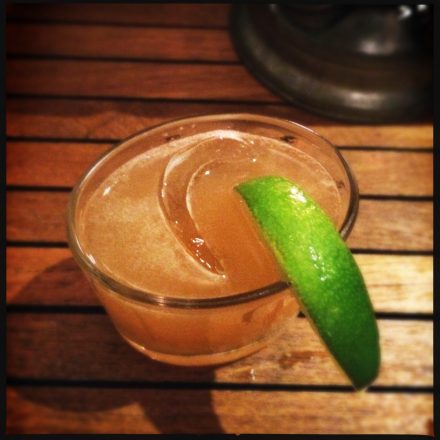 Rum mist served with Lime
For my 2nd drink I went for the Fresh Cacao Martini ($16), made with vodka, fresh estate cacao pulp, soursop juice and lemon verbena. My husband went for the Rum Mist ($12), served with Chairman's rum shaken with crushed ice and lime.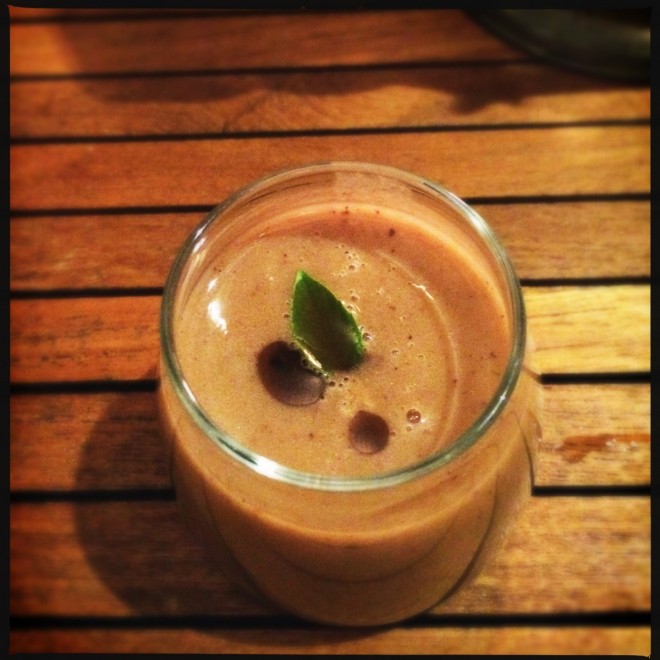 I was not a fan of the cacao-infused onion soup amuse bouche
The citrus salad ($11) was served with white chocolate dressing was also nice and  pleasant hints of chocolate that I found interesting. I found the entrees including my Curried Coconut & Cacao Chicken ($31) and Filet with Dark Chocolate Port Wine Sauce ($45) less successful and less memorable for the price point, but they were not bad.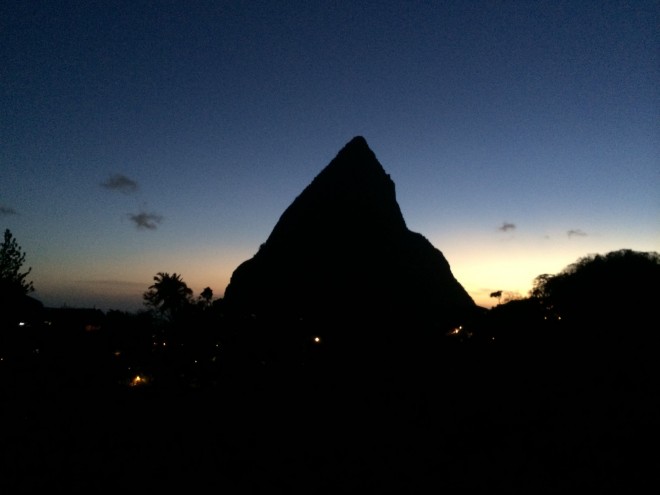 Pitons after dark at Boucan
I don't think Cacao cuisine is my thing, but I really enjoyed my chocolate infused cocktails. My advice– definitely come to Boucan for a chocolate drink and an appetizer, but don't commit to dinner unless you're a die hard chocolate fan.
Boucan Restaurant & Bar by Hotel Chocolat
Rabot Estate, Soufriere 312, St. Lucia
+1-758-457-1624
Breakfast is served from 7.00 – 10.00
Lunch is served from 12.00 – 14.30
Dinner is served from 18.30 – 21.30