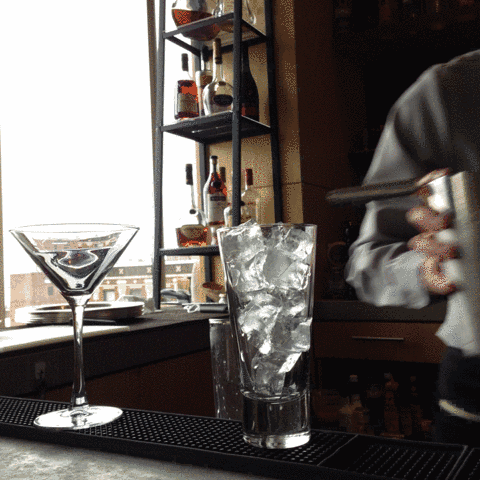 The Watchtower: Hendrick's gin, St. Germain, muddled cucumber, rhubarb bitters & homemade sour
I'm up in Seattle this weekend for Girls Trip with my lovely friends from Vancouver, Erica Hargreave and Emme Rogers of Roamancing. Our friends at the  Four Seasons Seattle are generously hosting us.
While Seattle is usually a two and a half hour drive from Vancouver,  Erica and Emme hit a bad batch of traffic and arrived several hours late yesterday. This often happens with the best laid of travel plans, and as a seasoned traveler, I just rolled with it and decided to while away a few hours at ART Restaurant and Lounge, which is a really comfortable space to kick back and start your weekend.
I loved the signature drinks inspired by locals. The menu offers a Lusty Lady (named after the former gentleman's club that used to be around the corner) made with Absolut ruby red vodka, cranberry, and prosecco, a spike N pine ( made with celestial anejo, alpine sorbet, lime, and salt), which is a definite winner, and the local, artisanal and upscale Alpine made with glassvodka from Seattle, apple cider from nearby Mt.Townsend, Bellingham lemon verbena, homemade sour and Douglas Fir sorbet made in-house, using needles from "Jorge's backyard."
As a long-time rock music fan, I had to go for Seattle native (and guitar god) Jimi Hendrix-inspired The Watchtower: Hendrick's Gin, St. Germain, muddled cucumber, rhubarb bitters, and lime. It was delicious and pretty strong. Once I had a few sips, my disappointed at my friends delayed arrival disappeared and I started to enjoy myself.
Potatoes Three ways at ART Restaurant at the Four Seasons Seattle: french fries, wedges, and spicy tater tots. Complete with selection of dipping sauces and two kinds of salt.
Happy Hour started at 6 and featured an all you can eat cheese and Antipasto bar for $14 and the place filled up. I decided to check out the three way potatoes featuring fries, wedges, and spicy tater tots with a variety of sauces and two kinds of salt. This dish was definitely meant to be shared and I have to admit I totally focused on the tots. They are epic carb goodness!

Behold: The Watchtower I put in my earbuds and cranked the Hendrix. I also sampled the homemade pickles and cheese curds which paired nicely.

Once my friends arrived we went back to ART for a round of drinks and a bite to eat. I went for the delicious hanger steak mini-burgers, which I ordered with are made with pancetta and Beecher's chedder cheese. I ordered 3 but two would have been enough. I loved that you could order them by the burger ($4 per burger).

The hanger steak burger from the menu was a bit of a challenge to eat with it's thickness being about that of an iPhone. But it was also delicious and yummy ($17)
I'm super excited because tonight we get to dine at ART in the proper dining room. We're definitely eating and drinking well on this girls trip! We'll be tweeting our Seattle adventures this weekend if you'd like to join us virtually, follow us on twitter! I'll be live tweeting from @lax2nrt. Go ahead and check out my friends,  @Roamancing and @EmmeRogers, too.