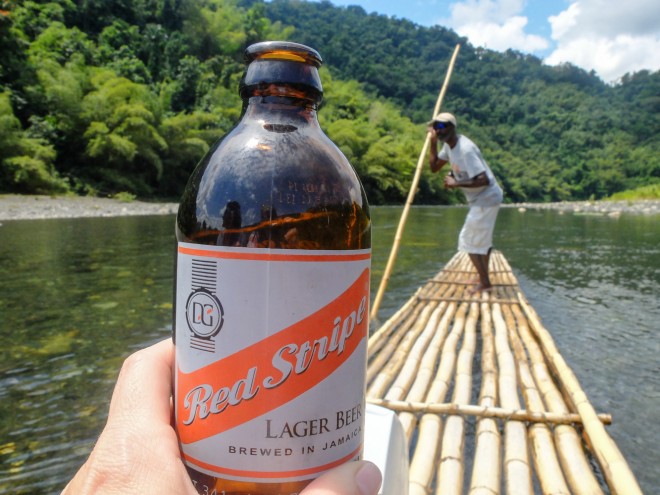 This Red Stripe cost $3 from a floating vendor on the Rio Grande
The most relaxing day I've had in 2014 included a raft trip down the Rio Grande in Port Antonio, Jamaica. The trip was arranged by the concierge at the Trident Hotel, where I was staying with my friend, Zan. It's the best budget luxury I've found this year.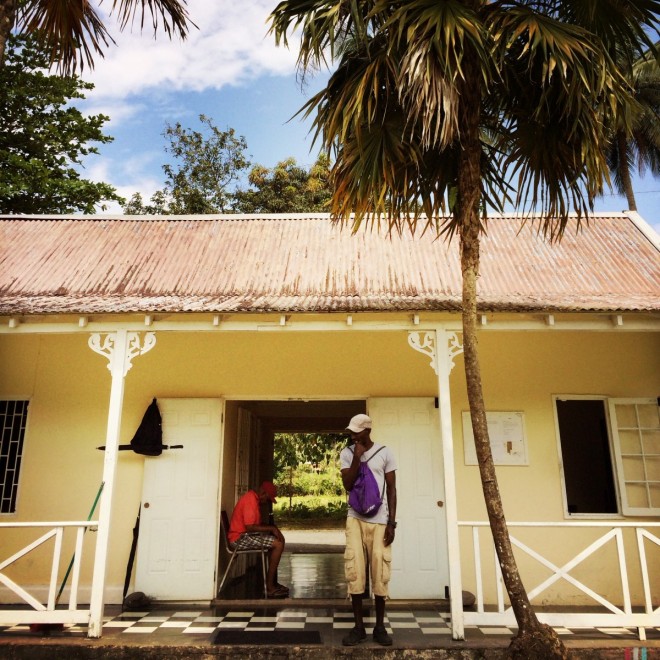 The Raft Trip Departure Center
A driver from the Trident drove for 20 minutes along the curvy roads of Portland Parish until we got to the departure center for the raft trip. There we met Pablo, our raft guide, who did most of the heavy steering of the bamboo raft that was our sweet ride for the next few hours.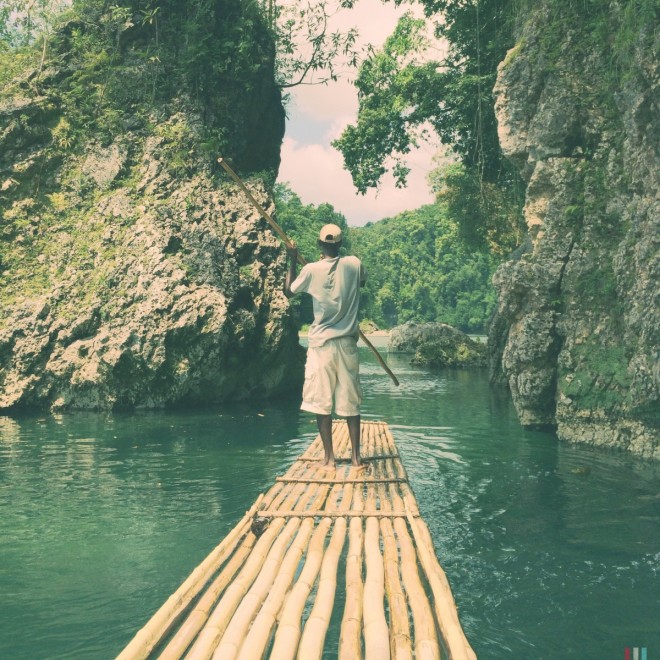 The bamboo rafts are similar to the ones used 100 years ago to transport bananas
Pablo was a fantastic guide and even let Zan steer the raft for a bit. As we floated down the river, various vendors approached us. For $3 you could buy a Red Stripe. That was a nice touch.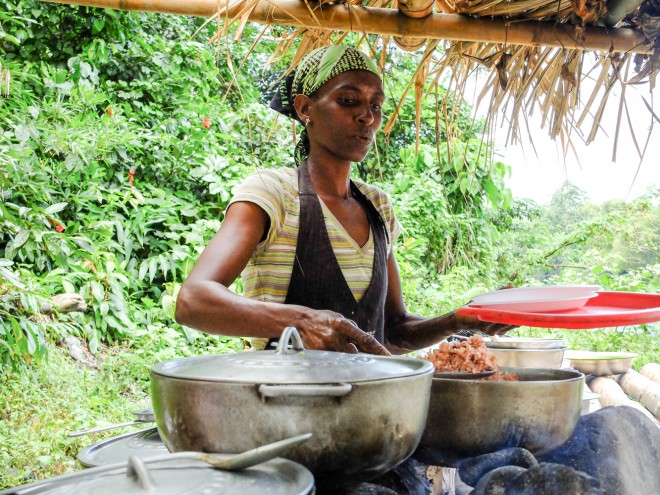 Belinda's Riverside Canteen
As fabulous as the trip itself was, the highlight of the day was lunch at Belinda's Riverside Canteen. Belinda's cuisine is cooked Flintstone's style over heated rocks in something that isn't quite a hut. Despite the lack of high end appliances, Belinda's meal of crayfish stew, brown fish stew, chicken fricassee, and rice and peas was the stand out meal of the entire trip.
Left: Belinda preparing lunch Right: Behold Belinda's chicken fricassee
Belinda's chicken fricassee was the best chicken Zan and I have ever had. Ever. I want to go back just to get more.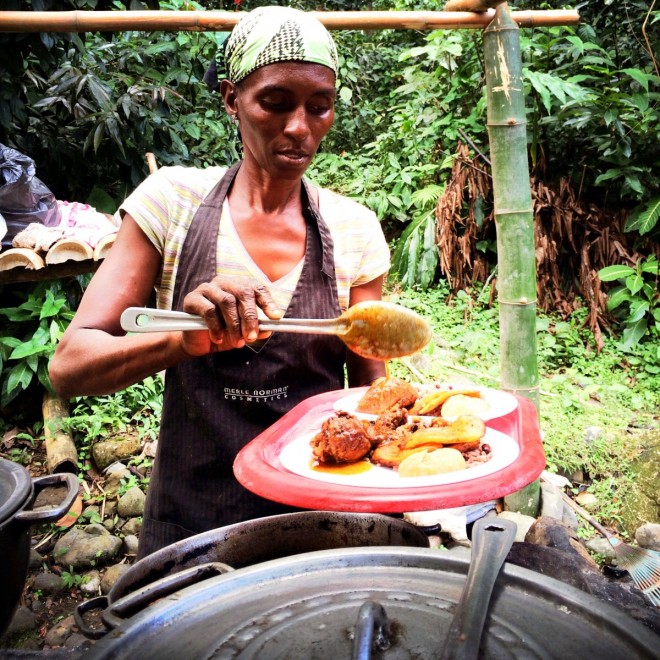 Belinda preparing a plate
Left: Crayfish, Jamaican style Right: Brown fish stew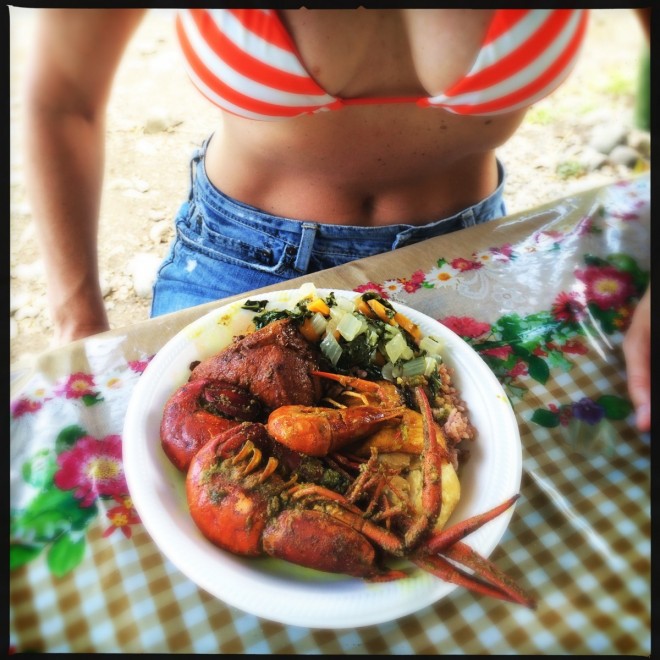 Best. Lunch. Ever.
There were other stops too for swimming in warm swimming holes. The whole raft trip experience was highly enjoyable and very relaxing.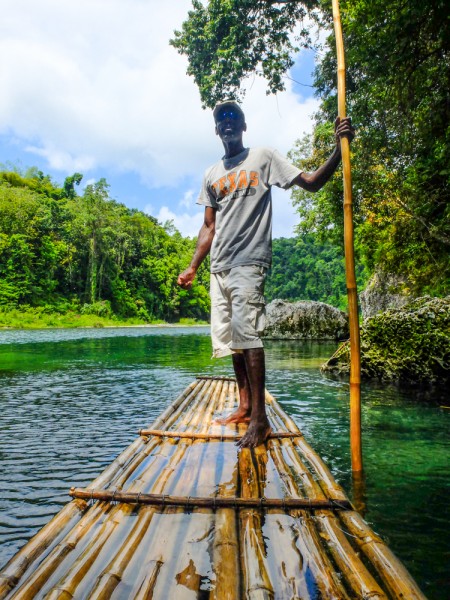 Pablo was a fun guide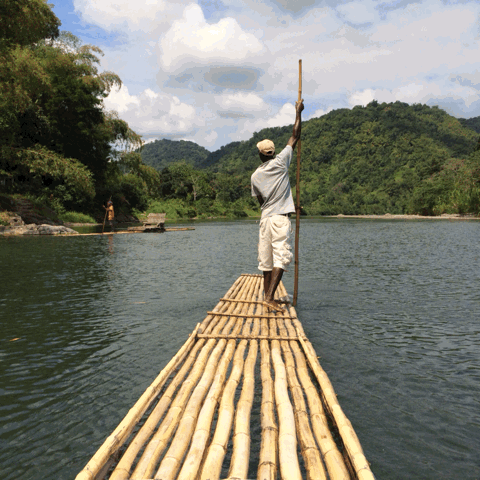 Cruising with Pablo on the Rio Grande GIF
The Rio Grande Raft trip is a not-to-be missed excursion when you're in Port Antonio.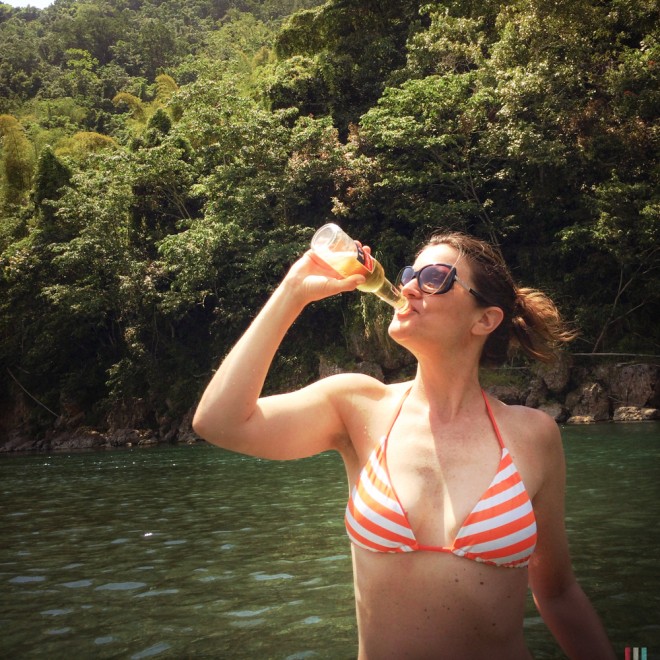 Red Stripe is the "Champagne of Jamaica"
The staff at the Trident Villas arranged our raft trip.
You can also book through Rio Grande Rio Grande Tours Ltd – Port Antonio
Raft & Guide (for two people) about $75 US (not including tip)
Lunch at Belinda's Canteen about $15 (depends on dishes cooked that day).
Tel: 1 876 913 5434