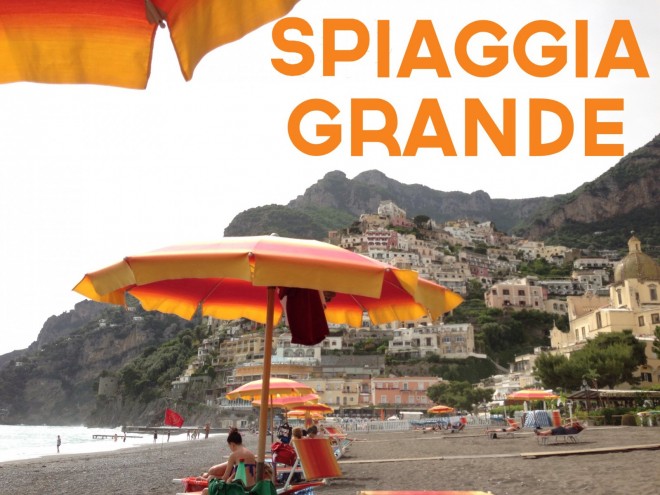 Positano's Spiaggia Grande Beach
Editor's Note: This is the second in my series of posts about Amalfi Coast Beach Clubs. The first post focused on La Fontelina Beach Club on Capri and can be read here.
After checking out La Fontelina Beach Club on Capri, I knew I had to try out the beach club on Positano's Spiaggia Grande. The Spiaggia Grande Beach Club is located down past the restaurants and public part of the beach and easy to spot by the rows of yellow and orange striped umbrellas.
It's a budget luxury for upscale Positano– € 10 buys you a chaise lounge and umbrella for the day, and in my case, a cabana boy who looked like a very tan, Italian version of Gérard Depardieu.
I made this cool time lapse using the TimeLapse app my iPhone 5 to give you a better feel for the early-in-the-season vibe.

A panorama of  the view from under my umbrella
My overall impression of the Spiaggia Grande Beach Club was that it was not as swanky as La Fontelina, and it lacks the fantastic restaurant experience, but for 10 Euros it was a real bargain and not without it's own charms. You can order drinks a la carte.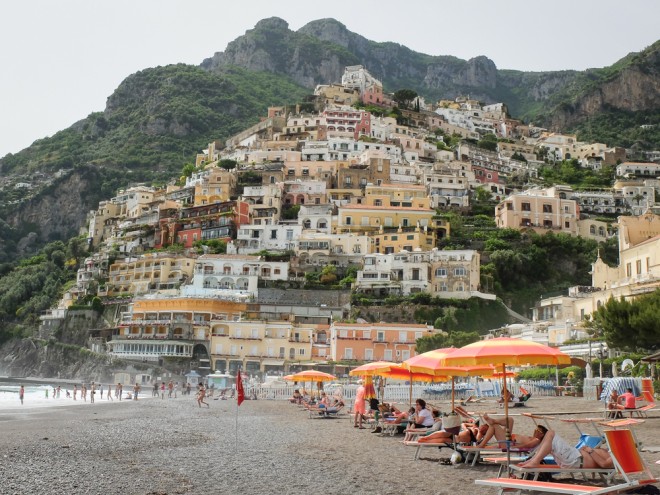 Early in the season at Positano's Spiaggia Grande Beach Club
If you're planning a visit to Positano, remember to leave your high heels at home– Positano is notoriously steep and filled with thousands and thousands of stairs.

Like most of the beaches along the Amalfi Coast, Spiaggia Grande is more rocky than sandy
I visited Positano early in the season, so the beach wasn't much of a scene. But rumor has it this place gets packed at the peak of summer.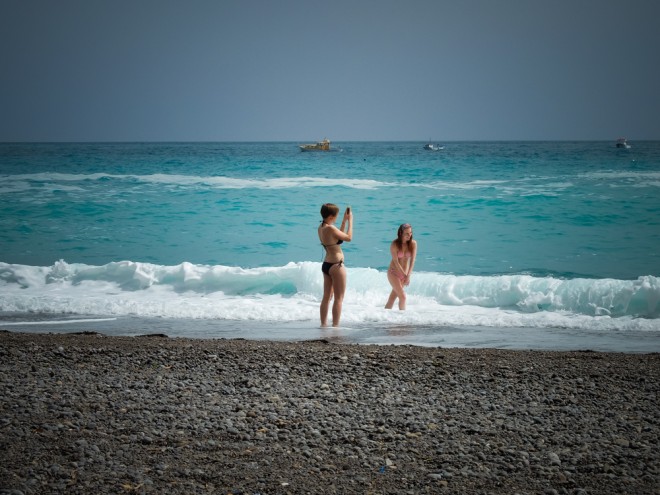 Bikini clad girls playing in the blue water of the bay of Positano
I loved these face shades that came with the beach chairs. I'd like those to catch on.
Spiaggia Grande's Beach Club is easy to access by foot from Positano, so it's less of a hassle than the beach club options on Capri. And if you get bored staring at the bay of Positano, you can take in views of the stunning architecture right from your beach chair.
I enjoyed my time at the Spiaggia Grande Beach Club and while the scene wasn't quite as glamorous as Capri's La Fontelena, I thought it was € 10 well spent and would recommend checking it out.
Spiaggia Grande Beach Club (look for the orange striped umbrellas)
Piazza Flavio Gioia, Positano, Italy