No Trip to Egypt would be complete without seeing the The Great Pyramids of Giza. 110 pyramids are known in Egypt although some are more famous than others. They are absolutely the one "must see" if you visit the country.

An auto-stitch iPhoneography panorama of Pyramid of Djoser (Sakkara)

On our second day of touring, we set out to visit the ancient site of Sakkara, also known as the "The Pyramid of Djoser." Sakkara is one of the most significant relics of ancient Egypt. It's important because it pre-dates the more famous and flashy great pyramids of Giza. Sakkara is old school as far as pyramids go, and you can go inside this one.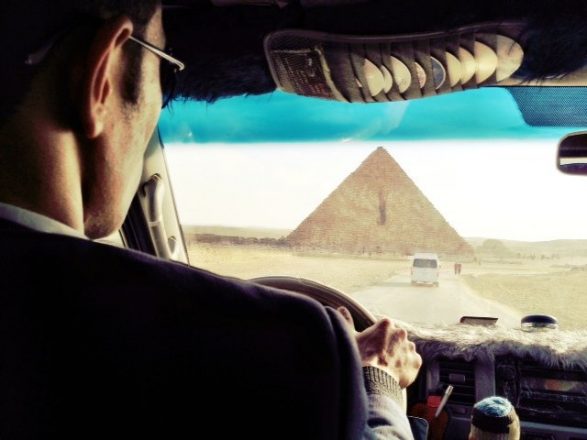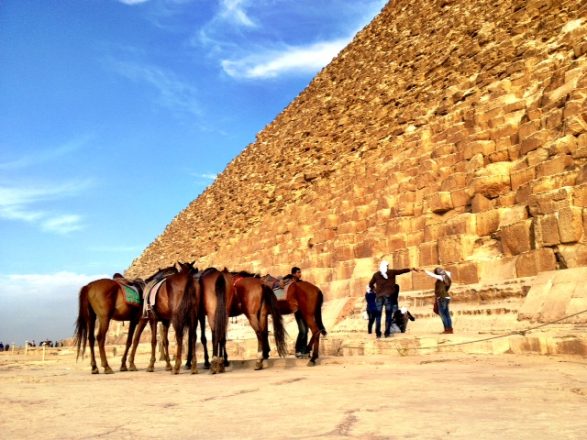 Egypt tourist attractions
While our day trip to Alexandria was frustrating because of disruptions "because of the revolution" this day highlighted one of the benefits of traveling to a country in the midst of a revolution: there are virtually no tourists and we had the complex  almost entirely to ourselves.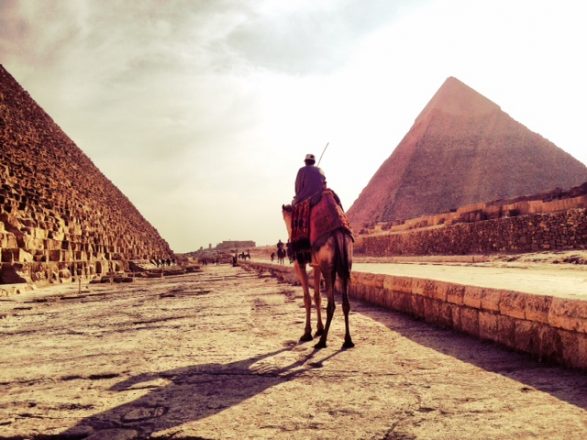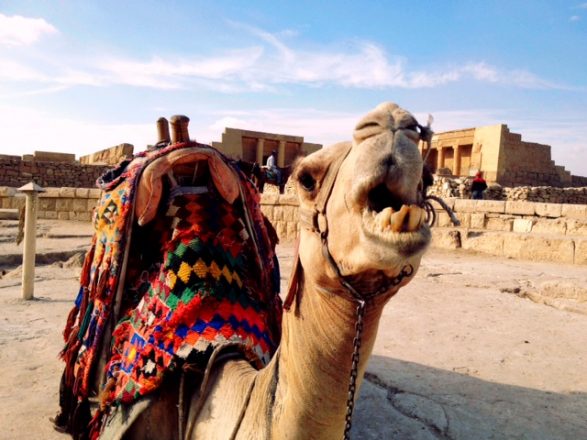 I felt like we were getting the Richard Branson billionaire's tour. It was really incredible, because I've been to Sakkara before and it wasn't like this! It was really rather incredible.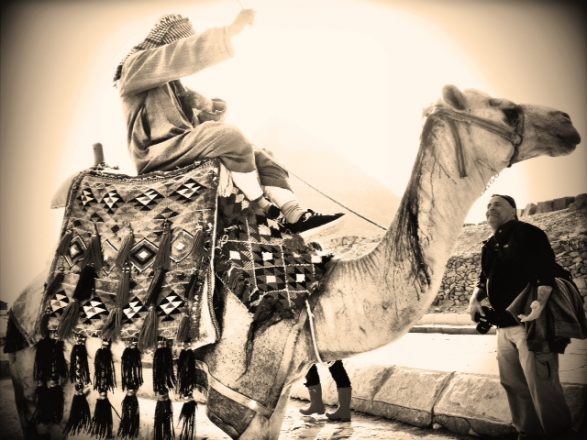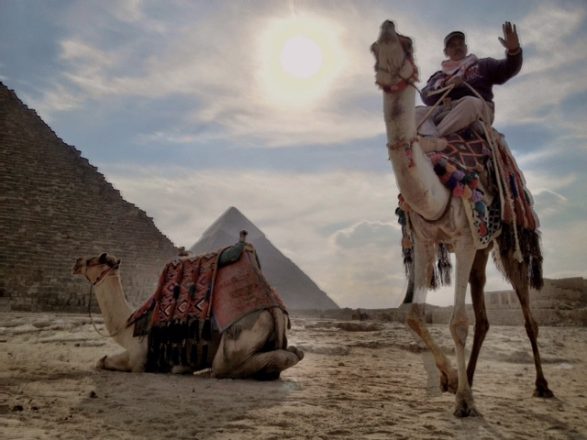 Camels by the pyramids and their baksheesh hungry owners

After a fantastic lunch at a local restaurant, where a few of our group attempted to make Egyptian bread with little success, we headed to the Great Pyramids at Giza.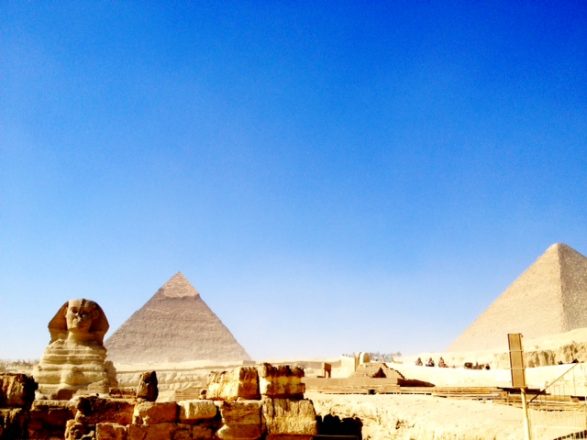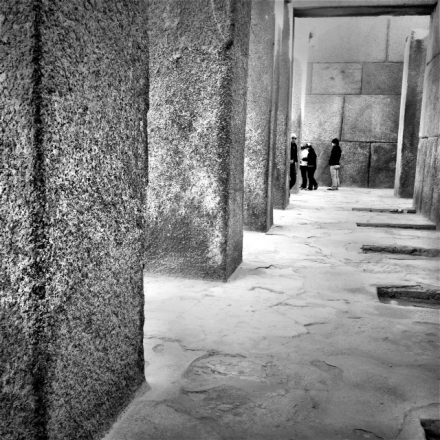 Pictures of the wonders of ancient Egypt

Here we also found we had the place almost to ourselves, which was strange, considering it's one of the even wonders of the world. With so few cars around, you could almost forget were were in modern times. On my last trip to the pyramids, I had to use all my creativity to shoot around the tour buses and tourists.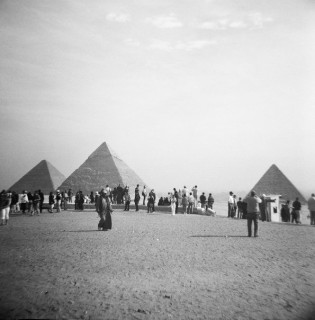 Egypt tourists before the revolution of 2011 (from my previous visit)
The Great Pyramids are impressive in real life. They live up to the hype. Having them virtually to ourselves was another huge bonus. Looking at this incredible vista, letting the amazingness of it all sink it, I was ready to have my zen moment at this wonder of ancient Egypt … but alas, the souvenir vendors were never going to let that happen.
"Cleopatra? You want postcard?" one kept asking. I'm only quoting him because he was the most polite of the bunch. By the way, I look nothing like Cleopatra.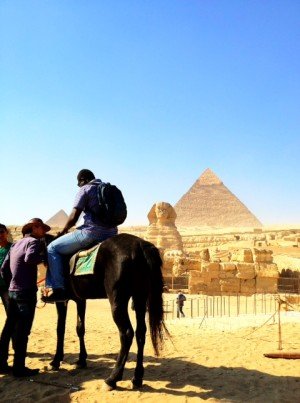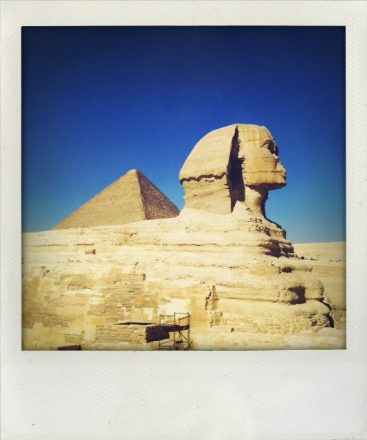 Sphinx and Pyramids
That the flipside of there being very few tourists is that there is an extremely high souvenir vendor-to-tourist ratio, and since Egyptian tourism is down (because of the revolution) they are extremely determined to make a sale.  I'm pretty sure I got face time with a few dozen, declining their offers of "genuine Egyptian camels" that were most likely made in India. At first I was polite, saying "No, shukran gazillan." But the vendors were persistent and my politeness started to wane. I stopped talking and finally employed what I like to call "bitch face" and pretended I didn't understand them. Quite frankly, the vendors harshed my zen. It's a shame that such an amazing site, one of the great wonders of the ancient world, can have something so simple detract from your experience visiting it, but it does. I'd like to support the local economy, I didn't see a souvenir that was useful or productive.

Auto-stitch iPhoneography panorama of Giza
Later that night we checked out the Laser Show at the Great Sphinx of Giza . While the show's laser technology is somewhat dated, I still think it's pretty rad. It's narrated by Omar Sharif and was a fun way to learn some history and watch some dated laser technology light up such breathtaking monuments. The very same laser show is the backdrop to a great fight scene in my favorite James Bond film, The Spy Who Loved Me.