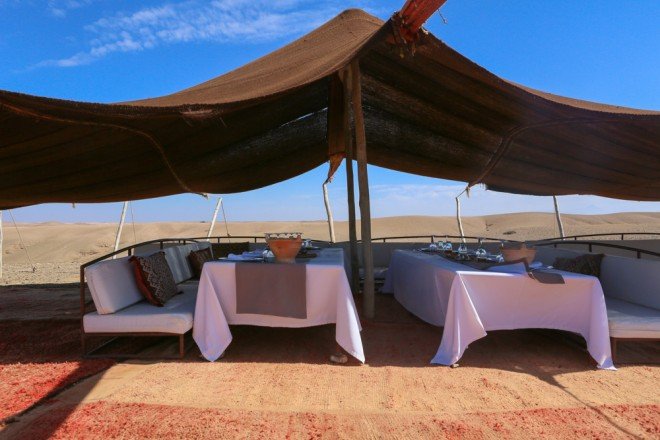 Nomadic chic is the vibe at La Pause
Marrakech is one of my favorite cities to visit, but the madness of the medina can often be overwhelming. On my recent trip to Morocco, I took a day trip to check out La Pause Eco-Resort, which is only 30 kilometers outside of town in the Agafay desert, but an entire world away. There is no electricity or wifi, but there is an organic garden and olive trees. I only came for a few hours for a camel trek and lunch, but I liked it so much that next time I plan on staying the night… or three.
Left: Outdoor seating areas at La Pause Right: Shady dining table under a Berber style tent
La Pause has a variety of activities beyond camel treks. You ride horses, donkeys and bicycles and take a visit to nearby Berber village. There is also some thing called "cross golf", a new form of cross country golf. Guests who stay overnight can sleep in one of the six restored traditional Berber pisé huts made with mud and straw or sleep under the stars in one of the nomadic tents.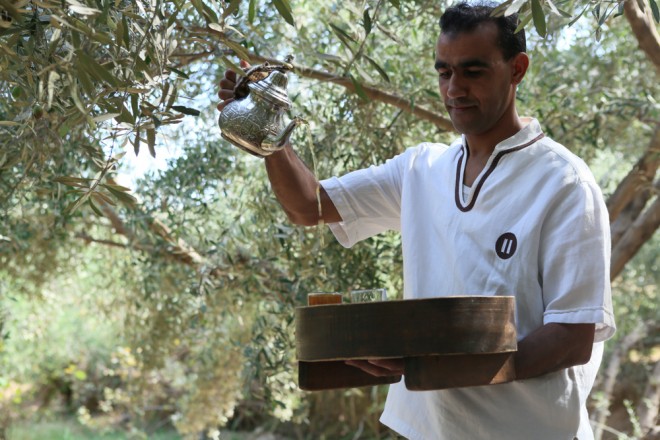 Drinking mint tea in the arbor at La Pause
Upon arrival we were shown to a shady olive grove near the pool and served traditional mint tea. Then came our rather pleasant camel trek. The camels were rather charming  and scent free compared to those I met in Jordan.  Lunch was served under one of the nomadic chic tents around the property.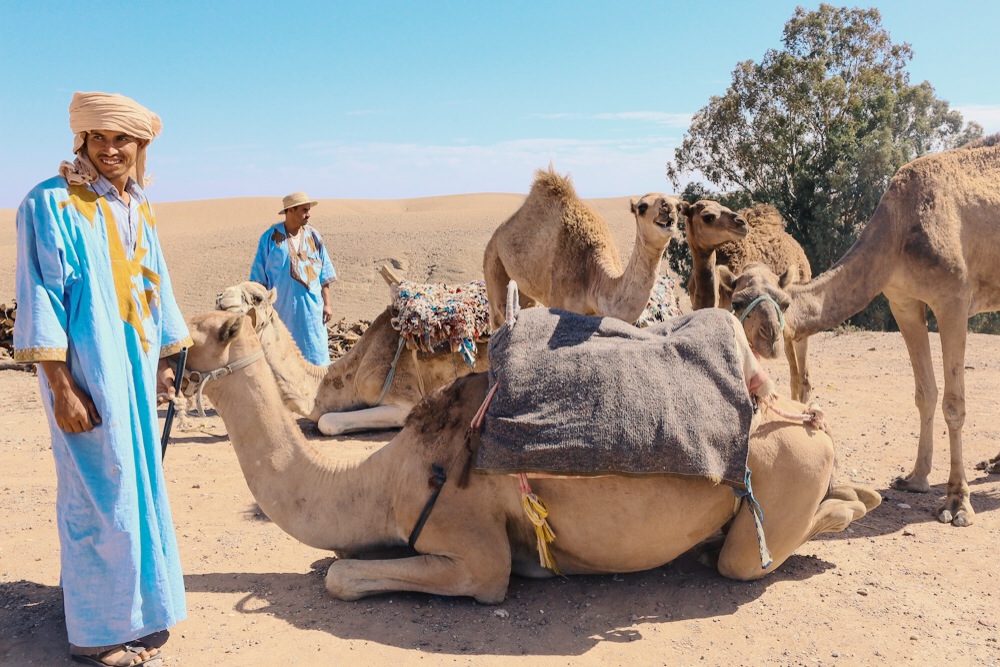 Camels at La Pause
Produce from La Pause's own garden and olive oil pressed from their own trees are part of the menu. It was fresh, light and delicious and paired well with both white and red Moroccan wine. It was rather nice to visit this desert oasis and enjoy some gorgeous desert scenery so close to central Marrakech.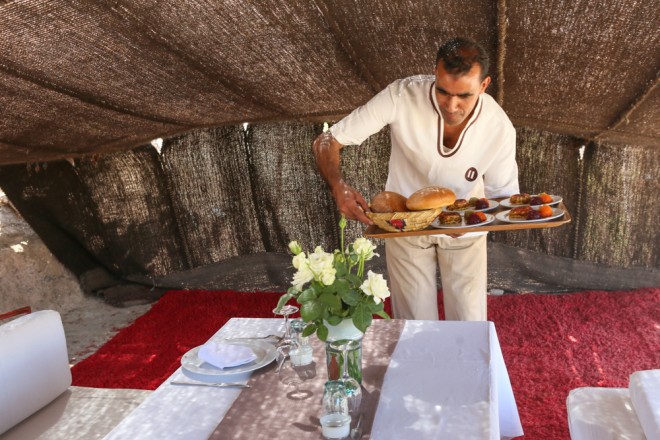 Lunch under a shady tent at La Pause
Lunch at La Pause cost 35 Euros per person and a one hour camel trek cost 50 Euros.

Left: Produce is from La Pause's own Garden Right: Moroccan wine was rather delightful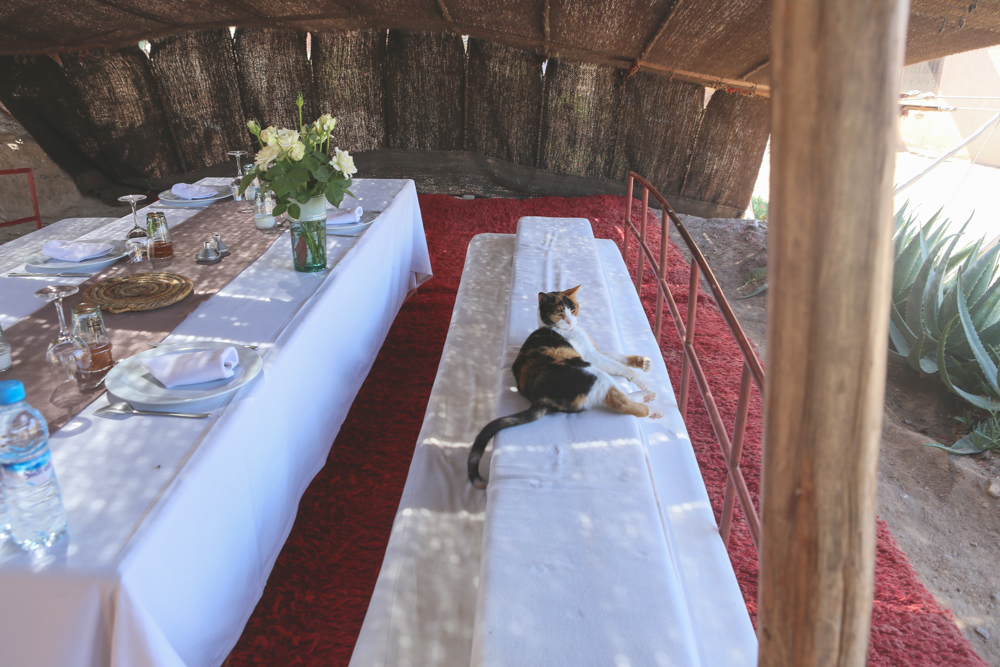 One of the friendly locals joined us for lunch at La Pause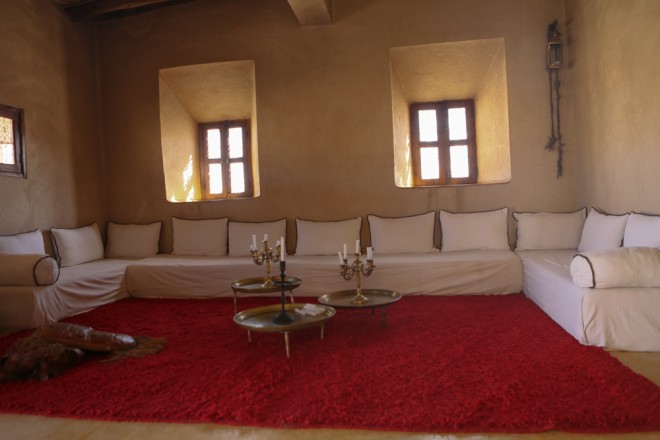 The interior of one of the traditional pisé huts with mud & straw walls
Since there is no electricity, there are candles galore.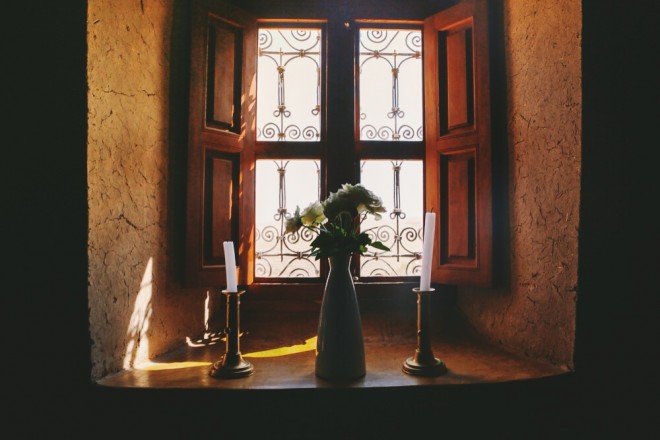 Windowsill still life in a traditional Berber hut
Here's a bit of video from my camel ride:

Rates at La Pause run from 1,000 – 1,500 dhm ($122- $184 USD) including full board.

Douar Lmih Laroussiere, Commune Agafay
Marrakech, Morocco
email: lapause1@gmail.com
phone 06 61 30 64 94