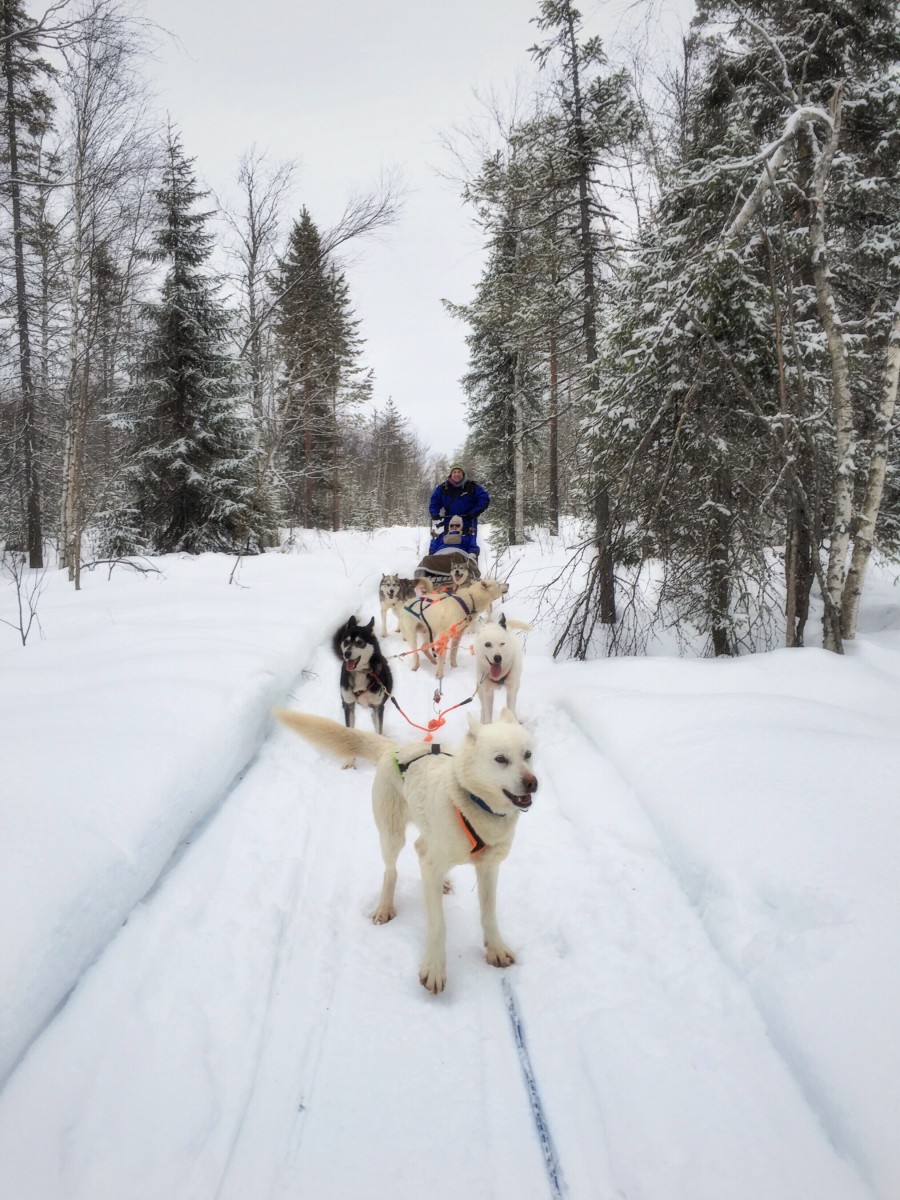 The view from my dog sled
One of the highlights of my recent Arctic Adventure with Photo Enrichment Adventures was the afternoon we spent dog sledding in Finnish Lapland.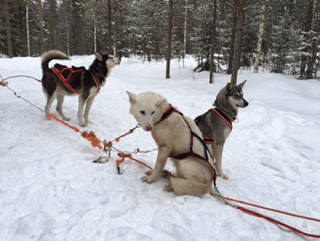 Huskies are ready to roll
We drove about an hour from our cottages in Kukolankoski to the hilly area of Kivalot where we were greeted by the howls and whimpers of thirty Siberian huskies ready to roll. There we met Ulla and Paula, a mother/daughter team of mushers with over 30 years of dog sledding experience. Ulla is a serious competitive dog sledder, but her B-team of dogs is at the ready to entertain tourists with scenic dog sled tours.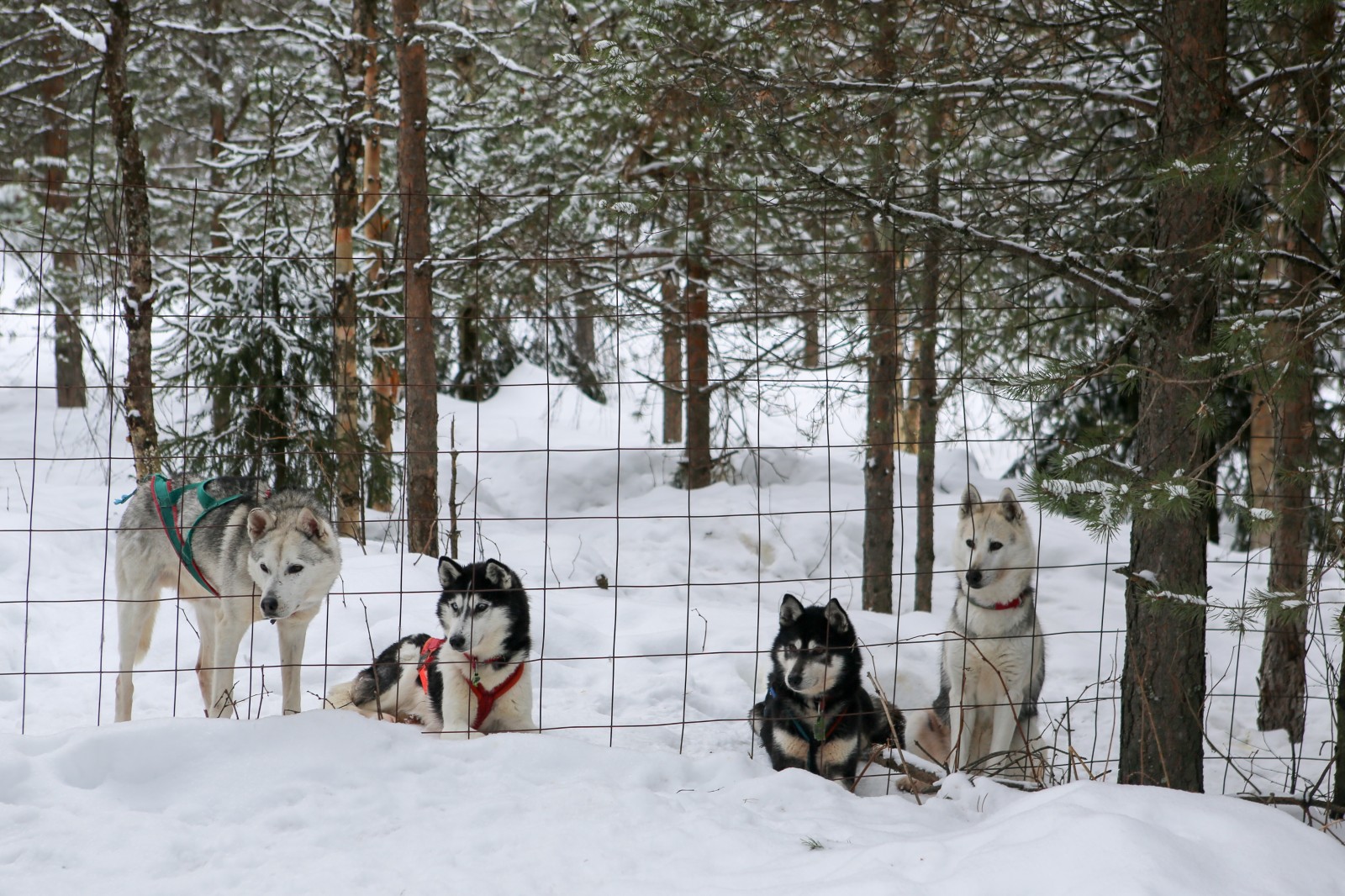 Off duty dogs
Huskies have a human like howl that made it a bit difficult to hear the instructions of how to drive the dog sleds, which are crafted by hand by Ulla. We split into teams and had an awesome chance to take in some of the local scenery by sled (or sledge, as they call it in Lapland).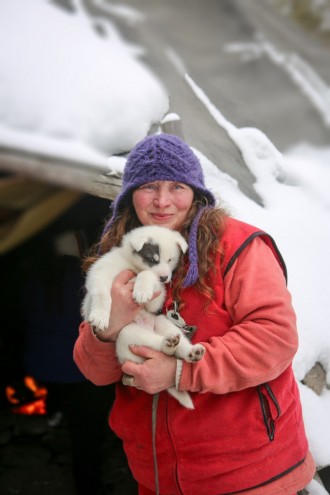 Paula and Sitka, the puppy
Paula with one of her prize huskies
While the person riding in the sled had an awesome perspective to take photographs and video, this experience was about much more than photos. The howling huskies became quiet the second they hit the trail. It was a really fun way to explore the countryside.
Dog sledding video shot on my iPhone 6s
The sounds of the paws against the snow, the cushy ride afforded by the fluffy layer of snow. The sensation is a bit like cross-country skiing, but more fun because of the six wagging tails in front of you.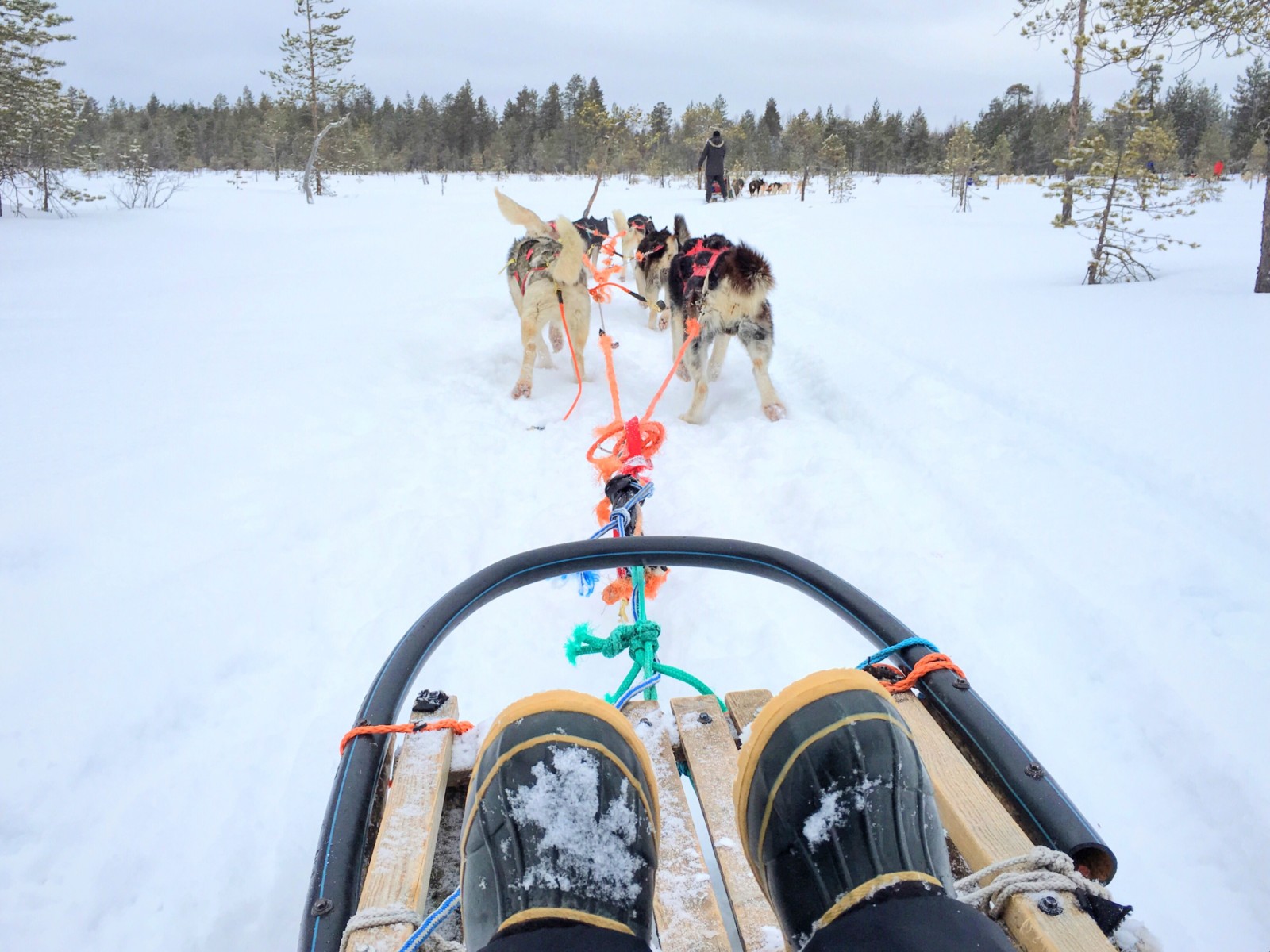 The view from the dog sledge
Dog sledding was a great way to experience the beauty of the Lapland wilderness and bond with nature.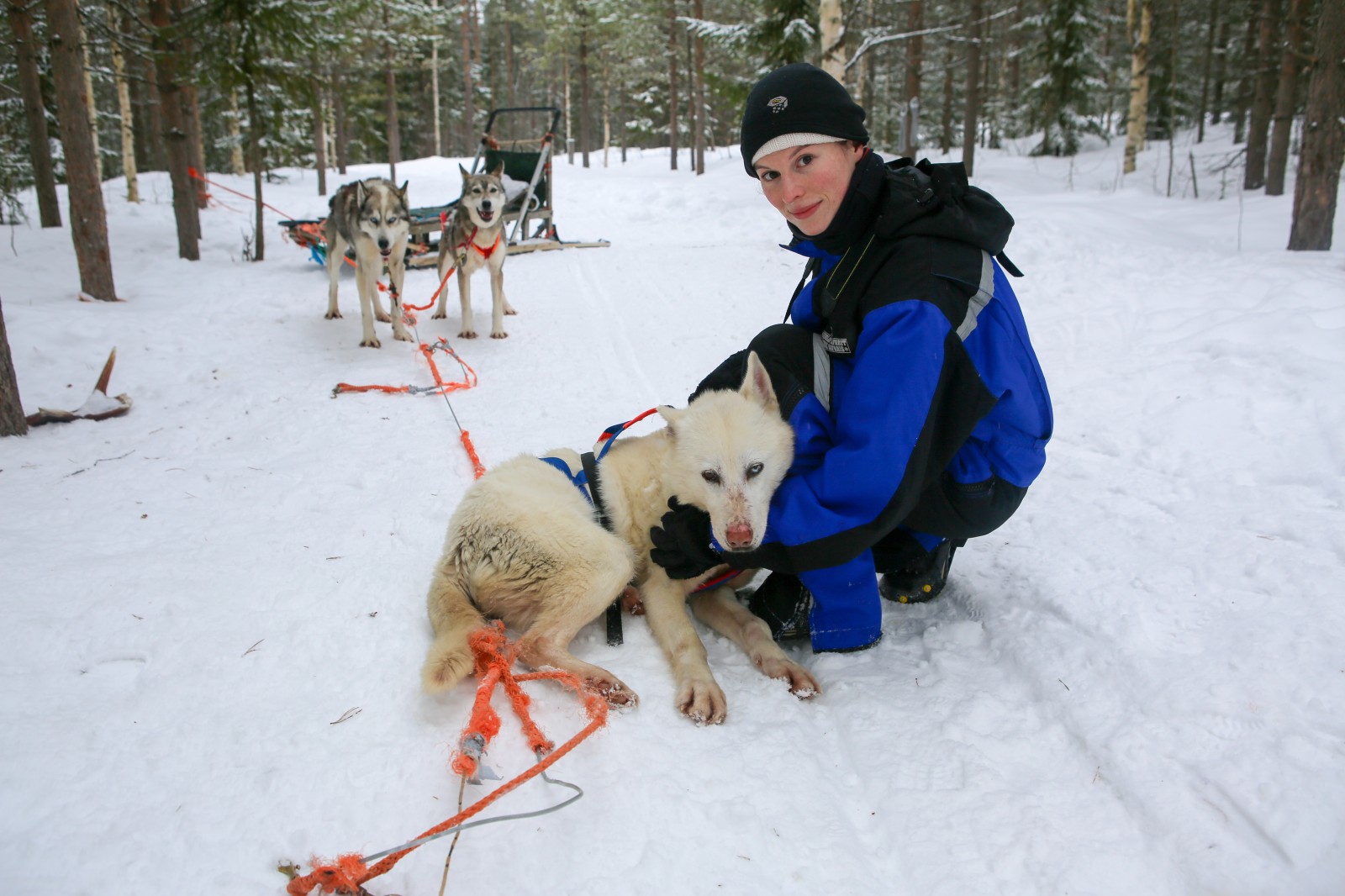 Sam and a brown and blue-eyed Siberian beauty
Dog sleds are driven by fully manual transmission, and there were a few memorable mishaps. I got flipped in the sled while riding around a corner. But it only added to the experience, and the snow guaranteed a soft landing.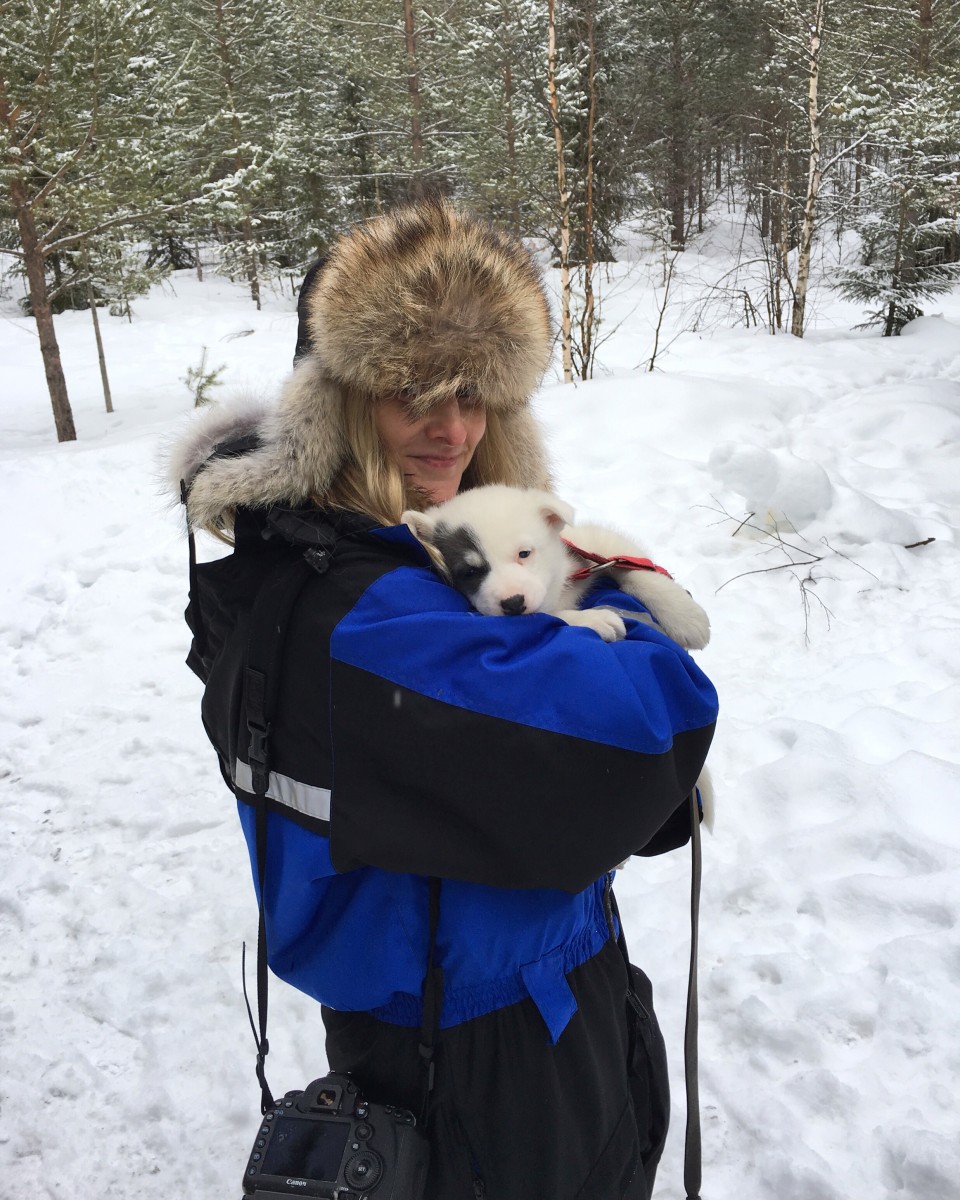 Sitka the future sled dog hopeful.
I'm not sure which I preferred– riding in the sled or driving it. Both were fantastic. We even had a touch of snow to add to the winter wonderland atmosphere. Everyone on the trip thought this was an absolute highlight and was a bit bummed when our ride ended.
Ulla and Paula invited us into a tipi-like tent for some coffee and introduced us to Sitka, a five-week old husky puppy who is a future competitive sled dog hopeful.
It's experiences like dog sledding in Lapland that made me glad I took a tour. Our group loved discussing this experience and having it together made it all the better. Much thanks to Ralph Velasco and Alessandro Maccari of Photo Enrichment Adventures for putting together this amazing trip.
1643 North Alpine Road, #190
Rockford, IL 61107