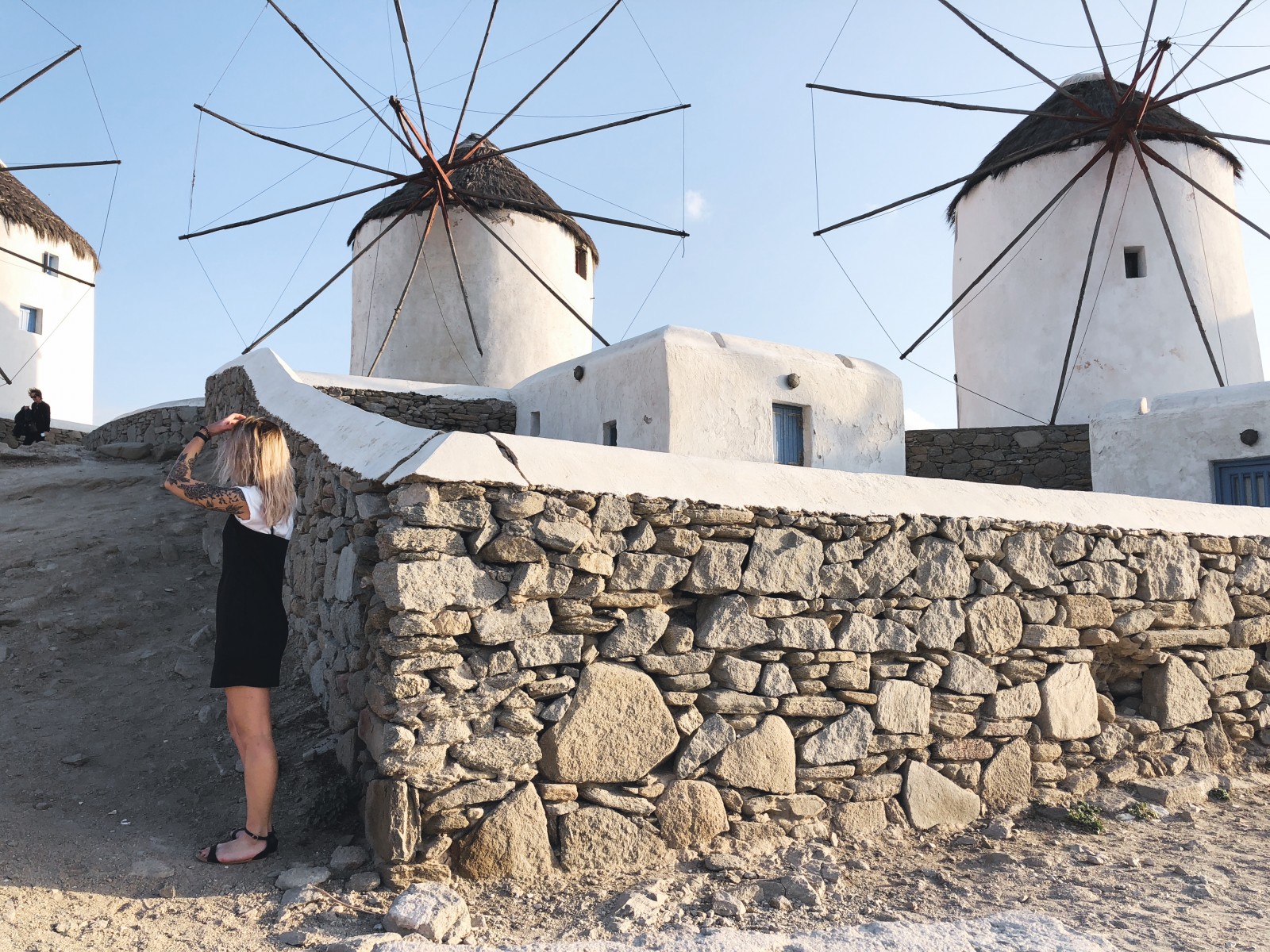 Ana and the windmills
Mykonos, Greece is known as "the island of the winds." Windmills have been one of the most iconic landmarks of the Greek islands since the 16th century.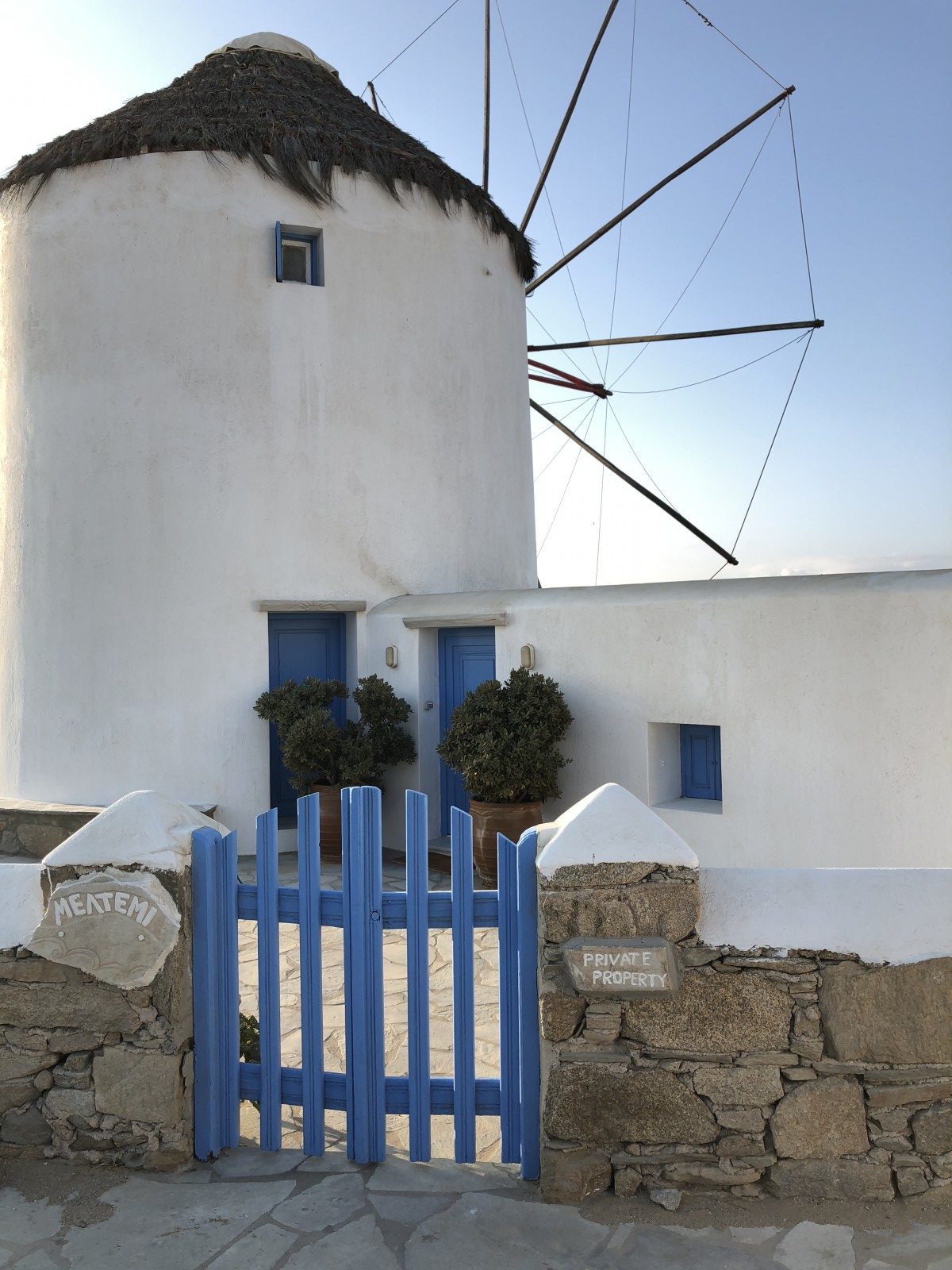 Blue fence and doors at one of the Mykonos windmills
I love traveling to popular tourist destinations during shoulder season. Without the summer throng of tourists you don't have to fight the crowds to photograph an famous landmark or struggle get a dinner reservation. While the mediterranean climate was pleasant during my time on Mykonos, when the wind kicked up it could turn quite brisk.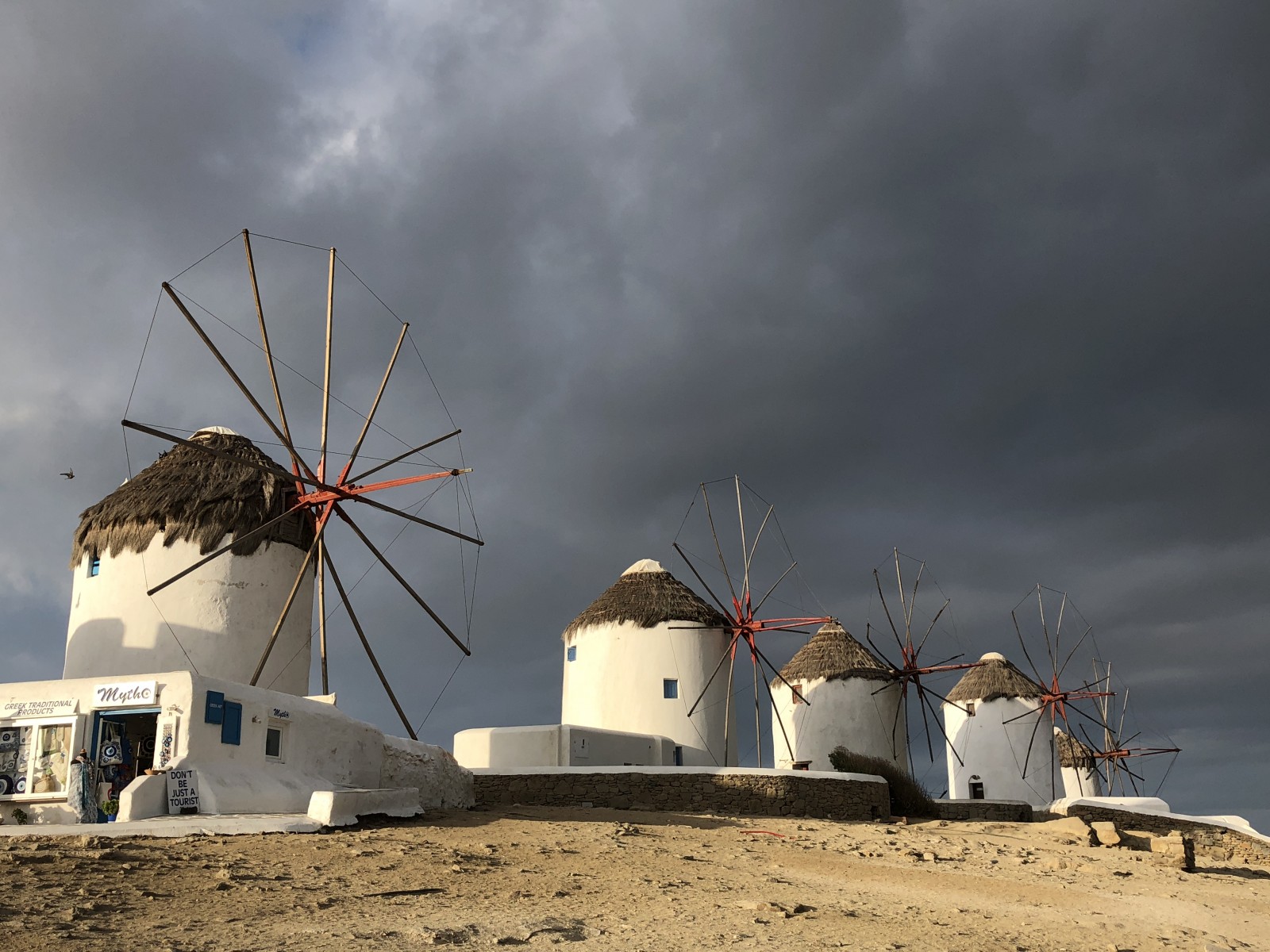 Moody skies above the Windmills of Kato Mili
The most famous windmills on the island are the seven lower mills, also know as Kato milli, which are located near near the sea in Mykonos town. They are an iconic part of Mykonian landscape.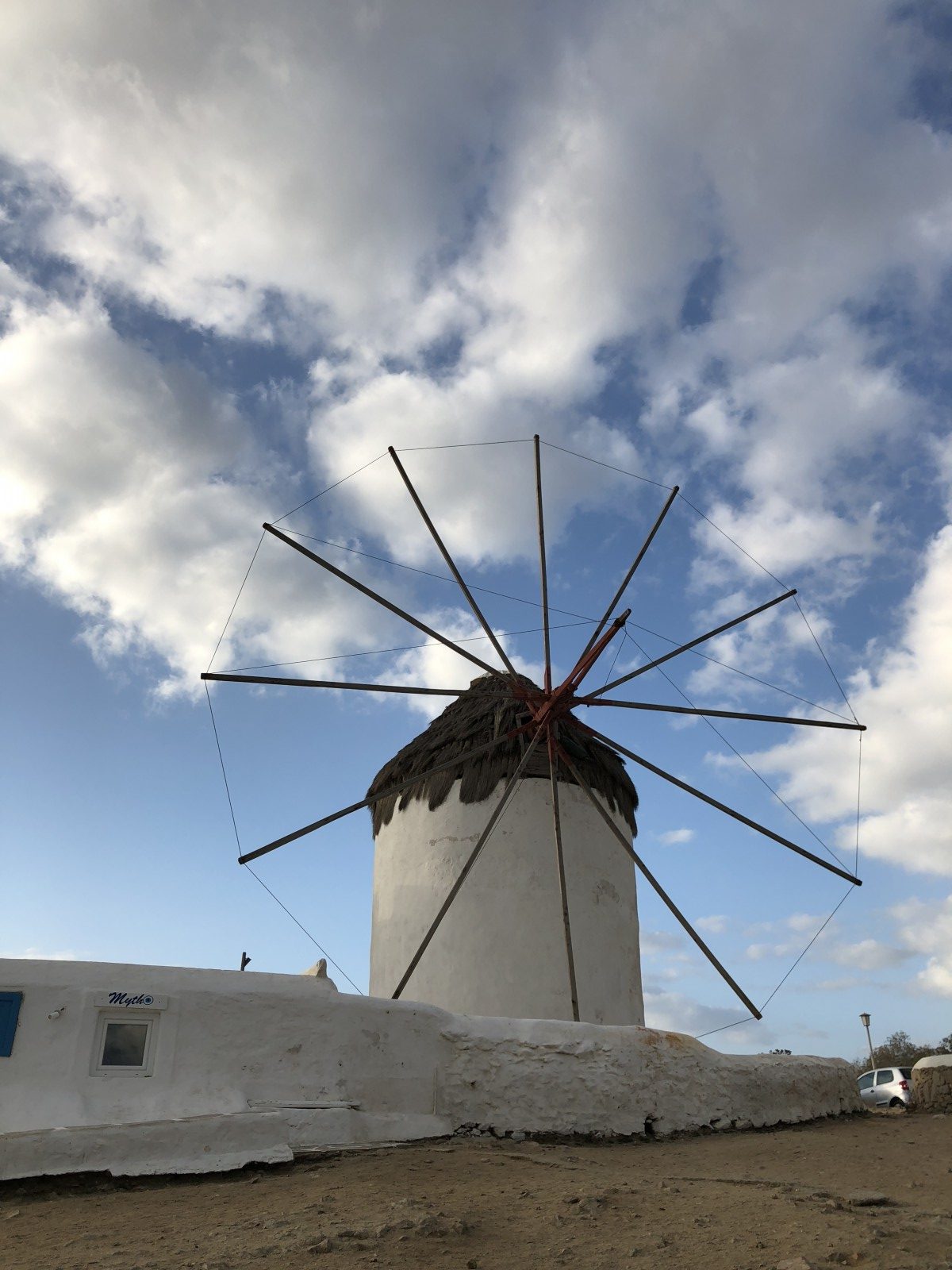 Clouds and windmills
The Mykonos wind was one of my favorite things about photographing the island. Occasionally it felt like I had a wind machine on location, sometimes cranked up too high.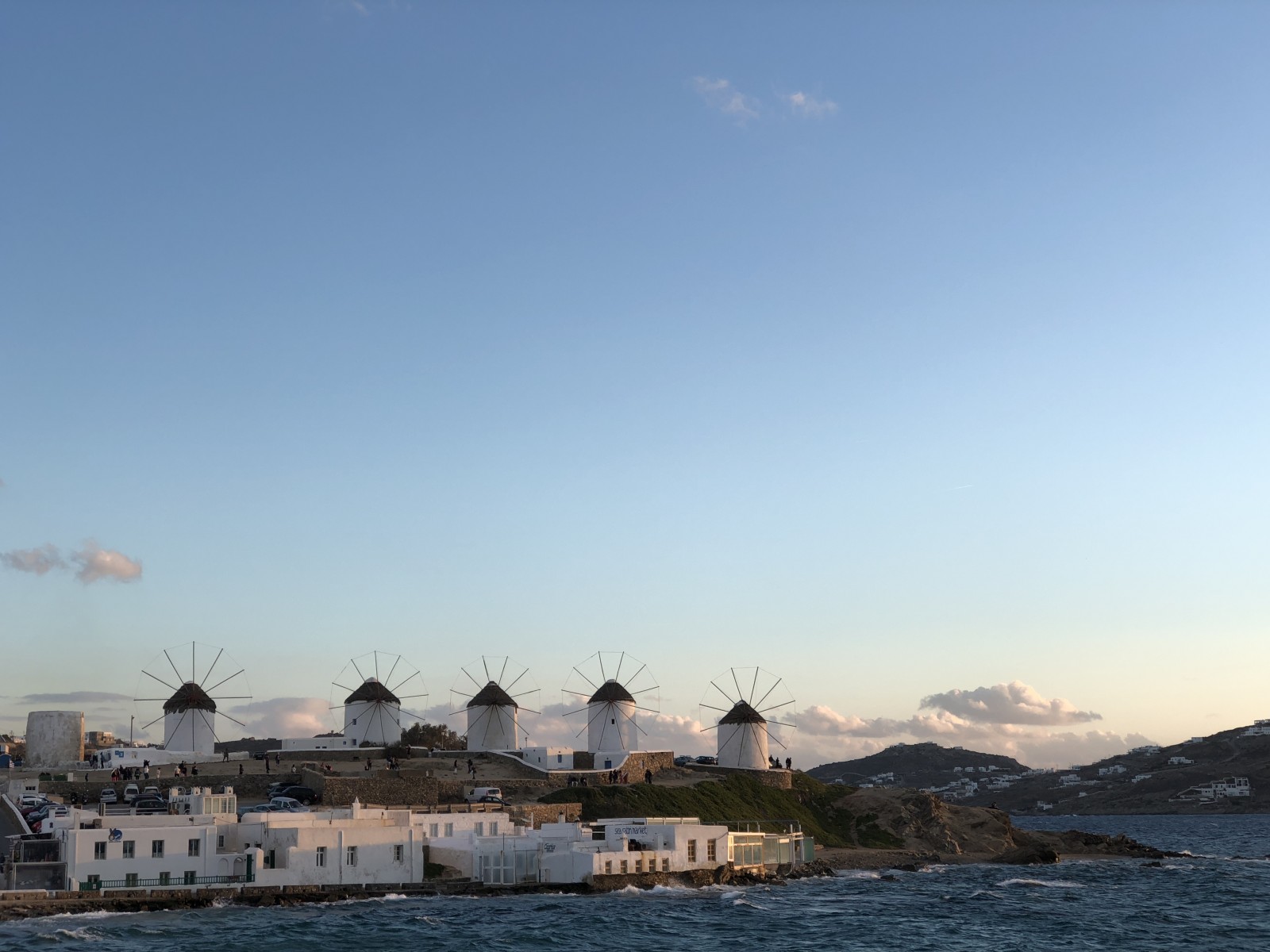 A view from the sea of the Windmills of Kato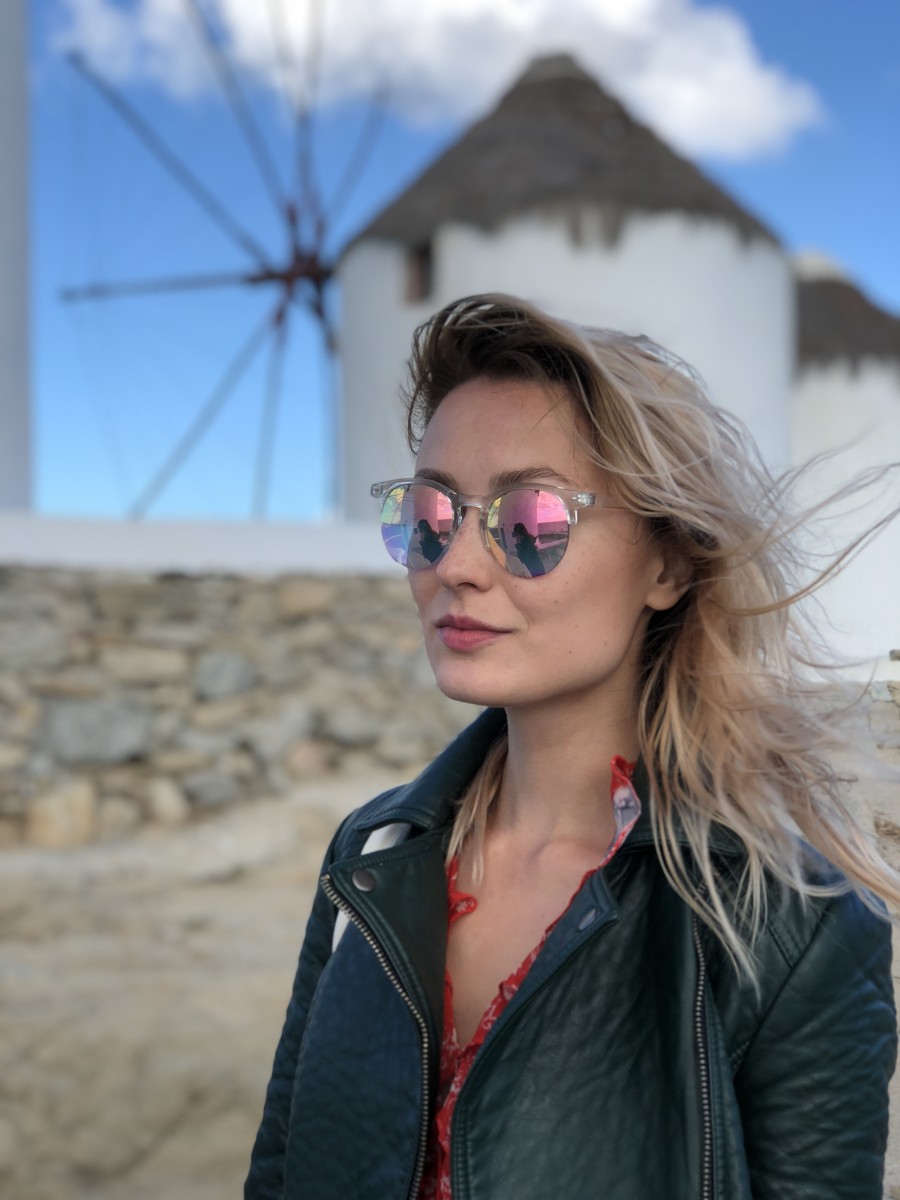 Ana in front of the windmills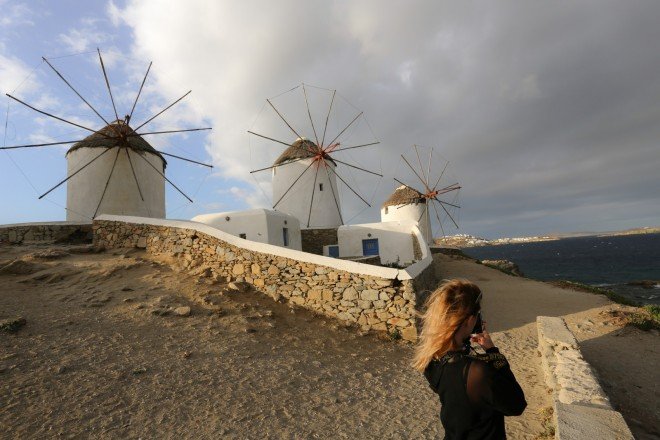 Ana photographing the windmills
If you're looking for things to do on Mykonos, the windmills of Kato Milli is a must. I highly walking around them during the golden hour before sunset. Then head to one of the nearby bars to enjoy a sundowner and the view. I recommend Katerina's in the Little Venice neighborhood.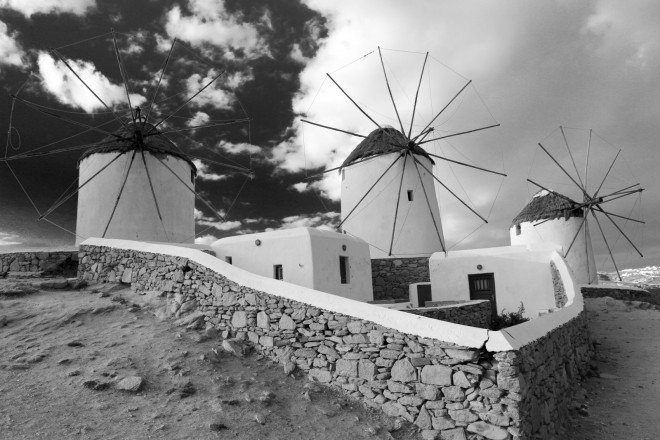 Windmills in black and white
It's worth looping back after the sun dips below the horizon for vibrant colors.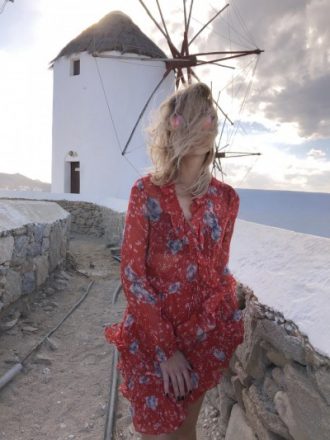 Too much wind is a wonderful thing
The image above, shot on my iPhone 8 plus, might be my favorite from the time I spent at the windmills.
Another view of the windmills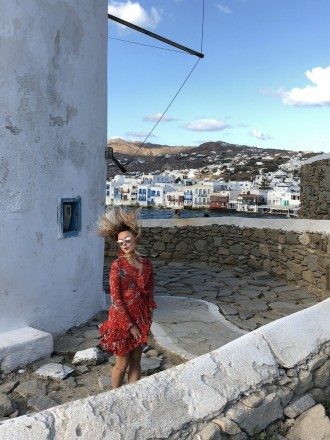 Ana against the wind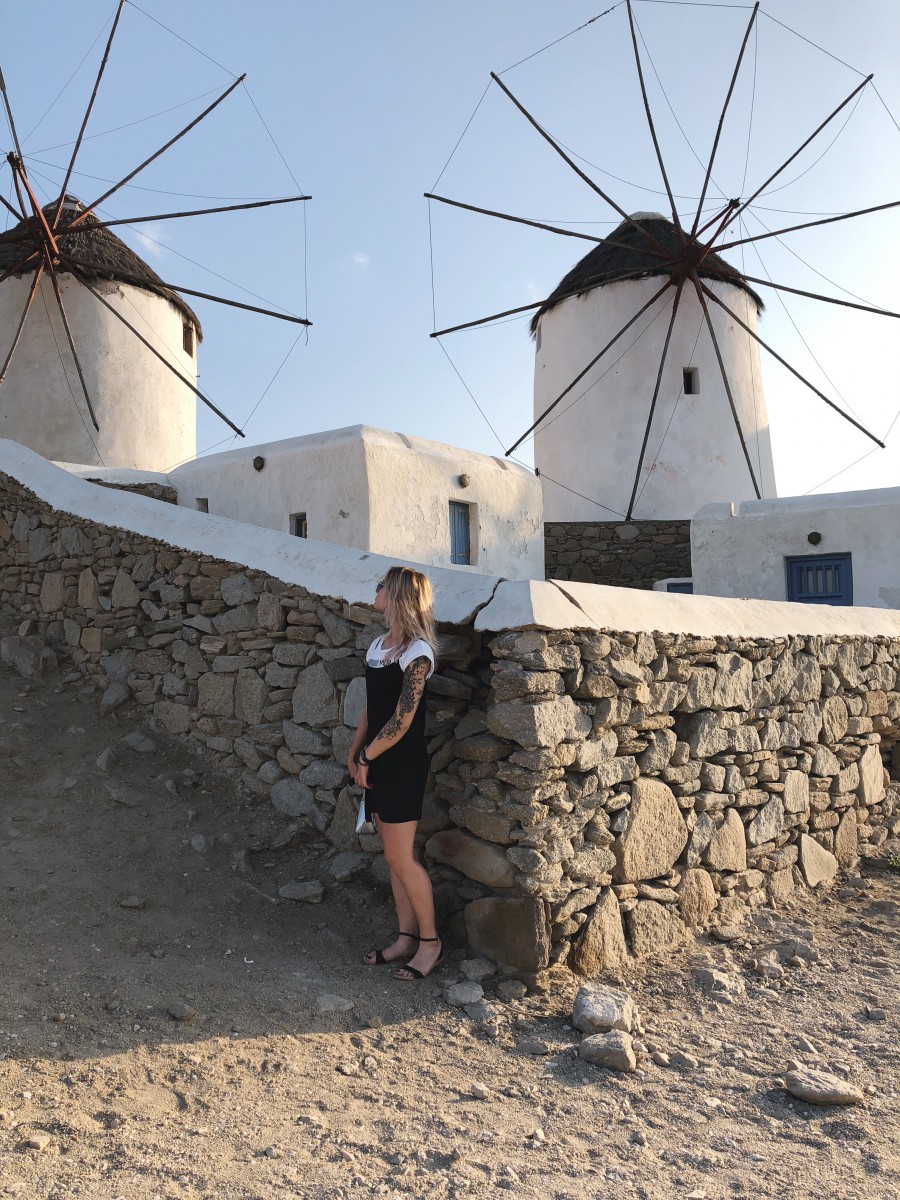 Ana on a less windy visit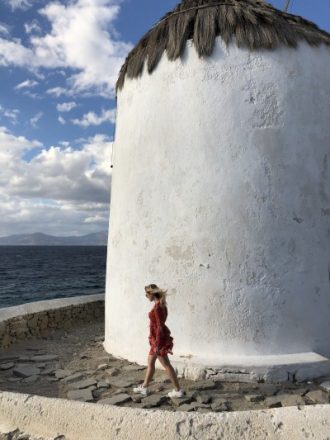 Ana in front of one of the Windmills of Kato Milli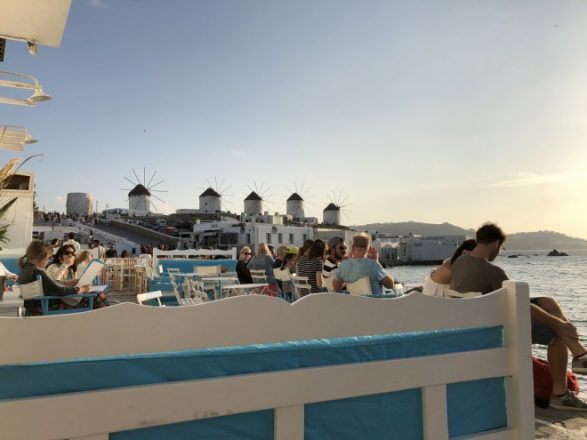 A view of the windmills from a bar in Little Venice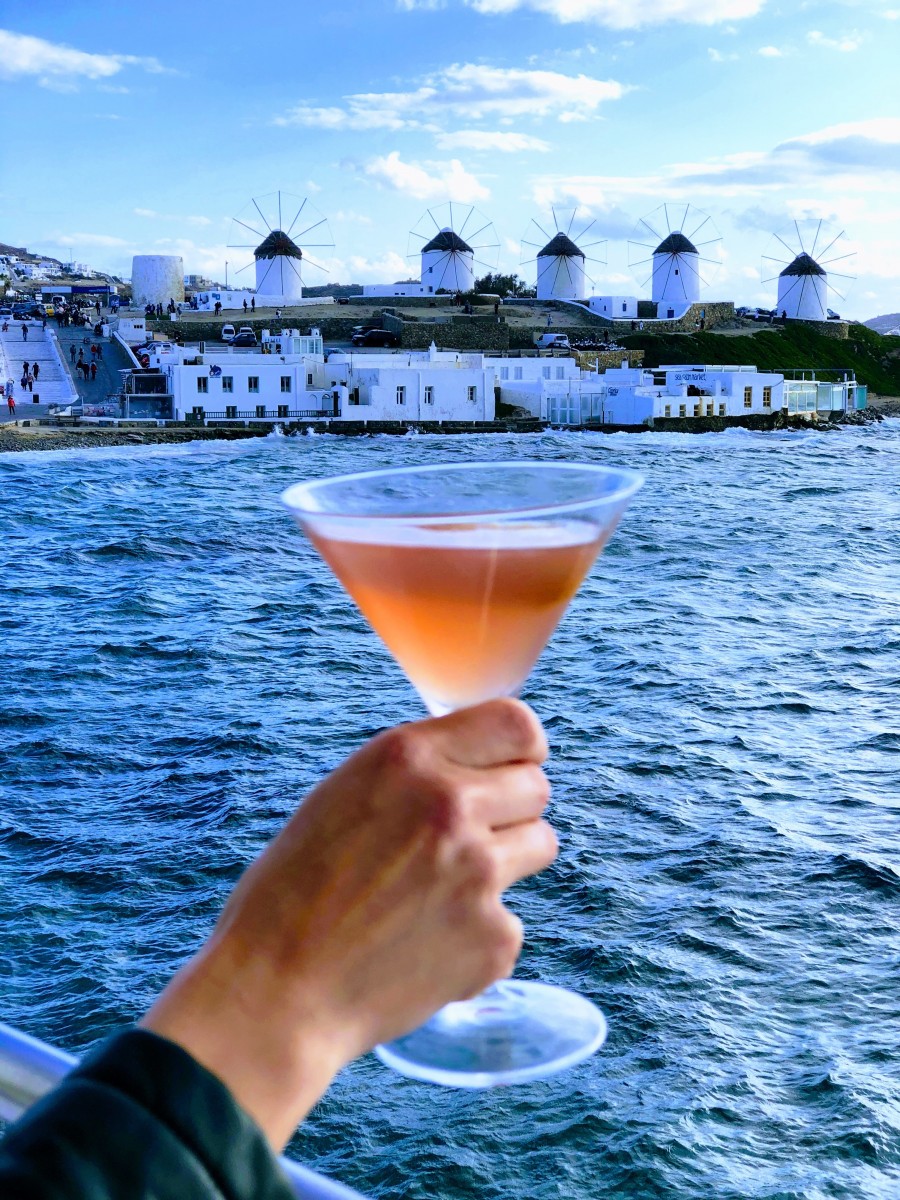 A cosmo from Katerina's and a view of the windmills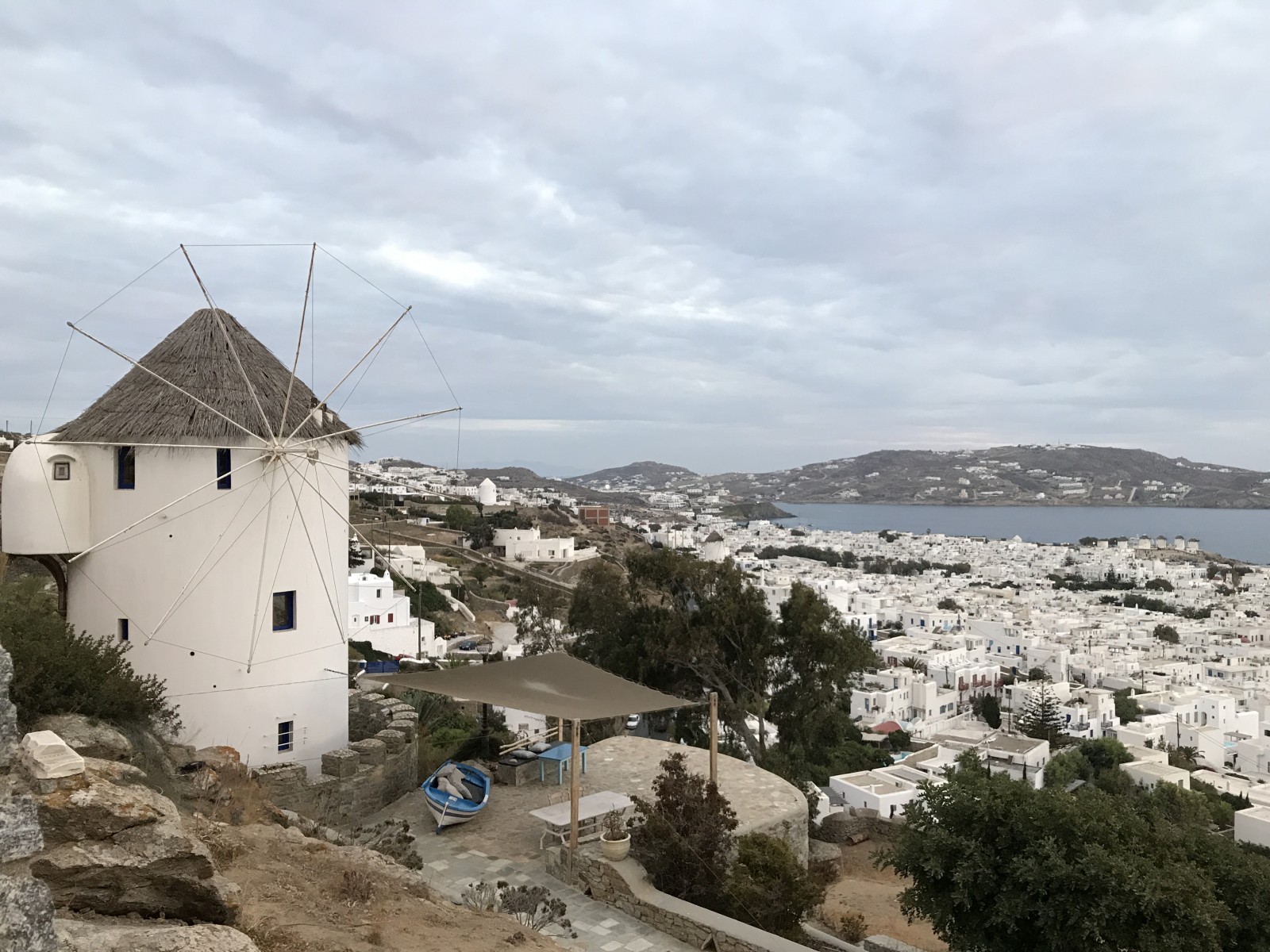 a view of one of the Mykonos windmills from 180º Sunset Bar
There are 16 windmills on Mykonos. You can check out one of the upper mills from 180º Sunset Bar. Be advised, the bar doesn't take reservations so get there early if you want a great scene. It's a lovely spot overlooking Mykonos town.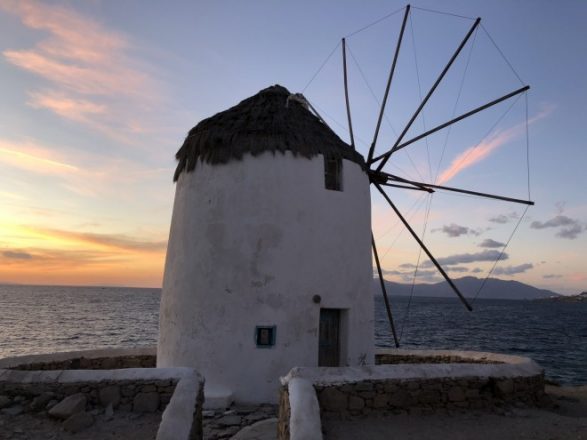 Shifting colors at the windmills
While there are other windmills on Mykonos, the cluster of seven together makes for a fun place to explore.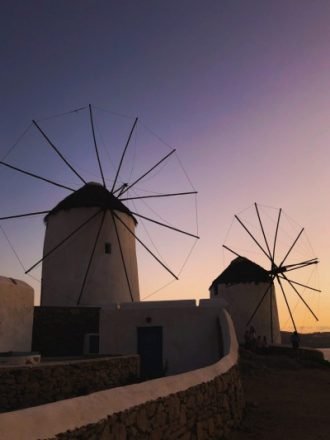 Afterglow at the windmills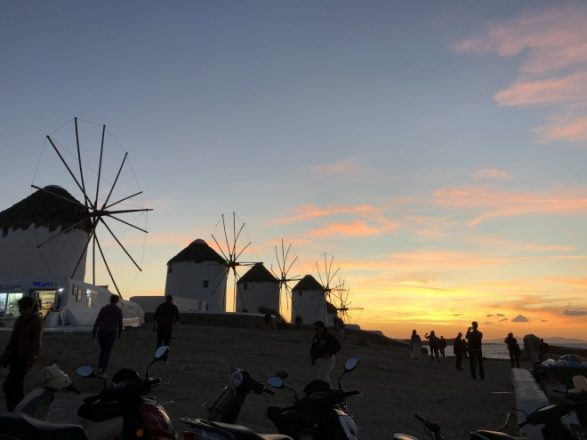 Sunset is a popular time for photographers to visit the windmills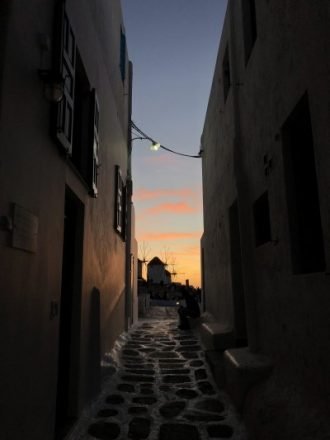 The windmills at sunset
Details:
Out of 16 preserved and renovated windmills in Mykonos today, 7 are located in the area of Kato Mili, between the Alefkandra harbor and the neighborhood of Neochori, southeast of Chora.
Katerina's Restaurant and Cocktail Bar
Address: 
Mikonou 8, Agii Anargiri 864 00, Greece
+30 699 360 1424
6pm-11pm