During my recent girls trip to Seattle, I was thrilled when my traveling companion, Vancouver-based digital storyteller Erica Hargreave of Roamancing reached out to Seattle tourism who arranged for us to go on Savor Seattle's 3 hour walking & tasting tour of Gourmet Seattle.
While I consider myself a "casual foodie"– I enjoy fine food as much as the next person, I'm not the type who plans a trip around it. But the tour, which is limited to 16 guests and focuses on F.L.O.S.S. (fresh, local, organic, seasonal, and sustainable) foods and beverages, seemed like a great way to get to know the Emerald City, as well as to investigate more of it's dining stops than we could have even if we hit a different spot for each set meal time.
Our group was led by the upbeat and super-entertaining Seattle native Mark Boeker. We met up to start the tour at the Yellowleaf Cupcake Company, which is famous for it's Pancakes n' Bacon flavored cupcake.
1st stop: The Yellowleaf Cupcake Company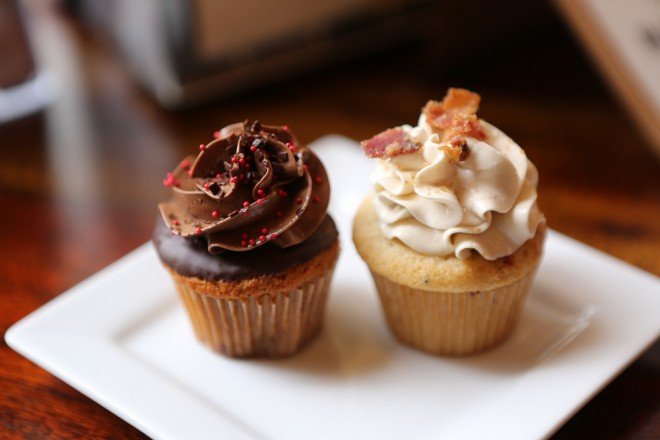 Left: The Tomato Soup & Chocolate Cupcake Right: The Pancakes n' Bacon
As a Los Angeles resident, I'm over the hyper-inflation of the importance of bacon as an ingredient and/or food group. I'm also over the whole trendy cupcakes thing, as the upscale cupcake market is over-saturated in Southern California.  While I was a bit of a reluctant tour goer at the beginning, I was totally game to go along for the ride.

Yellowleaf is the source for all your Seattle bacon needs: bacon brittle, cupcakes, and frozen custard are all available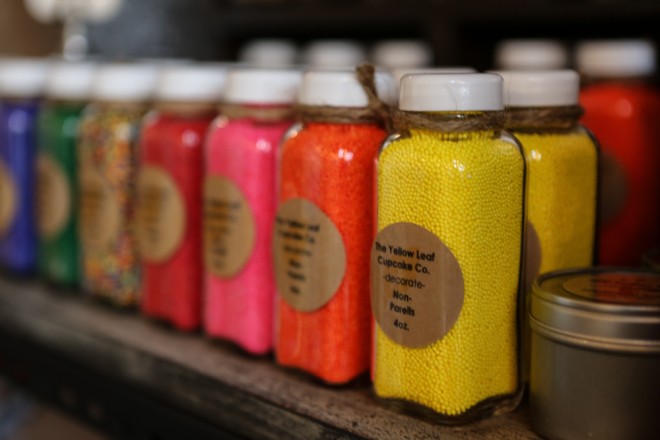 Cupcake decorating supplies for sale at Yellowleaf Cupcake Co.
I was pleasantly surprised by how much fun (and tasty food and drink) I had on this tour. Our group was fun and pretty much all in their 3os and game to eat our way through Seattle.
I was intrigued by Yellowleaf's extensive menu of cupcake flavors and didn't know what to expect when our tour guide told us that we'd be sampling a tomato soup cupcake, but the portion size was appropriate so I took a bite. Truth be told, the tomato was very subtle and I would never have guessed it– it tasted like a pleasant chocolate to me.  Next up was the famous pancakes n' bacon flavored cupcake. This was worth the hype. It was truly light and delicious. It had fluffy and had deliciously airy frosting and unlike a full-on short stack, went down pretty easy. I was surprised and charmed by this little baked wonder. Yellowleaf cupcakes cost $3.25 as a single, but our two tastings were included with our Savor Seattle tour package (the Gourmet Seattle Food & Cultural Tour costs $69.99 and includes over 20 food & wine tastings. We agreed with our fellow tour goers– it's a lot of tasty bang per buck).
I visited Yellowleaf as part of Savor Seattle Tours Gourmet Seattle Food & Cultural Tour
The Yellowleaf Cupcake Company
2209 4th Avenue
Seattle, Washington 98121
Phone 206-441-4240
Verdict: A win. I would have never have walked into this place without the tour and now I can't wait to bring my husband here to check out the flavors. I also liked the serving size.
Stop 2: Serious Pie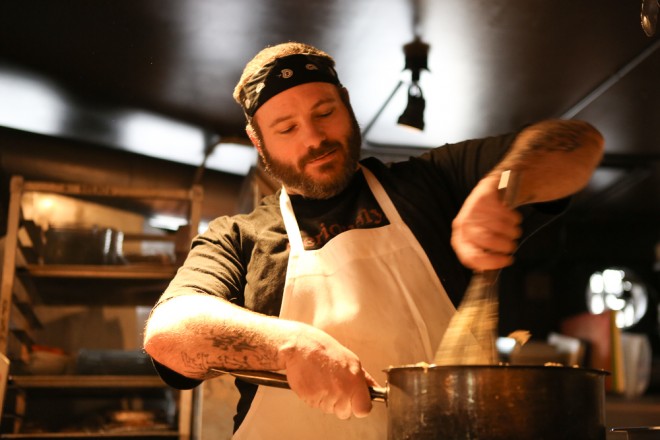 On the job at Serious Pie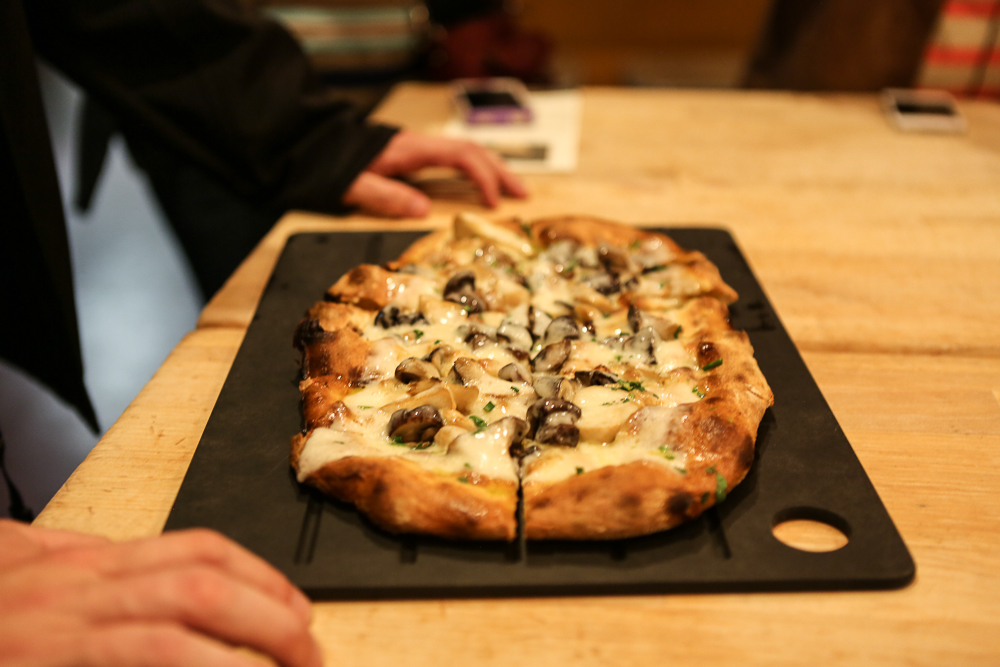 Behold: the roasted seasonal mushrooms and truffle cheese pizza
Did I mention that Erica & I purposely skipped breakfast so we'd be able to enjoy this tour to the fullest? I'm so glad we did because while we ate dessert first, our second stop was Serious Pie, which is part of the Tom Douglas empire of restaurants. For those of you who don't watch Top Chef, Tom Douglas is an award winning chef and restauranteur who has made Seattle his home since the late 70s. He's won James Beard awards and runs a bunch of Seattle's top restaurants and has won Iron Chef.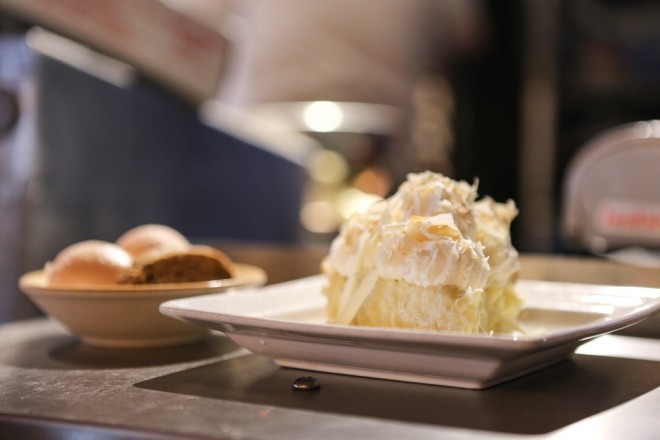 I'll be back to Serious Pie and I intend to taste this banana cream pie
I was really excited about this stop on the tour because we got to try some flavors of pizza I'd never think to order but really enjoyed. For me the standout was the roasted seasonal mushrooms and truffle cheese pizza ($17 if you order it off the menu, but our slices were included in the ticket fee). It was really flavorful and satisfying and accessible– I'm pretty sure gourmet pizza is the gateway drug to food snobbism.
Serious Pie
316 Virginia
Seattle, WA 98121
Open daily 11 am- 11 pm
Verdict: Another Win. Next time I want to try to Banana Cream pie.
Stay tuned for more posts about the Savor Seattle's Gourmet Seattle Food & Cultural Tour