iPhone shot of tourist shooting tomb of Pope John Paul II's tomb
Every year I say to myself, "I don't need to come to Rome during the middle of summer again." Well, it's July and I'm back. Tourist season is in full swing in the Eternal City, so I decided book a private tour of the Vatican to take the edge off my crowd anxiety and make sightseeing less painful.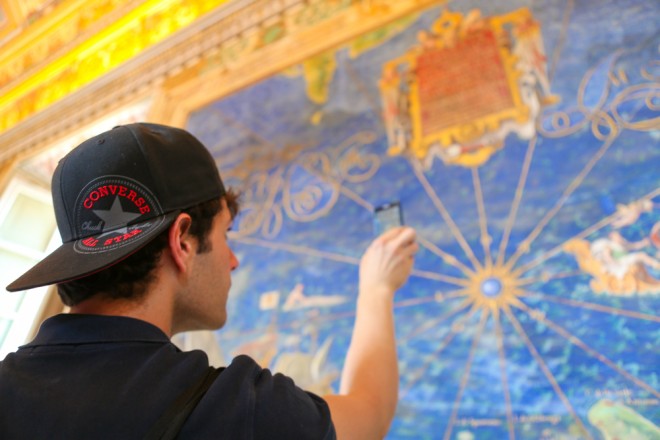 It really struck me how many people were documenting their visits with mobile photography
My private tour of the Vatican didn't provide special access to the Illuminati room or anything like that (although there are sites for "Special After Hours VIP tours" that claim to), but it did give me front of the line privileges and a dedicated English speaking guide, Helena, who went at the pace I set– which was as quickly as the crowd would allow. Both my husband and I have toured the Vatican before, and the only day we had open was Saturday (well known to be the busiest day to visited) so we wanted to cover as much ground as possible in the shortest amount of time. The private Vatican tour was scheduled to be 3 hours long and include visiting The Vatican Museum, the Galleria dei Candelabri (the Candelabra Gallery), Galleria degli Arazzi (the Tapestry Gallery) and the Galleria delle Carte Geografiche (the map room), the Sistine Chapel and finally, St. Peters Basilica.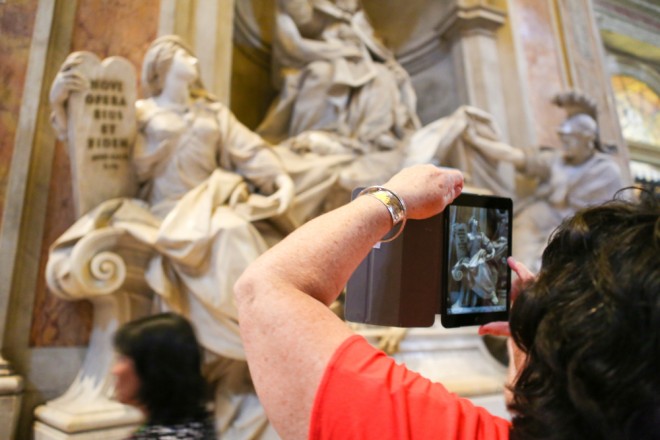 iPad shooters don't seem to be aware of how much they obstruct the view of other visitors
It took us an hour and 40 minutes to get through and we could not go any faster although we would have liked to– it was very hot and the Vatican is notoriously stuffy. Air conditioning is woefully inadequate

I asked my guide, Helena, when the best time to visit and avoid the crowds was and she said, "January. When it's cold and rainy, there are no lines." This made sense. My best day of touring Rome's sites was a few years back in December– I think it was 2 or 3 days after Christmas and it was amazing how much I saw in one afternoon. The massive crowd at the Vatican made it clear I wouldn't be getting any good pictures, as it's impossible to get a clear view of anything..So I decided to document the mobile photographers I saw in action. What struck me most was the sheer amount of  iPad photographers- they are starting to become a real issue.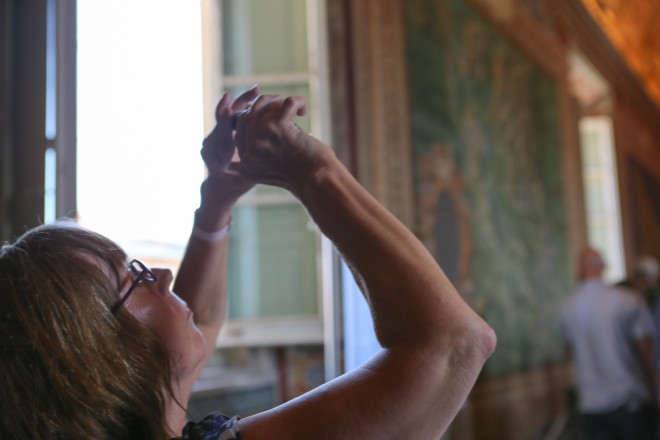 It looks like she's doing the Jay-Z illuminati hand sign in the Vatican's map room
Today's iPad photographer has picked up the torch from the fanny pack wearing clueless tourist of yore. I saw Americans, Germans, Brits and Australians shooting with tablets. There is just no way around it– shooting with an iPad in a confined space is bad form. Using a tablet as your primary camera in crowded space is a red flag that you're unaware of the common courtesy of tourism etiquette, and not a big fan of respecting other's personal space.  From what I observed, iPad photographers either don't realize they are visual cock blockers who are ruining the experience for others, or they just don't care.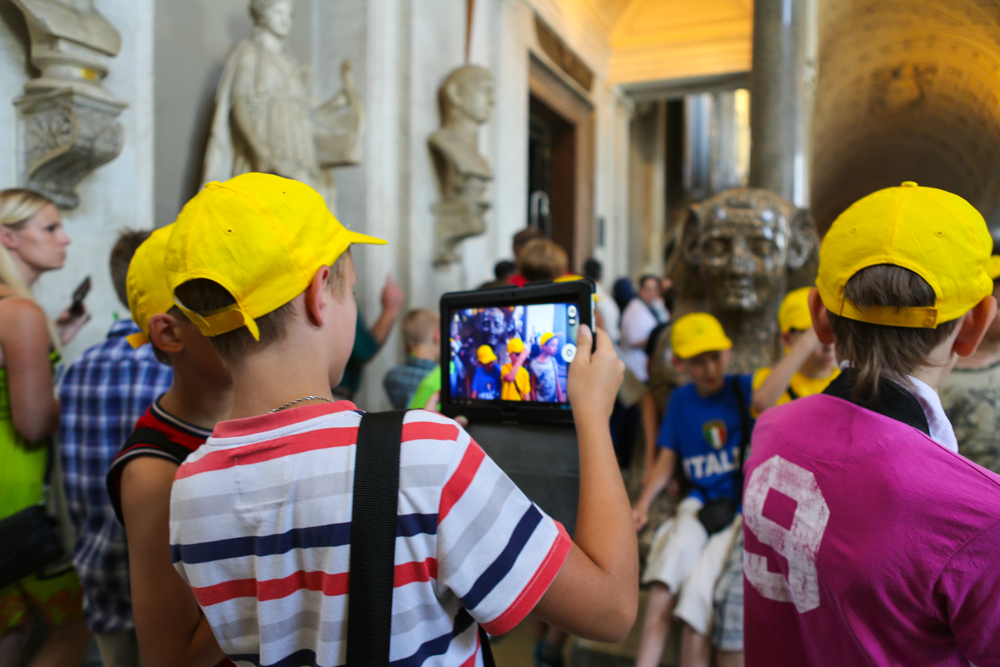 This kid gets a pass on the iPad photography. He's clearly a rookie and also not blocking anyone's view

Perhaps this is because the  iPad photographers I saw were at either end of the technology demographic– some were too young to have a mobile phone, others were older people who perhaps prefer the larger screen to more compact mobile devices. If you're going to use a tablet as your primary camera in a crowded tourist spot, choose your shot wisely and be respectful of other tourists. I pretty much saw Michelangelo's Pietà on someone else's LCD screen and that sort of defeated the point of my visit.  iPads might be thin, but they take up far more visual real estate than a DSLR with a telephoto lens.
Photography isn't allowed in the Sistine Chapel and I was surprised by how much man power went into enforcing this rule (as well as the "no talking" rule). The clothing some wore to turn the Vatican took me by surprise as well– it should go without saying that rocking camel toe isn't a good idea in the Vaticano (or anywhere) but there was plenty on display. Those with bare shoulders were given paper capes to cover them so bring a shawl if you're not wearing sleeves.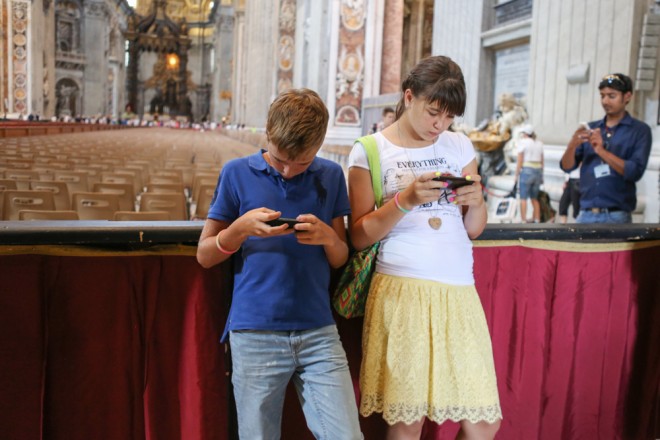 Rusty and Audrey Griswold, circa 2013
Private tours of the Vatican must be scheduled at least a day in advance. The one I booked cost Euro € 135 per person for 2 people (note: the price goes down with the number of people in the group). For a group of eight, the cost is Euro € 58 a head. I booked mine through Tickitaly.
Private tours of the Vatican can be arranged Monday to Saturday (except feast days) From 9:00am -1:30pm