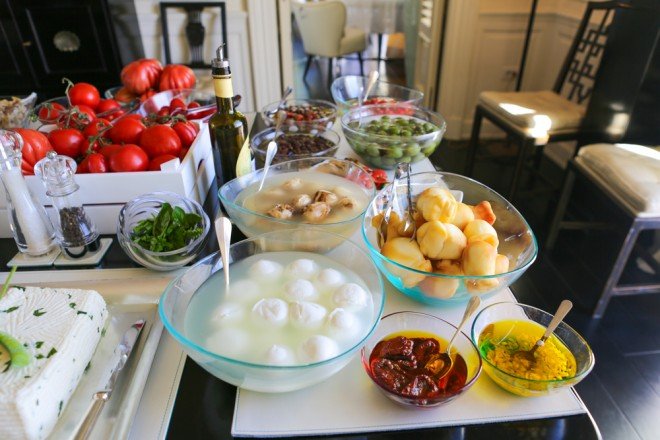 Mozzarella di Bufala or Smoked Mozarella di Bufala? That is the Question…

It's pretty much a given that if you go an a vacation to Italy, you're going to eat well. But guests at the J.K. Place Capri eat exceptionally well– and in beautiful surroundings. Room rates at the hotel include an incredible breakfast buffet, which in addition to being tasty, is also a feast for your eyes.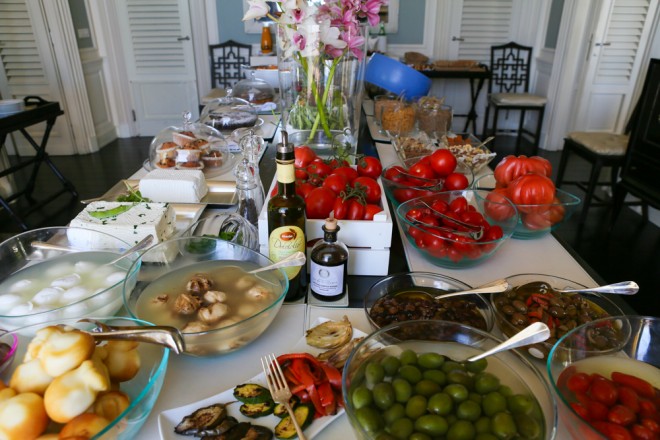 J.K. Capri is Not Joking Around With This Breakfast Buffet– This is just the breakfast antipasti
Since you're on Capri, you can expect that Caprese Salad (tomatoes, mozzarella, fresh basil drizzled with extra virgin olive oil) is going to be on offer at all times.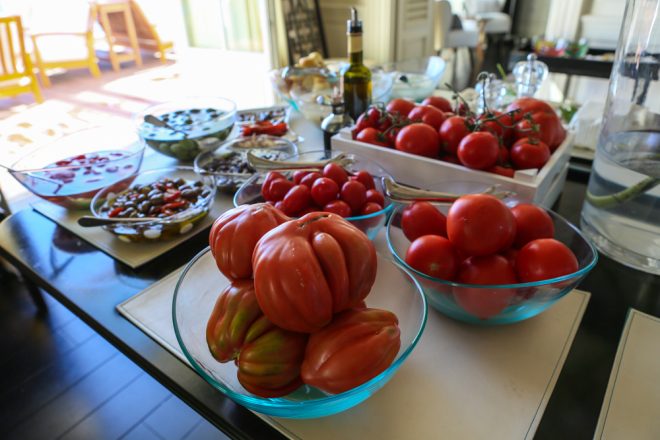 A variety of perfectly ripe tomatoes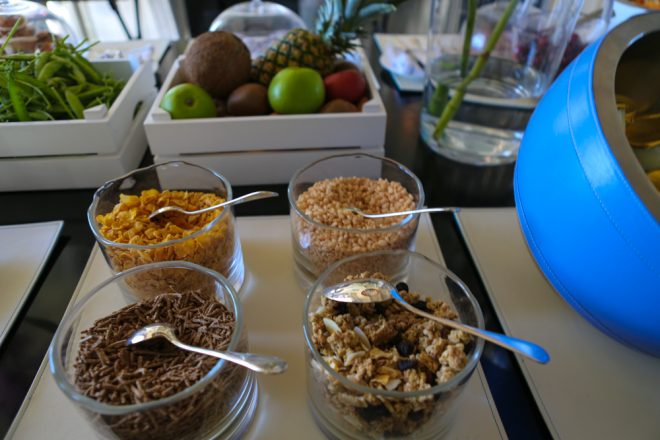 The Usual Cereal Suspects
Several varieties of cheese on offer were delicious. While I was comfortable with the burrata and buffalo mozzarella, I was first reluctant to try some of the smoked options. Since every meal came with an amuse bouche- including a bite-sized portion of the chef's selection of smoked cheese– I got over it and tried a few options I'm unlikely to eat back home in the states. I also discovered Caprese cake is exceptionally delicious.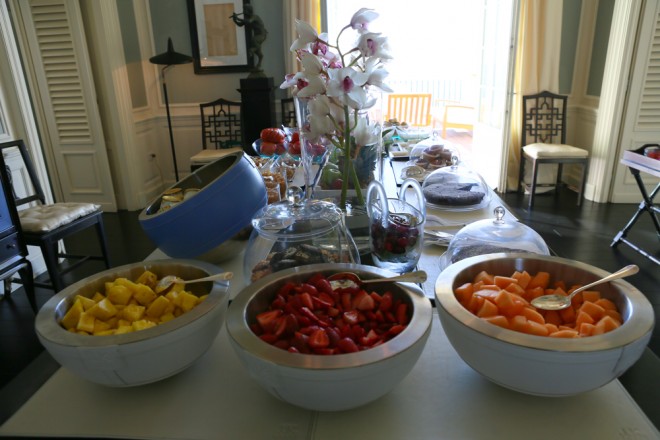 Fruit on the Breakfast Buffet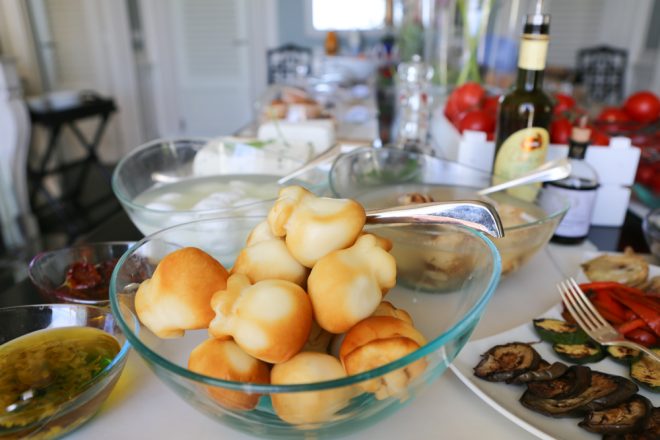 The Smoked Cheese with the Antipasti Was Exceptional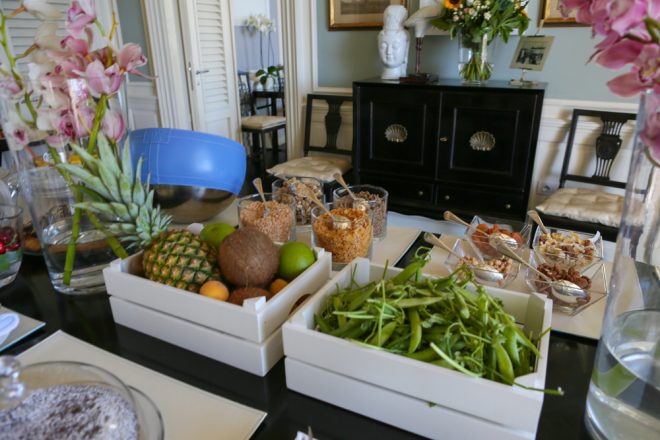 Food Porn Still Life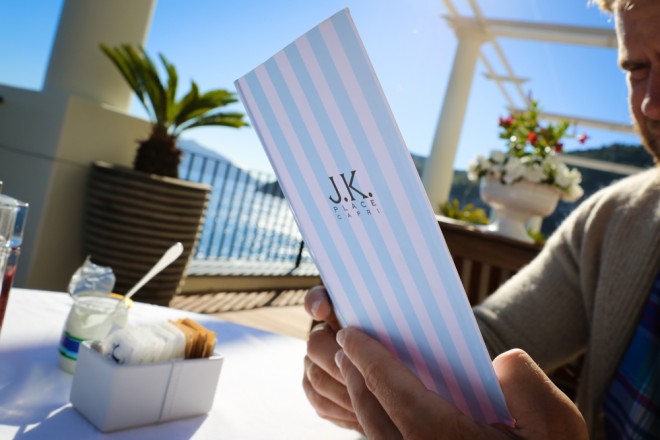 Justin Deciding how to order his eggs on the terrace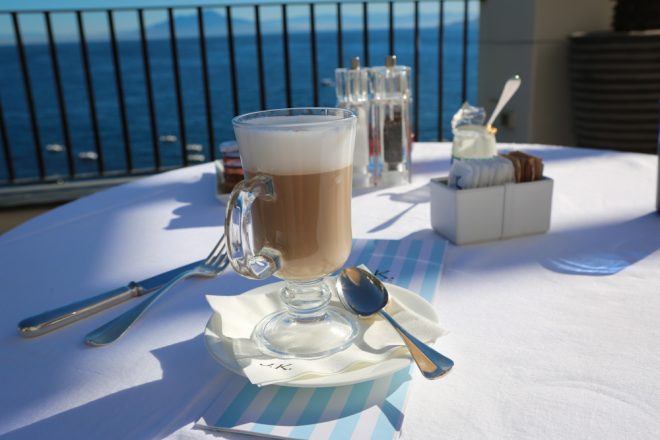 Soy Latte with a View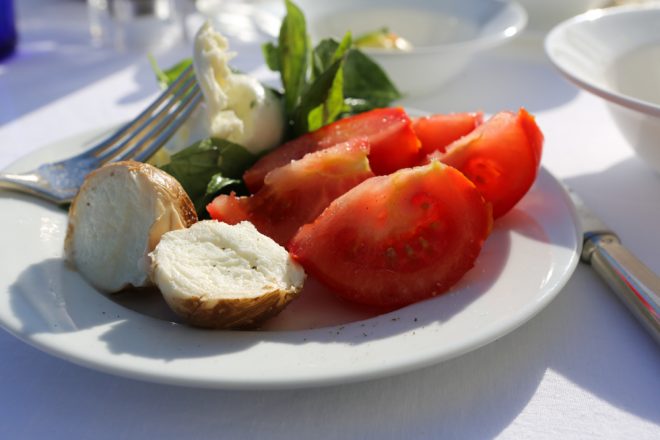 Caprese Salad for Breakfast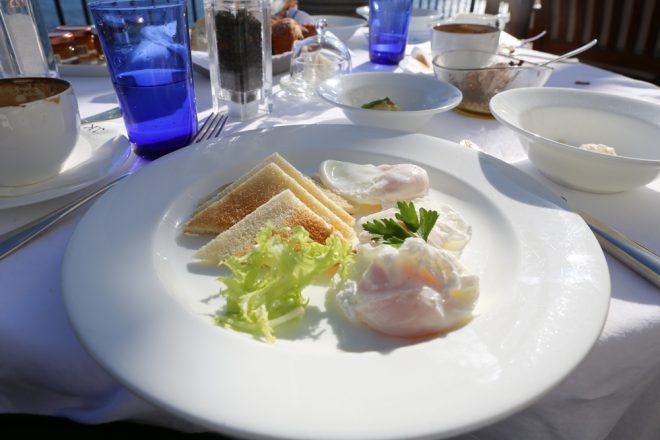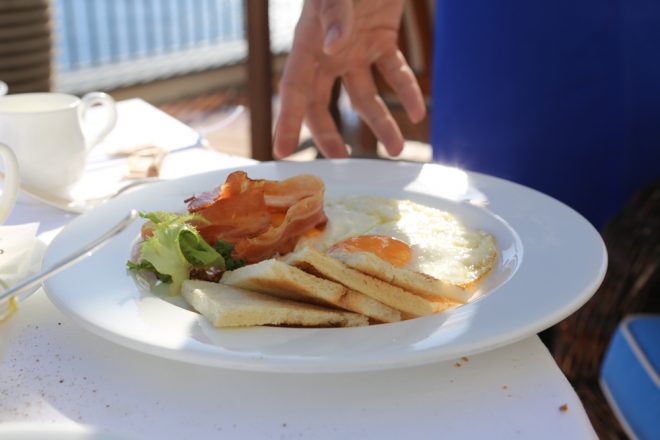 Eggs Made to Order: Perfectly Poached or Fried
The staff at J.K. Place had no problem with special requests for soy milk which was nice. They also make exceptionally good cappuccino and lattes.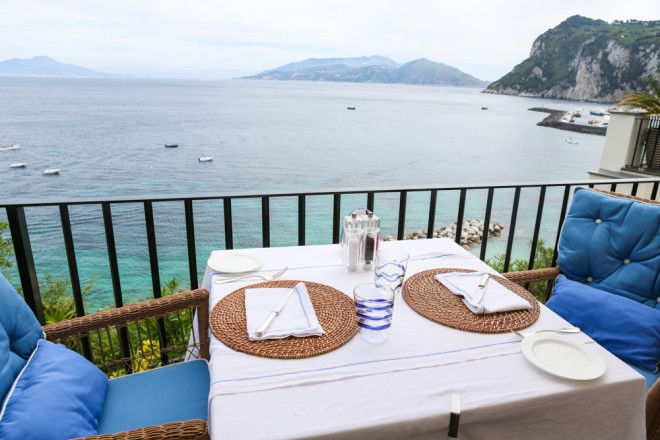 The View from the Pagoda at JK Place Capri
Lunch was also noteworthy. I liked to eat in the pagoda- the area of the patio covered by umbrellas, and it was really all about the fresh fish. The octopus salad with potatoes was a standout and the kind of clean, simple food that makes people love the Mediterranean diet. I felt the need to try a burger one day and while it was tasty, I preferred sticking to the local specialties, but I could see how the burger would hit the spot if you were in need of comfort food.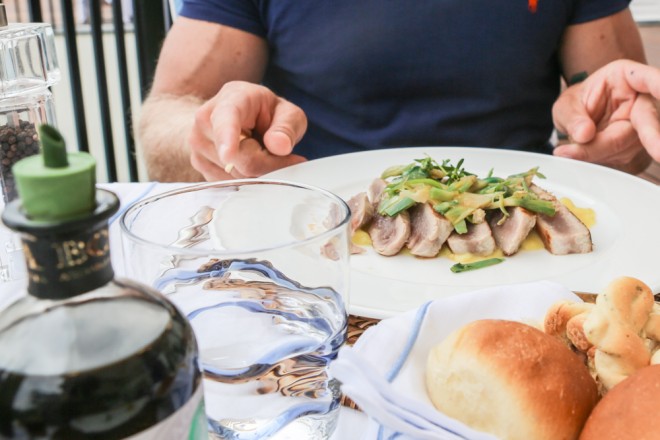 Seared Tuna for Lunch
Our favorit lunch options were the grilled fish and octopus.

Meals from JKitchen (that's what the restaurant is officially called)  can be eaten inside the restaurant's charming nautical chic dining room, but when the weather was gorgeous we ate outside and enjoyed the panoramic view of Capri from the sweeping terrace.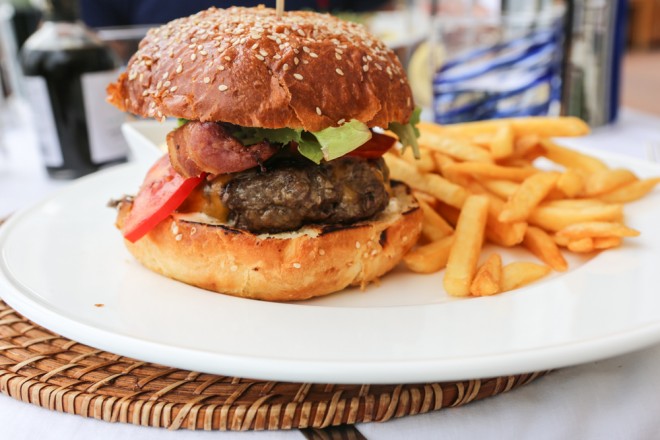 I had the burger for lunch.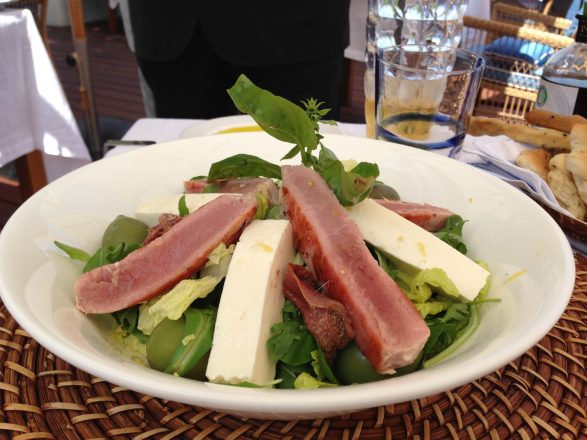 Seared tuna salad for lunch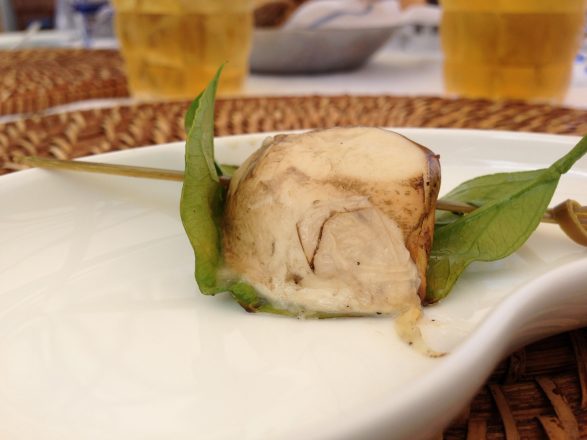 Each meal came with an amuse bouche- this was smoked cheese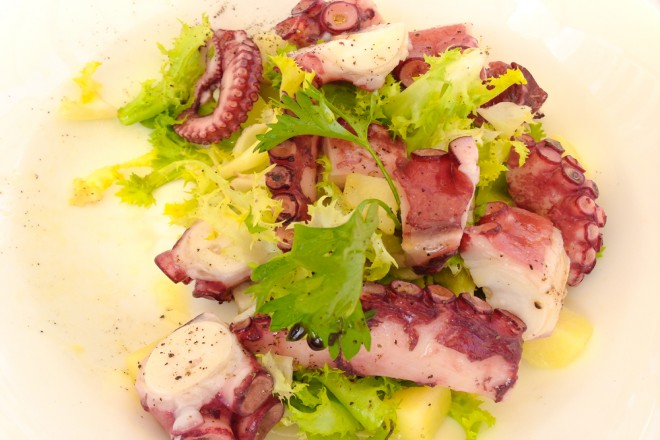 Lunch was all about this grilled octopus & potato salad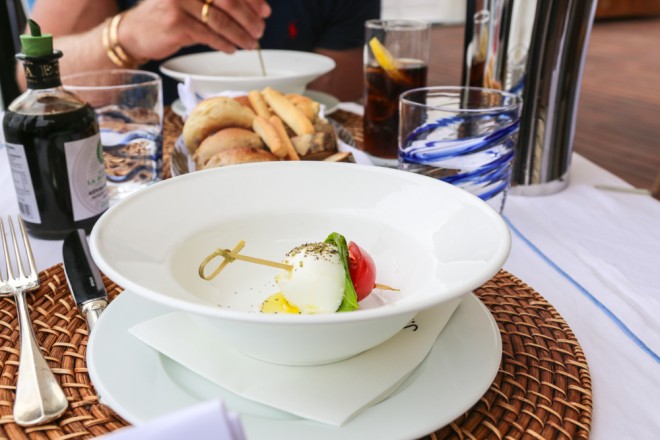 Lunch's amuse bouche was a bite sized variation on Caprese Salad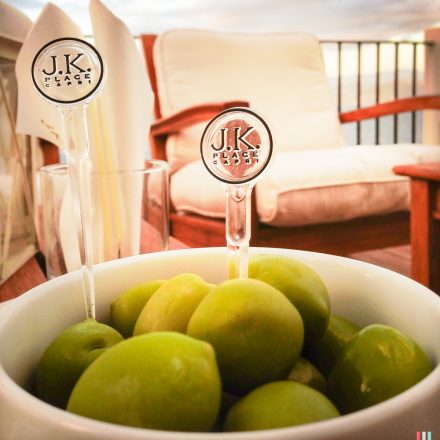 Olives served with a glass of Red wine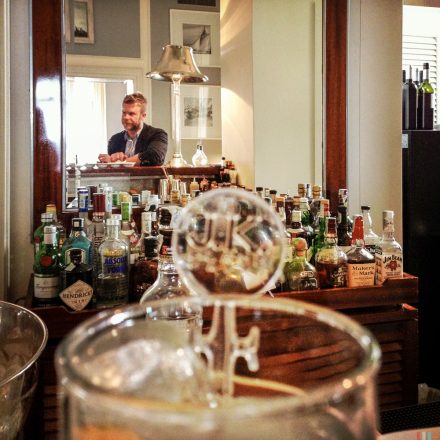 Justin at the Bar
The olives were exceptional but I skipped them at breakfast since they were offered as snacks throughout the day and any time I ordered a drink on the terrace.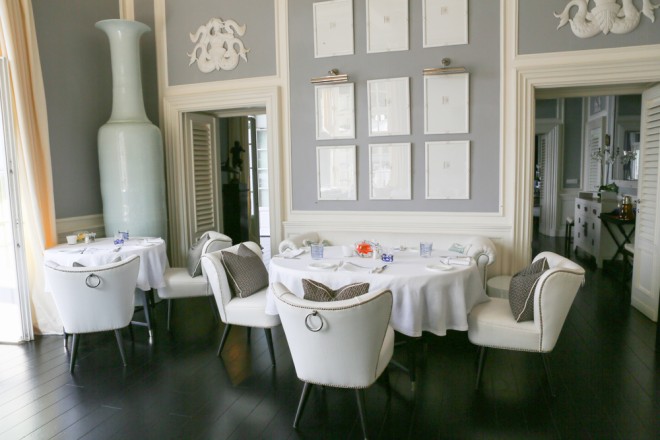 The dining room at JKitchen has a relaxed Mediterranean elegance
The dining room, was rather beautiful but I only ate one meal there– when it was raining.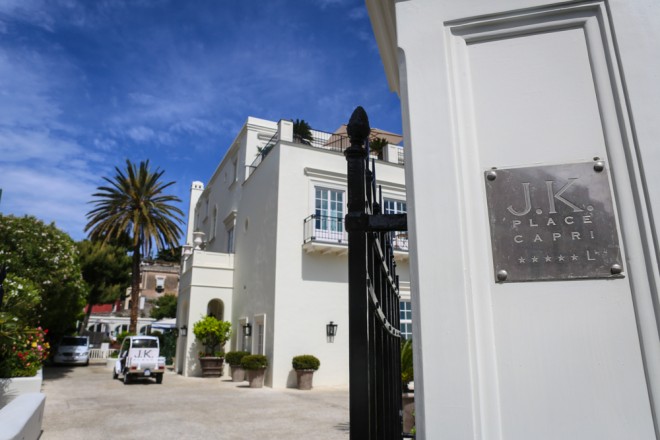 J.K. Place Capri Sign
Address: Provinciale Marina Grande, 225, 80073 Capri Province of Naples, Italy
Phone:+39 081 838 4001