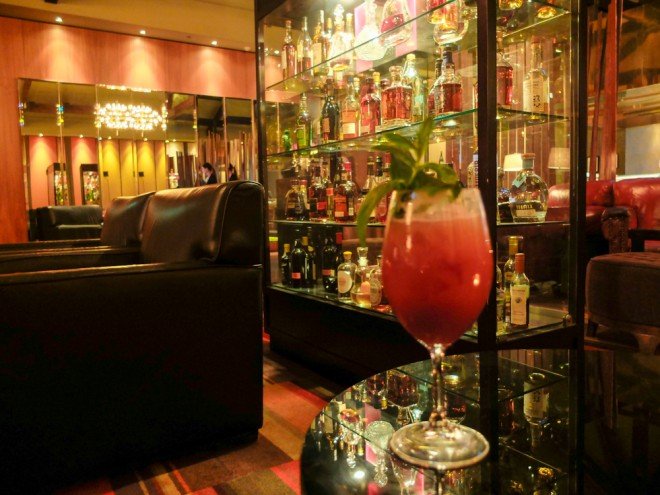 Cocktail & a pretty cabinet at Sydney's Hemmesphere Bar
Every time I visit to Sydney I make it a point to go to the Hemmesphere Bar for a cocktail and a little something to eat. Hemmesphere is located in the Central Business District and has a chic living room area filled with club chairs and couches. There is also semi-enclosed bamboo filled smokers terrace. It's a fun place to people watch when the after work crowd comes in for Happy Hour.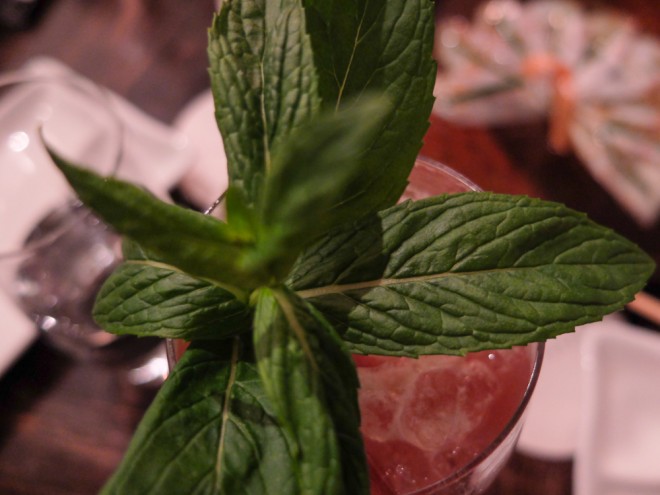 Cocktail Culture is alive and well in Sydney: Sloe Sangaree at Hemmesphere Bar $A 18
They have an excellent cocktail menu filled with everything from Champagne cocktails, Highballs, punches, muddled drinks, fancy cocktails as well as a full selection of high end spirits– many of them showcased in a beautiful glass cabinet. This time I went for the I went for the sloe sangaree made with sloe gin, plum pisco, cynar, topped with homemade spicy ginger beer ($A 18). It was tasty and not overly sweet and topped with freshly spanked mint. While I appreciated the fragrance and visual appeal of the mint, a straw might have made drinking it a bit easier.
Left: Kingfish= yellowtail from Sushi e  Right: Prawn filled shumai dumplings

Sushi e, located at the back of Hemmesphere provides a tasty selection of Asian-inspired bar food. The Chinese influenced steamed prawn shumai dumplings with ponzu dipping sauce were so exceptional we ordered more.
Sushi chefs at work at Sushi e
I don't know why it took me so long to figure out that the fish known as yellowtail is called kingfish in Australia. Hemmesphere's version from the sushi e kitchen featured 12 slices of kingfish topped with slices of ginger, chives, sesame seeds, drizzled with garlic and ponzu and lightly seared with olive oil. The kingfish dish was absolutely beautiful and flavorful, but a bit heavy on the oil for my taste.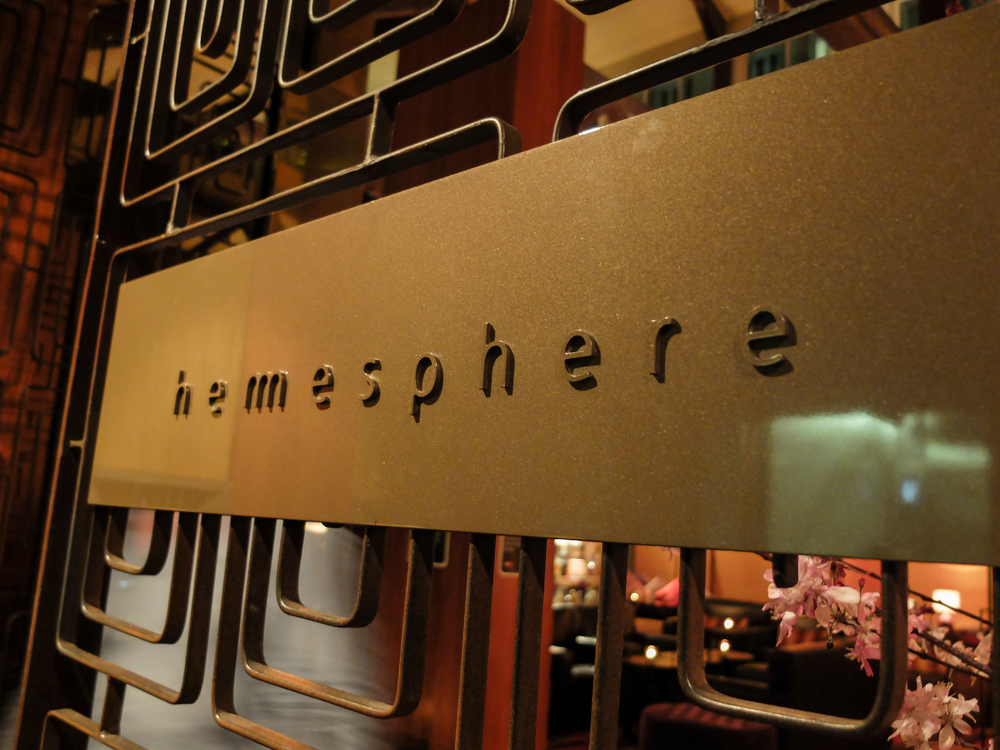 Cool signage at Hemmesphere
Hemmesphere is just one of the restaurant & bar options in the Establishment Hotel complex. I'm a fan of the Establishment– it's a lovely boutique hotel property right in the CBD. I also highly recommend chef Peter Doyle's prix fixe lunch at est. restaurant where they have the best wines I've tasted in Australia.

Level 4, Establishment
252 George Street, Sydney, 2000