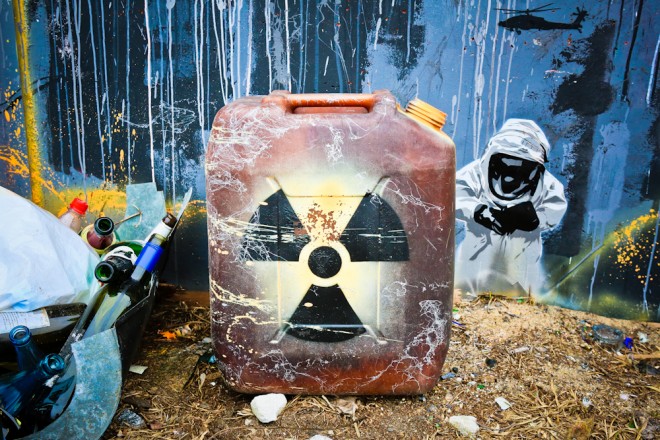 Banksy type street art at Teufelsberg Field Station
During my recent trip to Berlin, Tumblr invited me to join their field trip to Tuefelsberg Field Station, an abandoned Cold War spy station along with fellow travel bloggers Kirsten Alana and Gary Arndt of Everything Everywhere.
Located on Tuesfelsberg Hill (translation: "Devil's Hill"), which is essentially a mountain of World War II rubble that was carted away from Berlin. You get to the station by taking a train to the Grunewald Station and meeting a dubious tour guide who marches you through the nearby Grunewald Forest. Our guide, Shalmon, was gruff and filled with Cold War Charm that set the tone for the rest of the "tour" of the Field Station.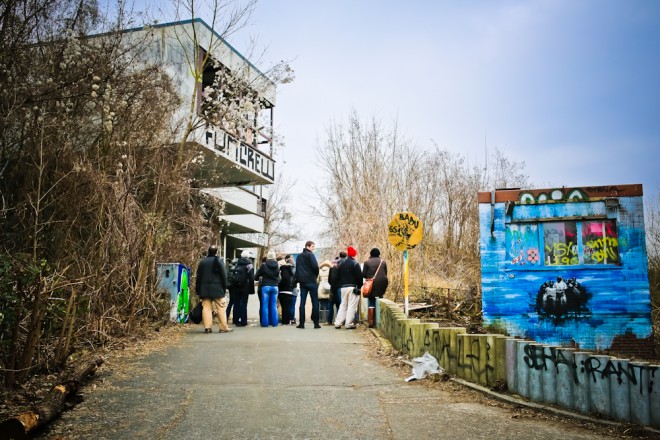 Signing waivers at the entrance gate which would later be locked behind us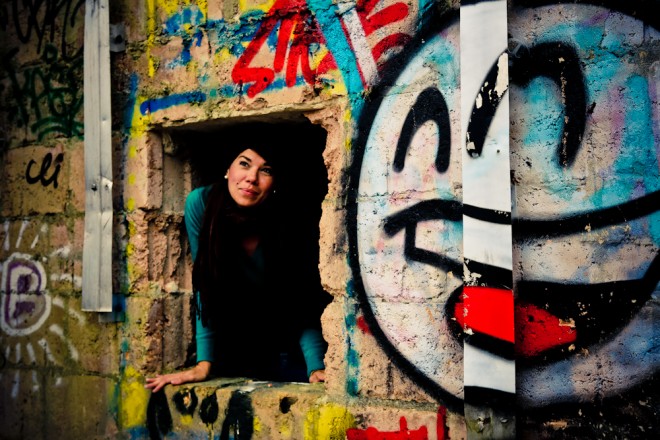 Kirsten Alana peeking through the rubble at Teufelsberg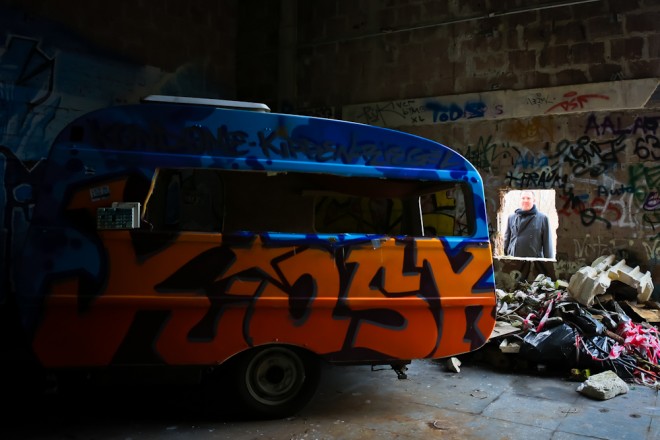 This camper-turned-kiosk made me want to come back for rave. Or at least re-watch the film GO.
It's not very clear who owns & controls Teufelsberg's abandoned grafitti-filled buildings but Berlin Insightout is an organization that offers tours of the area  for €15. Jeremy Kressmann from Tumblr offered to sponsor this visit, so we  paid the entrance fee and signed a waiver before being allowed to explore the area.
The centerpiece of Teufelsberg station is a radio tower that once housed a US military listening station that operated until East Germany fell in 1990 and it was closed.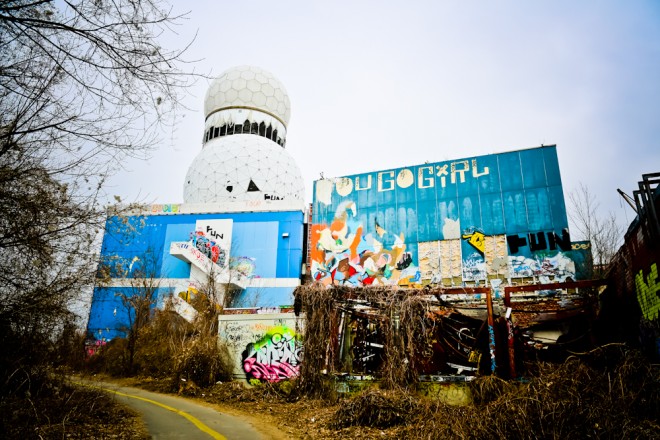 The Abandoned Radio Tower is especially fun juxtaposed with the "U Go Girl" street art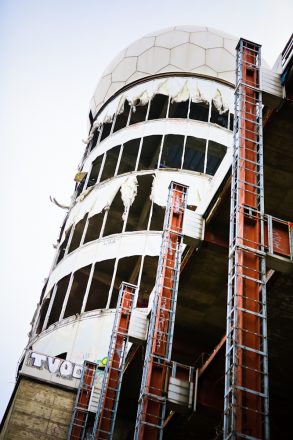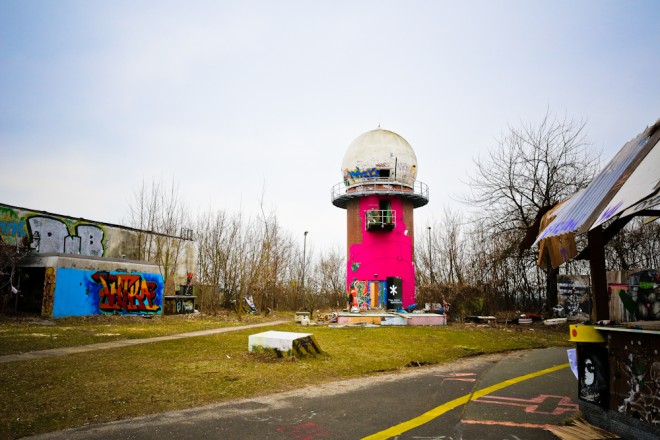 I'm guessing this place is a killer party venue when the weather is better.
Since Shalmon, our gruff German tour guide (who became much more affable once he strapped a GoPro camera to his head– it's hard to be taking seriously when acting surly while rocking GoPro Hero Headgear) didn't offer much in terms of explanation about the buildings and when he did speak, he spoke primarily in German although he would speak English if asked directly. I decided to spend my time at the station photographing the place and piece together information about it after my visit.
The buildings are filled with graffiti and street art (mostly dating from the last two years) and look like ideal environs for hosting a rave. Based upon the various make shift bar settings and kiosks and Craig's List worthy couches, it's safe to assume parties are still held on these grounds, although most likely in warmer weather (the temperature fell to below freezing during my visit).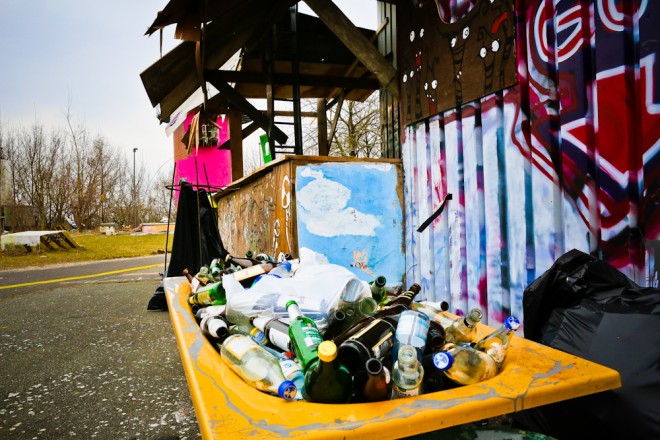 The segregated empties made me think that the ravers who party here are recyclers.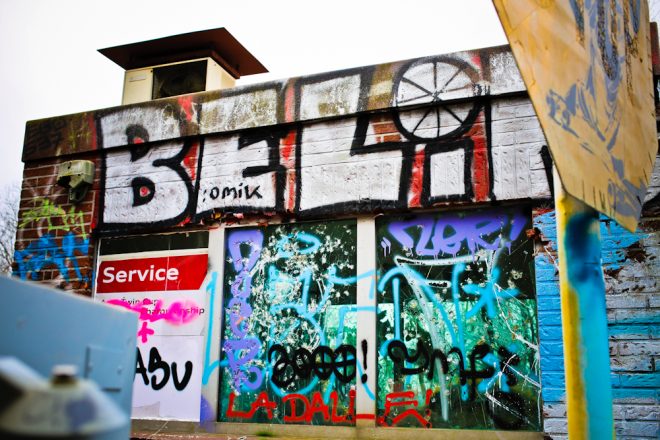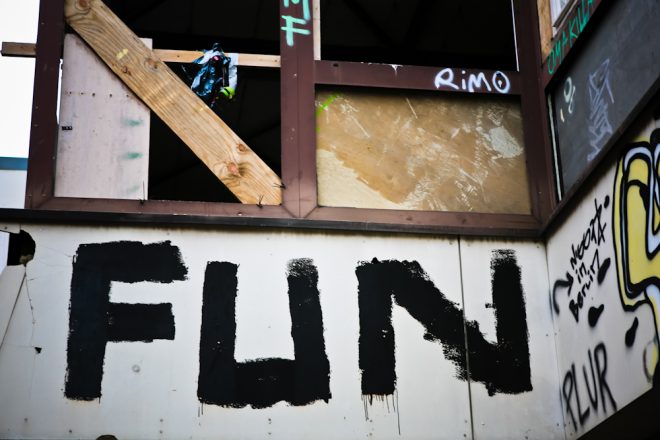 There will be fun- you've been warned!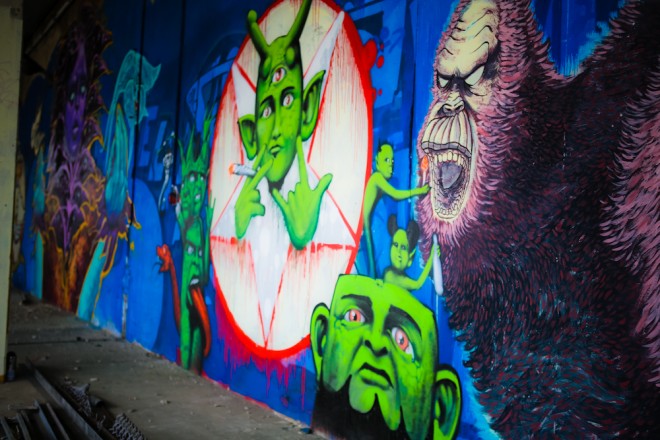 Martian smoking a fatty doing devil horns: HOLLA!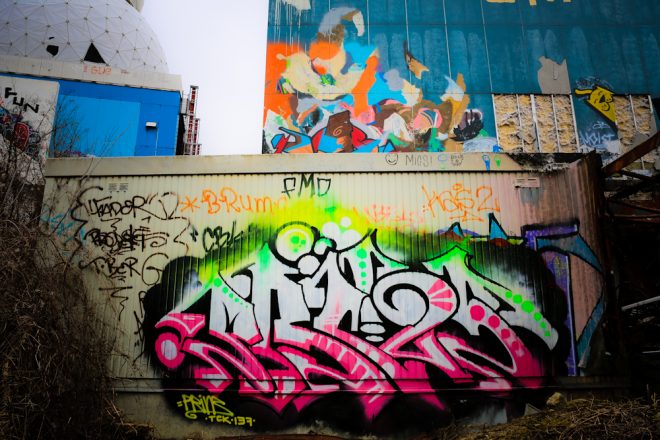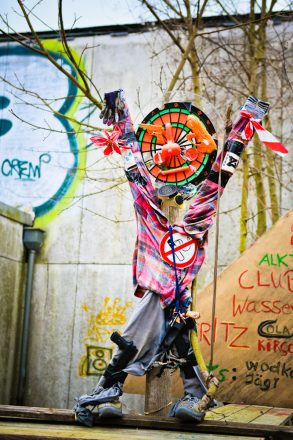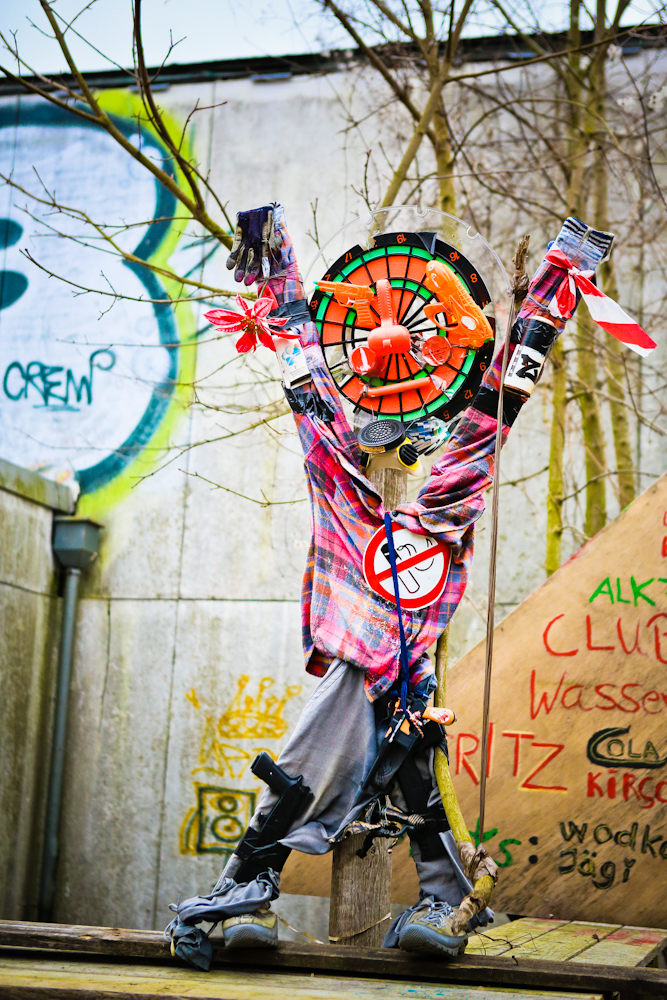 I found the dart board effigy with gun legs particularly adorable.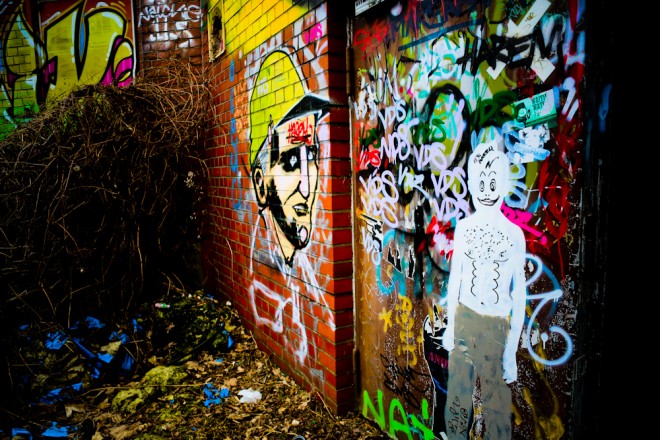 Rubble & street art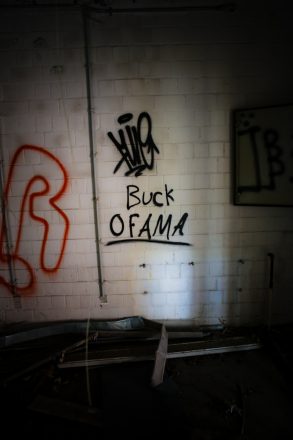 Whenever I come across atmospheric squats like this I always have the urge to direct a music video.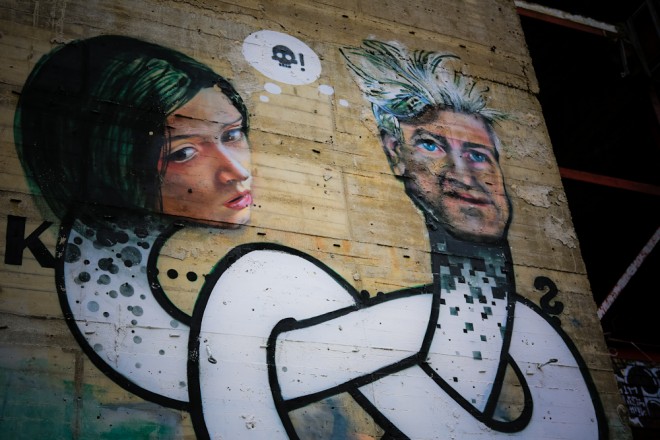 David Lynch loves this freaky site- so not shocking!
After spotting a large street art mural of David Lynch, I did some digging and discovered 2007 reports that the trippy American director planned to build a "Happiness College" (a Center for Transcendental Meditation)– on the site. I have no idea what the current status of that project is although I think it certainly seems like a place that David Lynch would dig. And Shalmon, our tour guide might benefit from a class or two at Happiness College.
The temperature dropped and the wind picked up sharply during our tour, and when we tried to leave early, we backtracked our steps to the place where we entered only to find it padlocked. This added a touch of authentic Soviet oppression to the visit. Once we tracked down one of the tour guides, he did indeed unchain us and set us free to flee back to the nearby Scheune restaurant (try the goulash soup– it's excellent) where we desperately fled for an opportunity to warm up.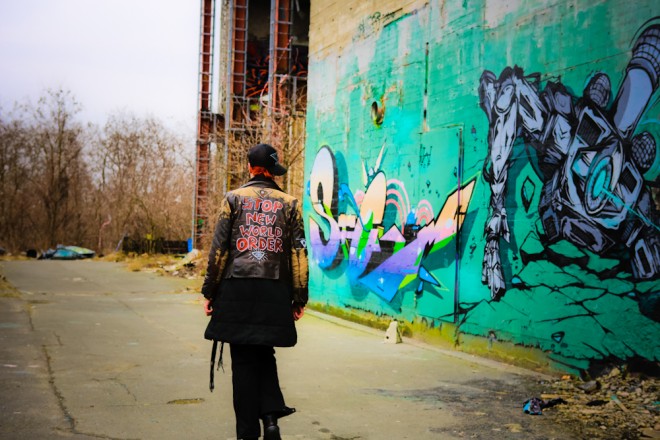 Street Art anarchist leather jacket sighting at Teufelsberg
For more information regarding tours of Teufelsberg Spy Station, check out this link. You also might want to read this excellent Abandoned Berlin Blog Post about Teufelsberg, which is likely more informative that your tour guide will be.
UPDATE: This post has been edited since it was originally published. On the Morning of March 14th, I received an unsigned email from Berlinsightout. This is what it says:
dear Jen,
Thanks about your comment about your tour on Teufelsberg. We're sorry for your bad experience during the tour. Nethertheless [sic], your article contains false information. First of all, its a private property so you're not allowed to enter the place on your own and you shouldn't advice [sic] more tourists to do so. We have a contract with the owners to open the place to the public. Normally it's not possible to enter the station (obligation of city authorithies) [sic]. Our aim is to open the place for the public but before that can happen we have to make the place secure. It's closed to avoid vandalism and to protect people. So please correct this information or we have to disappoint many tourist in future who are expecting that they can enter by themselves.
The Name of the tour guide is not Nicholas but Shalmon. We require you to correct this information and furthermore remove the picture of him because you're offending personal rights by making this public.
We would like to invite you to a guided tour with our tour guide Cris McLarren, who served on the "hill" as US Intelligence Officer (of course you'd be our guest). greetings, the team of the Teufelsberg
Editors Note: If you're planning a visit to Teufelsberg and speak English, you might want to request Cris McLarren's tour and avoid taking any pictures of your tour guides with a GoPro strapped to their head, you, too, might get chewed out, just like Lt. Aldo Raine in the genius final scene of Inglourious Basterds.