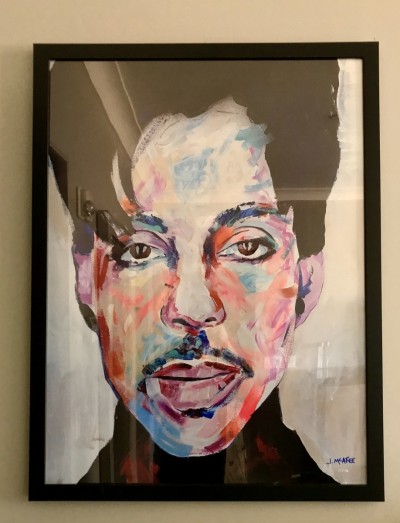 Prince art decorating the Performer Suite at the Loews Minneapolis Hotel
Last week I spent a few days in Minneapolis, Minnesota and used the opportunity to take the Official Paisley Park VIP Tour. I have always been a music fan and Prince has been an essential part of the soundtrack of my life. My brother and nephews live in Minneapolis and were game to join me on our trip to the suburb of Chanhassen where rock icon and musician Prince built his multipurpose estate and production compound in 1987.
Note: Paisley Park has a strict "no photos" policy, and asks guests to power off their phones when on the grounds. There is a photo opportunity available for purchase, where guests can have their picture taken next to a 10 foot high mural of Prince and get the image files on a Paisley Park flash drive. I bought this opportunity but my flash drive does not work, and I am attempting to get the image files from the staff at Paisley Park.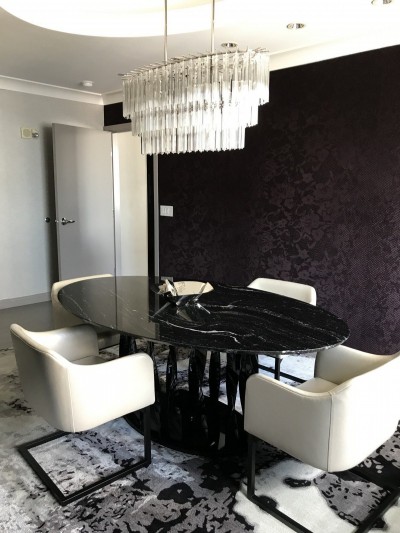 The dining room in the Performer Suite of the Loews Minneapolis
Prince died without a will, but while taking the tour it seems clear that he had thought about his legacy and had always had plans for Paisley Park to ultimately become a museum. The other guests on the VIP Paisley Park tour enhanced our experience immensely. They were all die hard Prince fans, most wearing purple clothing. All came from out of town and one said the ticket price to her first Prince show cost $7.99. The tour of the creative bubble universe Prince created at Paisley Park was fascinating, moving and at times surprising.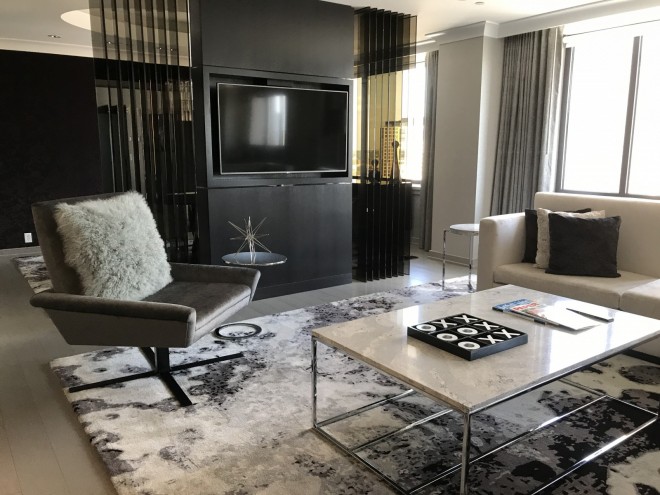 The living room of the Performer Suite 
Prince was very private and his living quarters at Paisley Park are not among the spaces guests are allowed to explore. Some of the highlights of the tour included seeing Prince's office, complete with coffee table books and personal photos and listening to unreleased jazz tracks Prince was working on in Studio A, where they were recorded.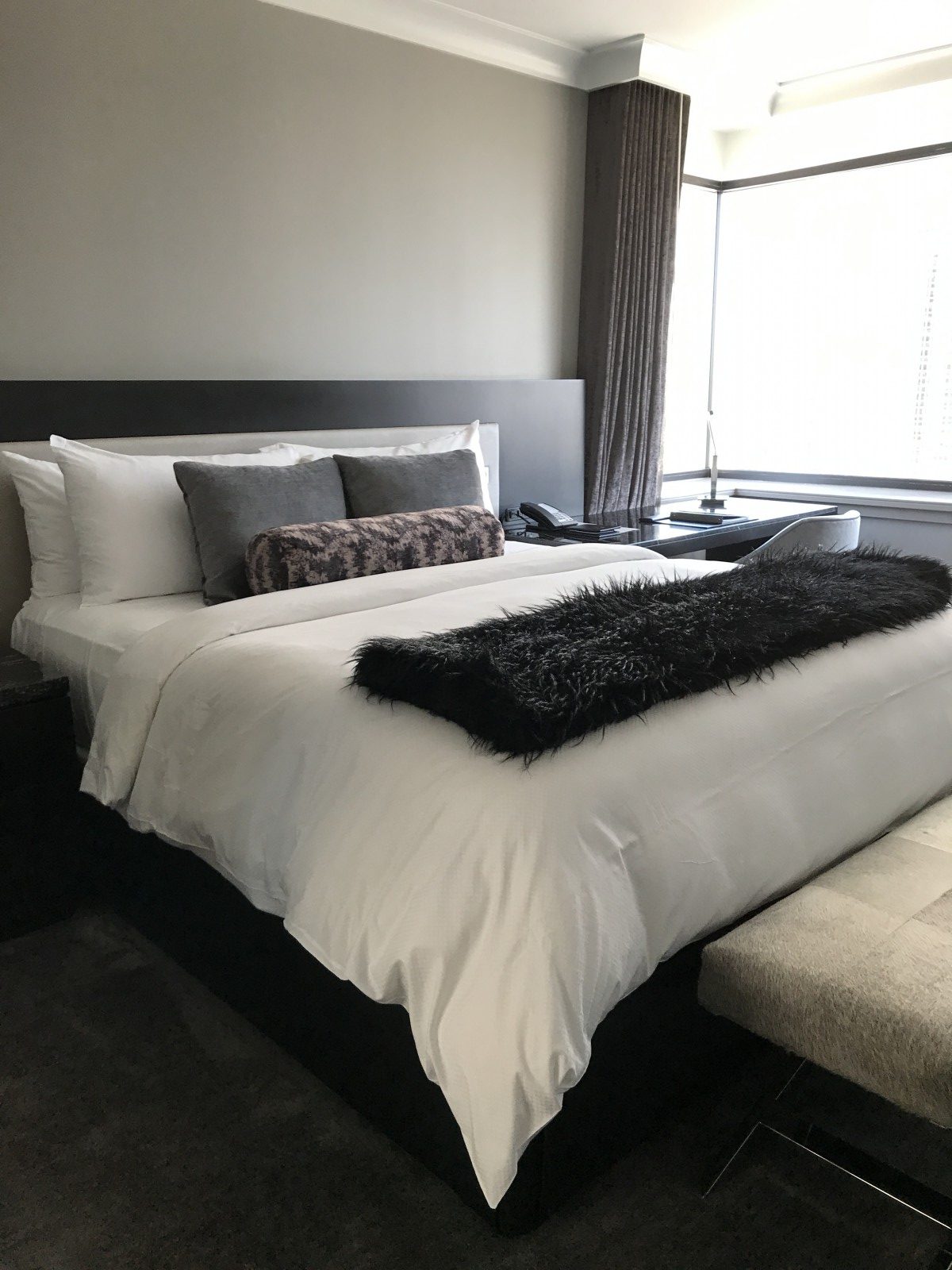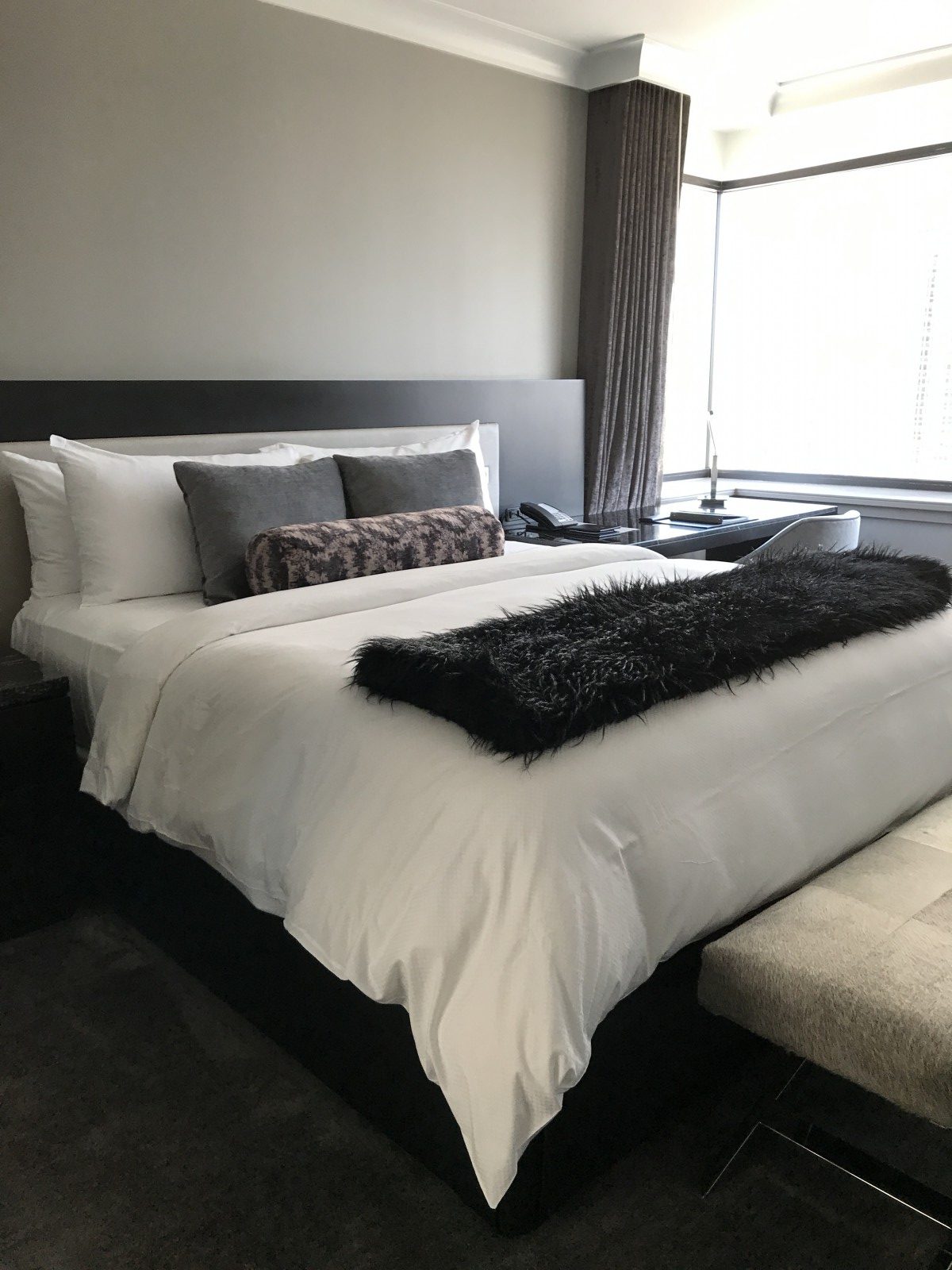 The bedroom of the Performer Suite at the Loews Minneapolis
Even those only slightly familiar with Prince's music will be impressed by the collection of gold and platinum records on display. The Academy Award Prince for Purple Rain was front and center in the Purple Rain room, as well as several Grammys (a few of which could use a polish).
The tone and seriousness our tour guide used was respectful and very human. It's clear that Paisley Park staffers were Prince's de facto family and those working there seemed reverential without coming off as fanboys. Several guests were moved to tears when they found themselves in front of Prince's urn, a replica of Paisley Park that is kept in the atrium of the complex, near where a trio of doves live in decorative cages.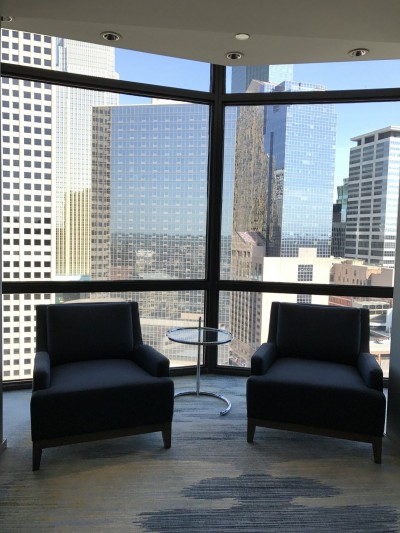 Waiting for the elevator at the Loews Minneapolis Hotel
Exploring the various rooms of Paisley Park many of Prince's costumes and shoes are on display and they do not disappoint. I felt like the tour fee was easily justified when the other guests on our tour spontaneously broke into song and dance in the Graffiti Bridge room. Even my high school and college age nephews understood how deeply Prince's work affected his fans.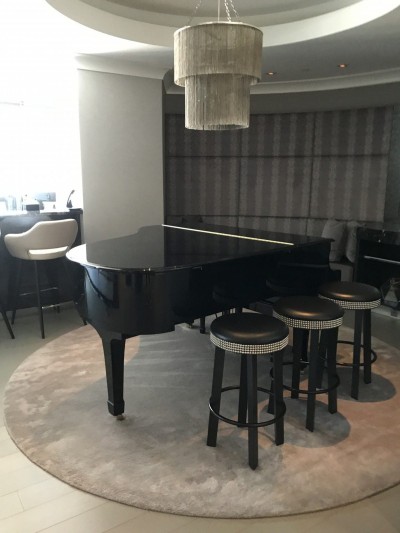 The baby grand piano in the Performer Suite at the Loews
Paisley Park's colorful Prince-centric murals and on-site night club further show how the musician created his own pocket universe. We even got a chance to paddle away on Prince's in-studio ping pong table. Video and audio clips are presented in the same spaces they where they were created. Many of Prince's musical instruments including multiple cloud guitars and custom pianos are sprinkled throughout the tour.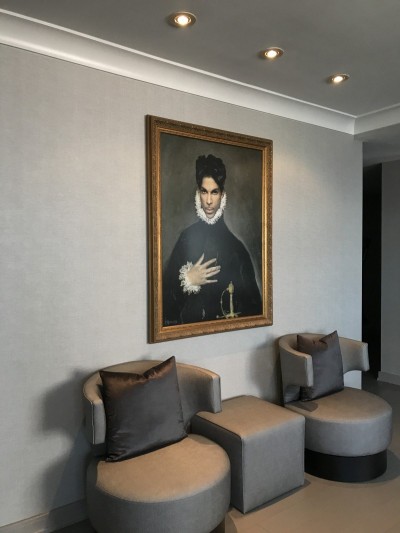 Prince art in the Performer Suite at the Loews Minneapolis Hotel
There is gift shop on the tour, complete with a cafe where guests can order the pancakes Prince was so fond of that have been immortalized in this David Chapelle skit.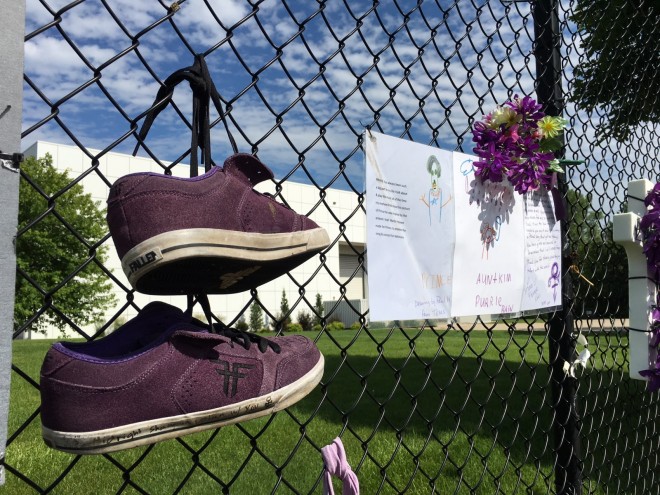 Fan Tributes at Paisley Park after Prince died in 2016
If you're visiting Minneapolis and want to further pay homage to Prince, I suggest staying at the Loews Minneapolis Hotel, where I stayed in the Performer Suite, which is decorated in muted grays and purples, complete with Prince art and and a baby grand piano.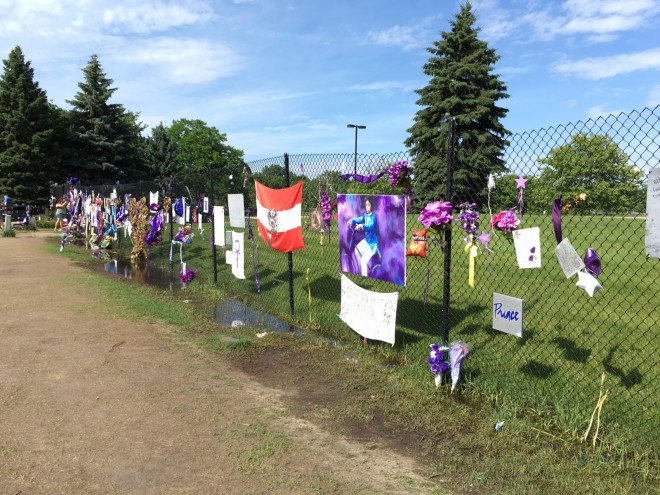 Prince Tributes put up at Paisley Park after the artist's death in 2016
The Loews Minneapolis also close to First Avenue, the legendary club that Prince performed at since 1981 and where several scenes of Purple Rain were filmed.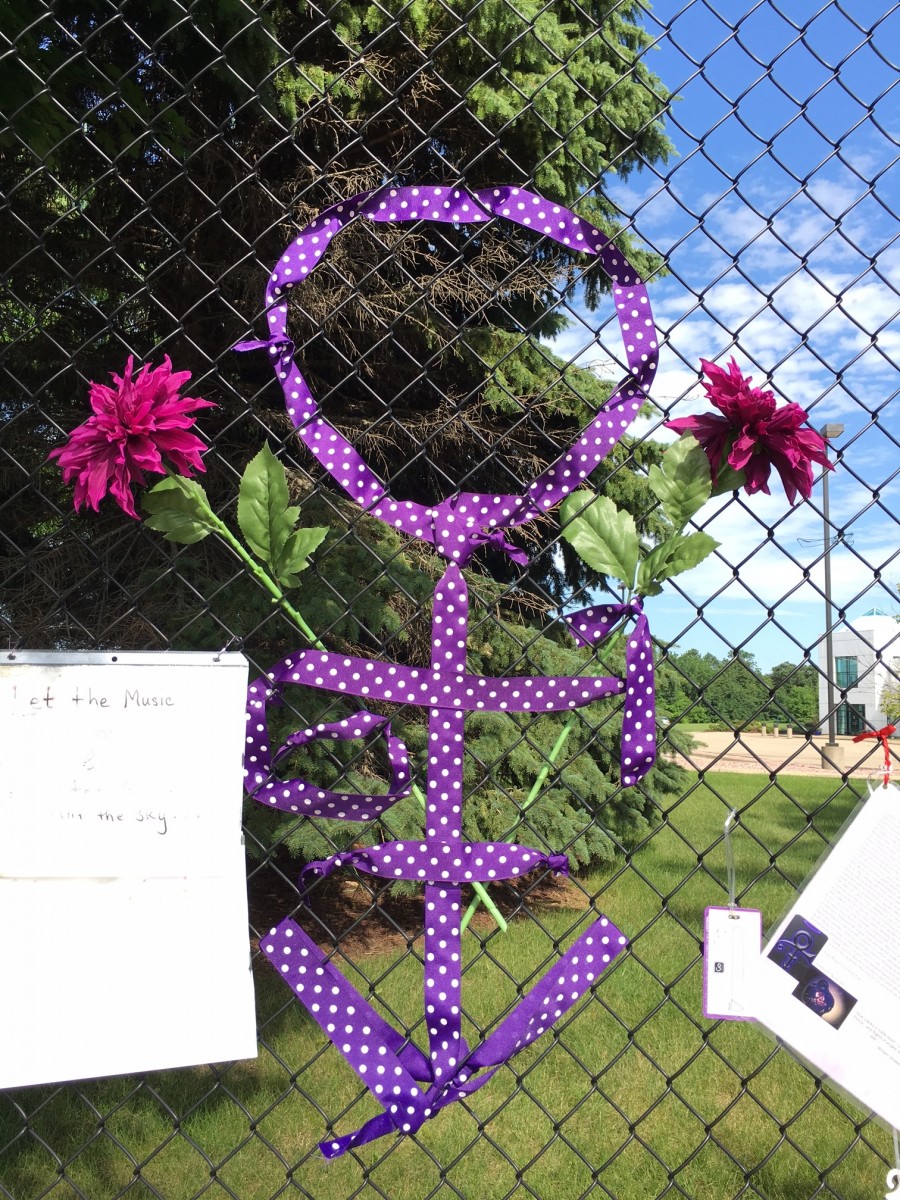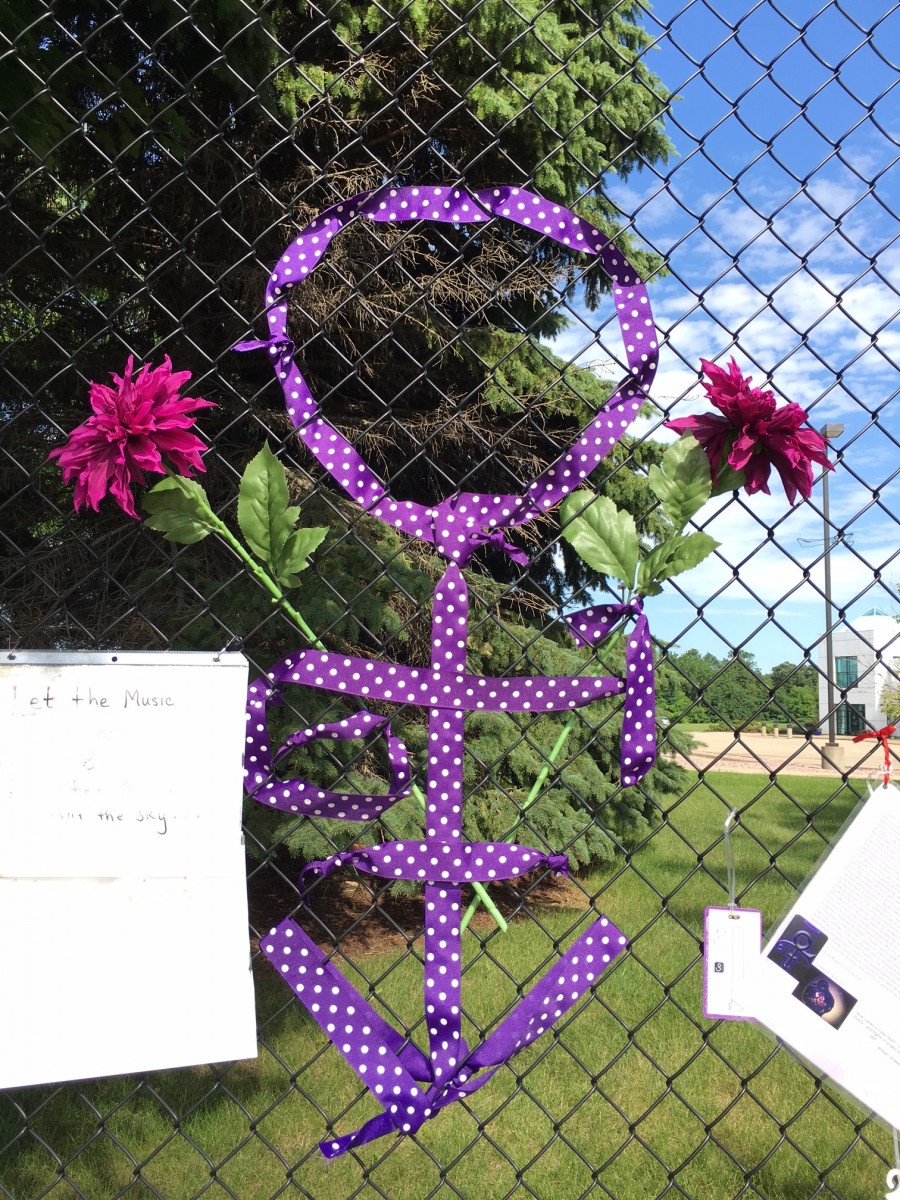 A purple symbol created by a fan at Paisley Park in 2016
LOEWS MINNEAPOLIS HOTEL
601 1st Avenue North Minneapolis, Minnesota, 55403
Phone: 612-677-1100
Reservations: 1-877-880-8918
Address: 7801 Audubon Rd, Chanhassen, MN 55317, USA
Paisley Park hours operation are as follows:
Monday and Tuesdays: 9:00 a.m. – 7:00 p.m.
Thursday: 9:00 a.m. – 7:00 p.m.
Friday : 9:00 am – 7:00 p.m.
Saturday: 9:00 a.m. – 11:00 p.m.
Sunday: 10:00 a.m. – 6:00 p.m.
Paisley Park is closed Thanksgiving and Christmas.
General Admission $38.50 (Additional $7.50 (service fee plus facility fee) per GA ticket )
VIP Tour $100.00 (Additional $11.75 (service fee plus facility fee) per ticket)