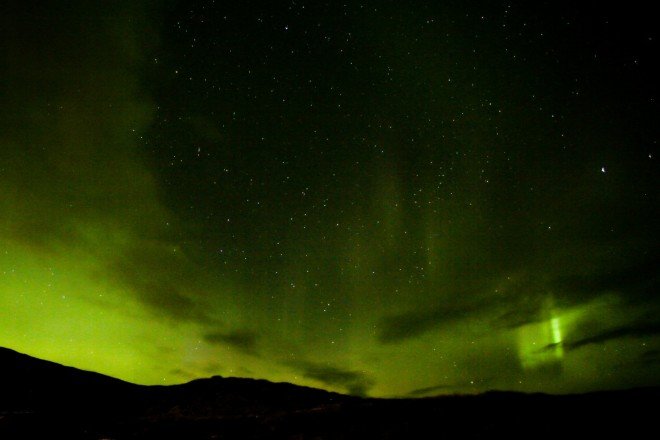 A view of the Northern Lights near Thingvellir National Park, Iceland
With it's proximity to the Arctic Circle and low light pollution, Iceland is considered one of the best places on the planet to view the northern lights. The best time to view the northern lights in Iceland is from mid-September until mid-April, with deep winter bringing the best chances. Even then, there is no guarantee you'll sight this elusive celestial phenomenon. I got lucky on the last night of my trip and saw (and to attempted to photograph) the northern lights last week.
Since the aurora borealis is most visible away from light pollution, I didn't even attempt to spot them in Reykjavik. Unfortunately this meant I was in a deep, jet lag-induced sleep when the northern lights made their first appearance!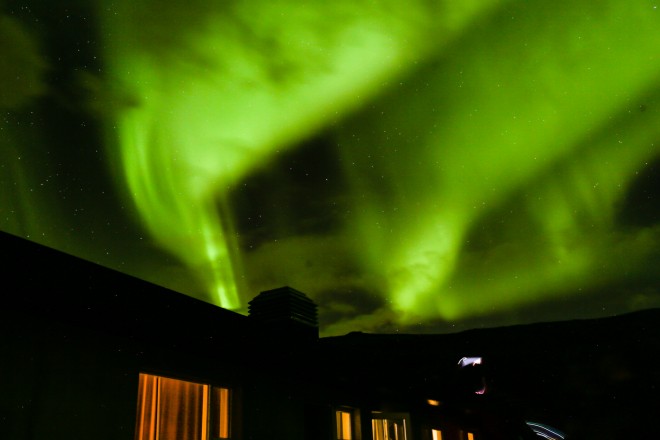 The Northern Lights above Ion Adventure Hotel
Also known as aurora borealis, the northern nights are an astrological phenomena caused by solar flares crashing into one another in the atmosphere (for a more technical definition, consult wikipedia).
While there is no guarantee you'll ever see the northern lights, Iceland's sparse population and proximity to the arctic circle is one of the best places to view them. There is even an Icelandic Aurora Forecast Tracker online to help, although even if there is aurora activity the clouds need to part in order for you to see it. The night before these photos were taken, aurora activity was predicted to be very high and I headed to the Jökulsárlón glacial lagoon with Jorunn, my photo guide and the aurora barely flirted and the clouds did not cooperate. I'm glad I bailed on that extremely cold attempt just after midnight so it wouldn't impact my shooting the next day. At breakfast, Jorunn overheard a photographer saying she stayed out past three am and never saw the northern lights.
Seeing the northern lights in real life was nothing short of an amazing experience that I cannot fully describe. But any photographer who is lucky enough to see the northern lights is going to be compelled to photograph them. The almost otherworldly celestial light is wildly tempting subject matter and, I must confess, a bit distracting.
The fifteen minutes display of auroral activity photographed in this post was one of the most beautifully serene and surreal things I've ever witnessed. Part of me wishes I witnessed the whole thing while sipping Brennivín enjoying the waves of light instead of playing with exposure lengths and f-stops.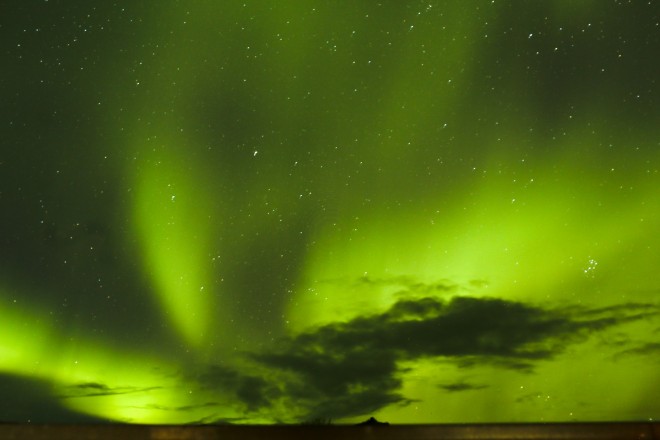 Starry skies and surreal streaks- the Icelandic Northern Lights
Viewing the Northern Lights was surreal and mezmerizing. Ancient Nordic people thought the lights were thought to be a sign from the heavens. Having seen their pulsating beauty, which comes in flickering waves where the streaky skies shift colors from green to purple and pink, I totally get it. I've seen amazing images of the the northern lights but to be honest, not even the best photo can do their shape-shifting beauty justice.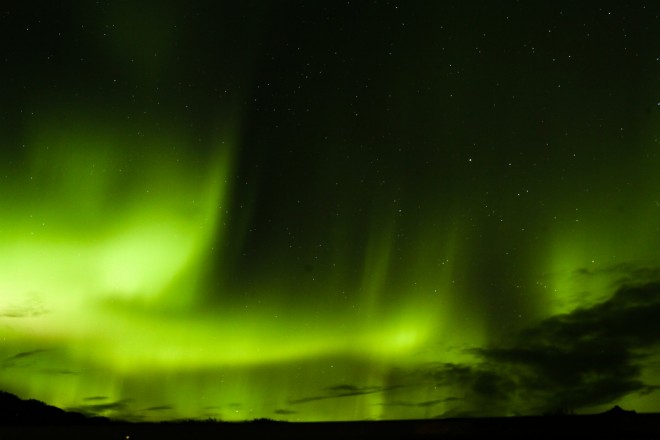 Aurora Borealis hunting in Iceland
Here's how I photographed the northern lights in Iceland. I did what I usually avoid doing if I can help it– I packed my tripod. Since I am not really fan of tripod shooting, I made it easy on myself by investing in a Really Right Stuff mid-sized ballhead for my tripod legs after reading rave reviews about it's ease of use. I'm really glad I did. It's by far the easiest tripod mount I've ever used and I didn't have to mess around with it much. I wanted pictures, but I really wanted to have the full-on Aurora Borealis experience! I am now less daunted by tripod use and I'm excited to use it in more night time photographic shoots.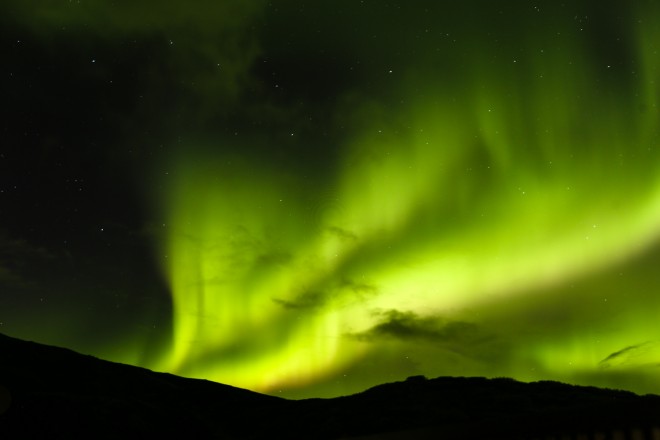 Streaks of pink shifting through the Aurora Borealis
I attempted to photograph the aurora borealis using two of my fastest wide angle lenses, a Canon 35mm 1.4 lens and a Canon 14mm f/2.8L superwide angle lens.
Once I got my tripod up, I aimed  my camera up at the sky and attempting to get something in the foreground (a touch of landscape, or of the roof of the Ion Hotel, where I was at the time) in the shot for a bit of perspective. I varied my exposure times between 8-15 seconds. I'm happy with the resulting photos for a first attempt. My next time around I'll probably use an intervalometer as a shutter release and to time my shots.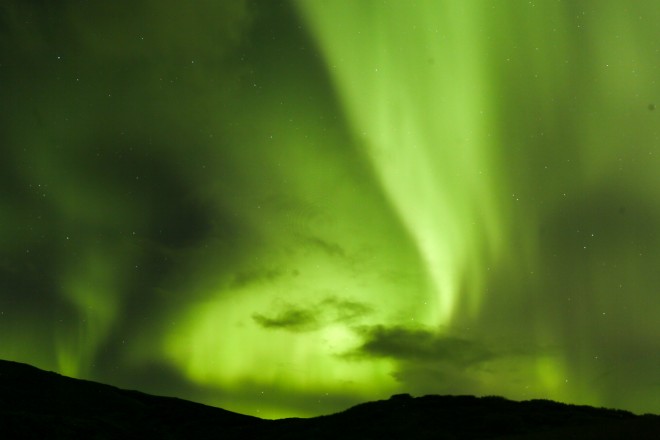 The Northern Lights Dancing in Icelandic Skies
I also attempted to photograph the Northern Lights with my iPhone 6s using a tripod mount and Slow Shutter Cam App. I had my tripod mount clamped to the edge of a deck railing and it was too dark to see what shot I was framing. Below is the best shot I got of the northern lights using my iPhone 6s.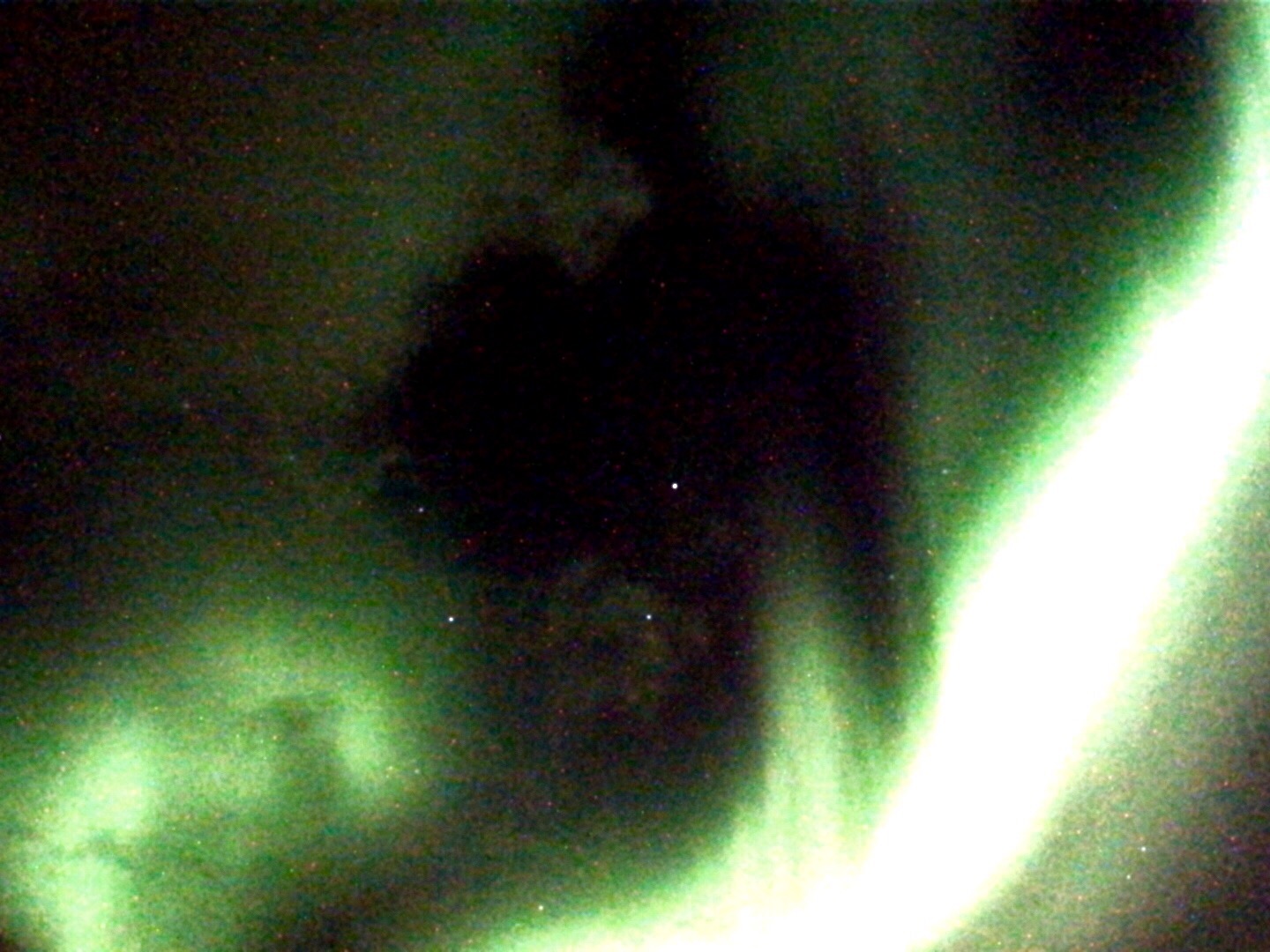 iPhone 6s Image of the Northern Lights
My iPhone image is grainy and my composure isn't great, but you can tell it's the northern lights!  Since this was my first experience photographing the northern lights, I concentrated more on shooting with my Canon 5D MK III, since I knew it had the best chance of getting a decent shot with it. If I were more familiar with using the Slow Shutter App, I think I would have had better results. But when you see the aurora borealis in real life, you want to just take in the phenomenal light show and not play with your cameras the whole time. I'm going to practice using this app more, so that I'll be more confident using it in the future.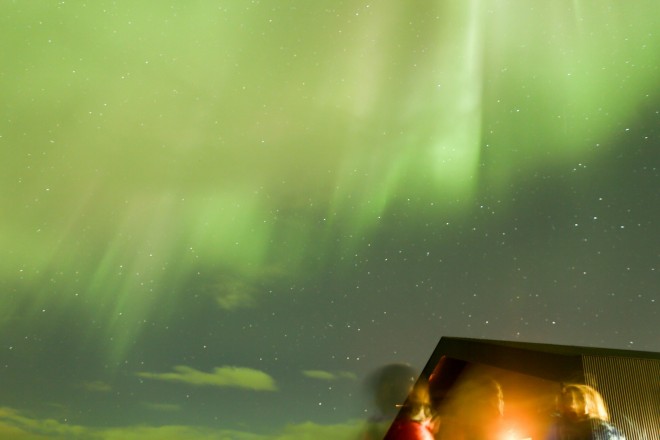 Watching the Northern Lights in Iceland
While the general rule to stack the odds in your favor to view the northern nights is too get away from light pollution, there was plenty of aurora activity in Reykjavik during my trip to Iceland. There are many tour companies offering aurora hunting experiences. There are also plenty of photo workshops for aurora hunting. I had a great experience with my day tours with Jorunn from Iceland Photo Tours and will rave about her in future posts.
 I'm hoping this won't be my last meeting with the northern lights. Photographer slash friend Ralph Velasco is leading an Artic Adventure of Lapland in the spring and I'm hoping to join. If there is aurora activity on that trip, I'm hoping to take my northern lights photography to the next level. It will make lugging my tripod so worth it.