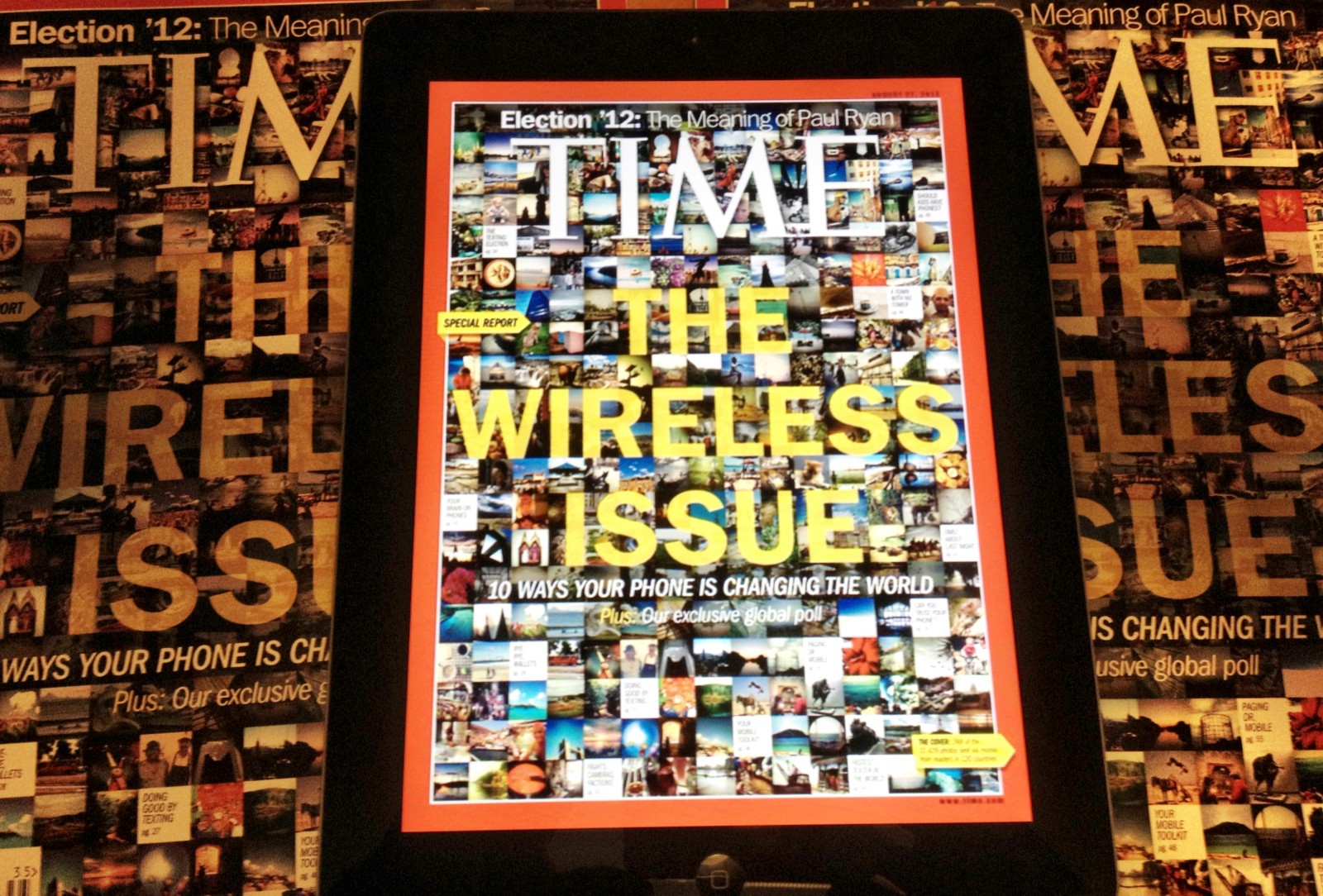 The My Life's A Trip team is proud to give credit and attribution to the instagram users behind 100 of the images that were used on the cover of the 2012 TIME Magazine The Wireless Issue through our Cover Breakdown and Instagram Username Identification Project.
Editor's Note: In August, I was surprised to discover 5 of my instagrams on the cover of the TIME magazine's 2012 The Wireless Issue. I was lucky to notice my instagram because it wasn't font blocked by headlines or letters, as most of the images were. Font blocking is nothing new for photographers who shoot magazine covers. A magazine cover image is always just a background for headlines. The bigger complaint I kept hearing on social media was that very few of the instagram users whose images were used were given any credit by TIME Magazine. A small selection of "editors favorites" made it into a slideshow on the TIME website, with those photographers credited.
Just because TIME Magazine didn't tell you if your instagram was chosen for the edit, that doesn't mean My Life's A Trip can't (or at least try to)! So I decided to have my assistant, Anastasia, lead a team of researchers from Dev-Pro to try and identify as many of the instagram images and users as possible.
The research team was able to identify 100 usernames in total. We are proud to give credit and attribution to the instagram users behind 100 of the images that were used on the cover of the 2012 TIME Magazine The Wireless Issue. The first 37 usernames are in this post.
Below is Anastasia's report about the project, which brings to light some of the issues and limitations of instagram's "mobile only" platform.
The cover for TIME Magazine's "THE WIRELESS ISSUE 10 Ways Your Phone is Changing the World" shows an edit of 288 Instagram photographs from across the world. And since the issue itself contains a lot of statistics and infographics that illustrates human dependency on smartphones and tablets, we decided to make an info graphic about TIME cover itself: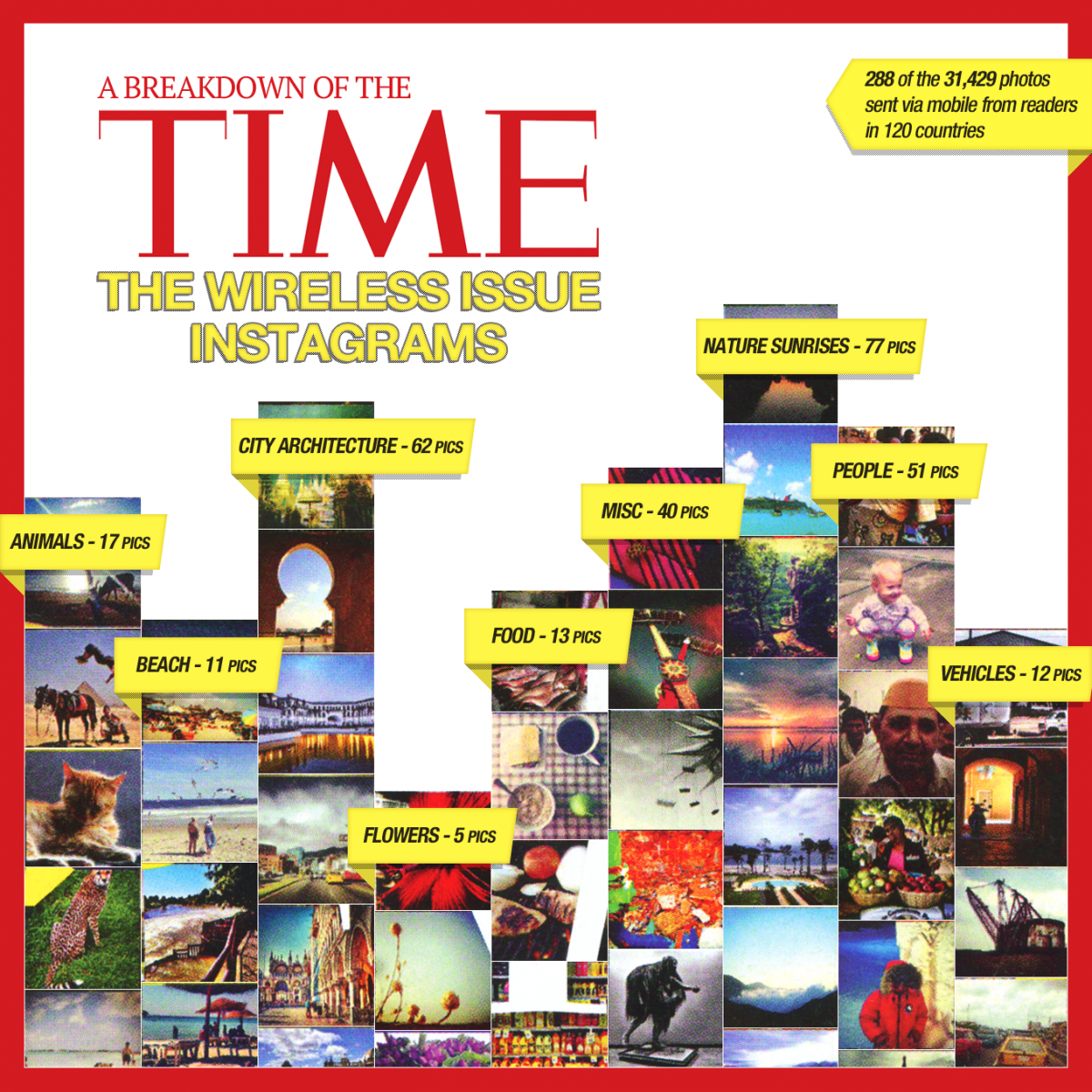 All featured Instagrams can be divided into the following categories:
Nature & Sunrises – 77 pics.
City Architecture – 62 pics.
People – 51 pics.
Animals – 17 pics.
Food – 13 pics.
Beach – 11 pics.
Vehicles – 12 pics.
Flowers – 5 pics.
Misc – 40 pics.
An attempt to find (and identify) the photographers of all Instagram images featured on the cover of the TIME Wireless issue became a real challenge. Since Instagram is a "mobile only" social media it still doesn't have a fully functional web viewer. Sites like Statigram and Webstagram allow you to search images by @username or #hashtag only, but not by date or, for example, two tags at the same time. The only way to find who those photos belong to was to check all 31,000 instagrams manually. This actually turned out to be over 36,000 instagrams because people kept using the #TIMEwireless hashtag even after the issue was published. It took a team of 4 researchers 24 hours total to identify the usernames who contributed 100 of the instagrams used on the cover. It took an additional 13 hours by two researchers to try and find contact information for these instagram users.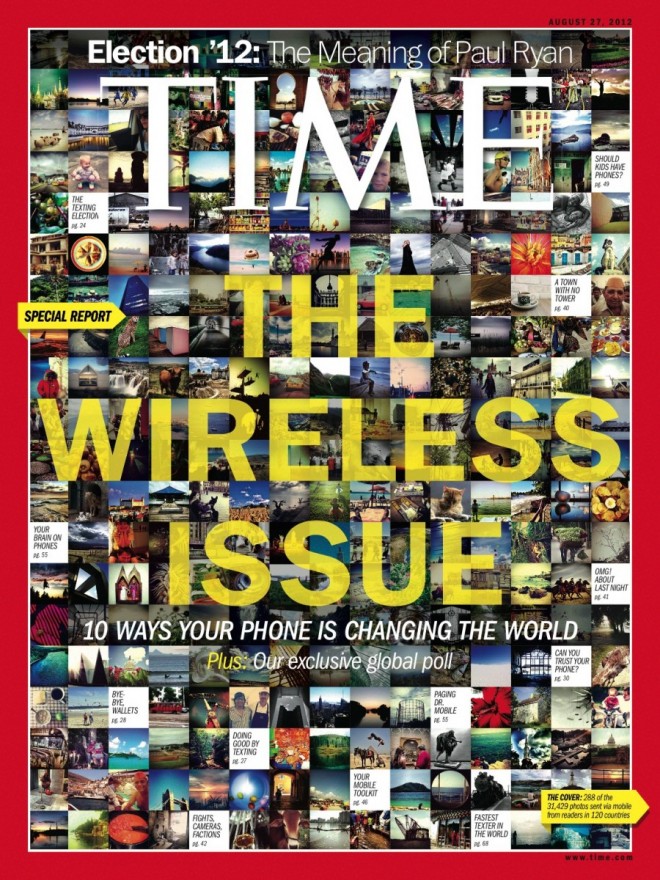 We are excited to share our results and the instagram usernames of the first 37 instagram users we've identified. This first group are users who have blogs (and thus are easier to contact). Only two of these users identified in the list below have work that My Life's A Trip was previously familiar with: Nicholas Carron of We are JUXT, a great mobile photography blog and collective of mobile artists; and Taylor Michie, an extremely bright high school student who writes for HuffPost Teen as well as his own blog listed below.
The first 37 instagram usernames (and names and associated blogs) are as follows:
Did you find your instagram on the cover? Or, maybe, you know someone who did? Help us to fill the gaps by adding a comment in the comments section below. We will identify more instagram users in future posts so stay tuned…