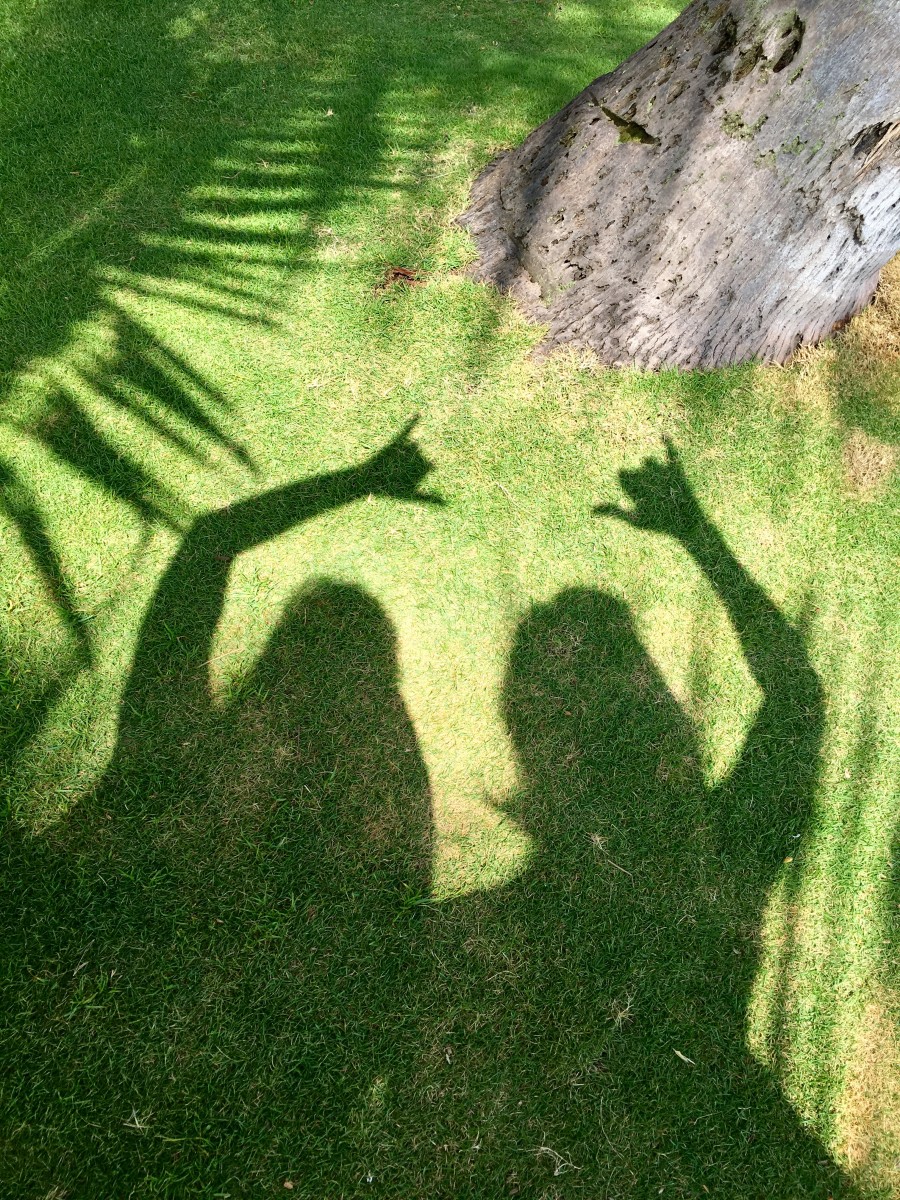 Shaka symbol shadow puppets on the Big Island
I just got back from  a girls trip to the Big Island of Hawaii. I decided to document our trip using the Boomerang App from Instagram on my iPhone 6s (Boomerang is also available for Android users). The Boomerang app creates short videos from bursts of still photos. Below are some of my favorite Boomerangs from the trip to the Aloha state.
Sunset Zen on the Big Island of Hawaii
The Big Island of Hawaii excels at sunsets. I took this Boomerang on the beach at the Fairmont Orchid Hotel on the Kohala Coast.
Hang Loose Shadow Puppets
The Hulihee Palace in Kona was once a vacation home used by the Hawaiian royal family. Built in 1838, it is now a cool Victorian era museum with a great collection of Hawaiian artifacts and pictures. You aren't allowed to take pictures inside the palace, so I made this boomerang of the "hang loose" shaka symbol. The shaka symbol is used as greeting in Hawaiian culture.
Rush Hour on the Kona-Kohala Coast
The waters off the beach at the Fairmont Orchid are perfect for swimming, kayaking and stand up paddleboarding. It's a great snorkeling spot as well. The local fish and giant turtles (known as honu) happily share this portion of paradise.

Hula Dancing on Hilo Bay
My friend, Zan Aufderheide, learned a few hula dancing basics during a tour of the Big Island. Here she is showing her mad hula skills on Hilo Bay.
Yummy Tuna Crudo
The Beach Tree Bar and Lounge at the Four Seasons Hualalai is one of best spots on the Kailua-Kona Coast to take in the sunset and enjoy a meal with a view. The tuna crudo (ahi sashimi) with spicy aioli was both satisfying and light and paired perfectly with the tropical cocktails. I recommend trying The Green Flash made with Patrol Silver Tequila, Grand Marnier, lime, cream of coconut, Genovese basil, and fresh jalapeno.
Yellow Flags at the Fairmont Orchid
I stayed at the Fairmont Orchid. The hotel has a lovely beach and bay which is a great place to snorkel with the giant turtles, known locally as Honu. These yellow flags amongst the palm trees gave a real sense of being on vacation.
Handsome Furry Local
Much of the Big Island of Hawaii used for ranching, complete with cattle and cowboys. I met this furry local, a dog known for guarding cattle up in Waimea. If you're in the area, try one of the locally sourced burgers at Village Burger. Located in an laid back strip mall, locals and visitors flock to Village Burger for their cooked to order Hawaii Big Island Beef Burger. I wasn't even hungry and I could not resist the delicious smell wafting in the Hawaiian breeze.
For best results, Boomerangs are best viewed using the Instagram app. If you're not yet following my Instagram, here's a link.