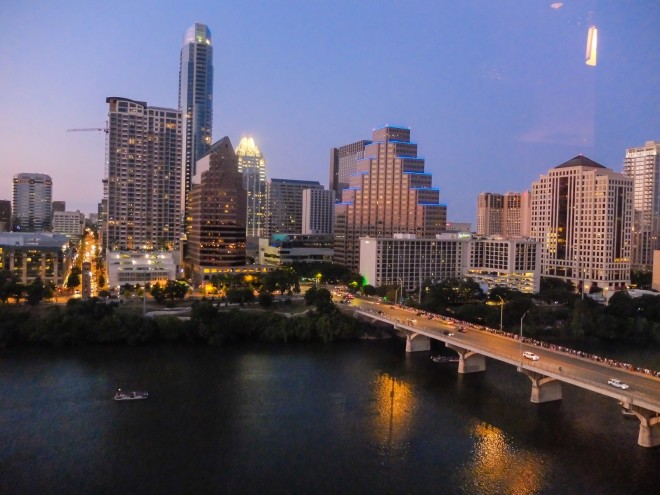 Waiting for Bats at  Ann W. Richards Congress Avenue Bridge in Austin
Austin, Texas is home to one of the largest urban bat colonies in the world. The estimated bat population varies between 750,000 and and estimated 1.5 million bats and one of the best places to view them is from Congress Avenue Bridge.
I spent this past weekend staying at the Hyatt Regency Austin, which overlooks this bridge. I was attending a Bat Mitzvah party on the 17th floor of the hotel, which provided a great view of people gathering at dusk to see the bats. I got really excited since the DJ kept hyping that the bats would be showing up "any second."
I even decided to try out the new Cinamatic video app in hopes of documenting some cool bat action on my iPhone.
Waiting for the Bats in Austin: A Cinamatic Video
What the DJ failed to mention–but local Austinites did– is that May isn't the best time of year to view the Austin bats. The bats spend their winters in Mexico and start migrating back to Austin in March. The best months for seeing the  (mostly) Mexican free-tailed bats are the summer months– a local told me August was the best month for bat viewing. If you're planning a visit to Austin I'd suggest checking out this nifty link from batcon.org which has twice weekly updates with estimated bat emergence times and suggested viewing locations.
While my bat viewing experience was a #fail,  I did enjoy using the Cinamatic app ($1.99 in iTunes) and now have an excuse to come back to Austin during the summer when more bats are in residence.