Editor's Note: The response to yesterday's TIME MAGAZINE: THE WIRELESS ISSUE COVER BREAKDOWN AND #TIMEWIRELESS INSTAGRAM USERNAME IDENTIFICATION PROJECT has been incredible. Several IGers contacted me and mentioned they no idea their instagrams were ever selected, which really makes all the research that went into this project worthwhile.
I want to note that I did write a letter to the editor after I found my instagrams explaining that it would have been nice to credit instagram usernames, but that letter to the editor was never published (to my knowledge). I've asked my assistant, Anastasia to further explain how the research project was conducted. Below is more information, as well as the names (and instagram usernames) of the IGers whose images we were able to identify. Congratulations to all of you! – Jen Pollack Bianco
To make it simple to find one particular image we've turned a cover into a kind of chessboard- with letters and number codes for each row and column. Now every image can be easily found. For example, Jen's instagram from Rome Piazza Del Popolo has 6O code. To find it on cover just go down the "O" column until you gain the 6th row. Here it is!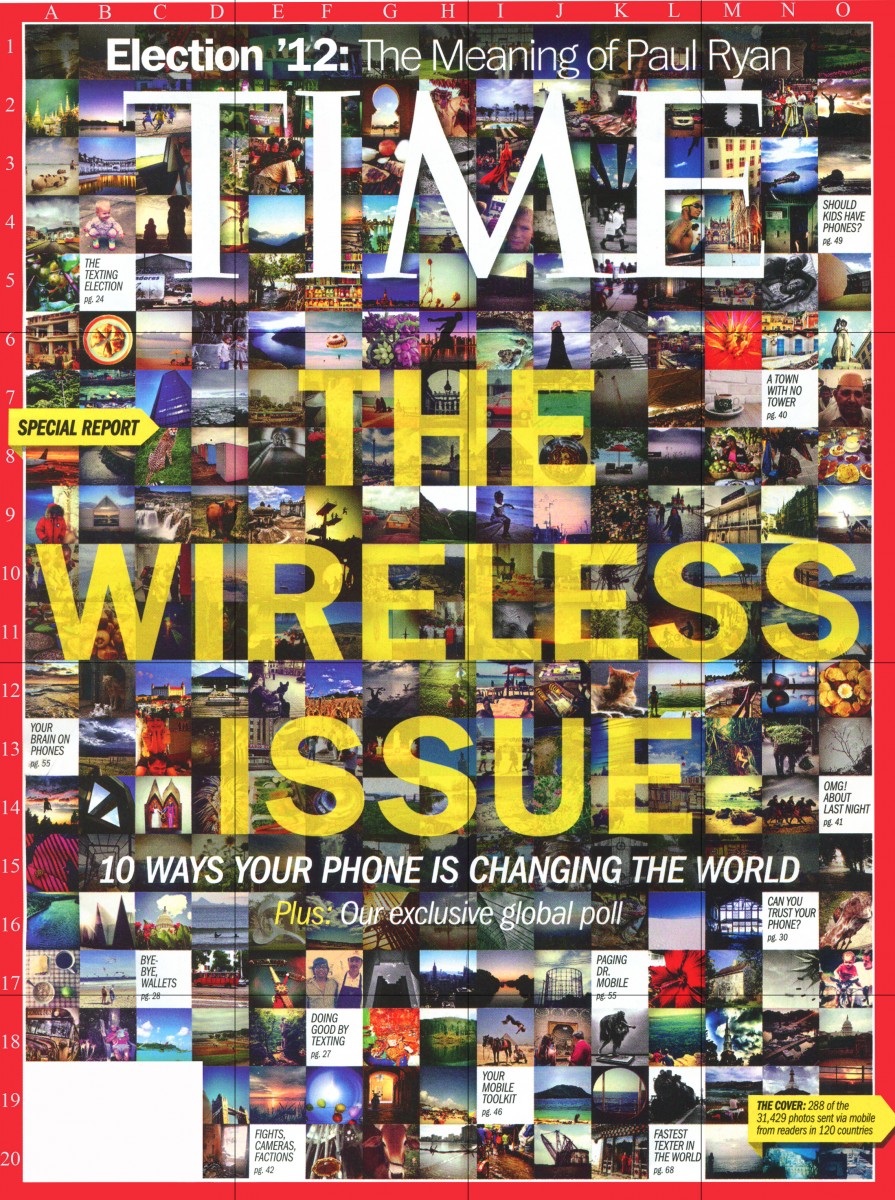 Now you can find every instagram we've identified. And here are 63 more, identified by location on the cover and their IG username, and real name (if given).
2B   barrosbarreto (Ronaldo)
2G  jma423 (Jennifer Maxwell)
2L   isabellanin (Isabella Nin)
2N  velazquez (Carlito Velazquez)
2O  vix_toria (Victoria Tucker)
3B   verosaucedo (Veronica Saucedo)
3I    caro866 (Caroline Pernelle)
3K   chaukut (Chaukut Lam)
4I    tseiell (Jussi Lindberg)
4L   prawindafitri (Prawinda Fitri)
4M goldie77 (Sylvia)
4N  uwa2000 (Uwa Scholz)
5G  _debbie_   (Debbie Leng)
5H  thelittlebean (Matteo Fagiolino)
5N  duppy_kankera (Duppy Kankera)
6B   shagun (Shagun Seda)
6F   apriliafitri (Aprilia Fitri)
6H  m1i1k1e1 (Michael Salas)
6K   arieltn (Ariel Nishri)
7C   kijisora (KIJISORA)
7H  bananas_mcgee (Joshua Carpentier)
7I    brzoska (Agnieszka Brzóska (now Filipiak))
8C   crjk_global
8D  beachstagram (Stefan Moone)
8E   nextstopvietnam  (Trinhi)
8K   abdulla667 (Abdullah(عبدالله)
8M gretwitta (Greta Sánchez)
9A  karensimas (Karen Simas)
9C   stangstagram (Jeff Stanger)
9L   jessvosk  (Jessica Voskoboinikov)
11I  tristwin (Tristan Winslow)
11L stillalin_ih (Alinda Kalalo)
12D  esposito13  (Udeshi Gurusinghe)
12E manowar75  (Björn)
12I ne_nzinga (Jose Zefu Kimpalou)
12L bebelere_balon (Bulent Cinar)
12M hessedabbisch   (Christian)
12N bebelere_balon (Bulent Cinar)
12O sdgareth (Gareth Evans)
13C landachka (Jane Landa)
14B kijisora (KIJISORA)
15A actor34 (Gokhan Kocaoglu)
15B  stangstagram (Jeff Stanger)
15D iheartcarl  (Yvonne Lafleur)
15M jakezen
16B paoo4 (Pao Ortega)
16C nathparis (Gueret Nathalie)
16G philipmostert31 (Philip Mostert)
16H misvincent (Melissa Vincent)
16L mischiru (Kevin Lau)
17A nurnenn (Anna)
17I adrenajeanne (Adrena Mohtadi)
17J Gretchen (Gretchen McHale)
18G holicker  (Richard Holicker)
18J beckysmarsh (Becky)
18K  kengeiger (Ken Geiger)
18O zevo  (Stephen Smith)
19D  reneeinlondon (Renee Lightner)
19H ilovecandylicious
19L m0ym0y  (Que Xee)
19N ghoshworld (Bobby Ghosh)
20J egurney39 (Ethan Gurney)
Please help spread the word about these IG users by sharing this post, especially if you recognize any of the users identified in this Instagram User Identification Project. And if there is a typo in your user name or if you know anyone else who should be identified, please add a comment below and we'll amend the post.