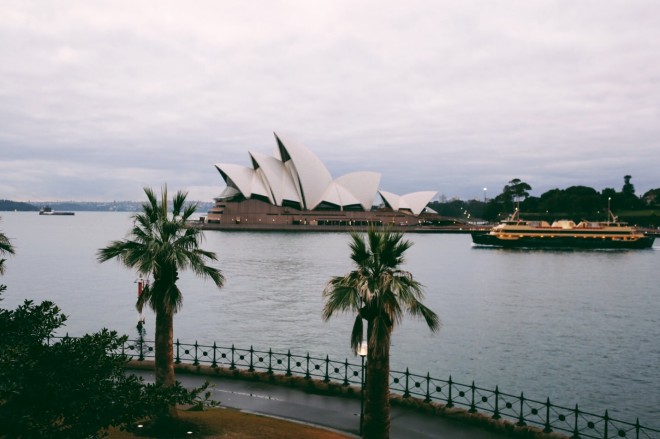 Cloudy morning view from the Park Hyatt Sydney, looking towards the Opera House
Traveling to Australia, where it's currently the middle of winter, during what is one of the longest weeks of daylight in the USA is really strange. While Sydney's weather is temperate year round, winter's shorter days can be kind of cloudy and rainy. Much like Los Angeles (during a non-drought year), it's pleasant, but not the stuff postcard views are made of.
The Park Hyatt Sydney has amazing views of both the Sydney Harbour Bridge and the iconic Sydney Opera House. My room, an Opera King, had two small balconies overlooking the Opera House. I shot one time lapse from each of the room's balconies.
Sydney Harbour awakens at Sunrise  (iPhoneonly video)
The moody winter clouds made for some dramatic, if not particularly colorful skies. I love watching the color temperature shift as the sun rose. I also like how this video has the jogging path in the foreground for some additional interest on the ground. Both time lapse videos in this post were shot using the native camera on my iPhone 6.
I travel with a portable clamp called an In Your Face Viewbase which I use as tripod. It's small enough that it fits into my bag or purse and is easy to travel with. It works as a tripod if you can clamp it to something.
Winter Sydney Sunrise overlooking the Opera House
The second morning there was a little more action on Sydney Harbour, so while the colors still don't massively pop, the boats are fun to watch. I can't resist shooting time lapse videos wherever I'm staying here. It's so much fun watching Sydney Harbour come to life in the morning, even if the weather isn't the greatest.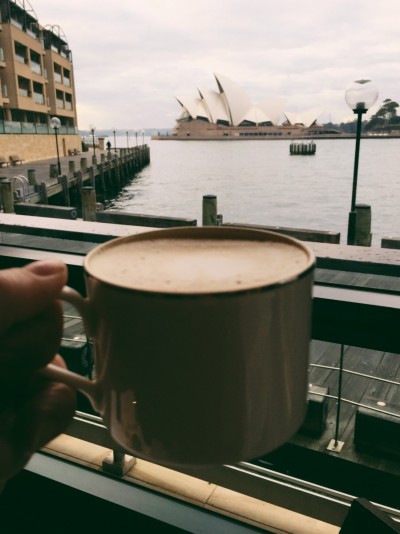 Enjoying a flat white on a winter morning at the Park Hyatt Sydney
My favorite Sydney time lapse video I've shot from this location was shot in October 2013, when the weather was better and my room was a floor lower. It's located in this previous post.
7 Hickson Road, The Rocks
Sydney, New South Wales, Australia, 2000