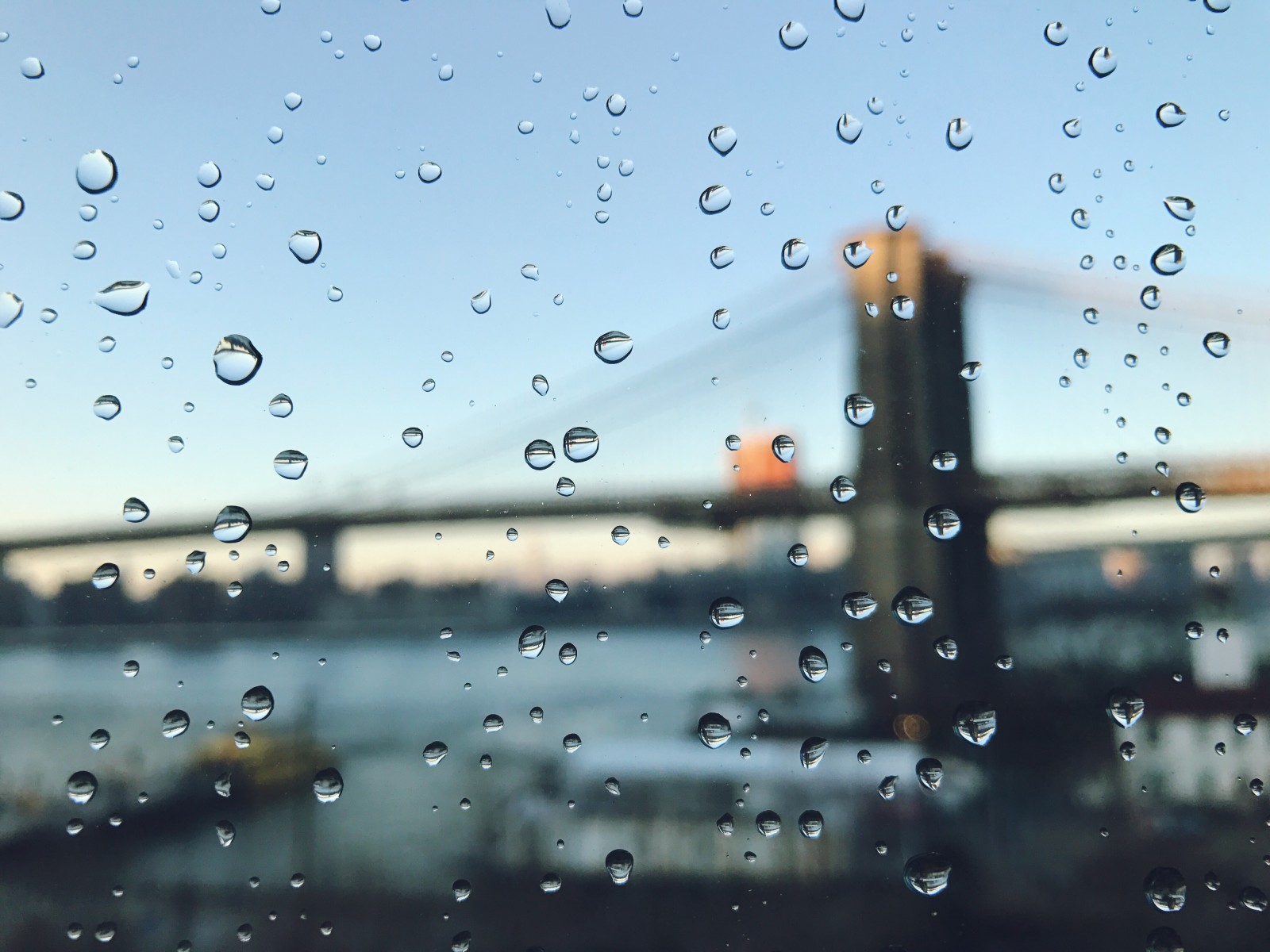 A view of the Brooklyn Bridge from my Bridge View King room
I recently went to New York City for a quick trip and wanted to try staying someplace new. I'd heard good buzz about the new eco-luxury property 1 Hotel Brooklyn Bridge, the third property from from the chic brand, 1 Hotels.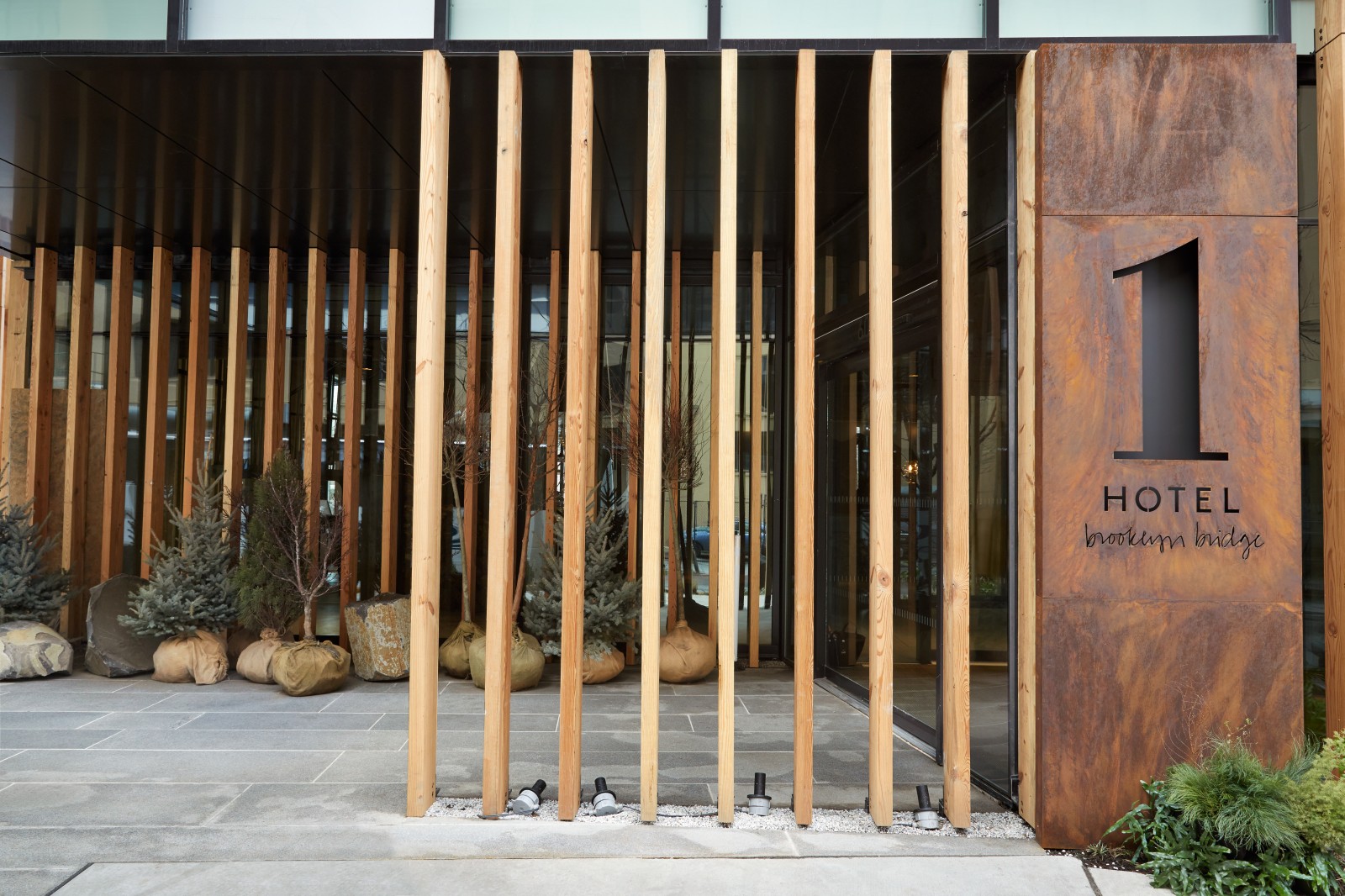 Exterior of 1 Hotel Brooklyn Bridge
The 1 Hotels brand has the right kind of buzzwords attached to it… including a mission to be "nature led" and a core philosophy that states "The world around us is beautiful, and we want to keep it that way." Sometimes having so many on point keywords can make a place feel "too Gwyneth" and preachy.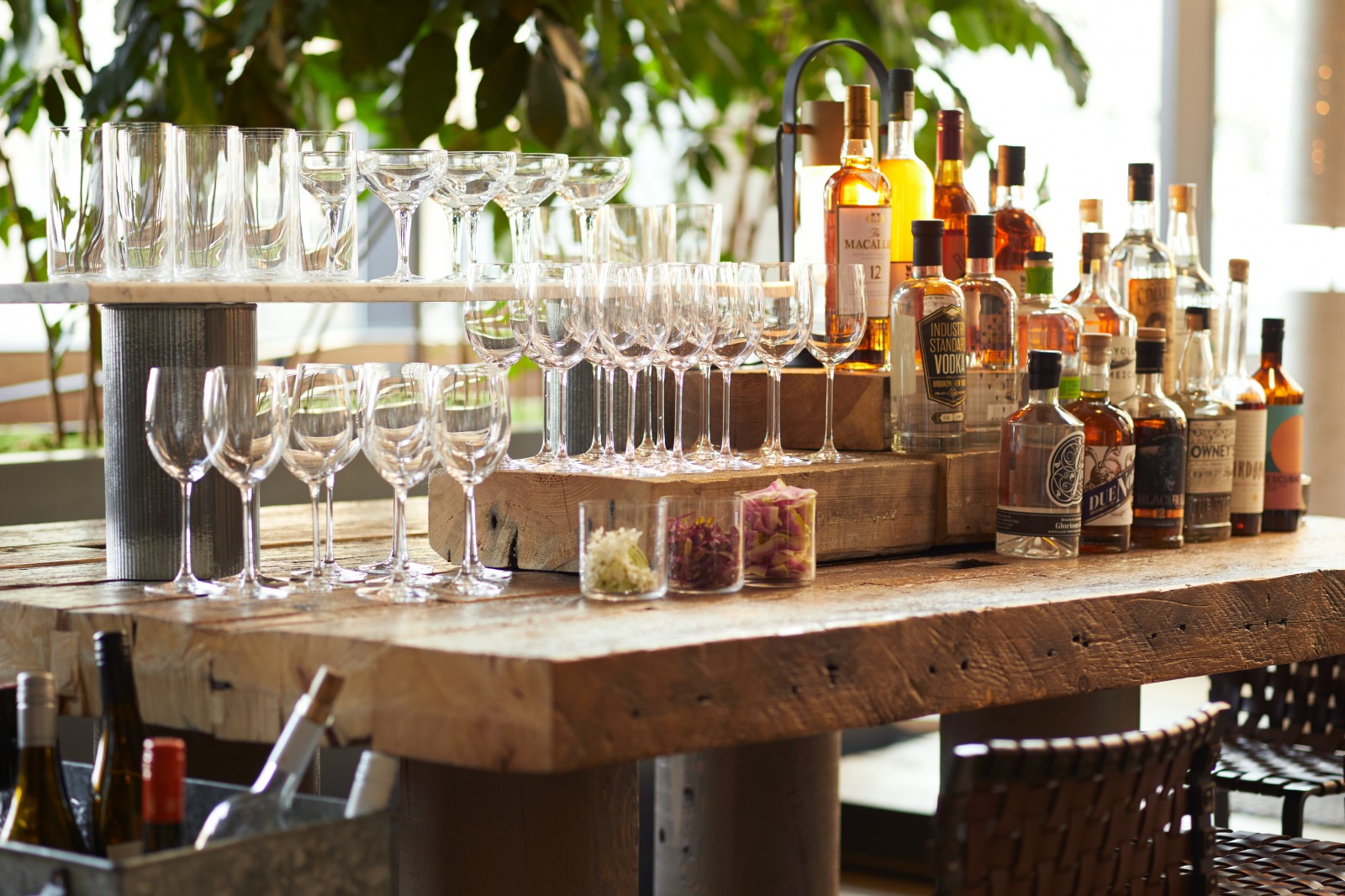 The lobby cocktail area
I was pleasantly surprised to discover the vibe of the place is pretty chill. It's only when you pay attention to the details that you discover how thoughtful they are.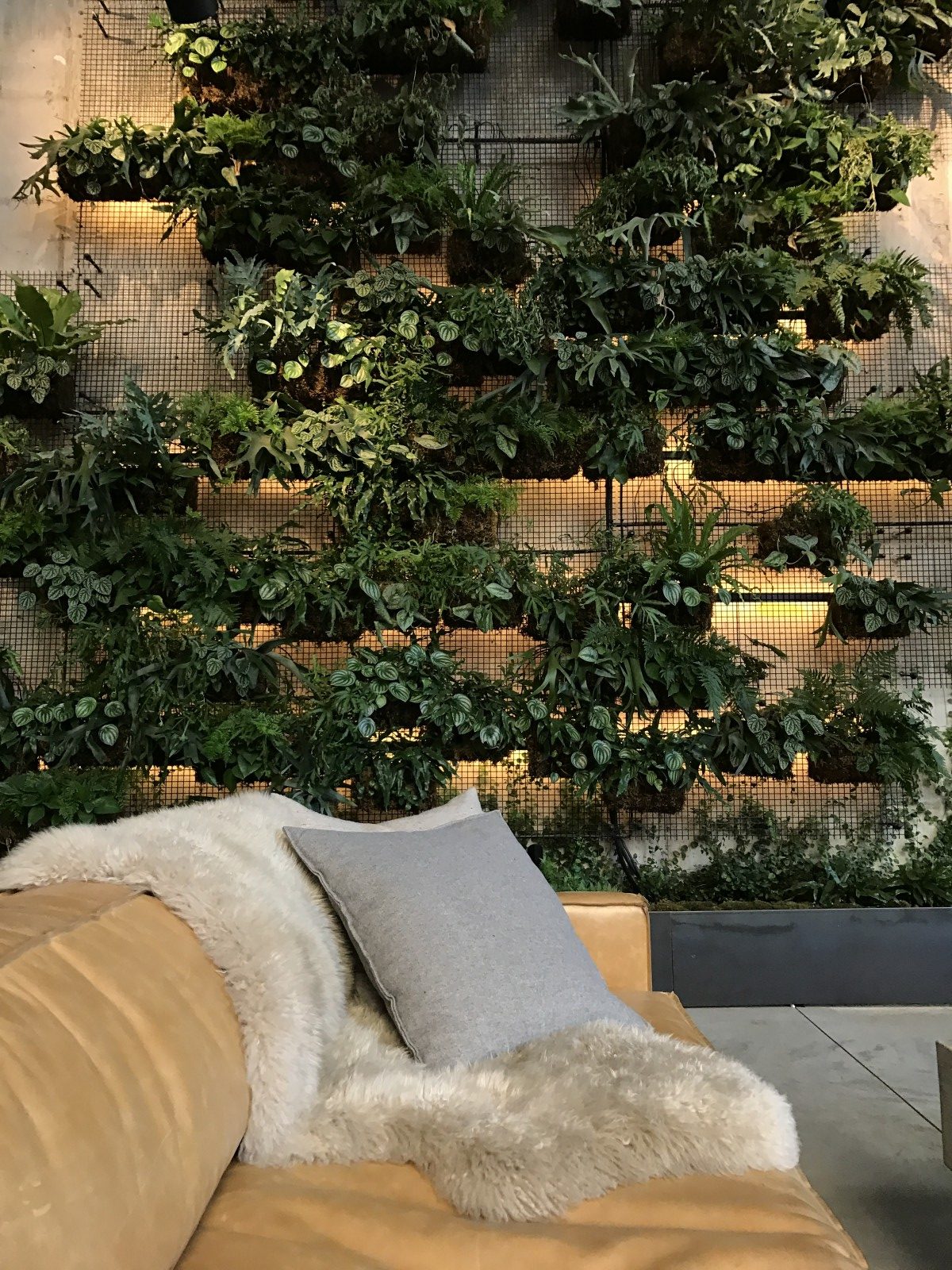 The 25 foot green wall in the lobby
Not to be shallow, but 1 Hotel Brooklyn Bridge is a stunner. The property, which is the first ground up build from the brand, looks industrial chic and blends in perfectly with it's DUMBO neighbors. The lobby features an impressive 25 food vertical garden and rustic yet warm eco-conscious design. But you're not sacrificing comfort for style. All the small things work in this hotel. The upcycled wood chip room keys are clever and feel fresh. But when you discover to the repurposed pine flooring originally came from the Old Crow Distillery in Kentucky, you get the sense that 1 Hotels is the real deal. It's chic, it's cool… and it's confidently laid back.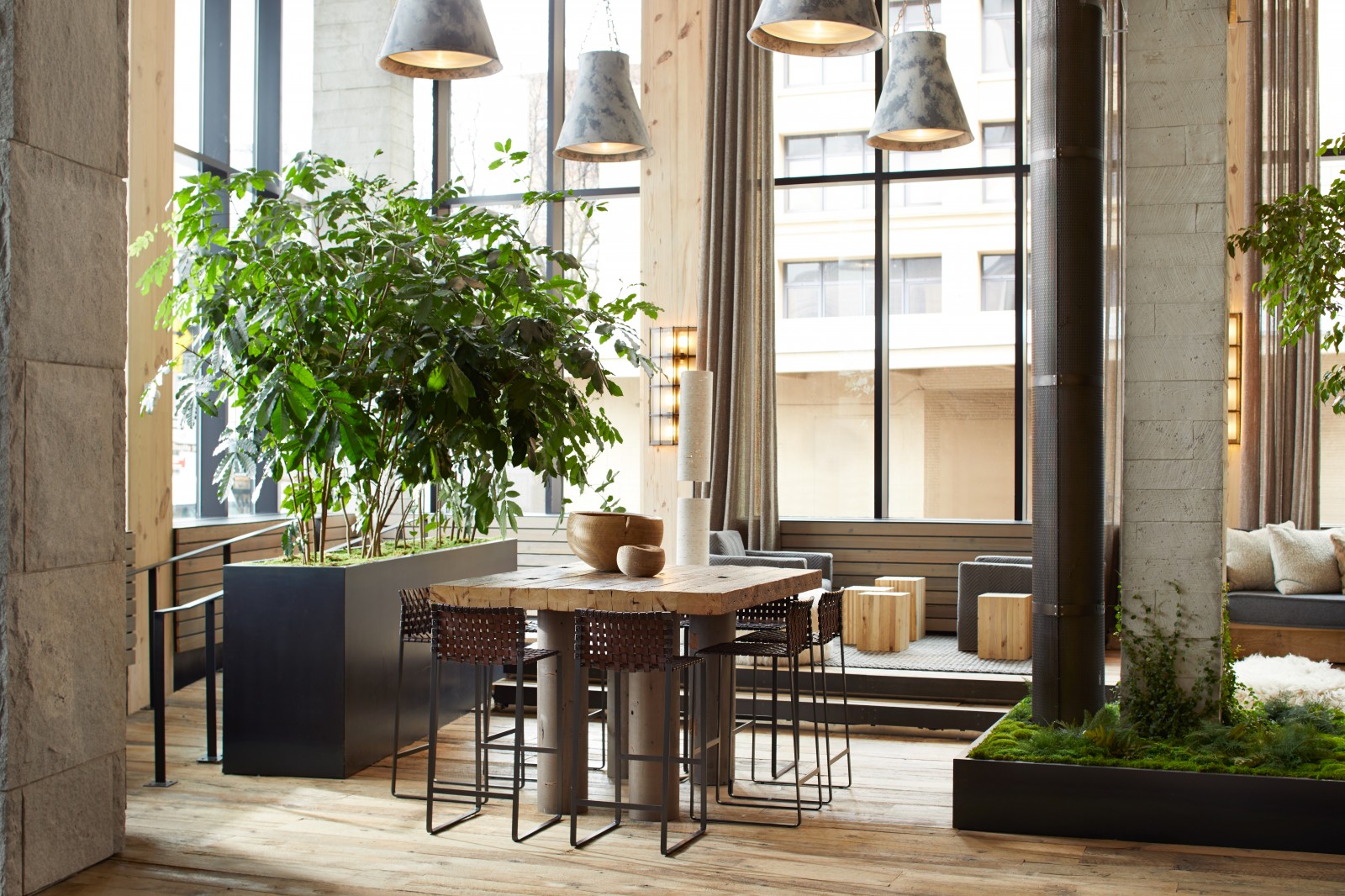 A communal table in the lobby
Many NYC hotels have impressive lobbies and shoebox sized guest rooms. Fortunately that's not the case at 1 Hotel Brooklyn Bridge. My Bridge View King Room was large enough to be comfortable for two people, and well-designed so that there was no wasted space. It also had a cool triple water filter so that guests can have tasty and clean water at their disposal without the clutter of plastic bottles. and the built-in dining area served double duty as a desk when it wasn't occupied with a room service tray.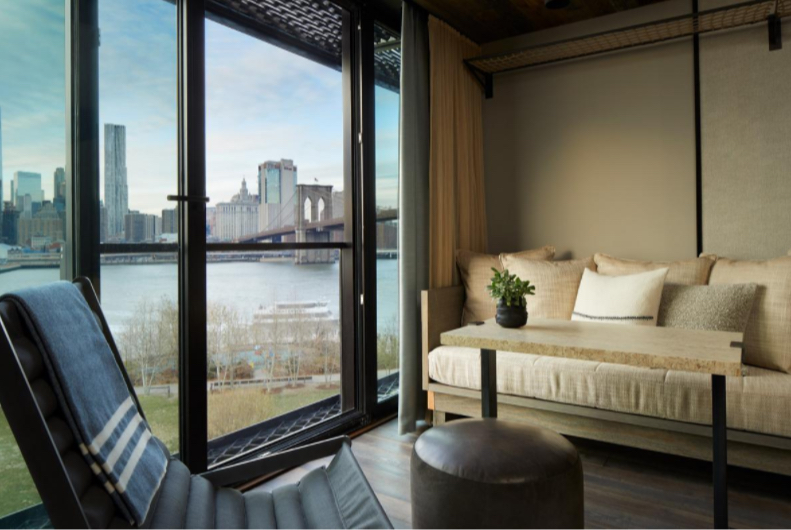 Smart storage above the built-in dining area
The hotel also has a complimentary shuttle. It's a Tesla that will drop guests off within a three mile radius and is available on a first-come, first served basis.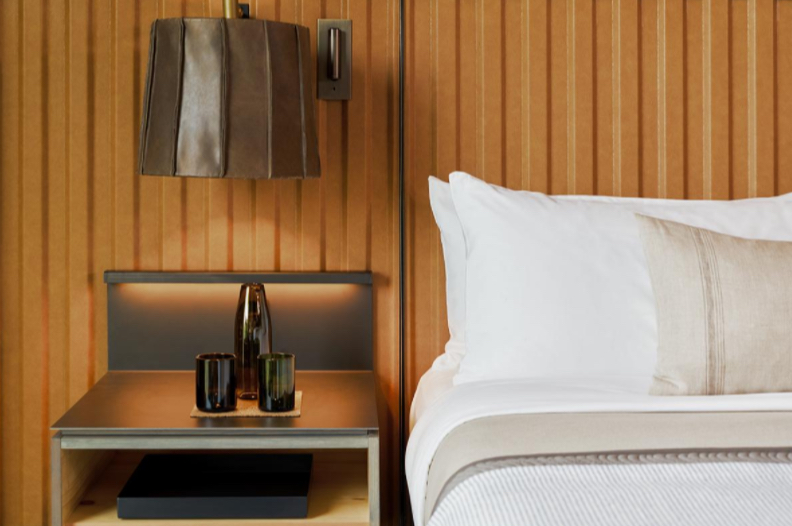 Comfortable bed, excellent storage in the nightstand
Guest rooms are designed with comfort and usability in mind. The design packs a lot of storage punch, with enough closet space for a couple and bonus coat hooks.
Fabulous robes at 1 Hotel Brooklyn Bridge
My stay was quick but I look forward to coming back to 1 Brooklyn Bridge to check out the hotel's spa and 10th floor lounge, both set to open this summer. In the meantime, the cocktail service in the lobby was top-notch and included small plates from Neighbors, the minimalist chic Brooklyn-centric cafe off the lobby.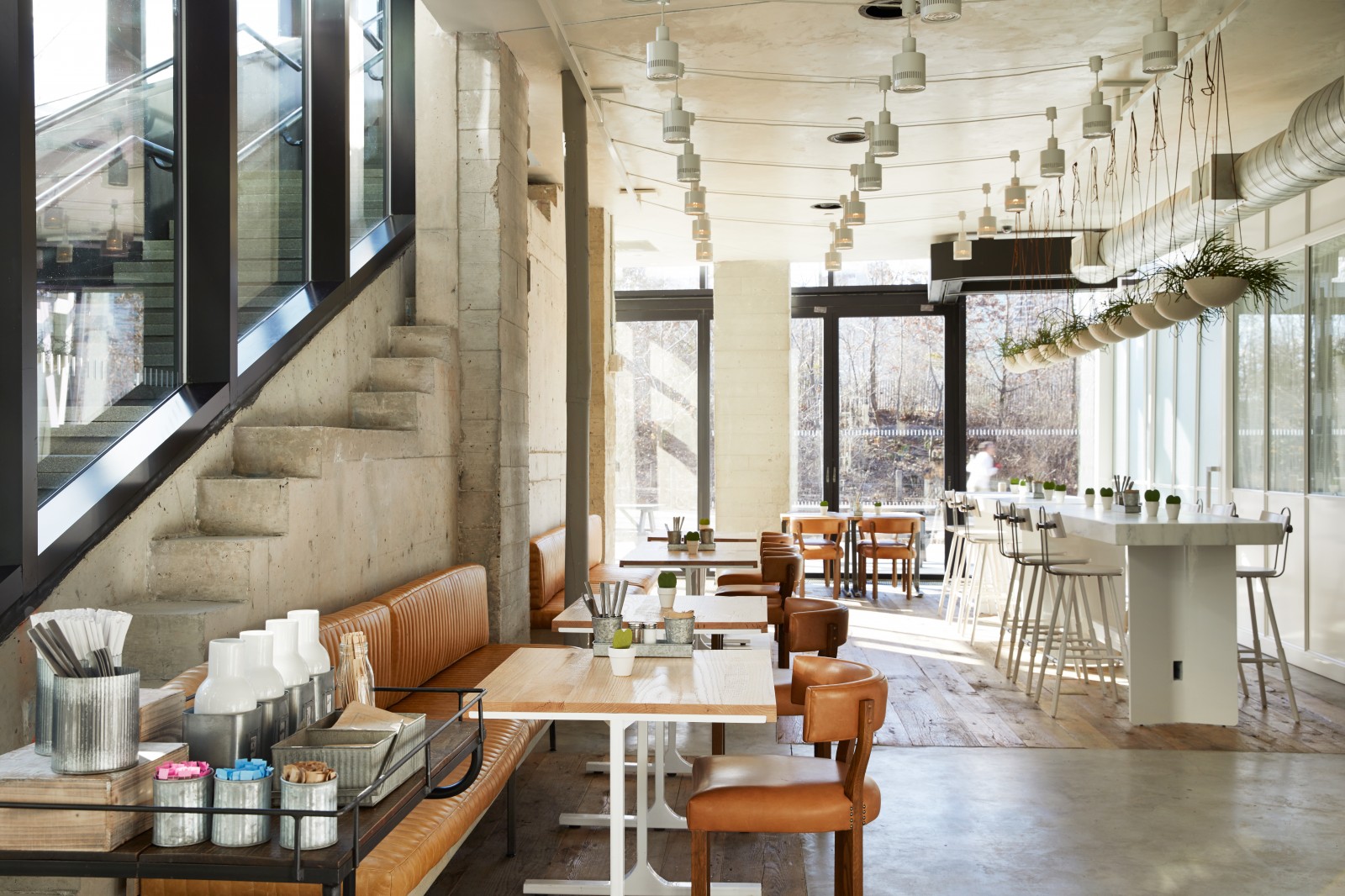 Interior of Neighbors
Most guests might won't notice that the property operates on 100% wind power energy or that the edgy/cool sculpture by Jarrod Beck was created from pieces of salvaged roofing found in aftermath of a tornado. But learning these details don't make you like the property any less. They draw you in deeper. I'm curious what I'll learn about the hotel on my next visit.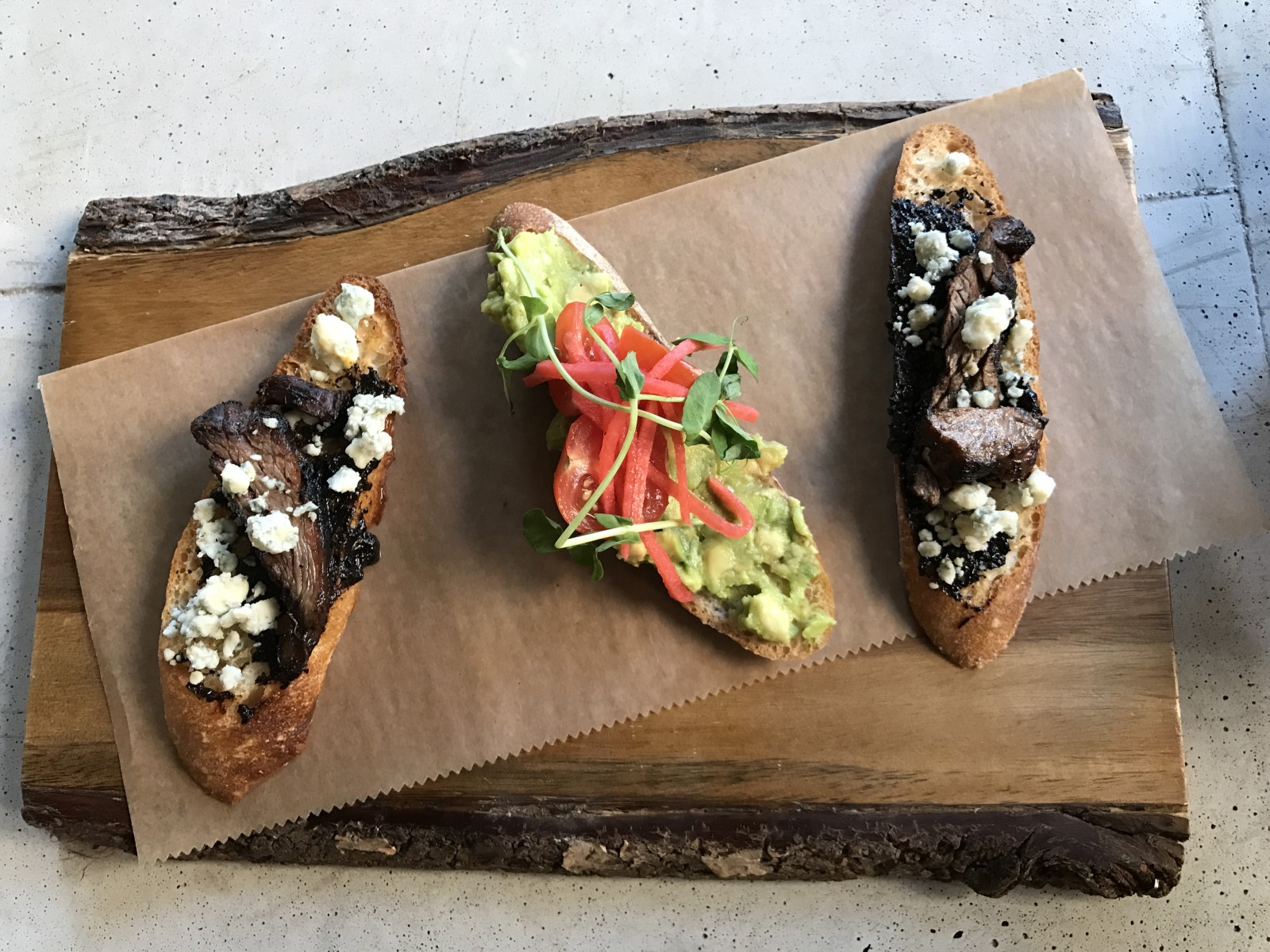 Delicious crostini with lovely presentation in the hotel lobby
In addition to be comfortable, stylish, and well situated at Pier 1, 1 Brooklyn Bridge goes out of it's way to be good with the 'hood. I enjoyed getting my morning coffee at Neighbors next to locals using their neighborhood discount. The cafe's menu had all sorts of locally sourced artisanal Brooklyn goodness one would expect. Mixing with the locals definitely added to the home-away-from-home attitude of the property, and added to the organic sensibility of the hotel.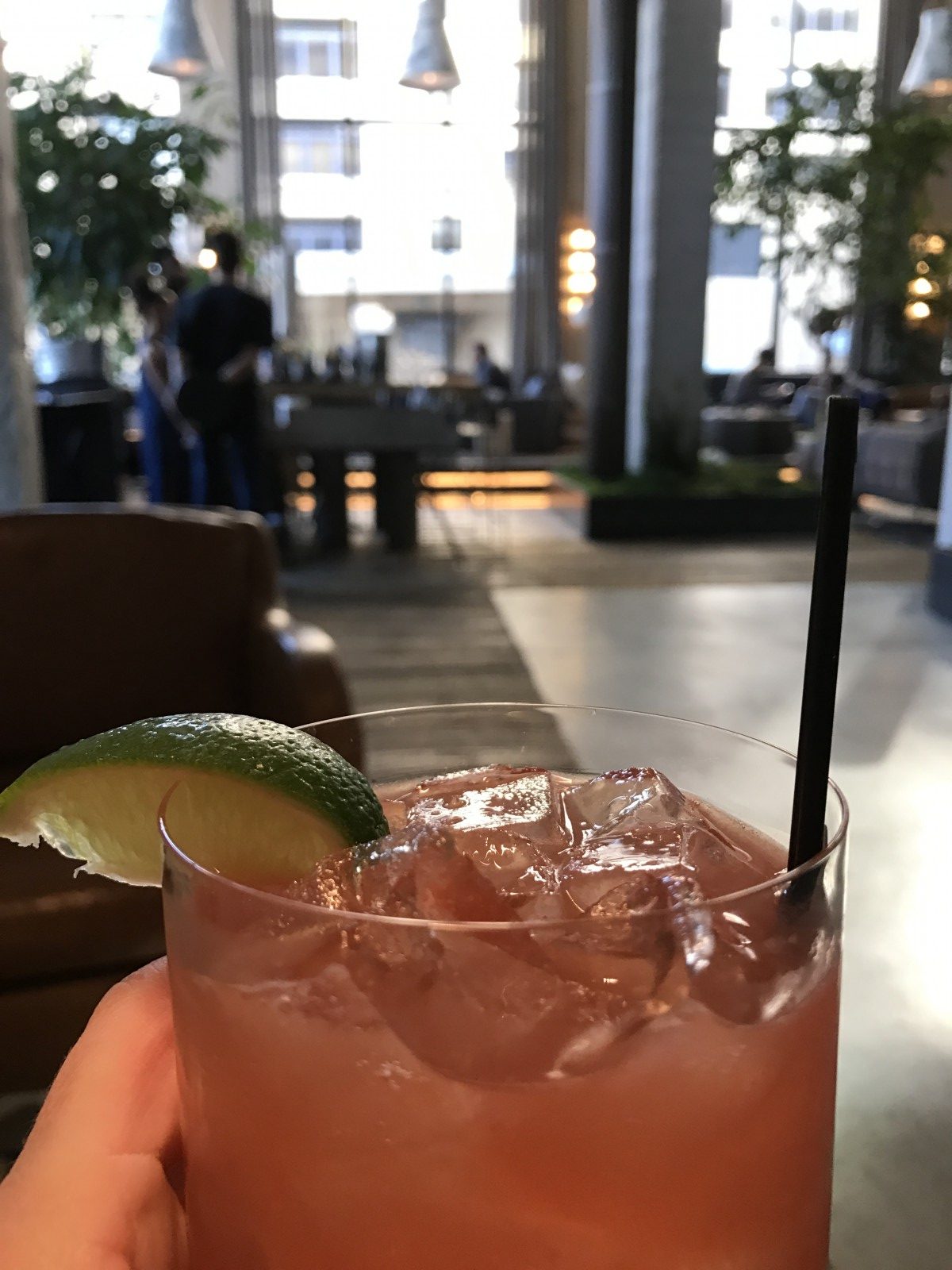 Cheers to 1 Hotel Brooklyn Bridge
Wifi was speedy and easy to connect. Service was great and devoid of attitude.
My biggest complaint? The property doesn't have gift shop and the fluffy terry robes were so comfy I wanted to take one home.
1 Hotel Brooklyn Bridge
Address: 60 Furman St, Brooklyn, NY 11201, USA
Phone: +1 347-696-2500
Rates from $509 per night (I paid a media rate).