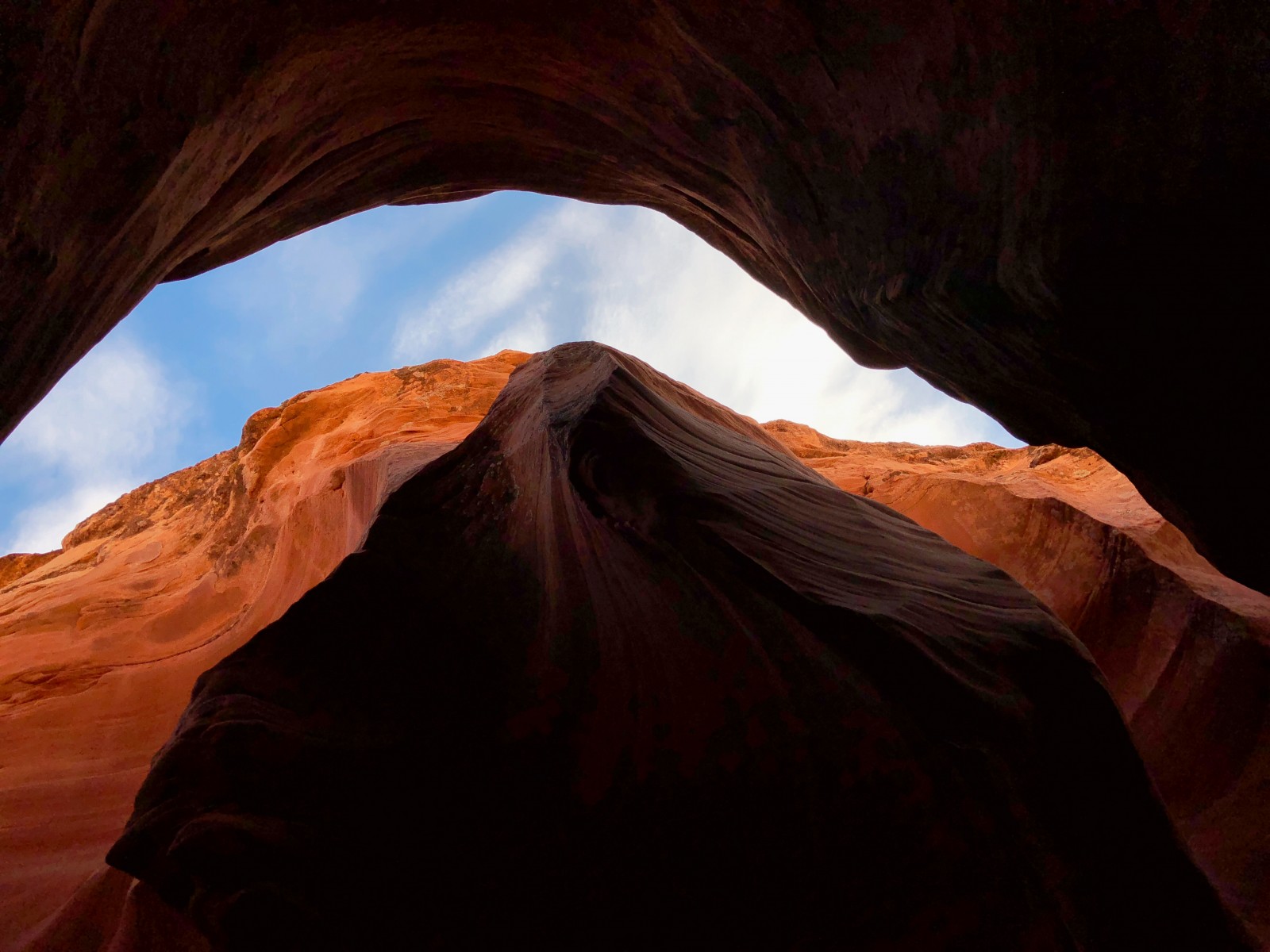 Looking up in Antelope Canyon
Antelope Canyon is the most famous (and most photographed) slot canyon in the American Southwest. And there is good reason why. It's virtually impossible to take a bad picture in this amazingly beautiful area. February is a great time to visit the amazing slot canyons located along the Utah-Arizona border. The mild winter meant the weather was pleasant. As an added bonus, while Antelope Canyon is always popular, it's significantly less busy during winter months.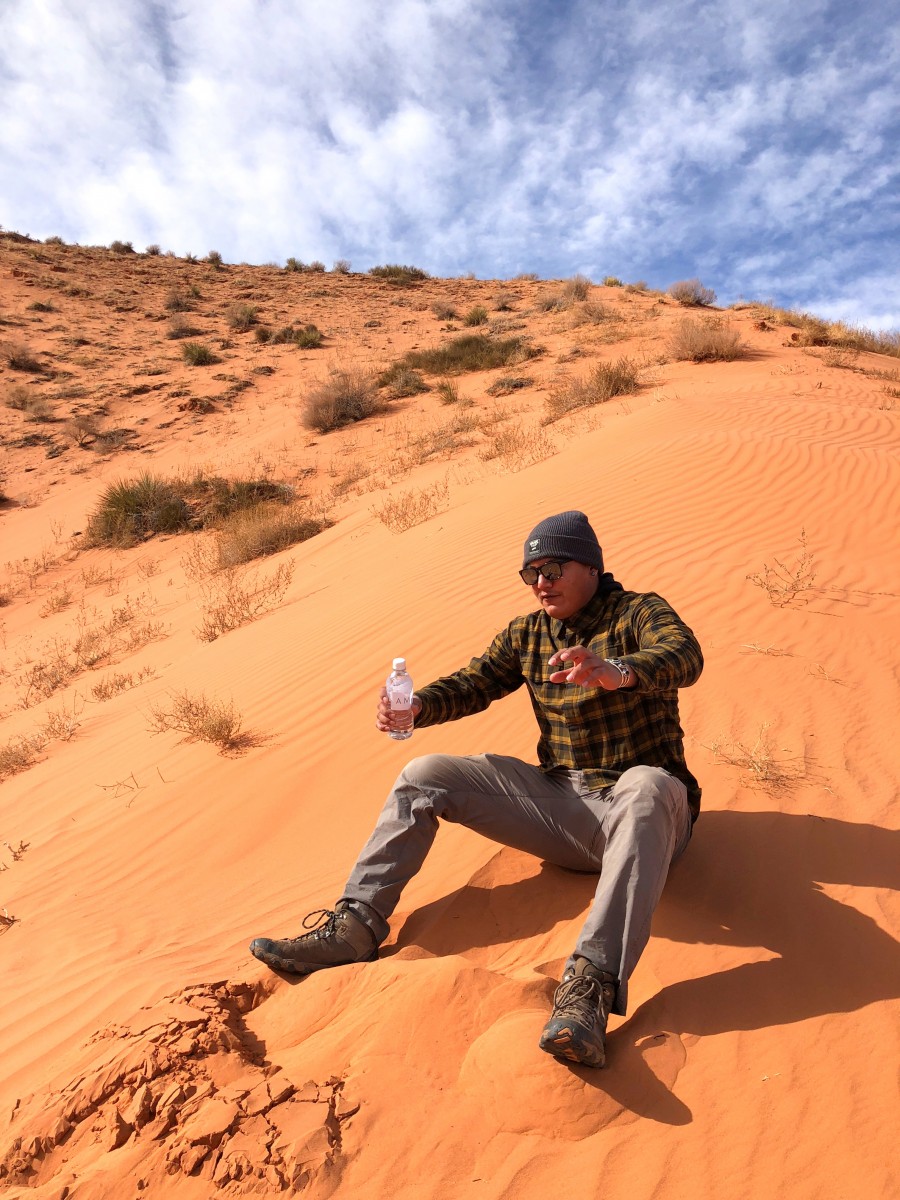 Dillon, our guide, gave us a visual demonstration of how the canyons were formed
Antelope Canyon is actually two different canyons. Upper Antelope Canyon is the most popular and colorful with curvy walls that reach 120 feet high. Lower Antelope Canyon is narrower and less user-friendly (and I did not visit it on this tour).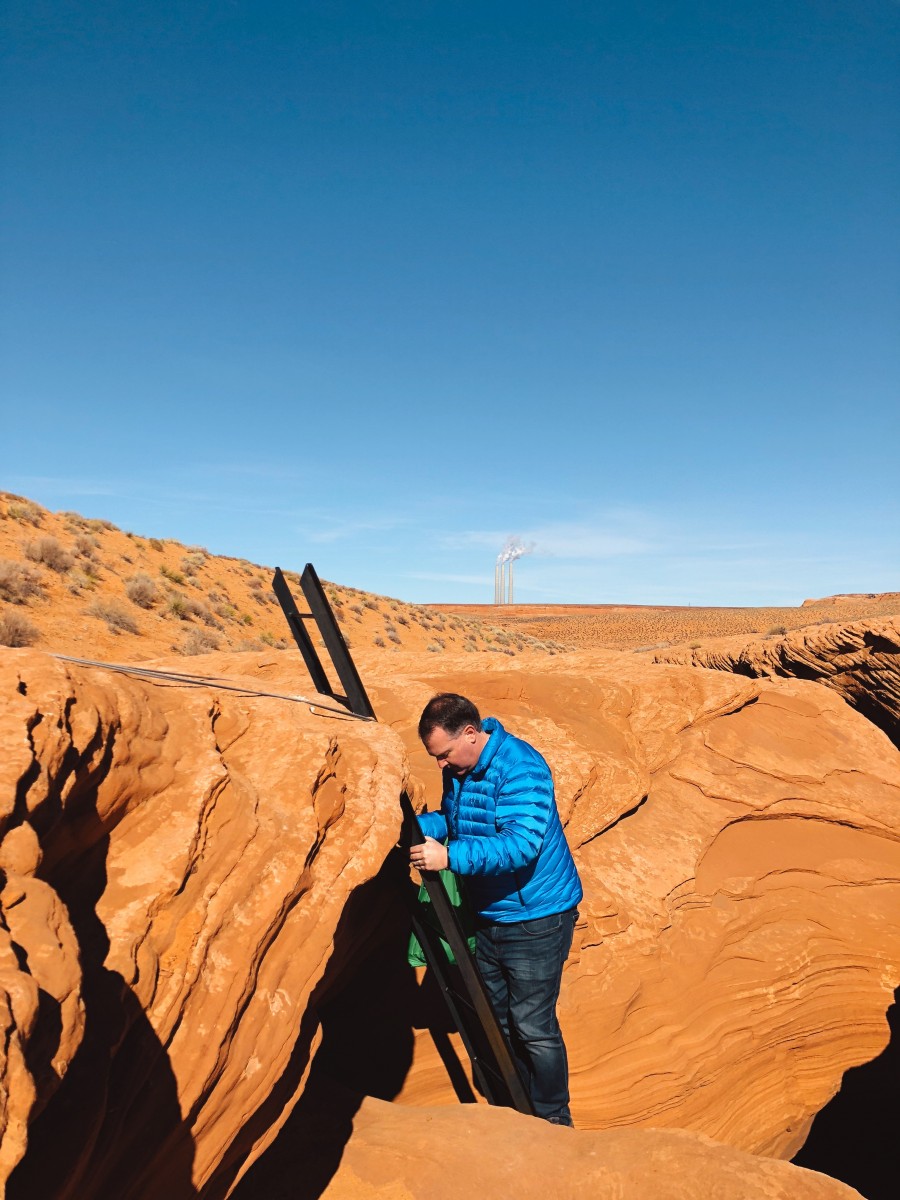 Climbing out of Rattlesnake Canyon on a ladder
The three slot canyons I toured were Upper Antelope, Side Canyon, and Rattlesnake Canyon. Different outfitters have access to different slot canyons, so who you book with will determine which slot canyons you get to visit.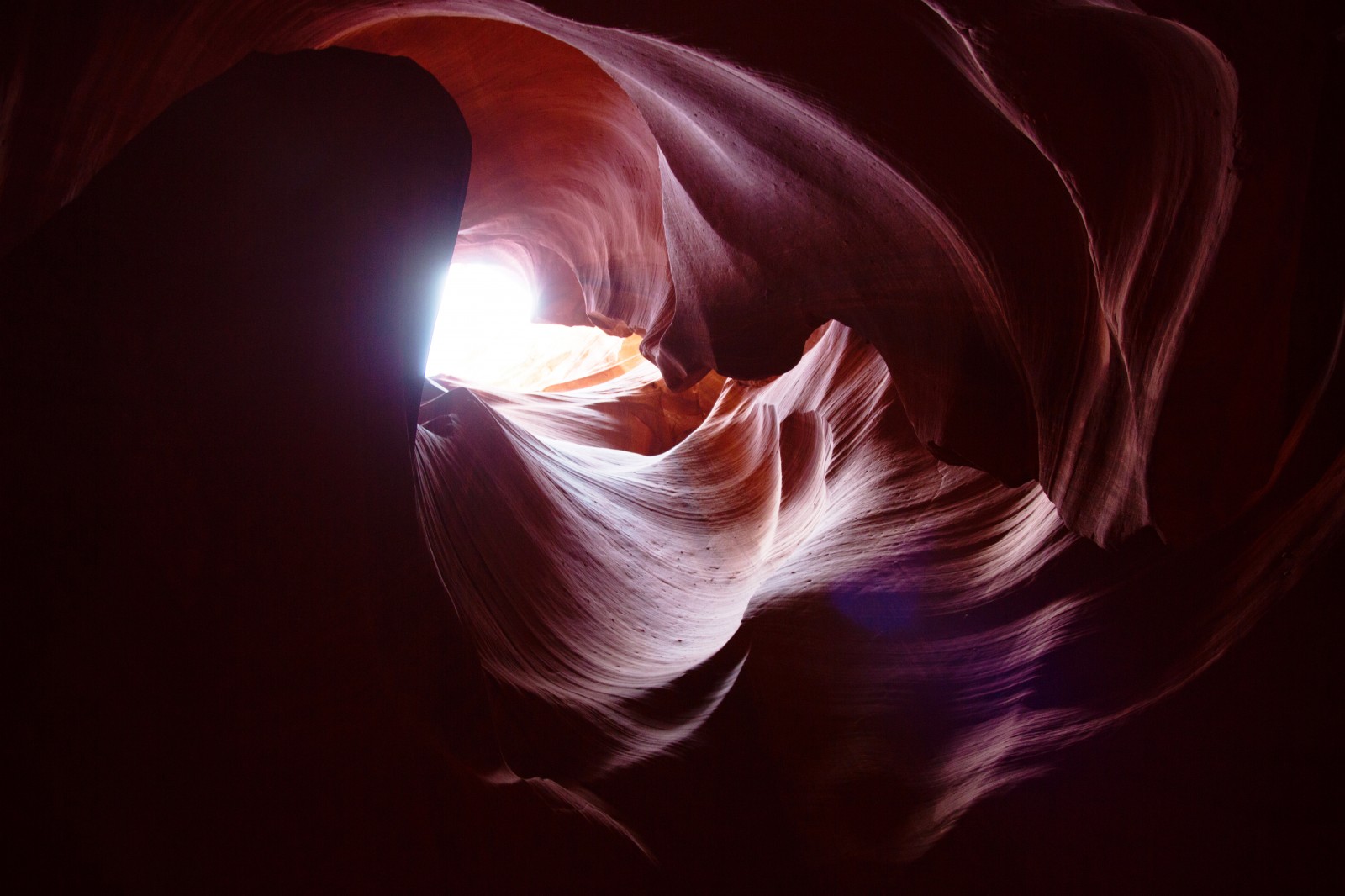 The heart of Upper Antelope Canyon
The canyon's uniquely smooth and colorful sandstone was formed over millions of years exposed flash floods, water erosion, and wind. The resulting walls are smooth and curvy, with variations in texture and color.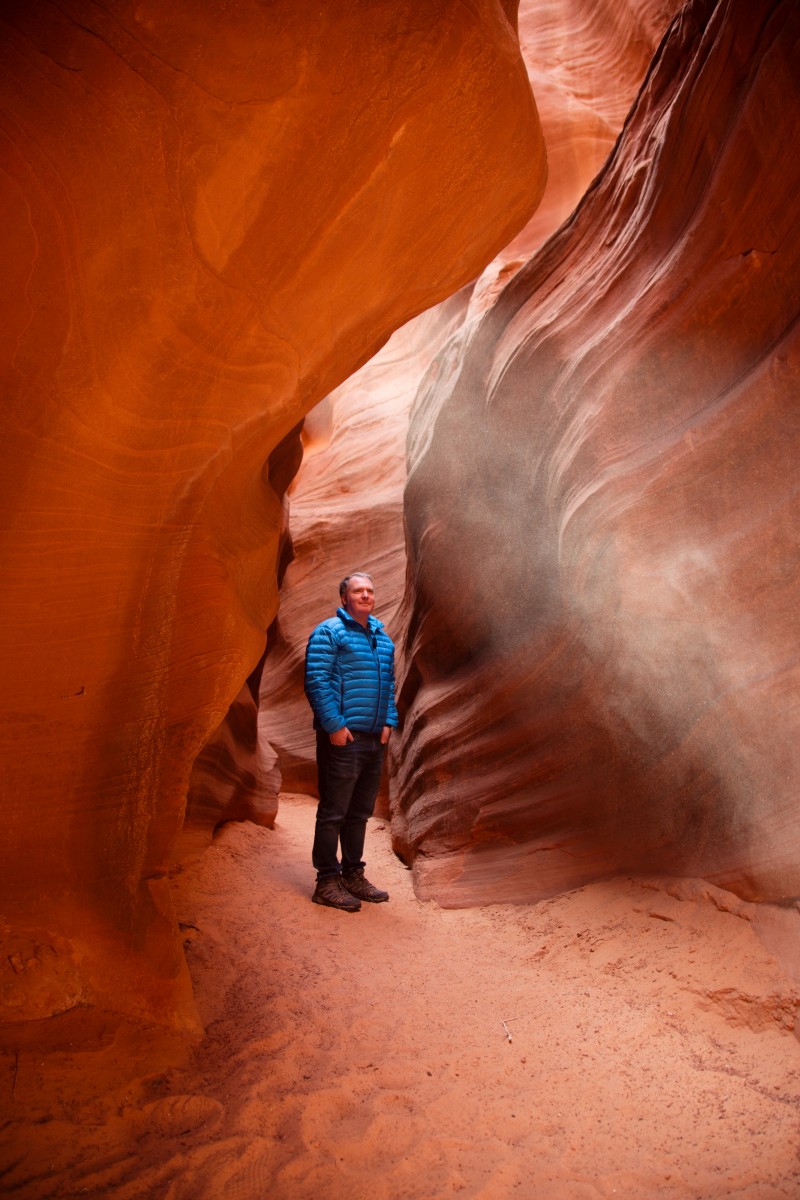 Dust and shaft of light in Antelope Canyon
Antelope Canyon is located within the Navajo Nation land about 10 miles southeast of Page, Arizona. Upper Antelope, Side Canyon, and Rattlesnake Canyon are also located along the same Antelope Canyon wash and they are hidden gems of the area.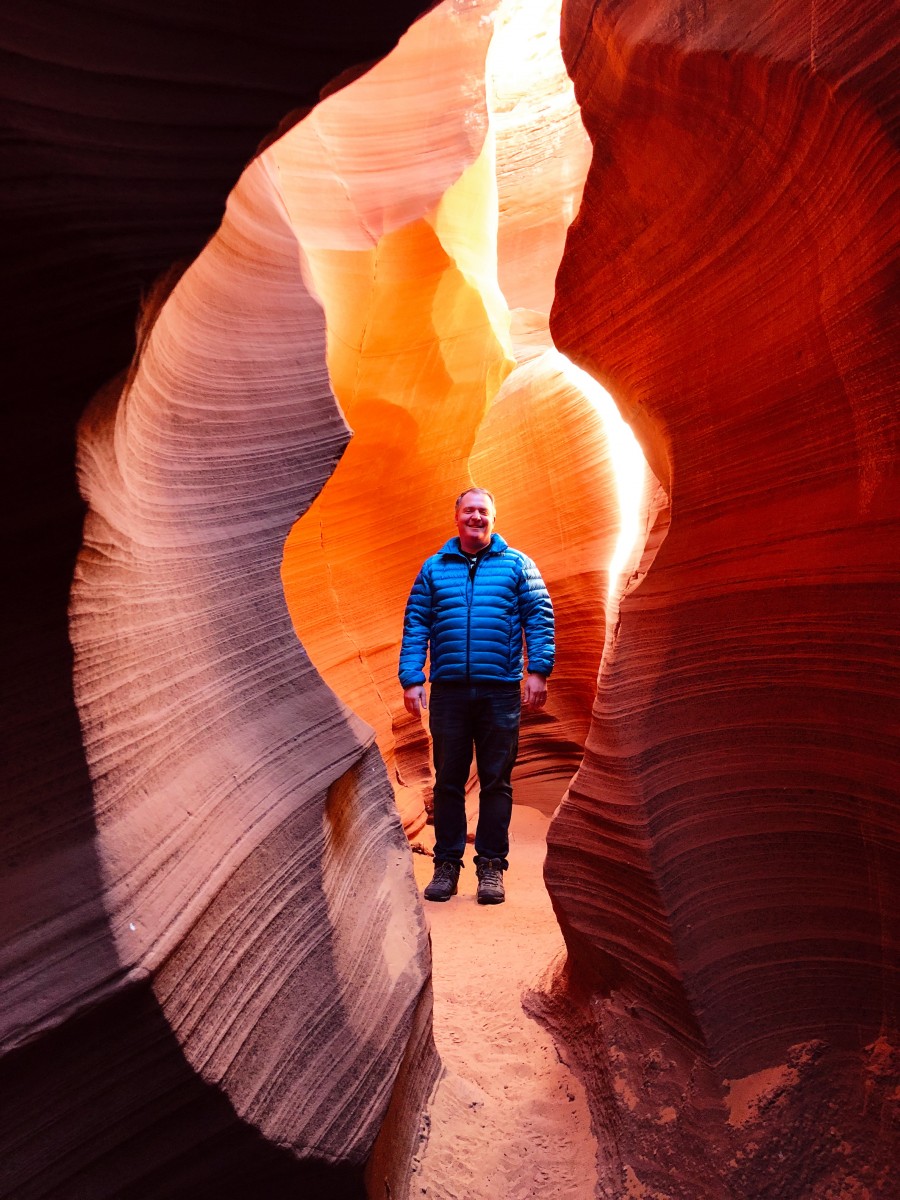 Color and curves in a slot canyon
Of the three slot canyons I visited, Rattlesnake Canyon might have been my favorite, simply because it involved ladders and very few other people. It was not as accessible for travelers who aren't as mobile.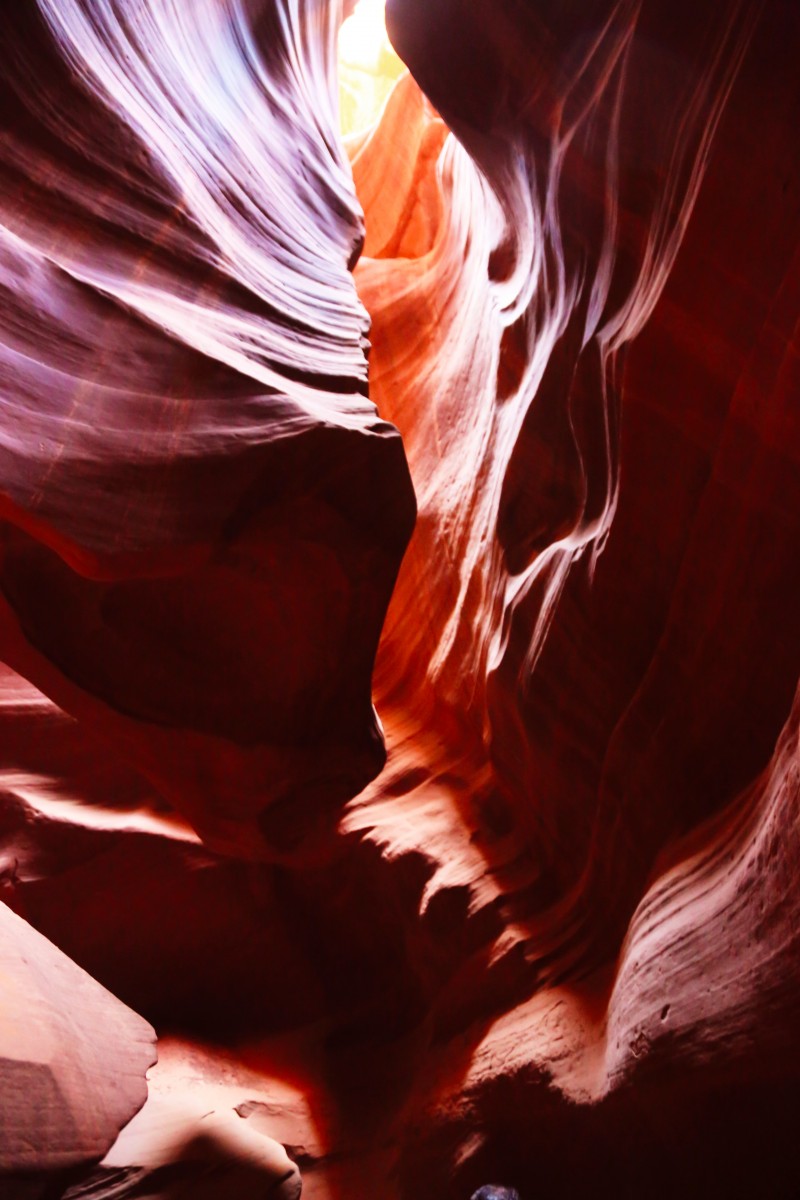 Sandstone walls of the slot canyons
Our private three slot canyon tour was arranged by the staff of the Amangiri, where we were staying for this trip. Our guide was Dillon, and he was excellent. He also knew the best photo spots.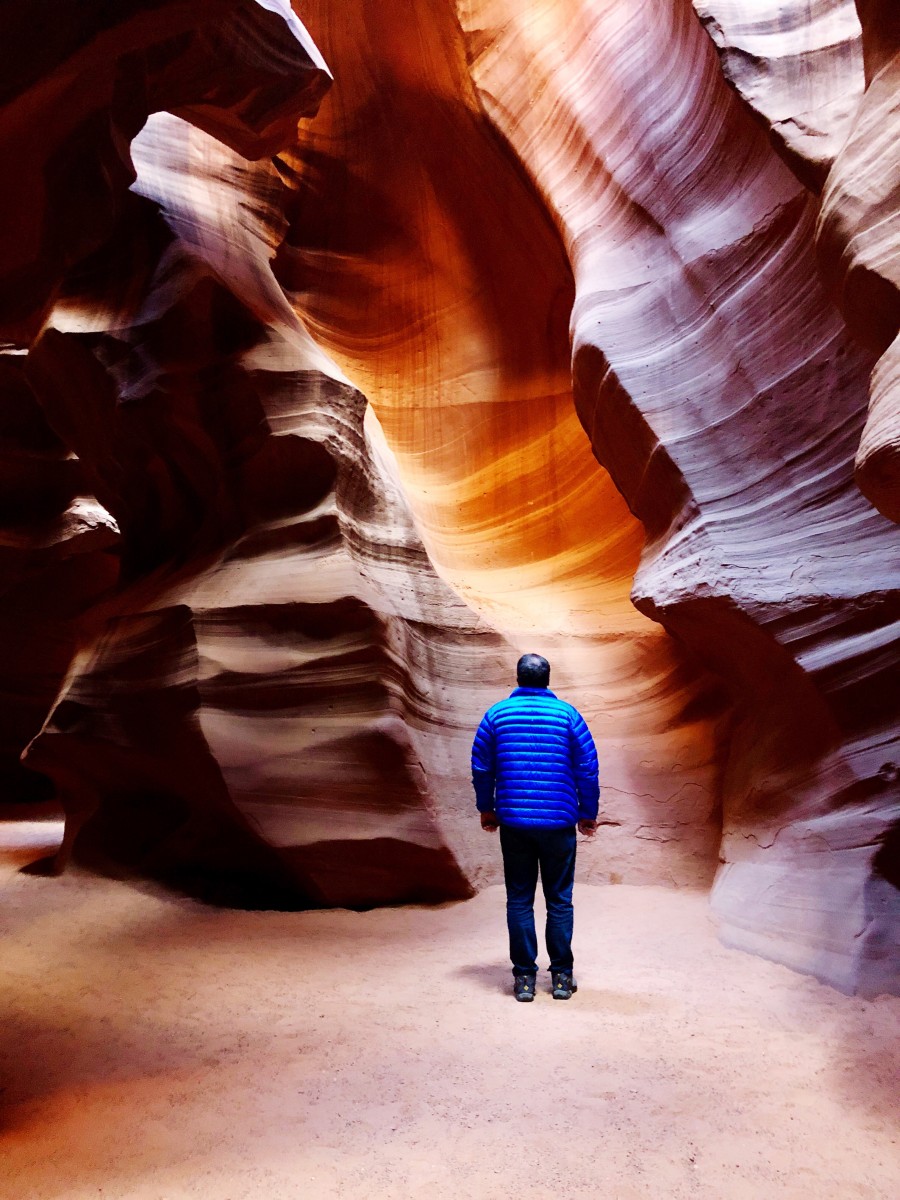 Blue coat and red canyon walls
Many photographers like to visit Antelope Canyon during June, July, and August when the light beams are at their strongest. This is also the season for peak heat in the area, with average daily high temperatures of over 90 degrees. If it's cloudy, you won't see the light beams.
Upper Antelope Canyon is amazing
All visitors to the area (especially photographers)  should be aware that the area is very dusty. And tour leaders will often stir up dust to make the light beams more photogenic.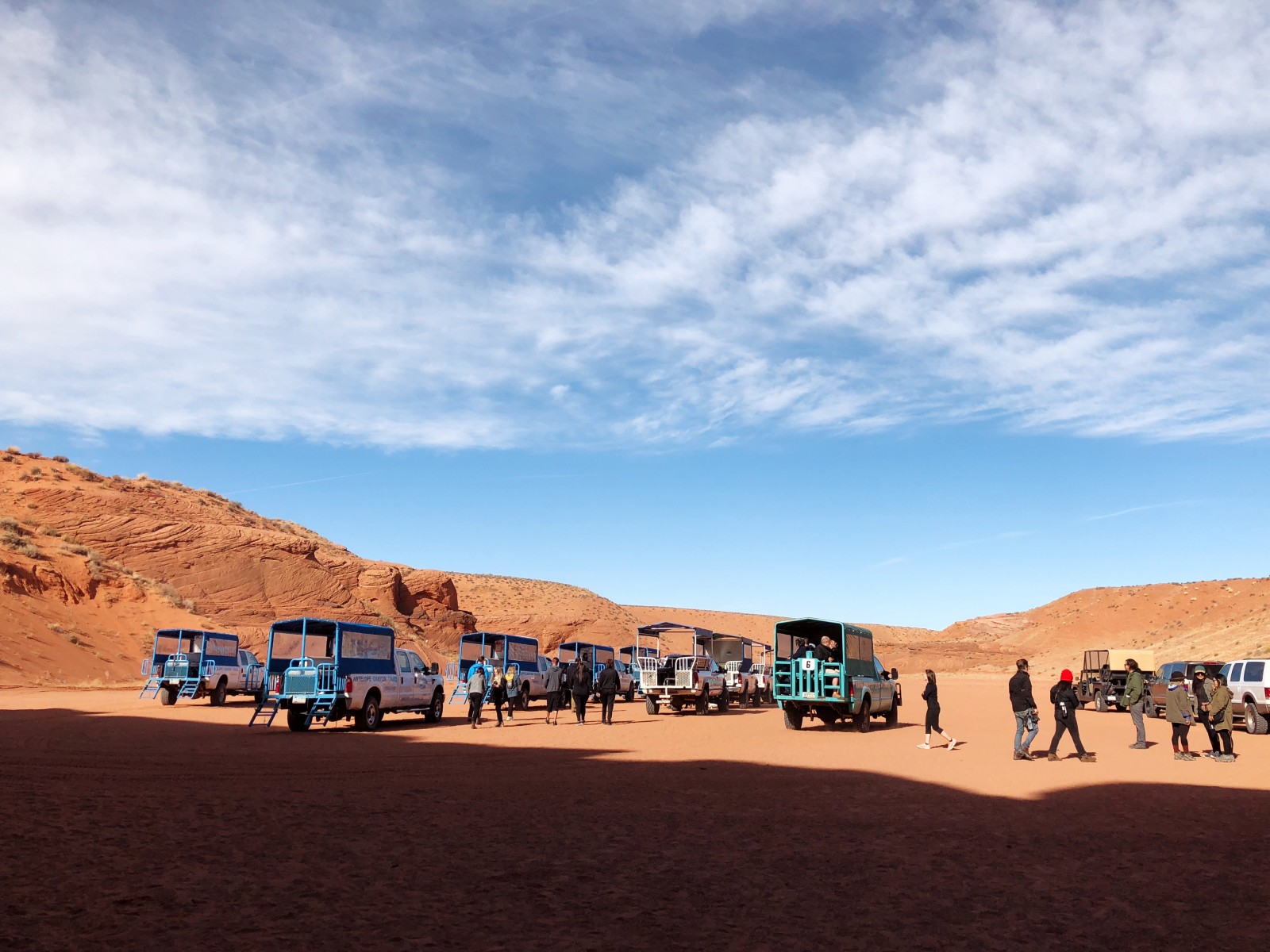 The parking lot outside Antelope Canyon
Different tour providers use different types of vehicles to bring visitors into Antelope Canyon. Most used converted pick up trucks. I was glad that our tour was in a comfortable dust-free Suburban.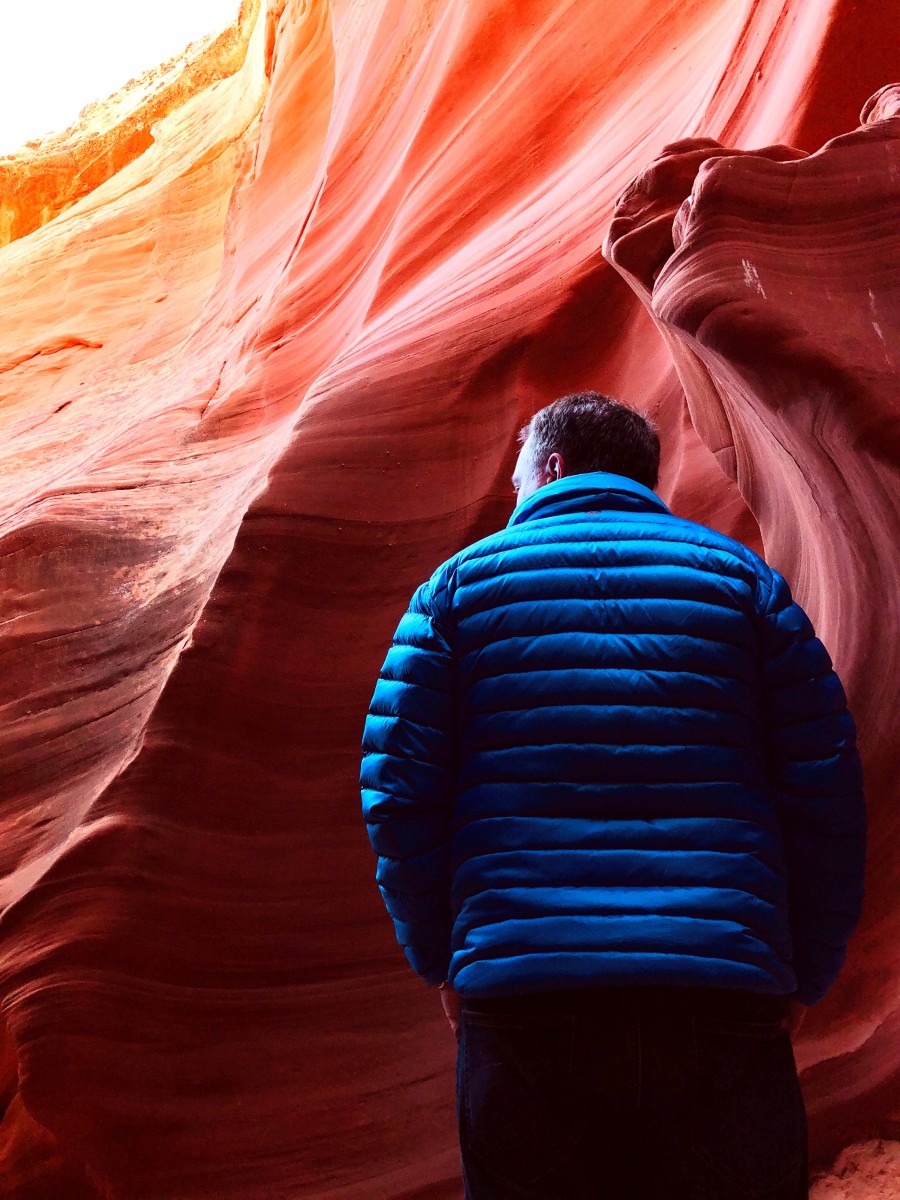 Lines of rock and and blue puffer coat
Our private luxury Three Canyon tour for two people was  arranged by the Amangiri. It took about 3 1/2 hours door to door and cost $725 + 10% service charge. Not cheap, but it was totally worth it if you want to see the slot canyons in comfort and minimize crowds.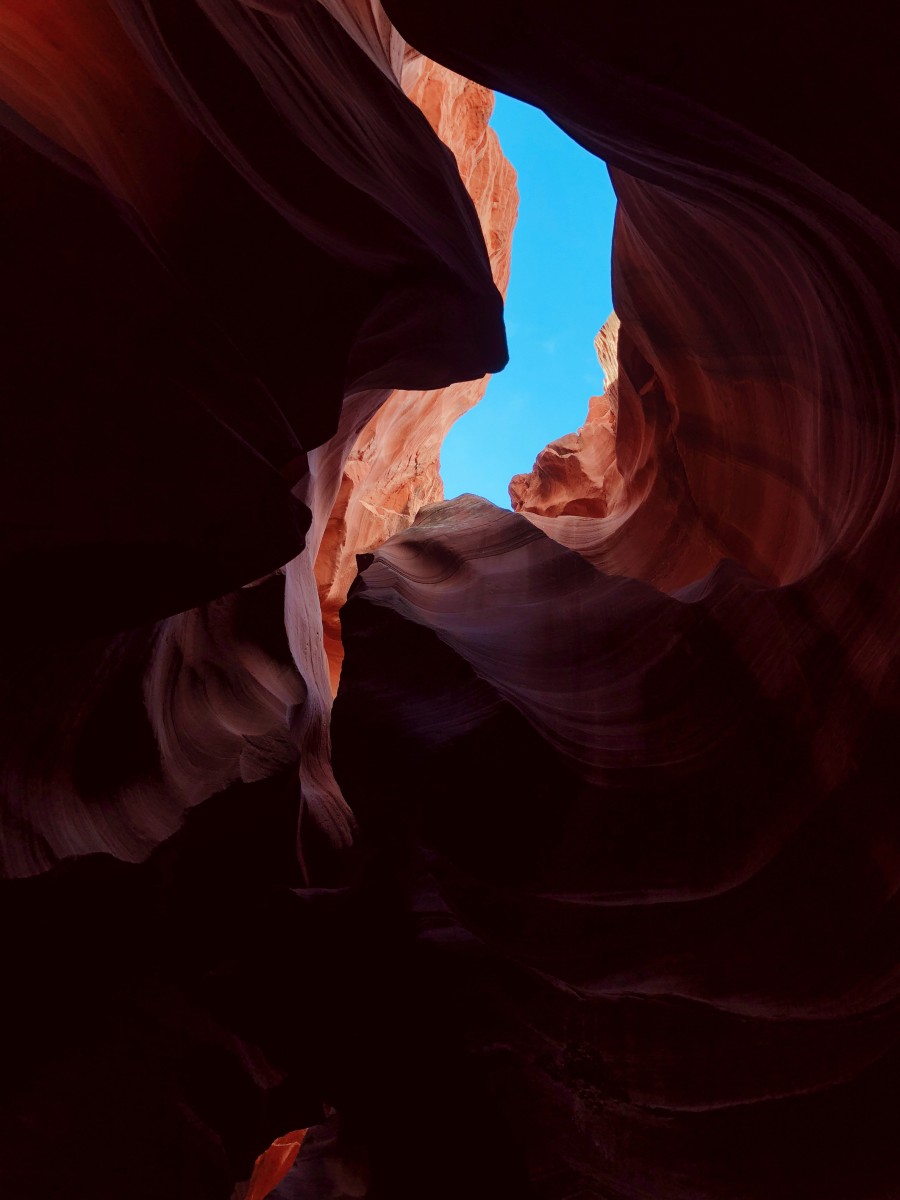 Not a bad angle in this slot canyon
If you're looking for things to do in the American Southwest, I highly recommend taking a tour of the slot canyons. As much as I liked exploring Upper Antelope Canyon, it was hard to beat having Side Canyon and Rattlesnake Canyon almost all to ourselves.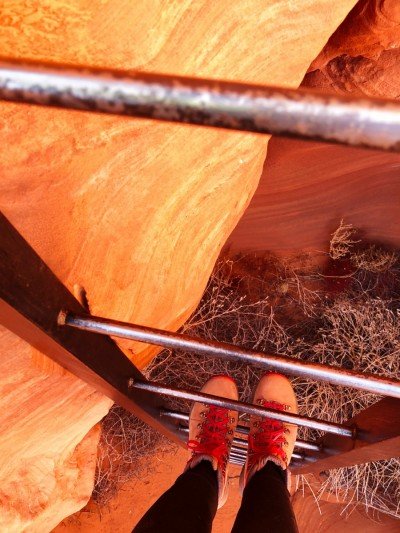 Selfie with ladder in Rattlesnake Canyon
Pro tip: wear hiking boots when exploring the slot canyons of the southwest. You might be able to get away with everyday shoes in Upper Antelope Canyon, the terrain can be challenging and you'll be better off in appropriate footwear.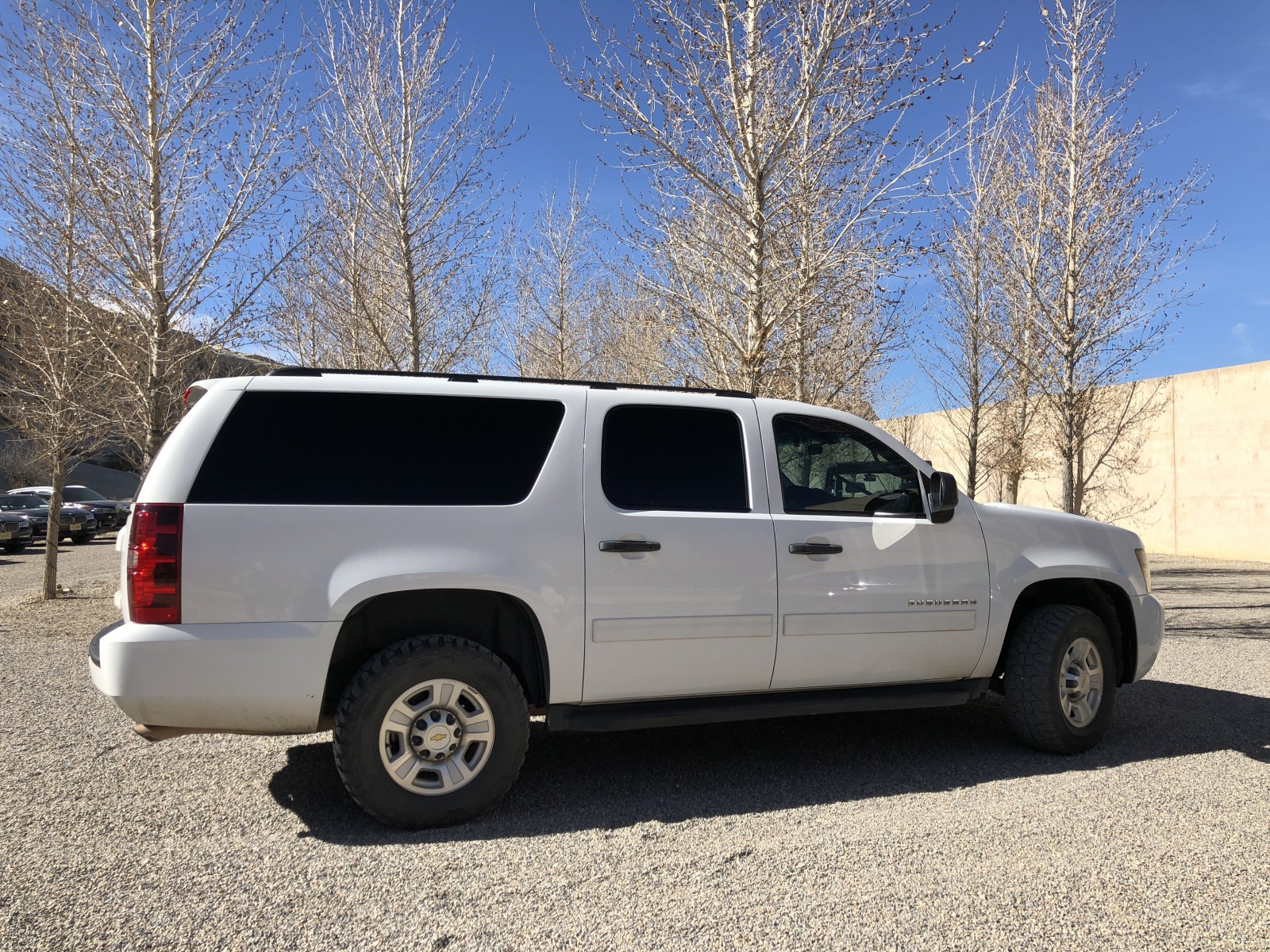 Our ride to Antelope Canyon
While the Amangiri is located just over the border in Utah, they arranged our Three Slot Canyon tour. It was highly memorable experience and well worth the price.
1 Kayenta Rd, Canyon Point, UT 84741, USA
The closest airport is Page, Arizona.