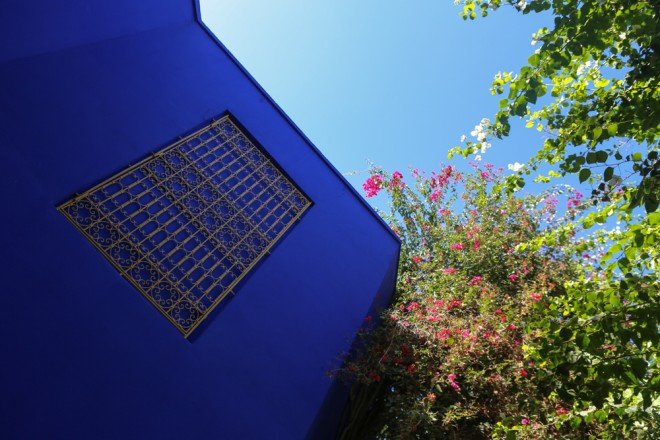 Pantone's color #2,726 is a 91% match to the gardens signature Majorelle Blue
I've been in Marrakech for the past few days and between my lack of sleep (the call  to prayer 5 times a day isn't helping), visiting with friends, sightseeing and  a crazy shooting schedule I haven't had much time to write. But I did visit the Majorelle Gardens (Jardin Majorelle).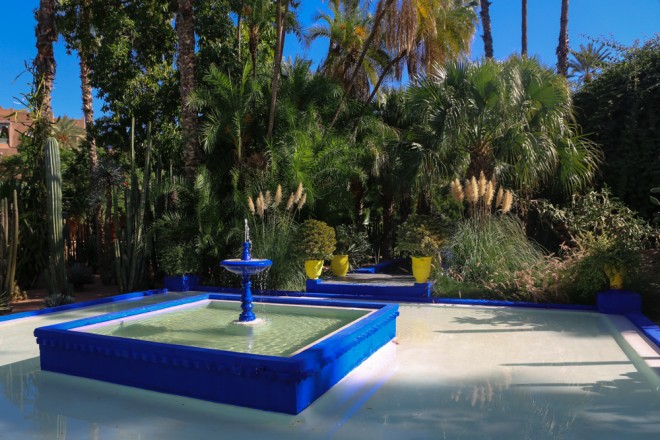 Morocco has a bit of a fountain obsession
Truth be told, the Majorelle gardens didn't blow me away botanically. They were a bit overgrown and with so many succulents, palm trees and bamboo, I felt a little like I was in my backyard in Los Angeles.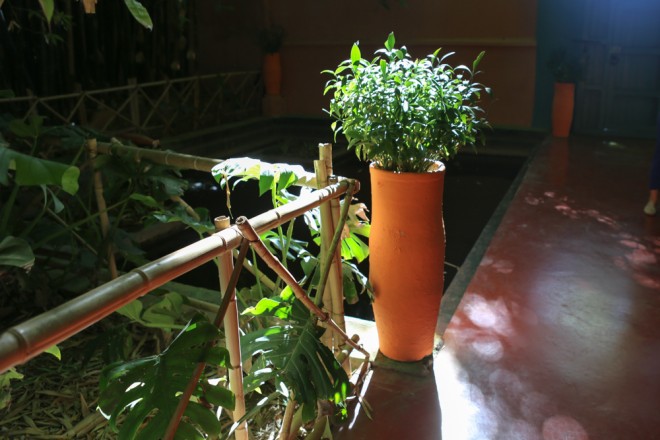 I'm totally digging this orange pot
I did, however, fall madly in love with the bold use of color throughout the gardens… specifically  signature Majorelle Blue which looks pretty much perfect in the Moroccan light but I suspect translates a tad garish if taken out of context.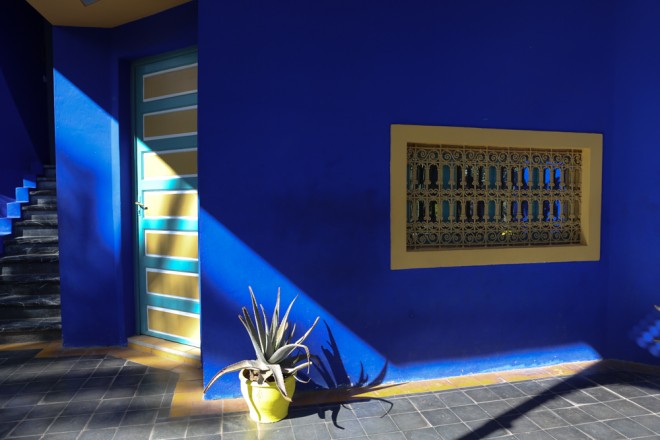 Stripes, sunlight, and Majorelle Bleu in Marrakech
Just google "Majorelle Blue" and you'll find that Pantone doesn't make an exact match to the heavy ultramarine shade which is probably more famous than any of the paintings by the French painter and botanical enthusiast. The color is so on trend there has to be a nail polish or three that come pretty close.
Left:  Memorial to Yves Saint Laurent Right: Palm Fronds Galore
The late French fashion designer Yves Saint Laurent and his partner Pierre Bergé bought the gardens in the 80s and saved it from being developed into a mini-mall or something. Now the gardens and Villa Oasis are owned by the pairs charitable foundation– Fondation Pierre Bergé Yves Saint Laurent.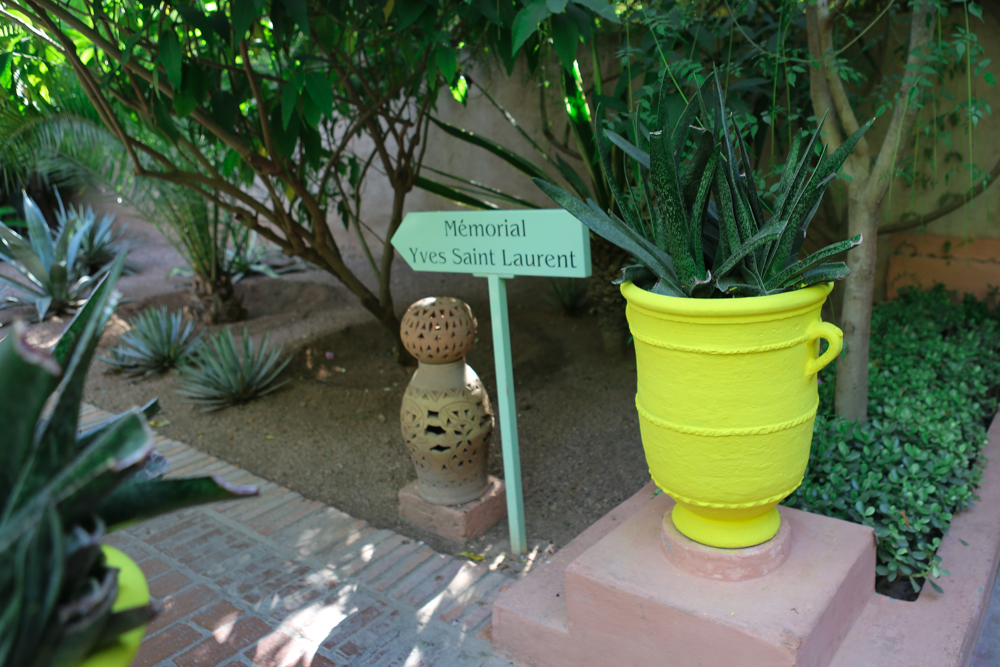 A Splash of Citron works so well in the Moroccan light
While the flora and succulents may be a tad underwhelming compared to Versailles they are still worth a visit. They are an easy to stroll 2 and half acres in size and there is a Berber museum on the grounds. There is also a lovely gift store.. filled with brightly colored and easily packable items (some of them in the signature blue).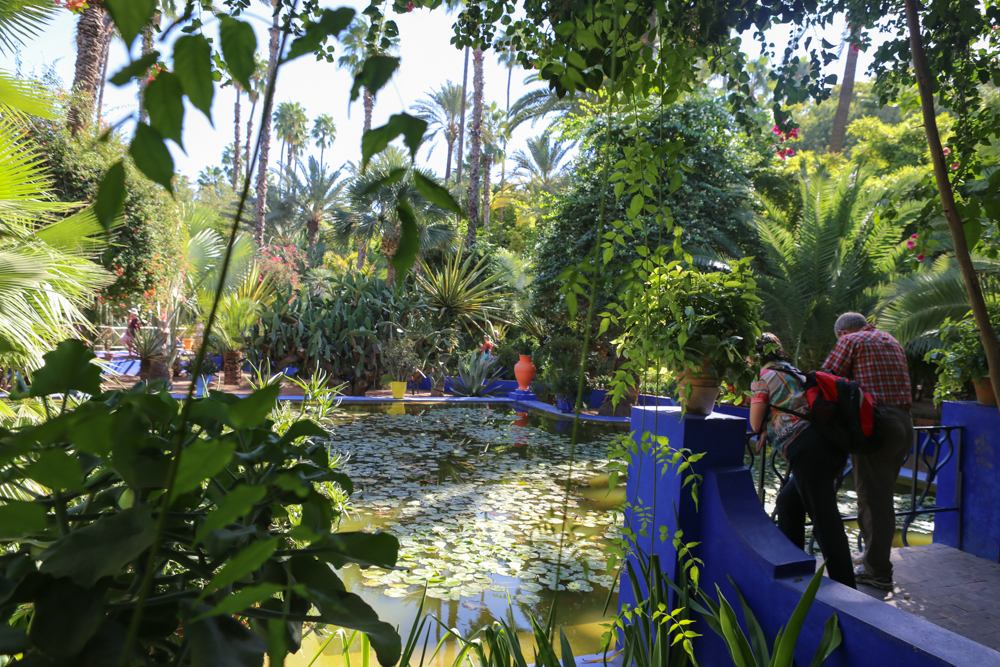 The Majorelle Gardens might not be Versailles, but they are worth a visit when in Marrakech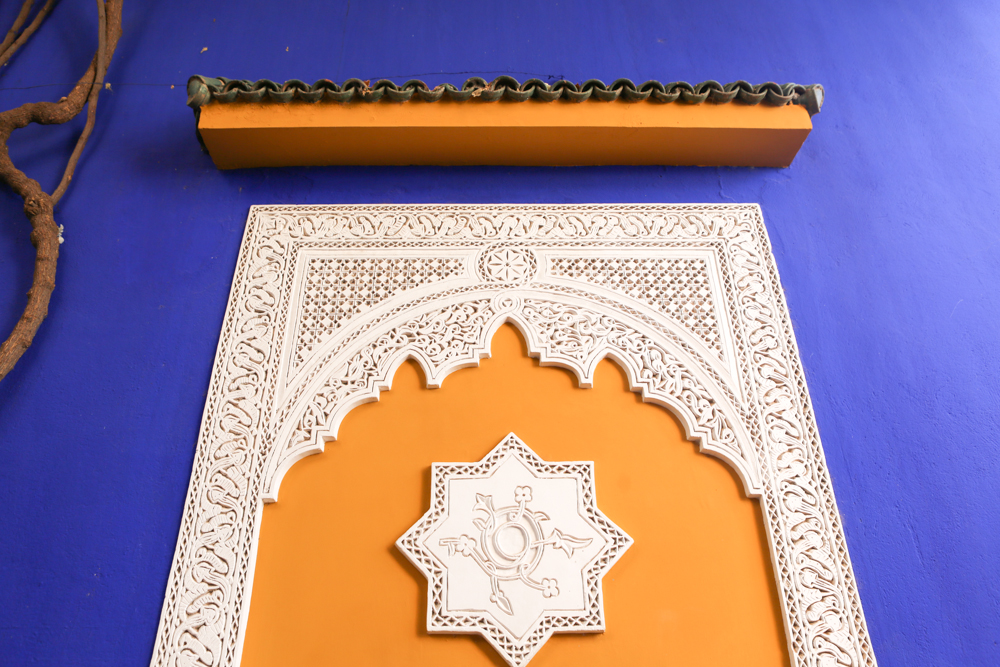 The Jardin Majorelle are open 365 days a year (including Ramadan) but hours vary so check the website before planning your visit .
The Majorelle Gardin (Jardin Majorelle)
Jardin Majorelle
Rue Yves Saint Laurent
Marrakech, Morocco
phone +212 (0)5 24 31 30 47
Email : info@jardinmajorelle.com