Portrait of Angelo, the cowboy poet
Truth be told, poetry slams aren't really my thing. I don't exactly hate them, but sometimes I find they try too hard or veer towards pretentious. While I'm open-minded and artistic, I must confess there are a few art forms I have adverse reactions to– specifically interpretive dance and smooth jazz. Poetry, well, it's kind of like music. You know what you like when you hear it. And over the past year, much to my own surprise,  I've grown to enjoy cowboy poetry.
Much of the reason is because of cowboy poets Angelo and Steve, who I met in Montana last summer at Paws Up and just heard perform again during my recent visit.
Angelo the Cowboy Poet Performing his solo, acoustic version of Dueling Banjos.
As a photographer, they are a lot of fun to shoot, as they are both awesomely mustachioed. They also couldn't be any nicer. Angelo was born in the Midwest but moved west to Montana over 30 years ago and considers it home. Steve drives a team of draft horses and his wife works at Murdoch's Ranch Supply which I discovered last year when I visited Helena. It's like Home Depot but filled with western gear, gun safes, fishing lures, and all sorts of things they don't sell at my West Hollywood Target. It's also one of the few stores where both my husband and I love to shop.
Cowboy Steve performing
Not only are Angelo and Steve nice guys, but they are also talented performers. Angelo plays banjo and harmonica. I saw him perform at the Chuck Wagon Dinner last year and found him so entertaining I included him in this video I made.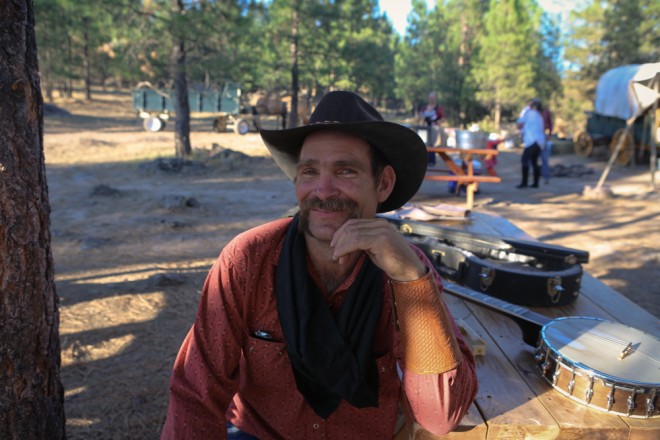 Cowboy Poet Steve: great smile and epic mustache

This year it was Steve who blew me away. Steve is new at the cowboy poetry thang. While he might not be as seasoned a performer as Angelo, his poem about why his hat means so much to him was filled with so much raw emotion, not only did he get a loud round of applause, but he had a few of the guests moved to tears.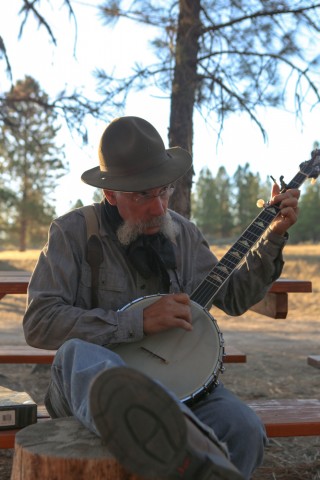 Angelo is far more comfortable behind his banjo than in front of my lens
One of the thinks I like most about Paws Up is that it continues to evolve. The Chuck Wagon wasn't the exact same experience this year as it was last year, and the performance aspect of the evening was an "entirely new set list" if you will. I'm really glad that Steve has given oral storytelling a go, he's good at it. I can't wait to come back next time and hear what he does next.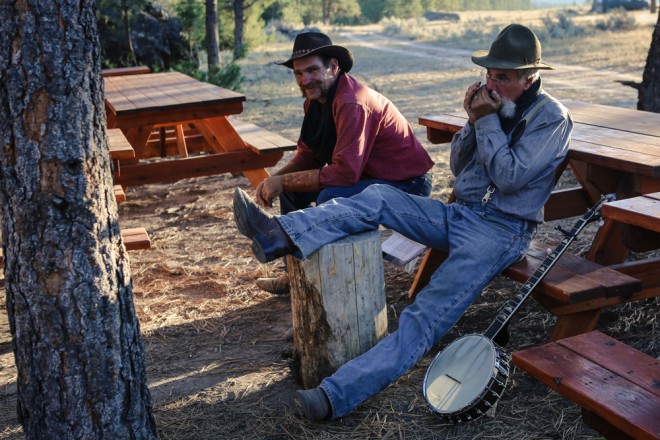 Cowboy Poets Steve and Angelo. It's pretty easy to see why I love photographing these guys
Even if cowboy poetry isn't really your thing, spending an evening chatting with these guys is totally a blast. They are totally unforgettable. And really, really fun to photograph.
Much thanks to Glamping.com who sent me on assignment to cover Paws Up. This post would not be possible without them.