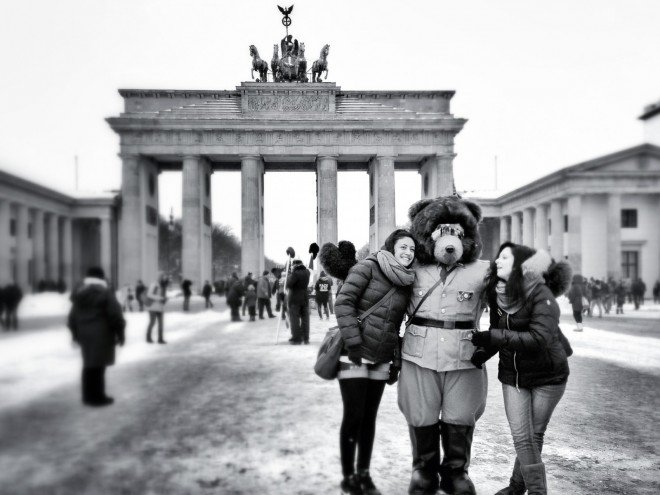 I posted this picture I shot near the Bradenburg Gate with my iPhone on EyEm
When you roll global and mobile like me, you rely a lot on your smart phone. While my iPhone is used primarily as a camera, it's also becoming a great mobile tour guide. During my recent trip to Berlin, there were three mobile apps that I found incredibly useful, and having them on my iPhone spared me the hassle of carrying around a guide book. I highly recommend checking out all three of these apps.
cost: free (available for iPhone, Android, and Windows smartphones)
It's no secret that EyeEm is my favorite photo sharing app. I'm an EyeEm Ambassador for a reason: It's got a slick interface that is constantly improving, the the image quality is high. But EyeEm is way more than a photo sharing platform– with it's Discover and Around You features, you can see images of places nearby or things you might find interesting, making it an incredibly useful app for travel, since it can help you find and explore things that might interest you in a spontaneous way. EyeEm headquarters is based in Berlin, so this app is particularly useful when visiting this hip European capital. The app is free so download it now and start exploring even if you're not traveling anywhere.
Berlin Essential Guide [Sutro Media]
cost: $3.99
Written by local insider Jeremy Gray and published through Sutro Media, this iPhone guide to Berlin is packed with useful information, maps, and all sorts of suggestions for how to make the most of your time. You can search by neighborhood, interest or activity. It tells you how far you are from each place and is packed full of useful hyperlinks. The Berlin Essential Guide has suggested itineraries for high end travelers (Blow Out) as well as options for travelers with Family & Kids, History Buffs and party Animals. It also had helpful suggestions for what to see and do if it's raining or snowing. This was the most useful source of information on visiting Teufelsberg. I was so impressed by this Sutro Media guide I'm going to check out their other city guides in the future. Well worth the $3.99.
cost: $3.99
This Berlin iPhone guide is fully usable both on and offline and helps point you to nearby points of interest. I found this app really useful when I was not sure what was close to me using the "Around Me" option. You can also explore by category and district. The Cool Berlin app was great for suggesting nearby restaurants, cafes, and cool spots. It's definitely a hip edit and nice to look. There are separate sections for: Hotels; Restaurants and Cafes; Bars; Clubs; Lounges; Shops; Cool Spots/Highlights; and Art and Architecture. The "More" section offers a lot of offline maps and city and transportation information. It's also visually appealing. There is less information in the Cool Berlin app than in the Berlin Essential Guide, but the sophisticated edit is spot on for luxury travelers and it's easier to navigate. $3.99 well spent.