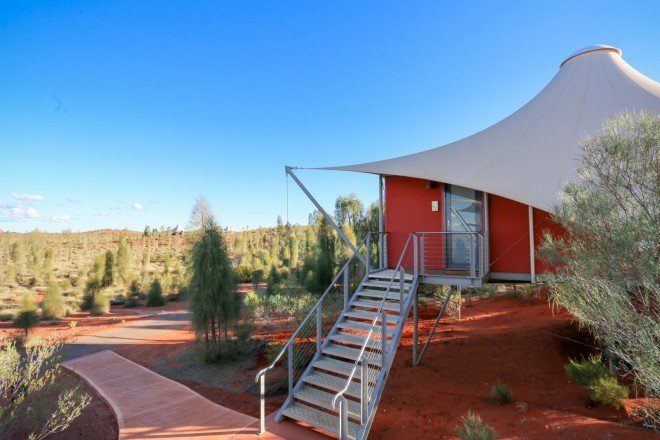 One of the luxury tented accommodations at Longitude 131
Uluru, also known as Ayers Rock, has been on my list of places to visit for years. Last month I finally got my chance to visit Australia's Red Centre, with a few nights at Longitude 131. With a reputation for being the finest accommodations in Outback glamping, Longitude 131 doesn't come cheap. My husband and I tried to maximize our bang for the buck by staying one less than the recommended three nights/four full days, and attempting to see as much as we could during our time.
 First glimpse of Uluru HyperLapse (shot on iPhone 6)
The cranked up pace was a bit too crammed for me. While I totally enjoyed my time, I think I would have enjoyed it more if I hadn't been so hurried. I also had a difficult time with jet lag on this trip, which did not help the situation.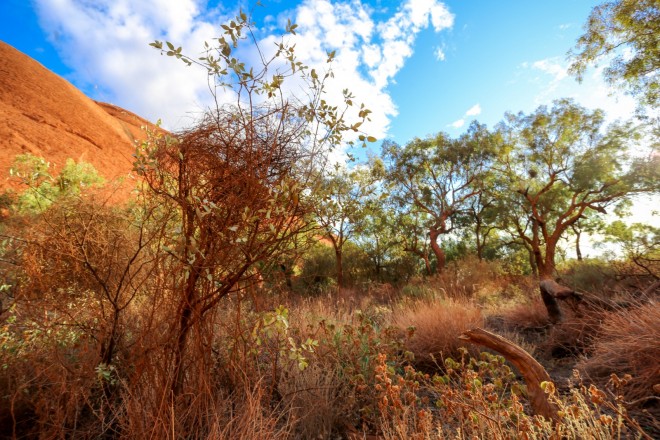 Some of the stunning scenery seen on excursions from Longitude 131
My hotel review posts usually feature lots of images of hotel room interiors and bathroom amenities, but photographing the room did not happen during my brief stay at Longitude 131.
Fortunately Longitude 131's own website photos are very realistic. The tents are glamorous and comfortable, but we did not spend much time there other than to sleep or change clothes. The bulk of your day at Longitude 131 is spent exploring nearby Uluru-Kata Tjuta National Park, which was the point of the whole trip anyway!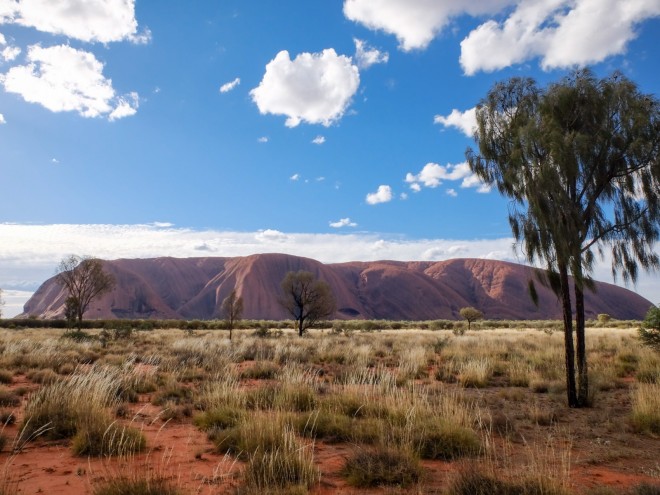 My first glimpse of Uluru, also known as Ayers Rock
We had about 35 minutes from the time we arrived at the Longitude 131 until we headed out for our first excursion, the Mala Walk around the base of Uluru,  followed by a sundowner and light bites in the Kantu Gorge.
The guides at Longitude 131 are friendly and great and I felt that I learned a ton on this excursion. The couple I met from Sydney who were staying the recommended three days seemed more relaxed than I was (and less jet lagged).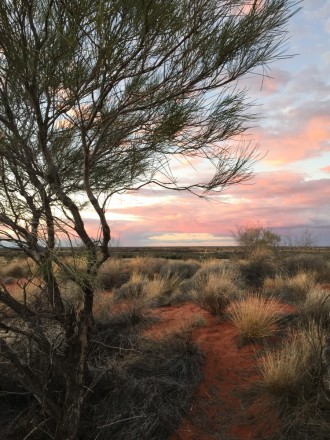 Sunrise at a viewing area in Kata Tjuta National Park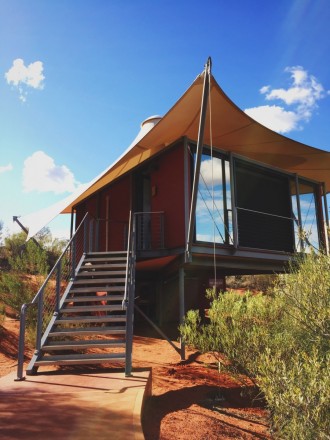 My room at Longitude 131
Both my husband and I were tired when we returned from this excursion, so we skipped the formal dinner service and headed straight to our tent.
I fell asleep immediately and woke up in time for a quick bite before heading out for our next excursion, headed to a sunrise view point in Uluru-Kata Tjuta National Park. This was one of my favorite parts of the trip. The Kata Tjuta range (also known as the Olgas) domes are visually interesting, and the sky and scrubby landscape looked gorgeous in the soft morning light.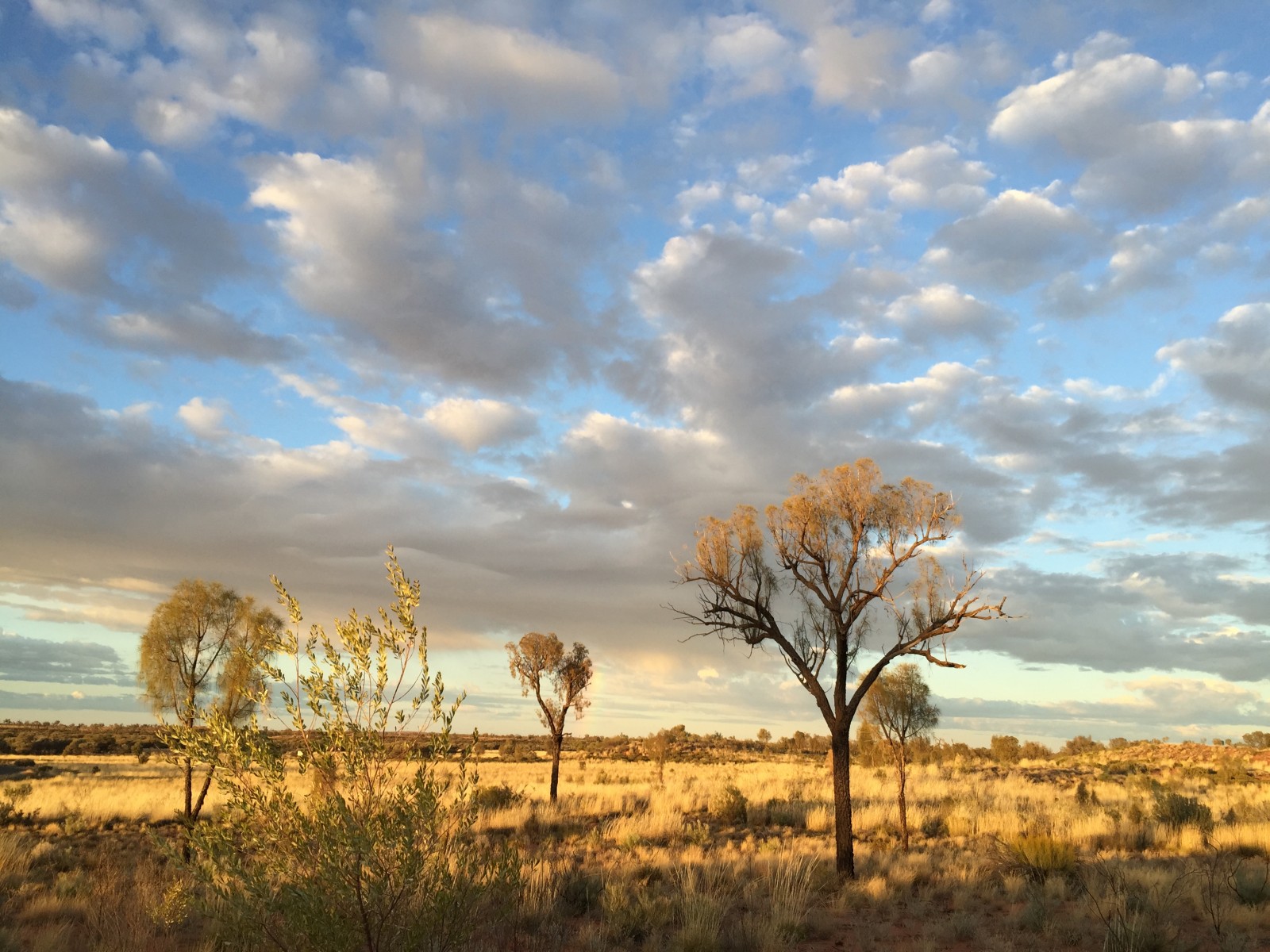 Gorgeous desert landscape and clouds at Kata Tjuta
After admiring the sunrise at Kata Tjutas we headed out on the lovely Valley of Winds hike , which can range 6-10 km around a sacred Anangu men's site in the domes of Kata Tjuta. We finished our hike just before the day got too hot. The only thing missing was a cold beer before we headed  to the Cultural Centre in the park for a visit. Then we got back to Longitude 131 in time for lunch.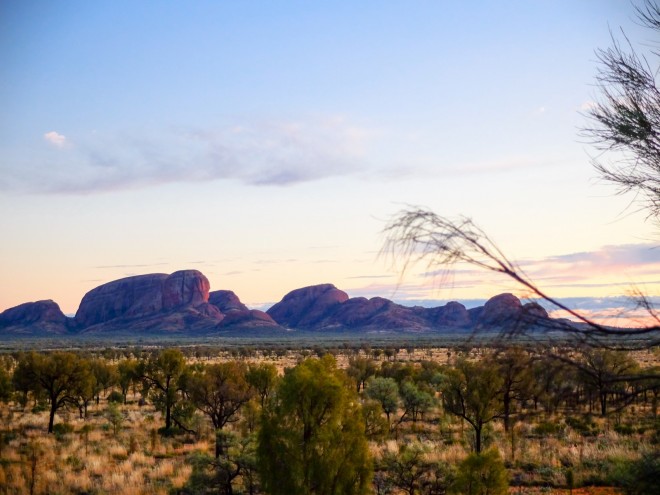 A view of the Kata Tjutas at sunrise
Our day finished with the Uluru sunset excursion (again complete with cocktails and nibbles). It was a delightful day. Dinner that evening was served at outdoors under the star filled skies at Table 131 set up outside. Once again, jet lag made me decide to skip the main course and get as much sleep as I could.
A vibrant sunset view of Uluru (Ayers Rock)
Your days are paced similarly to those on safari at Longitude 131– most activities happen around sunrise and sunset leaving the hottest hours in the middle of the day free for you to enjoy the resorts lovely pool, the nearby Cultural Centre in the park or even arrange a camel ride or motorcycle ride. Unlike being on safari, you come to Longitude 131 for the landscape and outdoor activities, not for the wildlife. You might see some wild camels or feral cats, but this is not the place for those who want a game viewing experience.
Yummy steak for lunch at Longitude 131
All the food and beverages at Longitude 131 were excellent.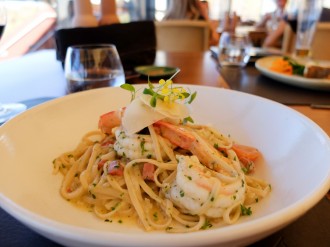 Pasta with shrimp for lunch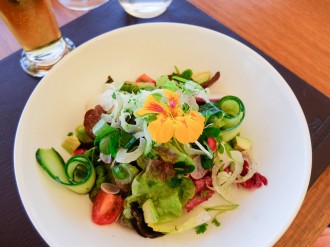 A colorful salad with edible flower at Longitude 131
While I did not eat every dinner I was totally satisfied by the appetizers served during the sundown excursions and did not feel I needed much more.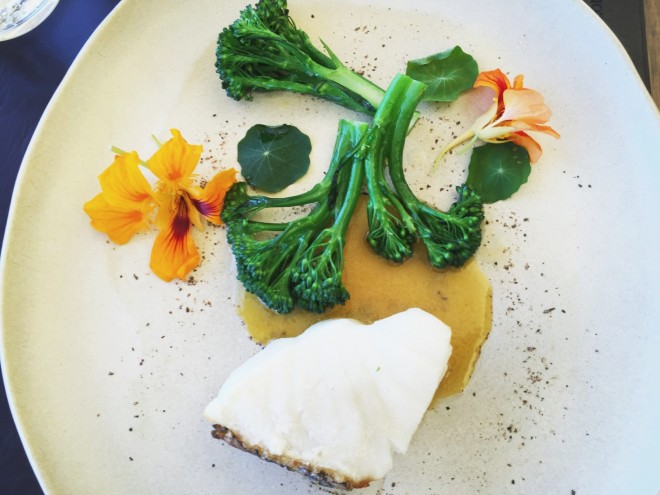 Glacial toothfish and broccolini for lunch at Longitude 131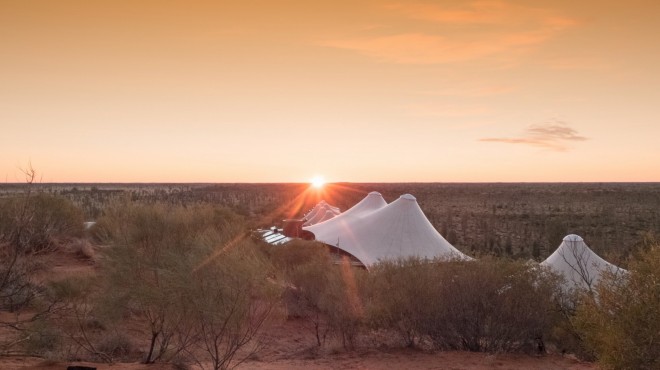 A stunning sunset view of  Longitude 131 Resort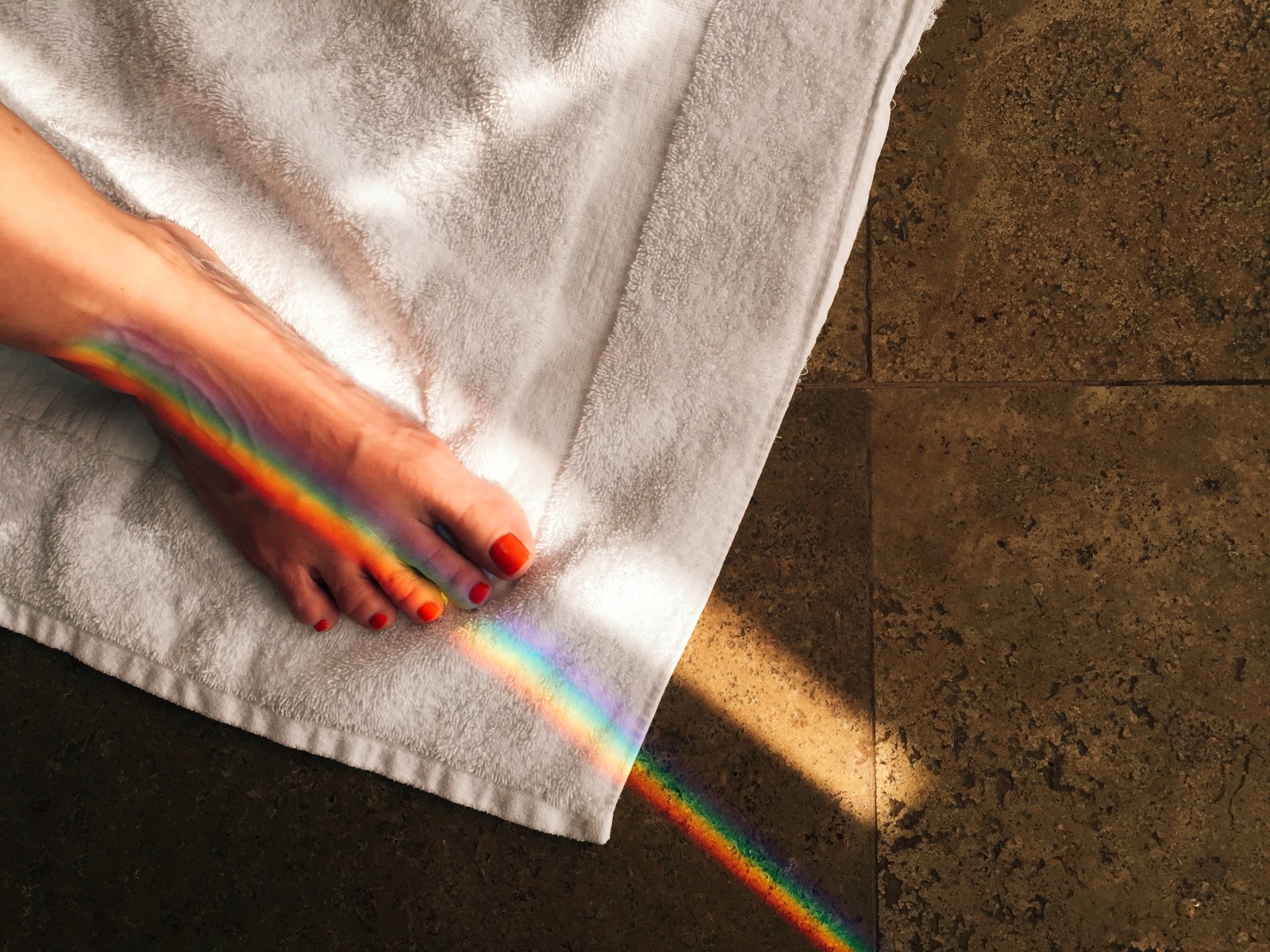 Rainbows in the bathroom at Longitude 131
My Longitude 131 experience was very good. I made the decision to do a shorter, more concentrated trip and I'm not sure I'd recommend that unless you are 100% over jet lag or the sort of person who loves having every minute scheduled.
I was impressed with my experience enough that I am now curious about other Baillie Lodges and am considering a visit to Kangaroo Island on my next trip down under.
Yulara Drive,
Yulara Northern Territory 0872,  Australia
Tel: +61 08 8957 7131
Fax: +61 08 8957 7130
Luxury tent rate is $1,200 AUD per person, per night including all dining, open bar with premium wines and spirits, in-suite bar, signature experiences, and return Ayers Rock Airport transfers.