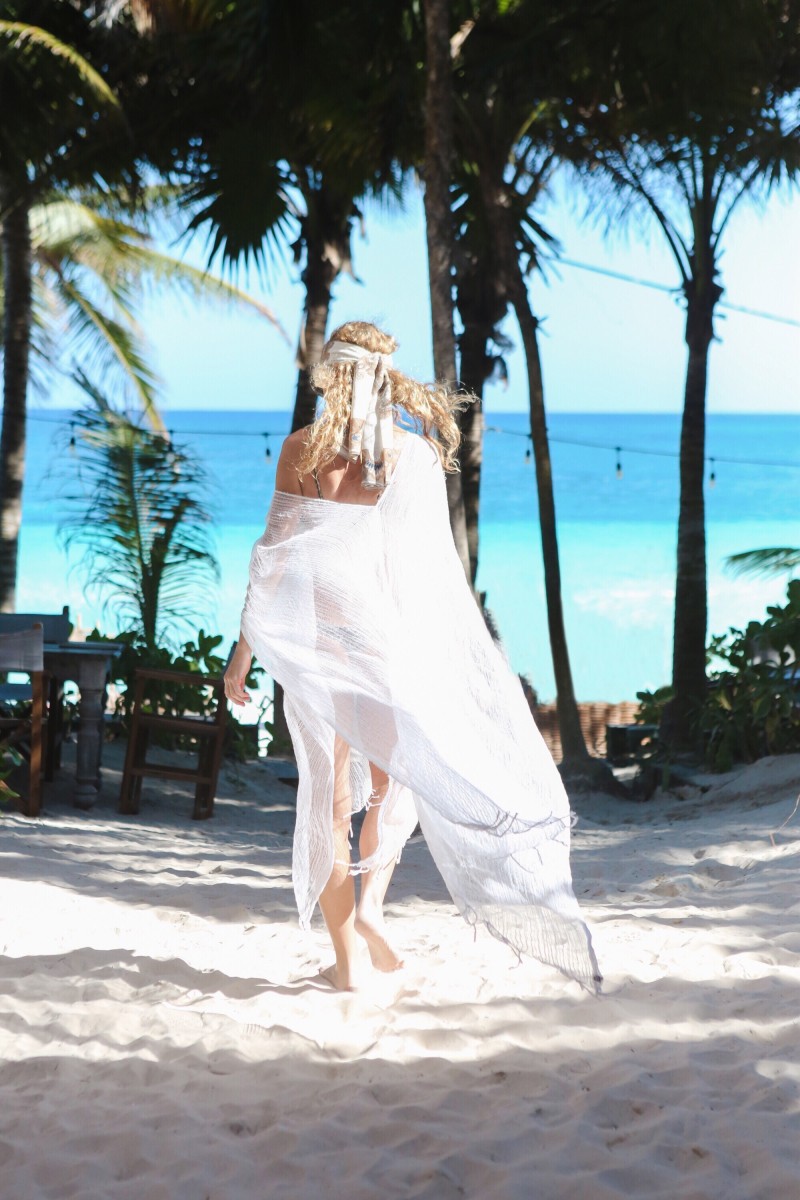 Bohemian chic vibes at Be Tulum
Tulum, a small resort town on Mexico's Caribbean coast, has been a much buzzed about destination for a while. It's developed enough to have great food and some chic eco-resorts, but still intentionally off the grid and understated to keep the vibe low key.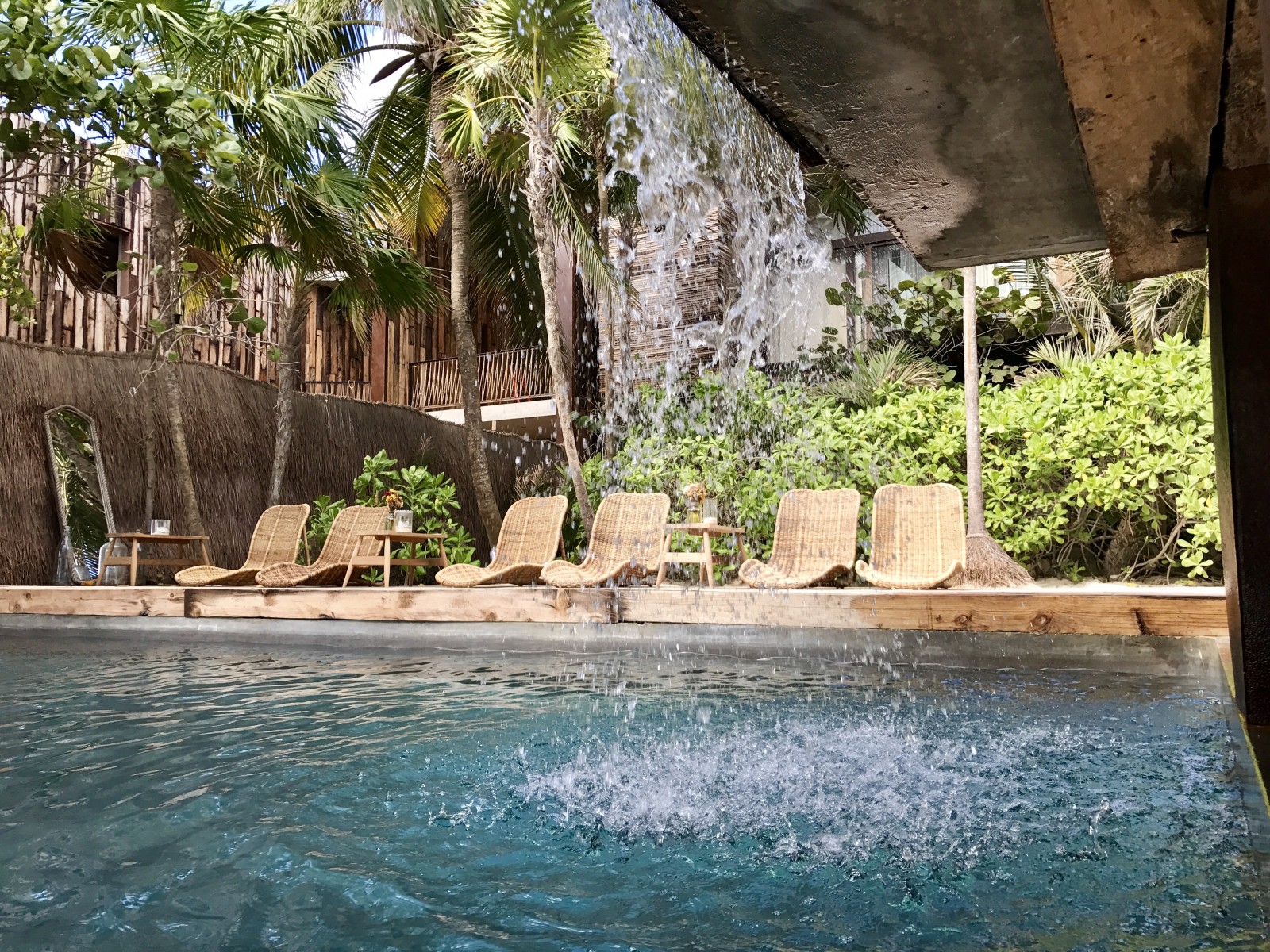 Gorgeous pool at Be Tulum
For those who want a dose of Mayan culture with their vacation, it's even got the Tulum Ruins, right on the beach.
Sandy white beach of Tulum
My husband and I recently visited Tulum for a  couple of days, and two nights wasn't really enough to explore the area and chill out. Confession– I did not even get to explore the ruins on this trip. But I loved the area so much I'm planning a return visit as soon as possible.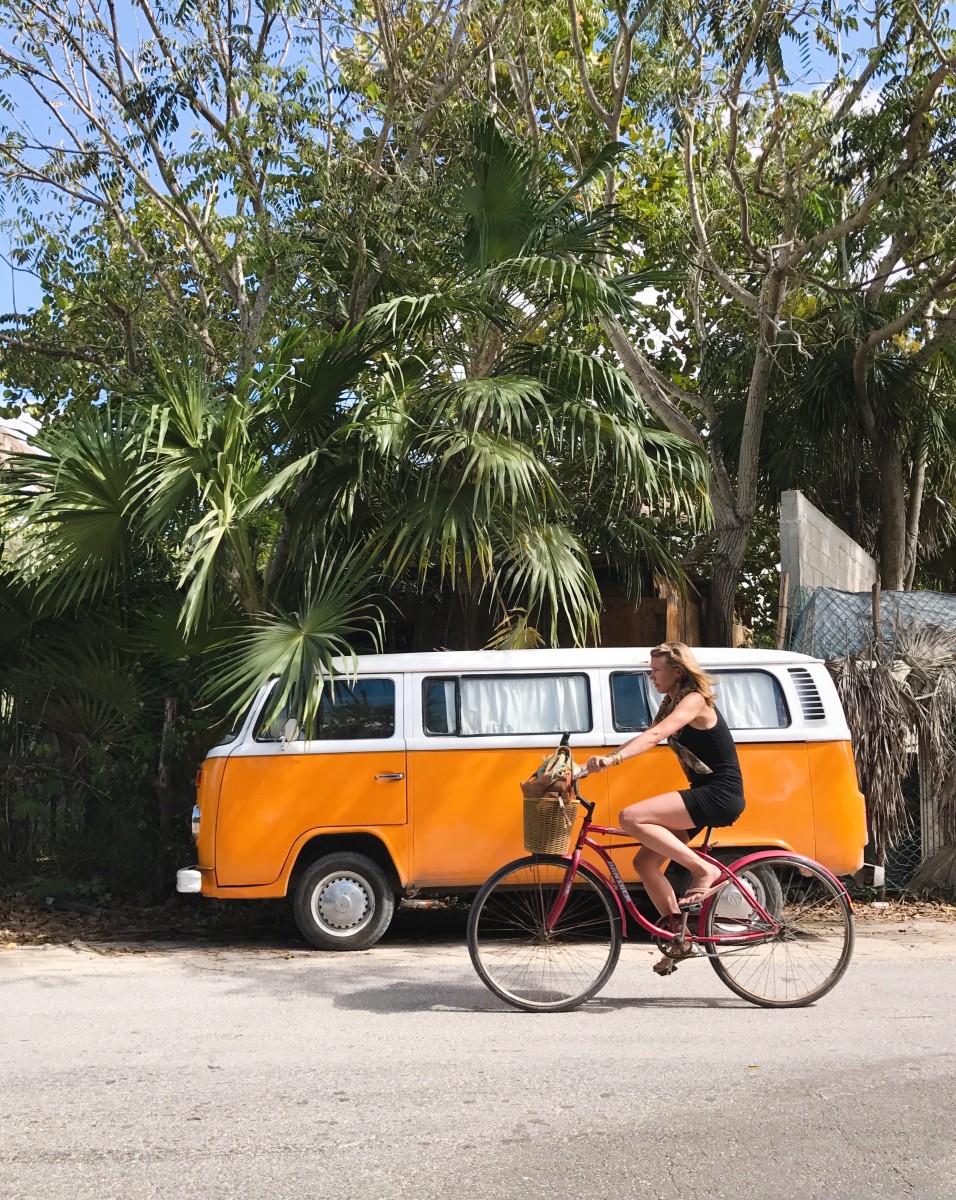 Bicycles are the preferred form of transport in Tulum
For luxury travelers like me, wifi access is a necessity and not a privilege and many of the resorts in Tulum are intentionally devoid of it. We chose to stay at Be Tulum, a luxury eco-resort that had strong wifi and great reviews.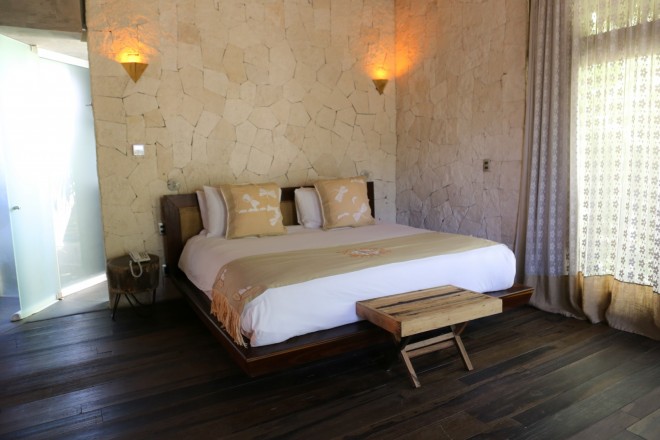 Interior of a suite at Be Tulum
While not a true business hotel, I was impressed that the wifi signal worked all the way to the white sand beach.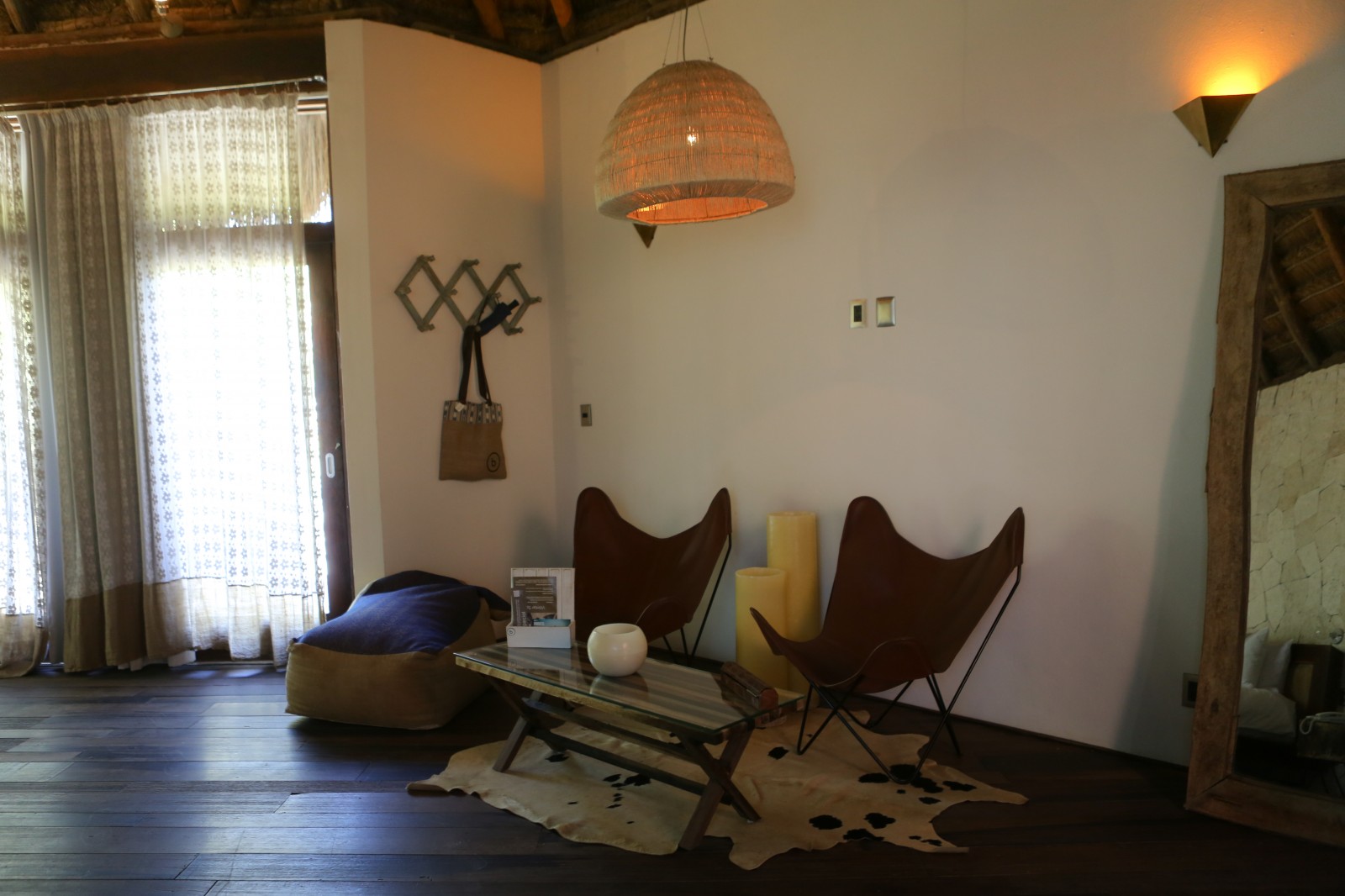 Interior of a suite at Be tulum
Be Tulum also has next level margaritas, chic rooms, and a lovely beach with multiple daybeds. It's not a business hotel so you won't find a proper desk in your room, but if you can handle the distracting ocean views while checking email, it's a lovely place to spend a few days.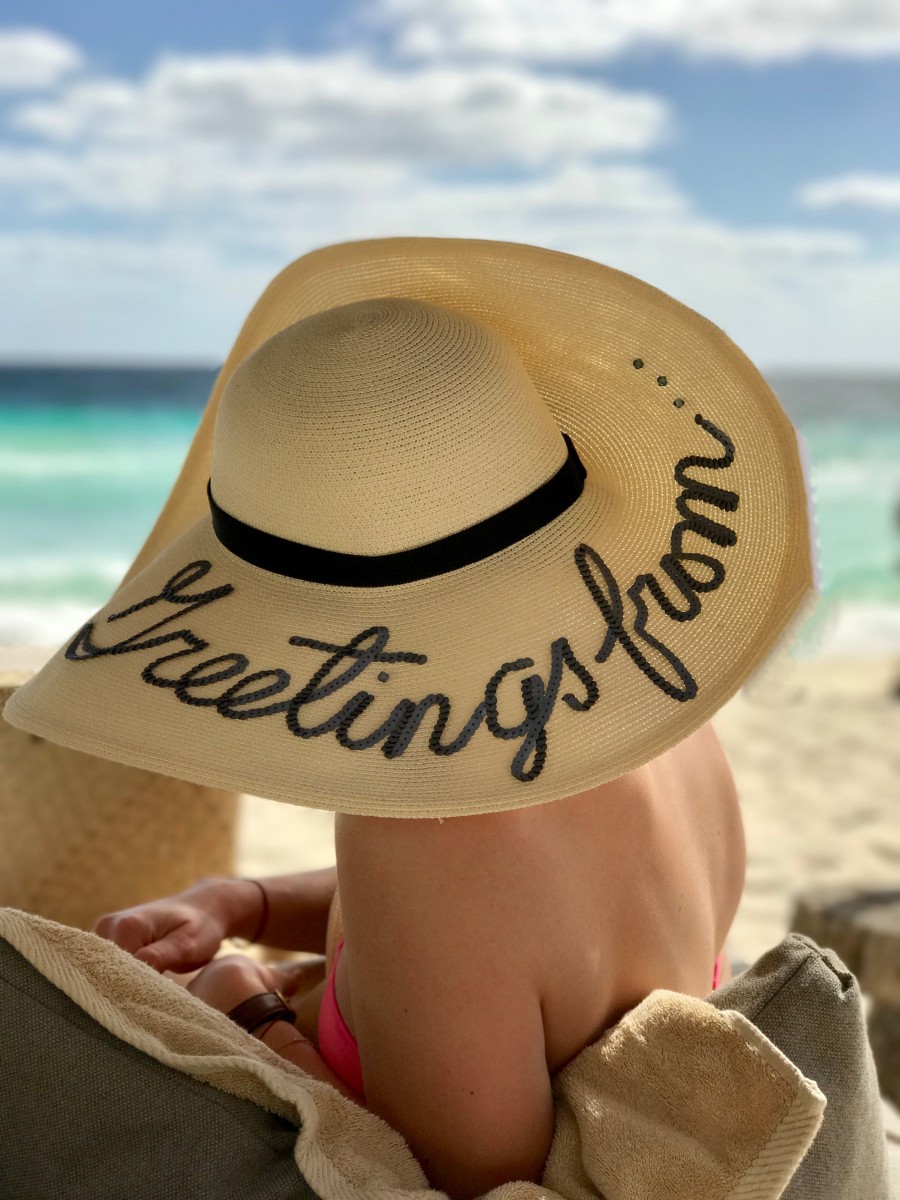 Sunhat in Tulum
Friends of mine have also spoken highly of the rustic chic Azulik and all-inclusive luxury resort Kore Resort Tulum, although I did not get a chance to check them out for myself.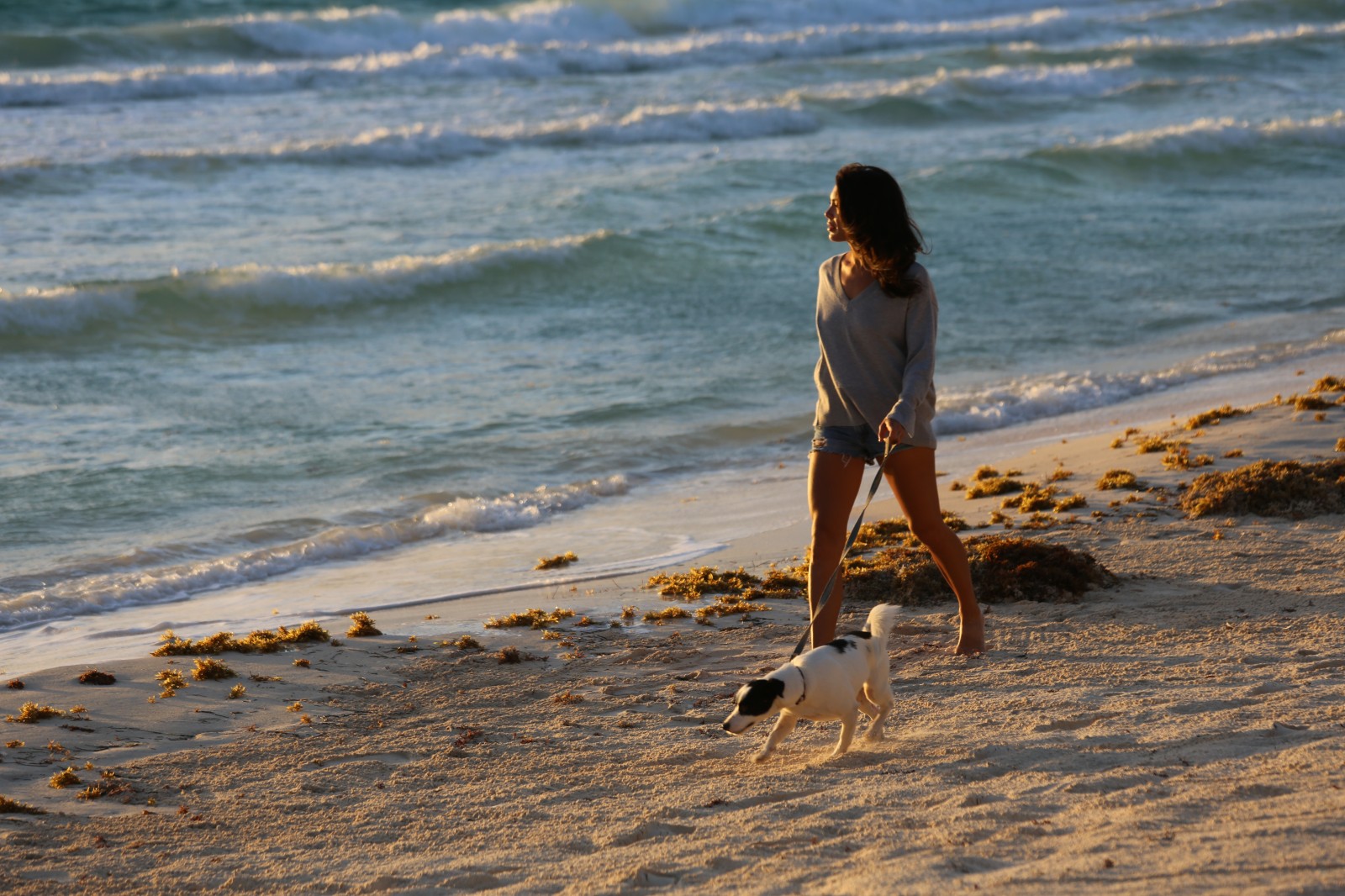 Morning walk on the beach in Tulum
My favorite places to visit are those with a vibe or spirit. Tulum definitely has a vibe. There is a effortlessly chic thing going on that is sort of hard to describe but easy to spot.
Cloudy morning time lapse from Tulum
Watching the sun rise one morning, I saw a lot of toned legs and dogs get walked on the beach. You can't help but notice that there are a lot of beautiful people in Tulum. It's a gorgeous spot where pretty people gather. I enjoyed people watching here and would like to spend a few more days doing that.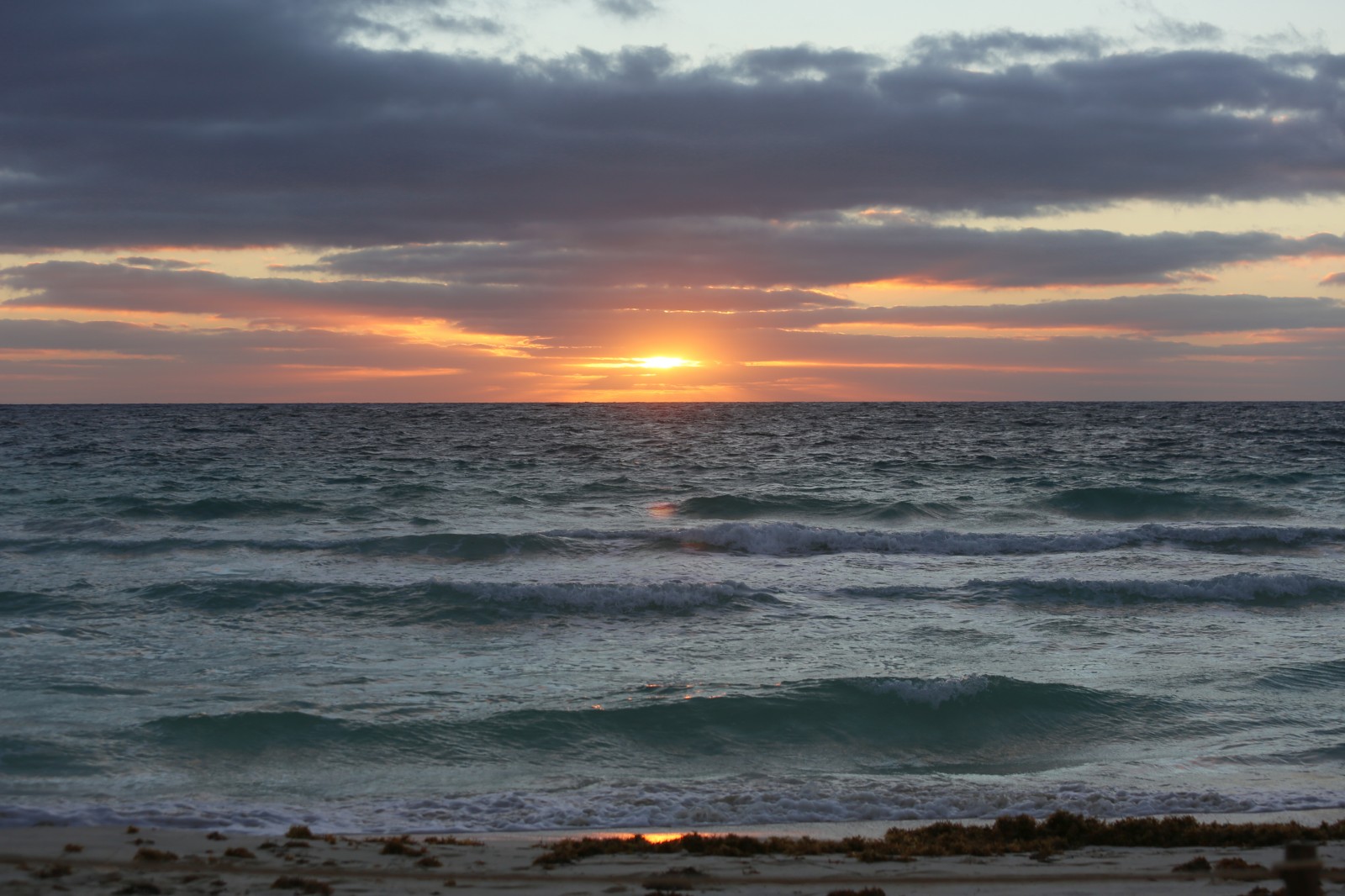 Cloudy sunrise in Tulum
Located about an hour and forty five minutes by car from the Cancun airport, Tulum is fabulous destination on it's own or combined with another spot on the Mayan Riviera. I split by time in Mexico between Mayakoba and Tulum.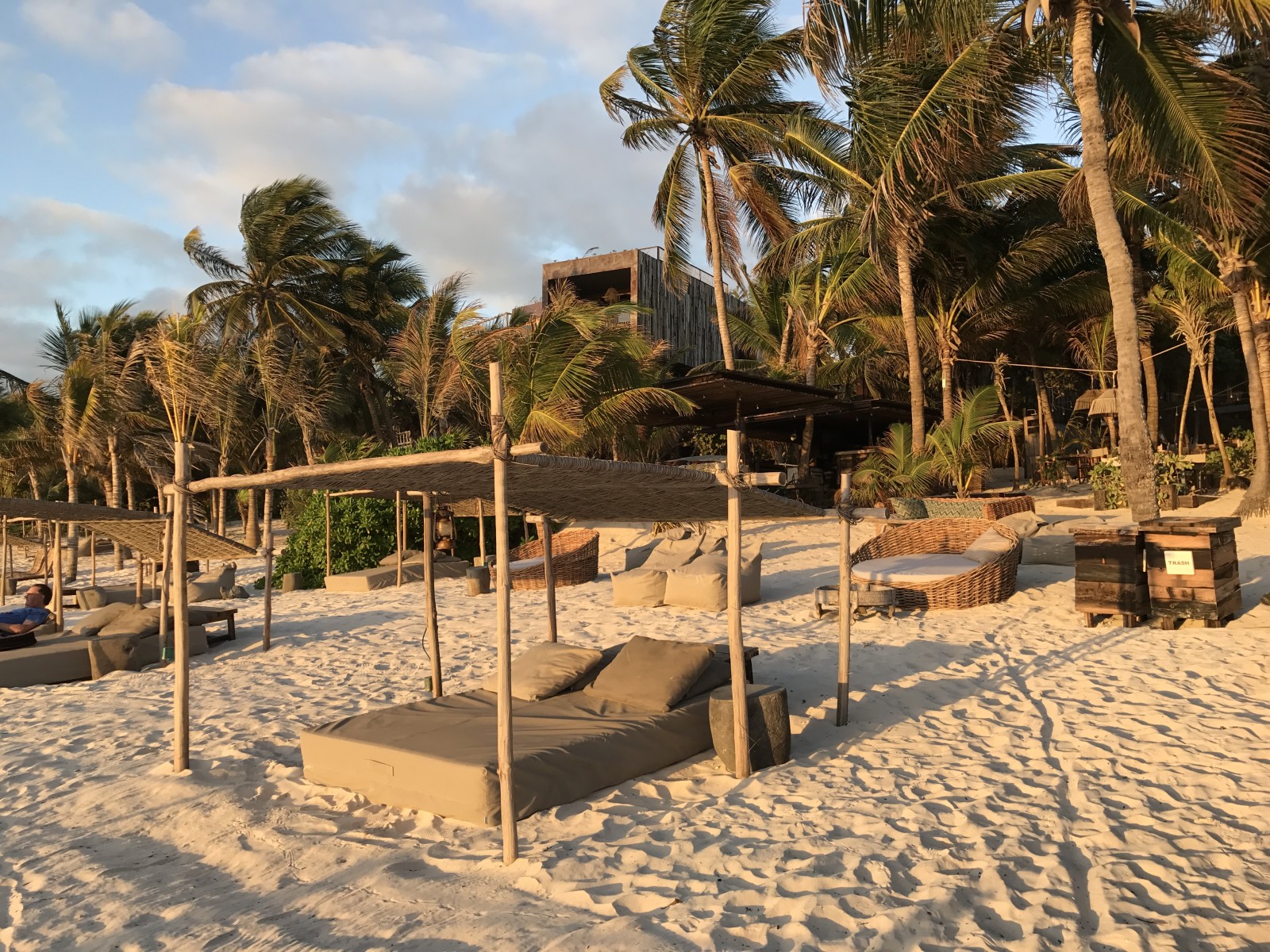 Day beds on the beach
NOTE: I'll cover my stay at the new Andaz Mayakoba in a future post.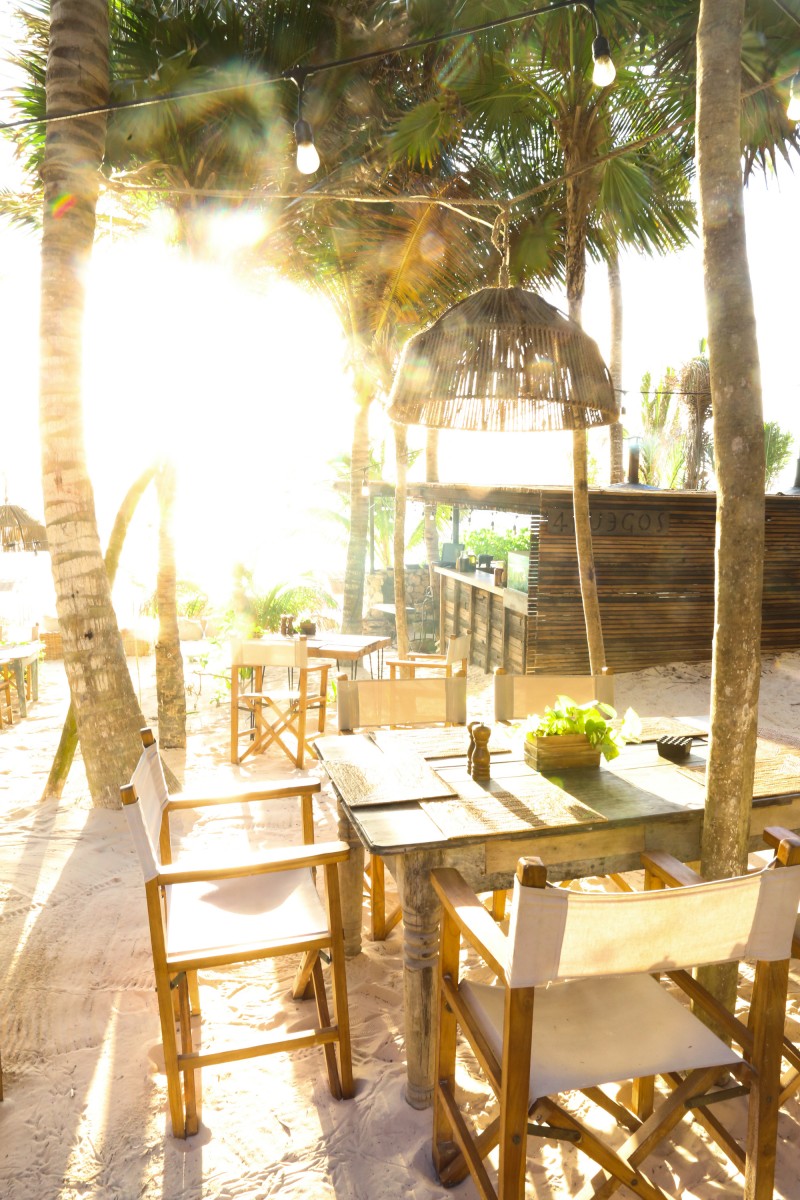 Vacation vibes at Be Tulum
As relaxed as Tulum is, you still need reservations if you want to get dinner at some of the interesting restaurants. We got to Hartwood before 6 pm and did not manage to get a table.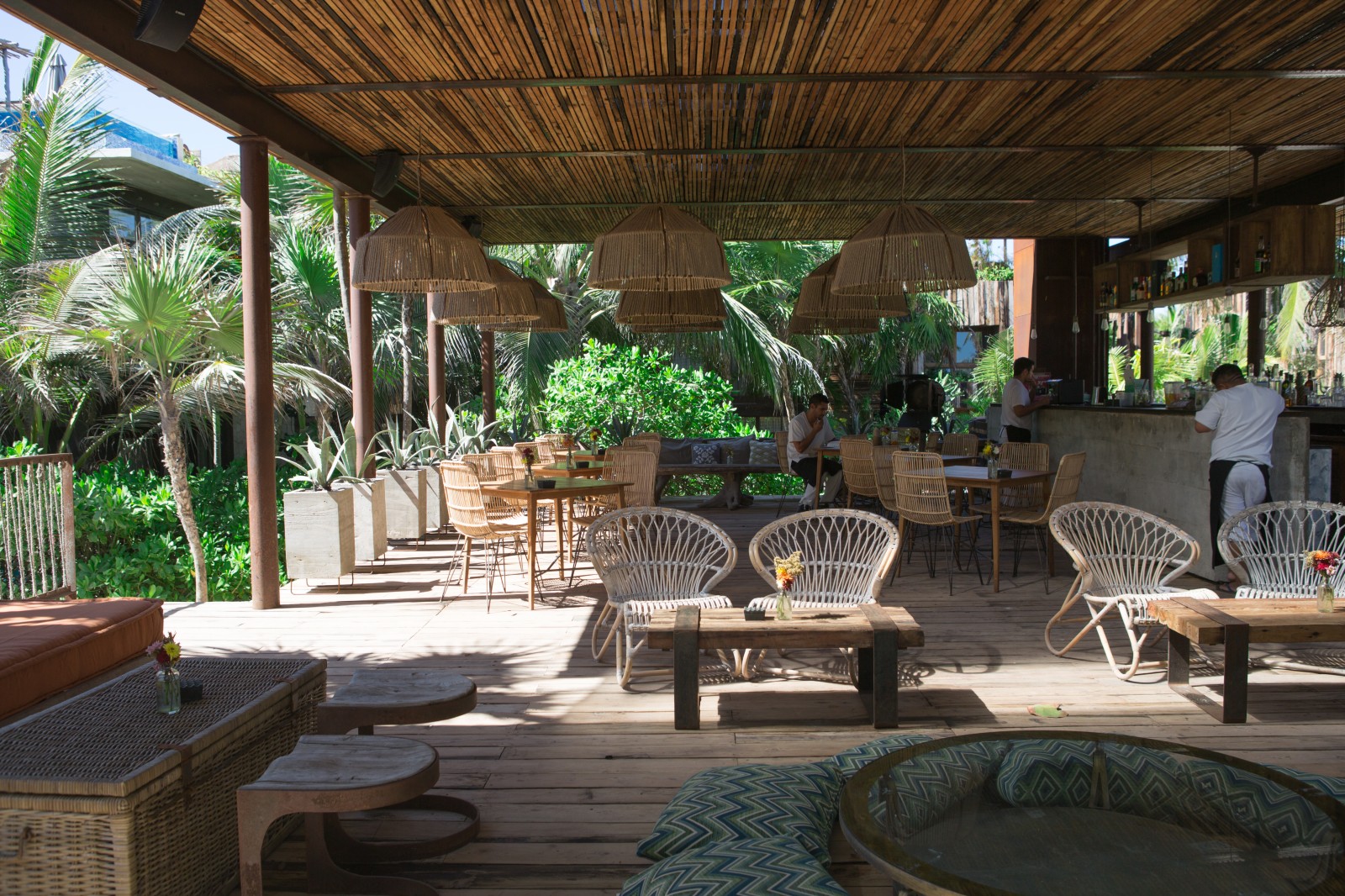 The chilled out bar at Be Tulum
According to the concierge at Be Tulum, Hartwood only take reservations by email and it usually takes a few days to get a response so if you wan to eat there be sure to book ahead.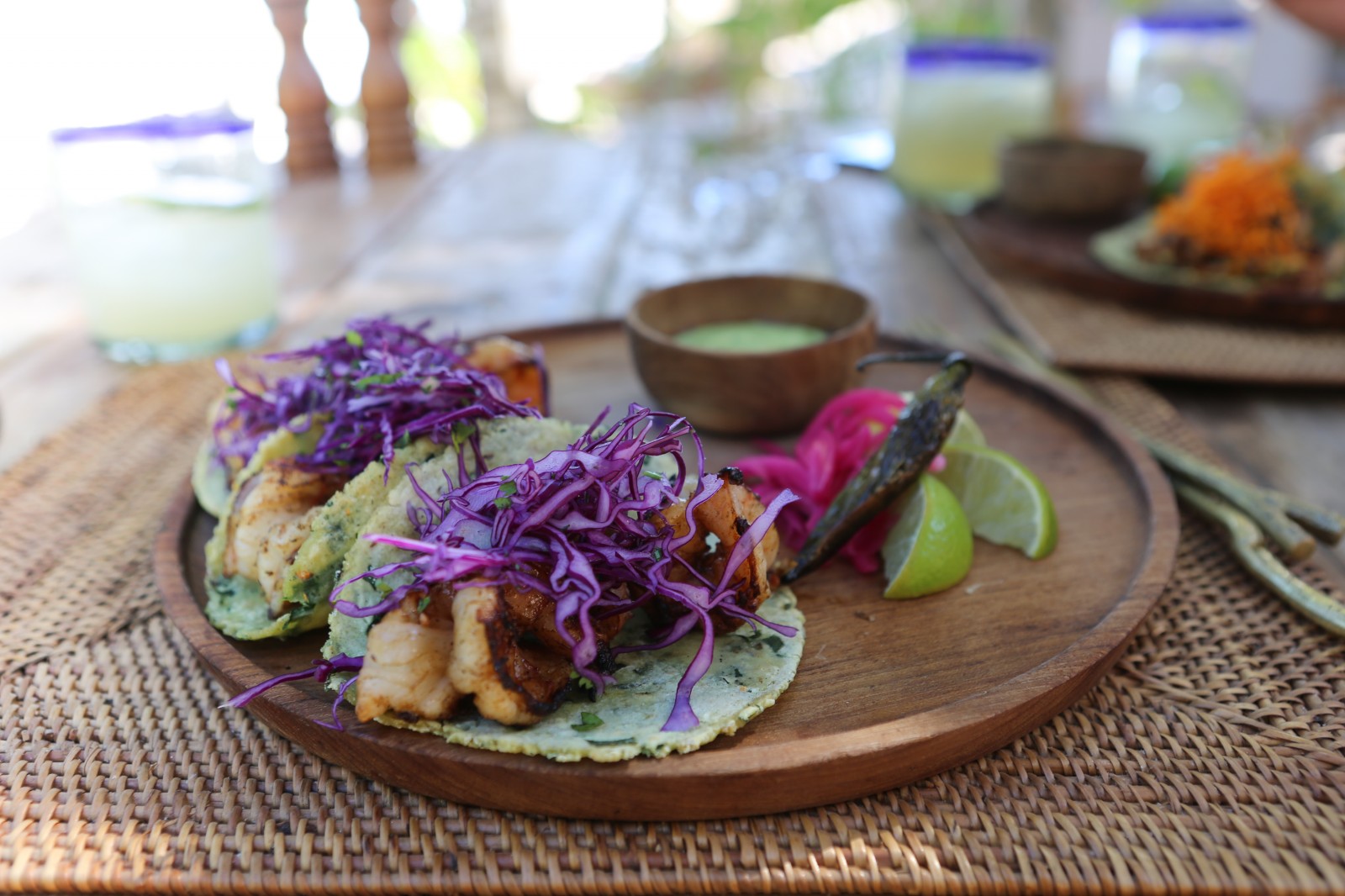 Shrimp tacos at Be Tulum
But there are plenty of good dining options in the area. Be Tulum's restaurant had a great menu for breakfast and lunch, with the shrimp tacos being a standout item.
Mezcal cocktail at Gitano
Foodie friends suggested Gitano. It's a gorgeous space and has the prettiest cocktails in town.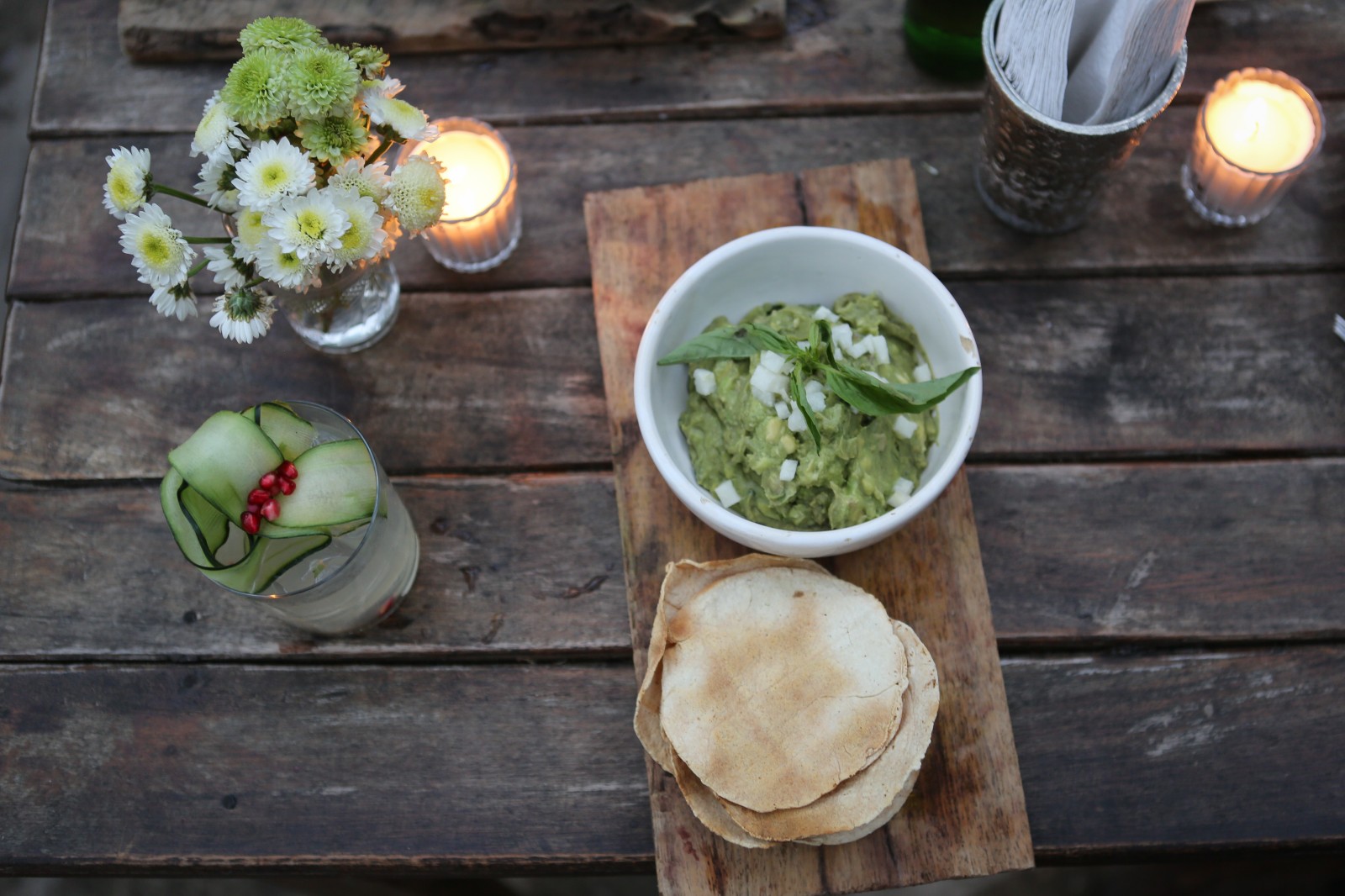 Basil guacamole with jicama at Gitano
Gitano's menu of modern Mexican food, includes small plates with nice touches. Like the basil guacamole with jicama served with roasted corn tortillas. Their Sopa de Lima and ceviche were also delicious.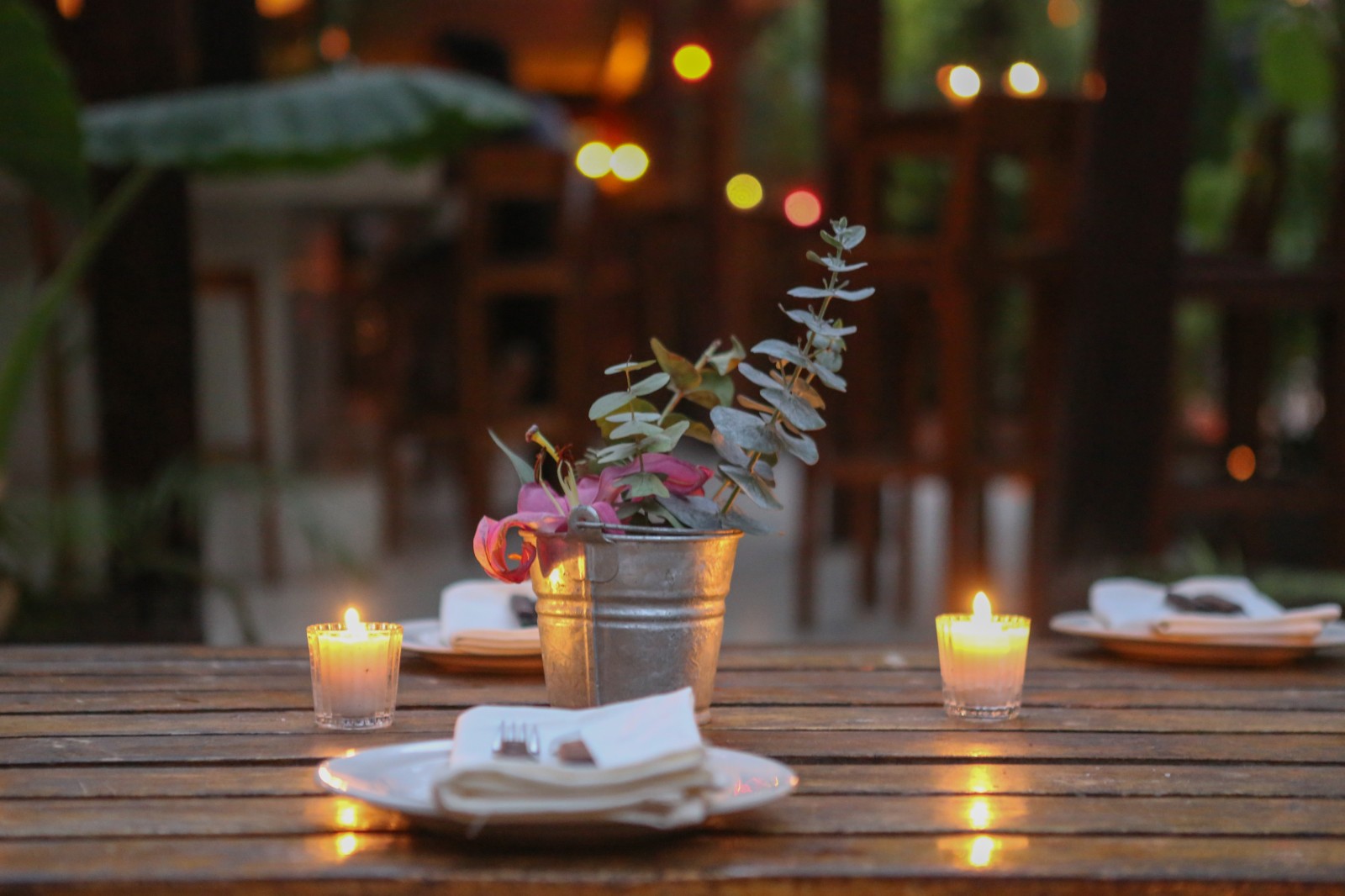 Laid back romantic atmosphere at Gitano
Be sure to have cash on hand when going out to eat in Tulum. Many of the small restaurants only take cash. Both pesos and US dollars were accepted.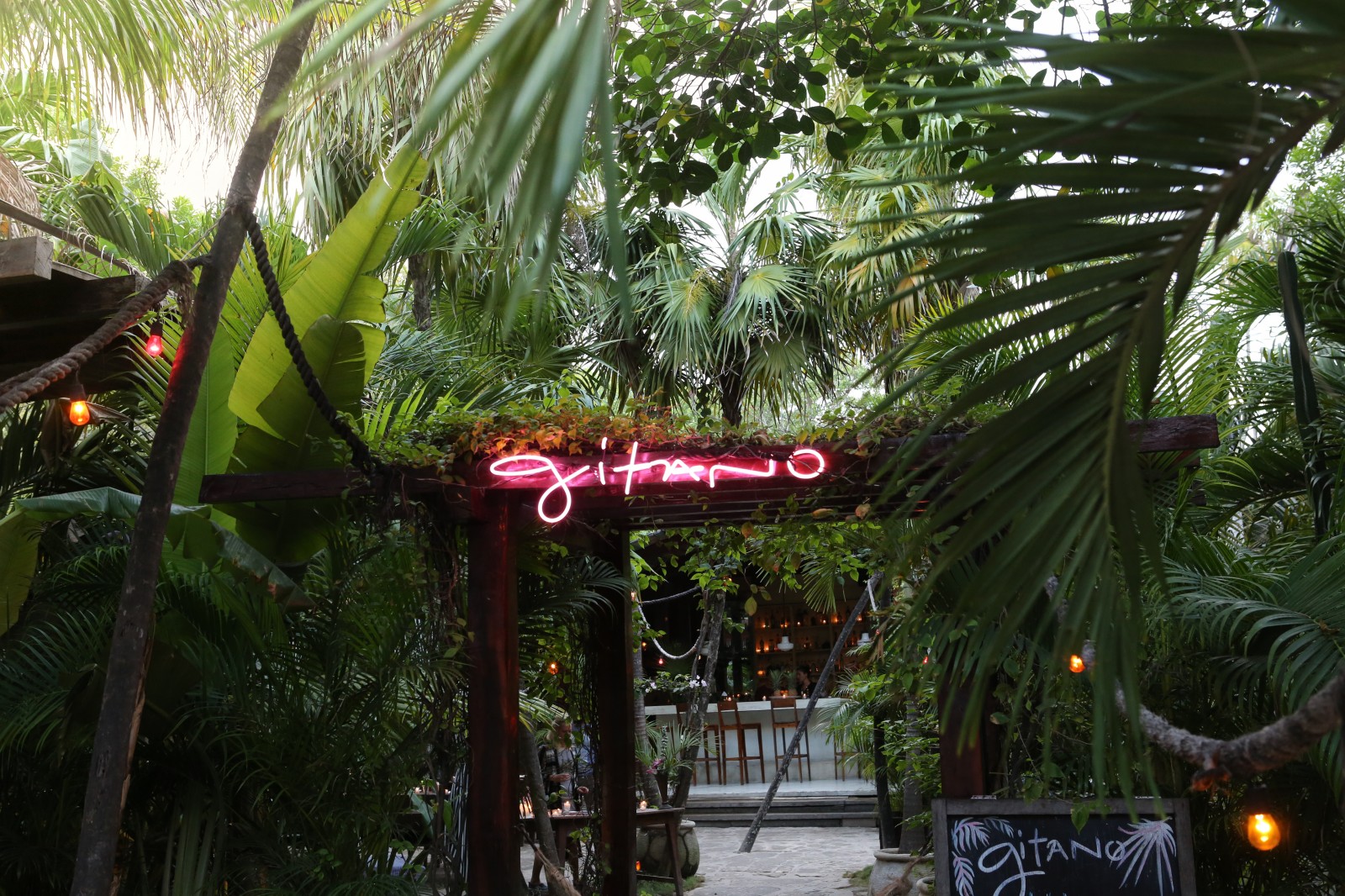 Gitano exterior in Tulum
The food scene is getting more exciting in Mexico's Mayan Riviera and I'm sure there are more small spots to check out in Tulum.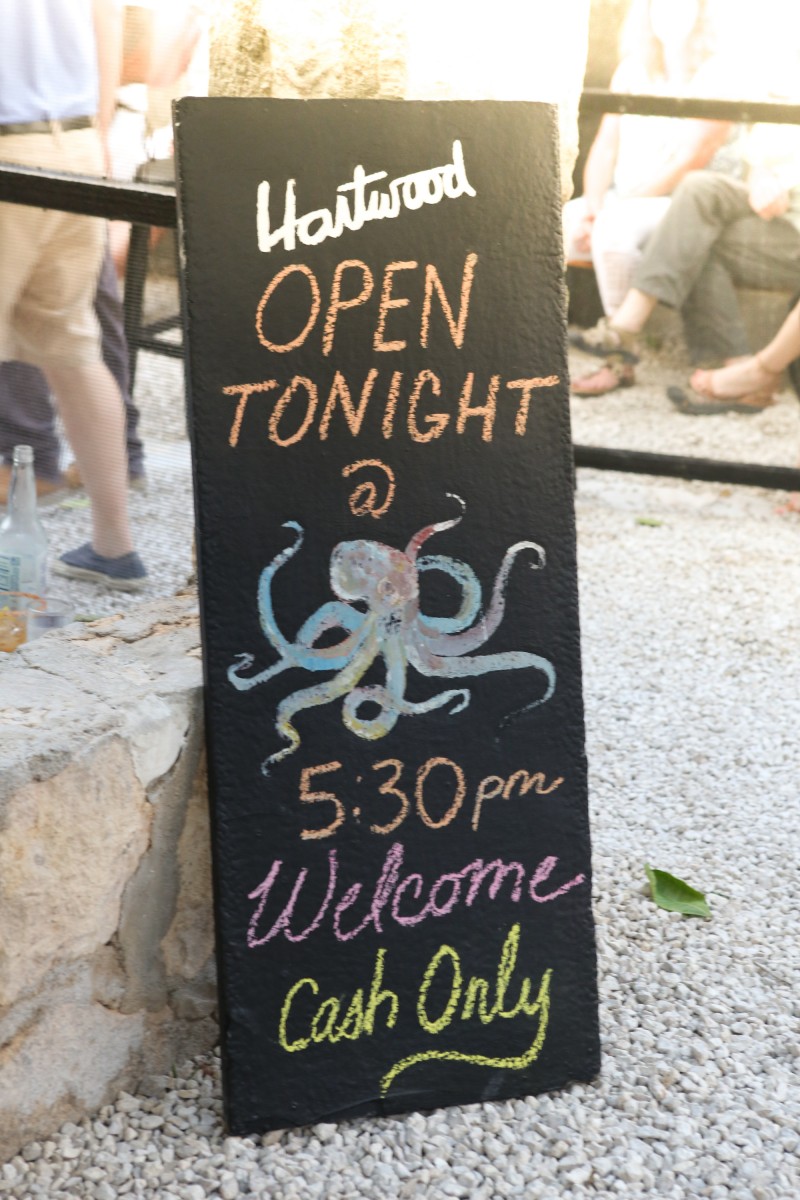 Come with cash!
For those who can only spend an afternoon in Tulum, local institution Ziggy's Beach Club  allows diners to use their sun loungers and amenities for $25 USD per person per day. Ziggy's also has wifi.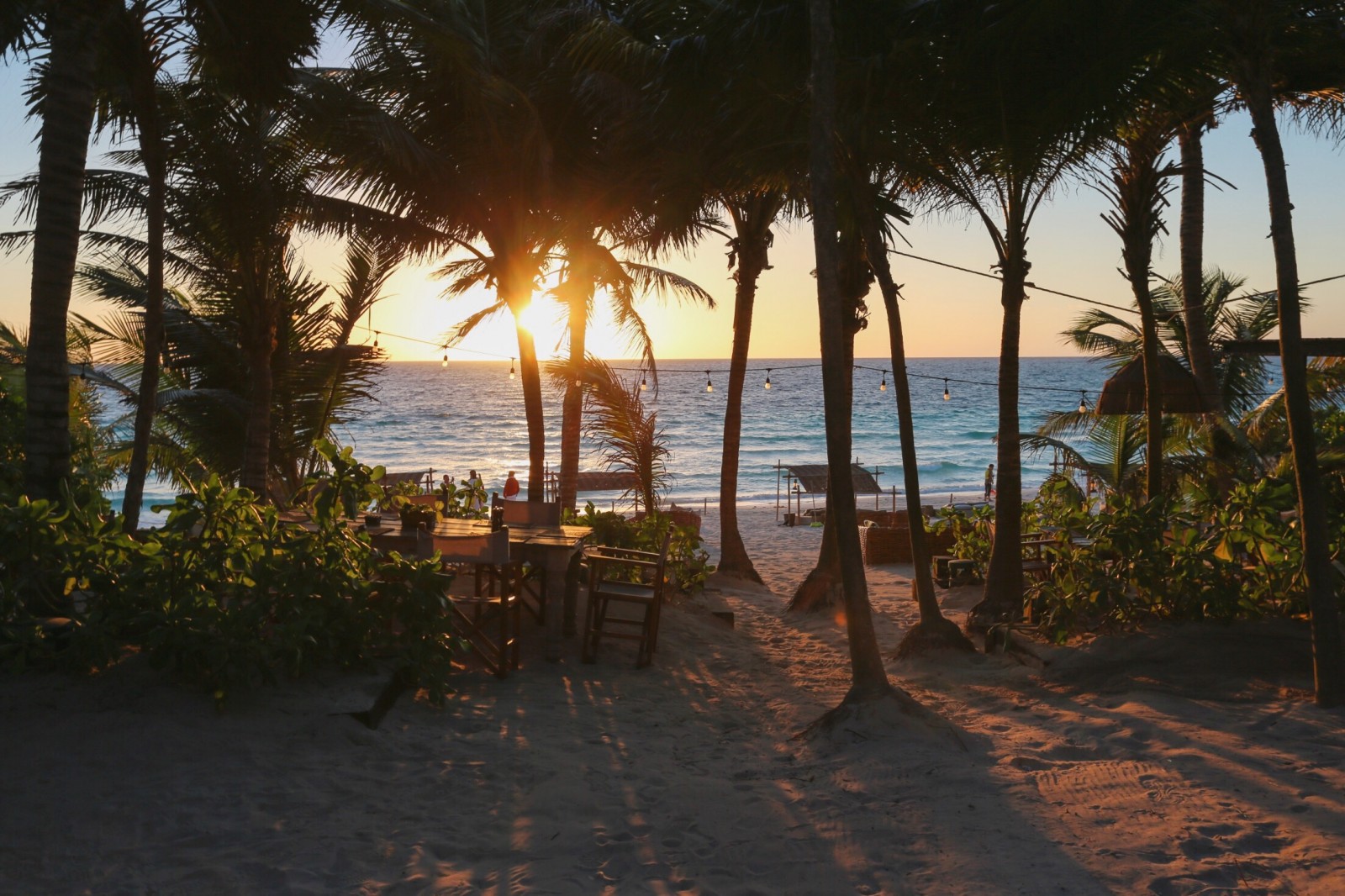 Magic hour in Tulum
Tulum is a place I look forward to getting to know better. I think I'm going to be coming back here soon.
Address:
Carretera Tulum-Boca Paila Km.10, Zona Hotelera, 77780 Tulum, Q.R., Mexico
Address:
Carretera Tulum – Boca Paila Km 7,5, Zona Hotelera, 77780 Tulum, Q.R., Mexico
Address: Beach Road Km. 7, Boca Paila, QRO, Mexico
reservations@gitanotulum.com
Address: Carretera Tulum Boca Paila 7.6Km, 77780 Tulum, Q.R., Mexico
open for dinner only, 6-11pm closed Monday and Tuesday