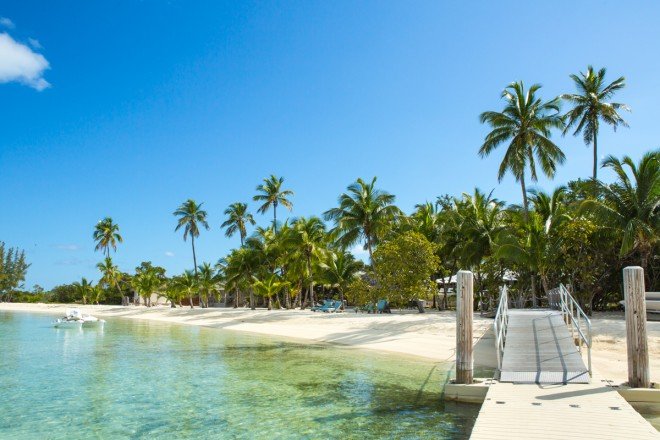 The view from the dock when you arrive at Tiamo Resort on South Andros Island
My recent stay at Tiamo Resort felt like I was on a private island, without the crazy price tag. Located on South Andros, one of the Out Islands in the Bahamas, Tiamo is remote. I got there via a flight to Nassau, and then a 20 minute hop on a puddle jumper, a short drive in a taxi, and finally a 10 boat ride before pulling up to Tiamo's private dock and catching a glimpse of the uncrowded beach, floating loungers, and crystal clear Caribbean water. It was worth the multiple forms of transportation.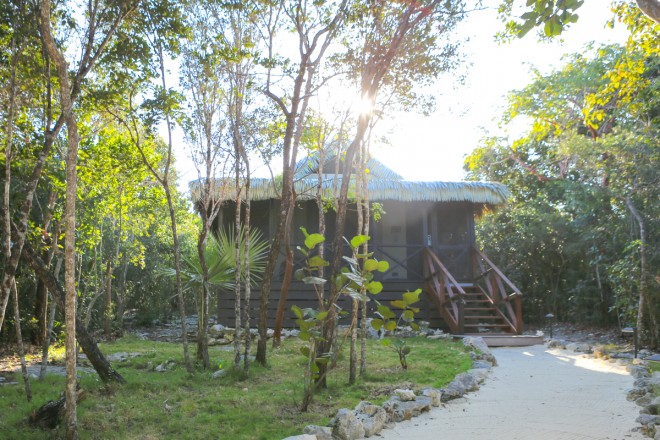 Eco chic and simple Bahamian cottages at Tiamo
Tiamo is a perfect example of the difference between nice and fancy. It's hella nice, but not overdone to the point where the facilities are competing the gorgeous environment. I stayed in a Pool Villa (room #2) which was a very nice version of a typical Bahamian cottage. It was super comfortable with a king sized bed, writing desk, large walk in closet and screened in sitting area and small plunge pool. But it wasn't over the top– the bathroom was located at the back of the villa under a thatched roof. This made it feel authentic rather than an architect's showplace.
The island chic bar at Tiamo is a nice place to relax before sunset
Tiamo also has a 3 bedroom house called the Bird's Nest that I will cover in a separate post. The point of Tiamo is to enjoy the unspoiled beaches and chillax. There are lots of water activities to keep you busy– snorkeling, scuba, paddle boarding among others, and South Andros is a major spot for bone fishing (which is a fly fishing technique where you are propelled on a boat with a tower).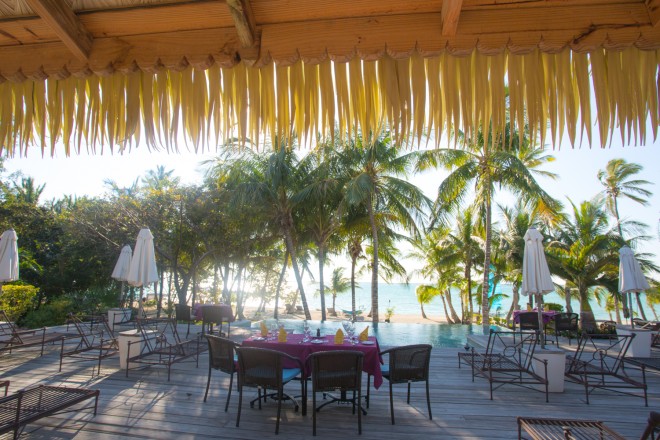 Dining tables set around the pool also have a view of the beach
After less than 24 hours here, my traveling companion, Zan, dubbed Tiamo "Chill Island." This is truly a place to get away from the stresses of everyday life. You're not going to have to get up at dawn to claim two lounge chairs because your villa already has them waiting for you. With only ten villas, and one private house, crowds are never a problem.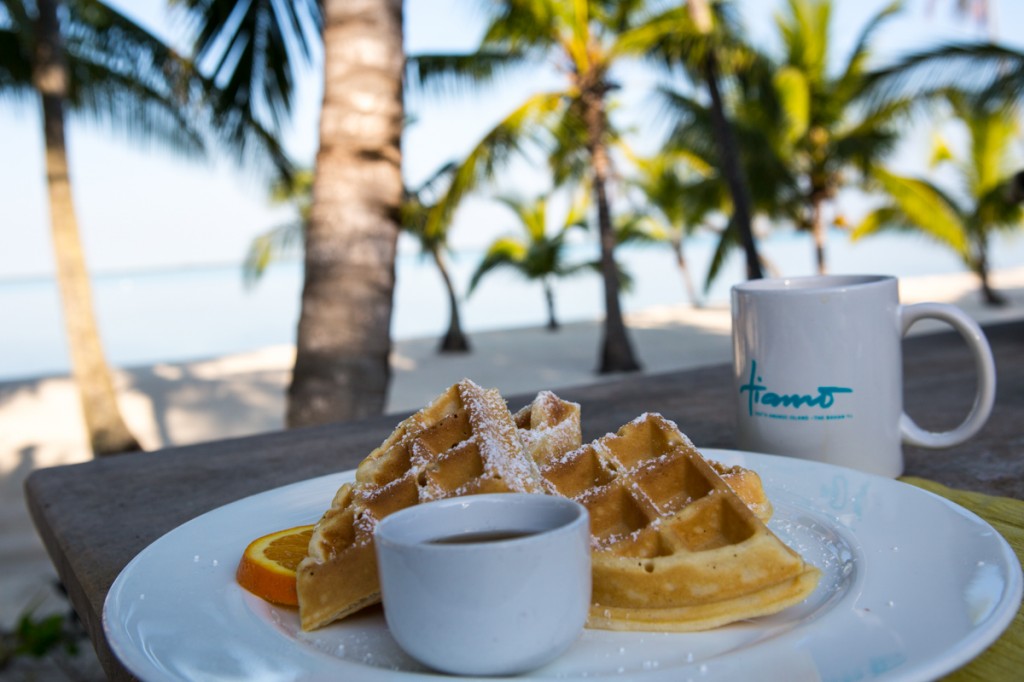 Waffles in paradise
Meals are included in the room rates and activities are scheduled around them. There is a cooked to order breakfast in addition to a buffet, lunch is served between 12-2pm. At around 5 pm Happy Hour begins in the bar and the friendly staff will get you some snacks if you'd like to nibble on something (or feed the on-property iguanas) while taking in the spectacular sunset.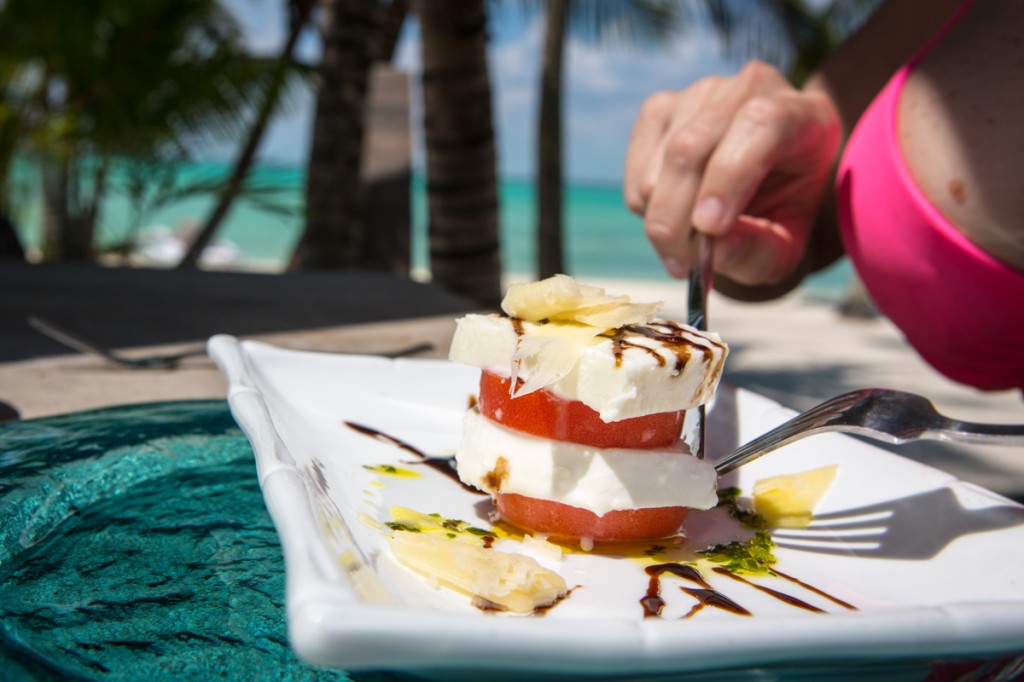 Caprese salad on the deck for lunch at Tiamo
Portion size isn't huge (which I appreciated) and the staff could make alterations for allergies and dislikes, etc.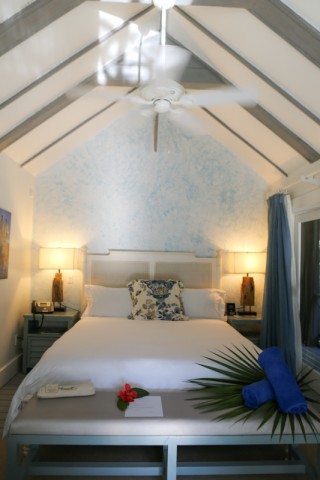 Chic, simple and not overdone interiors at Tiamo
The other guests on the island were all friendly, but you rarely see them at other than meal times because they might be off bone fishing while you're paddle boarding. The staff is super friendly. Both the Marine Master, Lee, and Nick, who worked with him, made sure that our snorkel times and activities worked with both tides and meal times.
The thached roof shower and glass tile in the bathroom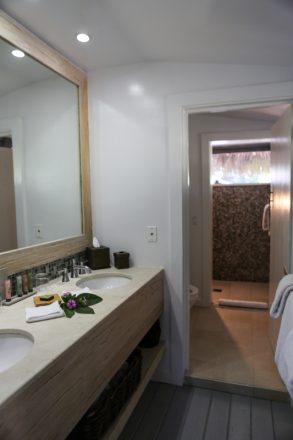 Side by side sinks in my pool villa
The resort has free wifi throughout, and the mini-fridge in our villa was filled with Bahamian sands beer. There is some incredible snorkeling in the area and scuba diving as well. Or you can rent a boat by the hour and go waterskiing or sailing or deep sea fishing. Or just laze in a hammock and read.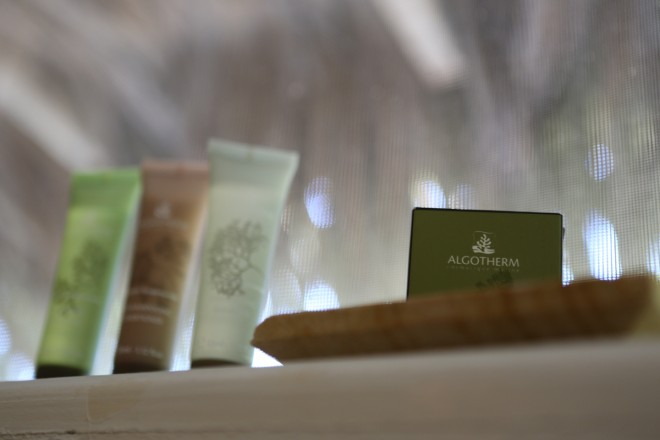 Algotherm amenities in bathroom at Tiamo
Paddle boarding quickly became my favorite because you could glide effortlessly over graceful stingrays and lemon sharks in the shallow water just off Tiamo's dock.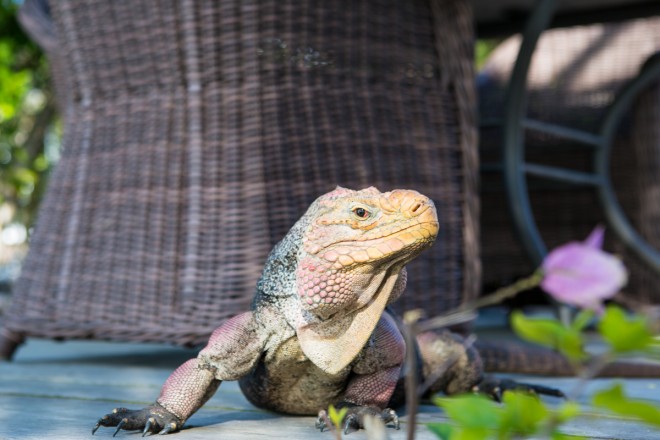 A friendly Andros iguana (Cyclura cychlura cychlura) basking in the sun at Tiamo
The entire resort can be rented out for events like reunions or weddings, but there really doesn't seem to be a need to do it. With only 11 rooms, it's far from crowded. At one point, Zan looked down at the deserted stretch of white sand beach and yelled "Wilson!" a la Tom Hanks in Castaway.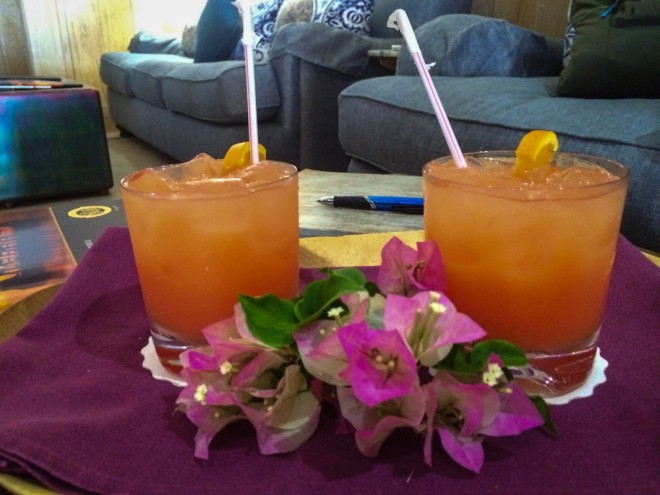 Welcome drinks at Tiamo
Since the resort is remote, staff (and supplies) are all brought in by boat. So meal times are fixed and there isn't 24 hour room service. But it wasn't a problem. Julien, who runs the front office, made sure we had coffee delivered to our villa before dawn on the morning we had to depart.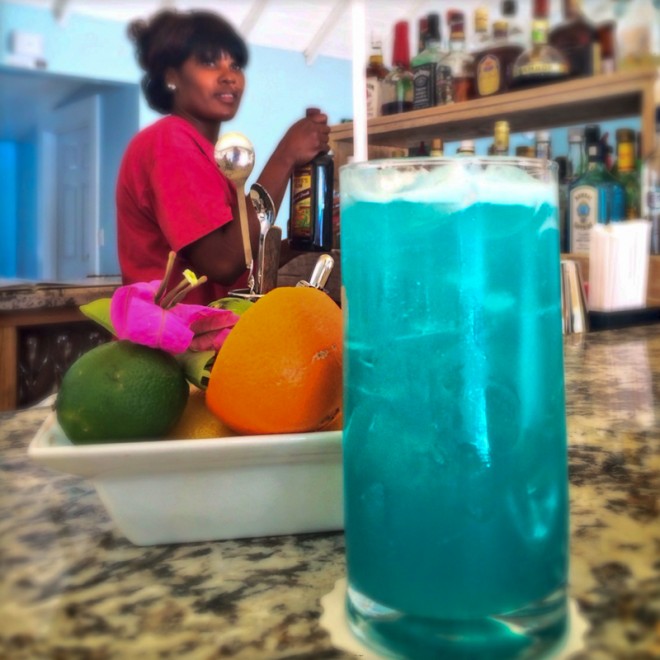 A Caribbean blue cocktail at Tiamo
At Tiamo the food is good, but not haute cuisine. If you need a celebrity chef, you'd be better off staying in Nassau.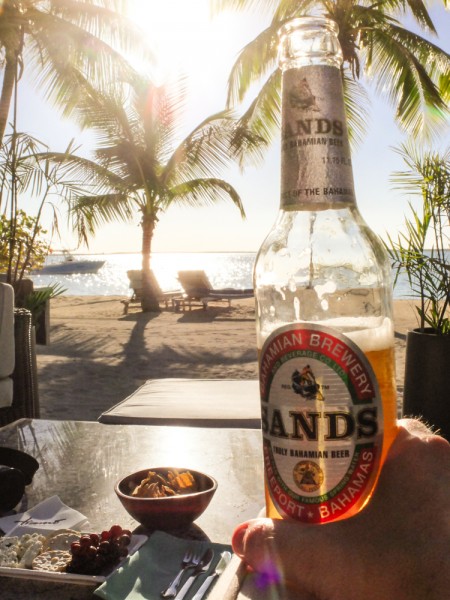 Sands Bahamian beer and a killer South Andros sunset at Tiamo
I also appreciated that cocktail prices were reasonable ($12 for a margarita– or 2 during Happy Hour) since there aren't a lot of options other than those in-house.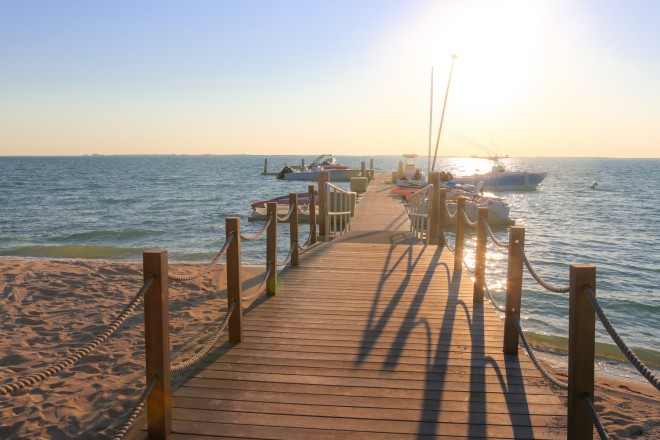 Tiamo's private dock
Tiamo is chic and relaxed luxurious Caribbean getaway and a great option for honeymooners or those who don't need a night life scene while they are on vacation. Due to the remote and relaxed authentic style of the resort, children under 12 are not allowed unless they stay in the Bird's Nest.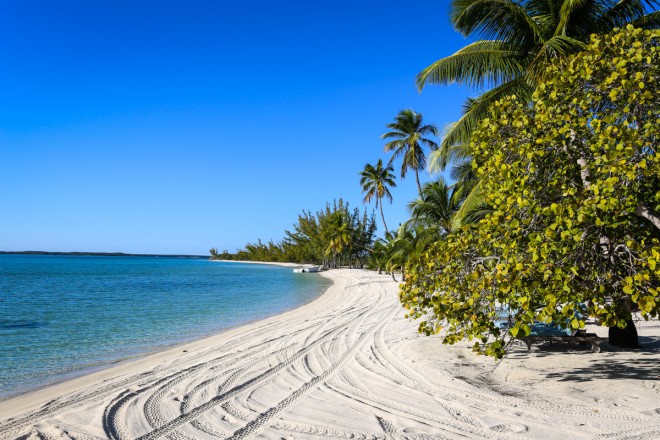 Uncrowded beaches had Zan yelling "Wilson!" a la Tom Hanks in Castaway
There is a spa and small gift shop as well, but I was so relaxed and enjoying the natural beauty of South Andros, spa treatments seemed unnecessary.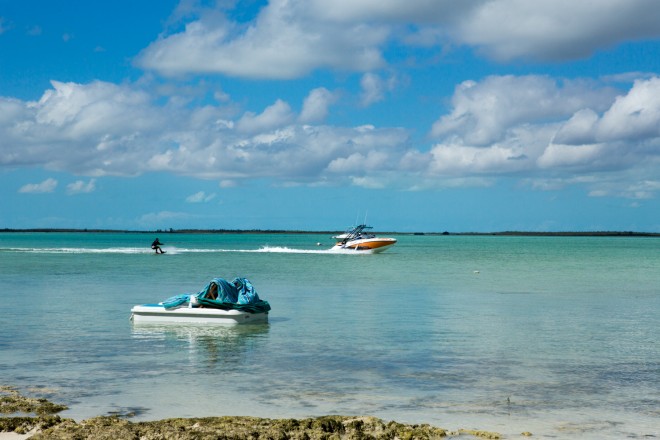 Waterskiing is just one of the water activities to choose from at Tiamo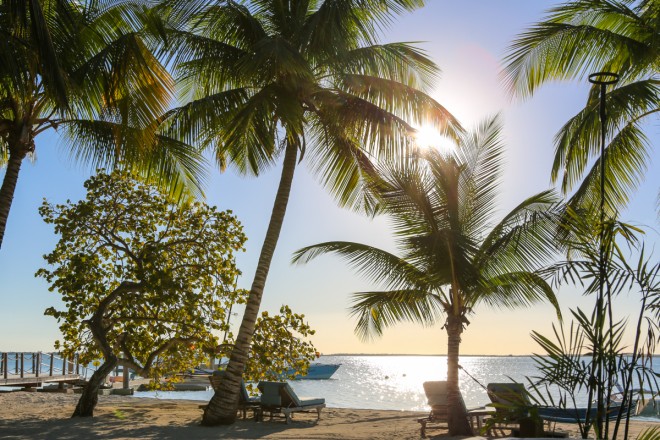 Unforgettable Sunsets on a chilled out island
Driggs Hill – South Andros Island, The Bahamas
Phone: (1) 786 374-2442 (from USA)
Fax: (1) 242 369-2335
reservations@tiamoresorts.com
Rates start at $903.60 (per villa for two people, including food, transportation to/from the airport and most activities) note* alcoholic beverages and some activities are additional
Tiamo Resort is a member of Small Luxury Hotels of the World
Disclosure* This post would not be possible without SLH Hotels and Tiamo Resorts, who arranged for the resort to hosting me for two nights