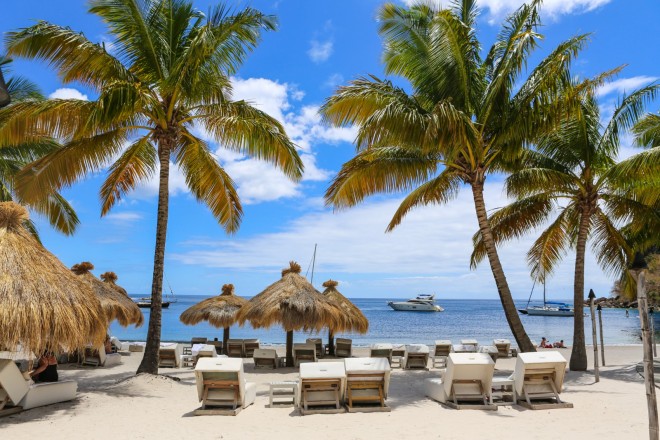 White Sand and Lounge Chairs at Sugar Beach, a Viceroy Resort
Last month, I visited the Caribbean island of St. Lucia for the first time. I split my time between two different hotels in the Soufriere area, the first of which was Sugar Beach, a Viceroy Resort. Sugar Beach is located about an hour's drive  from Hewanorra International Airport (UVF).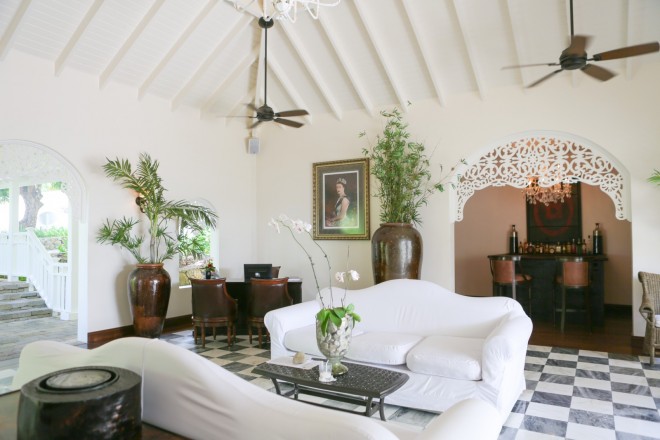 The chic Lobby of Sugar Beach
While St. Lucia is rather small (27 miles long and 14 miles wide) it's mountainous and curvy, but the drive wasn't overly winding. It was nice to not get carsick after flying in from Miami. We were greeted with cool towels as soon as we arrived.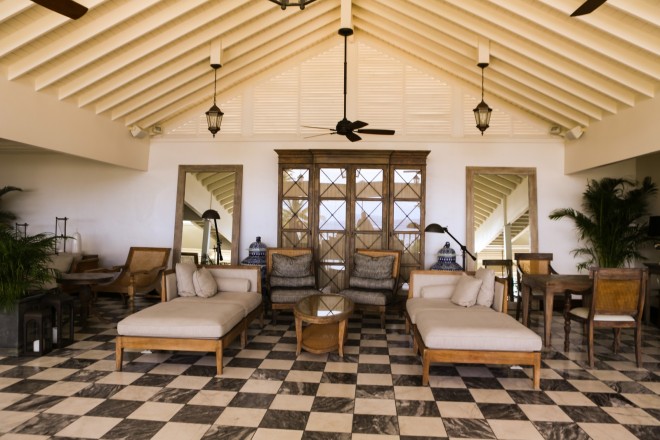 Colonial Chic furnishings at Sugar Beach
Situated on a former 18th century Sugar Cane plantation in the Val de Pitons UNESCO World Heritage Site, Sugar Beach is a favorite destination for couples and honeymooners. The geography is lush, the rum is good and the sunsets spectacular.

Views from around Sugar Beach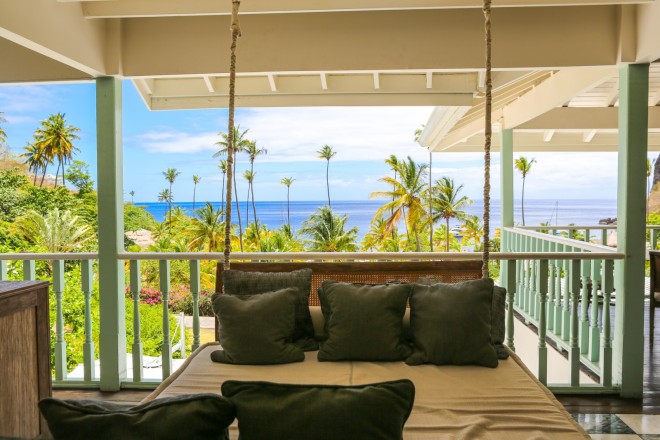 Swinging daybed in one of the public spaces at Sugar Beach
After checking in, we were driven to our room in a colorful jitney, which run as shuttles about the hilly property, making it easy for guests to get from their rooms to the beach, restaurant and spa.
We were shown to room 709, a luxury cottage with oodles of plantation chic charm and wonderful welcome amenity– a bottle of Chairman's Rum, distilled on St. Lucia, which quickly became our favorite sundowner.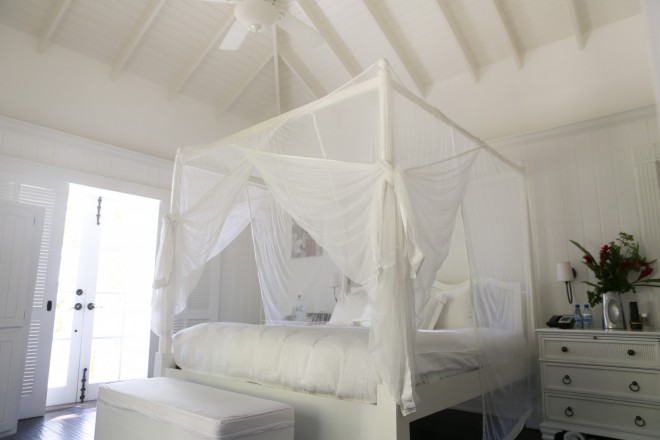 No Shocker Couples love Sugar Beach: behold the Hella Sexy Bedroom of room 709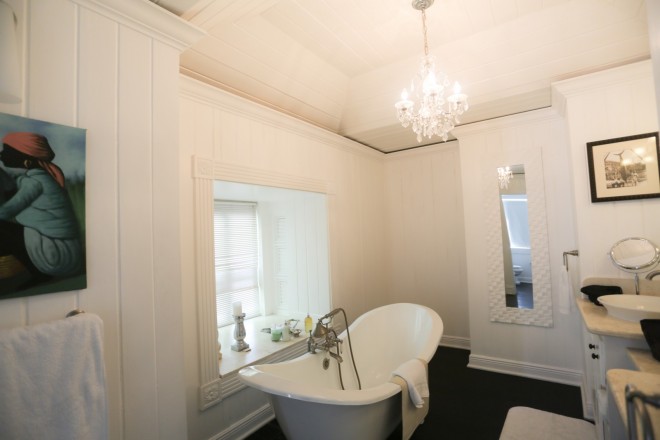 Claw foot bath tub and side by side sinks in the bathroom of room 709
The bathroom was generously sized, with a gorgeous claw foot tub, side-by-side sinks, cool art and separate areas for the toilet and a huge rain shower.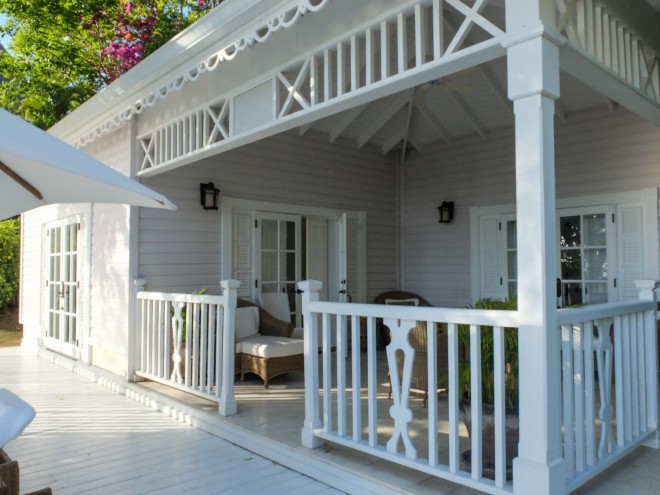 The patio of our cottage provided privacy and a lot of colonial luxury
The bedroom was hella sexy– after sipping the rum, I kept expected to see Mick Jagger in his prime under the white mosquito netting. It's not surprising the honeymooners love this place.  It was also nice to have a completely separate living room, butler service, and an in-room iPad where I could book my spa appointments at the resort's incredible Rainforest Spa.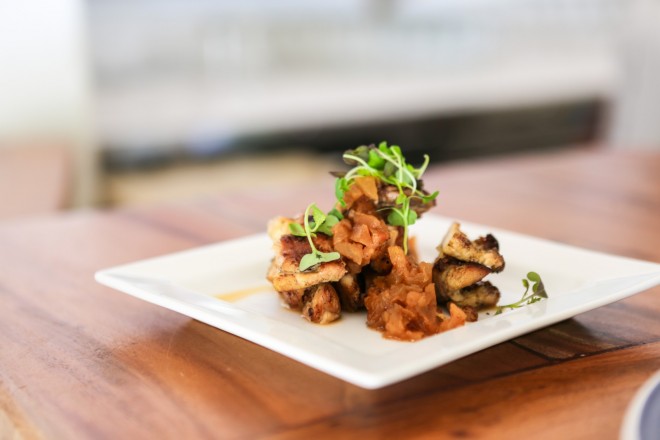 Lunch at the casual Bayside Restaurant
The Cocktail Menu and Cuban cigars on the menu at the Bayside Bar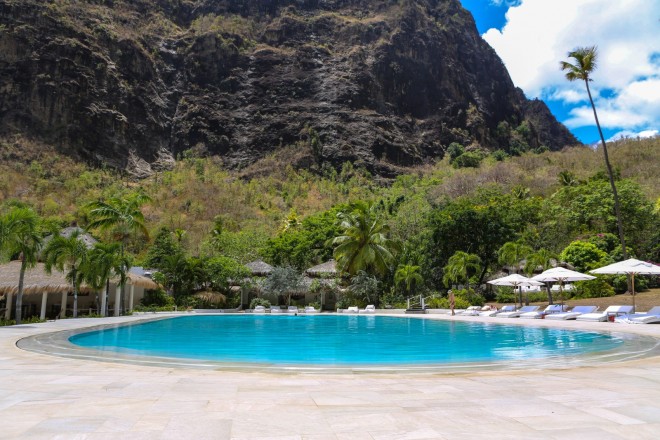 If the beach isn't your thing, Sugar Beach has a killer pool as an option too
There's a super cute Sugar Club for kids if you're traveling as a family. The property prides itself on it's family programs. I didn't see many kids during my stay, but that also means if they were on property they were well entertained.
Cool old ruins from the resort's days as a working Sugar Cane Plantation now have become a favorite backdrop for brides and grooms getting married on the porperty.
Other than wifi, a well placed hammock is my favorite amenity
I can see why Matt Damon chose to have his vow renewal on the property– there really is no reason to leave the property with multiple restaurants, activities, bars and things to do right on site. The butler service is top notch, the wifi signal was strong.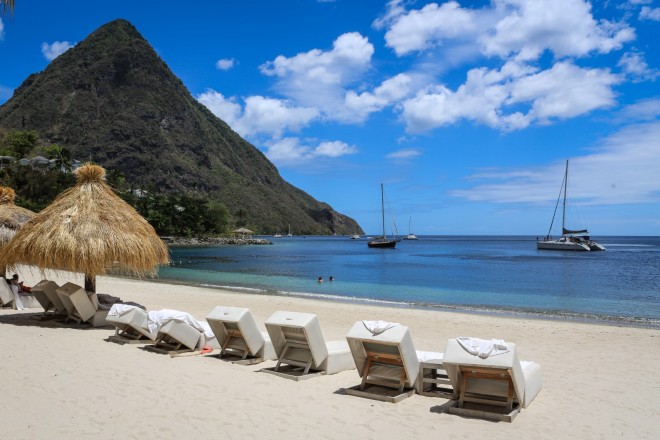 Boats and beach chairs on Sugar Beach
There's tons to do at Sugar Beach, but the villas are so comfortable, this is a great place to come to do absolutely nothing at all.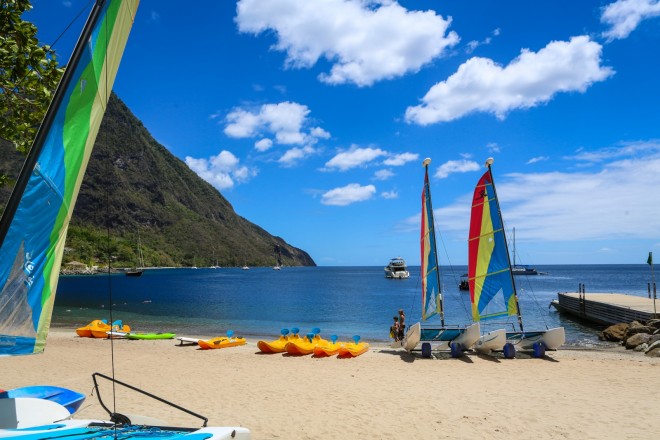 Catamarans and kayaks ready for Sugar Beach Guests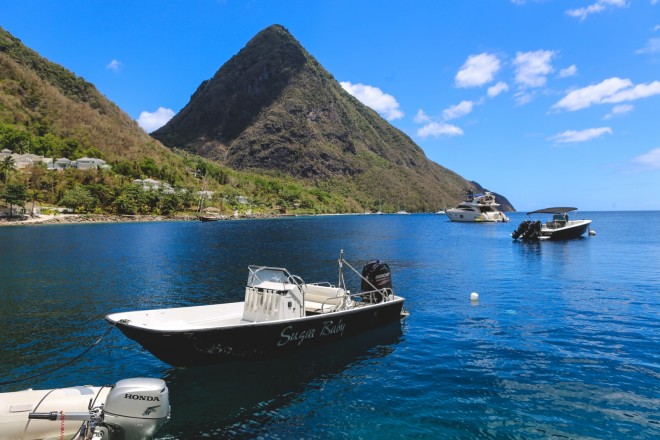 The Sugar Baby
Left: the beach activities hut Right: colorful jitneys are a fun way to cruise around the property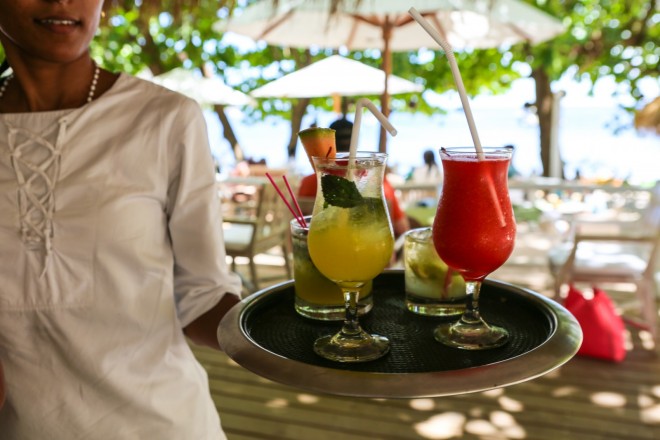 Rum based cocktails are the house favorites
I found the cocktails to be priced fairly for a luxury resort (most around $14) but the $9 price tag for watermelon juice at breakfast was a touch excessive. My advice– just sleep in, skip breakfast, and grab a light bite by the beach.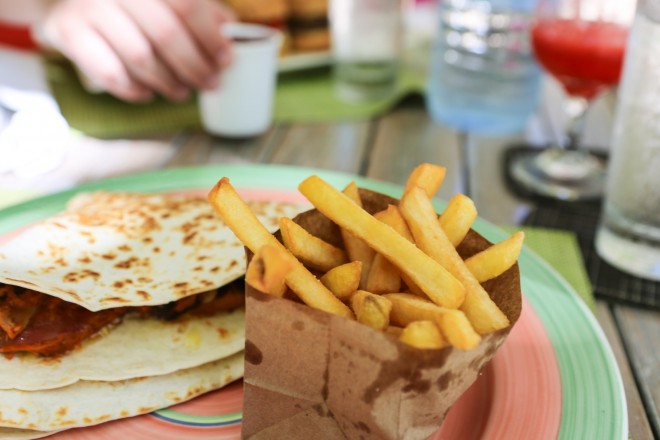 Casual lunch at the Bayside Bar & Rum based drinks
On the dining front, I preferred the food at the casual Bayside restaurant and bar (the Pomelo Basil Mojito $14 was the standout cocktail of the trip). Cane Bar has a sushi menu and while delicious, it was extremely pricey and the service was a bit slower, but I could have caught it on an off night. It's definitely worth visiting the Cane Bar to see the sexy space and the art in the back Late Night Bar and snooker rooms– including giant Polaroids of Tim Burton and other notable celebrities. I did not eat in the Great Room (although the room is stunning).
There is some interesting art at Sugar Beach. The property's owner is a former accountant for the Rolling Stones.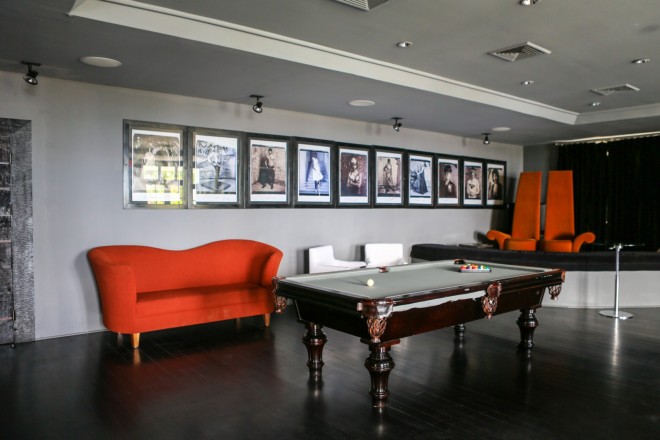 The Late Night Bar at Sugar Beach
Rum Collection in The Cane Bar
The sleek Cane Bar has a killer selection of rum– and a "rummelier" who can help you select one to try– or even a flight of rum.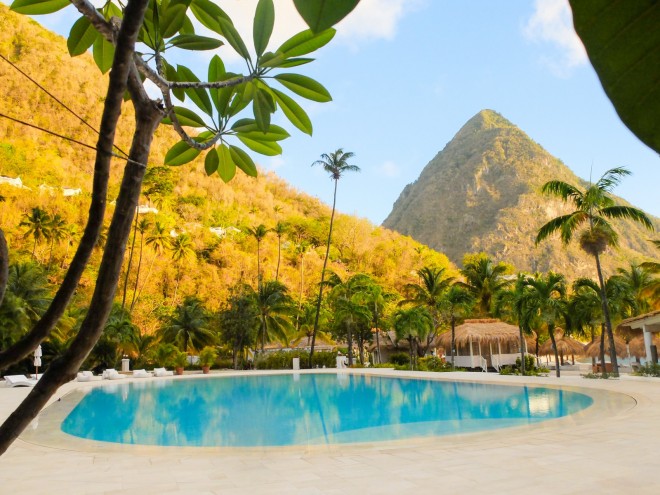 Pool between the Pitons
Service on the beach was pleasant and leisurely. I didn't have to wait long to have a drink delivered to my beach bed, and a local known as "coconut man" would come by daily offering fresh young coconuts to drink for $4 and sold out daily.

Signs to Sugar Beach, the Rainforest Walk on property
The resort offers all sorts of water activities from SCUBA to paddle boarding, and has plenty of tour options available if you're itching to hike Gros Piton.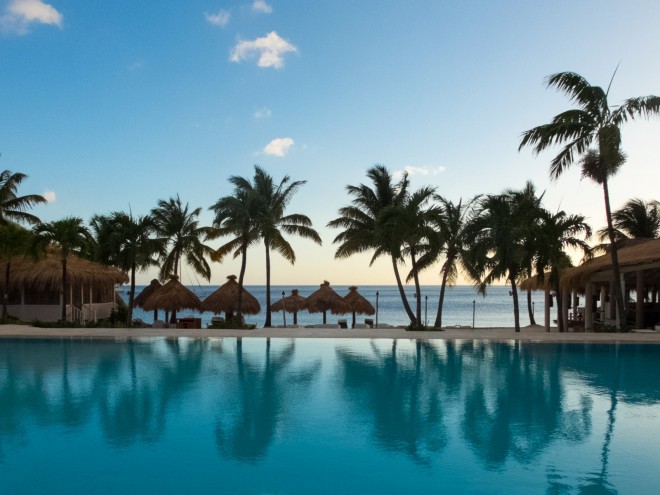 Pool, palm trees, and Sugar Beach
If you feel you've overindulged on the local rum and chocolate, you can work it off in the resorts state of the art fitness center. They have tons of cardio and weight equipment, and also offer cool fitness classes like aerial yoga. The schedule is listed on your trusty in-room iPad.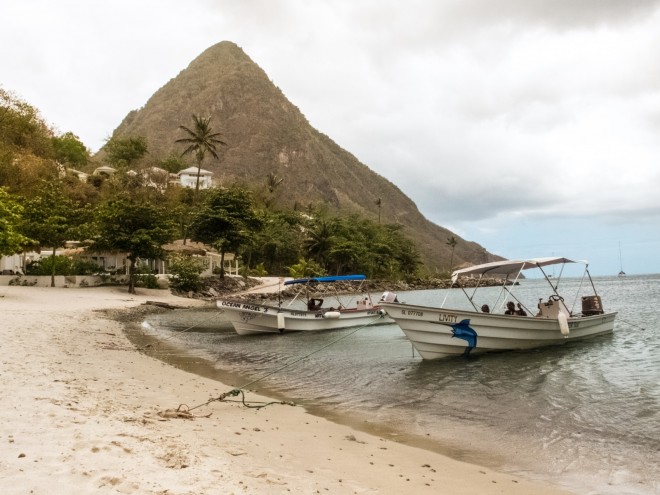 Boats for hire at Sugar Beach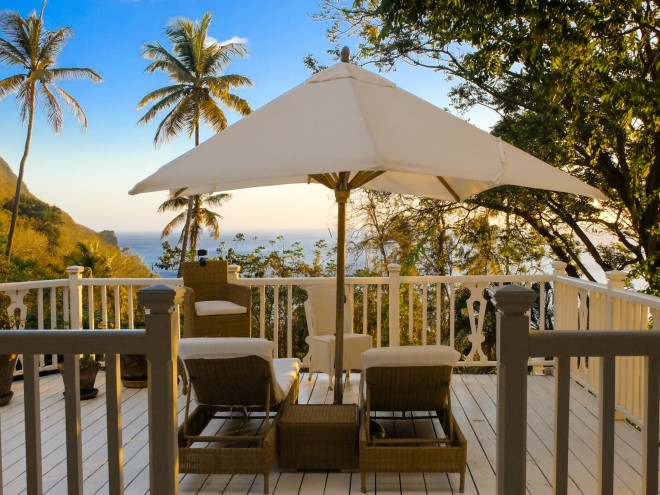 The deck of room 709 at sunset
Left: Room 709's plunge pool Right: Chairman's Rum: the perfect local sundowner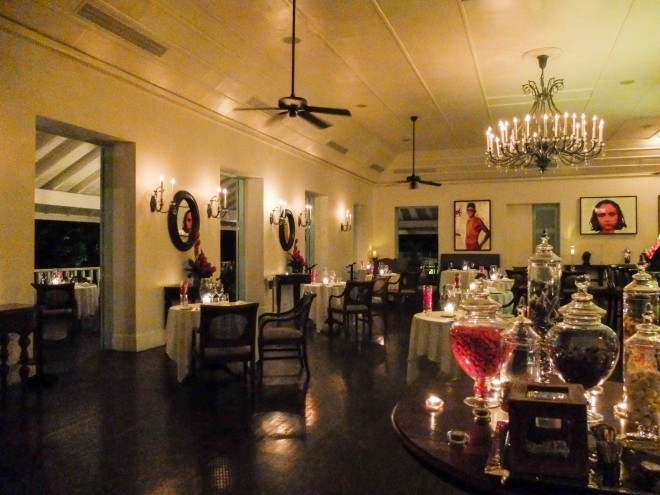 The Gorgeous Great Room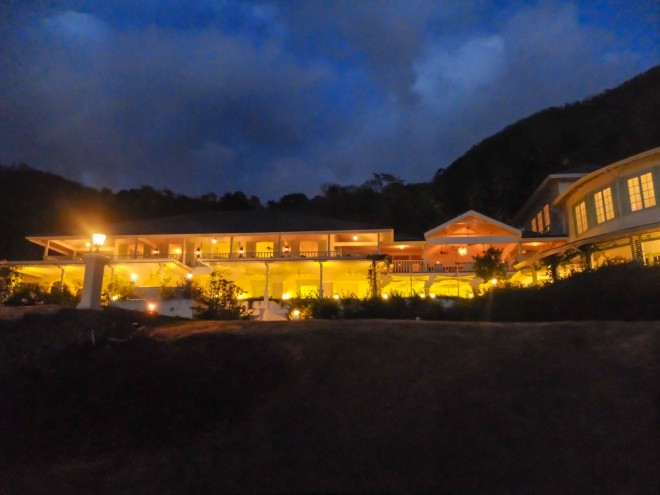 Sugar Beach After Dark
Sugar Beach, A Viceroy Resort (formerly The Jalousie Plantation)
Val des Pitons
P.O. Box 251
Soufriere, Saint Lucia
Tel +1 758 456 8000
Guestroom Reservations: 800 235 4300 (From US and Canada)
Guestroom Reservations: +925 298 6438 (International callers)
Room rates start at $485.00 per night