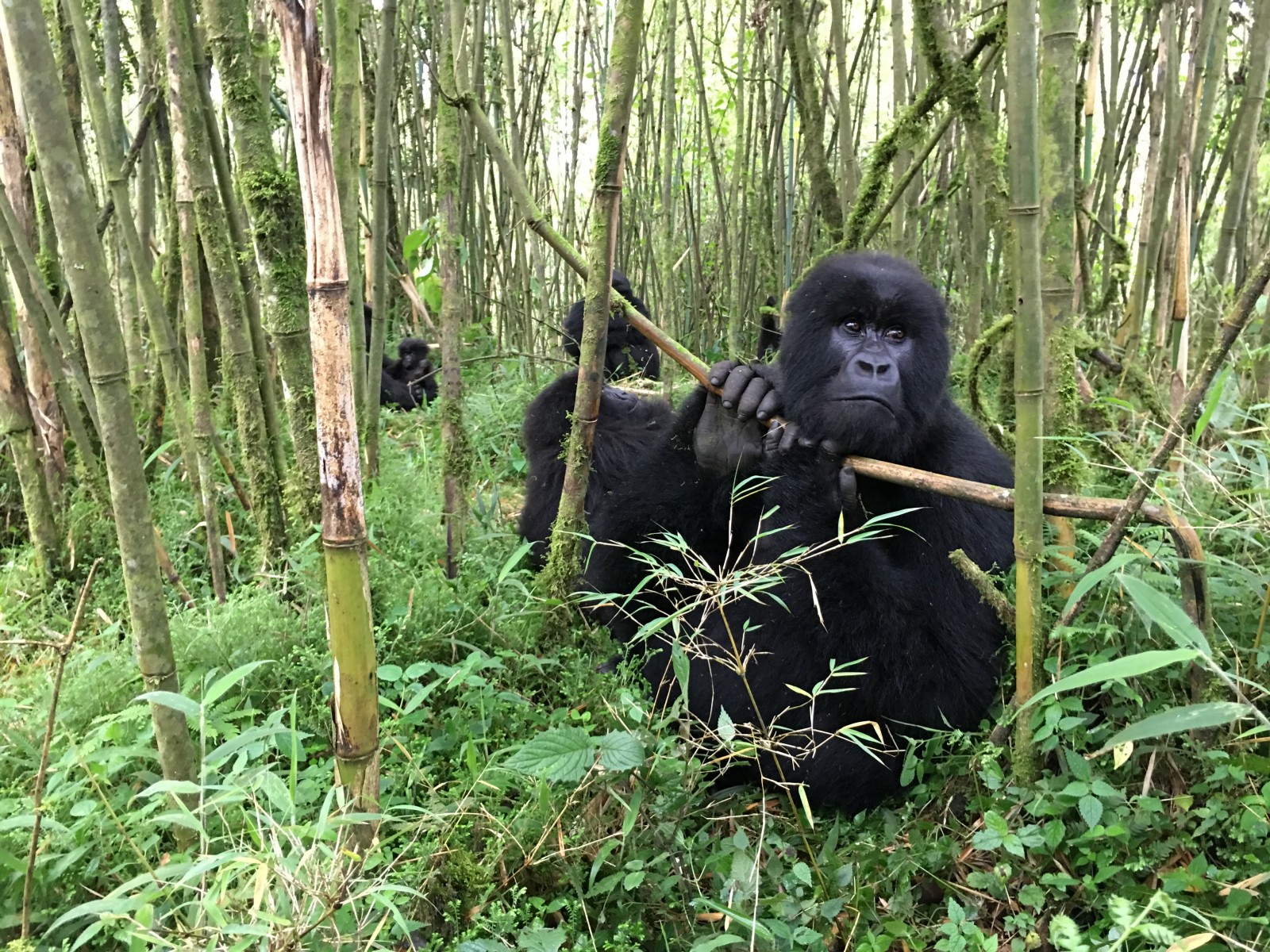 Mountain gorilla framed in Bamboo in Volcanoes National Park, Rwanda
Last month I went to the central African country of Rwanda to go on a gorilla trekking safari. There are less than 1,000 mountain gorillas in the world, and the easiest ones to visit by foot are those living in Volcanoes National Park. Unlike other safaris, visiting the ten groups (or families) of mountain gorillas who live in Rwanda involves trekking by foot through the fields and rainforest to see the animals. The treks can range in length from 1-3 hours (each way) with a one hour stay with the group of gorillas you are assigned to that day.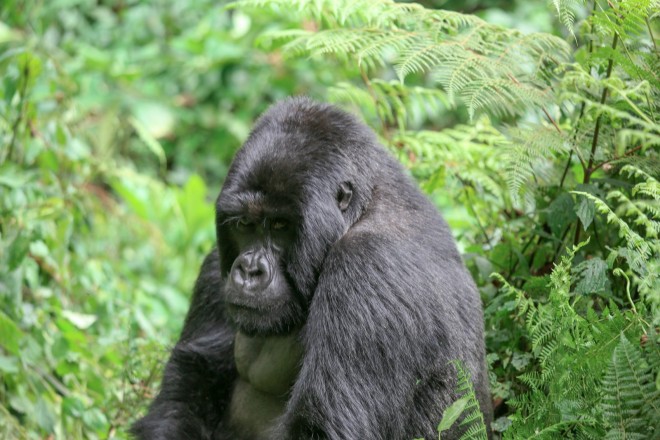 One of the gorillas I met during a trek
Gorilla trekking in Rwanda is a once-in-a-lifetime experience. Permits are very expensive, at $750 per hiker per day for non-nationals. Most of the fellow trekkers we met got permits for two days. I went on three treks. Permits for peak season sell out months in advance. Mine were arranged though my hotel, the Sabyinyo Silverback Lodge, which I can recommend highly.
Each morning the guides are assigned a family of the gorillas to visit, and the trekkers are divided up by language they speak and desired difficult of hike. Only eight hikers are allowed to visit each gorilla family. Your guide gives you an estimated length of how long to expect your trek to see the gorillas will be. The treks also range in difficulty (easy, medium and difficult). Rainy weather (and the resulting mud) can also affect the duration of your hike.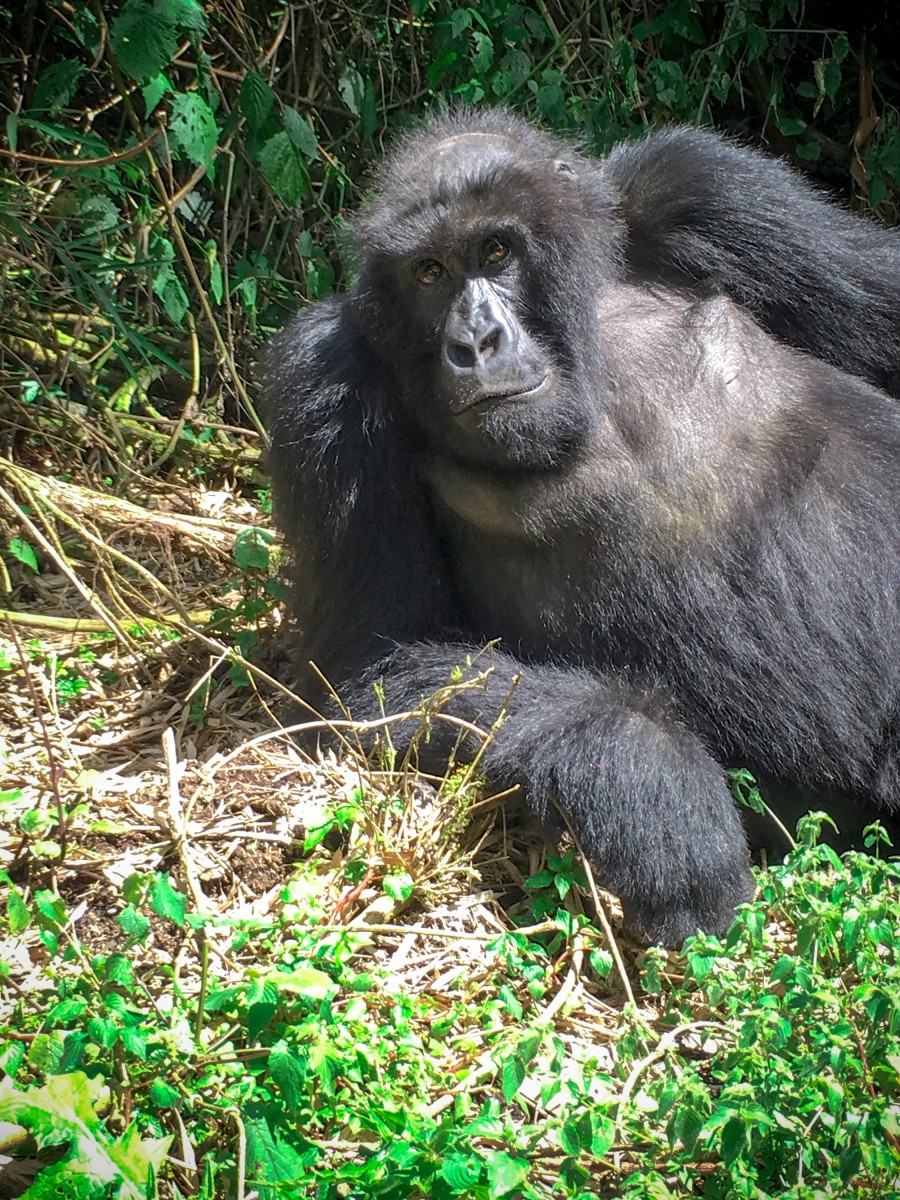 Soulful eyes on a member of the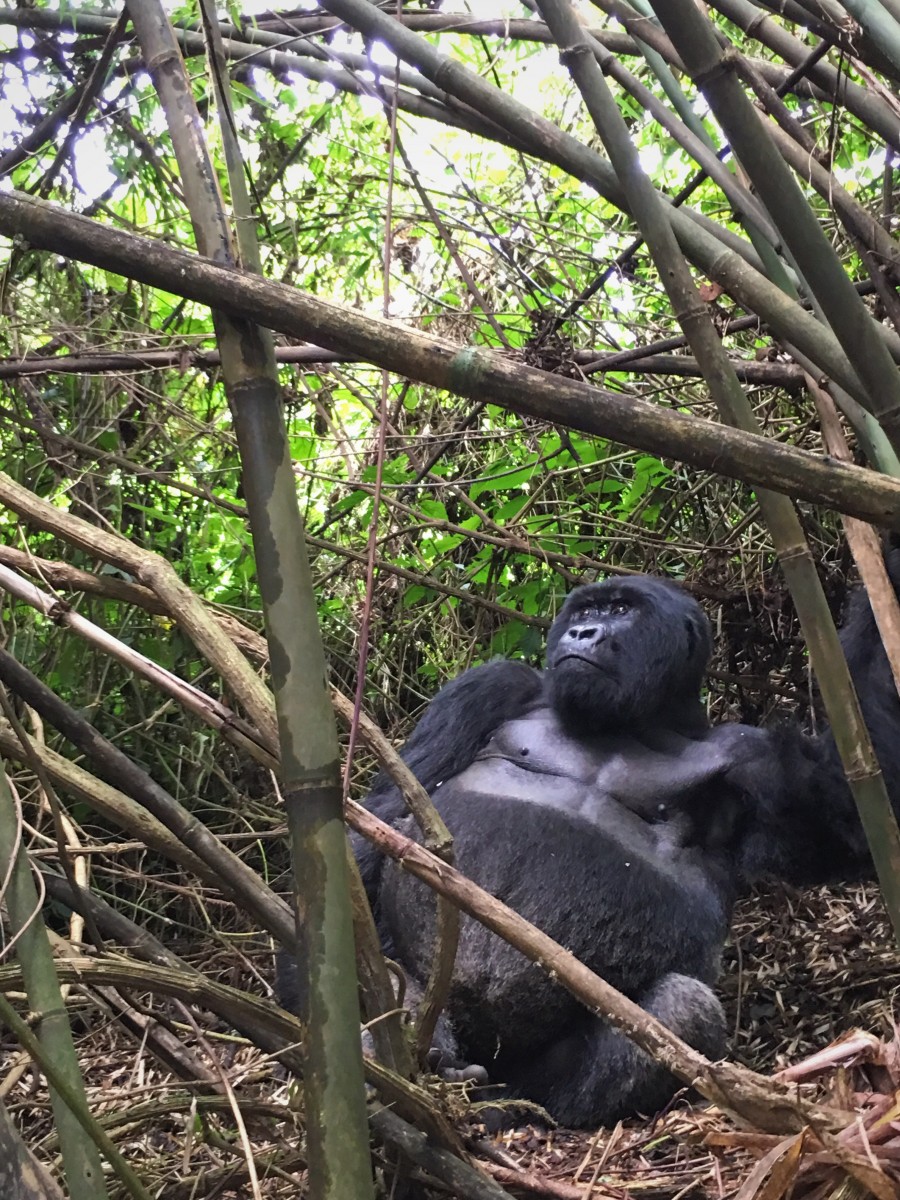 Mountain gorilla framed in bamboo

All three days the estimates were longer than the actual treks turned out to be. This is because each gorilla family is also followed by a group of trackers who work during the night to find where the gorilla groups are on a given day. I also got the feeling it's standard operating procedure to set the expectation for the trek so they can meet or exceed it to avoid trekkers complaining or feeling that they were mislead.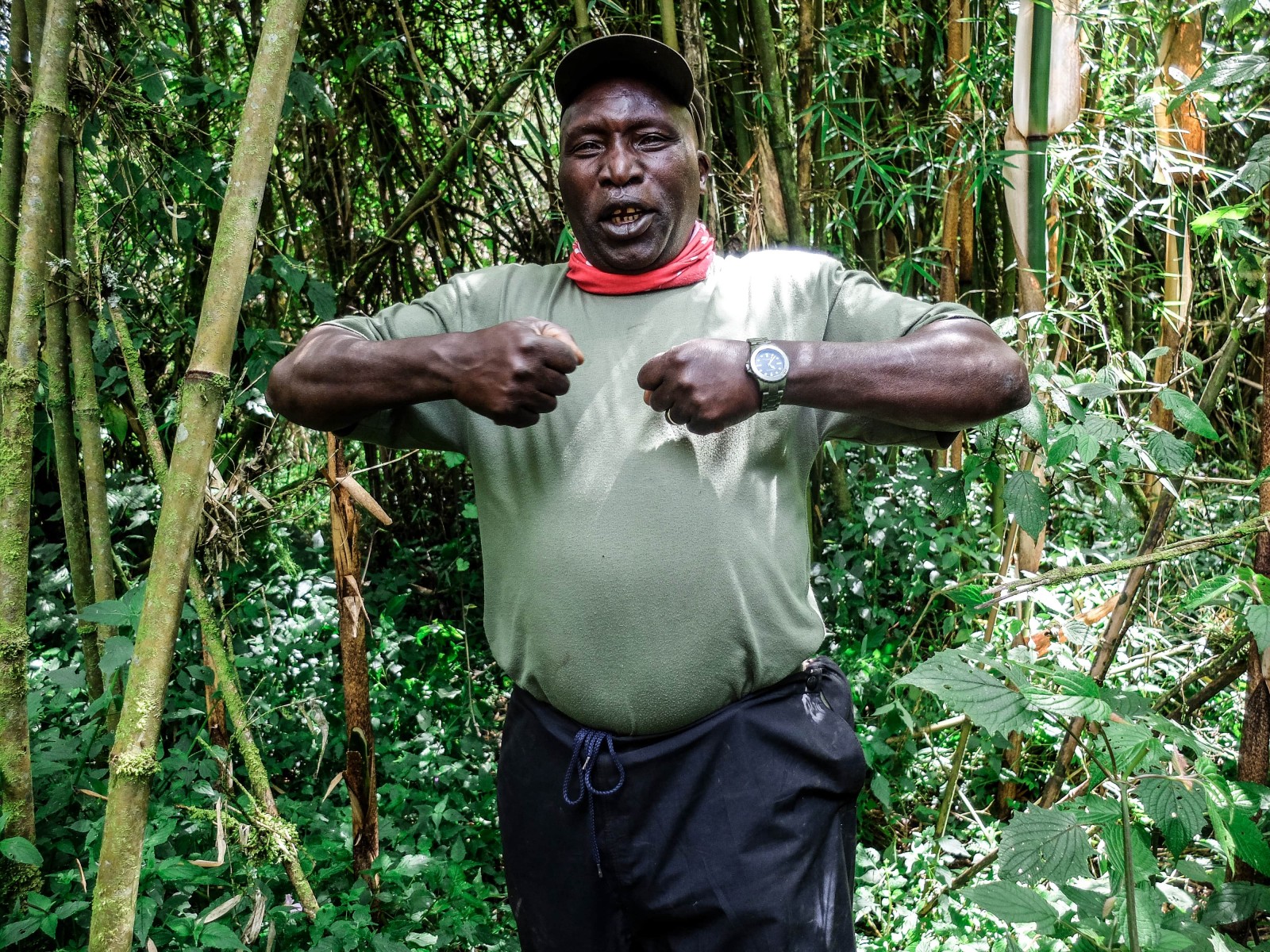 Francois Birgirmana, the senior tourist guide
Other trekkers wanted to know how each day's experience differed from the previous trek. While the treks were all different, the overall experience was about the same. One trek was shorter and steeper, another day we had the most famous guide, the famous Francois Bigirimana, who was very entertaining. The last day had the best light for photography. While different, each trek was memorable and justified the steep price of entry.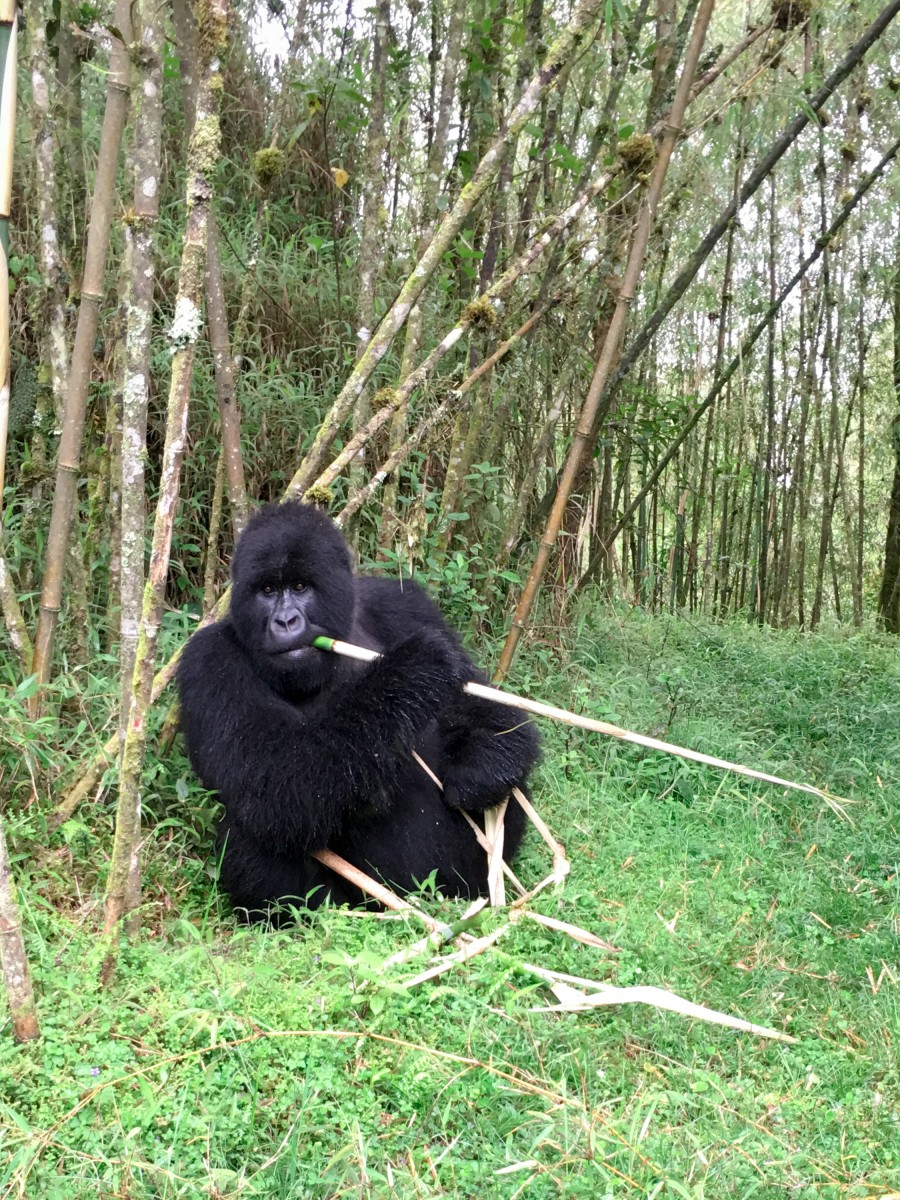 Gorilla munching on bamboo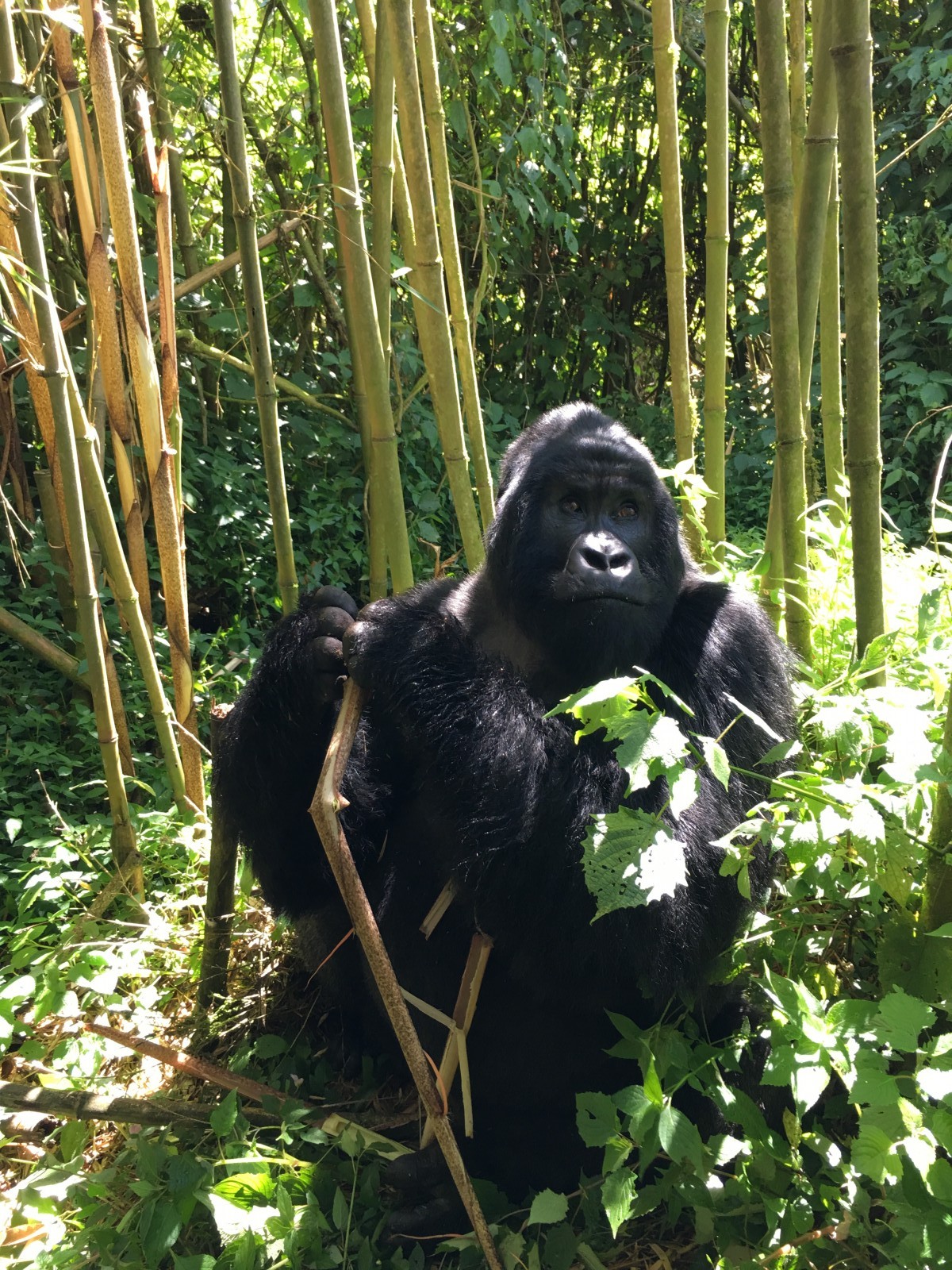 Sunlight and a mountain gorilla among bamboo
It's safe to photograph the gorillas and make eye contact when they are eating. If the gorillas are moving, you don't make eye contact. The guide(s) gives you the gorilla interaction protocol before you spend your hour with the animals, and clear your view when possible.
If you are going gorilla trekking in Rwanda, be sure to bring money to tip both your guide and tracker(s). It's a great privilege to be able to see these amazing animals so close in their natural habitat, and the experience is better because of the guides and trackers. Tipping guidelines are US $20 or EUR 15 per couple for your guide and US $15 (or EUR 10) per couple for your tracker. The guides and trackers work hard to ensure you have a memorable experience and some of them are former poachers.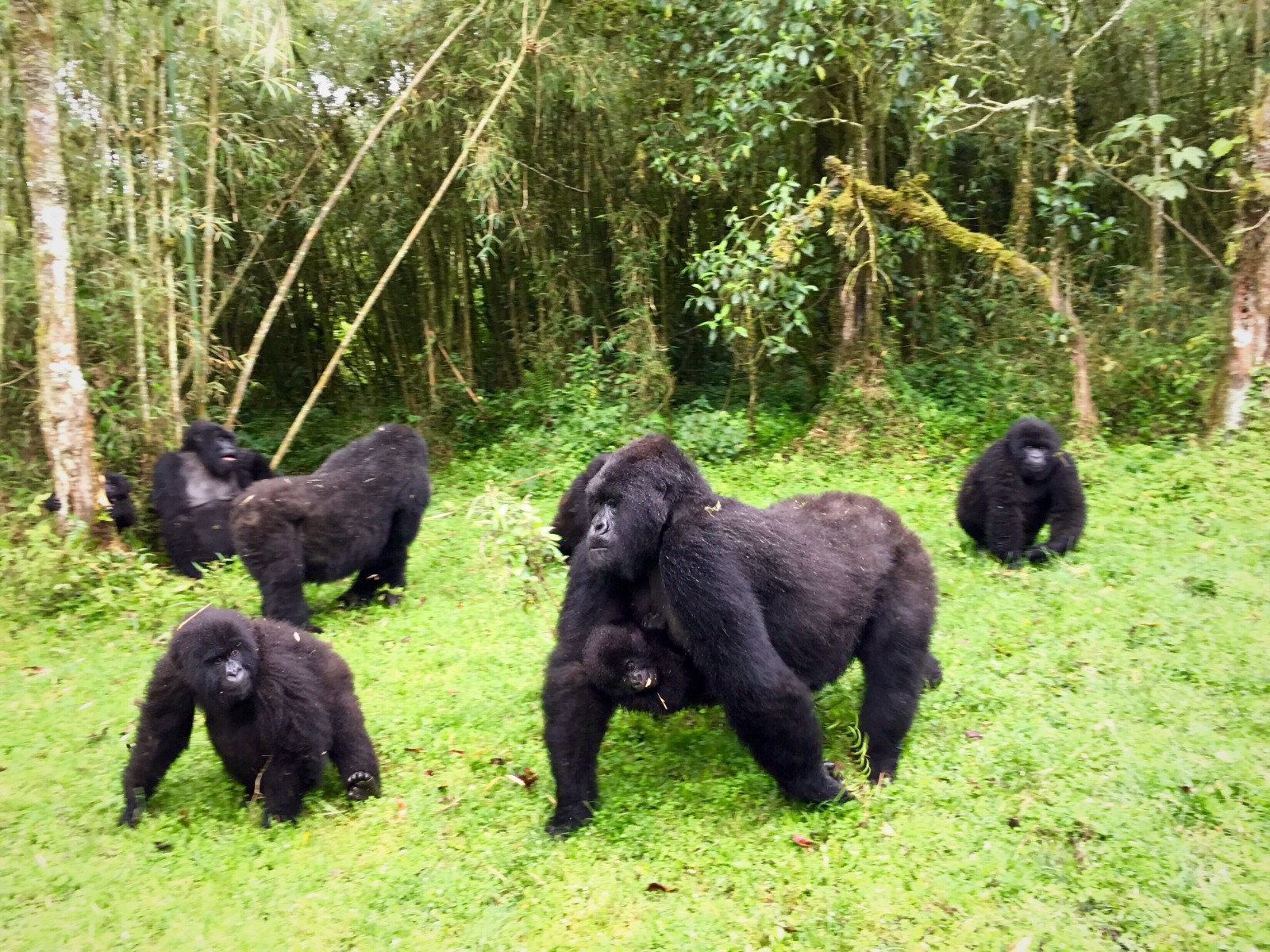 The Hirwa gorilla group on the move
Comfortable hiking boots are the most important piece of gear you need to bring. Gardening gloves (which help protect agains thorns) and rain pants help protect against weather as well as safari ants, mud and thorns. I've never needed gaitors more. Mine were provided by my hotel. If you're bringing your own, check I'd recommend Outdoor Research makes the best ones.
Video of the Hirwa gorilla family in Volcanoes National Park which I shot on my iPhone 6s.
While preparing for my trip I came across this very useful post by the Travel Sisters which explains the whole process and has some great packing tips.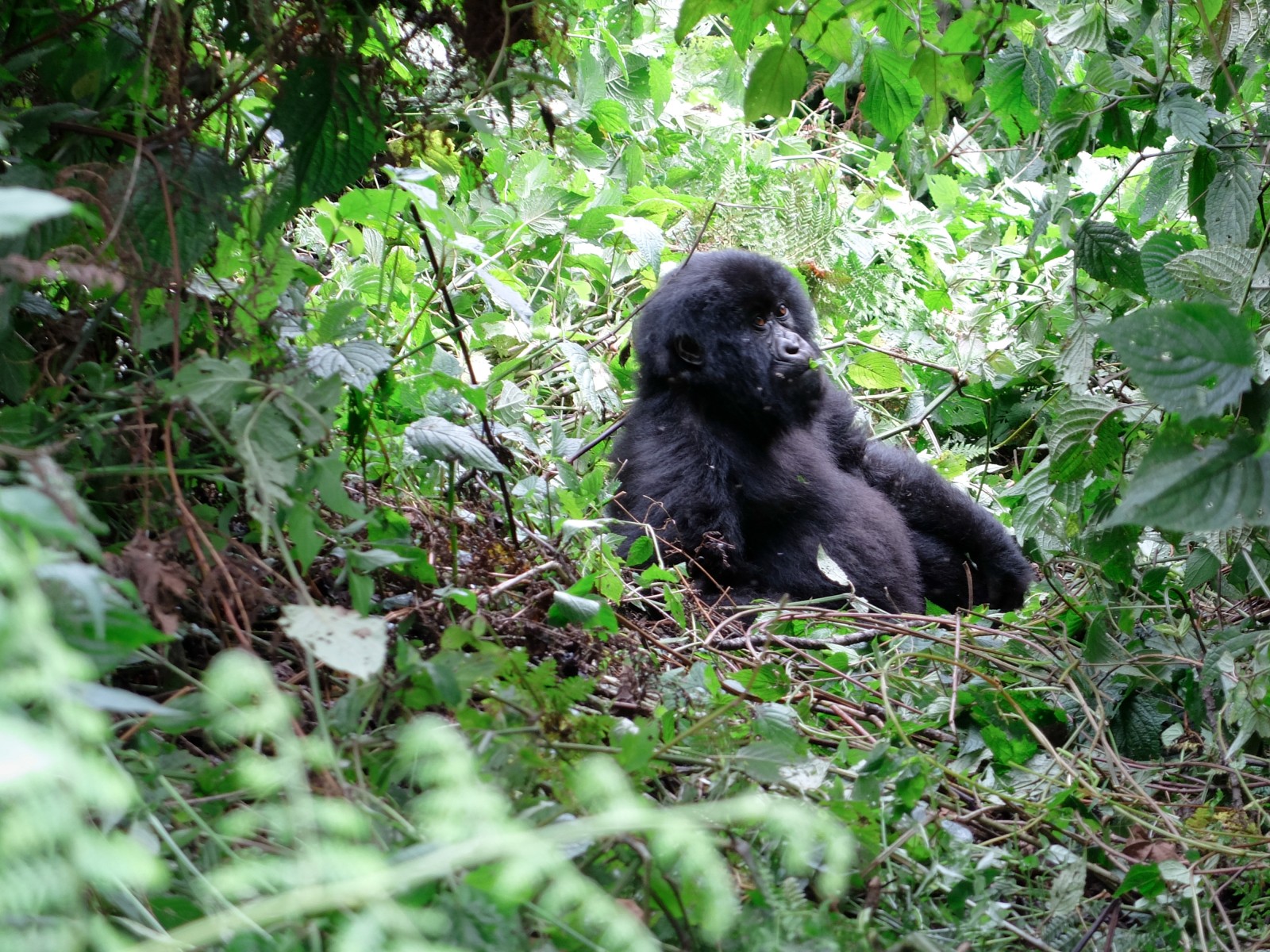 Gorilla populations are increasing, with the current population estimated to be in the 900s.
I was lucky enough to visit the Hirwa group of gorillas on my third trek. This gorilla family has one of the rare sets of living twin gorillas among it's members. This group was the most playful of the groups I visited.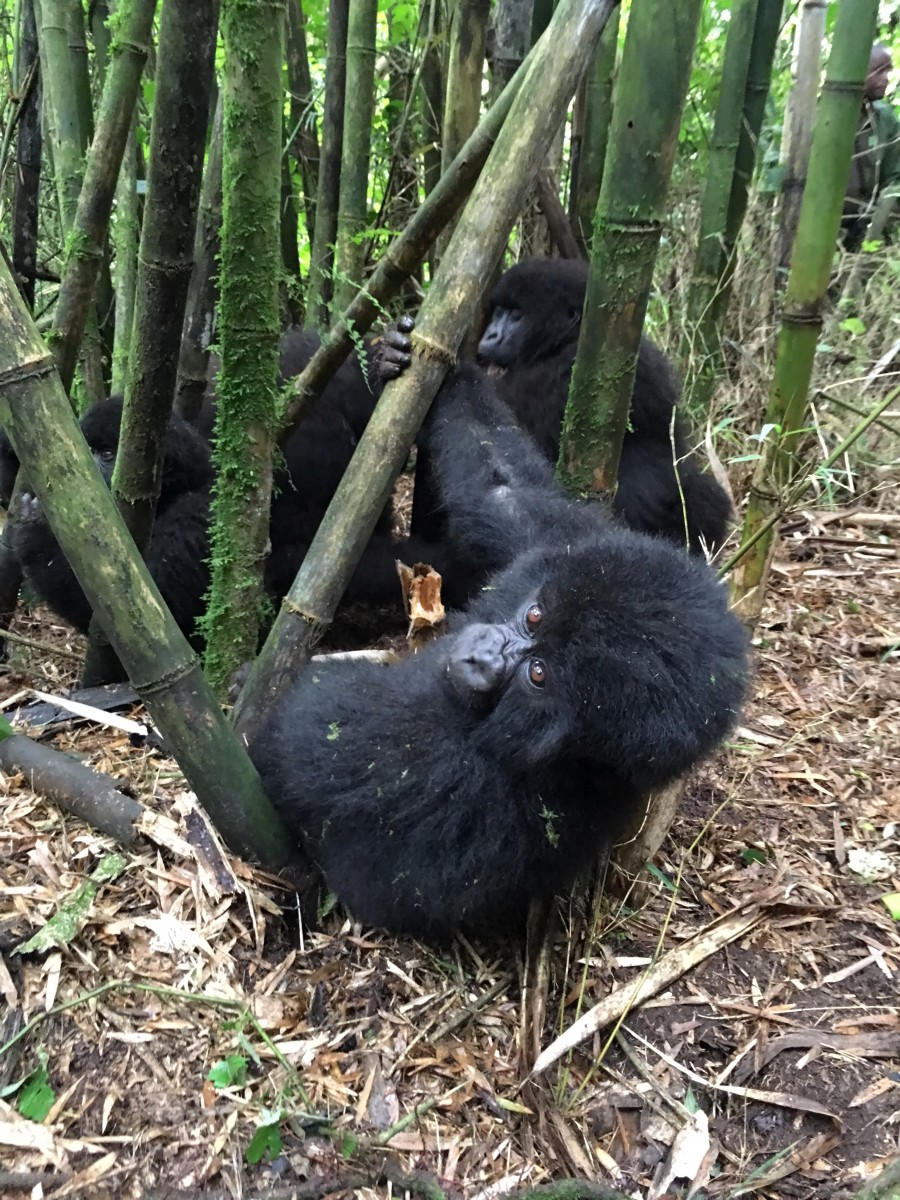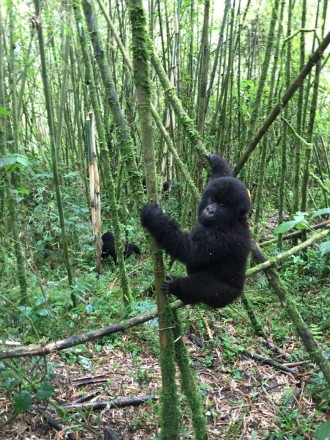 The baby gorillas are named in a ceremony each year. The local school children pick out their names.
The Hirwa group of gorillas were extremely playful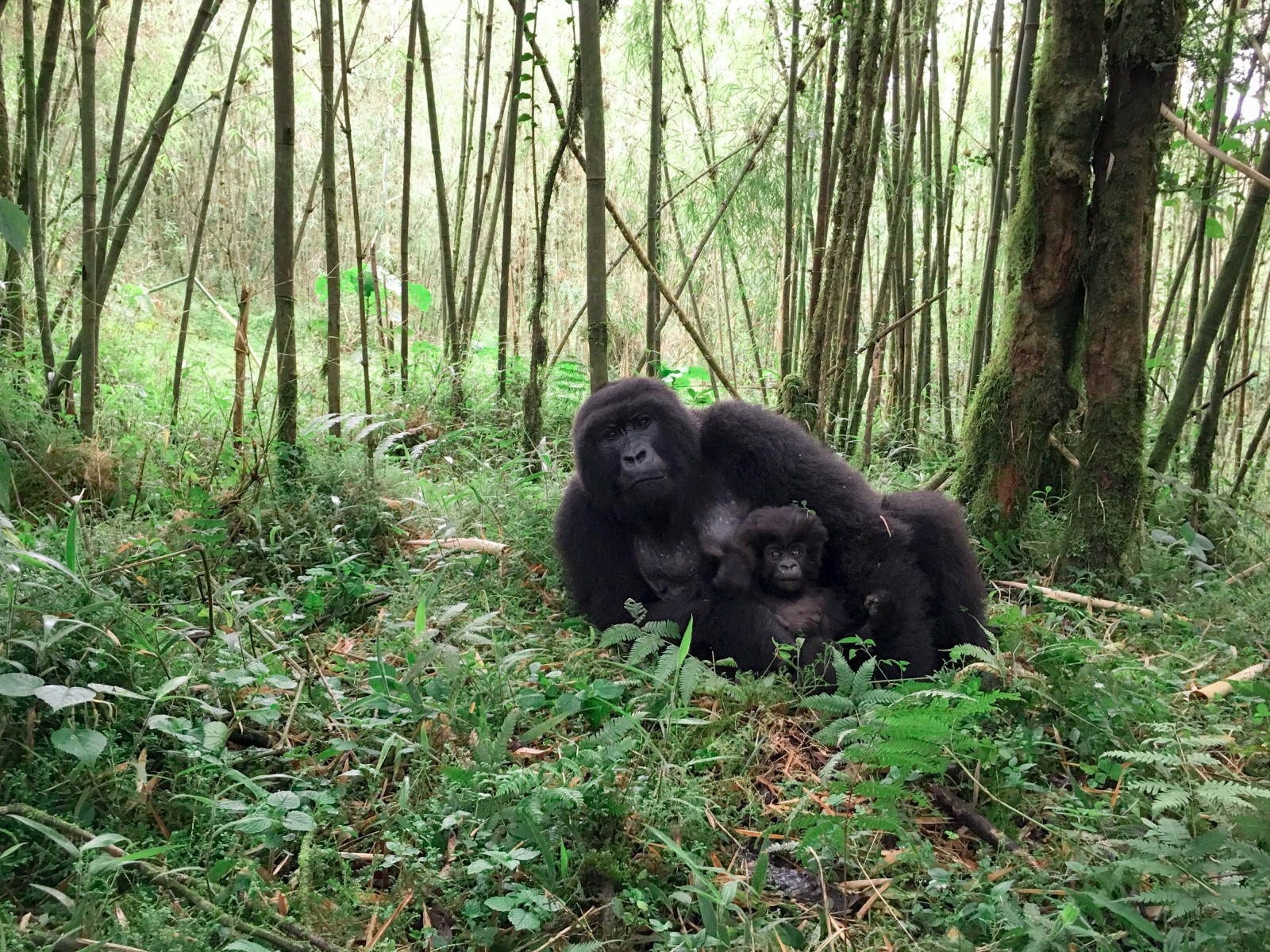 Gorilla mama with a wide-eyed baby
My gorilla safari was booked through … & Beyond Safaris. Claire Eastwood of SmartFlyer is a luxury travel agent who is an expert in the area.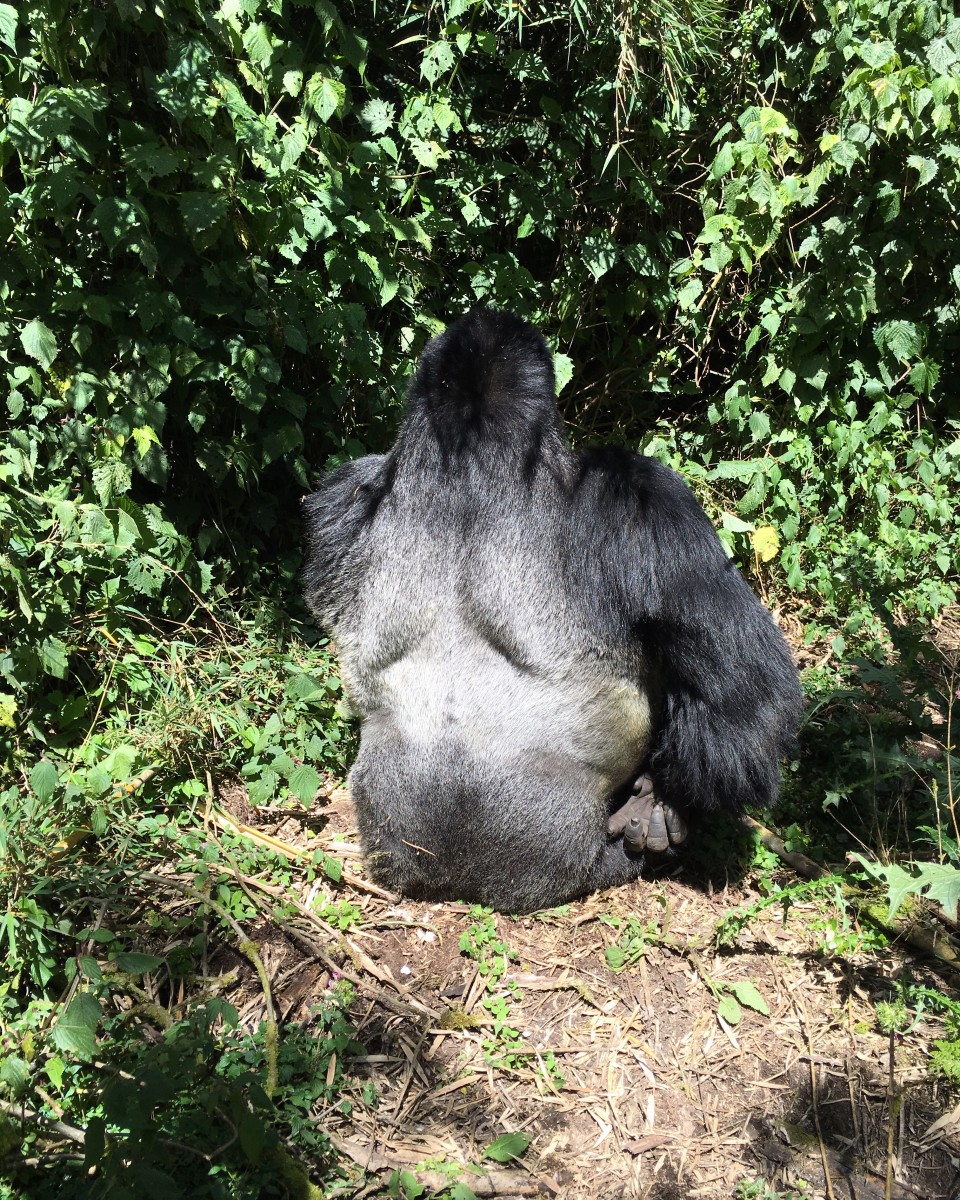 The largest silverback gorilla in the world was not interested in posing for my lens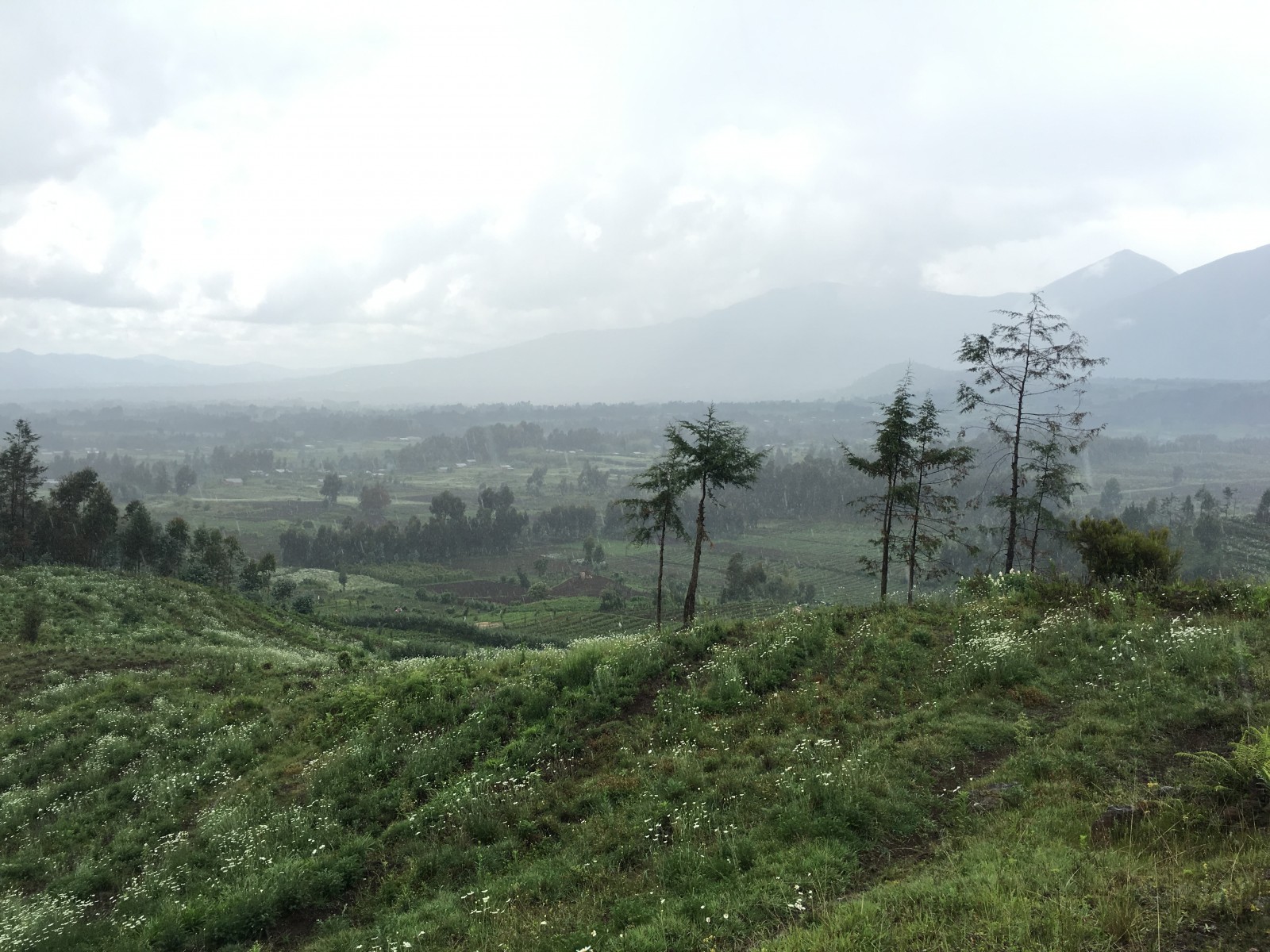 Gorilla trekking takes you through the rural farmland of Rwanda before entering Volcanoes National Park