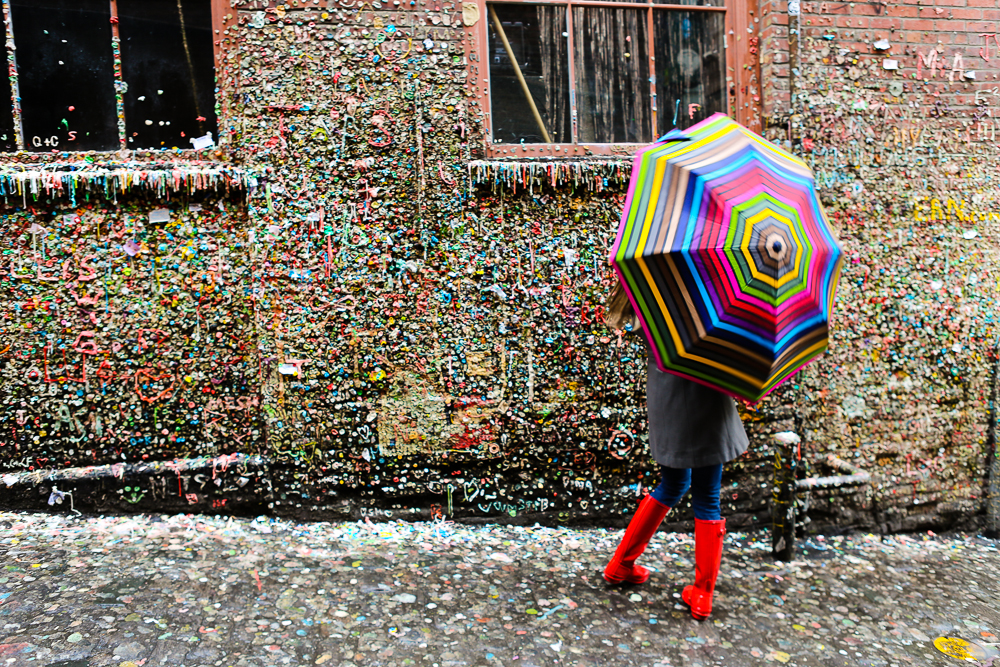 Roamancing's red boots a stripey umbrella in Post Alley under Pike Place Market
I've seen a lot of street art this year– and edgy Berlin was the city firmly in the lead until I stumbled across Seattle's Gum Wall during a walking tour the city.
I just returned from a great Girls Trip to Seattle where I spent a few fun days with my friends Erica Hargreave and Emme Rogers of Roamancing. We went on Savor Seattle's Gourmet Seattle Food & Cultural tour on Saturday afternoon and it was definitely one of the highlights of the trip (I'll focus on in much greater detail in future posts). One of the perks of this walking tour was what we saw in between the tasty stops.
The gourmet treats on the tour were fantastic, but it was the disgusting yet intriguing gum that absolutely blew me away. I think I shot some of my favorite images of the trip there. The gum wall is located in Post Alley below Pike Place Market. The small alley is covered in graffiti crafted from blobs of discarded chewing gum. It's urban, edgy and uniquely grunge– and totally charming, much like Seattle itself.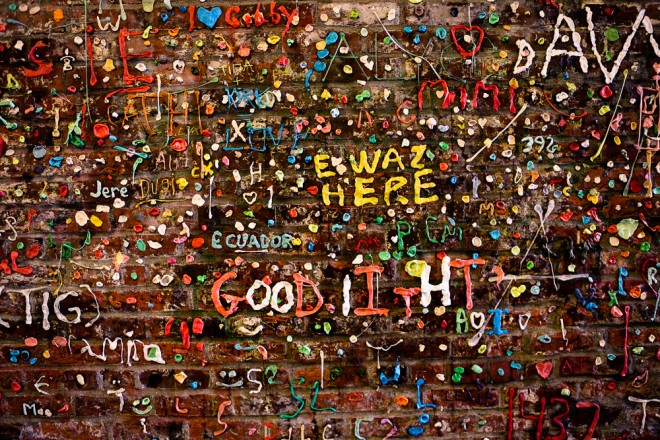 Behold: Seattle's Gum Wall
Yes, Gum Graffitti is kind of gross and amazing at the same time. Props to whoever chewed enough Doublemint to spell out "Ecuador." That takes commitment and knowledge of spelling, because there is no autocorrect when your tagging with gum (and probably have a a drink or seven in you).
I am all for artists working in unconventional mediums, and gum certainly qualifies.
I found this couple, who were playfully participating by chewing and contributing a gum blob, rather sweet

The Gum Wall is located outside the box office of Market Theater. Actors who worked in the Seattle's improv comedy group, Unexpected Productions, used to try and clean up the gum blobs left by theatergoers in the early 90s before giving up what proved to be an endless task. Our tour guide, Mark, was one of those who was put on thankless gum scraping duty back in the day. While I'm sure the location was more disgusting in it's early days– when it would have looked more like gum guano than artistic express, the gum wall still has a sticky urban grit that is undeniably intriguing.
Yes… the gum wall is kind of gross (the Gum Wall has been named one of the "germ-iest tourist attractions") but it's also kind of marvelous.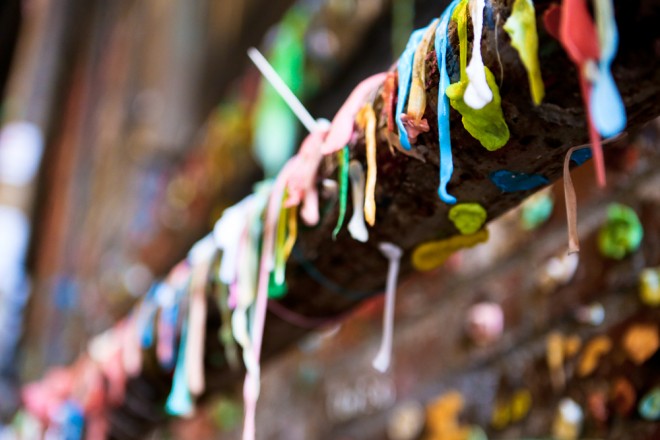 Gum dripping down like colorful stalactites in Post Alley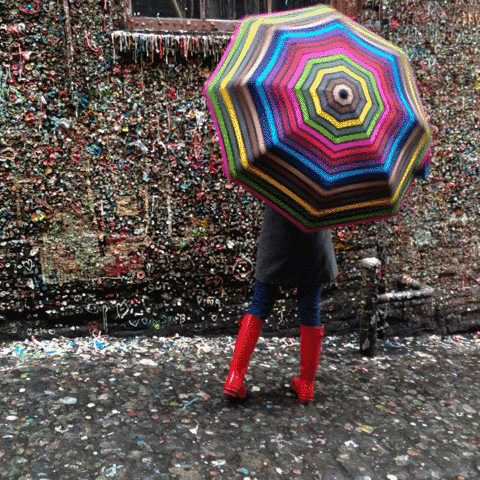 Seattle's Gum Wall GIF Goodness. The Gum wall is located  in Post Alley under Pike Place Market
I couldn't resist turning this twirling umbrella into a GIF.