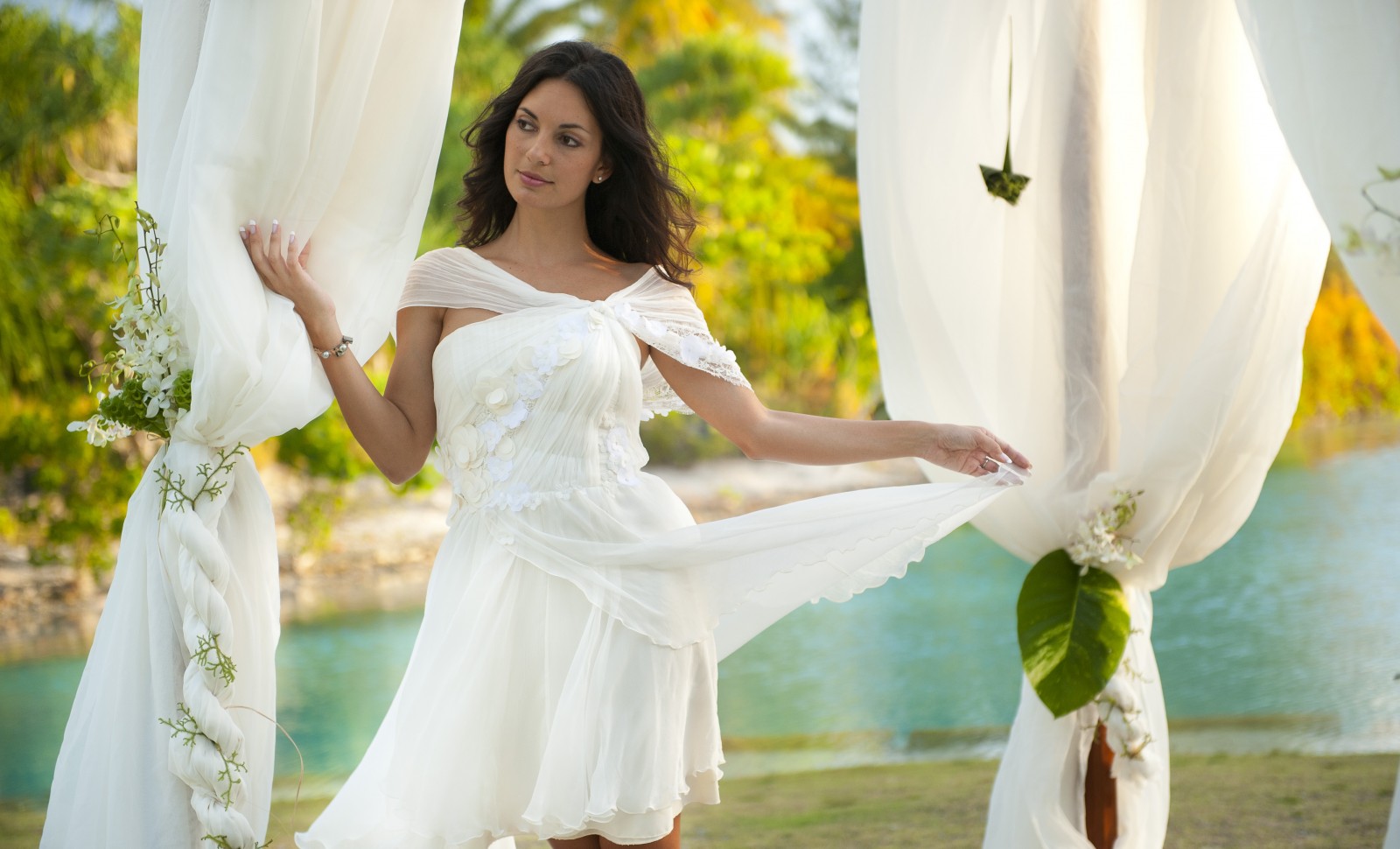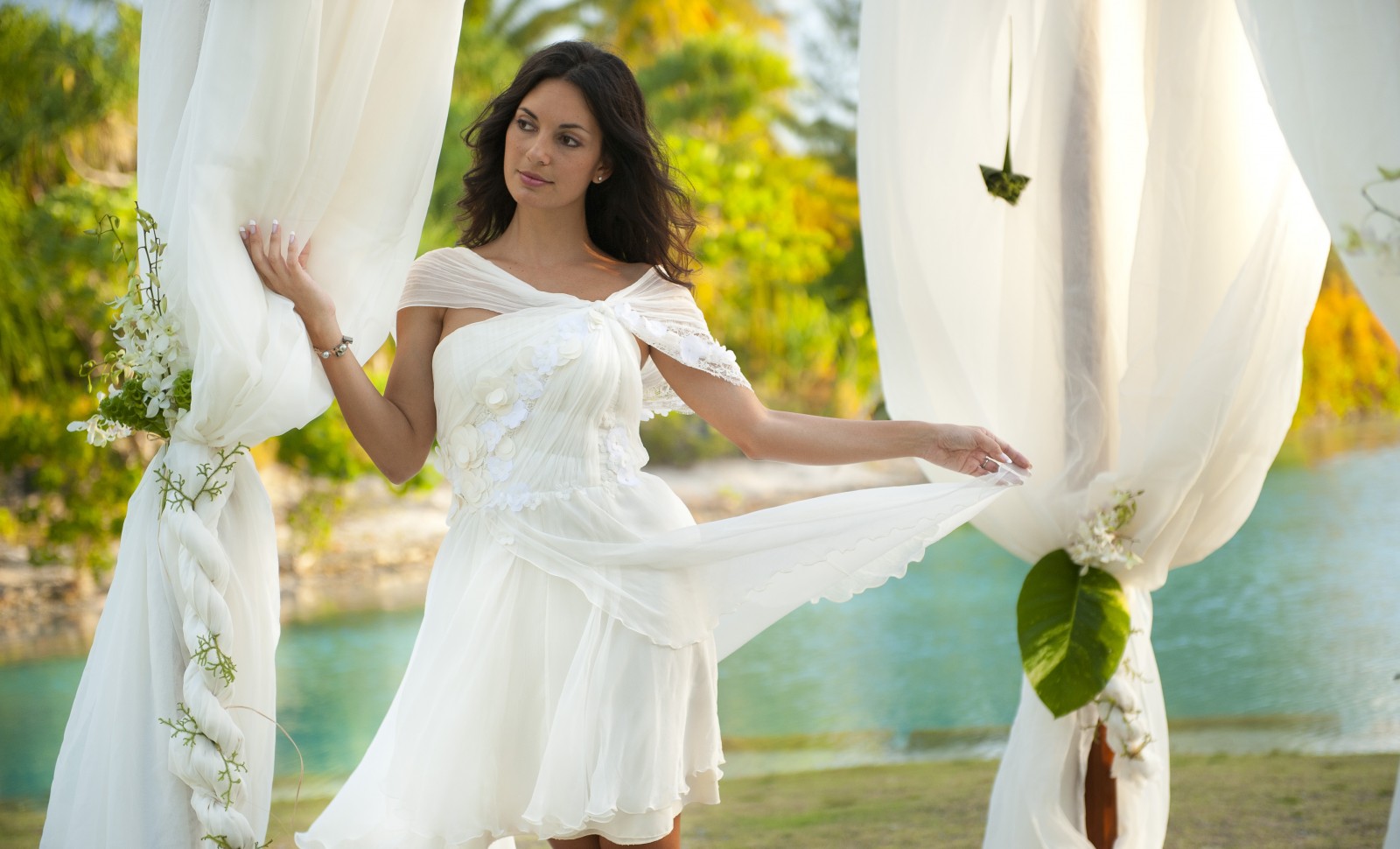 Cecile Melli's Pitate Dress (all the photos of the Cecilie Melli wedding dresses in this post are courtesy of the St. Regis Bora Bora)
The holidays are always a popular time to get engaged, and the trend of destination weddings continues to be a favorite among couples that want to make their special day unique, memorable and intimate. Many couples have busy lives and want to avoid spending every minute micromanaging their wedding details, yet still want a dream wedding. The St. Regis Bora Bora is focused on providing 5 star service and one-stop shopping for couples planning a wedding in Bora Bora, removing all the hassle from wedding planning, allowing you to simply enjoy your marriage in paradise.
When I was recently invited to stay at the St. Regis Bora Bora, I got to sit down with Karine Vanhee, the lovely on-site wedding coordinator, to discuss some of the unique options available for St. Regis Bora Bora wedding couples. Karine told me there is a soon-to-open bridal boutique which will feature dresses from chic Norwegian designer Cecilie Melli.
The St. Regis Bora Bora even has a romance concierge dedicated to making your wedding wishes a reality. If you're already married but want to celebrate a special anniversary, the romance concierge is happy to work with you to come up with some extra special activities in the unique and beautiful surrounds of the resort. They even have some innovative and romantic ideas for proposals if you're you are looking for an unforgettable way to pop the question.
For brides-to-be who really like the idea of a destination wedding but dread the logistics of traveling with the gown of your dreams on an airplane, The St. Regis Bora Bora has come up with a genius solution: a wedding dress boutique on property, stocked with Cecilie Melli's flowing and romantic wedding dresses available for both rent and for sale. Rates for rentals $550 USD for a short dress and $650 USD for a long gown. Melli has designed two wedding dresses which will be exclusively available for St. Regis Bora Bora brides.
Left: Low Pitate & Tiare Apetahi exclusive gowns for St. Regis Bora Bora bride, Right: Melli's Low Laelia dress

Melli's Pitate and Tiare Apetahi gowns will be exclusively available for St. Regis Bora Bora brides. These two dresses will be available for purchase only and must be custom ordered in advance, and Cecile Melli will tailor-make them. All Cecilie Melli dresses are available for purchase as well, but brides will have to buy them in advance.
For even more tropical gorgeousness, all St. Regis Bora Bora brides (and grooms) can borrow pearl jewelry from the Robert Wan boutique on property to wear them on their wedding day (for free).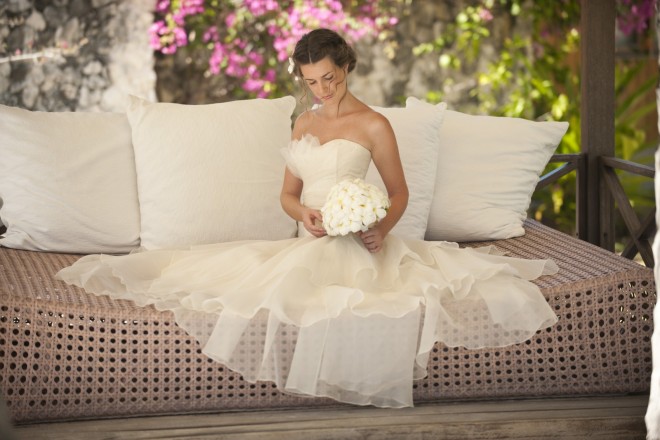 Above: The Tiare Apetahi dress is floaty and perfect for a Bora Bora beach bride

Above: The blush colored Likiko'i dress by Cecilie Melli and Robert Wan Pearl Jewelry works perfect in the island paradise surroundings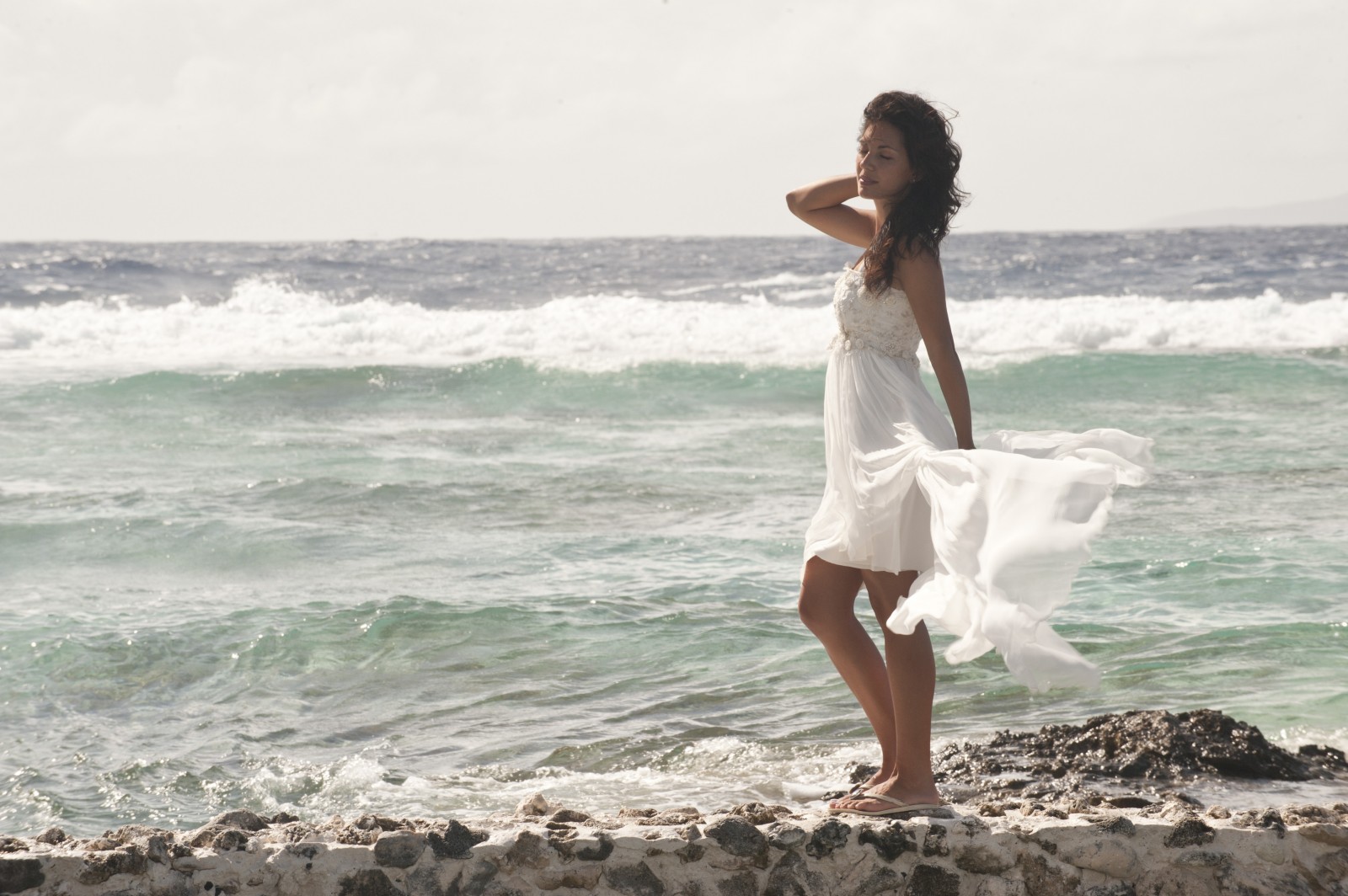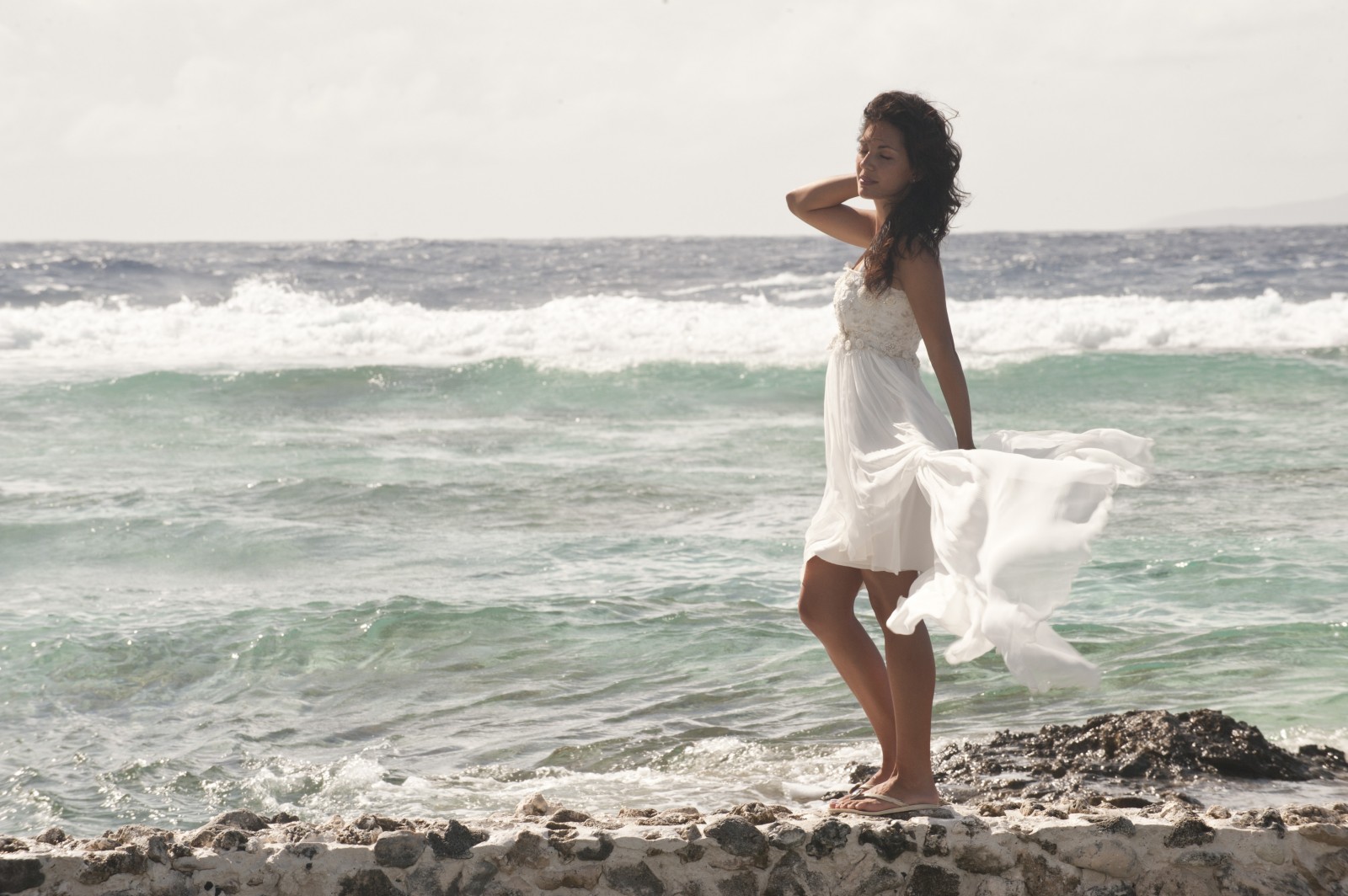 Above: The Cecilie Melli Laelia gown and the gorgeous lagoon

Left: The Lantana gown  Right: Pitate & Tiare Apetahi, Melli's gowns exclusive to St. Regis Bora Bora brides

The St. Regis Bora Bora can arrange legally recognized weddings in French Polynesia (with paperwork filed in advance,) although most couples opt for a "joining of hearts" ceremony. Anniversay couples and Same-sex couples are also welcome to have a ceremony at the St. Regis Bora Bora
Weddings can take place at many different sites on the 44 acre resort property, such as on the beach, on the deck of your overwater villa, or at the amazing Lagoon Restaurant. The toughest part might be deciding where on site to have your wedding at the St. Regis Bora Bora– there are so many beautiful options. The wedding coordinator can handle all the details regarding food, flowers, photography and video packages, too.
For more details on wedding packages, contact Karine Vanhee, the wedding co-ordinator at karine.vanhee@stregisborabora.com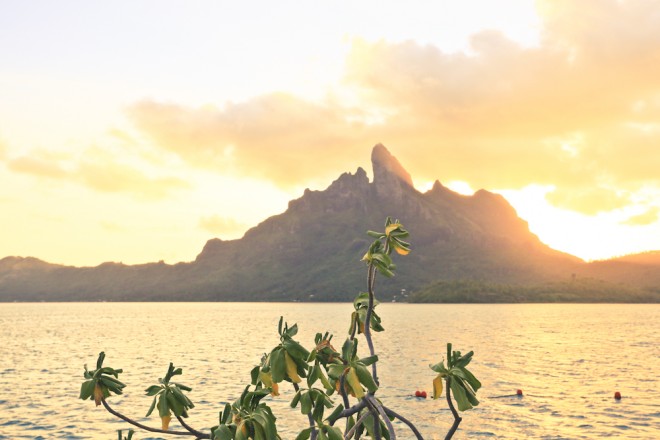 Island in the Sun (magic hour off the deck of overwater villa 122 at the St. Regis Bora Bora) photo by Jen Pollack Bianco