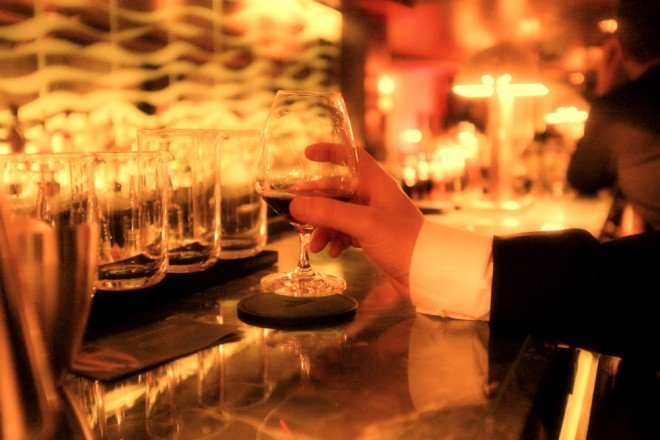 Glamour & Glass at Berlin's Lang Bar
Of all of the public spaces I saw at Berlin's recently opened Waldorf-Astoria hotel, it's the glamorous deco-inspired Lang Bar. This serious cocktail lounge, located on the hotel's second floor, is the most inspired space on the property. The fixtures are beautiful and the banquettes comfortable.
The barbacks are not mere bartenders her but serious mixologists who handcraft cocktails that go for €16 a drink.
The Garden Tonic is a elegant upscale riff on a gin & tonic, slightly herbaceous and really refreshing. The almonds and truffle popcorn is worth tasting– I often find truffle oil cloying but the balance was just right.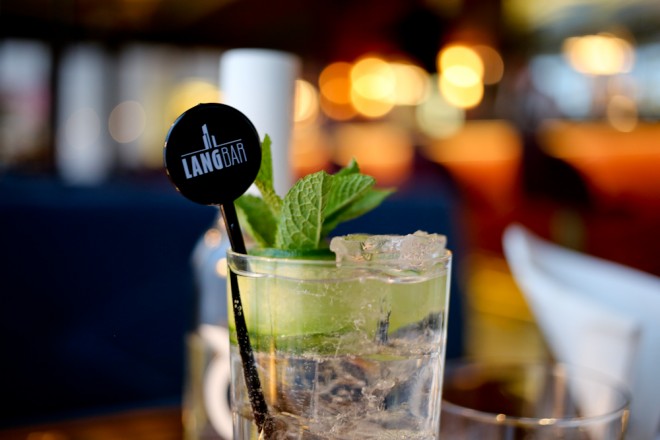 Behold: the Garden Tonic
Lang Bar has an large bar menu featuring everything from old school cocktail classics like sazaracs and old fashioned to their refined signature drinks. There is even a selection of non-alcoholic cocktails should you prefer one of those.

The Shiny Crome Bar and Mixologist's Tools of the Trade
Lang Bar is upscale and & Intimate
The Lang Bar interpretation of a daiquiri, made with high end rum from Guatemala, is a far cry from any tropical drink you've had rocking umbrella swag. While the color of Lang Bar daiquiri (murky molasses brown) initially put me off- once I had a sip I loved it. It was seriously adult, refined and delicious.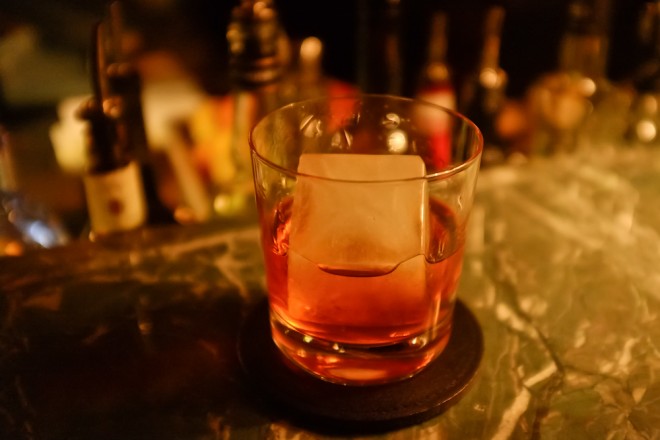 The Lang Bar has a huge selection of both old school cocktails and new drinks on it's menu
Scenes from an evening at Lang Bar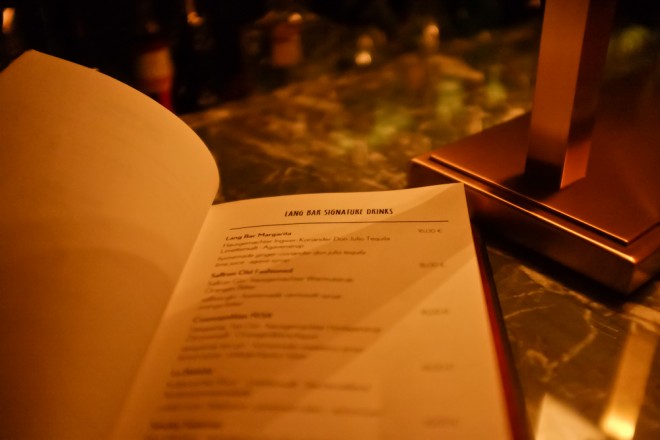 Lang Bar's Extensive Drink Menu
While the cocktail menu at Lang Bar is long and almost daunting, with long drinks and highballs each taking up pages on the menue. I found the best approach was telling the mixologist what I liked, and trusting their expertise to select the best option for me.
The Lang Bar namesake is Hollywood director (and master of German Expression and Film Noir), Fritz Lang of M fame, who was a longtime Berlin resident. Much like Lang's films, Berlin's Lang Bar is dramatic, mysterious, and well worth the price of admission.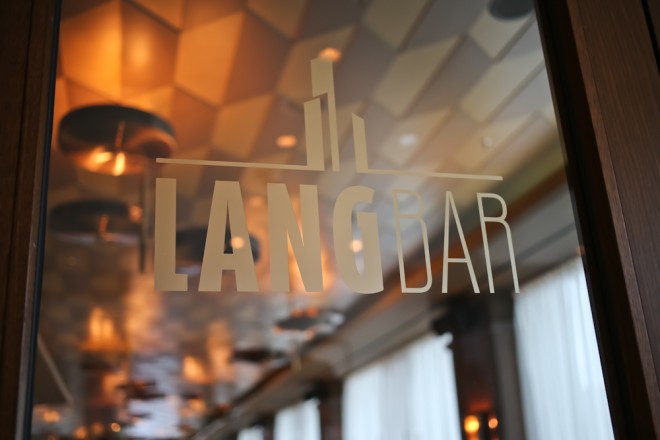 The Lang Bar is located on the 2nd floor of the Waldorf Astoria Berlin
Hardenbergstrasse 28,
10623 Berlin
Opening hours 5 pm -2 am
Nearest Transit Station:
Zoologischer Garten (S46, S5, S7, S75, U1, U2, U9)
Kurfürstendamm (U1, U9)
Uhlandstraße (U1)