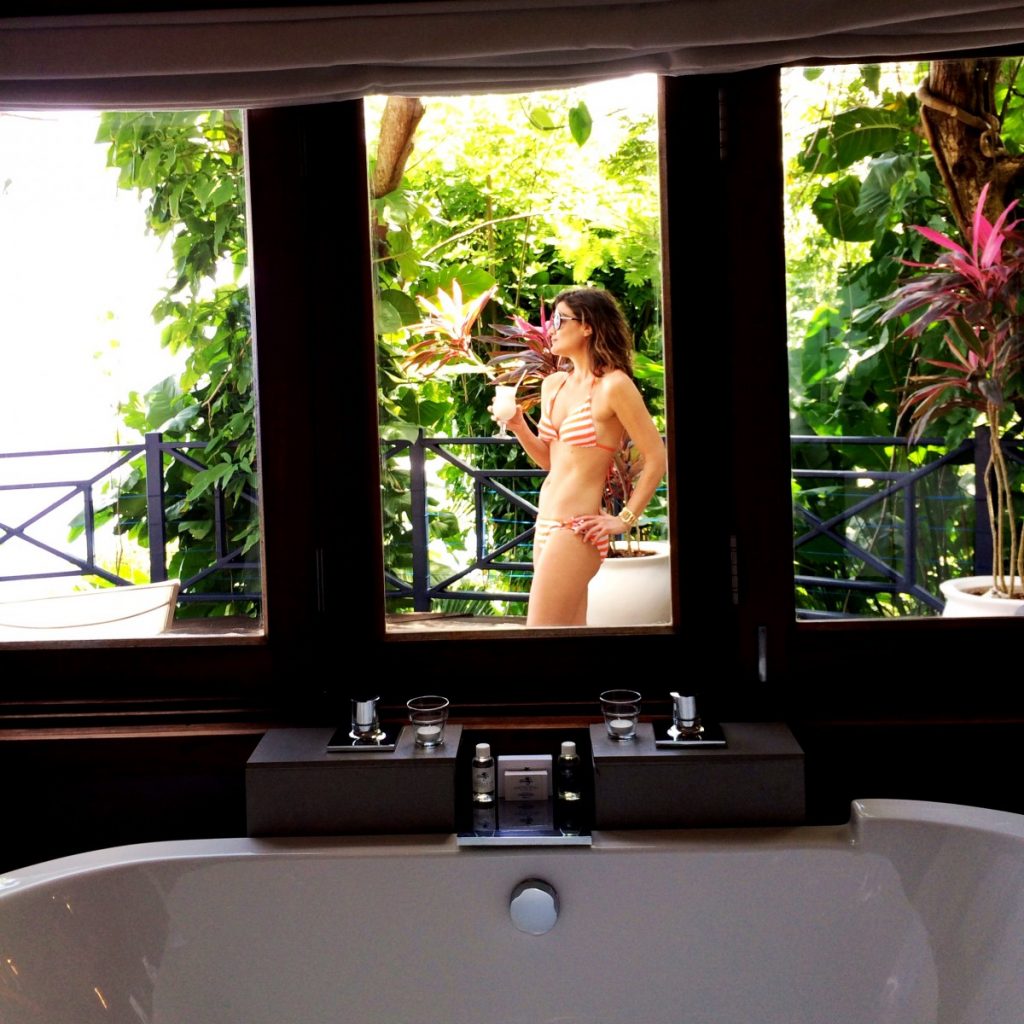 Soaking tub with a view in Drum & Bass at GeeJam
After falling hard for Port Antonio, my friend Zan and I decided to extend our vacation by an extra night. After shuffling our flights home, we headed to GeeJam (which is managed by the same great staff as the Trident) and checked into the Drum & Bass suite, which is located directly under the GeeJam's onsite Recording Studio.
Chic island simplicity in Drum & Bass
With only seven rooms– five of which are stand alone cabins and one three bedroom villa, GeeJam is intimate and cozy and feels like a five star glamping experience in the jungles of Jamaica. It's more rough luxe than the sleek and chic Trident, but the experience is just as fantastic.
All the rooms at GeeJam are named after different styles of Jamaican music
Drum & Bass had a killer deck with a hot tub that we didn't have time to use and chic island white decor. The glass paneled walls opened up, making the whole place be about indoor/outdoor living. GeeJam has killer public spaces– including the BushBar restaurant where bands perform live almost every night. Even if you don't stay at GeeJam, I highly recommend coming for dinner at BushBar when their de facto in house band, the Jolly Boys, are performing.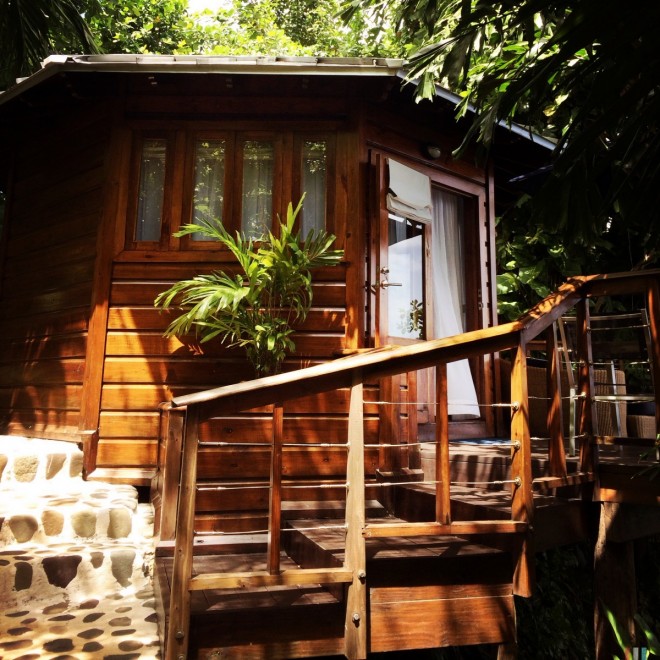 Love the Flintstones chic paver stones near exterior of Rock Steady at GeeJam
The Jolly Boys are Jamaica's answer to Menudo– except all the "boys" are over the age of 70. They perform great mento music as well as some killer cover songs I'm particularly fond of their mondern mento cover of New Order's Blue Monday.
Green grounds at GeeJam at the Jungle luxury
GeeJam is built into the side of a hill, and that might be an issue for people with mobility issues or small children (in that case, the Trident might be a better choice for you). Down the hill, there is also a private beach club complete with loungers, a bar, and paddleboards. If you want more of a local beach experience, the staff will happily drive you to nearby Winnefred Beach or Boston Bay Beach.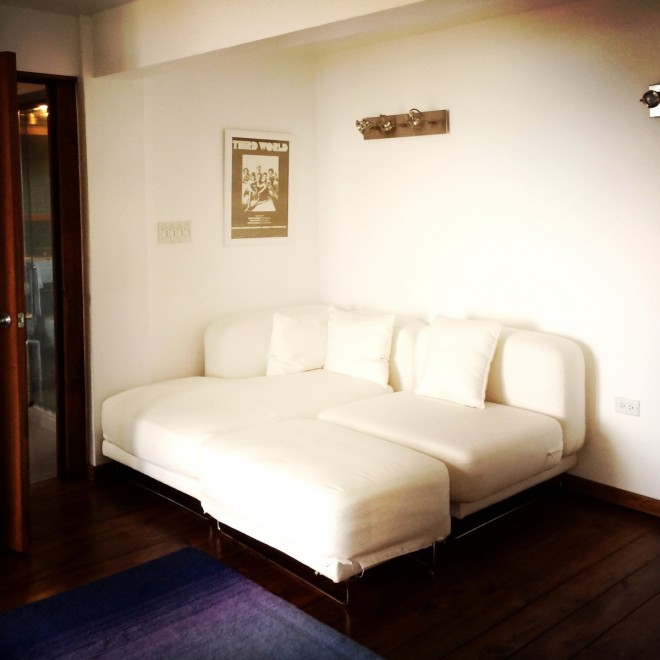 Comfy lounging area in Drum & Bass
In addition to wifi, GeeJam (like the Trident) gives guests a mobile phone so they can contact the staff wherever they are on property or in the area.
Left: the soaking tub at Drum & Bass Right: the hairdryer
The bathroom was modern with a HUGE soaking tub and enormous steam shower that I didn't stay long enough to enjoy.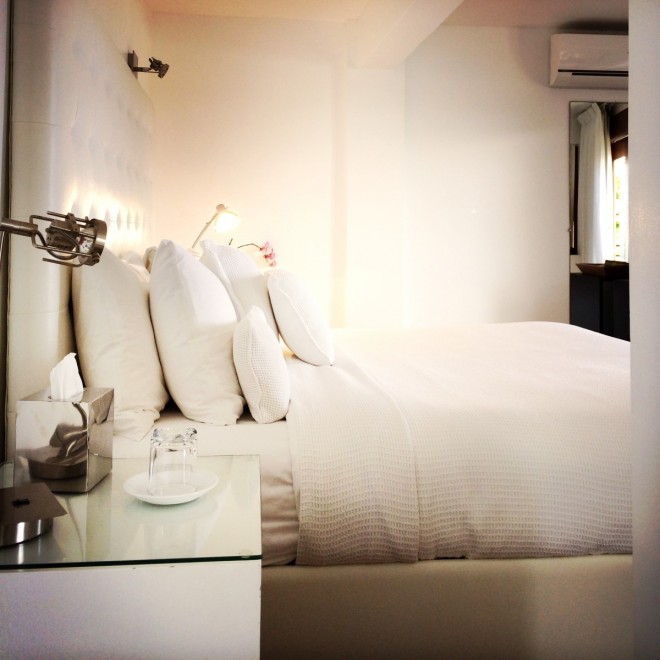 I slept exceptionally well in the comfy all-white bed in Drum & Bass
Musicians often stay on site here when recording in GeeJam's studio (like Amy Winehouse and No Doubt).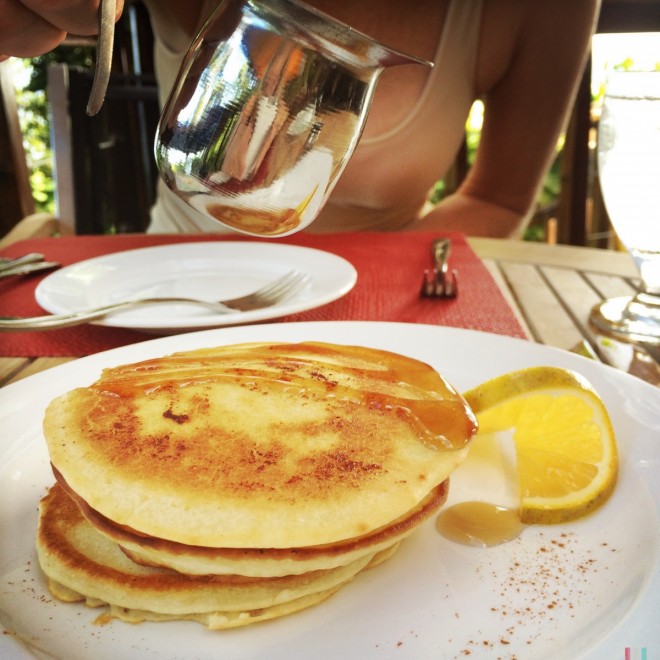 Banana pancakes for breakfast at GeeJam
I loved the friendly and laid back luxury of GeeJam. The staff was top notch and made sure we were well taken care of. Room rates include breakfast which is a nice touch.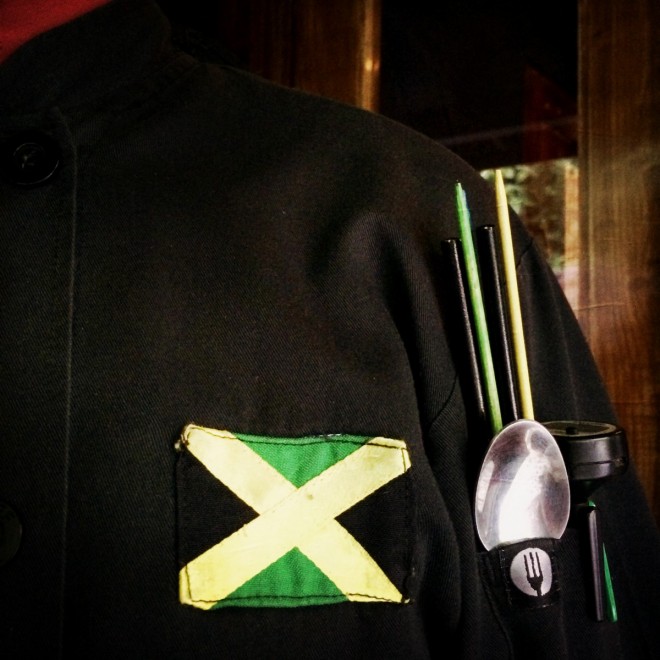 Jamaican swag on GeeJam's chef's uniform
The staff at GeeJam had no problem with my food allergies and was friendly to boot.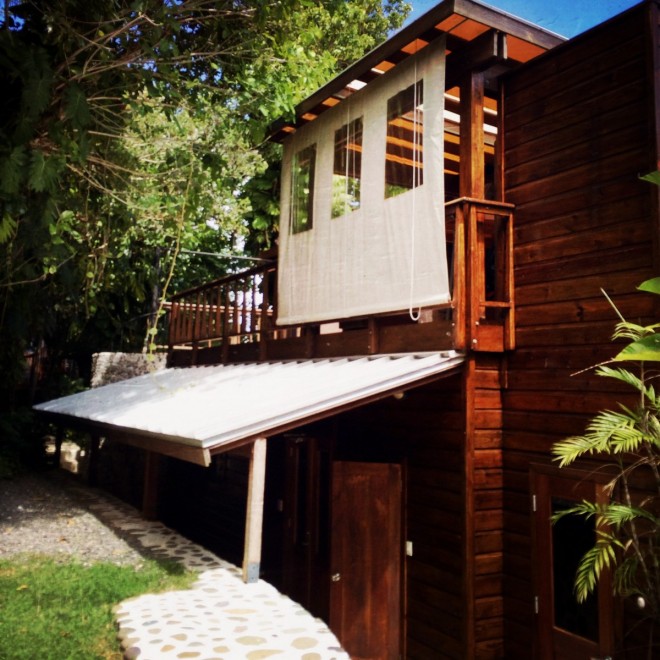 The exterior of GeeJam's Recording Studio
GeeJam's rates start at $395 per night, and you can find specials here.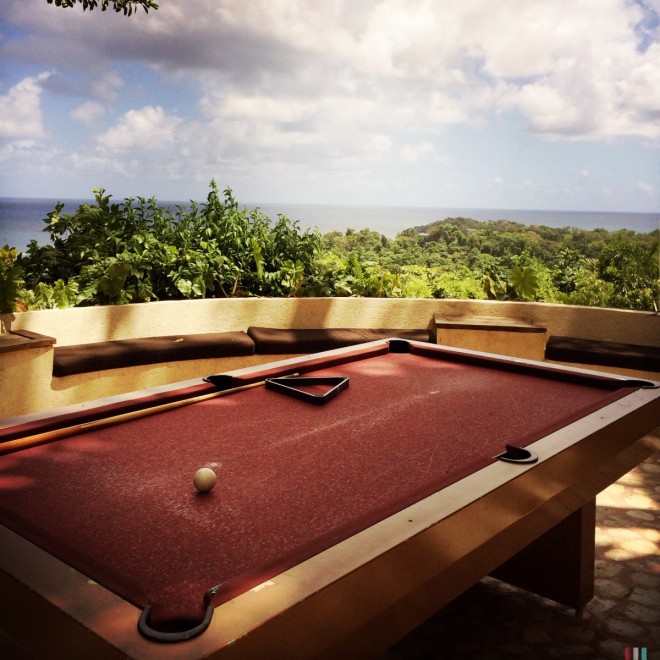 The outdoor pool table at BushBar
Left: cozy lounge seating at BushBar Right: the view from the deck of Drum & Bass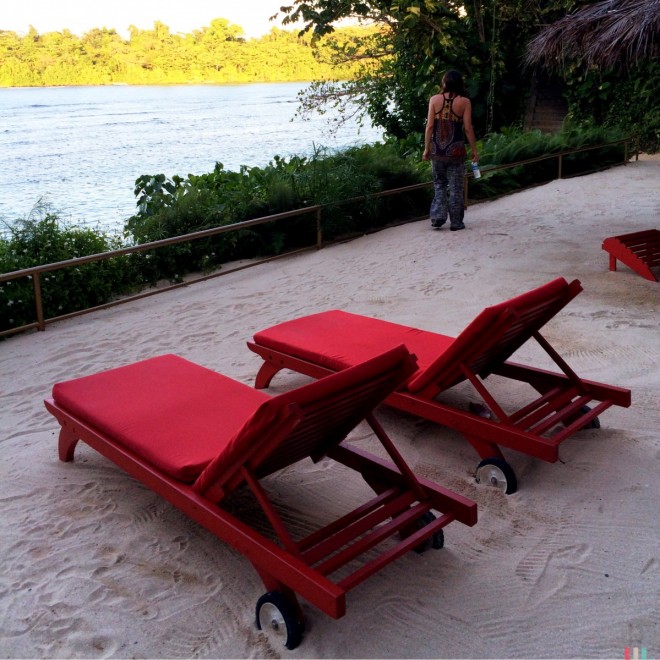 Zan exploring the Beach Club at GeeJam
On the walk to GeeJam's private beach, you can take a detour and explore nearby Drapers– which has some great hole in the wall bars and is very atmospheric. You'll pay $2 for a Red Stripe.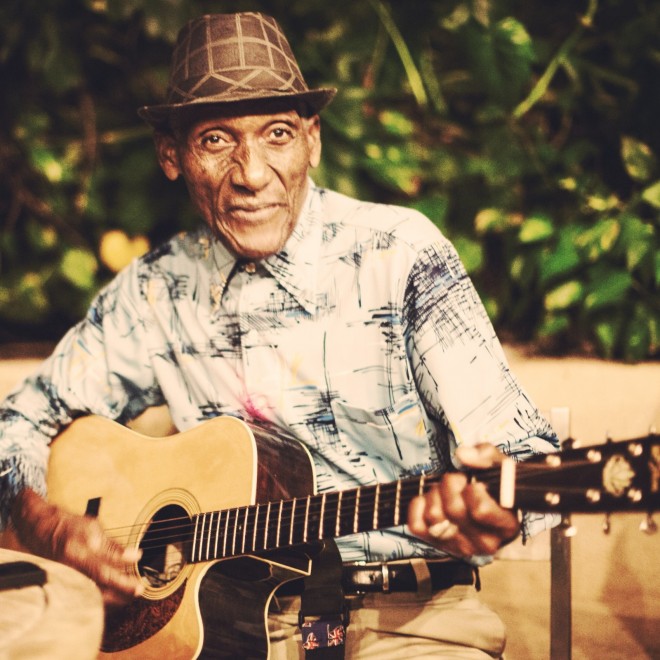 The sharply dressed Albert Minott, lead singer of the Jolly Boys at BushBar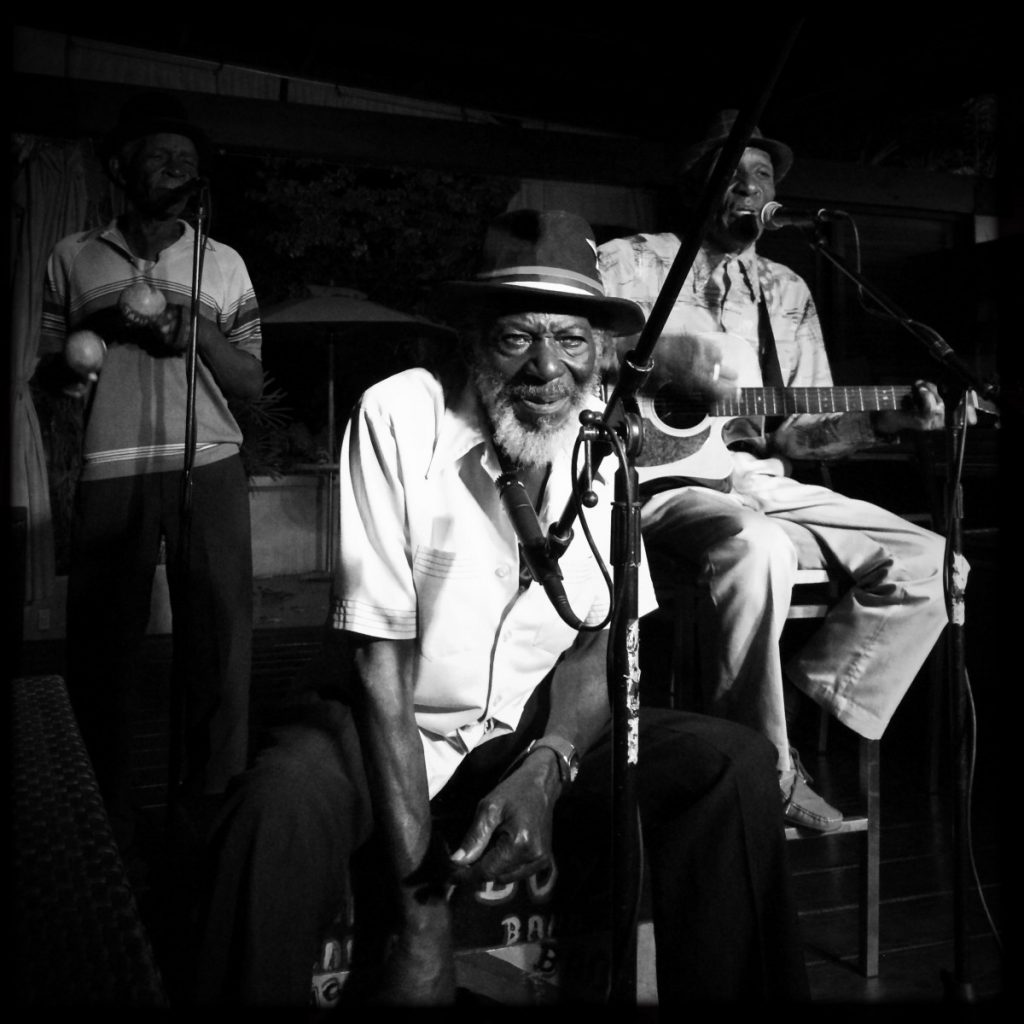 The Jolly Boys performing live at BushBar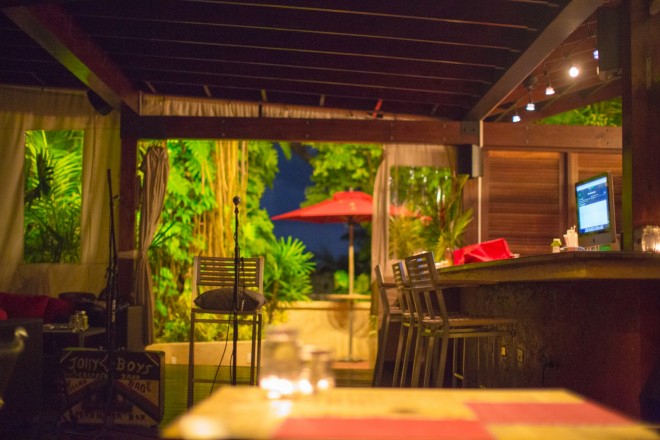 Before things got hopping at BushBar
Left: BushBar has fab drinks Right: the outdoor pool table at night
GeeJam is a Jamaican gem and will appeal to those seeking a non-generic luxury experience. It's part of the reason I am so crushing on Port Antonio (so much so, I'm already planning a return visit with my husband).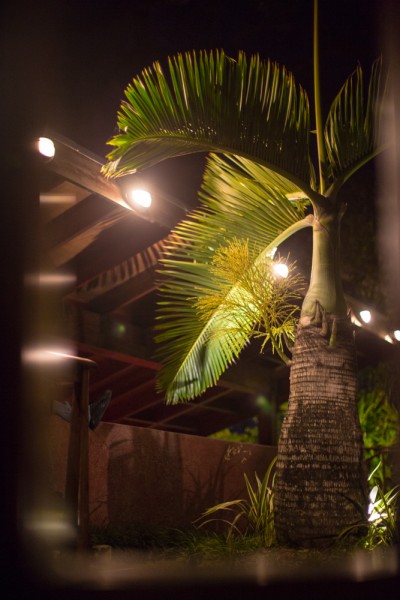 Night lights at GeeJam
GeeJam Hotel is located just east of Port Antonio in Drapers.
Skype reservations available on the GeeJam website
phone 1-888-4-GeeJam