I often get asked what is your favorite place to visit and why. While I try hard not pick favorites, I always answer this question the same way, "Tokyo."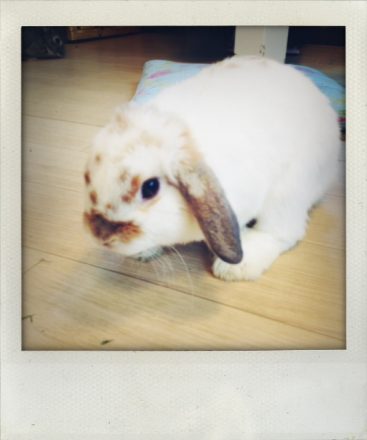 This bunny had only one ear, but was my favorite
Tokyo never ceases to amaze me with its never ending array of wacky things to do. Pop culture in Japan is fascinating and I try to check out something new each chance I get to the city.  Vélib' rental bikes have become commonplace in Paris, but Tokyo has fuzzier options available by the hour.  Pet rent cafes have been around for a few years, with cat cafes dominating the market. Unfortunately, I'm allergic to felines. I had heard rumors of Rent a Rabbit Cafes where you could pay for some quality one on one time with a bunny. Like anyone who has ever looked at the Instagram popular page, I'm not immune to adorable pictures of bunnies.  I emailed my friend Shuhei and asked him to do a little pet cafe research since I can't read Japanese.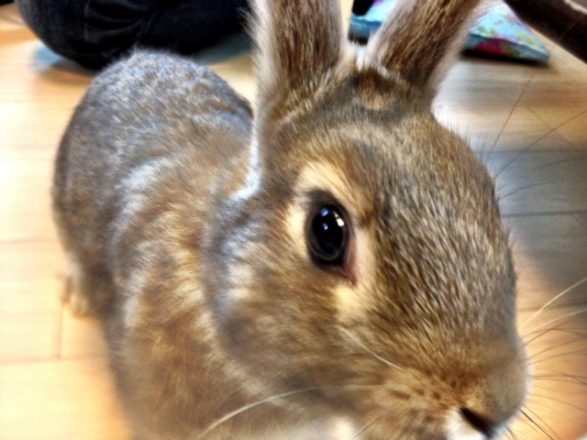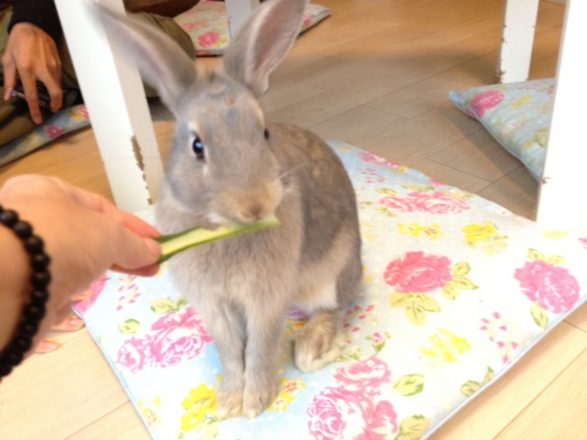 Staff members include these rabbits for rent at RA.A.G.F. Cafe Harajuku
Here's what Shuhei wrote back: Rent-a-bunny cafe is Rabbit and Grow Fat (RA.A.G.F) in Harajuku.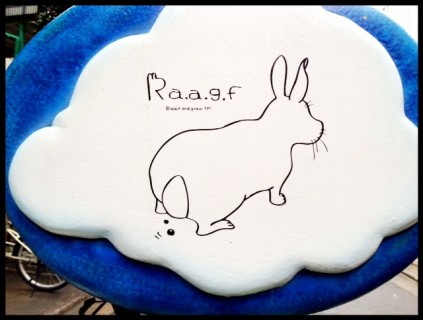 Sign for Rabbit and Grow Fat in Harajuku. Yes, those are rabbit turds on the sign.

I spoke to the woman working there and she said first-time visitor can have fun in 30-60 minutes.
¥1,000 yen per hour for one adult. That's not bad at all.
Yes, you can rent a rabbit!
Do you know what we can do there?
Play with rabbits. Pet rabbits, Feed them, Buy them.
It is not an obscene night hostess bar that bunny girls work at.
I am sure this is why Tokyo is different from other places!! It is not a zoo! Bunny cafe!
I heard most of the customers are adults who need to take break of busy days. I like rabbits !
Who doesn't like bunnies? I was so in. The reason pet rental is popular in Japan is that most people who live in Tokyo don't have the space for a pet of their own. Rabbits make suitable pets in a town where apartments are small and large yards and dog parks aren't the norm.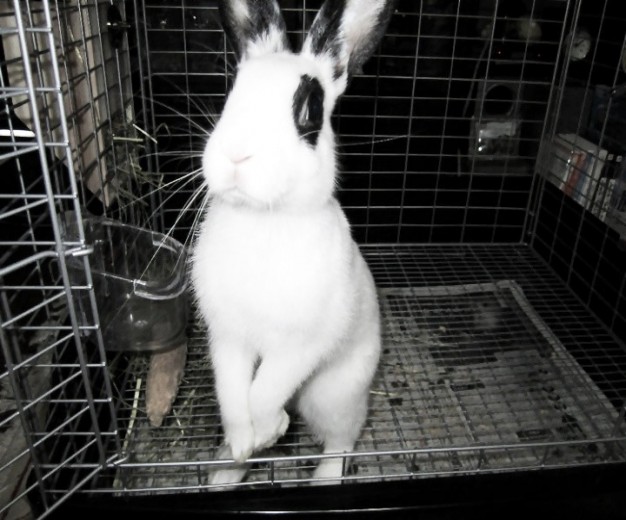 Mai's pet rabbit photo
Yes! The chance to go to a pet cafe is exactly the sort of thing that inspires my inner 17 year old Japanese girl. I'm not the only one who turns to mush because of an adorable bunny. I got a follow up email from Shuhei after I asked him to make a reservation and book us a date with the bunnies. He said: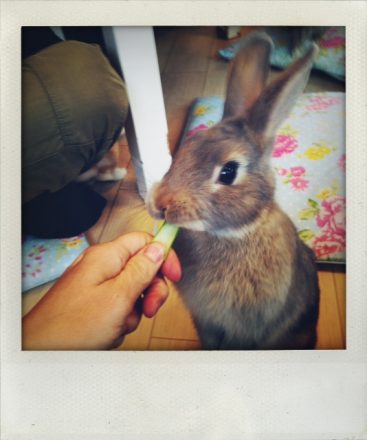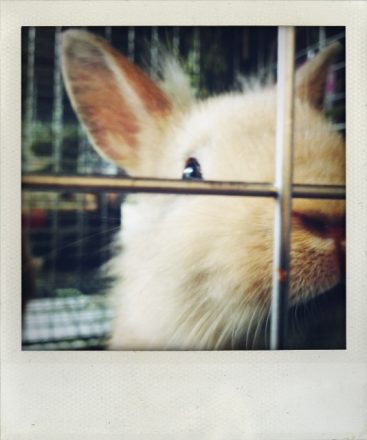 Hi Jen,
 What would you say if my girlfriend, Mai, wants to come to bunny cafe with us?
She has a rabbit at her home and loves them a lot !
FYI, She speaks English better than I do.
Shuhei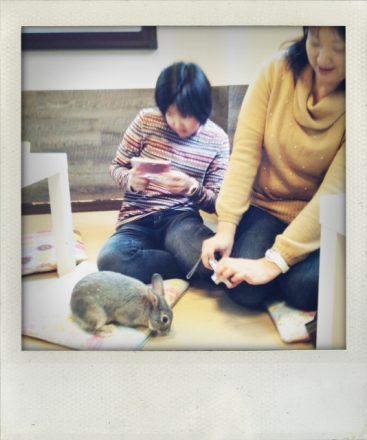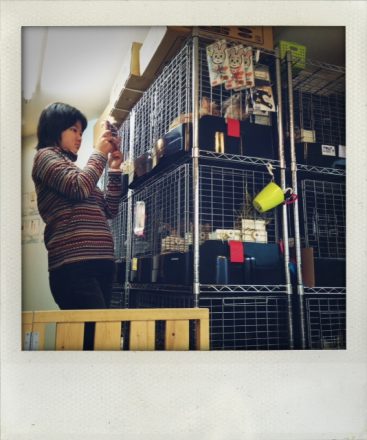 Bunnies + smartphones = adorable mobile photography shoot
The more the merrier! Mai is Japanese but has lived in America so she has a unique perspective, and is an experienced pet rabbit owner. Thus began my adventure down the Rabbit Hole in Harajuku. Our day also included dining at an Alice in Wonderland inspired them restaurant called Alice of Magic World Restaurant. We also shopped for pricey Gothic Lolita cosplay outfits at the mall that is the epicenter of wacky Harajuku fashion, Laforet Harajuku. I was shocked that the sale Little Bo Peep ensembles I checked out cost more than $300, despite being 50% off. I'm generally shopping mall phobic but the people watching here is superb, Harajuku fashion has inspired Gwen Stefani to sing praises about their wicked style, so it's really worth checking out for yourself. Until you can, you'll have to settle for watching the video.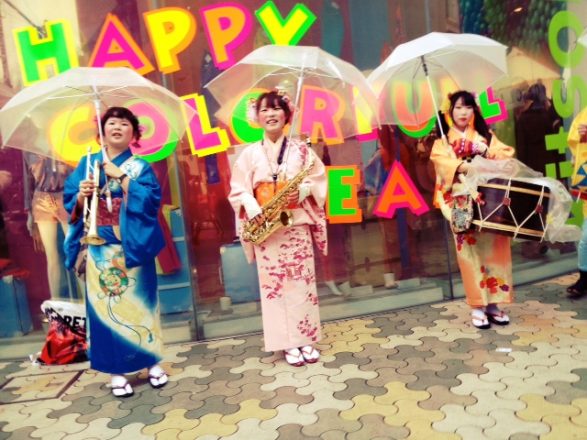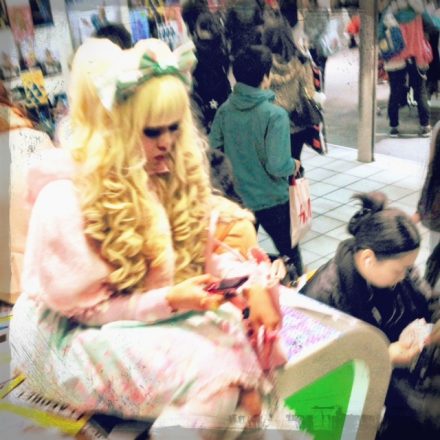 Harajuku girls in Laforet Harajuku mall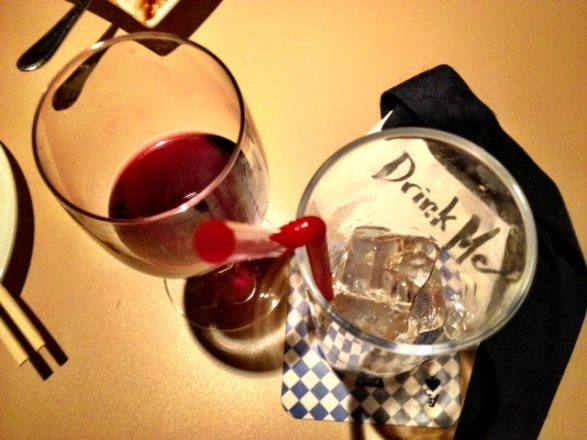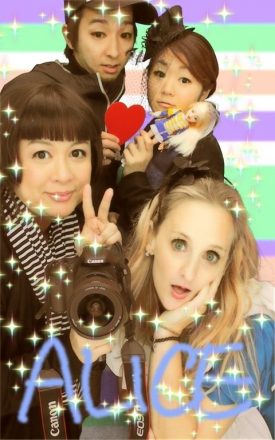 Alice in Wonderland Photo stickers (purikura)