Going to Randy Newman's Berlin show at the historic Admiralspalast Theater was a great experience for several reasons. I'm a life-long music fan, so it's always a pleasure to see a singer/songwriter I'm a fan of perform live. There is no doubt that Randy Newman has an enviable gig. Few singer/songwriters can tour with only a Steinway piano and sell out theaters in Europe. And it's even better when you've got a friend in Randy's manager who can get you on the guest list (much thanks Cathy Kerr).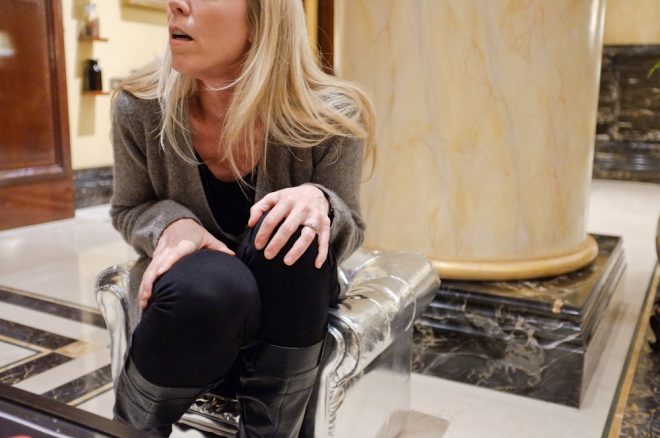 Cathy in Wunderland… or actually a children's chair at the Ritz-Carlton Berlin
One really simple travel tip that helps you get greater understanding is to do something you enjoy doing at home in a foreign country. If you don't like going to art museums at home, what makes you think you're going to enjoy them more abroad? See the sites but let your passions form the backbone of your itinerary. If like going to concerts in your hometown, try to check one out next time you're traveling abroad. The last time I attended a concert in Berlin I was doused with beer and stroked by strangers at a Them Crooked Vultures show at Columbiahalle where I also was afraid I might be crushed to death, so I was excited to see Randy Newman's show in a somewhat more refined setting at the Admiralspalast.
Some of the best history lessons in travel come with a little bit of context in an area you enjoy. I'm a music lover and it's fun to see what different audiences respond to. The wacky German crowd went crazy for Short People and didn't care as much for the always-in-heavy-rotation at Staple's Center defacto Laker's anthem "I Love LA." You Can Leave Your Hat On seems universally loved as does the Toy Story theme song Oscar nominated and easily recognizable You've Got a Friend in Me.
The second I walked into it, the Admiralspalast venue felt  like a set piece from a Tarantino film. A little google research revealed indeed once had a Führer's Box, specifically built for Hitler.
Located in the Mitte district on Frederichstrasse 101, this multi-building complex oozes atmosphere and history. Originally built in 1973 above a salt water spring, the Admiralspalast and was at first a luxury spa. It also had another former life as an ice skating rink and went through a shady phase as a 24/7 "amusement palace" complete with a bordello. Who doesn't want to enjoy a little night music at a historic site in Berlin? It might not be on the Berlin highlights list, but I really enjoyed the historic details and crumbling glamour of this theater.
Pictures from the wings of the stage: a Steinway piano on stage after Randy Newman's show

Apple Sec and pretzels were the refreshments of choice
The Admiralspalast used to the be venue of choice for communist operas. In 2009 the the theater which housed the German debut of the Mel Brooks Broadway musical The Producers, and the production was granted an exemption from the German law that makes nazi salutes and display of swastikas a criminal act. One can only image watching the musical number "Springtime For Hilter" in this stately pleasure dome. The wonderfully ironic lyrics of Randy Newman seemed perfectly at home in this historic Berlin venue. It's worth checking out if get the chance. I'd recommend getting a pretzel.