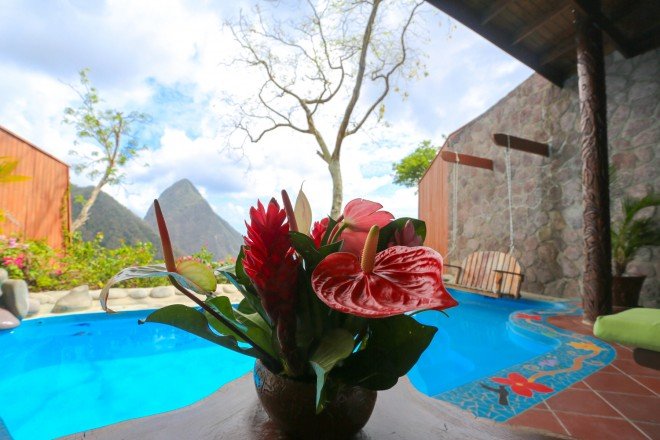 When your room is missing a wall, it definitely qualifies as Glamping
On my recent trip to St. Lucia, I stayed at two different properties, both in the Soufriere area of the Island. First up was Sugar Beach, a Viceroy Resort.
Next, I stayed at Ladera Resort for 3 nights, which I covered in detail for the Glamping.com blog (Arrival and Day 1, Day 2, Day 3).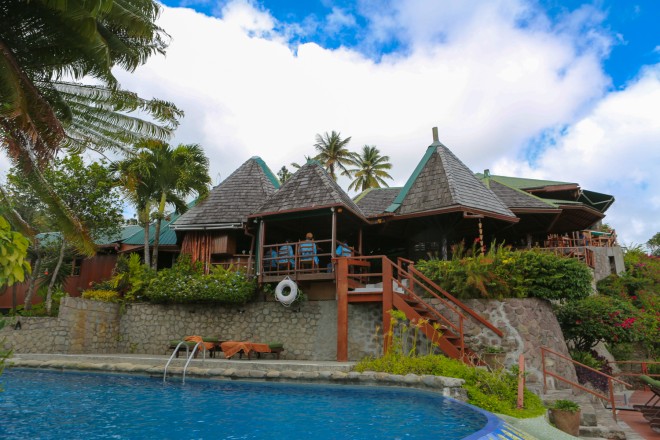 Ladera's pool sits below it's bar and Dasheene Restaurant
The two hotels are located close to each other. Ladera even sends guests via shuttle a few times a day to Sugar Beach, since the resort is located in the lush hills between the Pitons, and not right on the ocean.
Not surprisingly, we bumped into some of the same couples we met at Sugar Beach. It makes sense to move around if you're spending more than a few days on St. Lucia, and the combo gives a nice mix of beach and rainforest and two very different vibes.
Left: Swing over the pool in our room  Right: The indoor "living room" of PR 3 had Piton views
Ladera is the more unique of the two resorts. Since the rooms are all missing a wall, guests are truly getting a 5 star glamping experience. You're at one with the elements, be it sun, rain, or stars. You're not exactly roughing it though, the wooden rooms have all the necessary creature comforts (including wifi). But if you're the type who is going to freak out if you see a gecko in you're room, then Ladera probably isn't for you.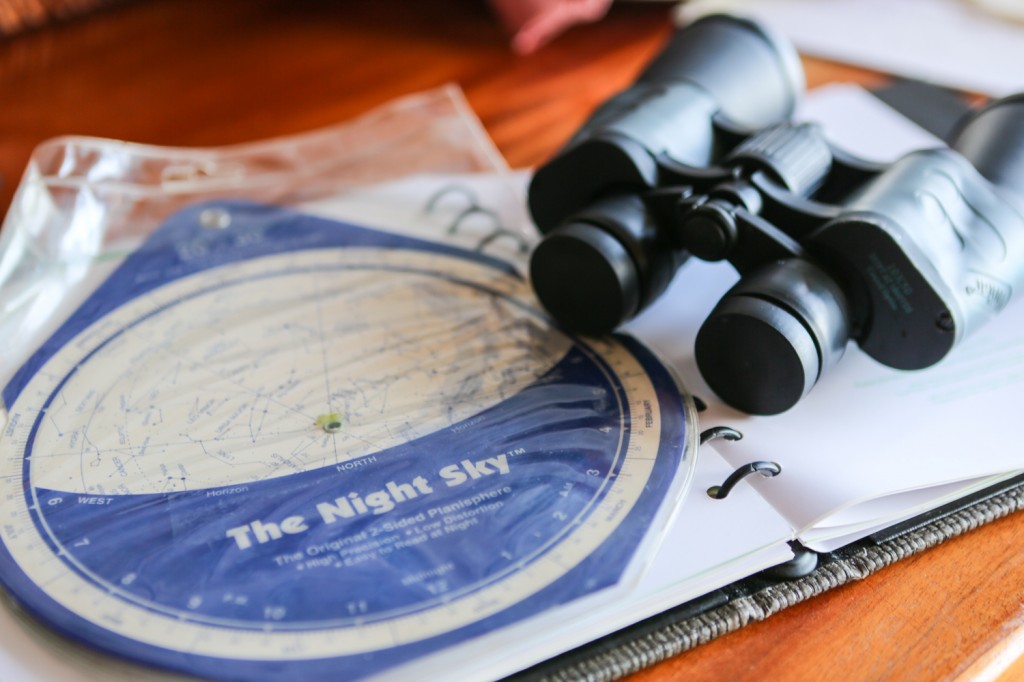 Cool in-room amenity: a star chart and binoculars
I love resorts with a non-generic vibe and personality, so I adored Ladera. I also thought the food at Dasheene, their on-site restaurant, was the best of the hotel restaurants I tried. The Caribbean kingfish and jerked shrimp on sugar cane skewers were standouts, and cocktails were a few dollars less expensive than those I drank at nearby resorts.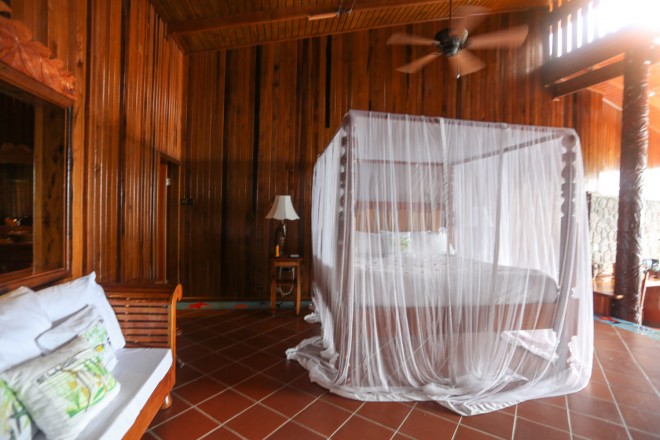 The mosquito netting is sexy– and helpful when your room is missing one wall
Left: Colorful tiles in the rainforest themed Rainshower Right: The rainshower could easily fit two people… or maybe five
St. Lucia is definitely a couples destination. There were a lot of honeymooners at Ladera, and the hotel is situated for maximum privacy. Missing a wall does mean that you hear the nature outside, the cicadas at night, and the occasional couple in the throes of ecstasy in the next room (good for them!).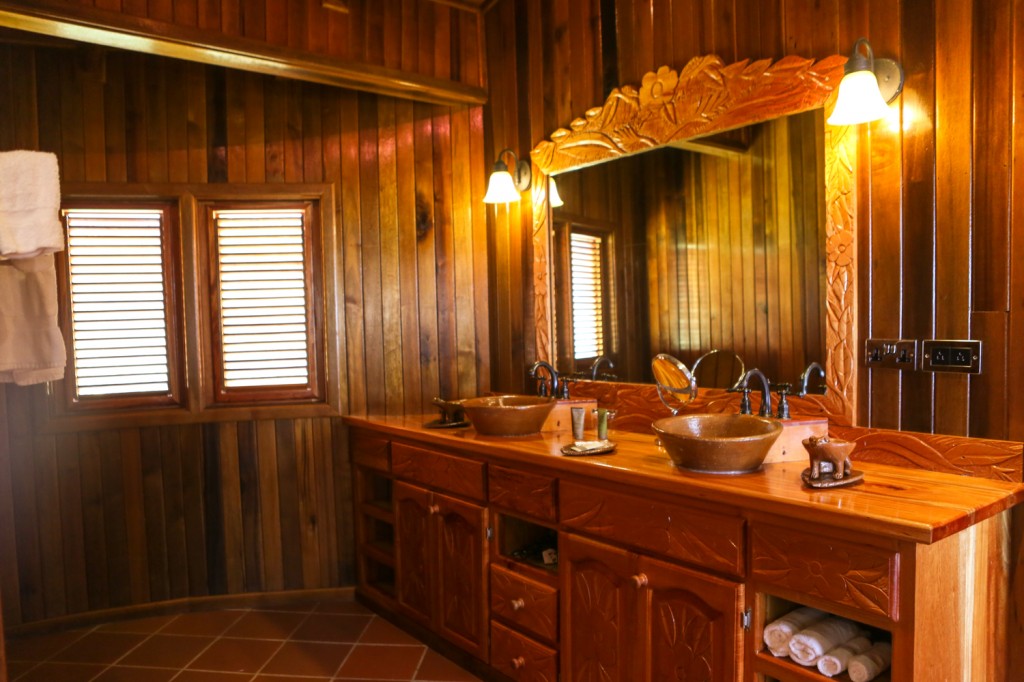 Side by side sinks in the wooden bathroom of PR3
Ladera has a top notch staff that can help arrange sightseeing, tours, or any other needs you might have. Their spa is very basic, but the technicians are great (I got a very reasonably priced deep tissue massage that hit the spot).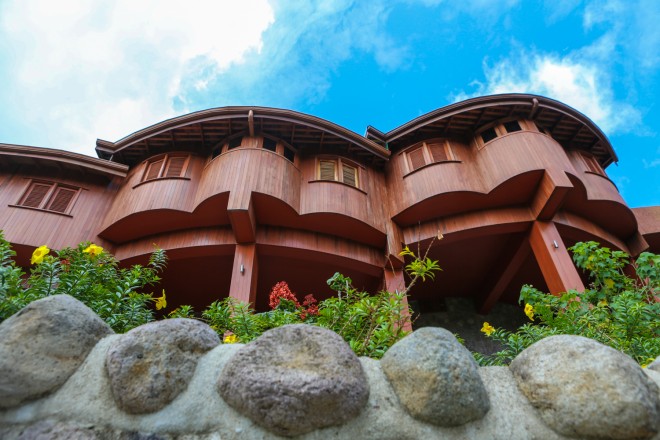 Ladera's vibe is eco-chic: wood, boulders, and exposed to the elements
Funky pots and sexy shadows are part of Ladera's organic charm
Ladera's social center is the pool, bar, and restaurant area. The bar has spectacular sunset views and saves the best front-row seats for in-house guests. Non hotel guests have to pay a cover fee just to check it out. Local musicians play during brunch and dinner, and the vibe is casual Caribbean elegance and divinely laid back.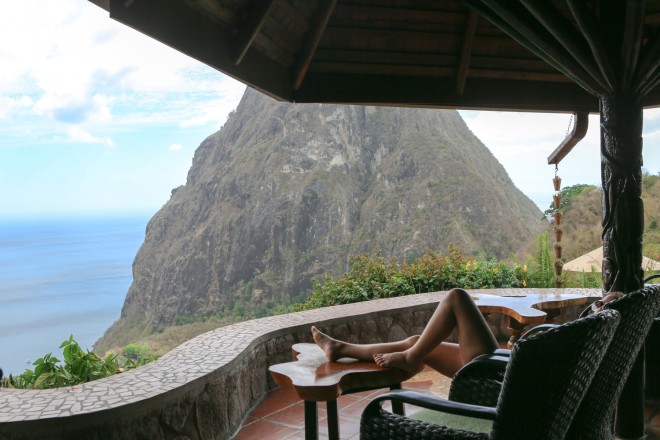 Waiting in the bar at Ladera
Lush green landscaping and fun tiled ponds add to the resort's charm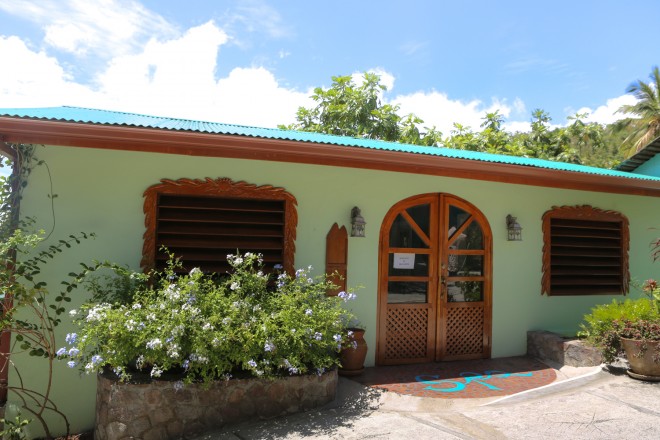 The Spa might not look fancy, but the treatments are fantastic
The gym is good for working off the rum-based cocktails and fabulous breads served at breakfast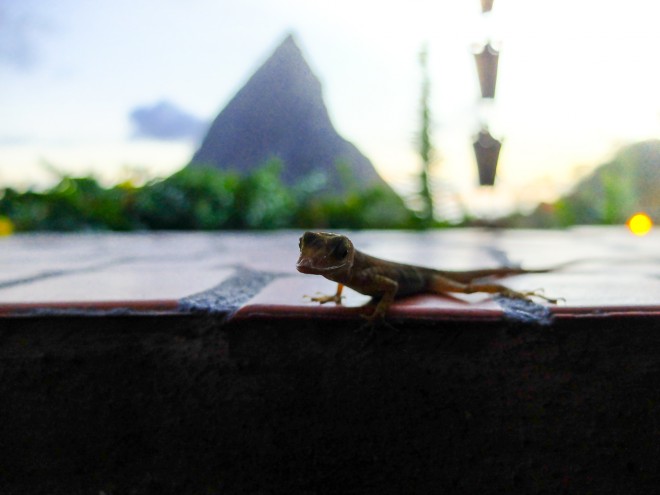 A friendly local in the bar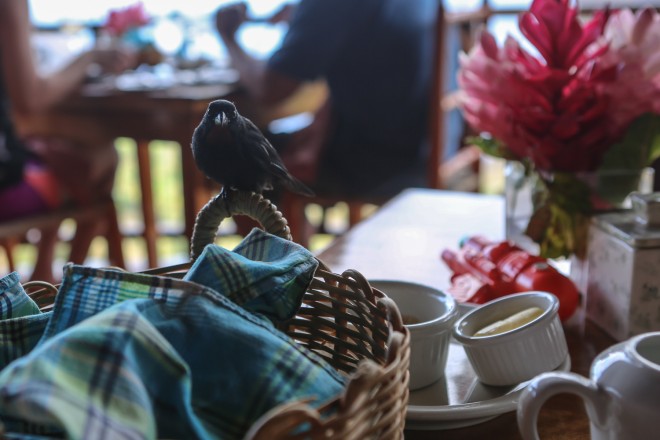 Peg, a local bird, joined me for breakfast
What I liked most about Ladera was how fun it was. The food was fine-dining quality, but there are just enough local touches that keep it unpretentious and decidedly not stuffy. The guests were also low key and chill. Tables are adorned with madras napkins, and squirt guns meant for fending off local birds who invite themselves to your meals and want in on your tasty bread basket at breakfast.
Left: Drinking a coconut in the bar Right: an omelette made to order for breakfast
Ladera isn't cookie cutter or generic, and neither are it's guests. It's an unforgettable place to spend a few days for a special occasion like a romantic weekend away, an anniversary, or a honeymoon.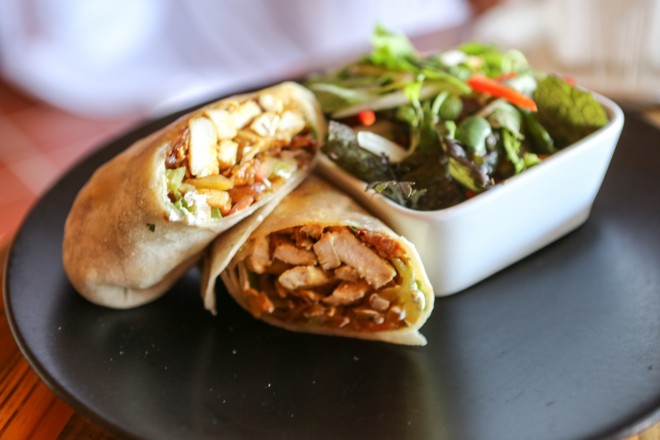 A jerked fish wrap for lunch in the bar
Ladera's bar menu had killer chicken satay, and rum and lime cocktails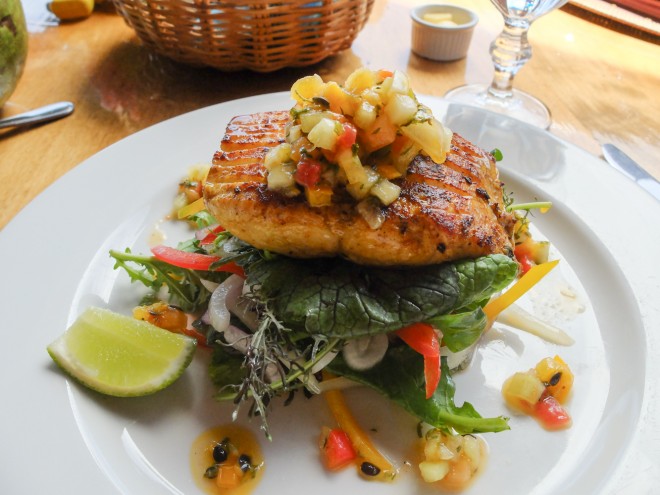 Caribbean kingfish for lunch at Dasheene Restaurant at Ladera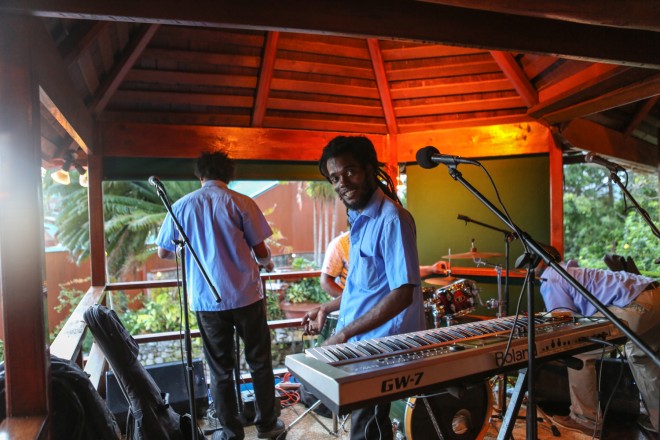 The band sets up before dinner in Ladera's Bar Area
Guests gather poolside to take in the spectacular Piton sunsets
Guests thinking about Ladera should know that it's not located right on the beach, and while their is shuttle service available, I didn't even use it as I spend my days at the pool or exploring the surrounding area. There are plenty of taxis available should you miss scheduled shuttle service to Sugar Beach.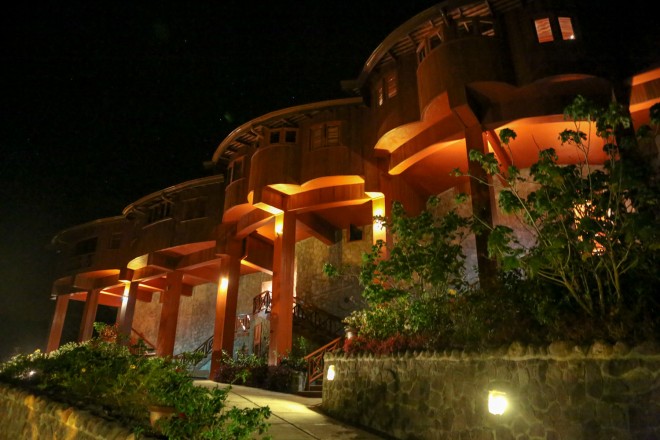 Paradise Ridge at night
Soufrière,
St. Lucia, West Indies
Resort Reservations: 866-290-0978
Rates start at $475.00