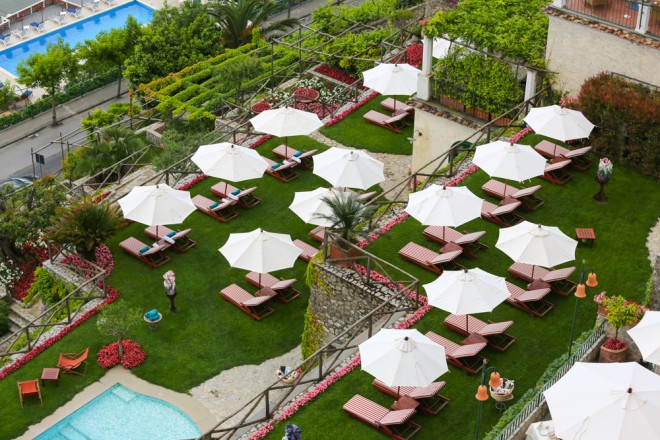 Lounge chairs on the pool terrace at Palazzo Avino
Of all of my stops along Italy's Amalfi Coast, Ravello was the biggest surprise. Ravello's jaw dropping views, sun-drenched terraces, and charming streets make it feel like the kind of place that would exist only in the movies. Ravello is extremely enchanting to discover, especially when you can stay in an of-the-moment hotel that happens to be an historic 12th century villa that used to be a former Arch-bishop's residence like Palazzo Avino.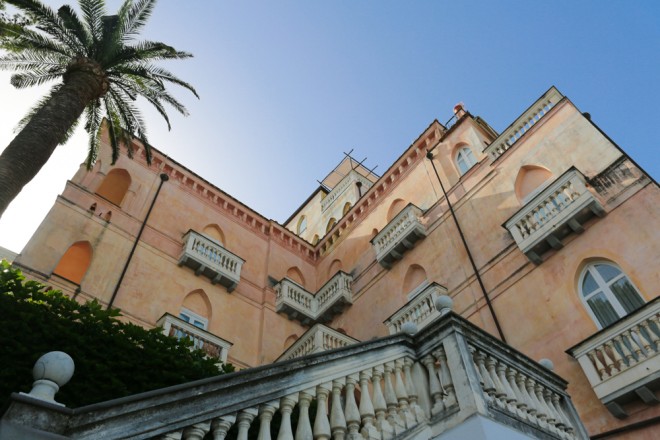 Looking Up at the 12th Century Pink Goodness that is Palazzo Avino
Part of Ravello's charm is the fairy tale ambiance of it's hotels, and Palazzo Avino– painted a distinctive pink shade that stands out from the crowd, manages at once both classically luxurious and modern in the best way. Formerly knowned as Palazzo Sasso, Palazzo Avino has changed names but is still owned and operated by the same tomato canning family, the Avinos, who followed a dream to open an Amalfi Coast hotel.

Art and smashing views at Palazzo Avino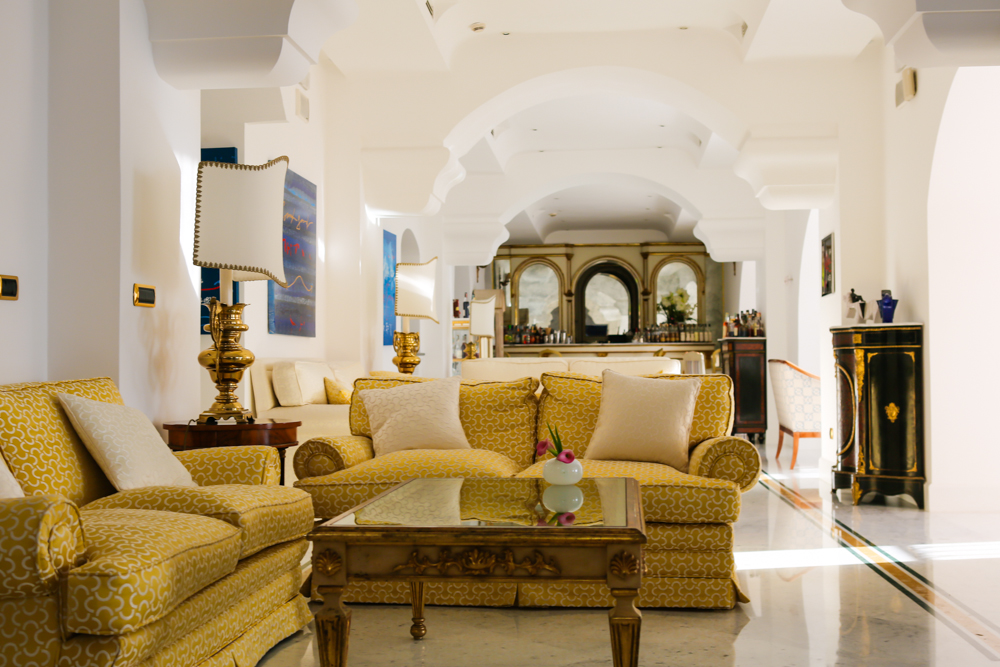 The Lobby Bar has killer views, a great Scotch collection and strong wifi
Now the dynamic and glamorous Mariella Avino serves as the property's managing director and she runs a tight (and impressive) ship. The hotel has top-notch service and has been recently renovated complete with designer fabrics (hello, Hermès). It has Rossellinis Restaurant (2 stars from Michelin, I'll focus on that in an upcoming post) and it's own Clubhouse by the Sea (they'll be another post entirely dedicated to that).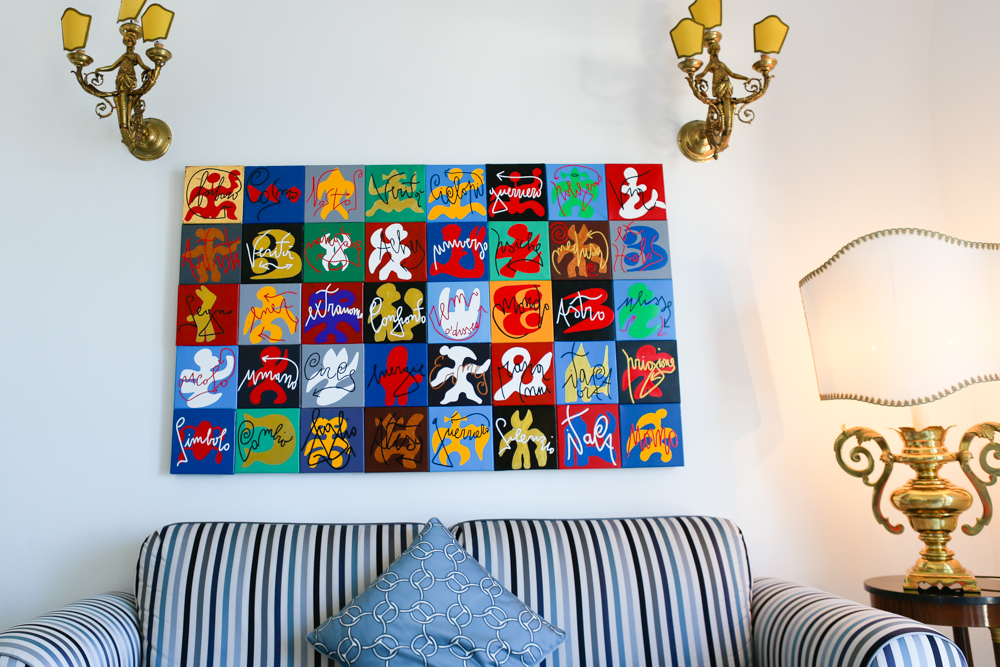 Hermès pillow and bold art define the decor at Palazzo Avino
I really liked the international crowd that stayed at the hotel– there were so many languages being spoken over lunch I couldn't even eavesdrop. Located over several levels, Palazzo Avino has multiple terraces which add to it's charm (truth: the multiple levels might not be relaxing for the mother of a curious toddler or someone with difficulty using stairs, and the layout makes wifi access spotty on some parts of the property).
Palazzo Avino Interiors
The hotel's concierge was great with suggestions for what to see in Ravello and restaurant recommendations (should you feel compelled to leave the property), and also provided great assurance regarding how long in advance we had to depart in order to make it our flight home from the Naples airport.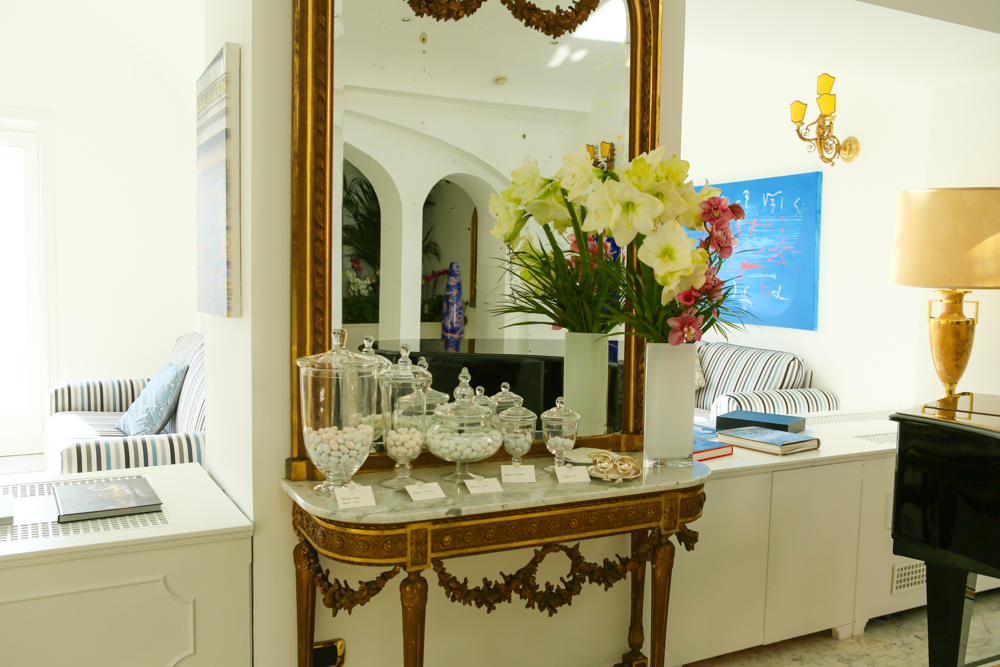 Italian candies at the ready for guests in the lobby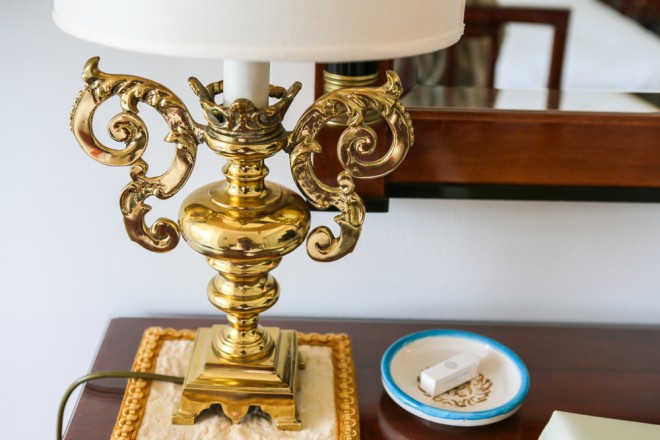 Modern and opulent interior design details in a guest room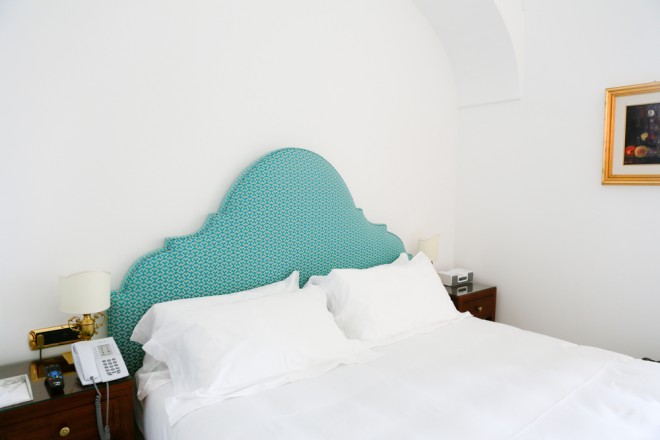 The chic yet understated room decor lets guests focus on the dramatic views
Left: pool chairs at the ready Right: Extra points for the binoculars located around the property
Palazzo Avino has so much to offer, guests can be tempted to not leave hotel and explore the rest of Ravello, and that would be a shame. There is also a spa that I did not even have time to check out and an outdoor gym I never used– but I still appreciated having the options.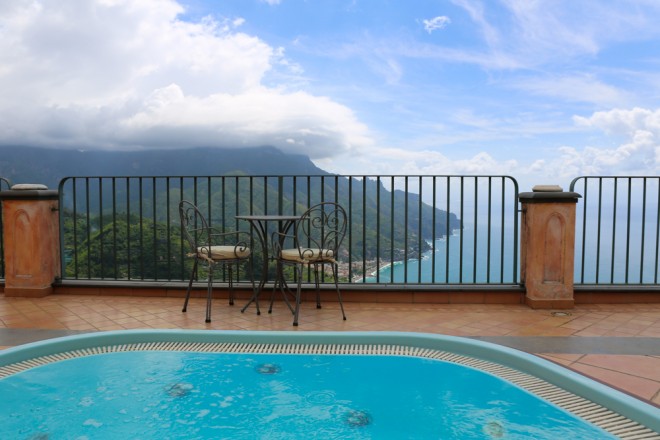 Rooftop Jacuzzi complete with another great view of Ravello
Left: Comfy chaise lounges Right: great lending library on the terrace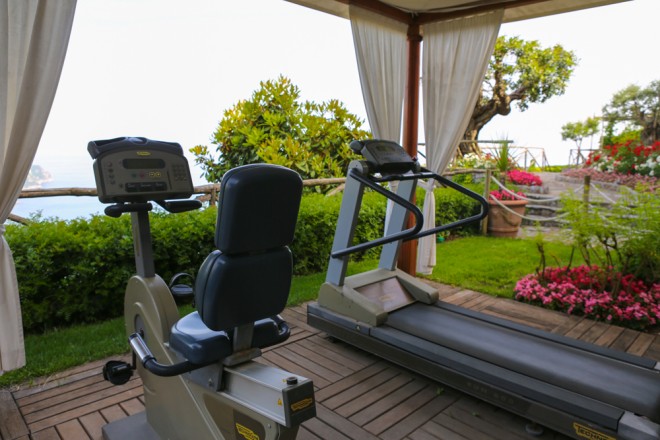 Treadmill with a view at the Palazzo Avino Outdoor Gym
Left: pastries al fresco at breakfast Right: The hotel's Lobster & Martini Bar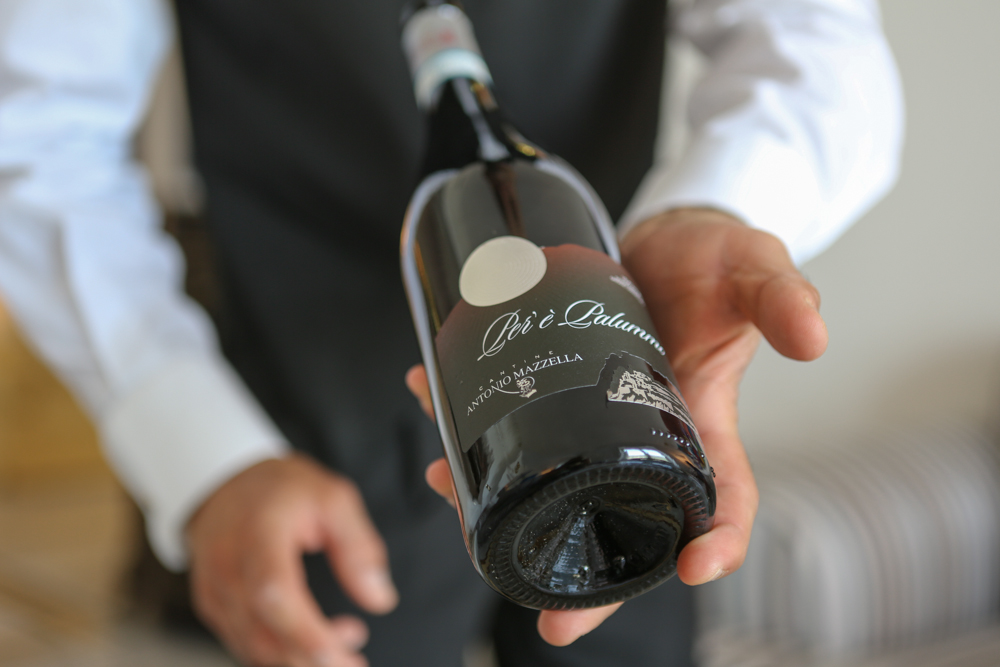 Wine in the lobby bar
Impressive Scotch collection in the lobby bar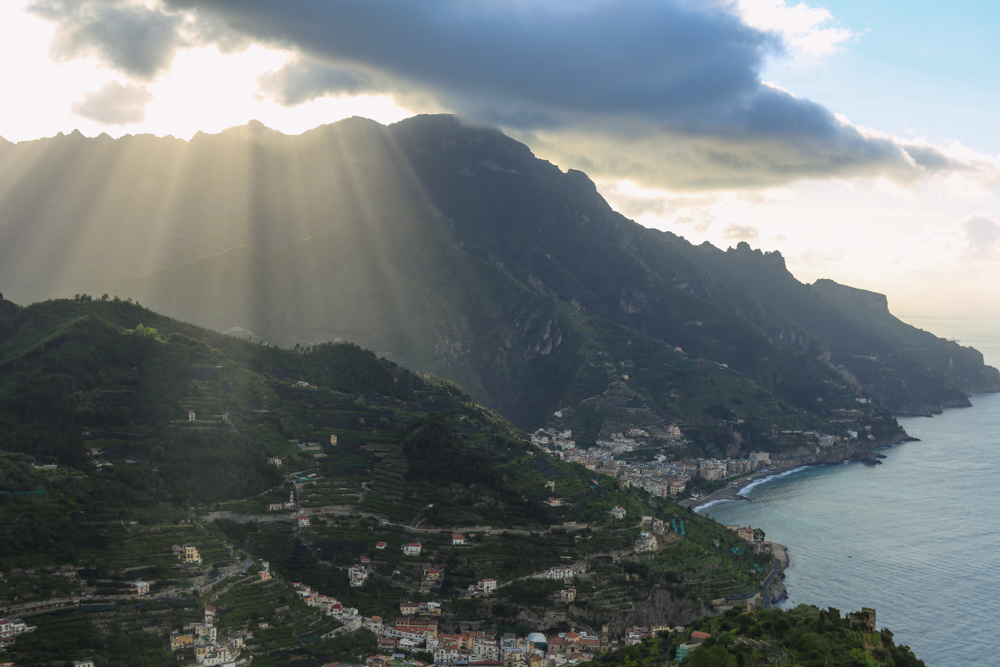 Killer views of the Coast on a misty Ravello morning
Left: Live piano music at the Lobster and martini bar Right: Palm tree at the Palazzo Avino at night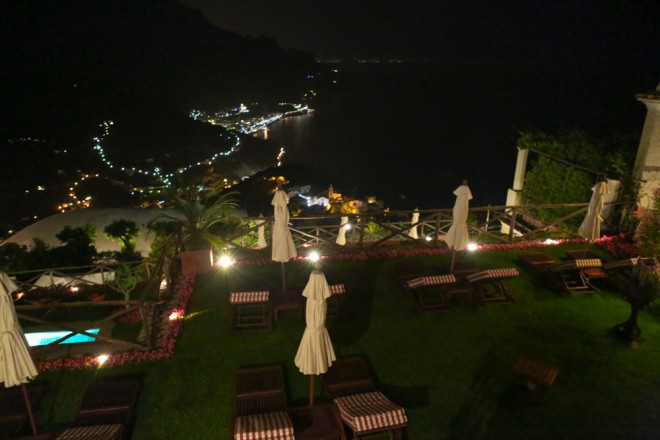 Evening view from one of the properties many terraces
Room rates at Palazzo Avino start at $306 during the low season. Check out the hotel's reservations section for special offers.
Hotel Palazzo Avino (formerly known as Hotel Palazzo Sasso)
Via San Giovanni del Toro 28
84010 Ravello – Amalfi Coast
Italy
T + 39 089 81 81 81
F + 39 089 85 89 00
info@palazzoavino.com
Grazie to Mariella Avino who generously hosted me at the Palazzo Avino during my stay in Ravello.