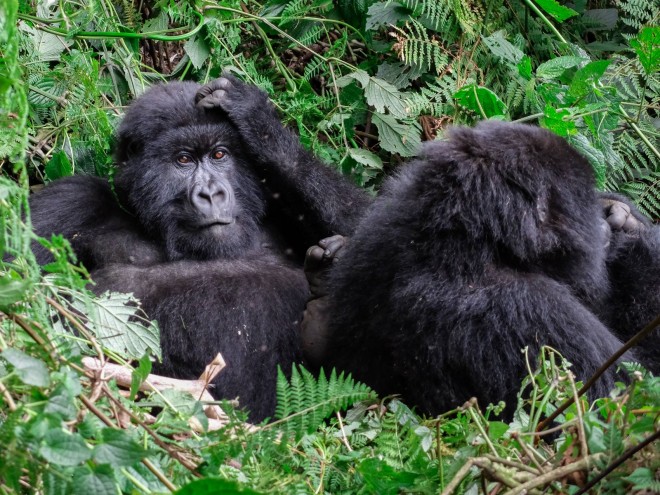 Head scratcher in Volcanoes National Park, Rwanda
If you are planning a gorilla trekking safari to Volcanoes National Park in Rwanda, you are going to want to document your experience with a camera or three.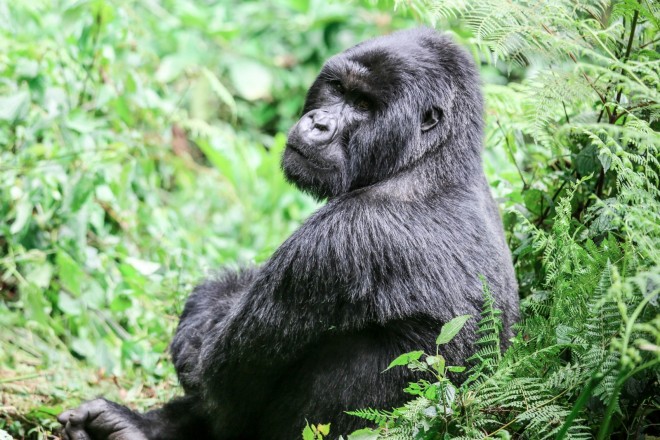 There are less than 1,000 mountain gorillas in the world today
Here are some tips on how to get the most out of your gorilla trekking safari photography.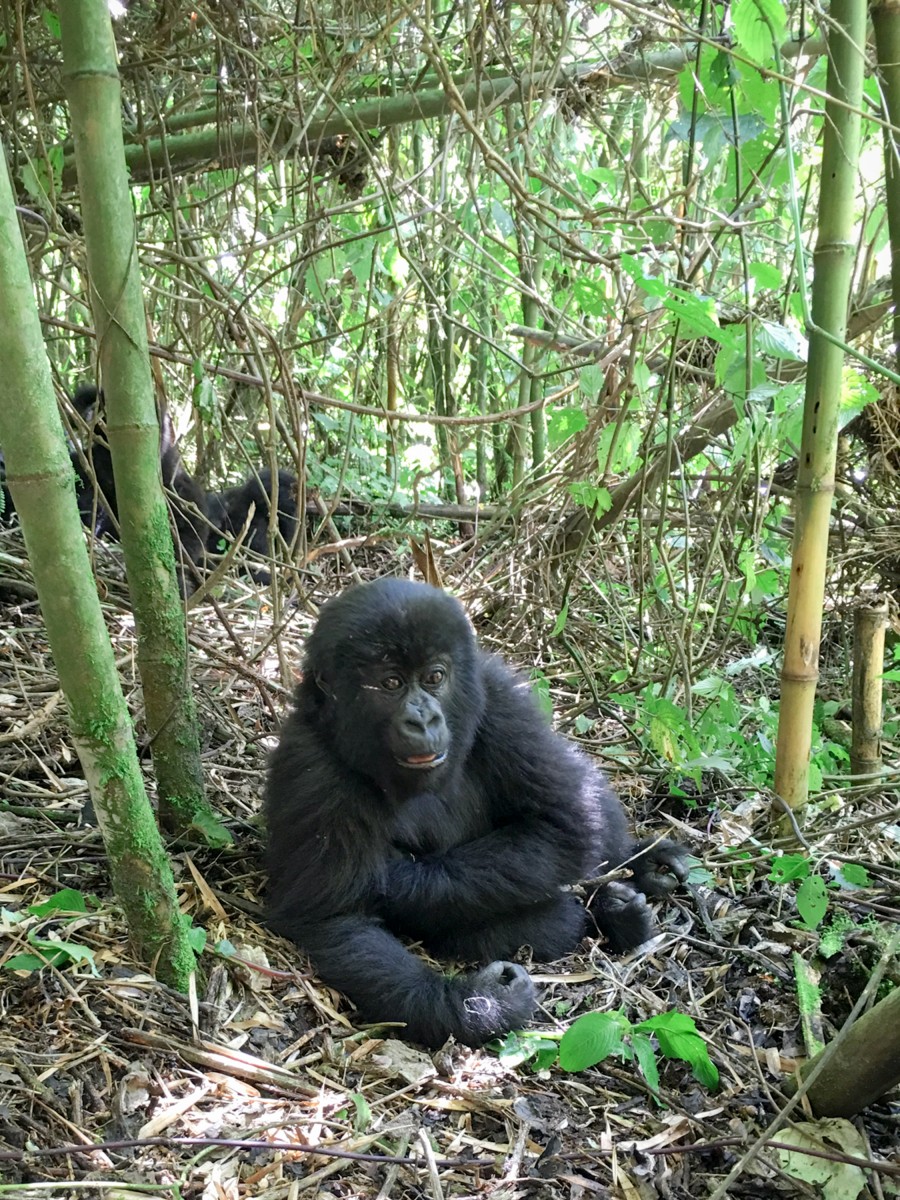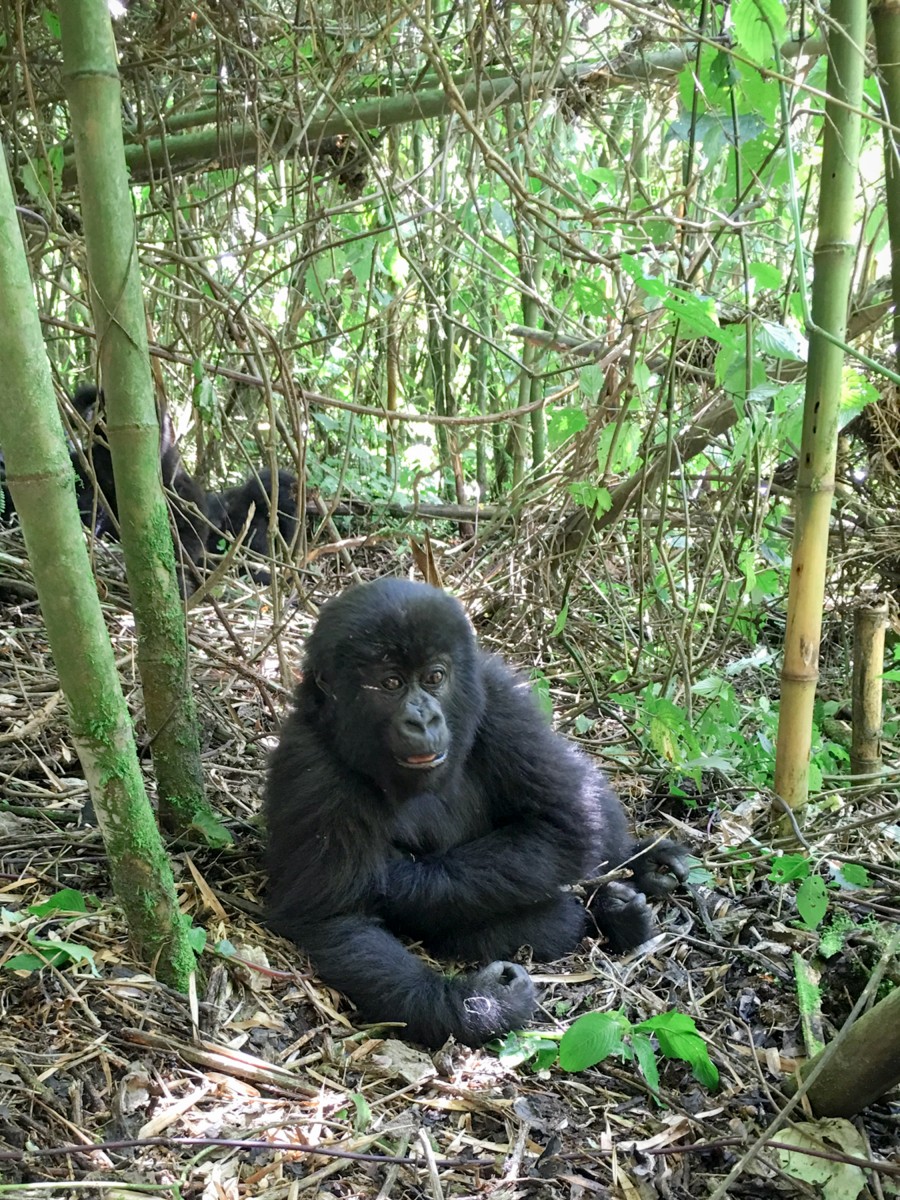 I took some of my favorite images on my iPhone 6s plus
Weather conditions for my treks ranged from rainy (think Gorillas in the Mist) to very contrasty when it was sunny. The contrasty day was the most difficult to photograph.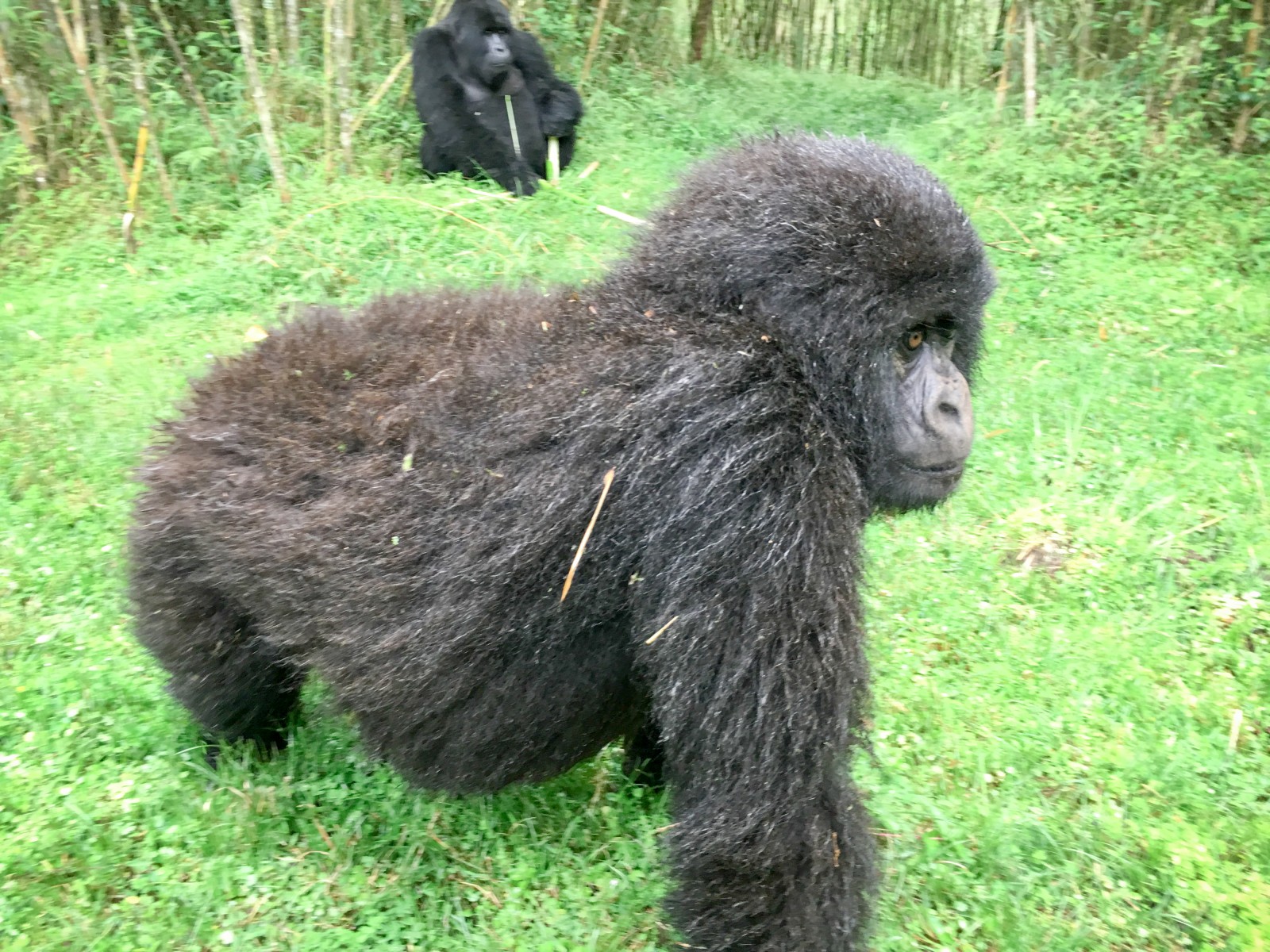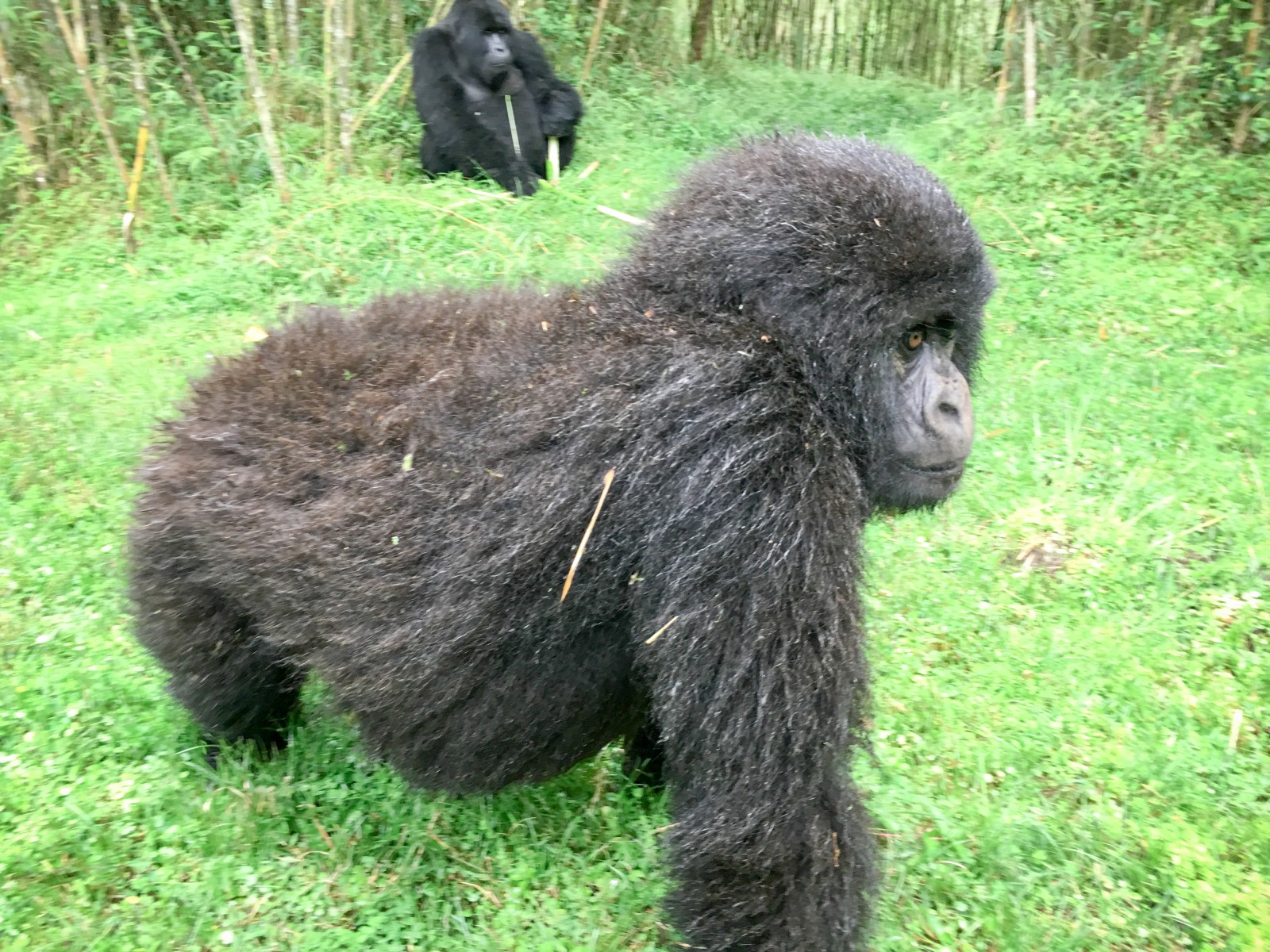 This mountain gorilla walked right by me
Tip #1 Hire a Porter
Porters are available (tip them US $10 per day) to help carry your gear/backpack and help you through steep and difficult parts of your trek. I would highly recommend using one. Not only are you supporting the local community, but there are a few times when it's helpful to have someone spot you when you are climbing on a step rocks.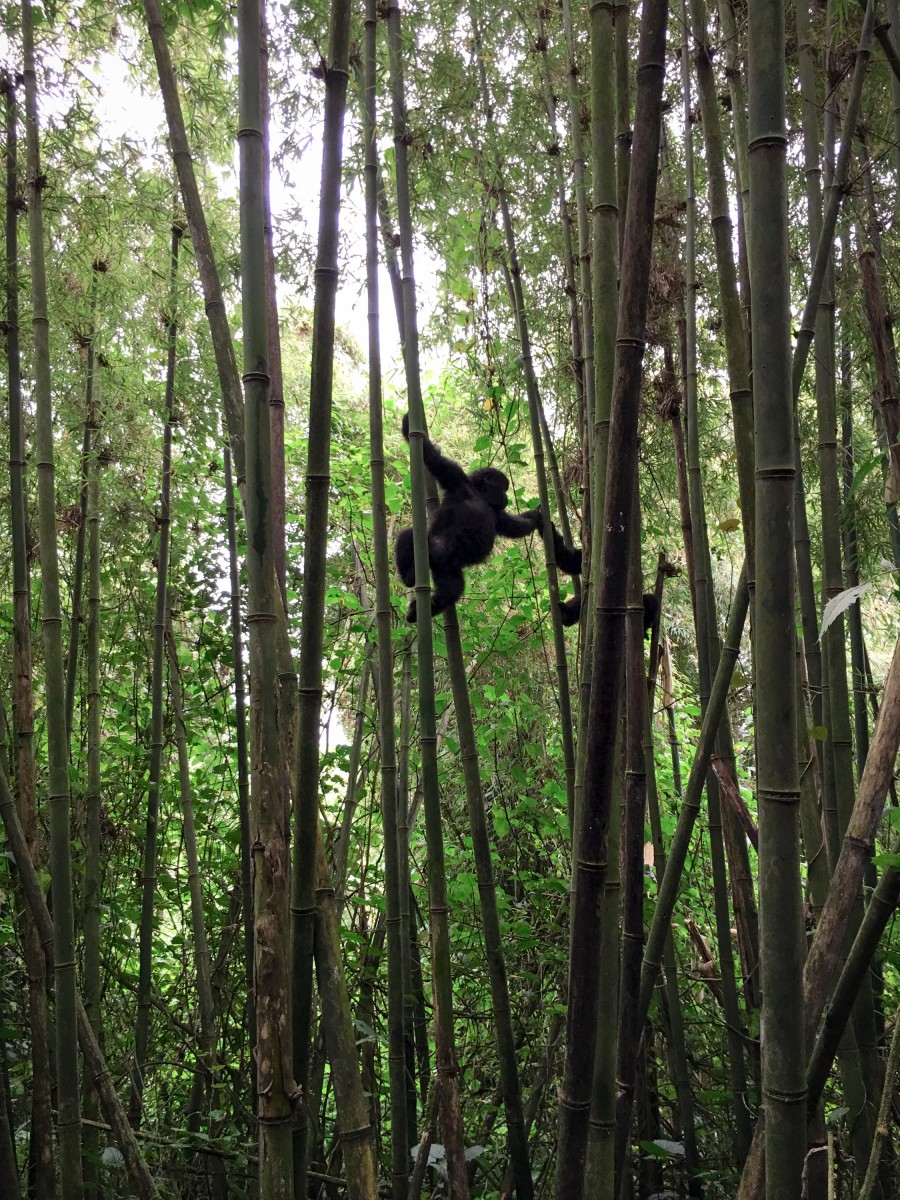 A juvenile gorilla swinging in the bamboo
Tip #2 Make Sure You have Pockets
The protocol for gorilla trekking safaris requires you to leave your daypack, backpack or camera bag about 100 meters from the group of gorillas you will be interacting with that day. This means that any gear you intend on using during the one hour you get to spend with the gorillas needs to be on you. Make sure your pants (most likely rain pants) have pockets for any accessories or spare batteries you might need.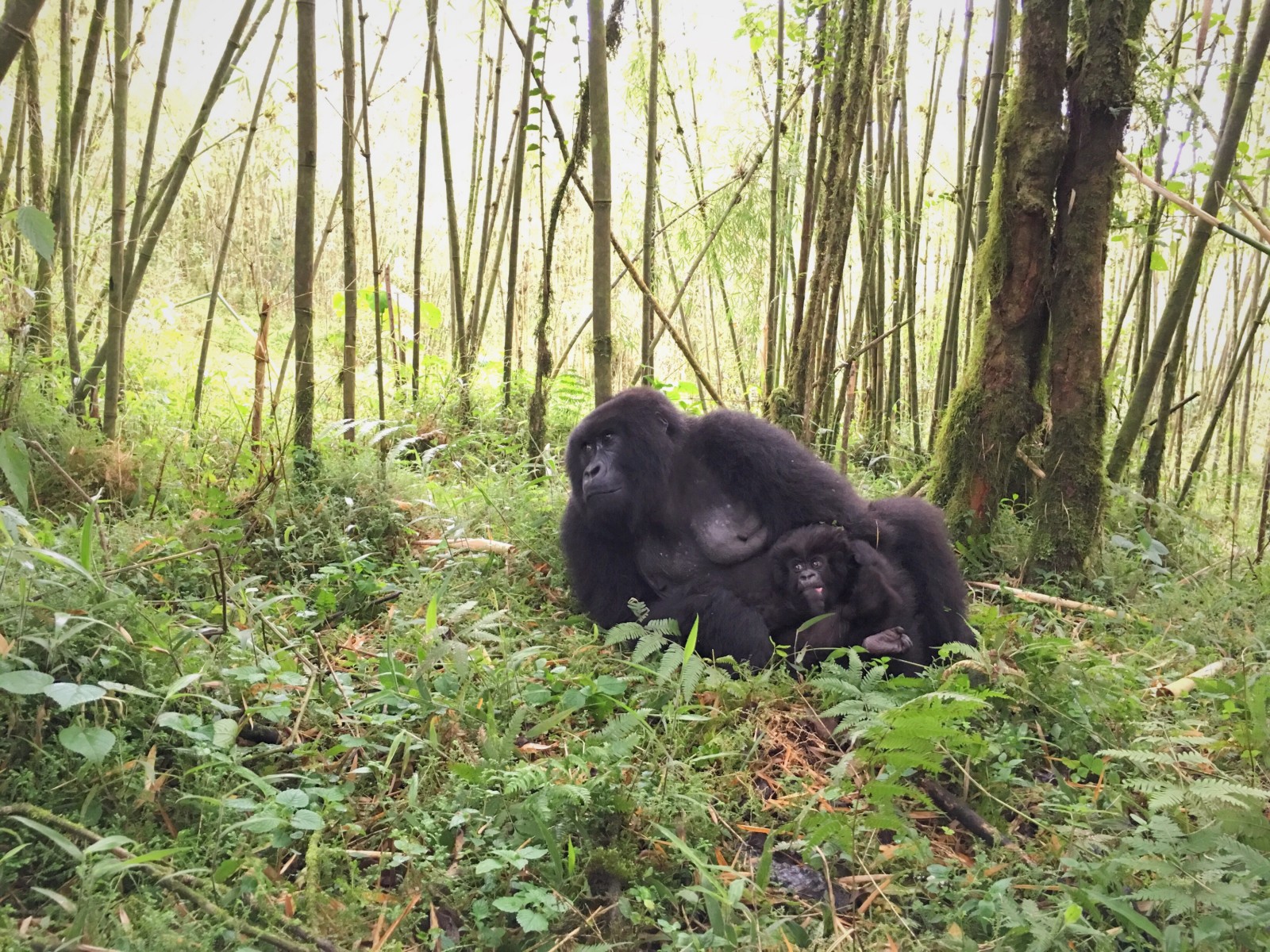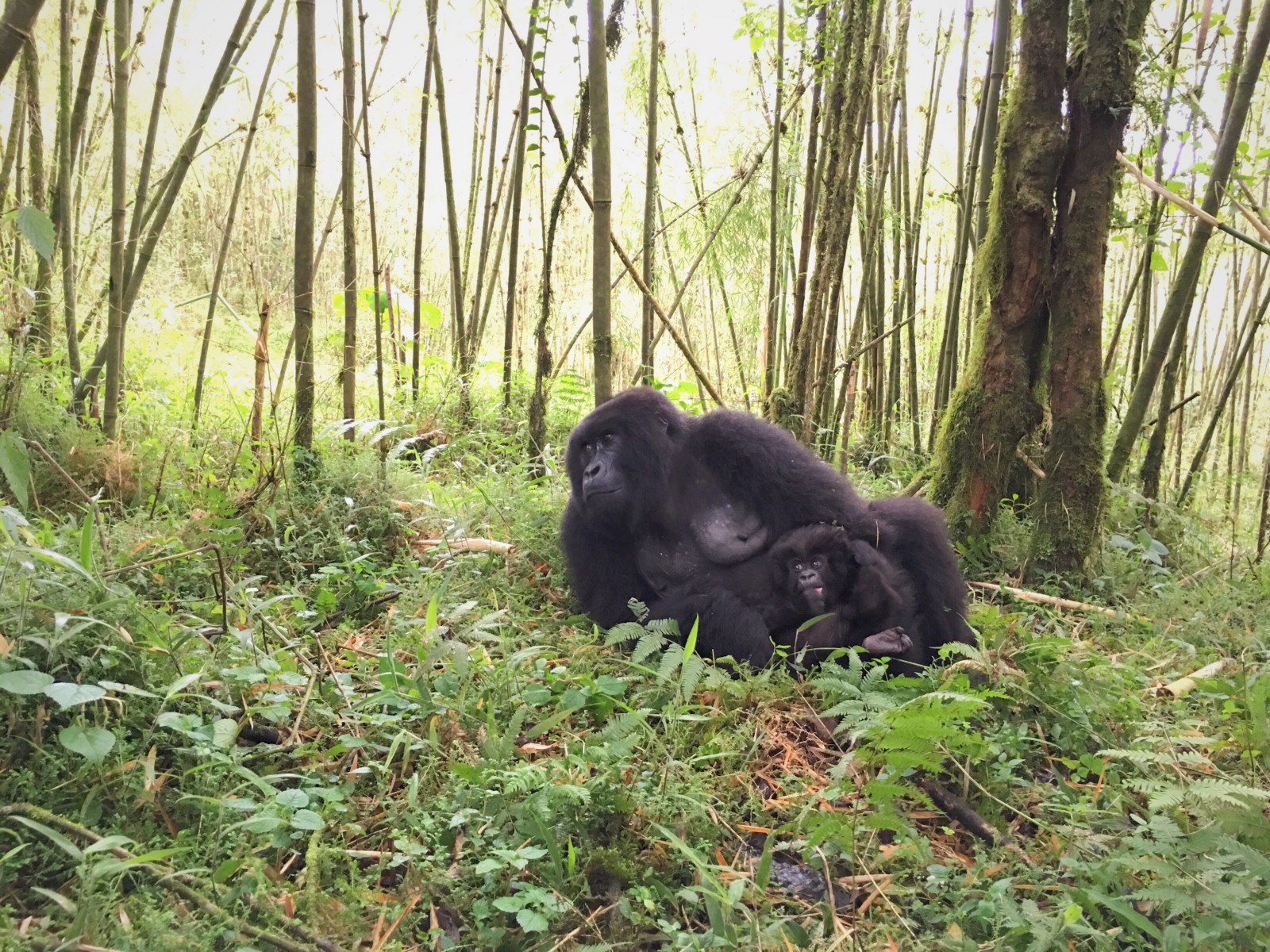 Mother gorilla and baby (image shot and edited on my iPhone 6s plus)
Tip #3- Bring Your iPhone or Mobile Phone
Some of the best photos I shot during my gorilla treks were taken using my iPhone 6s and iPhone 6s plus. Mobile phones are great for wide angle photography, and you will be getting up close with the mountain gorillas. iPhones (and most mobile phones) are best at shooting wide angle images and are easy to carry. This makes them an an excellent choice for photographing your gorillas trekking experience.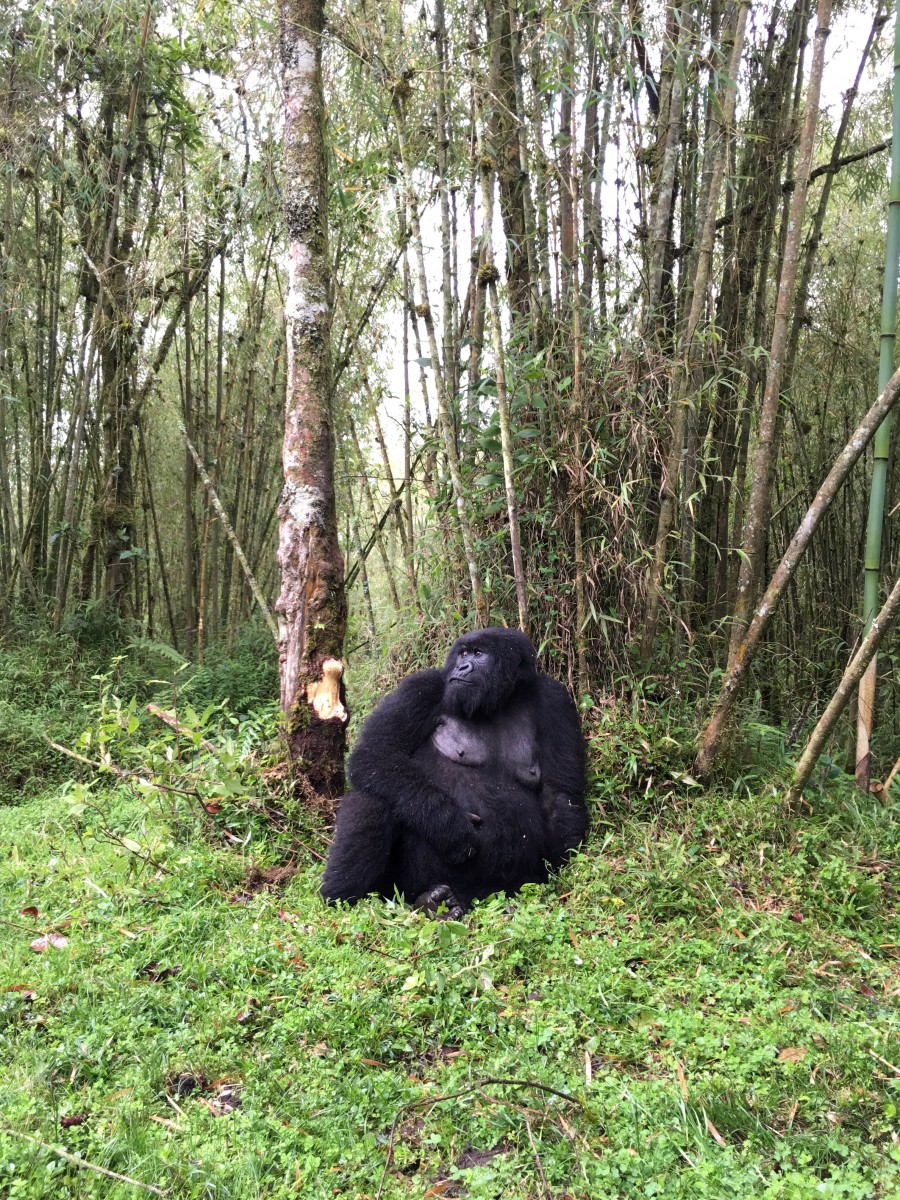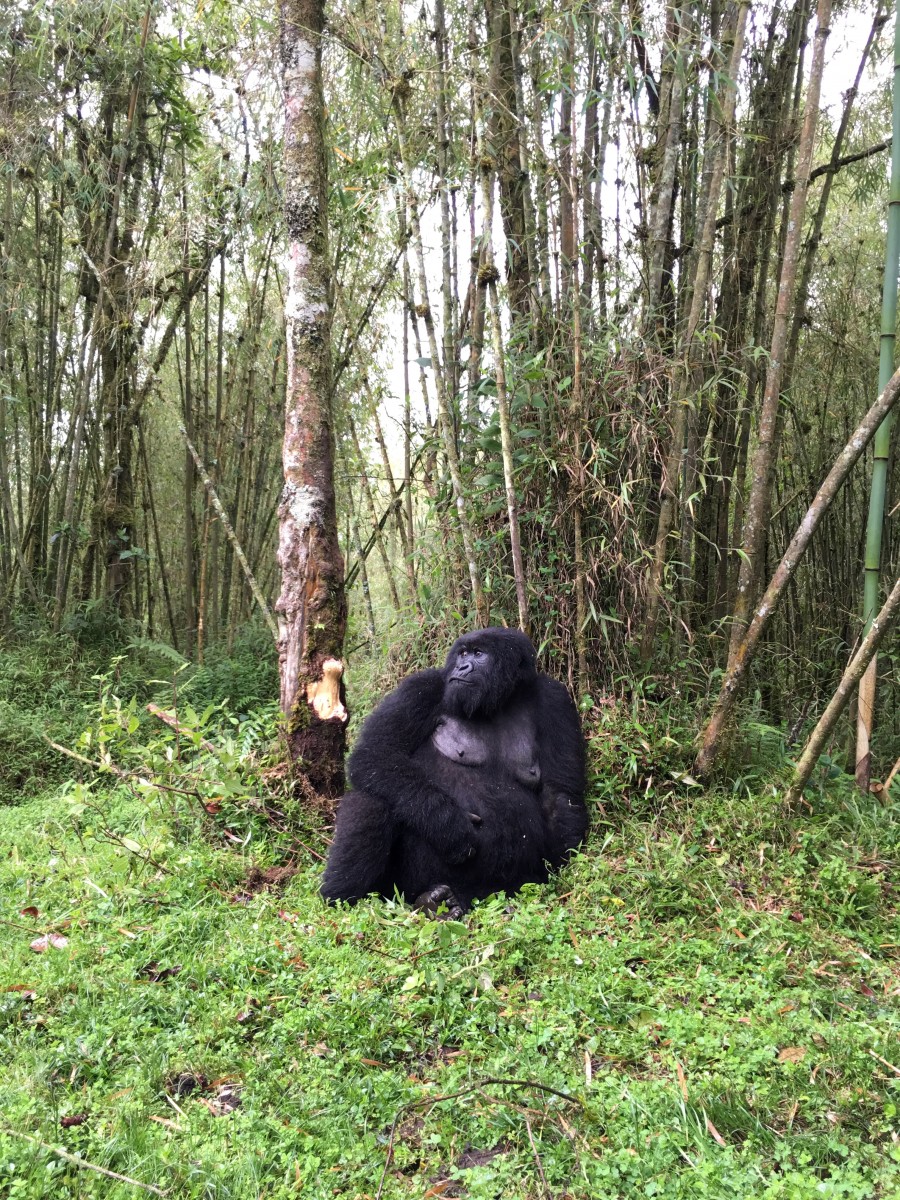 Portrait of a mountain gorilla (taken on my iPhone 6s)
Trekkers in Volcanoes National Park are supposed to stay 7 meters away (approximately 23 feet) from the gorillas. The gorillas, however, do not follow this rule. Some will walk ride by you or even touch you. You can only photograph these sorts of interactions if you camera can focus when it's close to the subject. My iPhone 6s was great at photographing at these short distances, where the lens I had on my Canon required more distance.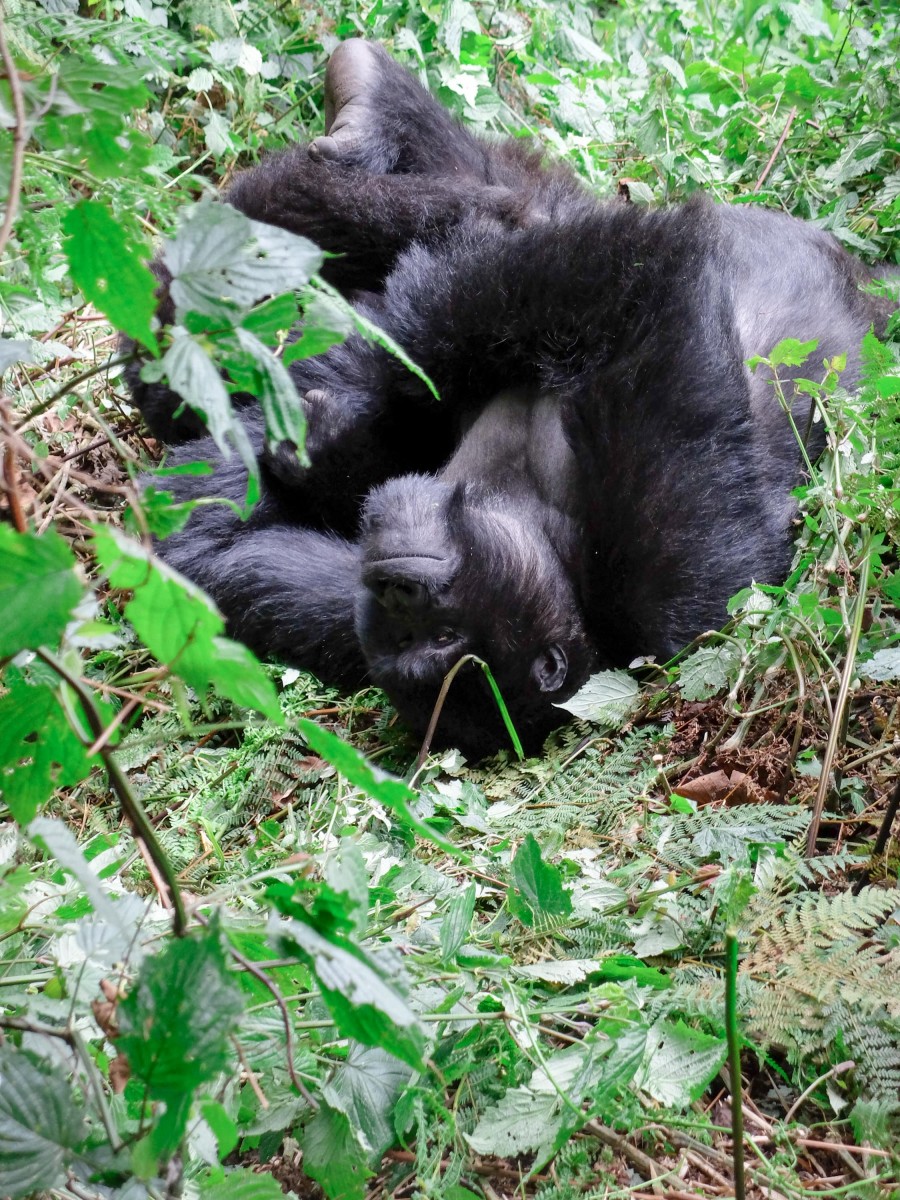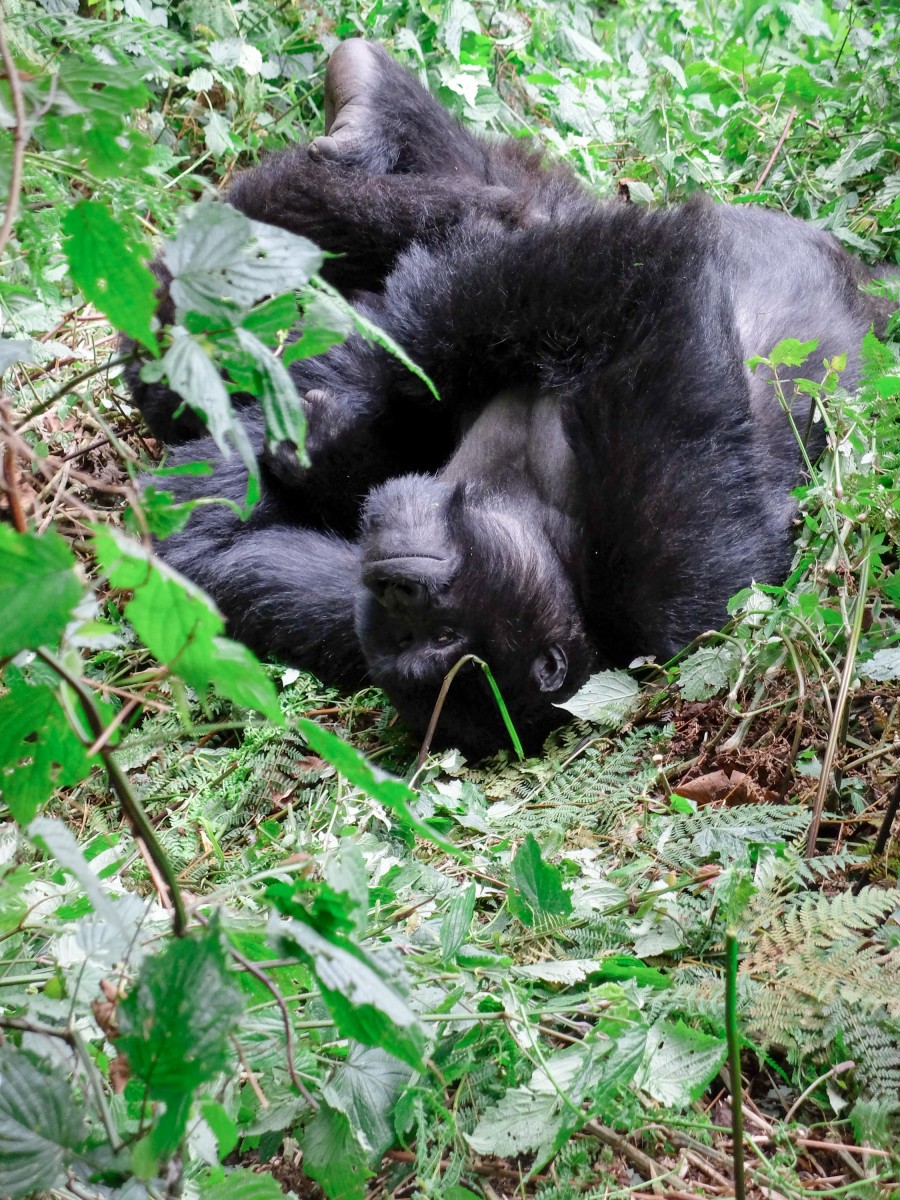 Gorilla laying on it's back
Tip #4- Pack a few lens wipes
You'll visit the gorillas on their turf, which is not a clear hiking path. The ground will be covered with vines and leaves and possibly mud. I tripped once each of the three days I was with gorilla trekking. While my falls weren't painful, a few of them did leave my lens or cameras a bit dirty. Fortunately I brought a lint free lens wipe with me each day so I was able to wipe down my cameras and return to shooting promptly.
I shot this video of a mountain gorilla munching on bamboo on my iPhone 6s
Tip #5- Shoot Some Video
Your mobile phone is a great option for this. Even if you are not an experienced video shooter, this is the time to give it a try. Make sure your microphone is on so you have some of the sounds of nature. If you don't like the sounds when you review your video later, you can always add music later.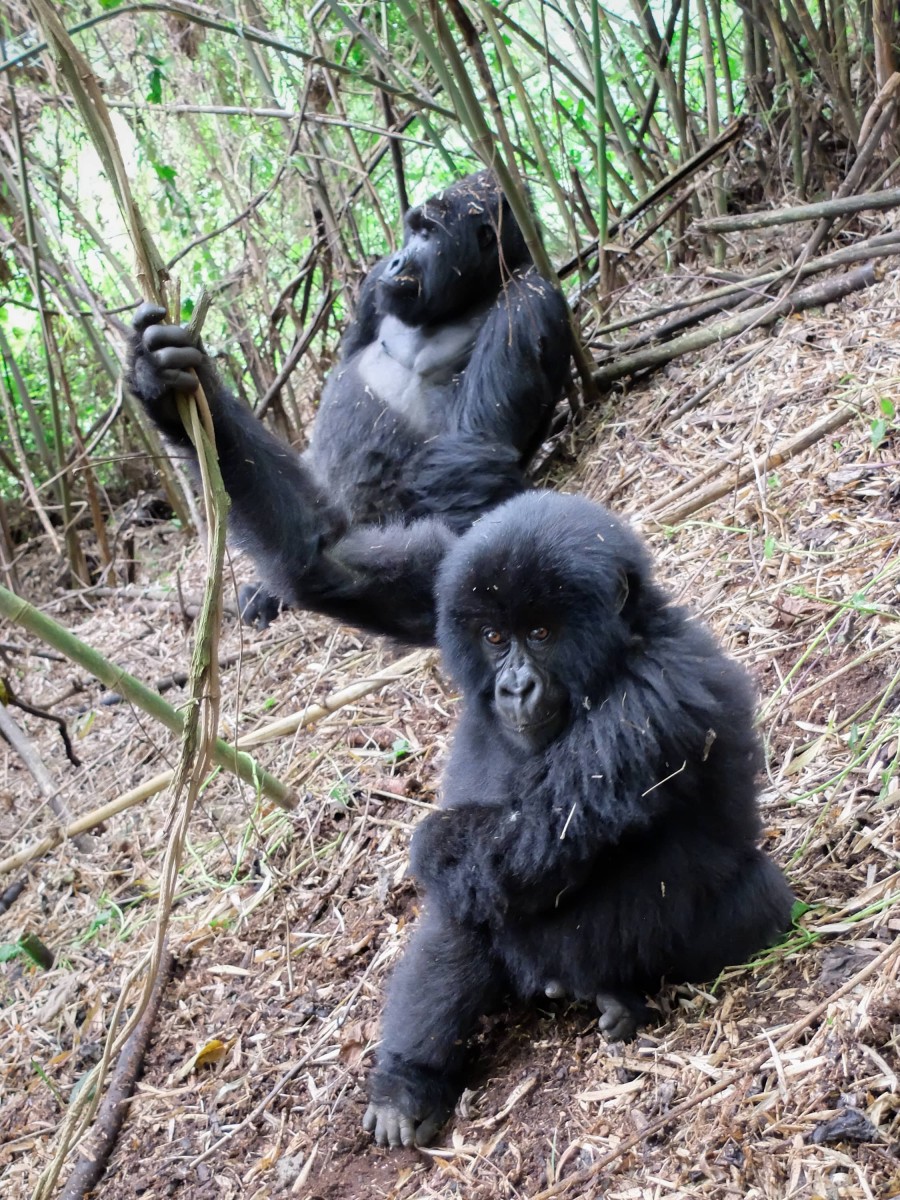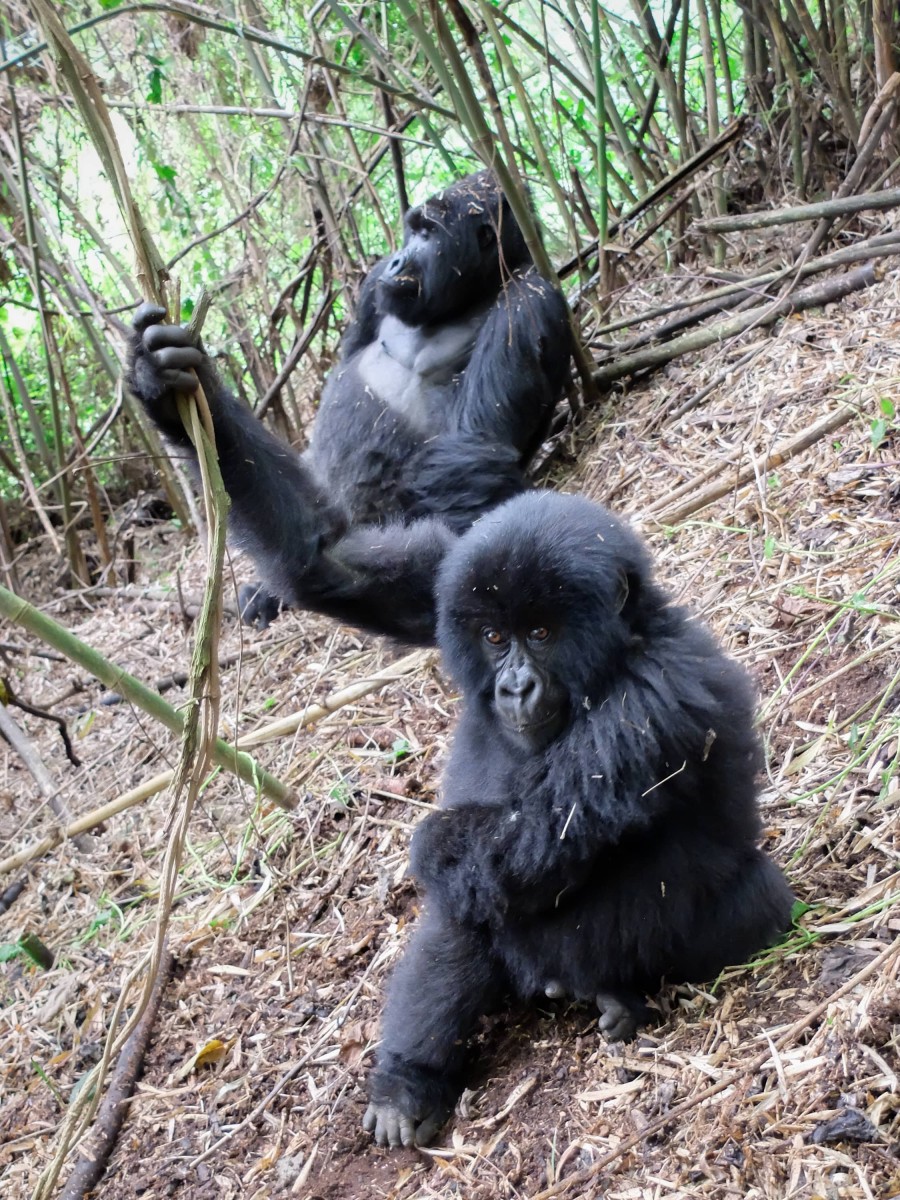 Tip #6- Bring a wide angle zoom lens
If you are bringing a DSLR camera, you'll want to have a wide angle zoom lens that can focus quickly with you. I got good results with my Canon 24-70 mm lens.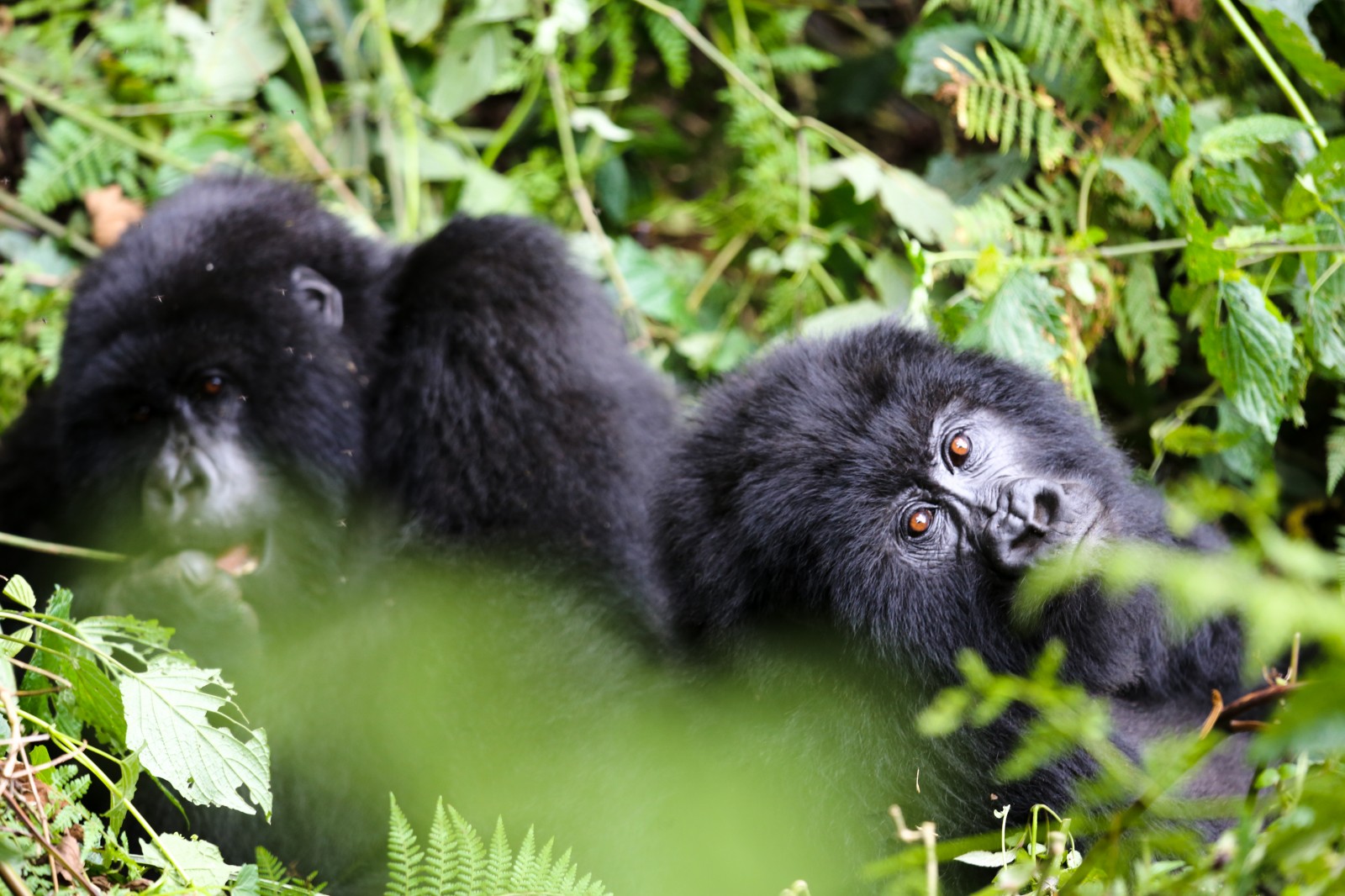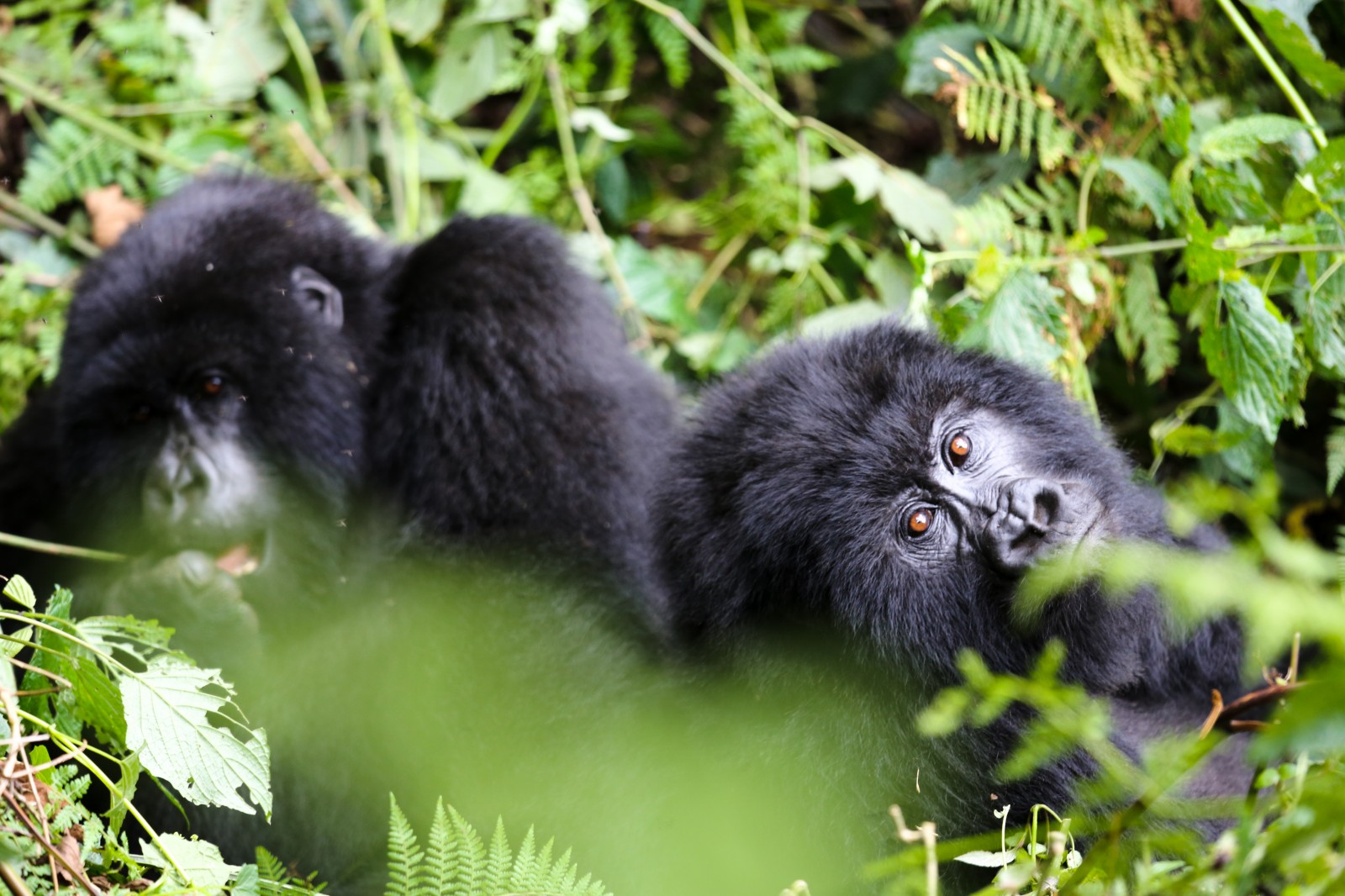 I photographed the young mountain gorillas above using my Canon 24-70 wide angle zoom
Tip #7- Bring a Shower Cap
A humble shower cap is one hotel room amenity I always take and stuff into my camera bag. Shower caps can be used to protect your camera body in rainy or damp conditions, which are very possible if Rwanda. Rwanda's rainy season is from March- May, but I had a light rain in early December. A plastic bag can also do the trick but in Rwanda has a ban on plastic bags. So if you don't have a clean plastic bag available, grab a shower cap from your hotel's bathroom instead.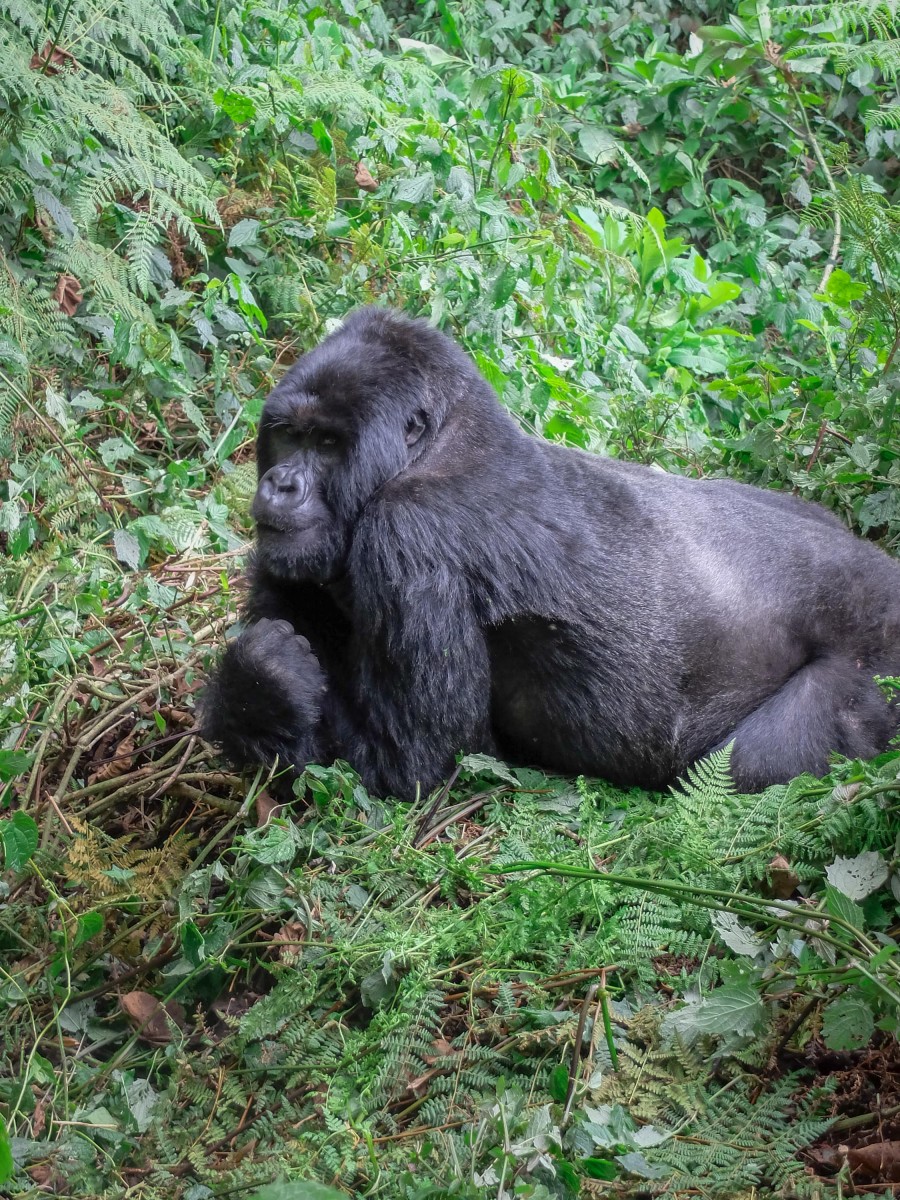 Gorilla chilling out in Volcanoes National Park, Rwanda
Tip #7- Disable Your Flash
Flash photography is not allowed around the gorillas. Be sure you know how to disable the flash on your camera or mobile phone and do so before you get to your group of gorillas.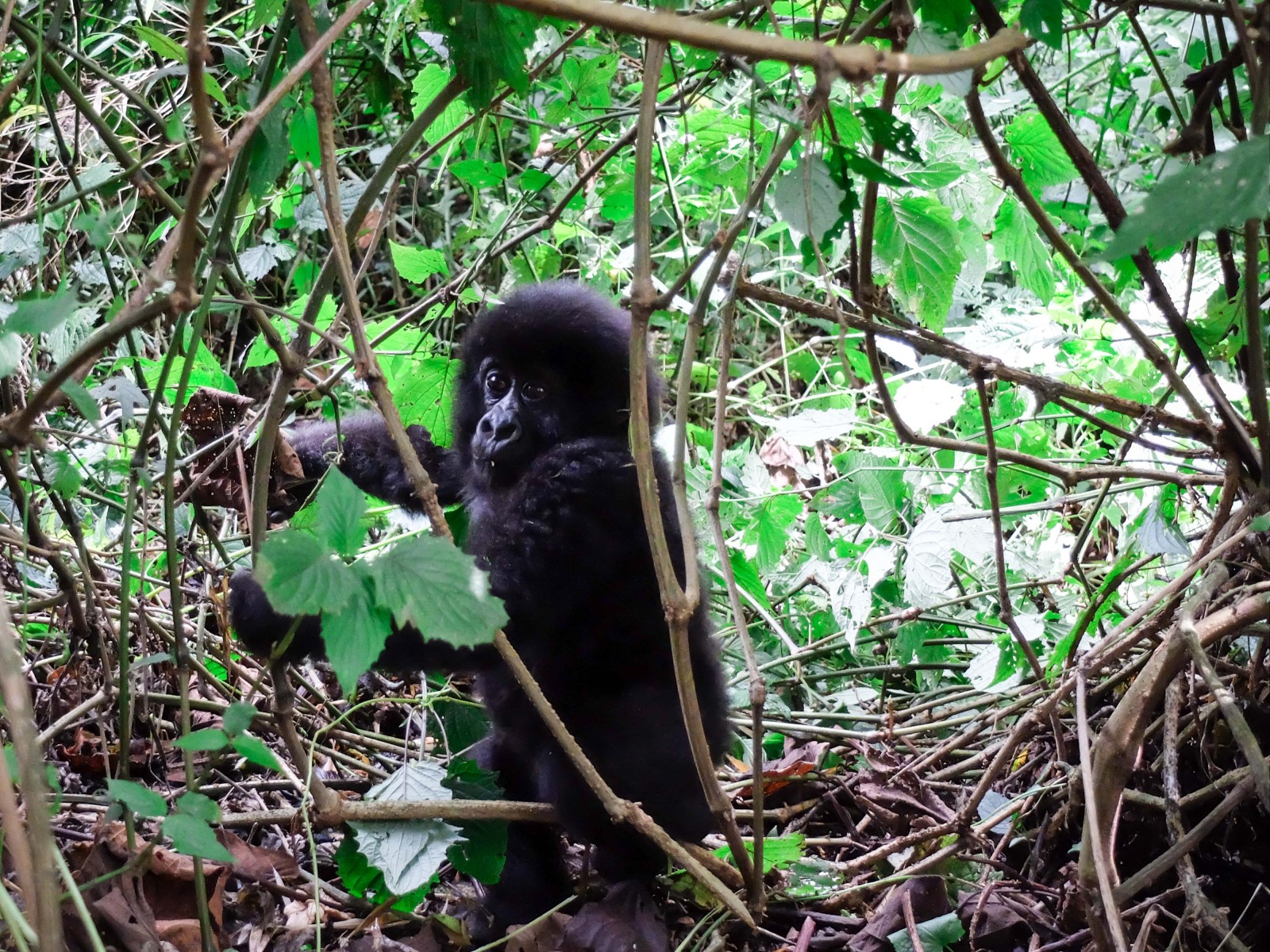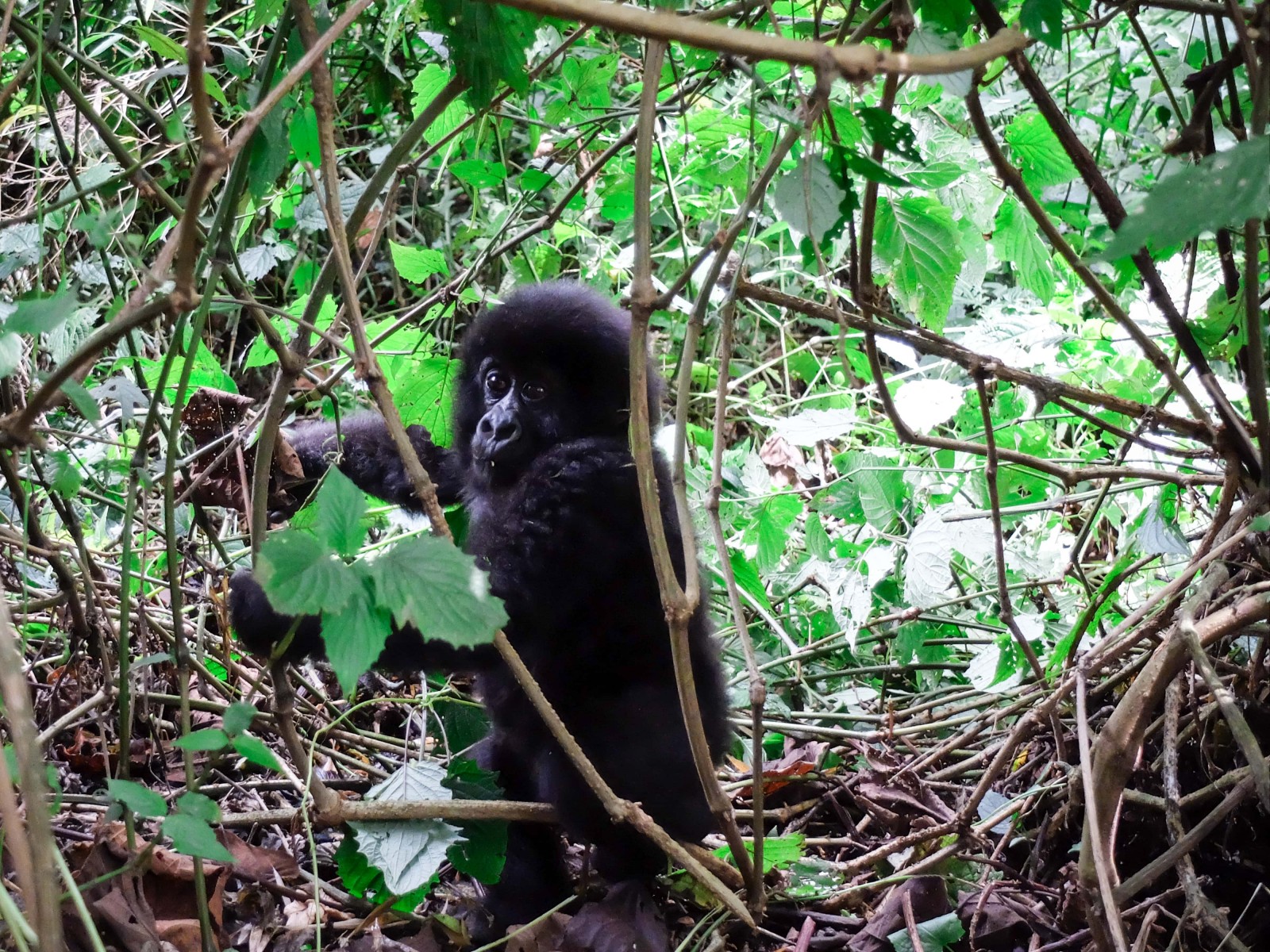 Baby gorilla from the Hirwa group framed in vines
Tip #8- Look for Creative Ways to Frame Your Shot
The mountain gorillas in Rwanda have some very human behaviors, but they won't pose for you. Look for angles that will allow you to frame the animals creatively. I found the vines and bamboo helped create interesting ways to frame the animals.
Ideally you want to be able to focus on the gorilla's eyes. It is unlikely that the lighting will always be ideal for this. Apps like Afterlight and VSCO's clarity and shadow save adjustment features can help enhance your gorilla photos during your editing process. If you're shooting with a DSLR, this can also be done in the editing process if you use Lightroom or Photoshop.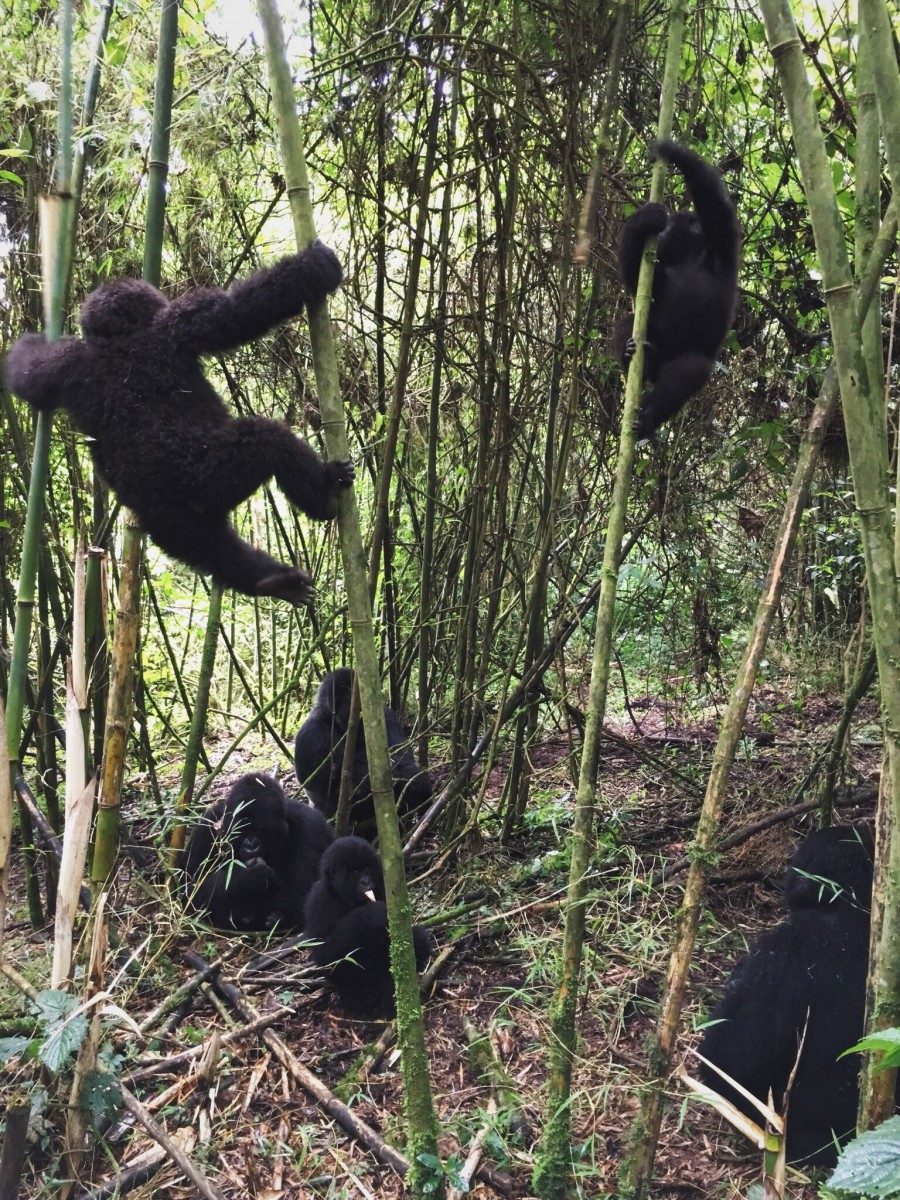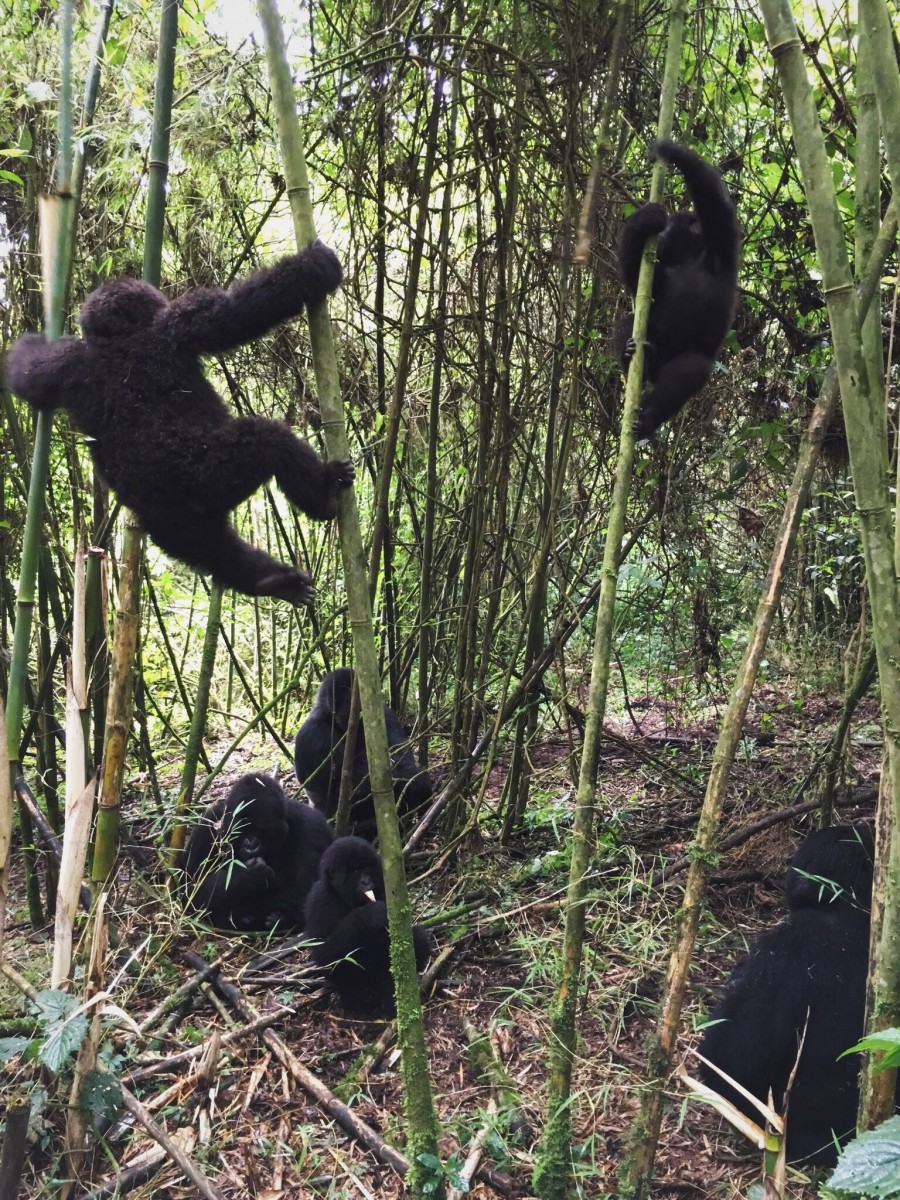 Tip #9- Shoot a Variety of Shots (including group shots)
Much of the time you'll be in front of one or two gorillas. Try and look for a variety of images, including group shots. These might be harder to compose due to other trekkers in your group, or lighting conditions might not be ideal. Group shots help round out your coverage and give a sense of how the gorilla family interacts. If you have a clear shot of a group of gorillas moving, try capturing it on video as well as in stills. It helps give a sense of place.
I shot the video above of the Hirwa group of gorillas on my iPhone 6s 
Tip #10- Don't Forget to Shoot Landscapes and Details
In order to best cover your gorilla trekking experience, you'll want to include a few landscape shots which show the area. If you have any sort of zoom capability, you'll also want to get a few shots of details. When the largest silverback gorilla in the world did not want to show me his face, I took a photo of his vast back. If I could not see an animal's eyes, I tried to zoom in on a detail like feet, hands, or toes.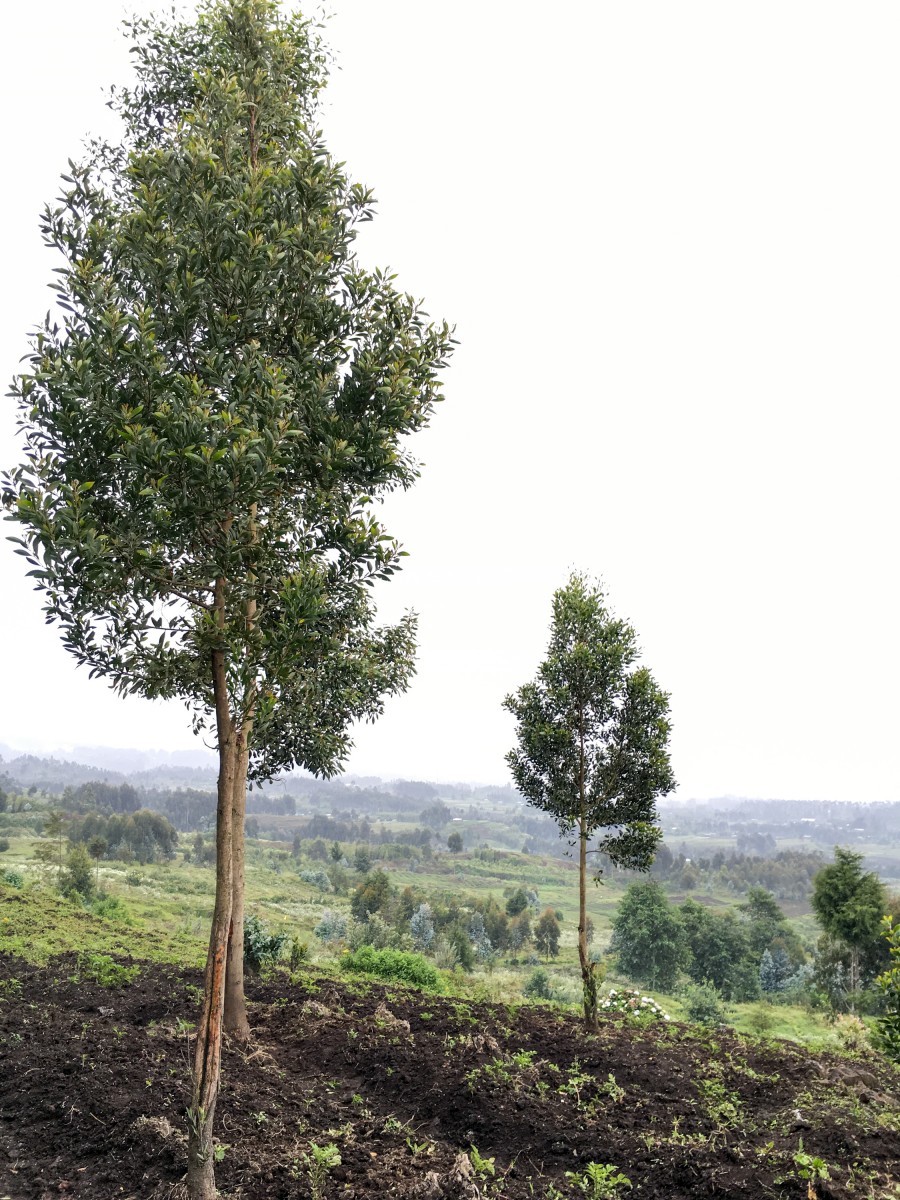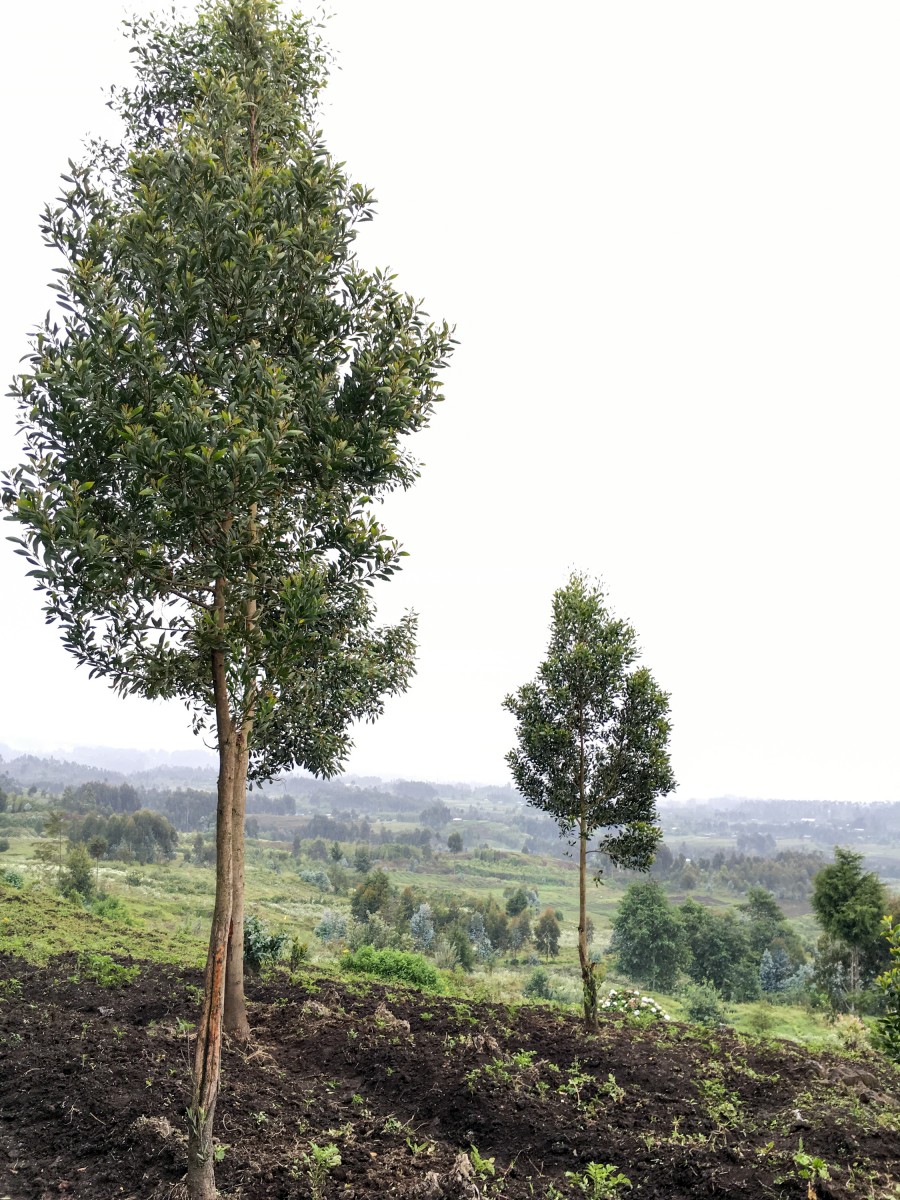 A landscape of the some of rural countryside in Rwanda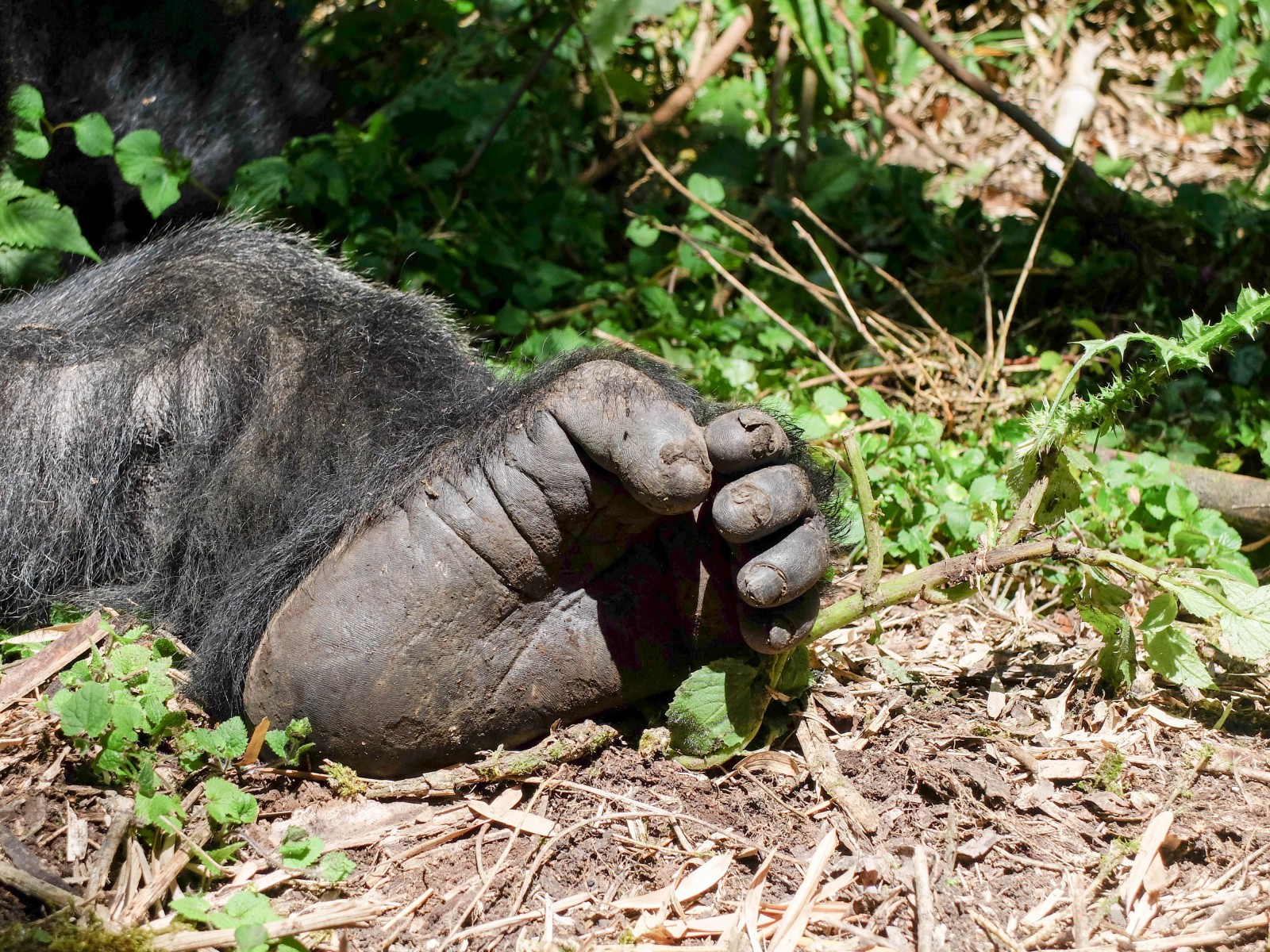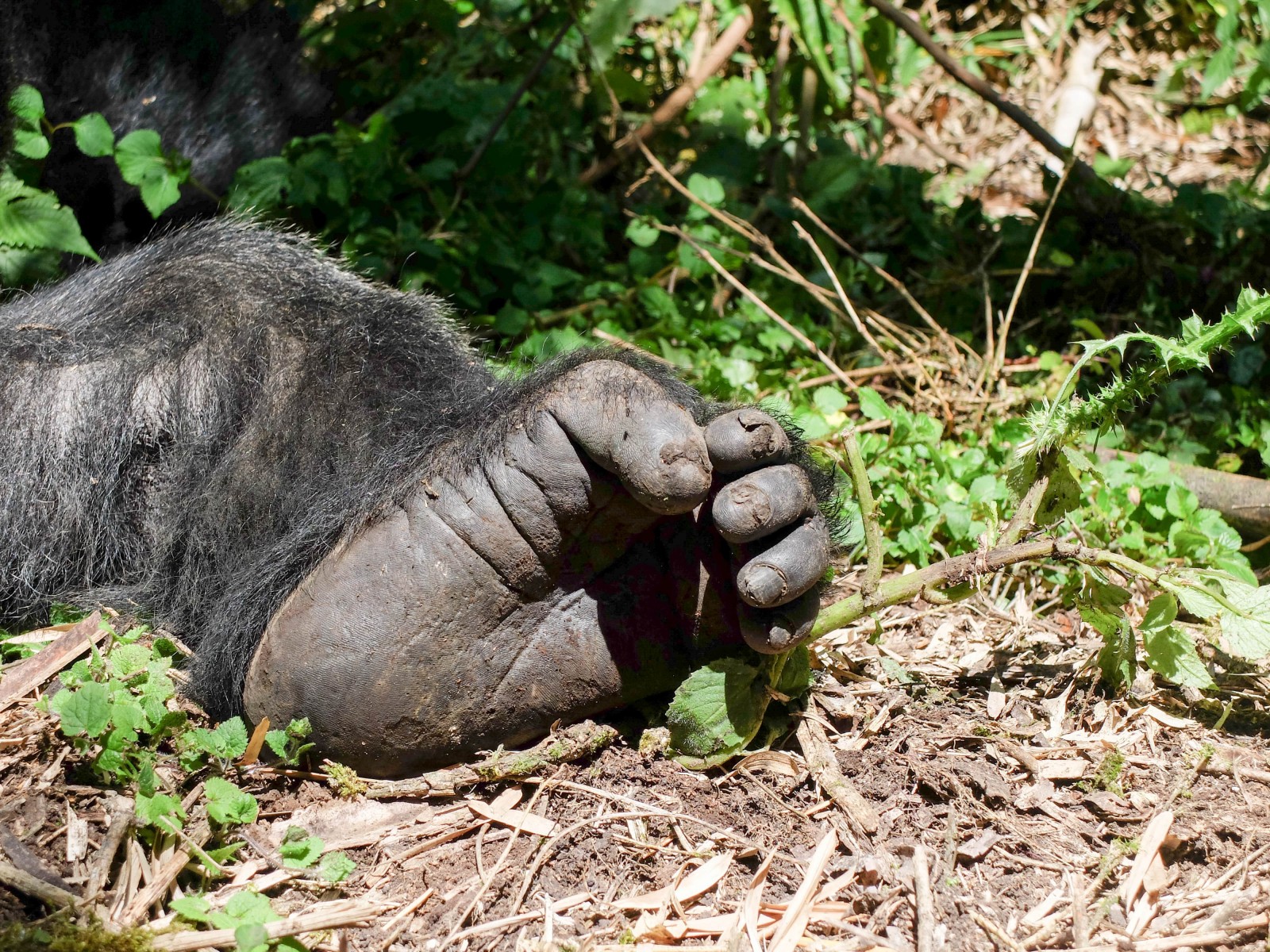 This gorilla didn't wouldn't show me his face, so I photographed his feet
My gorilla trekking guides offered to take pictures of me each day. This is a better and safer option than taking a gorilla selfie.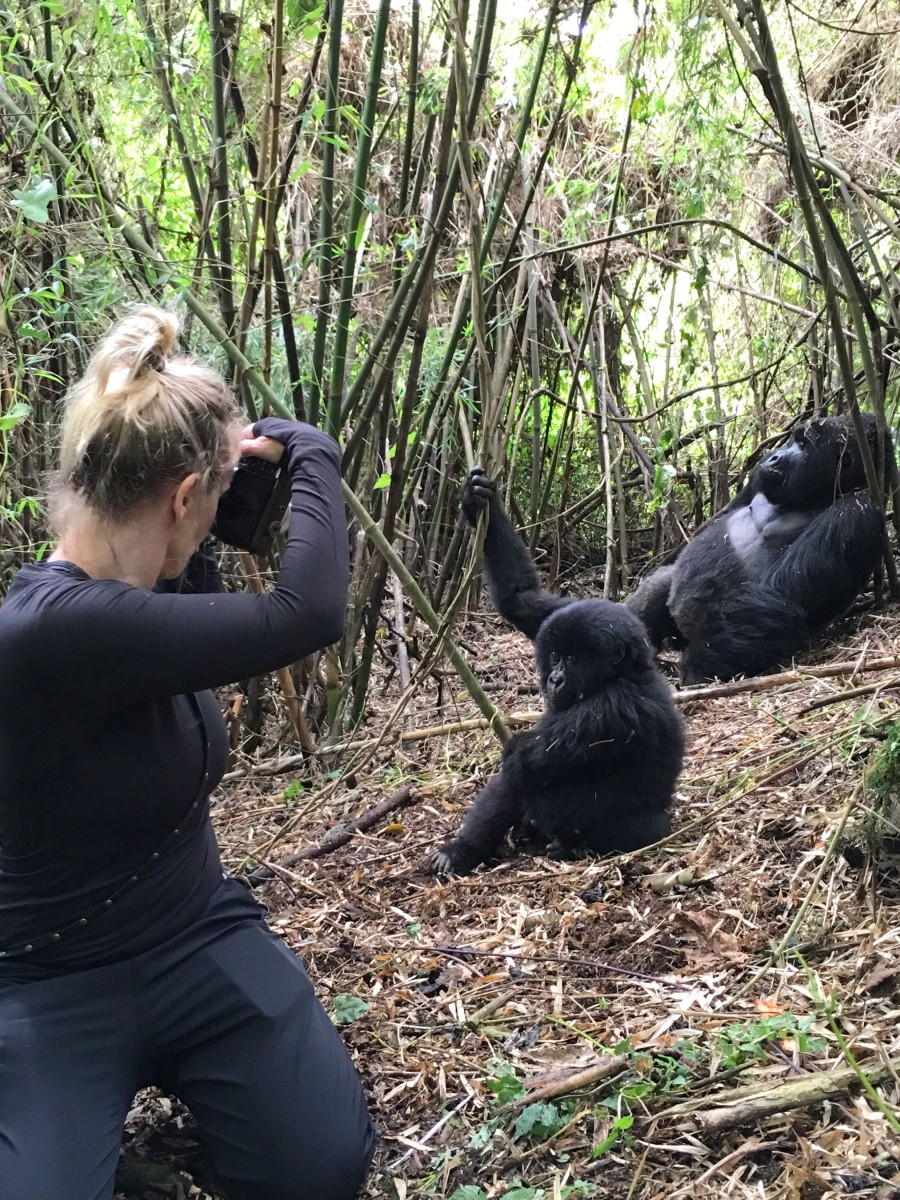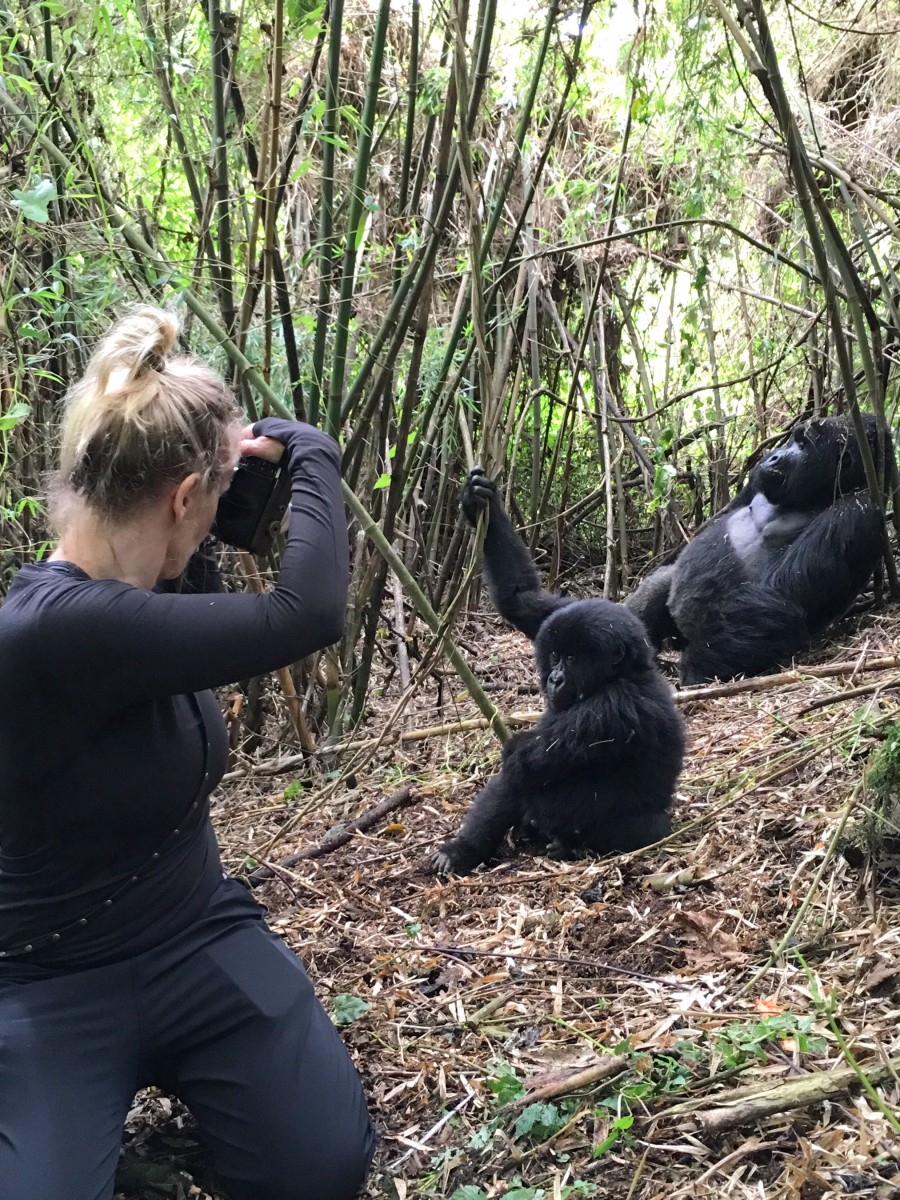 Here I am photographing the mountain gorillas in Rwanda
Yes. You get really close.